This cozy Chai Spice Cake is full of warm spices and packed with flavor. It has moist spice cake layers that are stuffed with shortbread cookie crumbles, thick caramel sauce, and frosted in delicious Chai Swiss meringue buttercream.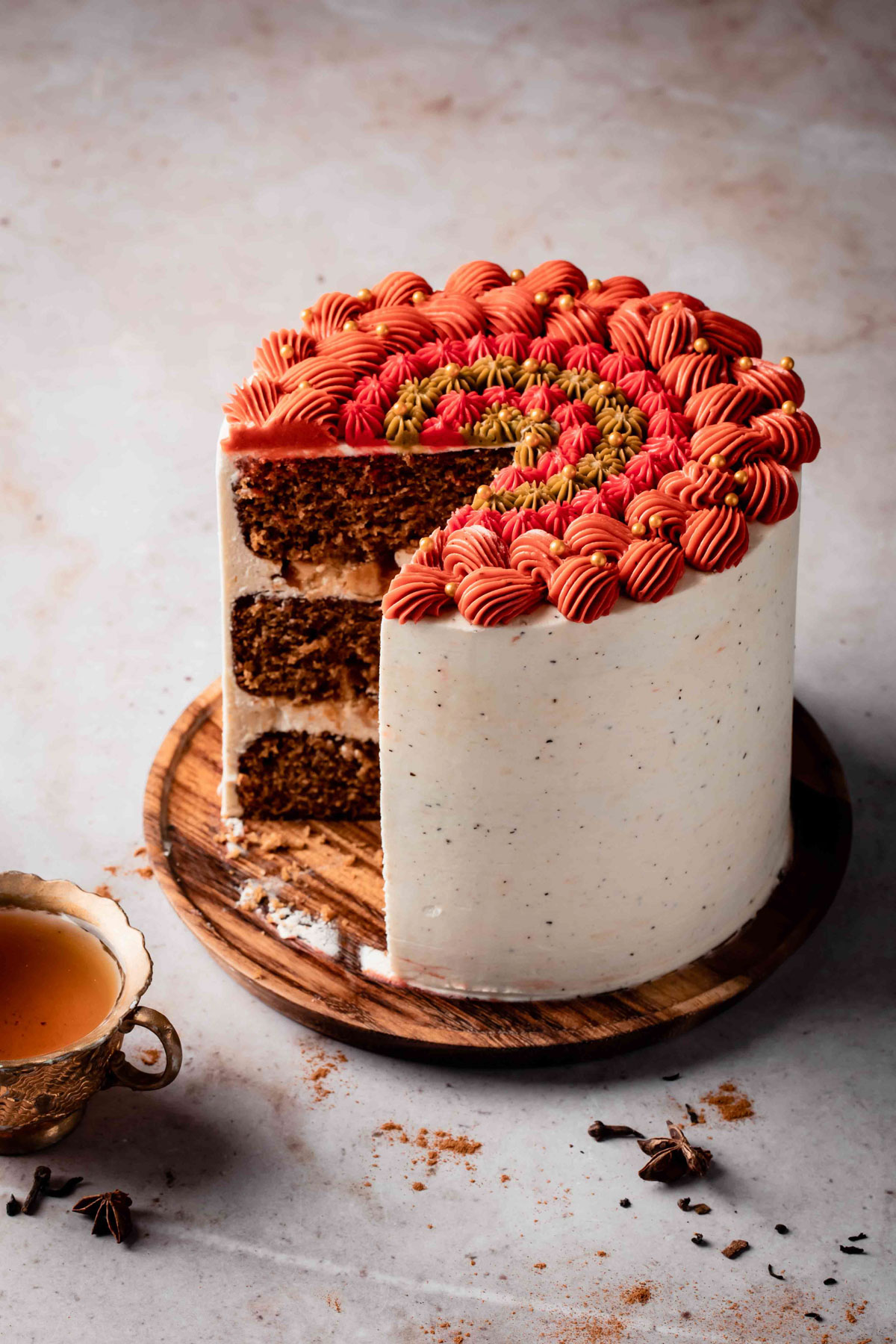 Jump to:
This cake is super cozy and full of flavor. It has three layers of spice cake made tender with kefir yogurt, butter, and oil.
Between the layers is crushed up shortbread cookies and thick caramel sauce. The star of the cake is truly the chai buttercream - I hope you love it as much as I do!
For this cake, I was inspired by everyone's favorite London Fog Cake from my first cookbook, Layered.
The Longer Fog Cake is by far the most popular recipe to come out of that book. It has layers of moist chocolate cake filled and frosted with an Earl Grey buttercream then drizzled with caramel sauce. It is so good!
If you haven't tried it yet, please find the recipe for my London Fog Cake.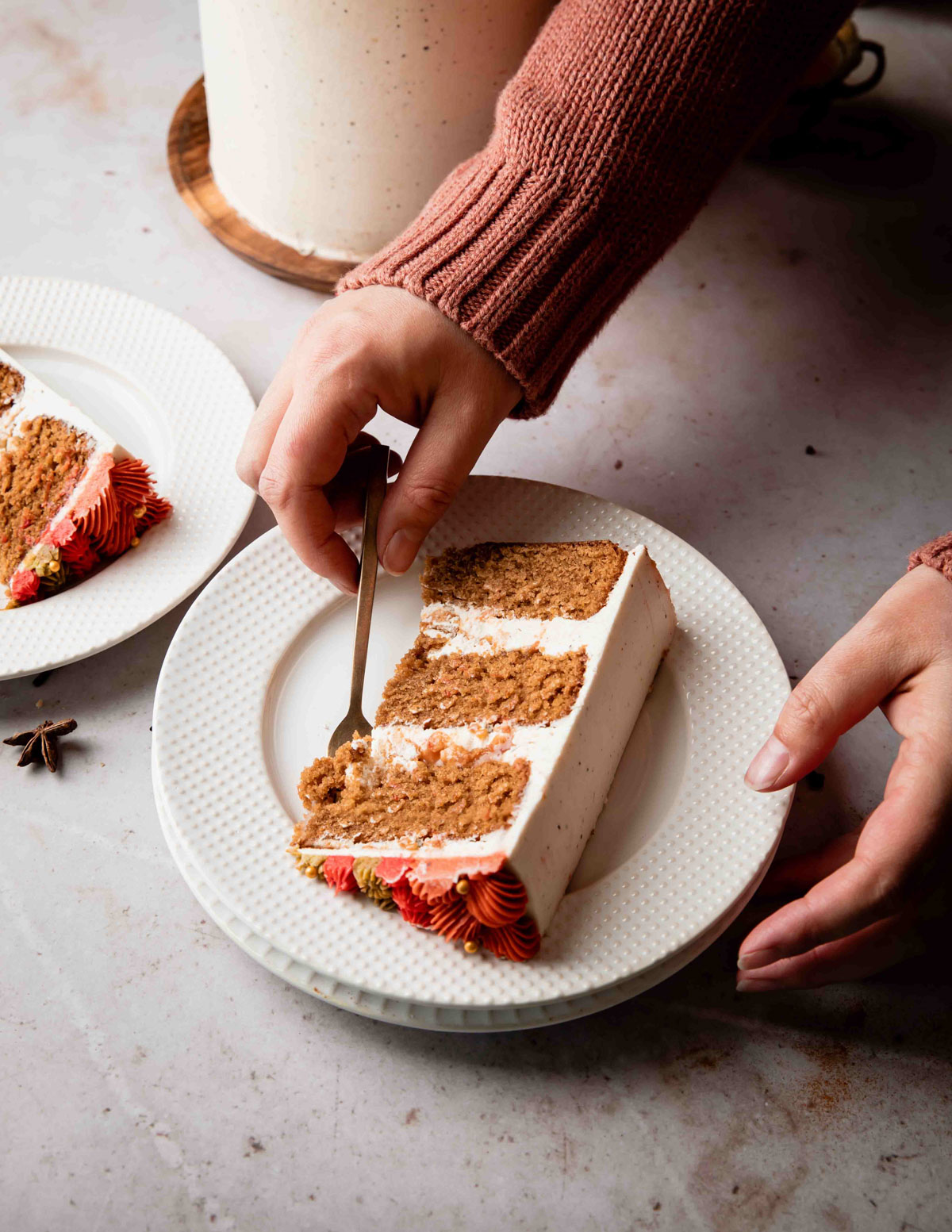 Tasting Notes
I love how easily the Earl Grey tea added loads of flavor to my favorite Swiss meringue buttercream, so switching it up with Chai felt like a winning idea. Chai translates to "tea."
What we typically find in the store or at a coffee shop is spiced black tea. It is flavored with bold aromatics like cinnamon, cardamom, ginger, star anise, and cloves.
Sometimes chai may include black pepper as well.
Ingredients
Here is a quick glance at some of the ingredients needed beyond basic pantry staples. Find a complete list with quantities in the full recipe to follow.
Unsalted butter
Granulated sugar
Brown sugar
Eggs
All-purpose flour
Oil
Ground Spices
Keifer or buttermilk
Molasses
Chai tea
Shortbread cookies
See recipe card for quantities.
TOOLS AND EQUIPMENT
These are the primary tools you will need to make this cake:
Mixing bowls
Stand mixer
Saucepan
6-inch cake pans
Offset spatula
Icing smoother
Rotating cake stand
Piping bag and tips
General kitchen tools (measuring spoons, cups, etc).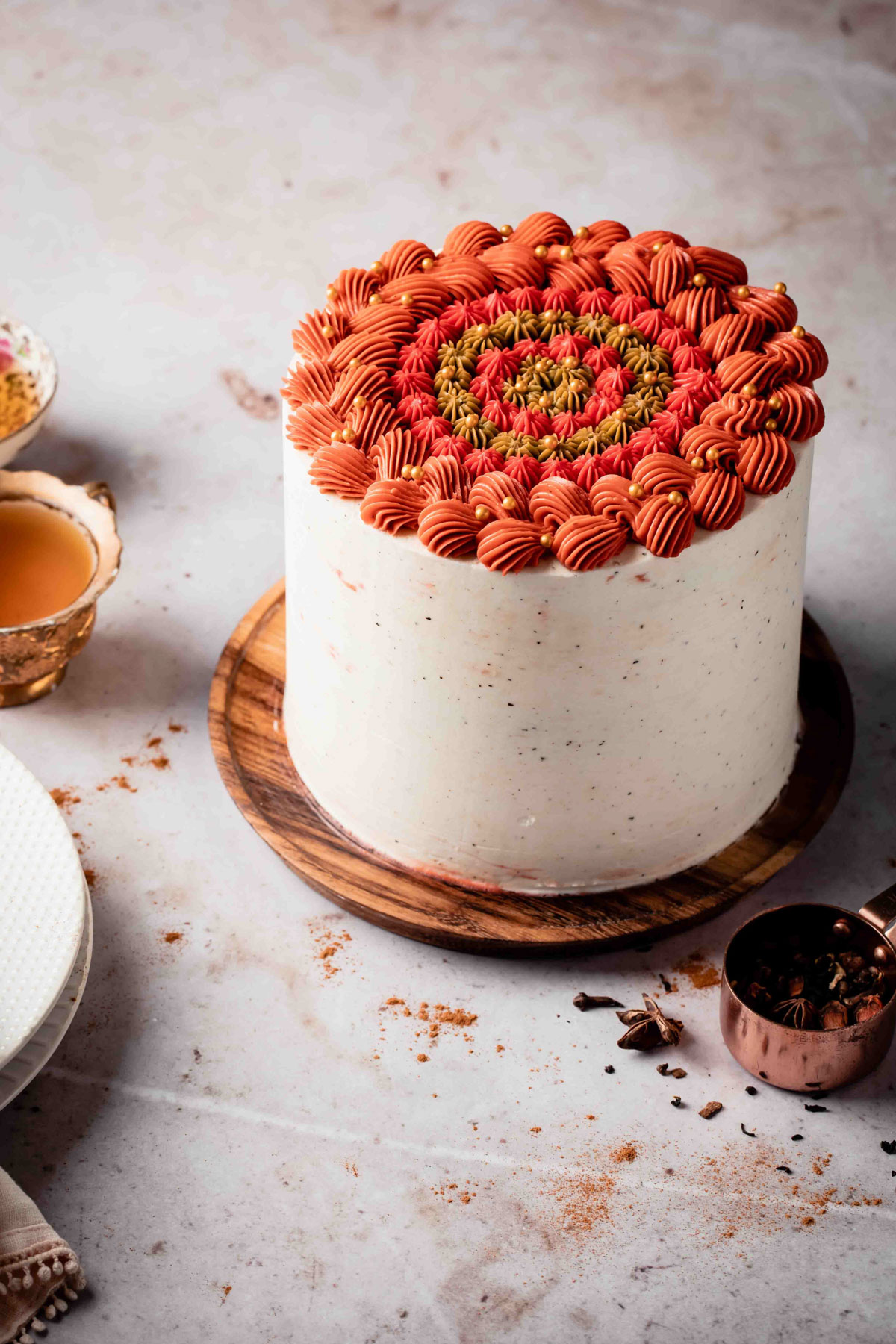 Substitutions
Don't have all of the ingredients? Here's what to do:
Pumpkin Pie Spice-

make your own spice blend using cinnamon, cardamom, ginger, cloves, nutmeg, and/or all spice. I would recommend 6 parts cinnamon, 4 parts cardamom and ginger, and 1 part cloves, nutmeg, and/or all spice.

Plain Keifer yogurt - you can use buttermilk.
Molasses- you can use honey or another liquid sweetener.
Chai Tea - you can use other loose leaf tea, but it will change the flavor.
How to Decorate this Chai Spice Cake:
Watch me fill, stack, and frost a layer cake in this post.
For the buttercream, I used Americolor gel food coloring in shades of terracotta, red, and moss.
I used a Wilton #4B piping tip to create the braided pattern around the top edge. I then used a smaller #32 star tip to pipe the inner rings of buttercream. Finish with sugar pearls, if you'd like!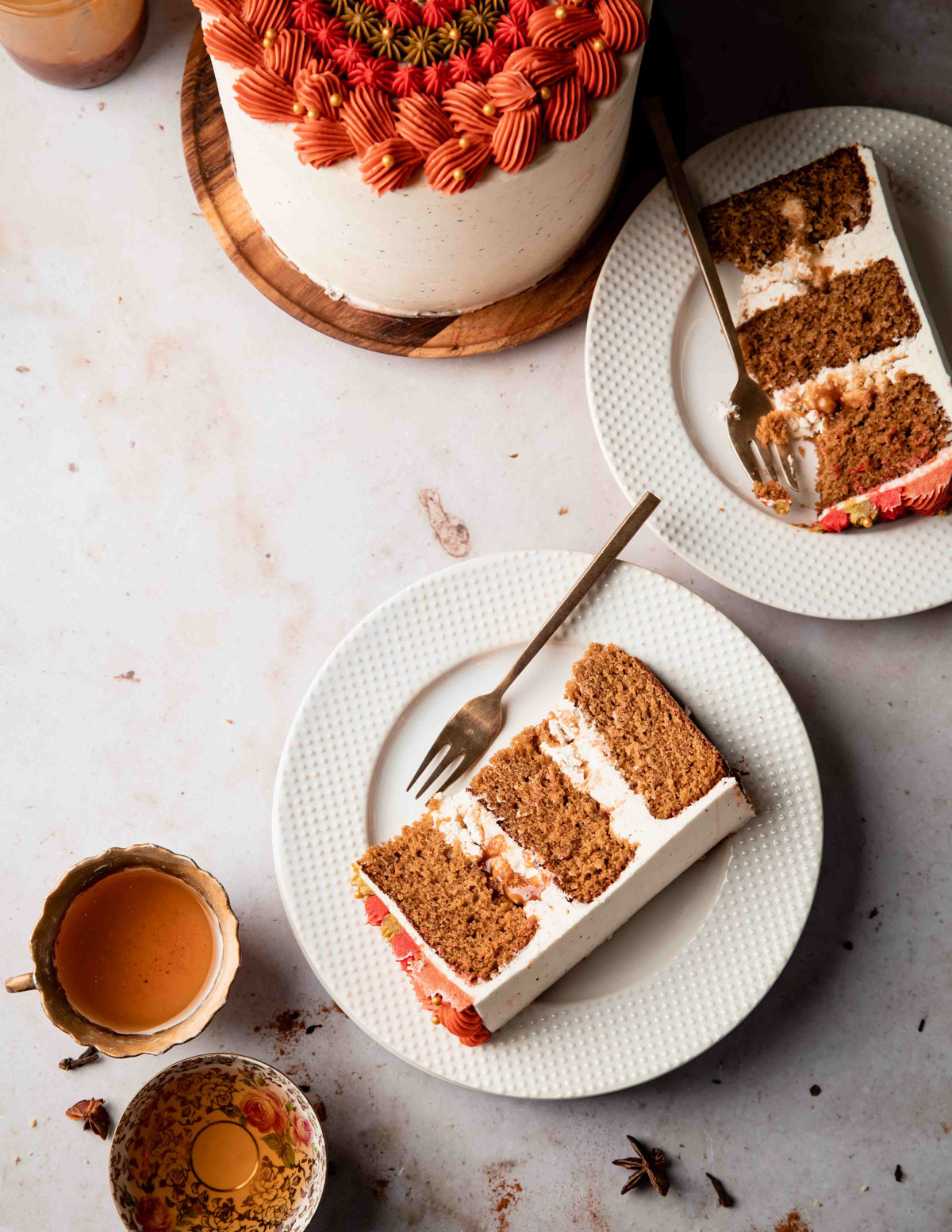 Top tip
If the buttercream is soupy then the butter was too warm or the meringue mixture didn't cool enough before the butter was added.
If the buttercream curdles, then the butter is likely too cold and needs more mixing.
For the former, pop the whole thing in the fridge for about 10 minutes to firm up and try mixing again.
Serving and Storage
Serve the cake a room temperature. It may be stored at room temperature (preferable in a box or cake container) overnight.
Store leftovers, loosely covered in the plastic wrap, in the refrigerator for up to 3 to 4 days. Allow cake to come to room temperature before serving.
You can freeze the baked, cooled, and unfrosted cake layers. Wrap well in plastic and store in the freezer for up to 3 months. Thaw the cake layers in the refrigerator overnight before use.
Caramel sauce may be made in advanced and stored in the refrigerator for up to two weeks.
Baker's Notes
I recommend using loose leaf tea because the tea tends to be less fine than tea from a tea bag. If you don't have loose leaf tea, infuse the butter with 4 chai tea bags (still in the bag) or cut open the bags and infuse as directed in the recipe. Use a fine mesh strainer to keep as much of the tea out of the butter as possible.

I used Walkers brand shortbread cookies, chopped up with a serrated knife. The cookie pieces should be no larger than an almond. Too big and it might be difficult to slice the cake.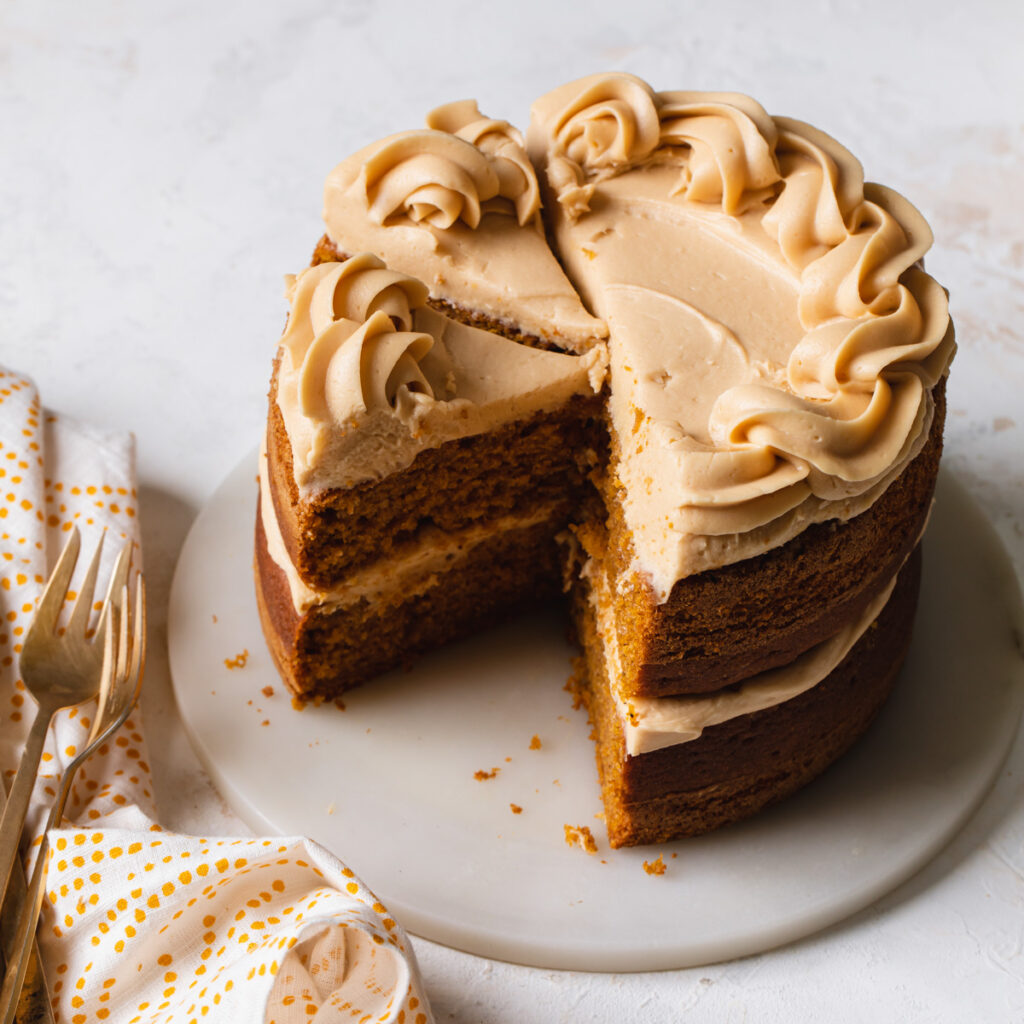 Join the Style Sweet Bake Club!
Get exclusive recipes and articles sent straight to your inbox. Become a subscriber today! Click to join.
More Layer Cakes to Make:
Pumpkin Cake with Coffee Cream Cheese Frosting
Please leave a star review if you loved this recipe! Make sure to share your recipes and tag me on Instagram @stylesweetdaily.
Recipe
Print Recipe
Chai Spice Cake
This cozy Chai Spice Cake is full of shortbread cookie crumbles, thick caramel sauce, and frosted in Chai Swiss meringue buttercream.
Ingredients
Chai Spice Cake
2 ¼

cup

all-purpose flour

1

tablespoon

pumpkin spice

1

teaspoon

baking powder

½

teaspoon

baking soda

½

teaspoon

salt

½

cup

unsalted butter

softened

1 ¼

cups

packed brown sugar

¼

cup

canola or grapeseed oil

2

large eggs

2

teaspoon

pure vanilla extract

½

cup

molasses

⅔

cup

plain kefir yogurt

1

cup

shortbread cookies

chopped

½

cup

caramel sauce
Chai Swiss Meringue Buttercream
2 cups + 2 tbsp

unsalted butter

divided

3

tablespoon

loose leaf chai tea

4

large white eggs

1 ⅓

cups

granulated sugar

2

teaspoon

vanilla bean paste or pure vanilla extract
Instructions
Chai Spice Cake
Preheat the oven to 350°F. Grease and flour three 6-inch cake pans and set aside.

In a medium bowl, whisk together the flour, spices, baking powder, baking soda, and salt. Set aside.

In the bowl of an electric mixer fitted with the paddle attachment, cream the butter on medium speed until smooth, about 1 minute. Add the brown sugar and mix on medium speed for an additional 2 to 3 minutes or until fluffy. 

Add the oil and eggs. Stopping to scrape down the bowl every so often, keep mixing until the batter is smooth and homogenous, another 2 to 3 minutes. Add the molasses and mix until combined. Stop the mixer and scrape down the bowl.

Add half of the dry ingredients and mix on low speed until just combined. Pour in the kefir and mix until it is absorbed. Add the remaining dry ingredients and mix until smooth. The batter will be fairly thick.

Evenly distribute the batter among the prepared pans. Bake for 25 to 28 minutes or until a toothpick inserted into the center comes out clean or with a few moist crumbs. Allow the cakes to cool on a wire rack for 15 to 20 minutes. Remove the cakes from their pans and allow to cool completely before filling or frosting.
Chai Swiss Meringue Buttercream
Chop 1 cup of butter and place in a medium saucepan. Melt the butter over medium heat. Turn the heat to low and add the chai tea. Continue to simmer the butter mixture for 5 to 10 minutes. Remove from the heat and allow the butter to cool and tea to steep for another 10 minutes.

Strain the infused butter with a mesh sieve. Press down on the tea to extract as much of the butter as possible. It is okay if a little bit of tea remains in the butter. Chill the butter in the refrigerator until it is the consistency of softened butter.

Meanwhile, allow the remaining butter to come to room temperature. 

Place the egg whites and sugar in the bowl of a stand mixer and whisk together (by hand) until combined. 

Fill a saucepan with a few inches of water and bring to a boil. Reduce the heat and place the bowl with the egg white mixture on top to create a double-boiler. Make sure that the water remains at a simmer and does not touch the bottom of the bowl.

Stirring intermittently, heat the egg mixture until hot to the touch or 160°F on a candy thermometer.

Carefully remove the bowl and place it on the stand mixer fitted with a whisk attachment. Whisk on high speed until stiff peaks form and the outside of the mixing bowl returns to room temperature, about 8 minutes.

With the mixer on low, add in the softened butter, a couple tablespoons at time, followed by the chai-infused butter. Once all of the butter has been added, stop the mixer and switch the whisk for the paddle attachment.

Mix the buttercream on medium speed until the butter is fully incorporated. Increase the speed to medium-high and mix until fluffy, about 5 minutes. Add the vanilla bean paste and mix to combine. Decrease the speed to low and mix until silky and smooth, about 2 minutes.
To Assemble
Once the cakes have completely cooled, trim their tops with a long serrated knife until flat. Place a cup of chai buttercream in a piping bag fitted with a medium-large round top and set aside.

Place one layer of cake on a cake board or serving dish. Spread on ½ cup of the chai buttercream with an offset spatula. Sprinkle on ½ cup of the shortbread crumbles, pressing down lightly to secure into the buttercream. Making sure not to get too close to the edges, swirl on a few spoonfuls of caramel sauce. Pipe a ring of buttercream around the top edge to ensure that the filling stays in place. Pipe a small dollop of buttercream in the center of the cake. This will help stick the cake layers together.

Place the second layer of cake on top and repeat. Place the remaining layer of cake on top and gently press down to secure. Check the sides of the cake and make sure they are straight.

Crumb coat the cake with a thin layer chai buttercream (use any buttercream left in the piping bag at this time). Chill the cake in the refrigerator for about 15 minutes.

After the crumb coat has set, smoothly frost the cake. Tint the remaining buttercream your color(s) of choice and decorate the top as desired.