Pumpkin Pie Cake made with brown sugar pumpkin cake layers, nutty brown butter, and graham cracker buttercream - perfect for any autumn gathering or Thanksgiving!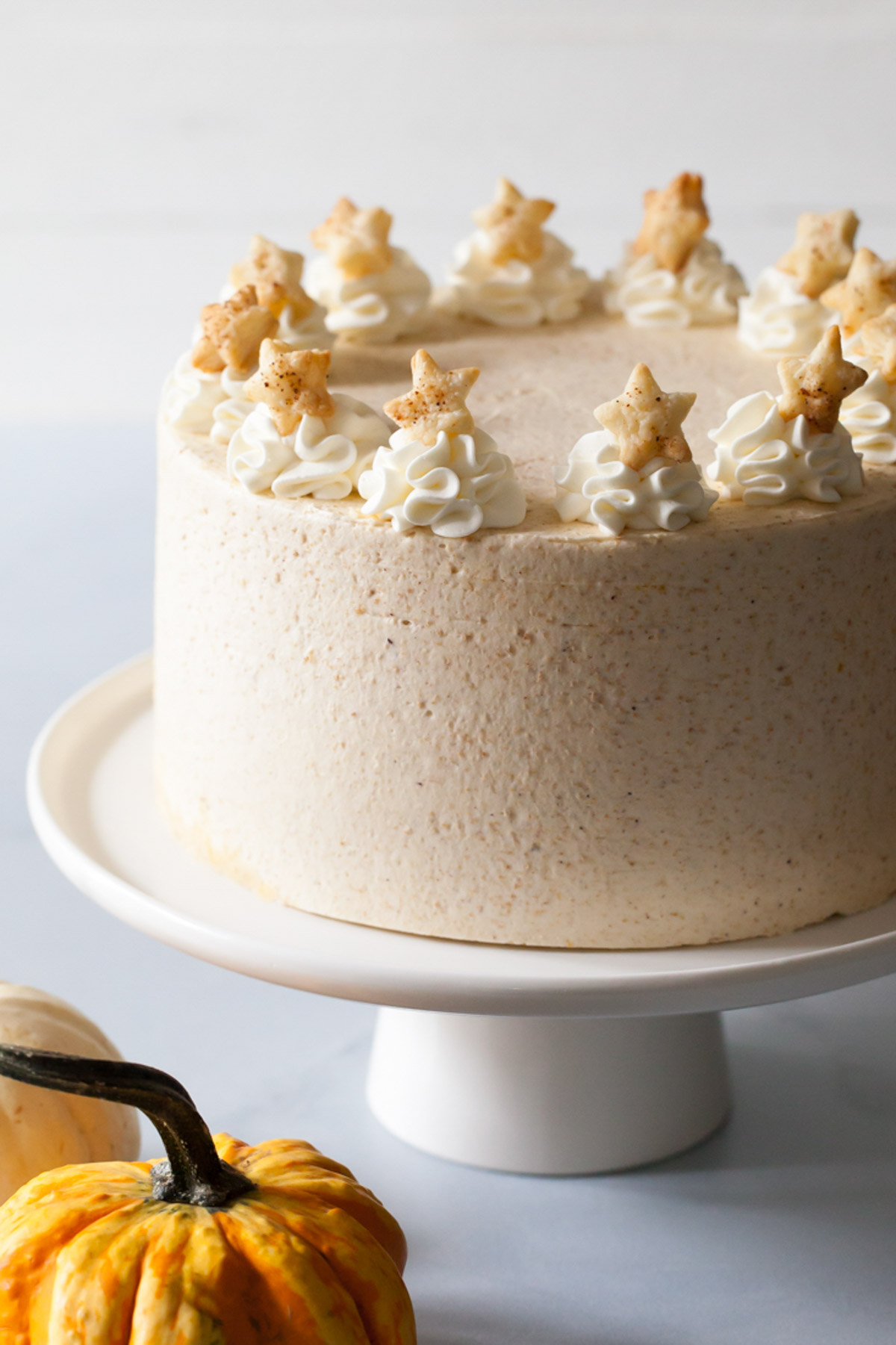 What Makes a Pumpkin Pie Cake?
This Pumpkin Pie Cake recipe is adapted from my first cookbook Layered.
It doesn't take much to get anyone excited about pumpkin cake. You know any good pumpkin cake recipe will be moist, tender, and full of warming, fall spices.
This version is no exception. It uses brown sugar to add depth and a beautiful blend of warm spices.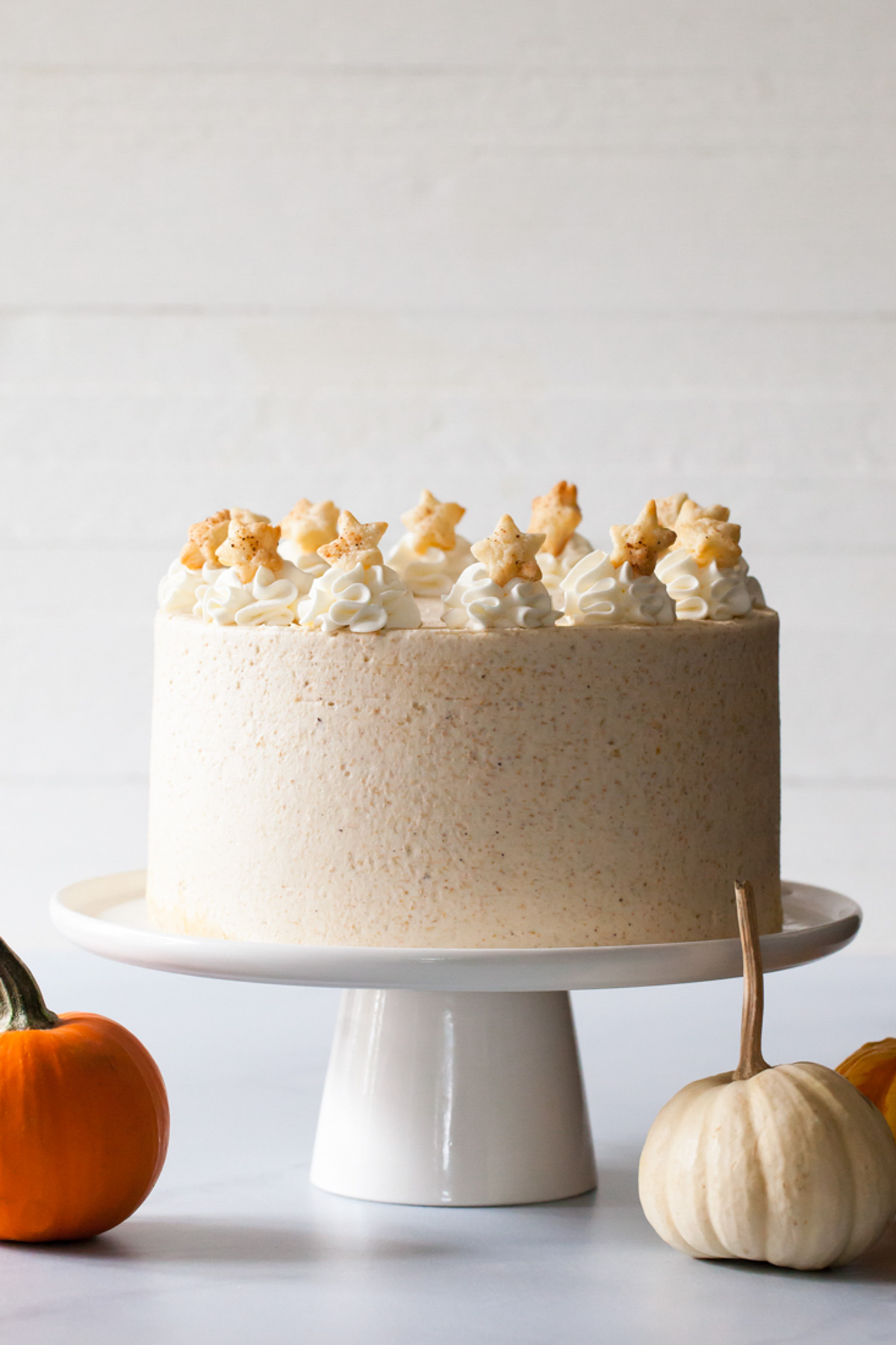 The filling and frosting is a brown butter Swiss meringue buttercream that has been folded together with graham crackers crumbs. Pipe dollops of sweetened whipped cream on top and finish with the cutest pie crust stars.
The brown butter adds a beautiful caramel flavor to the buttercream and the graham cracker crumbs contribute texture to the otherwise tender cake and silky frosting.
As mentioned in the notes, the texture improves the second day as the crumbs soften up a bit and the pumpkin cake will stay moist and fresh for several days, so feel free to make in advanced.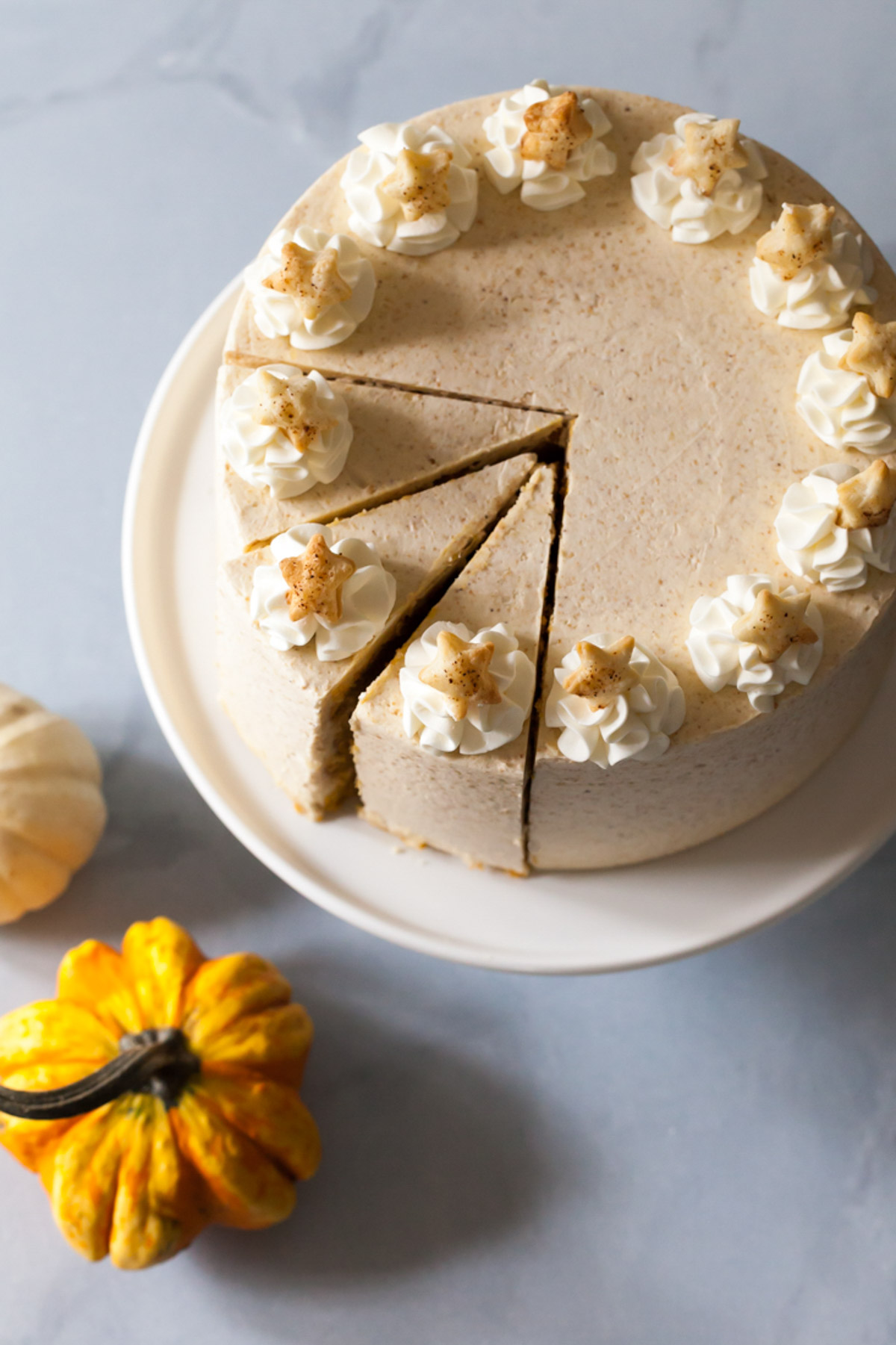 INGREDIENTS IN Pumpkin pie CAKE
Here is a quick glance at some of the ingredients needed beyond basic pantry staples. Find a complete list with quantities in the full recipe to follow.
Pure canned pumpkin
Grapeseed or canola oil
Eggs
Brown sugar
Granulated Sugar
Ground cinnamon
Ground ginger
Ground cloves
Unsalted butter
Egg whites
Graham cracker crumbs
Pre-made pie crust
Heavy cream
TOOLS AND EQUIPMENT
These are the primary tools you will need to bake this cake:
Electric or stand mixer
8-inch cake pans
Saucepan
Offset spatula
Baking sheet
Piping bad and tip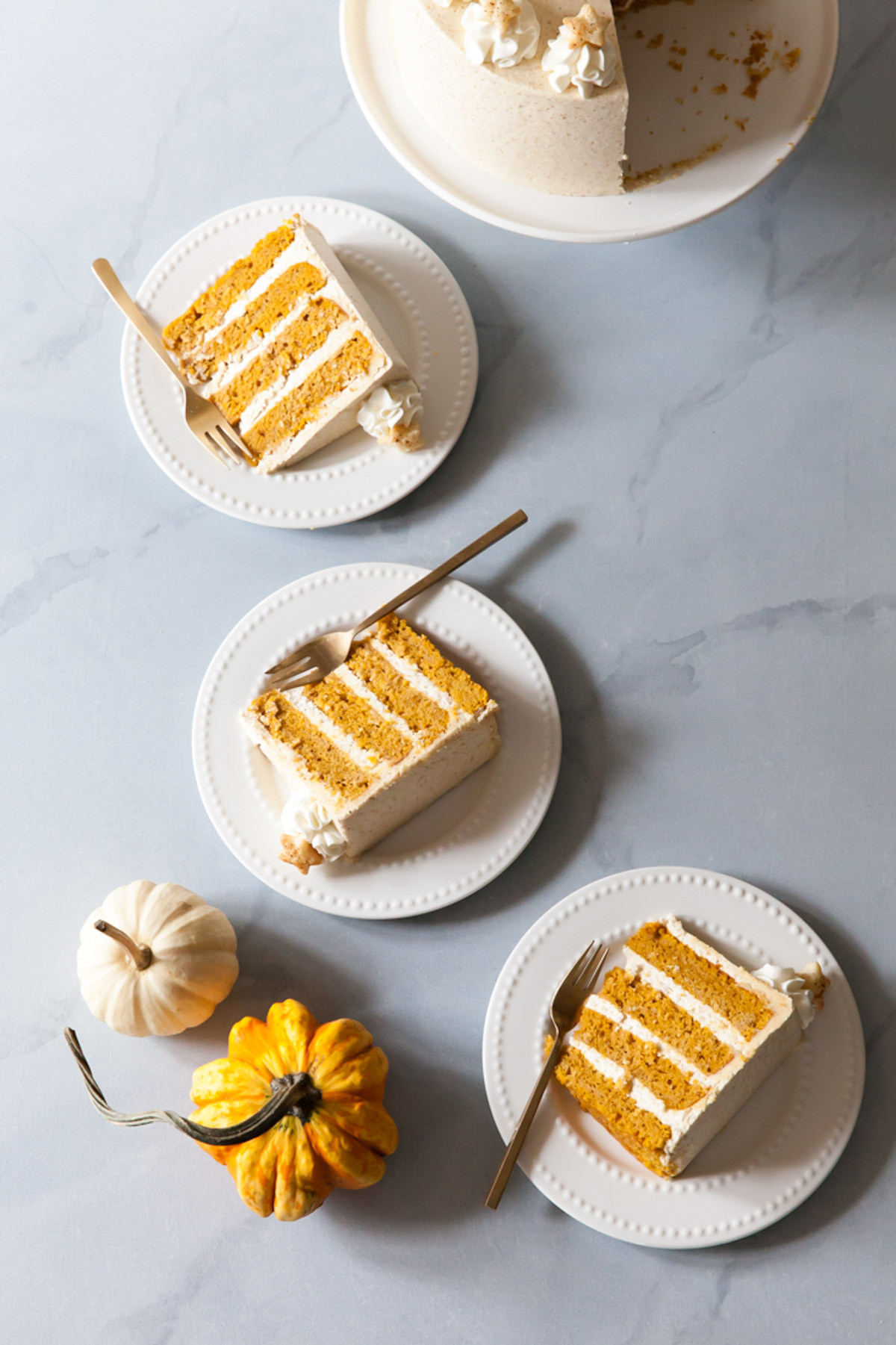 Steps for Make the Pumpkin Pie Cake
Brown the butter: the browned butter needs to cool and come back to room temperature before whipping into the buttercream
Bake the cake
Make the graham cracker buttercream
Bake the pie crust decorations: pop these in the oven as the meringue buttercream whips together
Frost and decorate the cake
FAQ
Can I use store-bough pie crust?
Typically I would encourage you to make your own pie dough, but in this case, store-bought is more than acceptable. It is only being used for decoration so you actually don't want it to be all flaky. Plus, one less thing to make in this multi-component cake.
Can I use whipped cream in a can?
Again, typically I would encourage you to make your own, but store-bought whipped cream is fine for the decorations.
Can I use pumpkin pie mix?
No. The can of pumpkin pie mix contains sugar and spices that will not work for this cake.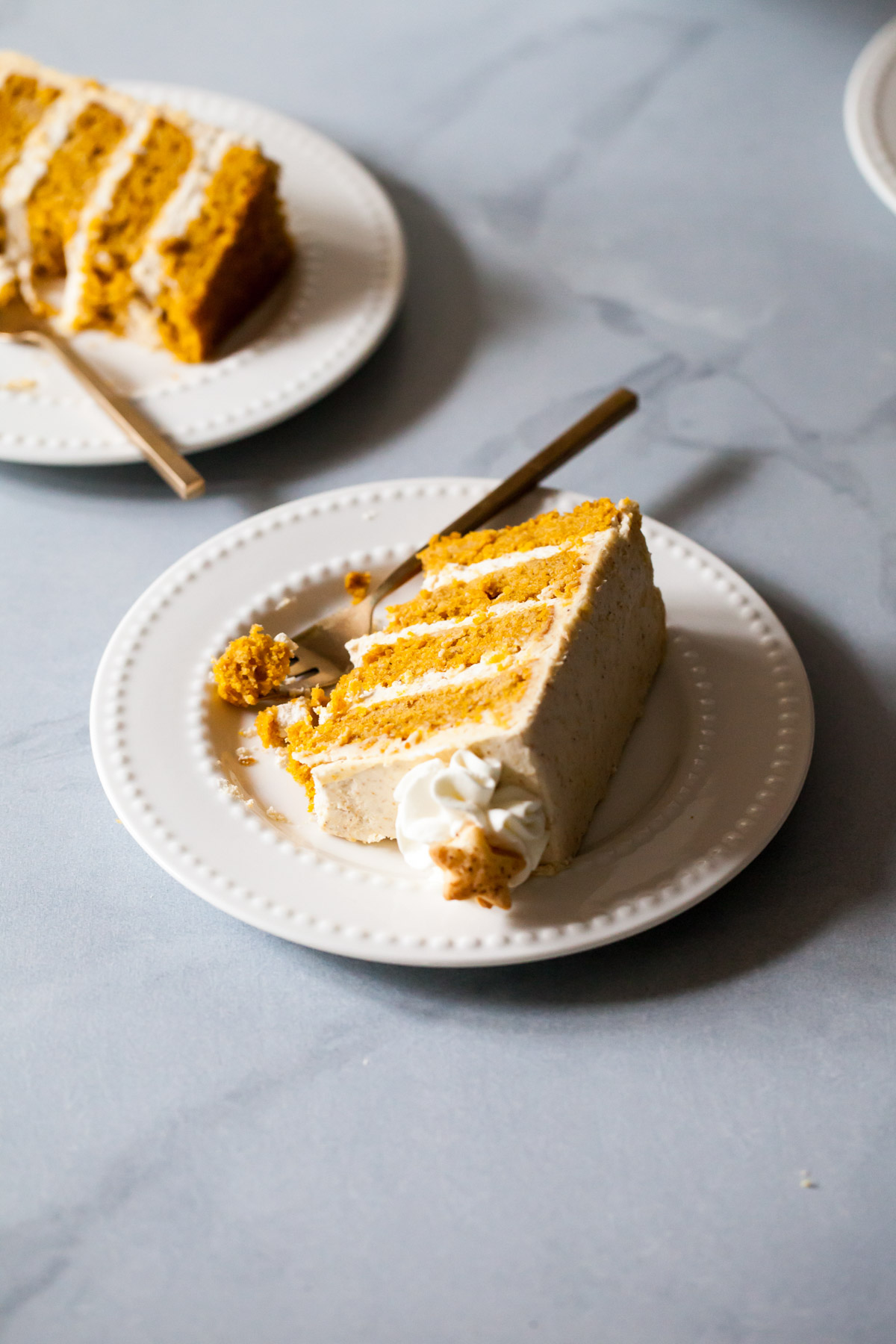 Baker's Notes:
I found that the texture of the graham crackers in the buttercream improve after about a day or so. Store in the refrigerator overnight and let stand at room temperature about an hour before serving.
For the pie crust cut-outs, simply bake about 375 until puffed and golden (about 8 to 12 minutes). Sprinkle on some cinnamon or freshly grated nutmeg before baking.
Since the amount of whipped cream is so small, I just whisked by hand. A great arm work-out before eating cake!! Sweeten with a few tablespoons of sugar per cup of cream, or to taste. Whisk until medium-stiff peaks.
When browning, do not boil the butter on high heat or too much water content from the butter will evaporate out
More Pumpkin Recipes to Make
Overnight Pumpkin Cinnamon Rolls
Pumpkin Cake with Maple Cream Cheese
Ice Cream Sandwiches with Pumpkin Snickerdoodles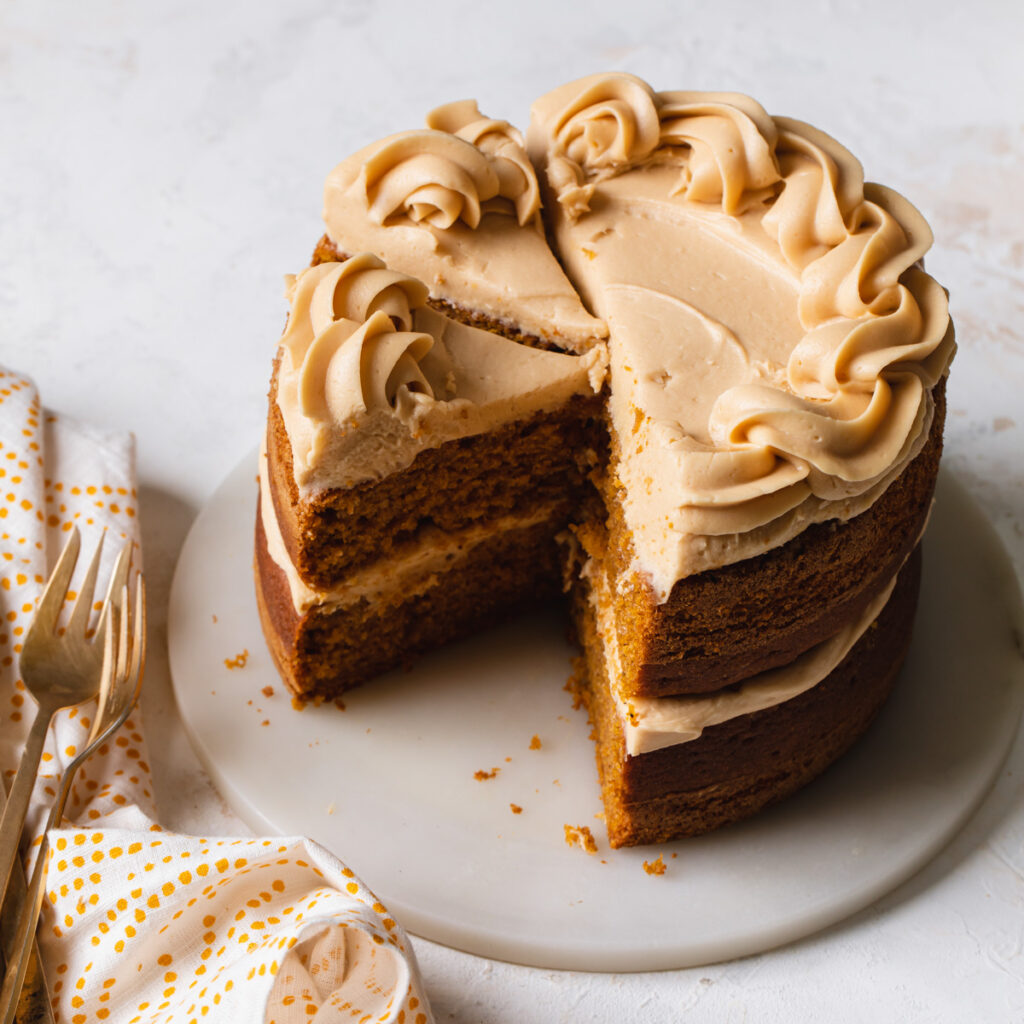 Join the Style Sweet Bake Club!
Get exclusive recipes and articles sent straight to your inbox. Become a subscriber today! Click to join.
Recipe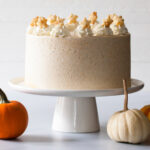 Print Recipe
Pumpkin Pie Cake
Pumpkin Pie Cake made with brown sugar pumpkin cake with nutty brown butter and graham cracker buttercream
Ingredients
Pumpkin Pie Cake
3

cups

all-purpose flour

1

tablespoon

baking powder

2

teaspoon

ground cinnamon

½

teaspoon

nutmeg

½

teaspoon

ground ginger

½

teaspoon

salt

¼

teaspoon

ground cloves

¾

cup

grapeseed oil

1 ½

cups

brown sugar

packed

½

cup

granulated sugar

4

large eggs

2

cups

pumpkin puree
Brown Butter Graham Frosting
3

cups

unsalted butter

divided

6

large egg whites

2

cups

granulated sugar

2

teaspoon

vanilla extract

¾ to 1

cup

graham cracker crumbs

1

pinch

cinnamon

to taste
Assembly
1

pre-made pie crust

sweetened whip cream
Instructions
Pumpkin Pie Cake
Pre-heat oven to 350°F. Grease and flour two 8-inch cake pans and set aside. Sift together the dry ingredients and set aside.

In the bowl of an electric stand mixer fitted with the paddle attachment, mix together the oil, brown sugar and granulated sugar for about 3 minutes. With the mixer on low, add in the eggs, one at a time.  Stop the mixer and scrape down the sides and bottom of the bowl.

With the mixer on low, add in the dry ingredients in two additions, mixing well in between. Just as the last streaks of flour begin to disappear, stop the mixer. Add in the pumpkin and mix until combined.

Evenly distribute the batter between the two pans and bake for 30 to 35 minutes or until a toothpick inserted into the center of the cakes comes out clean. Let cool on a wire rack for 10 to 15 minutes before removing the cakes from their pans. Once cool, carefully slice each cake in half horizontally with a serrated knife to create four even layers.
Brown Butter Graham Frosting
Place 1 ½ cups of butter in a light-colored medium saucepan. Over medium-low heat, melt then brown the butter. Turn the heat to medium-high and brown the butter, about 8 minutes. Stir the butter to keep the milk solids from sticking and burning to the bottom of the pan. When done, the butter will be very fragrant and nutty, light-medium amber in color, with dark brown bits at the bottom of the pan. Strain the browned butter with a mesh sieve into a heat-safe container and chill in the refrigerator until it reaches the same consistency as room temperature butter.

Bring the remaining 1 ½ cups butter to room temperature. Place the egg whites and sugar in the bowl of a stand mixer. Gently whisk them by hand to combine. Fill a medium saucepan with a few inches of water and bring to a simmer. Place the mixer bowl on top of the saucepan with create a double-boiler. Whisking intermittently, heat the egg mixture until it reaches 160°F (70°C) on a candy thermometer. Carefully fit the mixer bowl back onto the stand mixer.

With the whisk attachment, beat the egg white mixture on high speed for 8 to 10 minutes, the mixture holds medium-stiff peaks and the outside of the bowl returns to room temperature.

Turn the mixer down to low and add in the vanilla, unsalted butter, and browned butter, a couple tablespoons at a time. Stop the mixer and swap out the whisk for the paddle attachment.

Turn the mixer to medium-high and beat until the buttercream is silky smooth, 3 to 5 minutes. Add the graham cracker crumbs and cinnamon. Mix until combined.
Assembly
Place one layer of cake on a cake board or serves dish. Spread on about 1 cup of buttercream and smooth with an offset spatula. Top with the next layer of cake and repeat with remaining layers. Frost the cake with the remaining buttercream.

To decorate, pipe dollops of whipped cream and finish with a pie crust cut-out.  Serve at room temperature.
Notes
For the pie crust cut-outs, simply bake about 375 until puffed and golden (about 8 to 12 minutes). Sprinkle on some cinnamon or freshly grated nutmeg before baking.