Start these eggnog and nutmeg-spiced cinnamon rolls with toasted pecan filling the night before and add the orange-vanilla bean glaze just in time for Christmas brunch!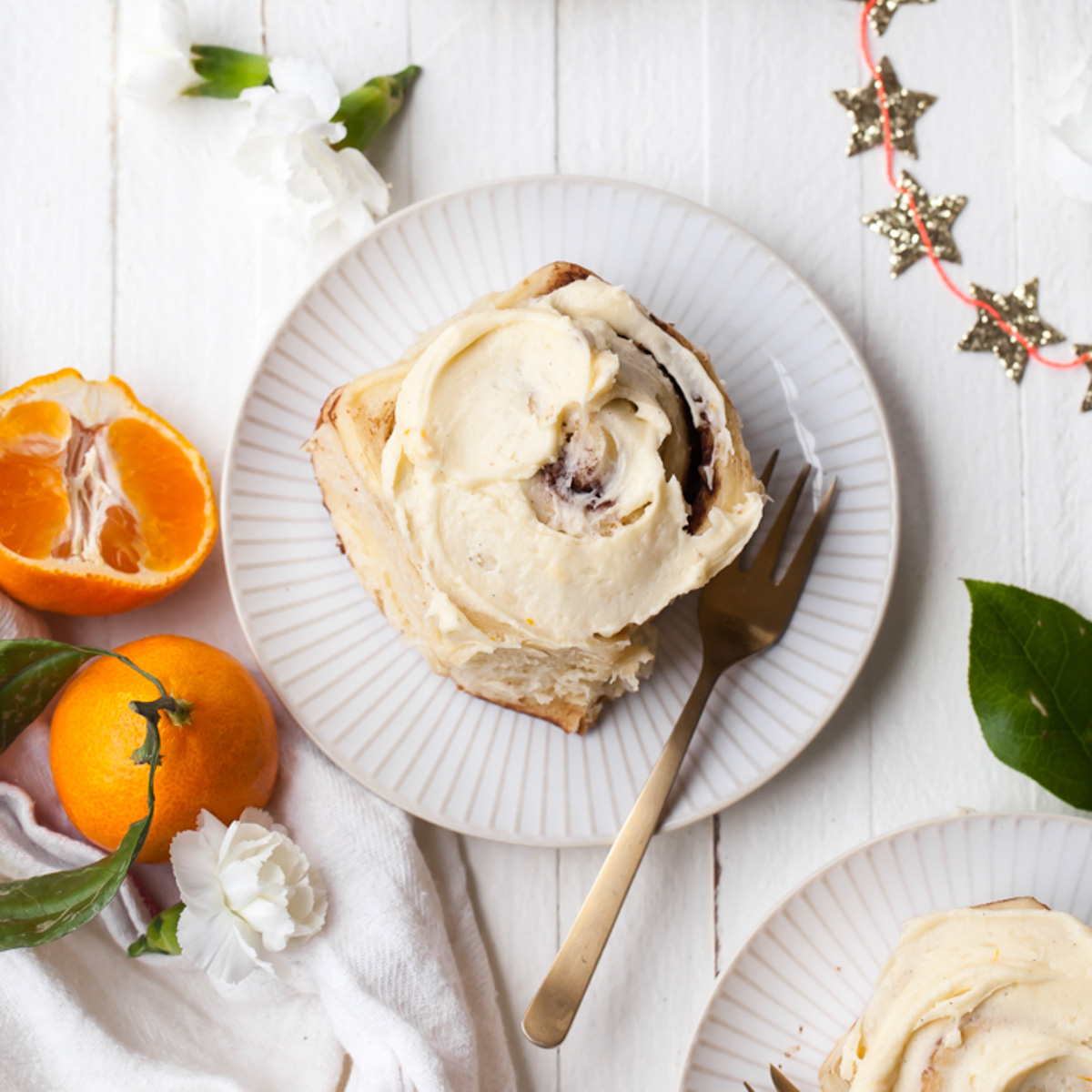 Over the last few years, I've become a much more well versed in yeast-risen baked goods. After experimenting with recipes like Lemon Brioche Pull-Apart Bread and Date Bourbon Buns, I better understand the simplicity of working with yeast and just how amazing homemade breakfast pastries taste still warm out of the oven.
Bonus points if you get to eat them still in your matching Chirstmas pj's.
Why This Recipe Works
One thing in particular that I've truly embraced with these types of recipes is the timing.  
Want warm, gooey, sticky Eggnog Cinnamon Rolls come Christmas morning without having to wake up at 3am? Start the dough the night before and make time on you side instead of impatiently waiting between rises.
By placing the dough in the refrigerator to rise, you are essentially hitting "pause" in the process. The cool temps in the fridge dramatically slow down the yeast, so the dough continues to rise but at a much slower pace.
Instead of scheduling 1 to 2 hours between steps, you can pop the dough into the refrigerator for 8 hours (or overnight) and continue on with your day/night, whether that be Christmas Eve or any other time of the year.
Tasting Notes
These Overnight Eggnog Cinnamon Rolls bake up beautifully in a French oven or cast iron skillet.  I find that they distribute heat very evenly and efficiently, creating perfectly risen buns with toasted edges and gooey centers.
The puffy, pillowy dough is similar to a brioche dough and is loaded with lots of butter.  I've used eggnog as my liquid here, but you may use any type of milk in its place.  
The eggnog flavors are quite subtle, so I like to add a pinch of nutmeg into the dough as well.  For a bit of crunch and texture, toasted pecans have been chopped and added to the cinnamon roll filling.
This cream cheese glaze has been my go-to accessory lately (you'll see it again on a couple more cake recipes coming up soon), so I decided to change it up by adding fresh orange juice, zest, and vanilla bean.  The bright yet subtle citrus notes pair perfectly with the nutmeg and cinnamon and nearly everything is better with a little vanilla bean.  Perfect along side a warm cup coffee and lots of Christmas cheer.
Recipe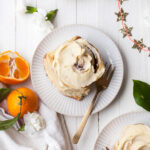 Print Recipe
Overnight Eggnog Cinnamon Rolls with Orange-Vanilla Bean Glaze
The dough for these eggnog cinnamon rolls does the work at night so that you can wake up to warm, gooey buns with orange vanilla glaze.
Ingredients
Overnight Eggnog Cinnamon Rolls
½

cup

eggnog or milk of choice

1 ½

teaspoon

dry active yeast

2 ¾ to 3

cups

all-purpose flour

3

tablespoon

granulated sugar

1

teaspoon

salt

1

heavy pinch

nutmeg

2

large eggs

1

large egg yolk

6

tablespoon

unsalted butter

very soft
Pecan Cinnamon Roll Filling
6

tablespoon

unsalted butter

very soft

⅓

cup

brown sugar

1

tablespoon

cinnamon

¾

cup

toasted pecans

finely chopped
Orange-Vanilla Bean Cream Cheese Glaze
4

oz

cream cheese

softened

1

tablespoon

unsalted butter

softened

1 ½

cups

confectioners' sugar

2

tablespoon

fresh orange juice

½

teaspoon

vanilla bean paste

zest of half an orange

1

pinch

cinnamon
Instructions
Overnight Eggnog Cinnamon Rolls with Pecan Cinnamon Roll Filling
The night before: Warm the eggnog to between 100 to 110°F.  It should be warm to the touch.  Stir in the yeast and set aside for about 5 minutes.

Meanwhile, sift the flour, sugar, salt, and nutmeg into a mixing bowl. Stir to combine.

Whisk together the eggs and egg yolk, then stir them into the eggnog mixture. Pour the eggnog mixture into the dry ingredients and stir to combine.

Knead the dough by hand or with a mixer fitted with a dough hook on low speed for about 4 to 5 minutes. Once the dough begins to come together, add the butter, a tablespoon at a time, while the dough is being kneaded. Try to add as little flour as possible. When done, the dough should be soft but not sticky.

Place the dough in an oiled mixing bowl and cover with plastic wrap. Place in the refrigerator to rise overnight. 

In the morning: Remove the dough from the refrigerator and bring it to room temperature (I place it near a heater for about 20 minutes). Remove the butter for the filling and allow to soften.

Once the dough is soft enough to roll, lightly dust your work surface with a little bit of flour and roll the dough out into a large rectangle, about 16 X 12-inches.

Spread the softened butter of the filling all over the surface of the dough, leaving about a half-inch boarder around the edges. Sprinkle with the cinnamon and sugar and pat it into the butter. Repeat with the chopped pecans, if using.

Starting at the long edge of the rectangle, carefully roll up the dough into a long log. Slide a piece of dental floss under the log until about halfway up, pull up on the strings, cross them, and pull to cut the dough in half. Continue to cut the log into 8 to 10 even pieces. If the dental floss is tricky, use a serrated knife.

Generously butter the inside of a French oven, iron skillet, or baking dish and line the bottom with parchment paper. Place the cut cinnamon rolls, cut-side up, in the bottom – leaving about a half-inch space in-between rolls. Cover with a clean kitchen towel and allow to double in size – about 3o to 45 minutes in a warm room.

Meanwhile, pre-heat the oven to 350°F. Remove the kitchen towel and bake the cinnamon rolls for about 25 to 35 minutes, or until slightly golden around the edges. Cool on a wire rack for 10 to 15 minutes as you prepare the glaze (recipe to follow). Frost and serve the cinnamon rolls while they are still warm.

Leftovers will keep covered in plastic wrap at room temperature overnight.
Orange-Vanilla Bean Cream Cheese Glaze
In a mixing bowl, stir together the cream cheese and butter until well smooth.

Gradually stir in the confectioner's sugar and mix until incorporated.

Add in the orange juice, zest, vanilla bean paste, and cinnamon.  Stir until smooth.  Glaze should be rather thick yet spreadable.
Thank you to Le Creuset Canada for their participation in this post. Words and opinions are my own.