Enter this chai-spiced Pumpkin Bundt Cake with Cinnamon Cream Cheese Glaze and Pumpkin Seed Praline. Nobody can turn down that drippy frosting, and the glistening crown of praline shards is just too intriguing to ignore.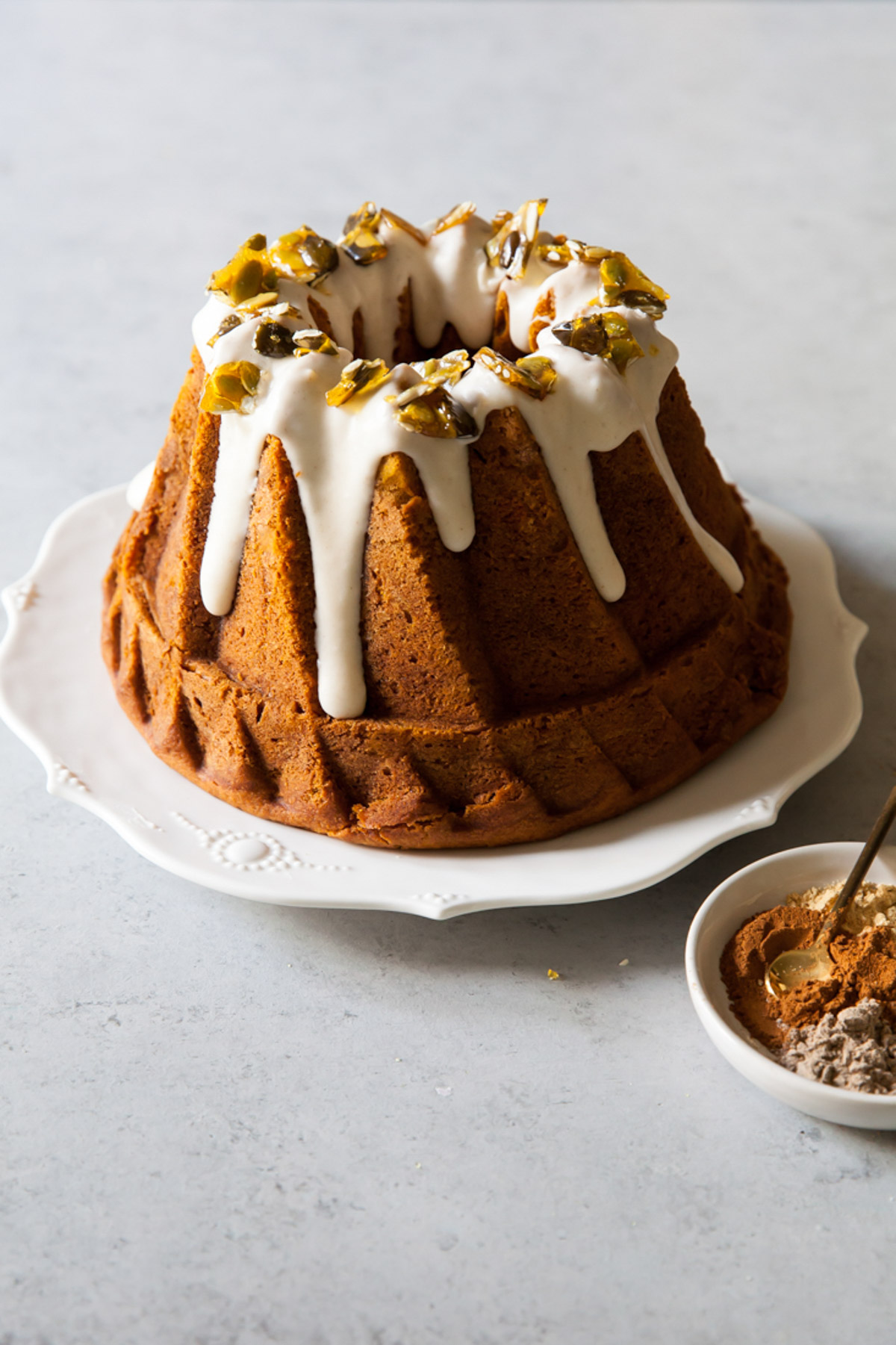 Everyone knows that any good pumpkin cake recipe is going to be moist, tender and full of delectable, warming spices.  This Pumpkin Bundt® Cake is no exception. 
Using a combination of both Land O Lakes® European Style Unsalted Butter and a splash of grapeseed oil not only keeps this cake extra moist until after Thanksgiving dinner is cleared, you can even make it the day ahead and it will still be fresh. 
Most pumpkin-type cake recipes (pumpkin, apple, carrot, etc.) are usually made with just oil, but you can't deny the inimitable flavor of high quality butter.  Not only does the butter add extra flavor, but by creaming it together with the sugar, it makes for a lighter batter and more tender crumb, too. 
How It Works
Notice how a lot of Bundt® or pound cakes can seem rather dense and heavy? Not this one! 
Unlike a cake that requires just stirring in oil and the other wet ingredients, this recipe calls for whipping the butter and sugar together – resulting in the sugar crystals cutting into the butter and trapping little, tiny air bubbles in the mixture that helps lighten the batter.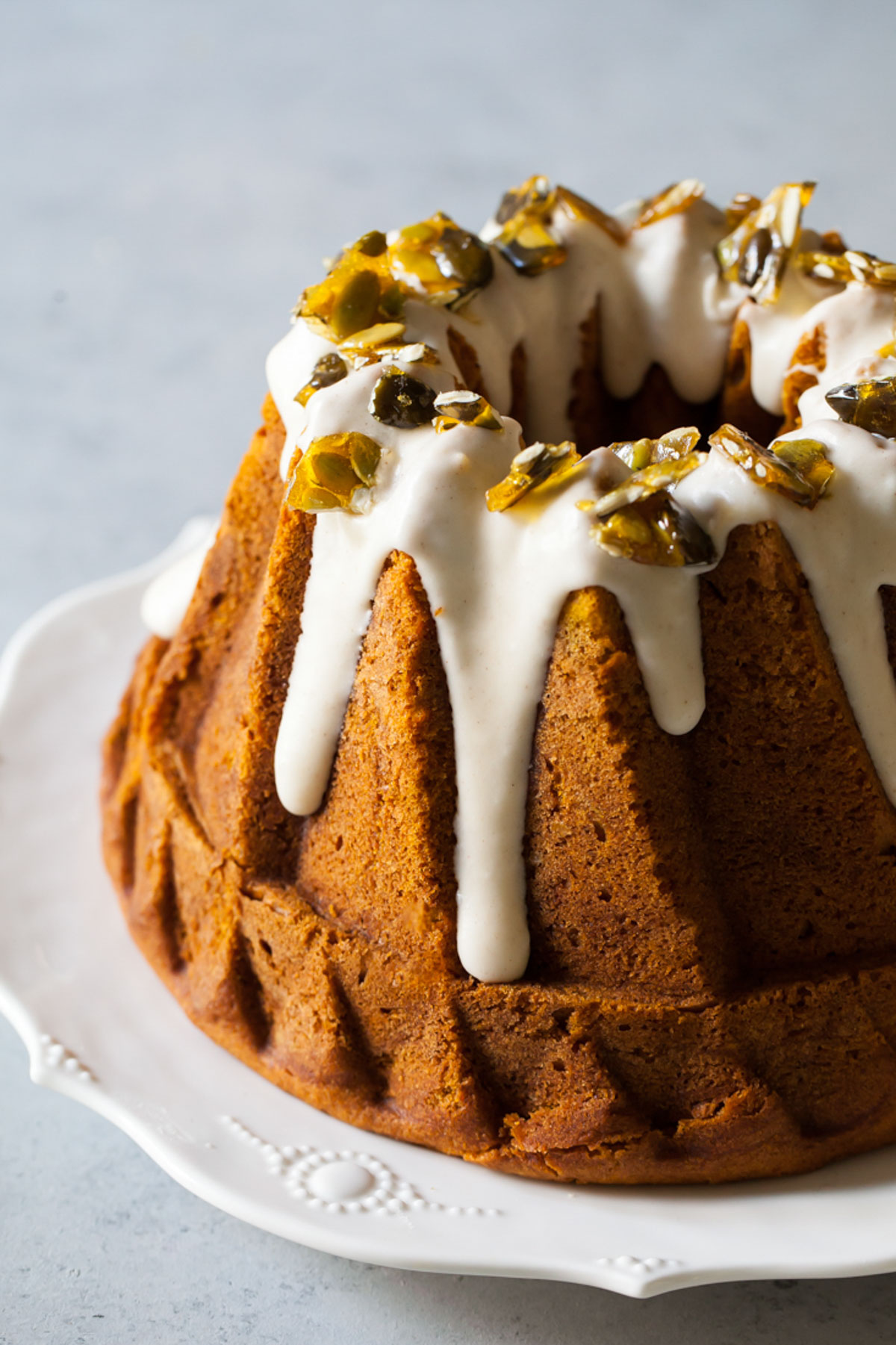 For the Cream Cheese Glaze
And we aren't stopping just there – it's a special occasion, remember!?!  I love how the tangy cream cheese glaze pairs with the spiced pumpkin cake. 
I used spices familiarly found in chai tea – cinnamon, cardamom, ginger, clove, and a touch of black pepper – but feel free to use any combination you'd like. 
Pumpkin Seed Brittle
And the praline!! Pumpkin Seed Praline sounds fancy, but it is actually super easy to make­– easier than brittle, in my opinion. 
The difference is in the ratio of sugar to seed/nut.  Praline consists of only a handful of ingredients and comes together in just about 10 minutes. 
I don't know what's more fun – eating it or shattering the glass-like pieces?!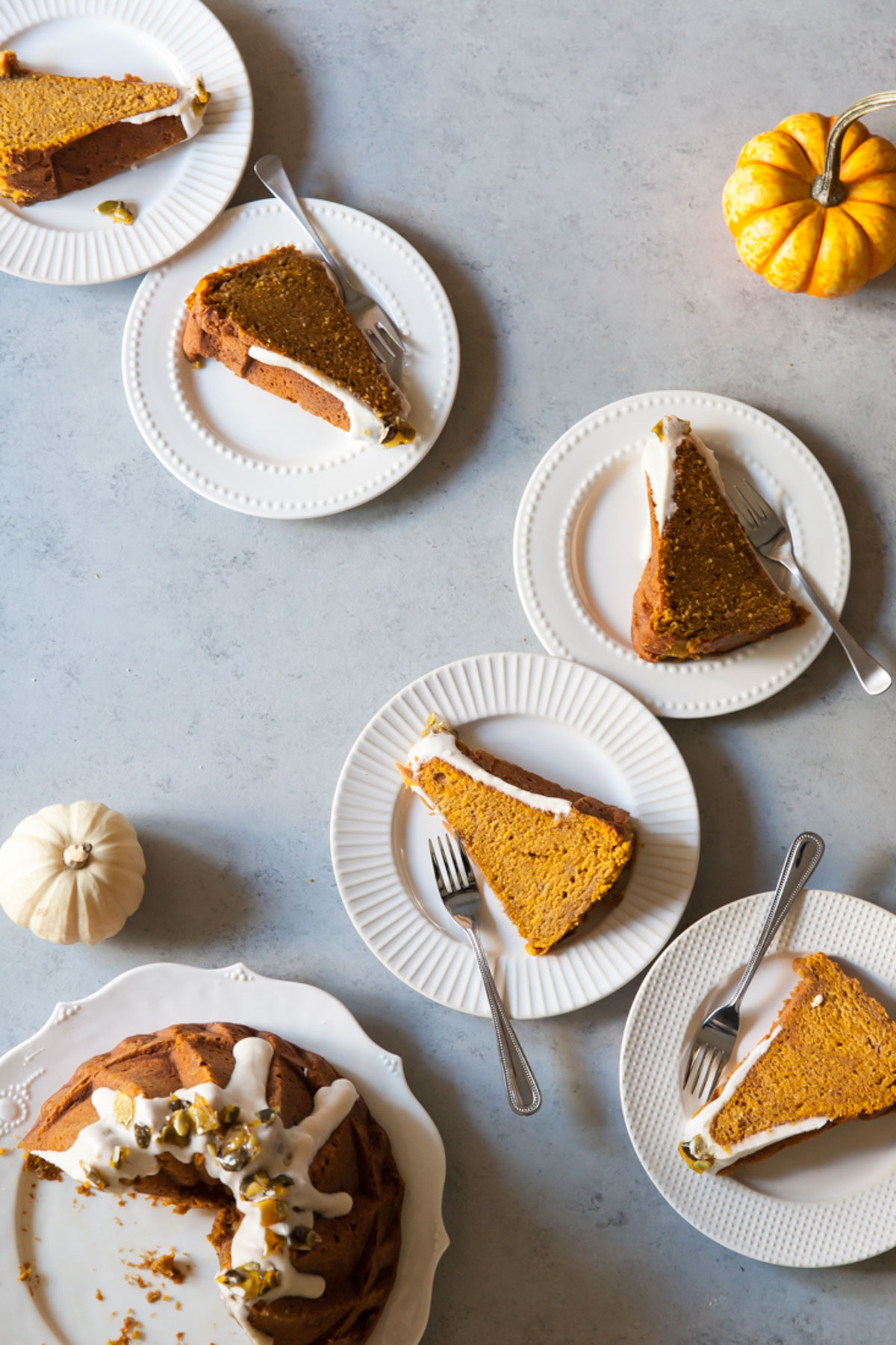 Tips for UnMolding a Bundt Cake
Nervous about unmolding your Bundt® cake for the big occasion?  Don't be!  Super soft butter is king when it comes to greasing cake pans. 
Trust me. I used to think oil reigned supreme since it seems "slippery-er" but butter coats the pans better without pooling the bottom and gives something for the flour to cling onto for that perfect release every time. 
I like to smoosh in the softened butter into every nook and cranny with a pastry brush before sprinkling in the flour.  Just be sure to flip out your cake while it's still warm!
I teamed up with Steph from I Am a Food Blog to showcase our best "Friends-giving" dishes.  Take a look:
Recipe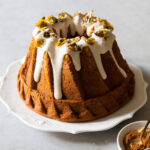 Print Recipe
Pumpkin Bundt Cake
A Chai spiced Pumpkin Bundt Cake with cream cheese glaze and candied pumpkin seeds on top.
Ingredients
Pumpkin Bundt Cake
3

cups

all-purpose flour

2

teaspoon

baking powder

1

teaspoon

baking soda

1

teaspoon

salt

2

teaspoon

cinnamon

1

teaspoon

cardamom

1

teaspoon

ginger

¼

teaspoon

clove

1

pinch

black pepper

¾

cup

unsalted butter

softened

1

cup

brown sugar

1

cup

white sugar

¼

cup

flavorless oil

like grapeseed or canola

3

large eggs

2

teaspoon

pure vanilla extract

⅓

cup

buttermilk

14

oz

pumpkin puree
Cream Cheese Glaze
4

oz

cream cheese

softened

1

tablespoon

unsalted butter

softened

1 ½

cups

confectioner's sugar

2

tablespoon

milk

½

teaspoon

pure vanilla extract

1

pinch

cinnamon
Pumpkin Seed Praline
1

cup

granulated sugar

⅓

cup

water

1

pinch

cream of tartar

1

cup

pumpkin seeds

flakey sea salt

for sprinkling
Instructions
Pumpkin Bundt Cake
Pre-heat oven to 350°F.  Generously brush the inside of a Bundt® pan with very soft butter, sprinkle with flour, and tap out the excess.  Set aside.

Sift together the flour, baking powder, baking soda, salt, and spices.  Set aside.

In the bowl of an electric mixer, beat the butter on medium-low speed with the paddle attachment until smooth.  Add in both sugars and mix on medium until light and fluffy, 3 to 5 minutes.  Add the oil and vanilla. Mix until combined.

With the mixer on low, add in the eggs, one at a time.  Stop the mixer and scrape down the sides and bottom of the bowl. 

With the mixer on low, add in half of the flour mixture and mix until just combined.  Add in the buttermilk and mix until combined.  Add in the remaining half of the flour mixture and mix until just incorporated and few streaks of flour remain visible.  Add in the pumpkin puree and mix until smooth.  The batter will be thick.

Spoon the cake batter into the prepared pan.  Tap the bottom of the filled pan on a hard work surface to release any air bubbles.  Bake for 45 to 55 minutes, or until a long wooden skewer or thin paring knife inserted into the center of the cake comes out clean.  Cool on a wire rack for about 15 minutes, or until the cake can safely be handled. 

Gently loosen the edges of the cake with a flexible rubber spatula (but resist the urge to run a knife around the edges or it may cut into the cake).  Place a wire rack or cutting board on top of the cake.  Holding on to the edges of the pan and rack, carefully invert everything.  The cake pan will still be warm, so use oven mitts as needed.  Remove the cake pan and continue to completely cool the cake before adding the glaze.
Cream Cheese Glaze
In a mixing bowl, stir together the cream cheese and butter with a wooden spoon until well combined.

Gradually stir in the confectioner's sugar and mix until incorporated.

Add in the vanilla and milk.  Stir until smooth.  Glaze should be rather thick but still able to drip slowly off of a spoon.  Add more milk as needed.

Once the cake had completely cooled, drip the glaze over the top of the cake and garnish with praline pieces.
Pumpkin Seed Praline
Like a baking sheet with parchment or a silicone baking mat and set aside.

Place the sugar, water, and cream of tartar in a small saucepan over high heat. Bring the mixture to a boil and continue to cook, without stirring, until the mixture turns a medium amber color. Remove the saucepan from the heat and quickly stir in the pumpkin seeds.

Tip the mixture onto the prepared pan and quickly spread it into a thin layer with a greased spatula. Sprinkle with salt and allow the praline to completely cool. Once cool, break the praline into pieces. Serve as a garnish to the pumpkin cake.
Big thanks to Land-O-Lakes for their participation in the post.  Words and opinions are my own.