Whether you are a beginner or veteran cake decorator, I also love this this design because it gets the most bang for its buck, so to speak. For the watercolor effect, you will use the same techniques and tools as you would for frosting a smooth cake.
By simply changing the colors and intensity, the effect can be easily customized and is effortlessly versatile to create celebration cakes for all occasions.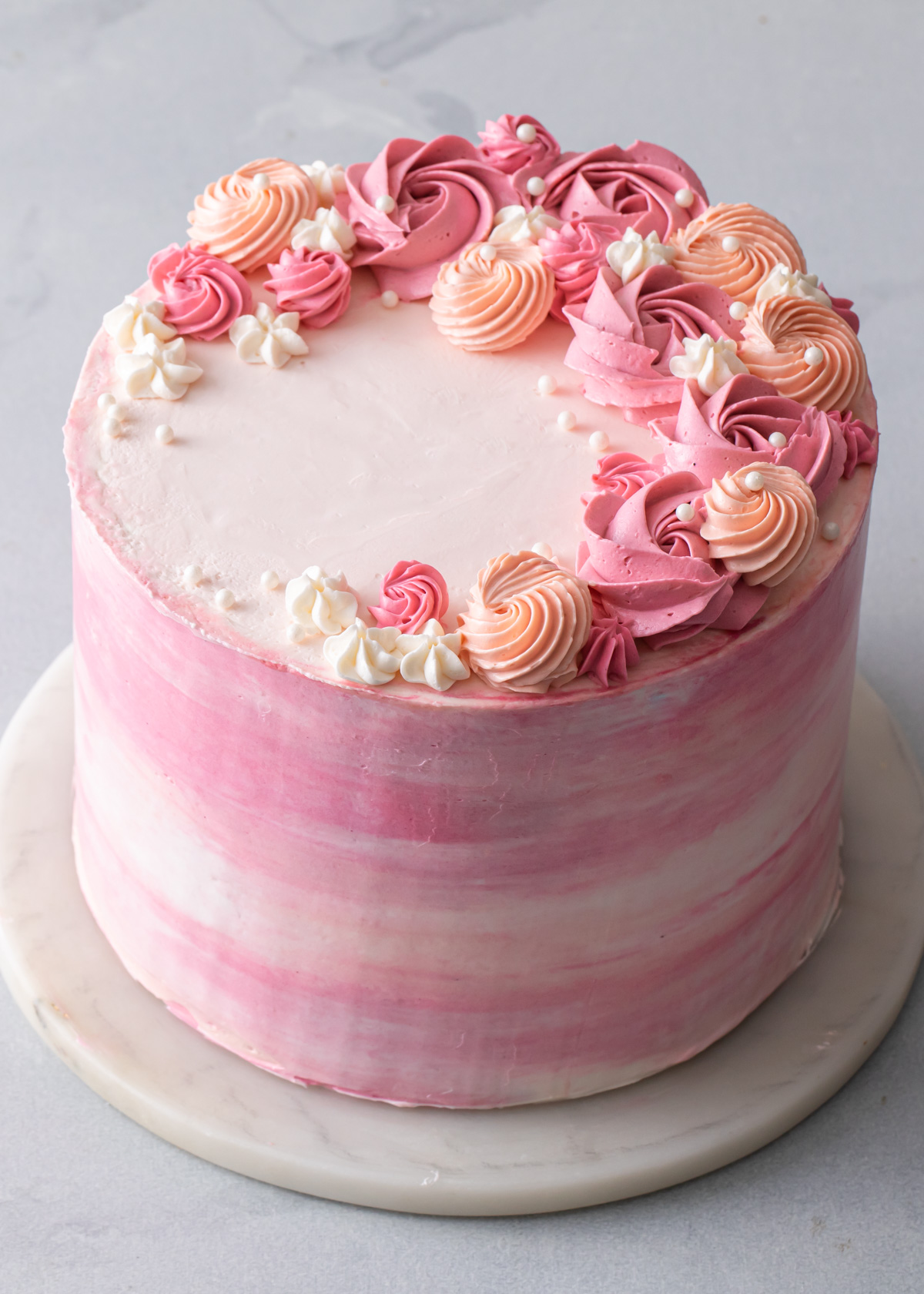 This watercolor buttercream cake design is one of my favorite techniques. It appears in my cookbooks, all over social media, and is one of my most attended in-person classes. With some helpful step-by-step photos, you can see how easy it is to make a watercolor cake at home!
I love this design for so many reasons. One of the biggest reasons is how unique and different each cake turns out. It's nearly impossible to "mess up!" The colors swirl together organically - each cake beautiful in its own way.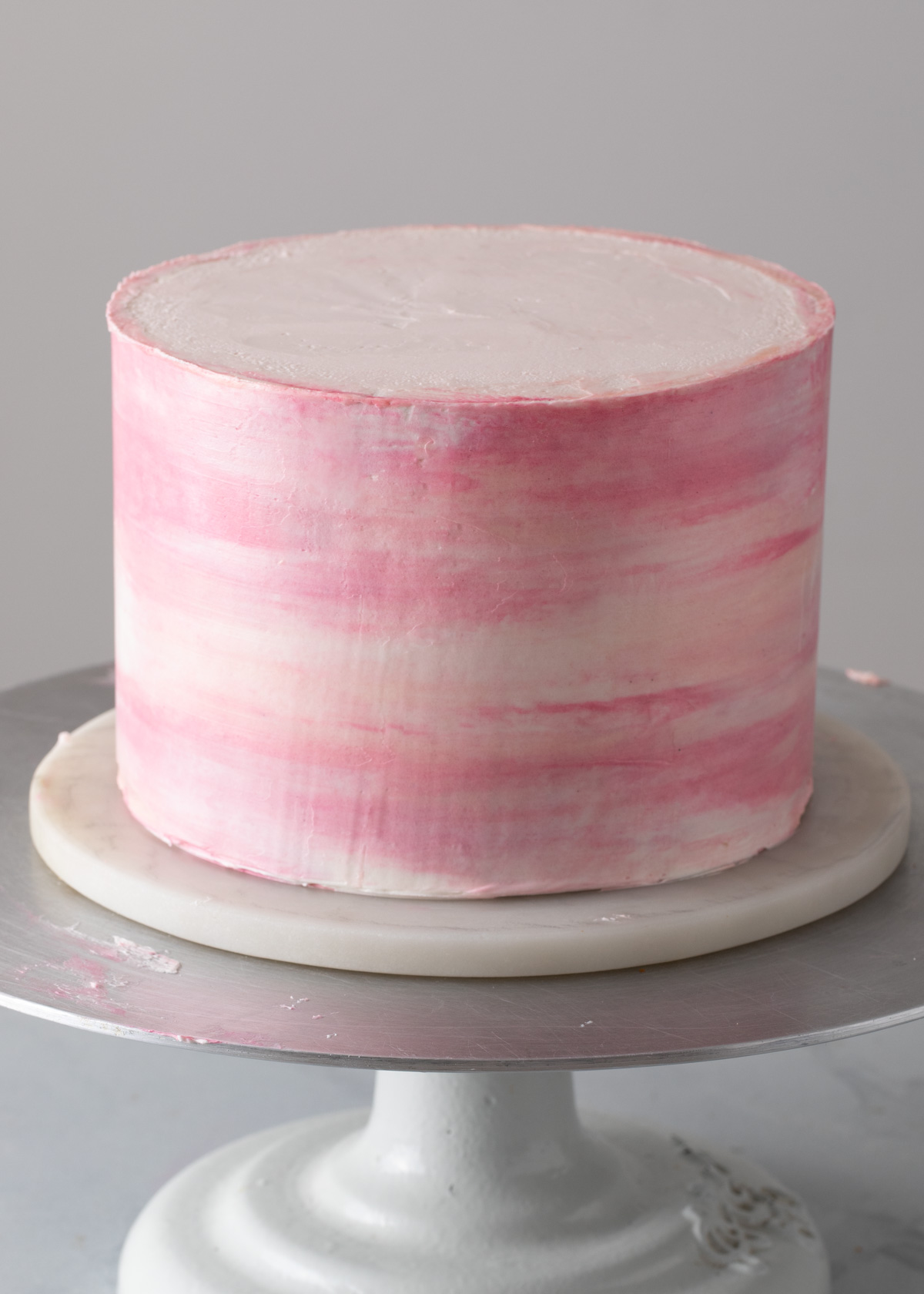 This is an updated version of my original watercolor cake tutorial. The first version is still a hit, but this new way if even easier.
Tools:
Rotating cake stand

Offset spatula

Gel food coloring

Icing smoother

Paring knife

Piping tips and bag
How to Make a Watercolor Cake
1. Frost the Cake – Using your favorite buttercream of choice (I used Swiss meringue buttercream, but American buttercream is fine, as well), smoothly frost the cake about 90% of the way. It does not need to be absolutely perfect yet since we will be adding more buttercream in Step 3.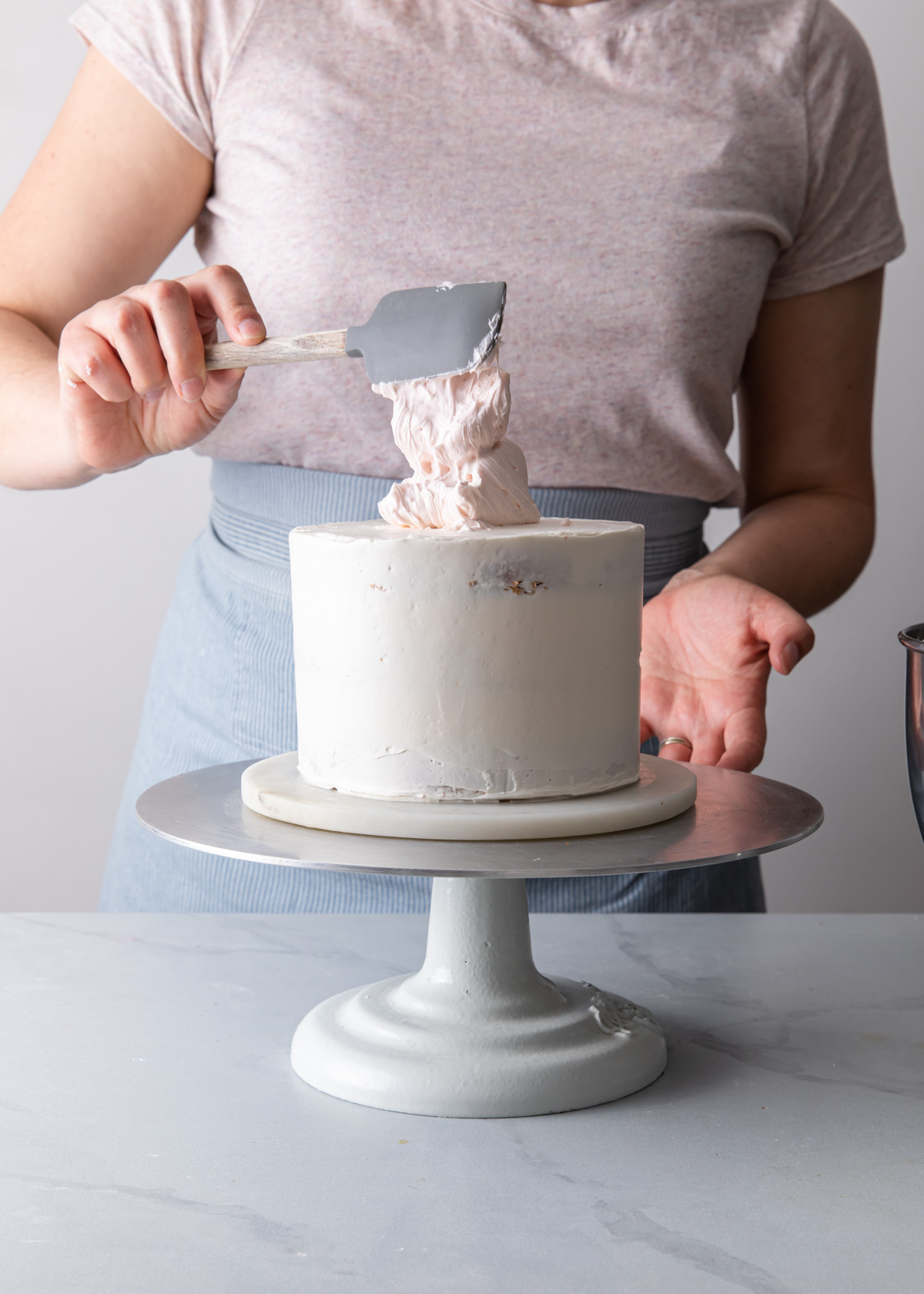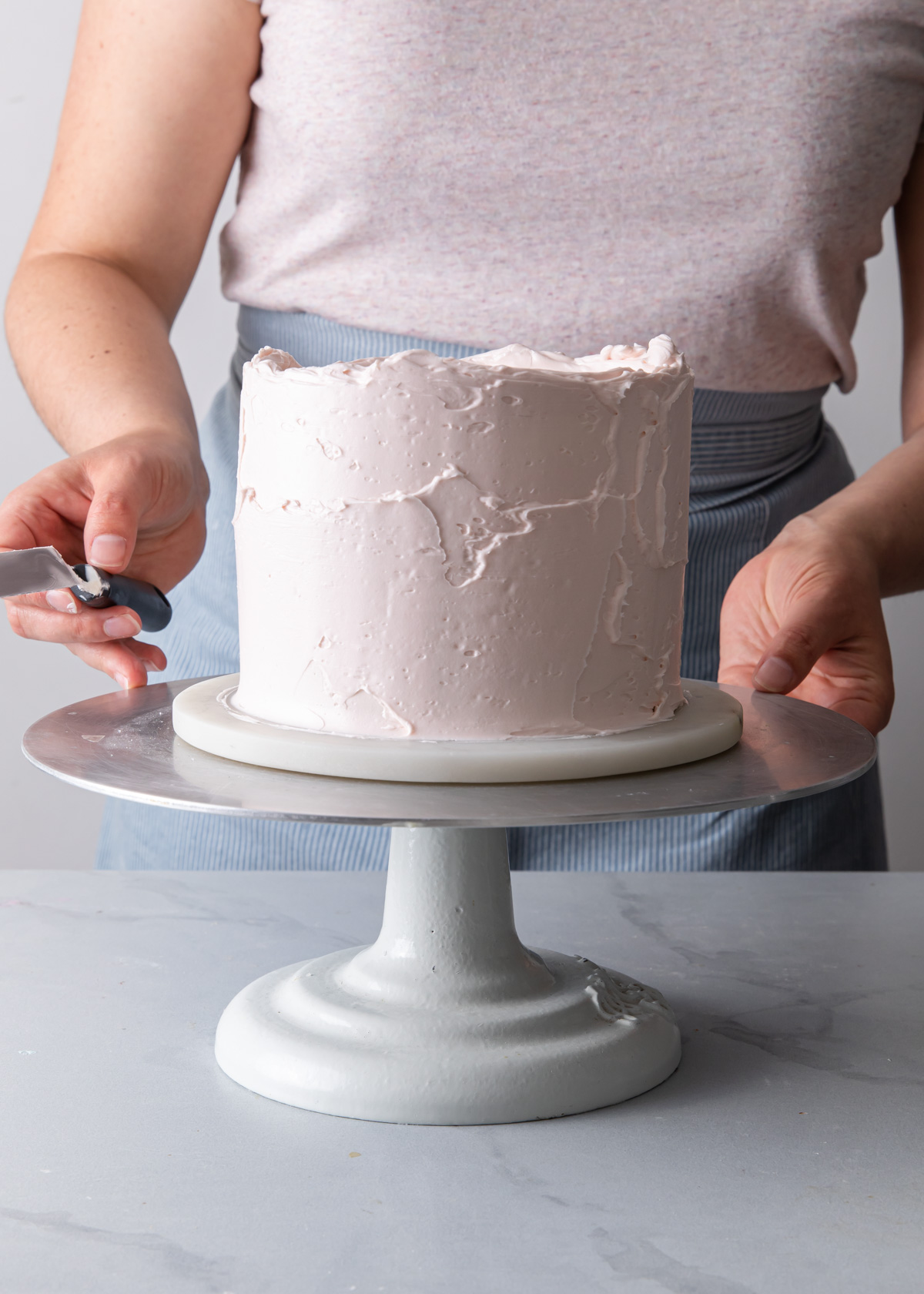 2. Color the Buttercream – Divide any remaining buttercream into two or three bowls. Using gel food coloring, tint the buttercream the color of your choice. I used pink, peach, and yellow – all colors that when mixed together are still pretty ( see NOTES).
3. "Paint" the Cake – Next, use an offset spatula, smudge the frosted bake with swipes of the colored buttercream.
This step can be as random or as calculated as you'd like. There really is no right or wrong way. However, I recommend stacking the colors more vertically instead of right next to each other horizontally – since we will be smoothing the frosting around the sides of the cake horizontally and you'll want to leave a bit of room to allow the colors the "blend."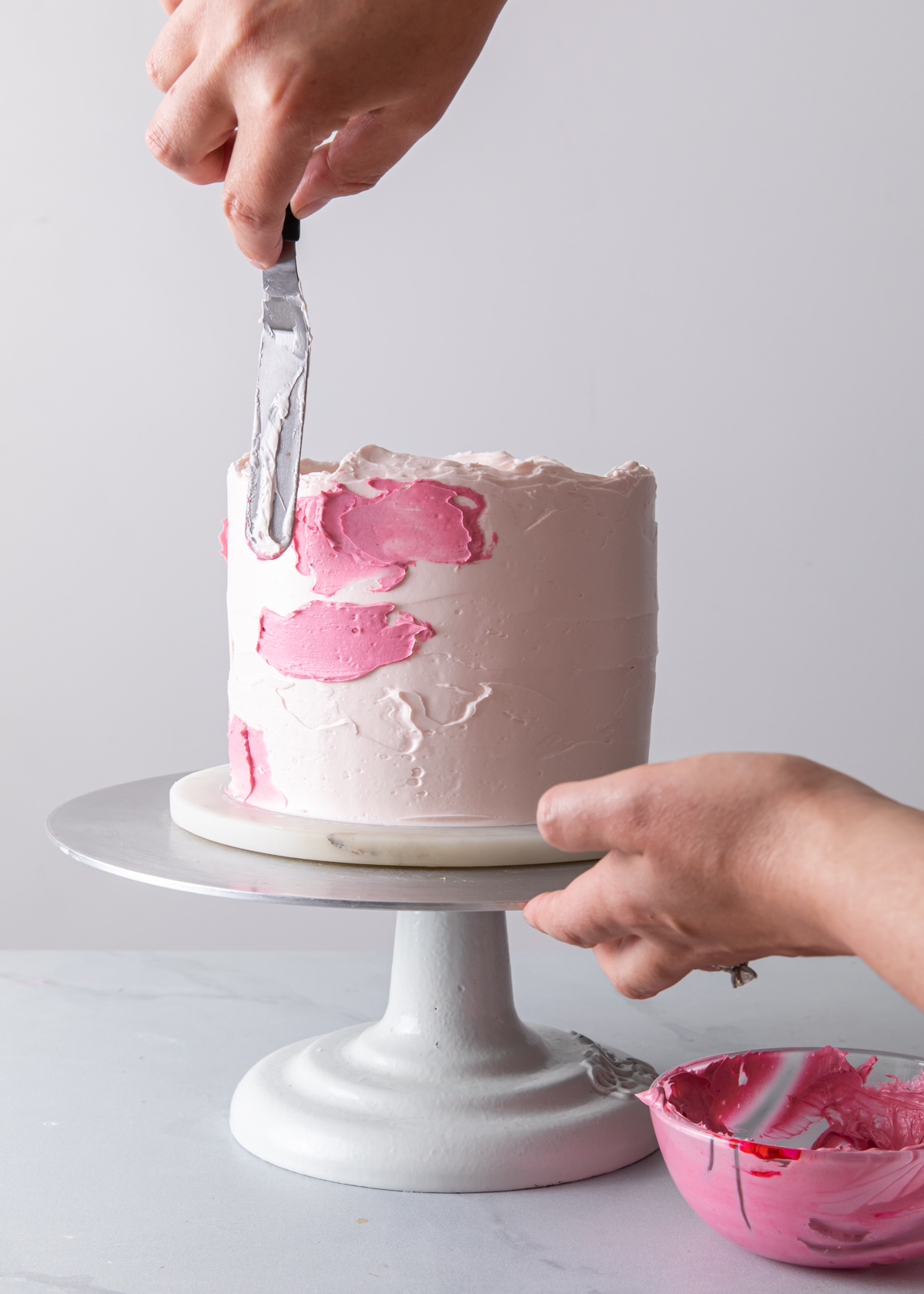 4. Smooth and Smear – As you would when smoothly frosting any cake, take an icing smoother and begin smoothing out the bits of colored frosting. Stop after each time around the cake to add more frosting when needed.
Please note that this process should be quick yet deliberate. You will only be able to smooth over the frosting a few times around before the colors begin to blend together too much.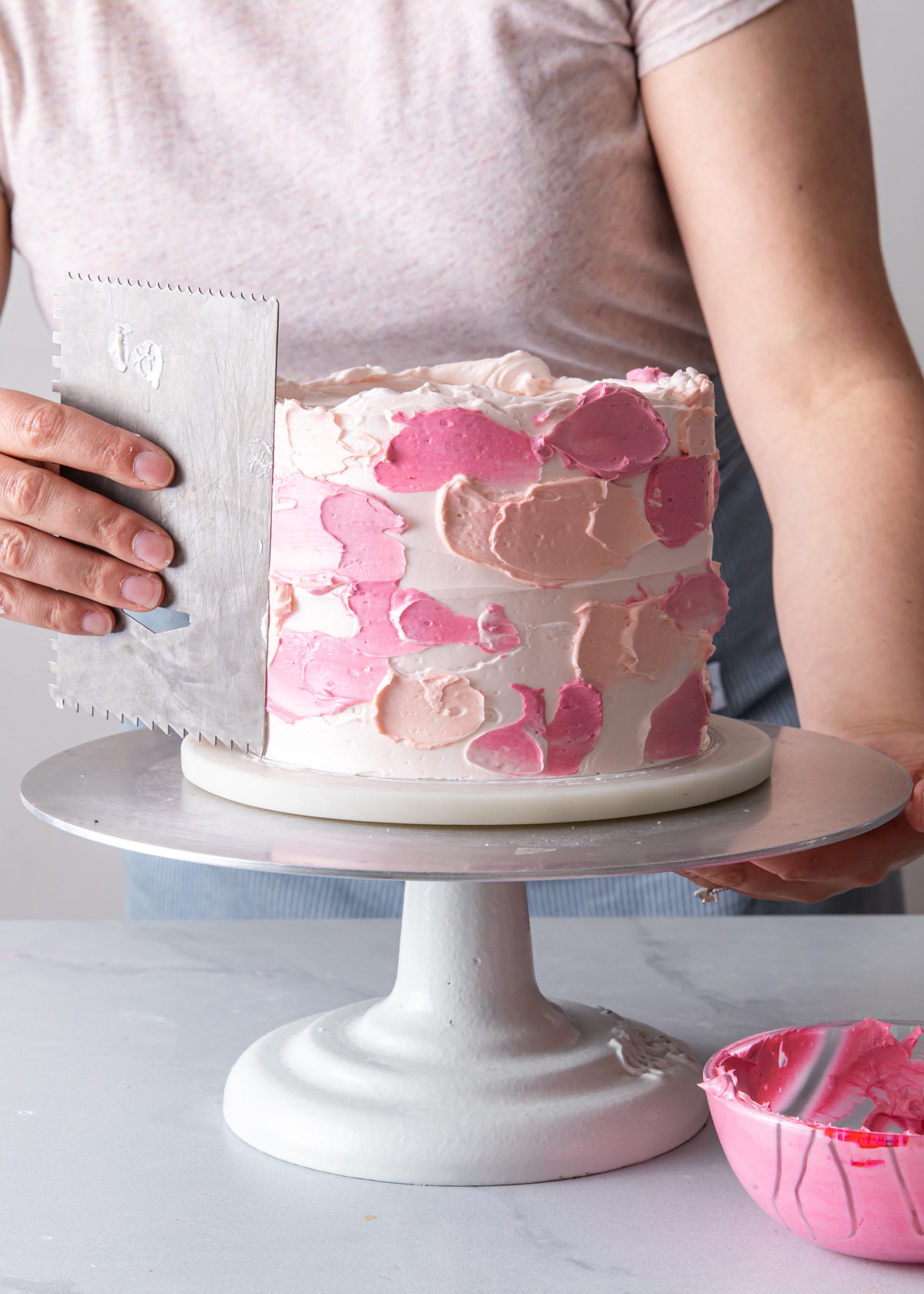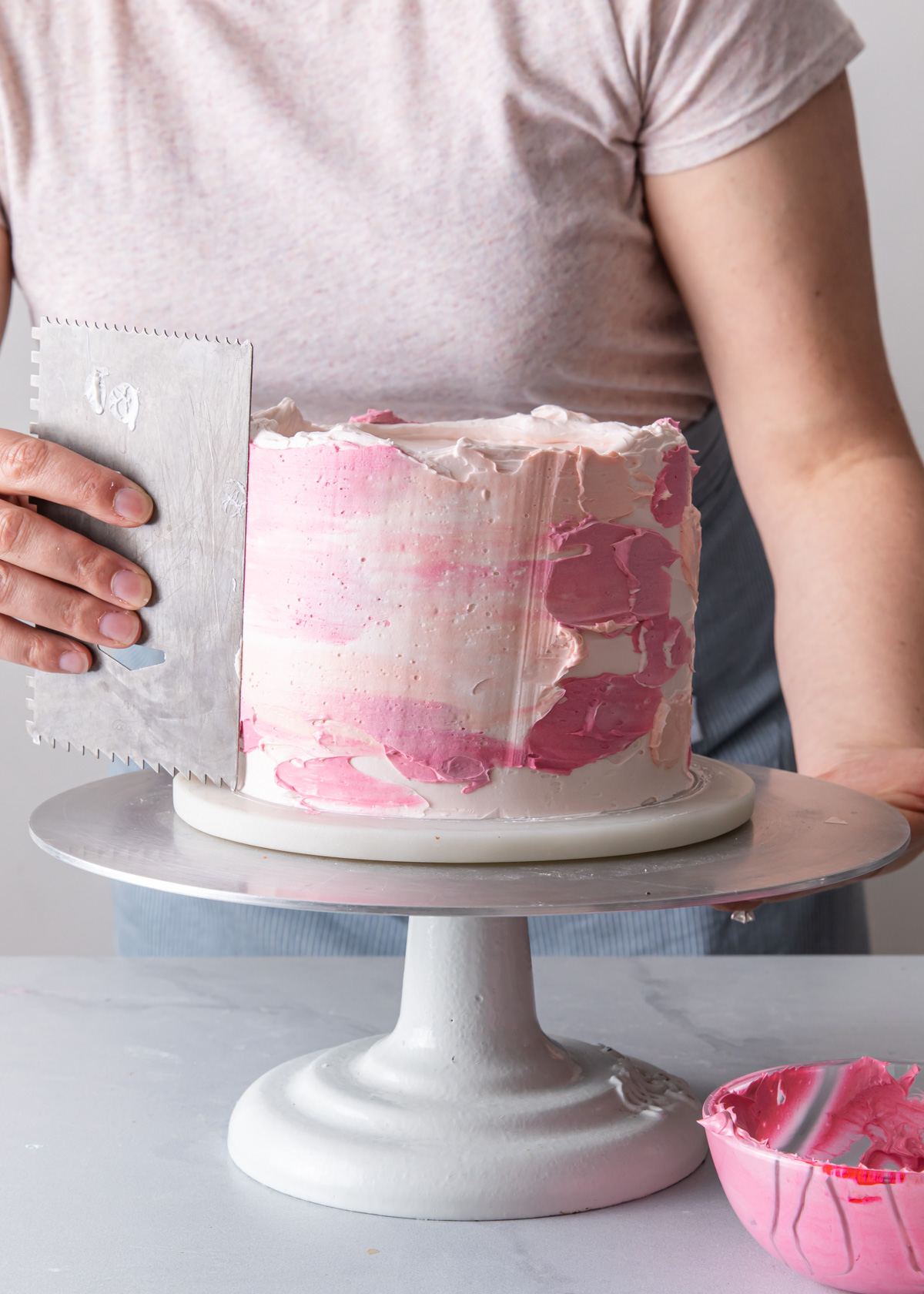 5. Trim the top - For a super clean and crisp top edge, trim off the excess buttercream with a paring knife. This technique works best if the buttercream is firm.
Why trim the top? This technique prevents the colored buttercream from smearing onto the top of the cake. Alternatively, use an offset spatula to pull the top edges towards the center of the cake and continue the watercolor pattern on the top.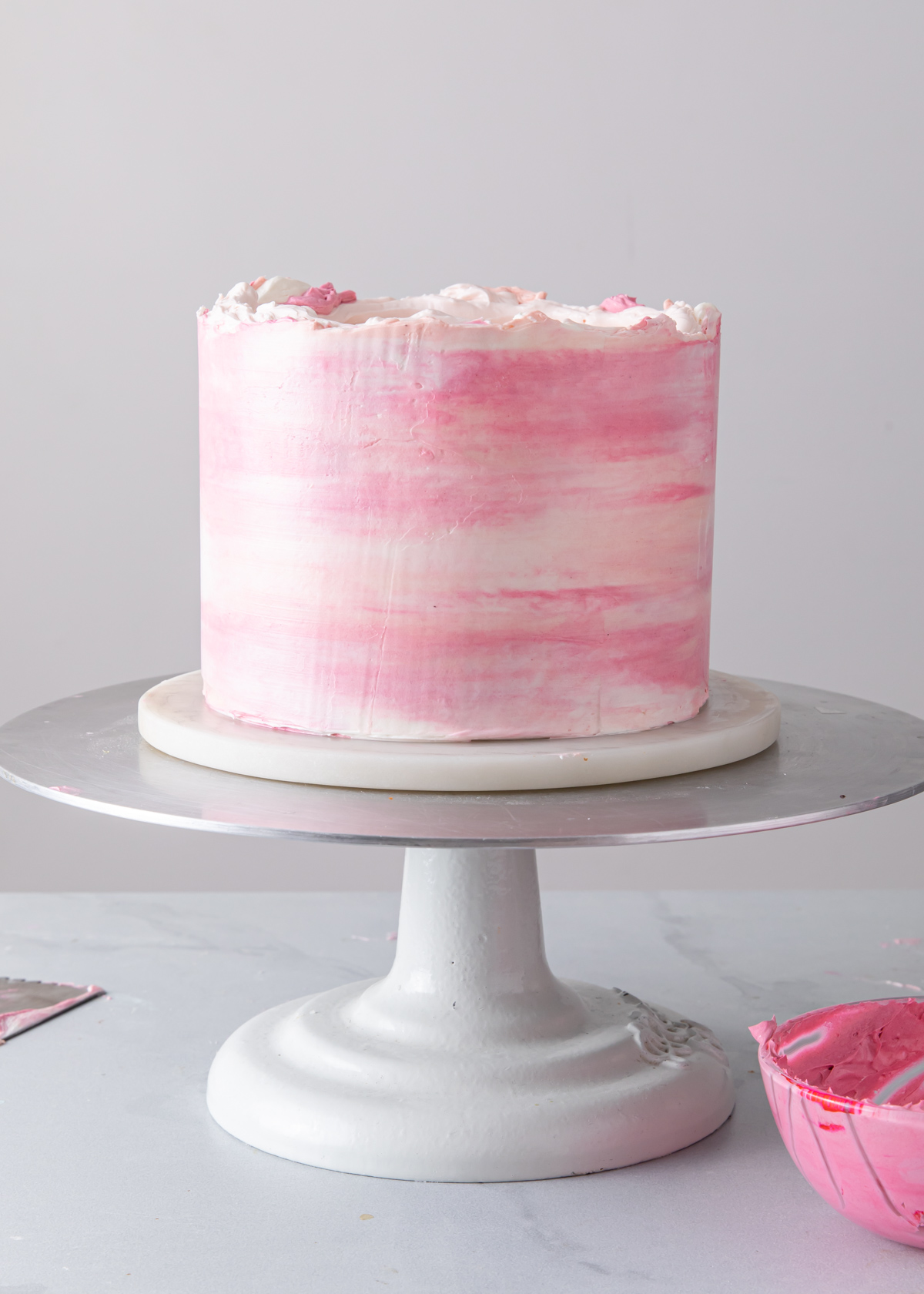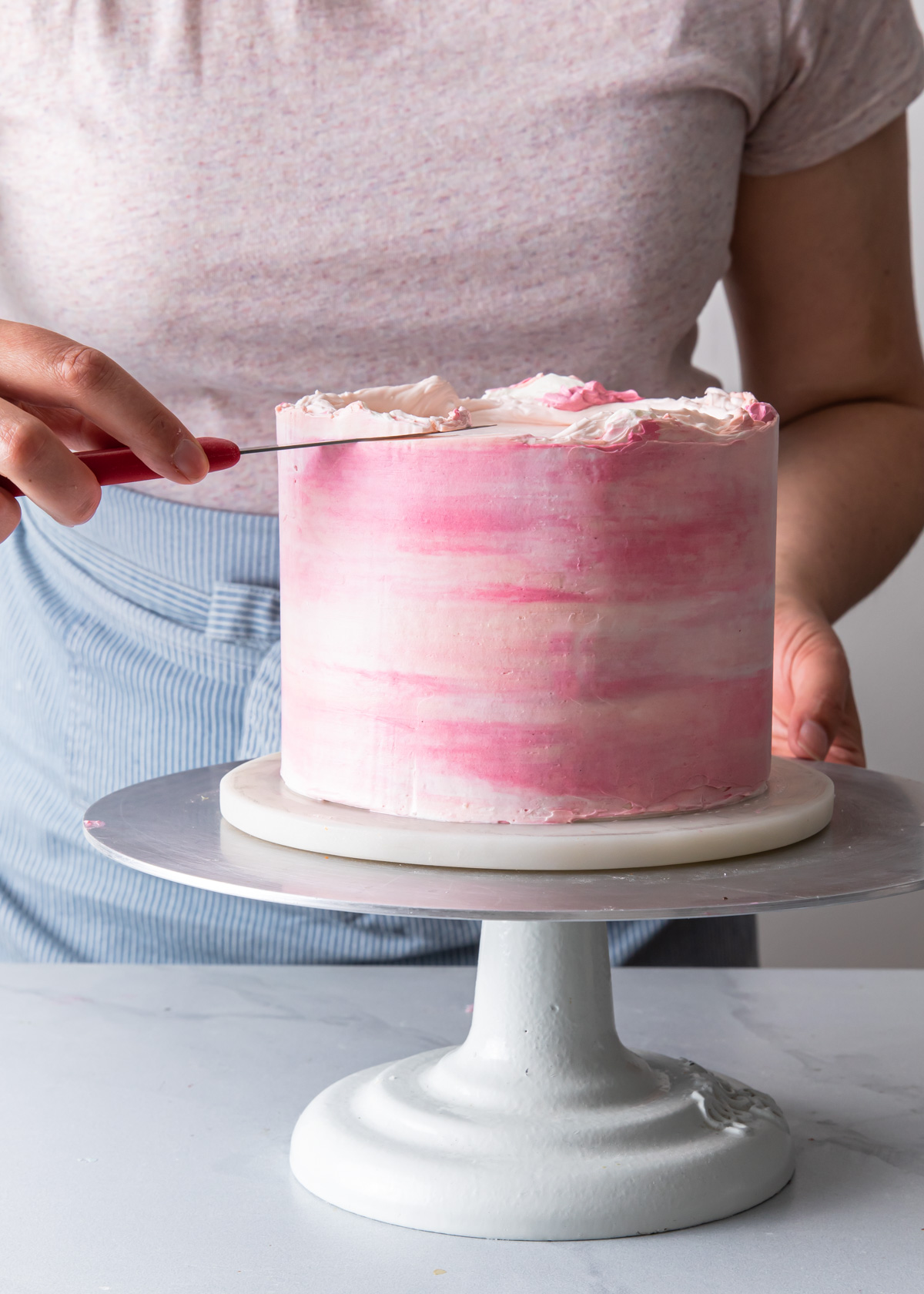 6. Clean – Like finishing any smooth cake, go back and clean up the sides and edges. A few, gentle passes should suffice, but again, don't over-blend or the "watercolor" effect may get lost
7. Embelish - Lastly, use any remaining buttercream to pipe details on the top of the cake. For the cake above, I used a variety of star piping tips to form the rosettes. To do so, pipe tight spirals of buttercream (starting from the inside then out).
Since I always select colors that blend well together, I am able to remix the buttercream scraped off the sides of the cake during the smoothing process. This buttercream can often be tinted a darker color or reused to pipe details after the cake is finished.
Baker's Notes
Be mindful of your color choices and think about how the might blend together. To be honest, the first time I tried this design I used pink, orange, and green/teal. The greenish orange sections blended together to create an ugly brown.

As mentioned in the tutorial, smooth only as much as necessary. The watercolor effect is certainly up to intertation, but keep in mind that the more you fuss with it, then more it tends to all blend together. So instead of a watercolor pink and yellow cake, you might just get an orange one.

I've successfully made this cake design with both Swiss meringue buttercream and American buttercream. Swiss meringue takes a lot more gel food coloring to get the desired colors, FYI.

Reserve a bit of plain, white buttercream to add as needed after smoothing or if you over-blend.