Learn how to make mini cakes from a sheet cake with this super fun and EASY recipe! Each mini layer cake is cute and customizable. These mini cakes are made with vanilla cake and whipped vanilla buttercream, but the flavor variations are endless!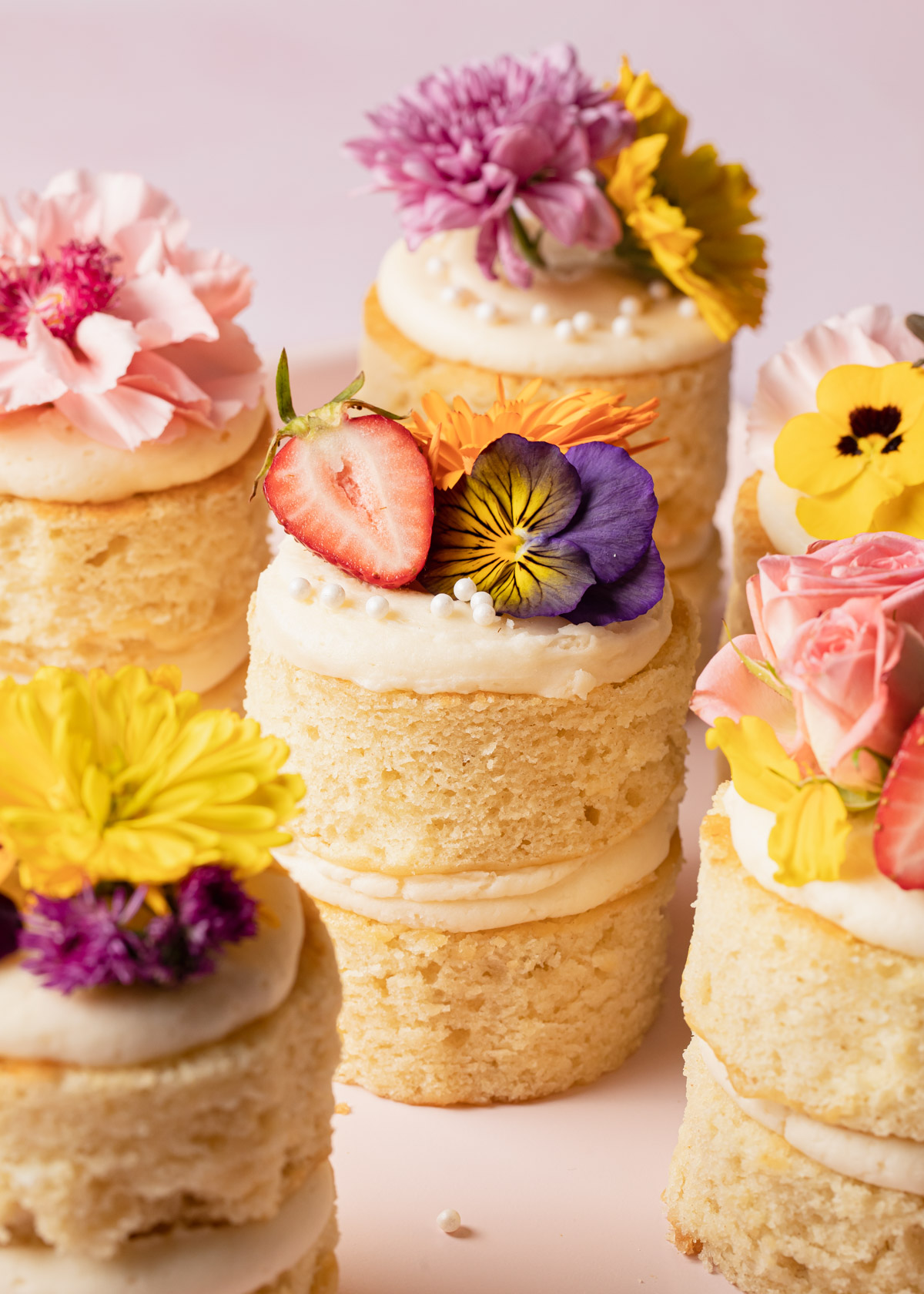 Jump to:
You will love making these Mini Cakes for their cute layers and whimsical decorations, but really it is the ease of assembly and amazing taste that will surely win you over. If you can bake a sheet cake, then you can make these adorable little cakes.
Making mini cakes means you can customize each one. They are perfect to give as gifts or to be set at each placing setting for a dinner party or brunch.
Alternatively, create an army of minis that all look the same – it's totally up to you!
What You'll Need to Make Mini Layer Cakes:
Baked and cooled sheet cake (recipe to follow)
Buttercream of choice (like this easy whipped buttercream frosting)
Round cookie cutter - 2 to 3-inches in diameter
Piping bag or offset spatula
Fresh flowers
Sprinkles or other edible decorations (meringue kisses, fruit, candied nuts, etc.)
Cut and Assemble Mini Layer Cakes
Making mini cakes from a sheet cake and vanilla buttercream is super easy. Take a look for yourself!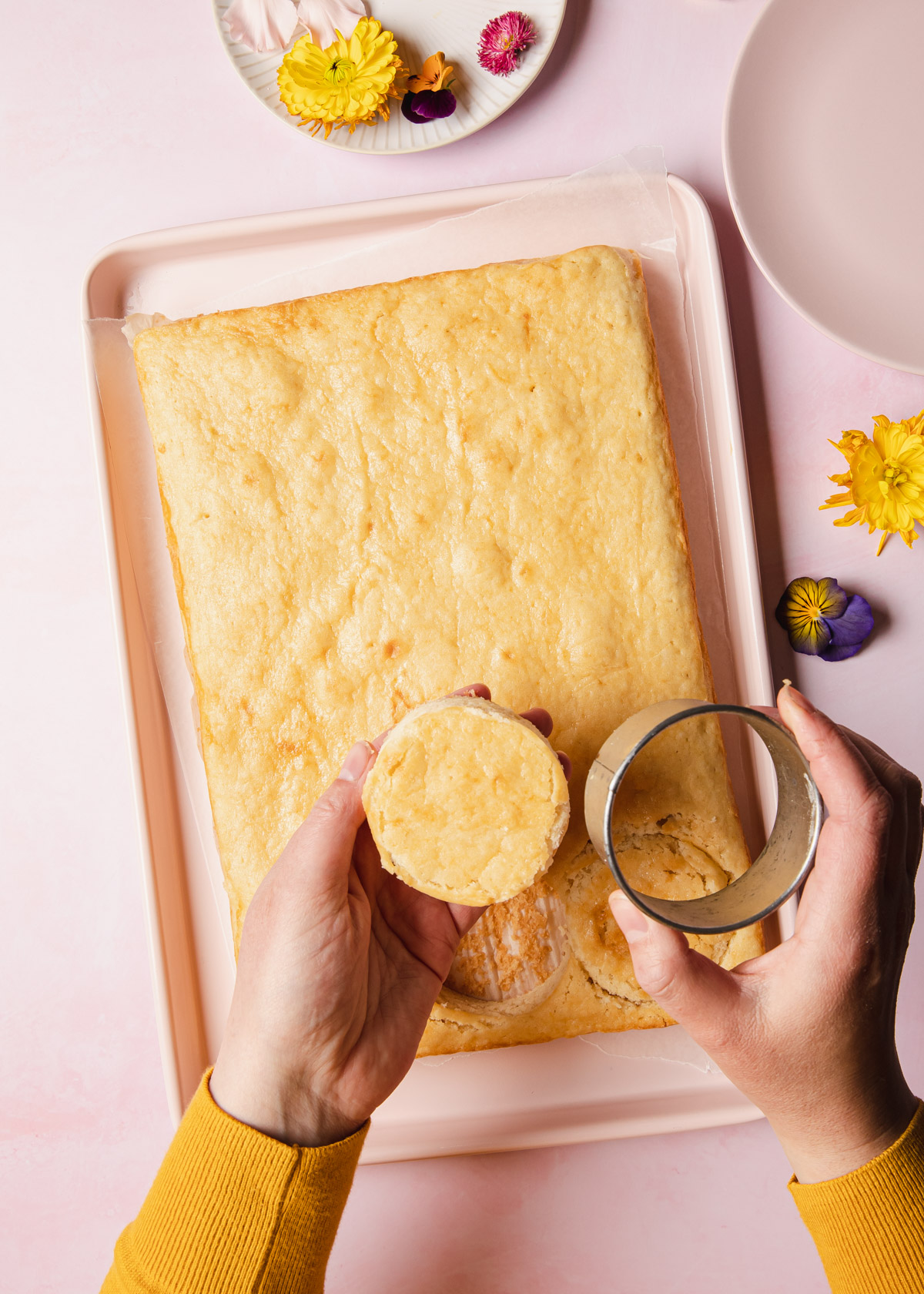 Use a round cutter to make punch out the layers for a sheet cake.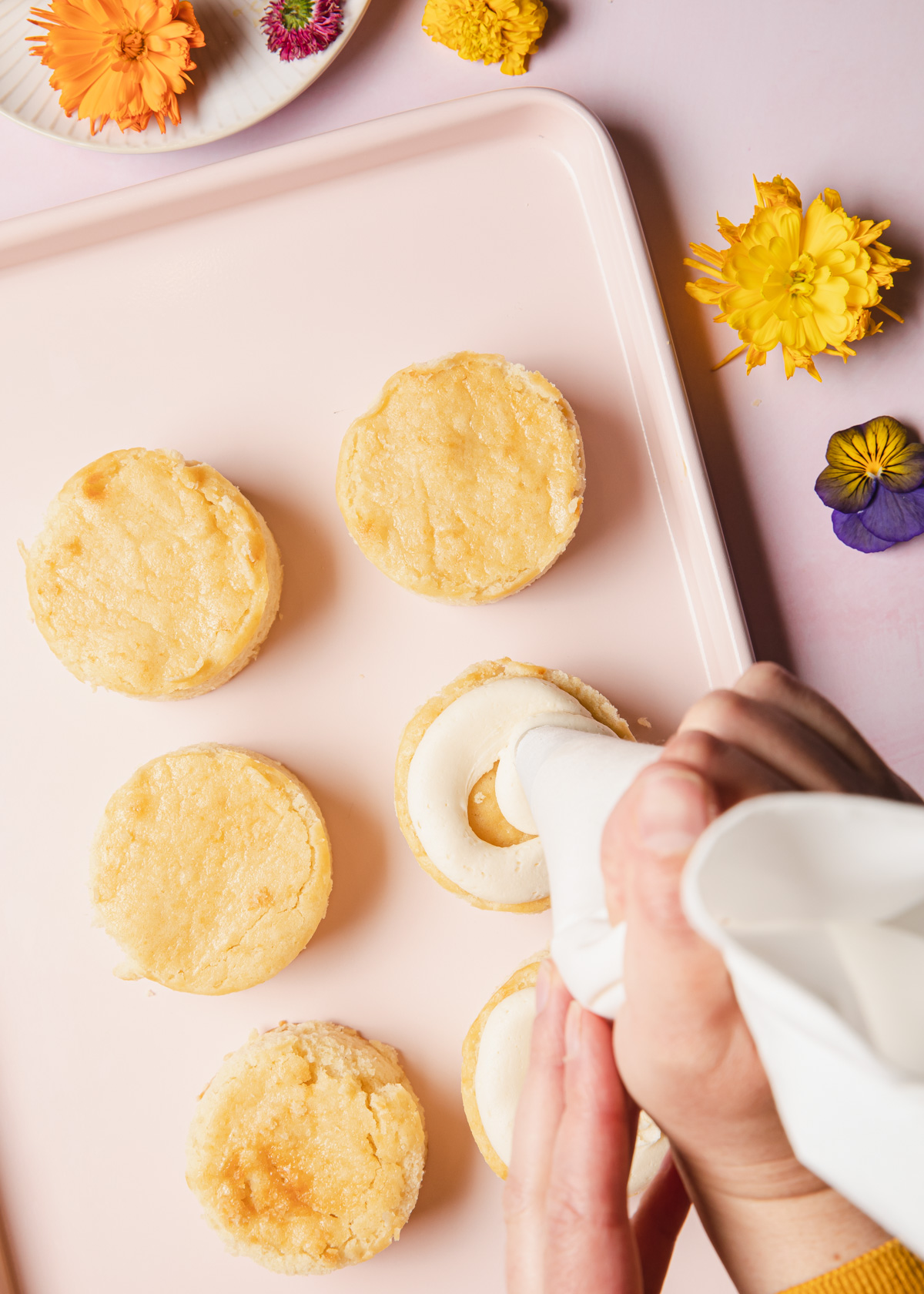 Pipe a layer of buttercream on half of the cake rounds.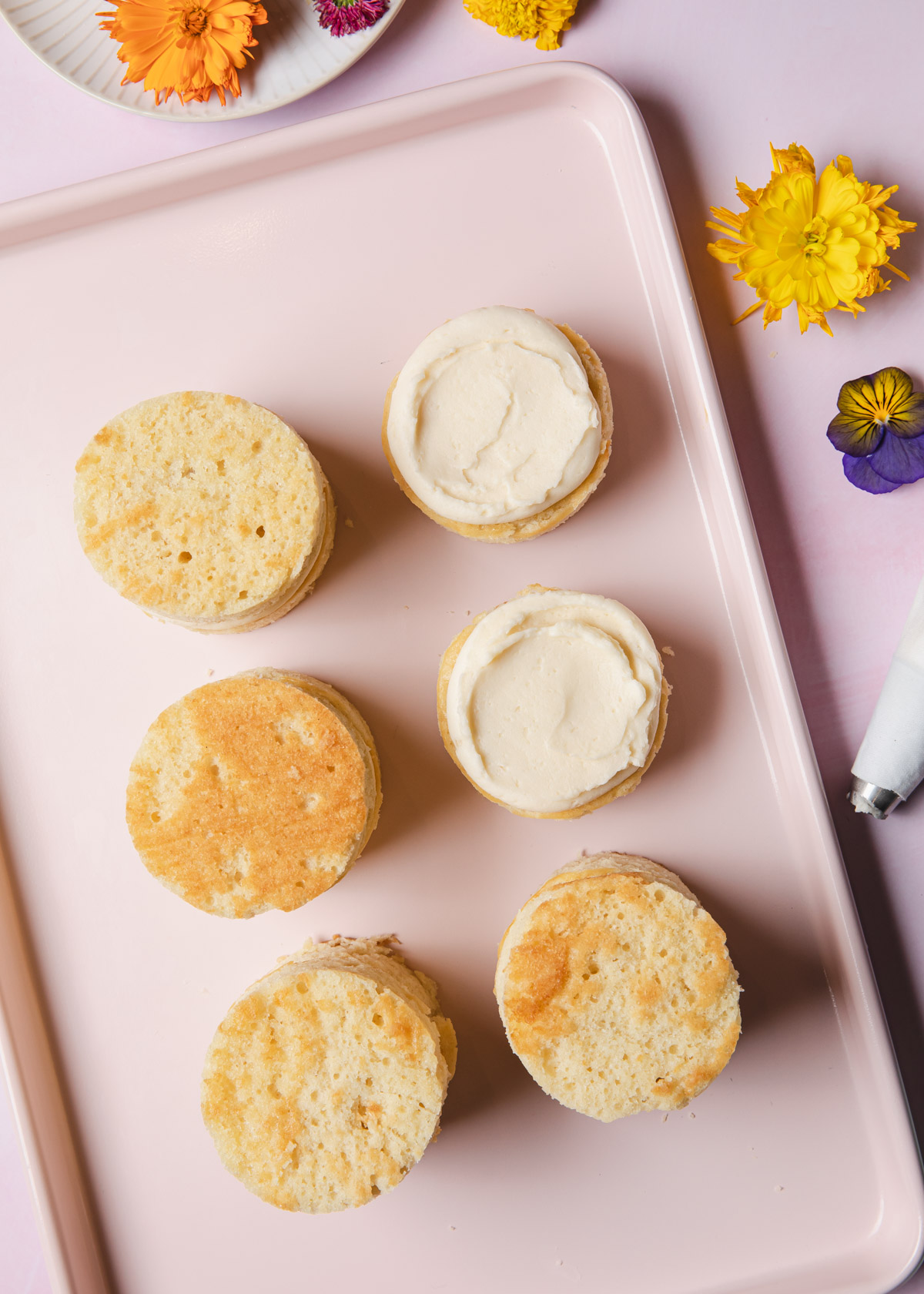 Place the remaining half of the layers on top to make a mini layer cake.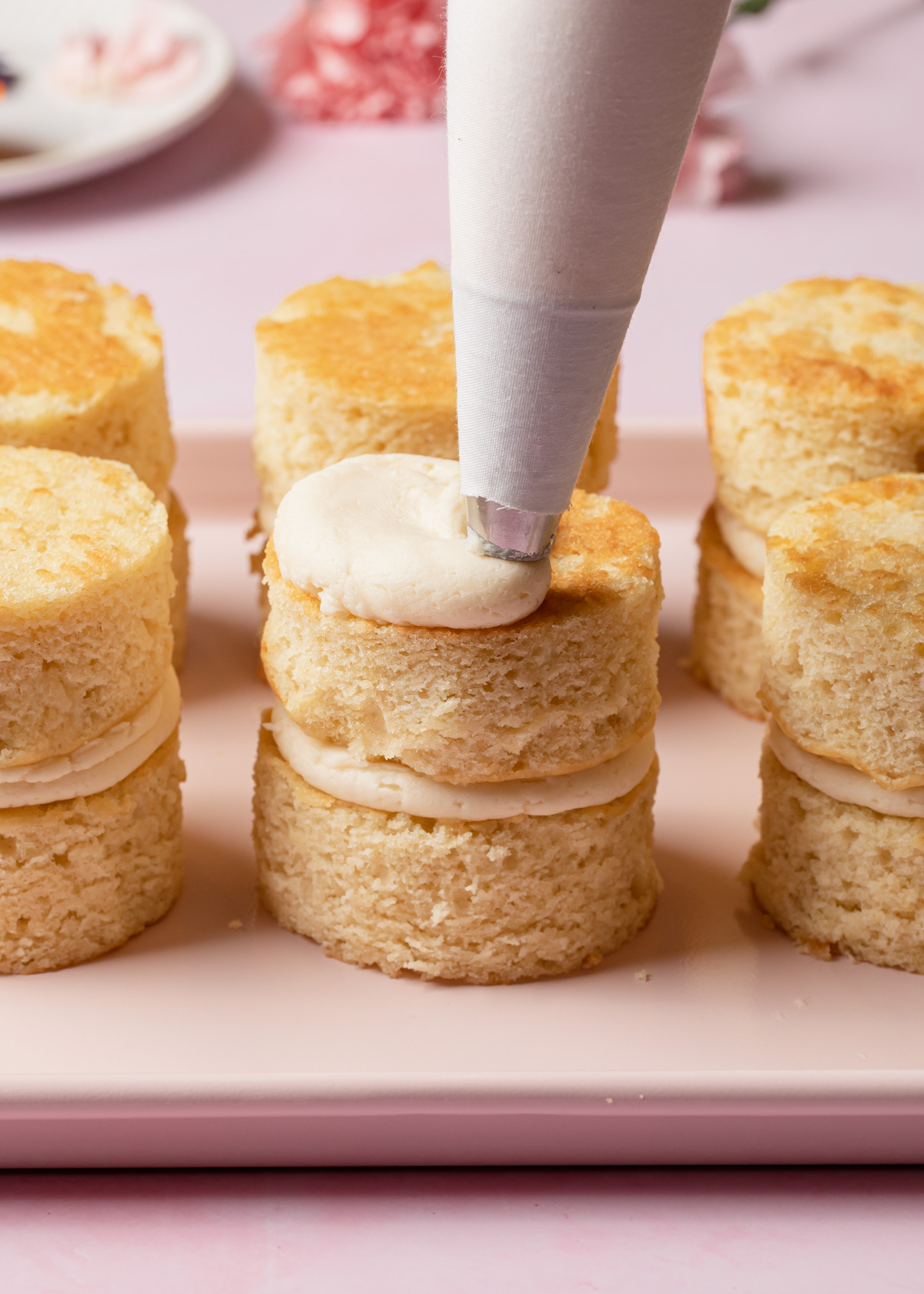 Pipe buttercream on top of the mini layers cakes or decorate as desired.
Hint: if the sheet cakes isn't perfectly even, you can trim until flat or mix-and-match the layers so that they stack up evenly.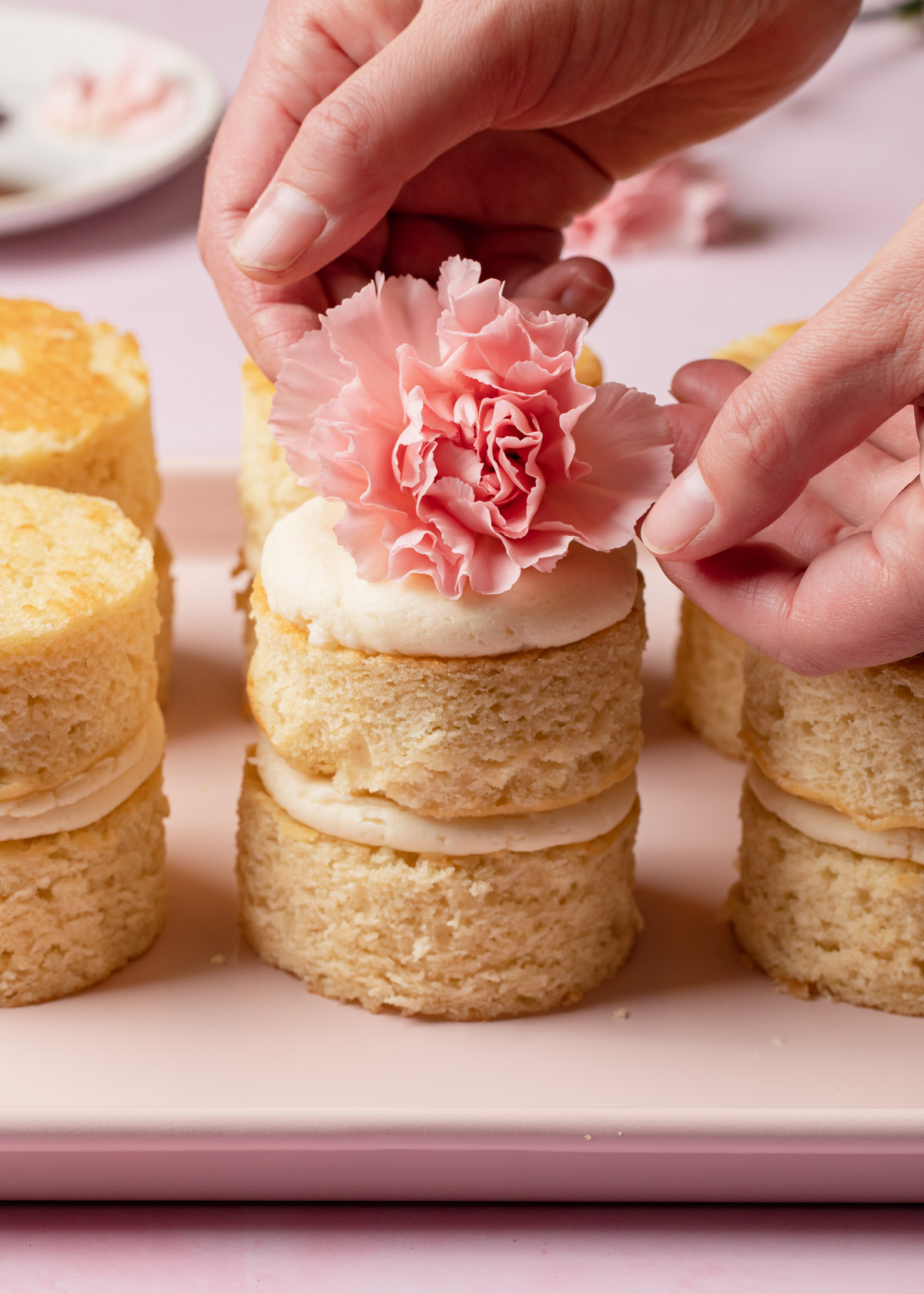 Steps for How to Make Mini Layer Cakes
Bake, cool, and trim the sheet cake. If it bake ups with a dome on top, feel free to shave it down with a serrated knife

so that the top is even.

Cut round layers of cake with the cookie/biscuit cutter out of the sheet and set aside. Using a 2 to 3-inch round cutter, you should be able to cut out at least 12 rounds per ¼ sheet cake.

Score the cake to make sure they all fit before pressing all the way down with the cutter.
Fill a piping bag with buttercream. Pipe buttercream on half of the cake rounds. Take the plain cakes and place them on top to make mini 2-layer cakes.

For the top, pipe on more frosting like you did for the filling or decorate as desired.

Top with fresh flowers, mini strawberries, herbs, meringue kisses, or candied nuts. If you use a different buttercream or add a filling (like jam or lemon curd), use decorations to give flavor hints.
Cake Decorating Ideas
Fresh flowers - I like to purchase a mixed bouquet and dissemble it a bit. This way, you can still make individual cakes that are unique, but they still coordinate with similar colors and textures.
Sprinkles - Try mixing together sugar pears, sprinkles and quins to make your own custom mix.

Meringues

-

Make a batch of French Meringue and pipe into little kisses.
Buttercream - Pipe buttercream flowers or swirls on top of the mini cakes.
Herbs
Candied Nuts
Lemon Wedges or fresh berries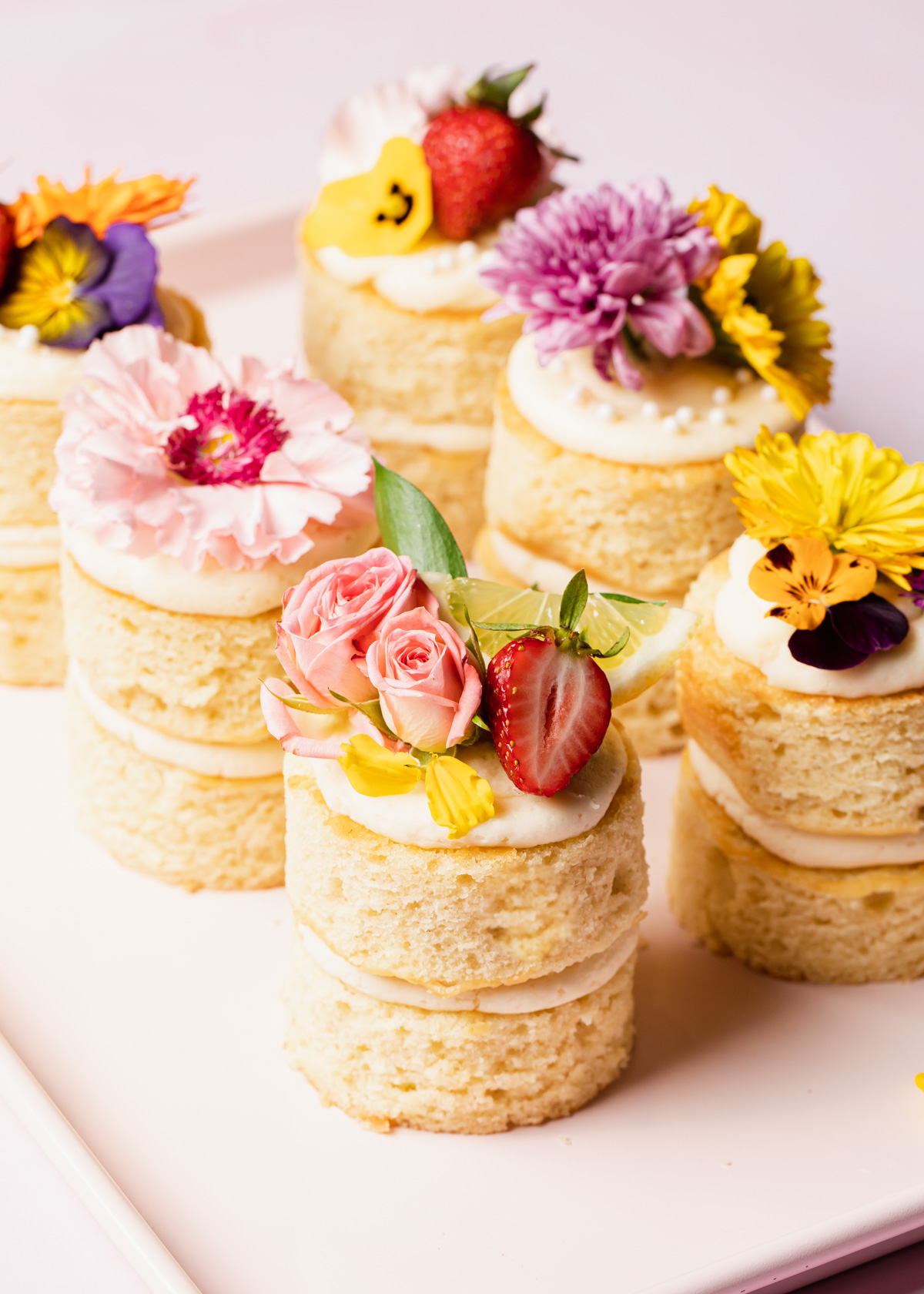 What to Know About Edible Flowers
Fresh flowers make beautiful, easy cake toppers, but there are a few things to consider before placing just any bouquet on something intended for eating.
Make sure the flowers are unsprayed and free from pesticides.
Select flower that are safe to eat, or at least non-toxic if food adjacent. Chose flowers like roses, violets, carnations, marigolds, chamomile, freesia, hibiscus, and pansies.
Click for a list of toxic plants that should not be found on your cakes.
Variations
You can make mini cakes with just about any sheet cake or frosting. Here are more ideas:
Chocolate Mini Cakes - bake a chocolate sheet cake and use vanilla or fudge frosting. Cut the recipe in half for a quarter sheet.
Lemon Mini Cakes - for the filling, pipe a ring of buttercream around the outer edge and fill the center with lemon curd.
Strawberry Mini Cakes - for the filling, pipe a ring of buttercream around the outer edge and fill the center with strawberry jam.
Flavored Buttercream - use white chocolate frosting, raspberry frosting, chocolate Nutella buttercream, or peanut butter frosting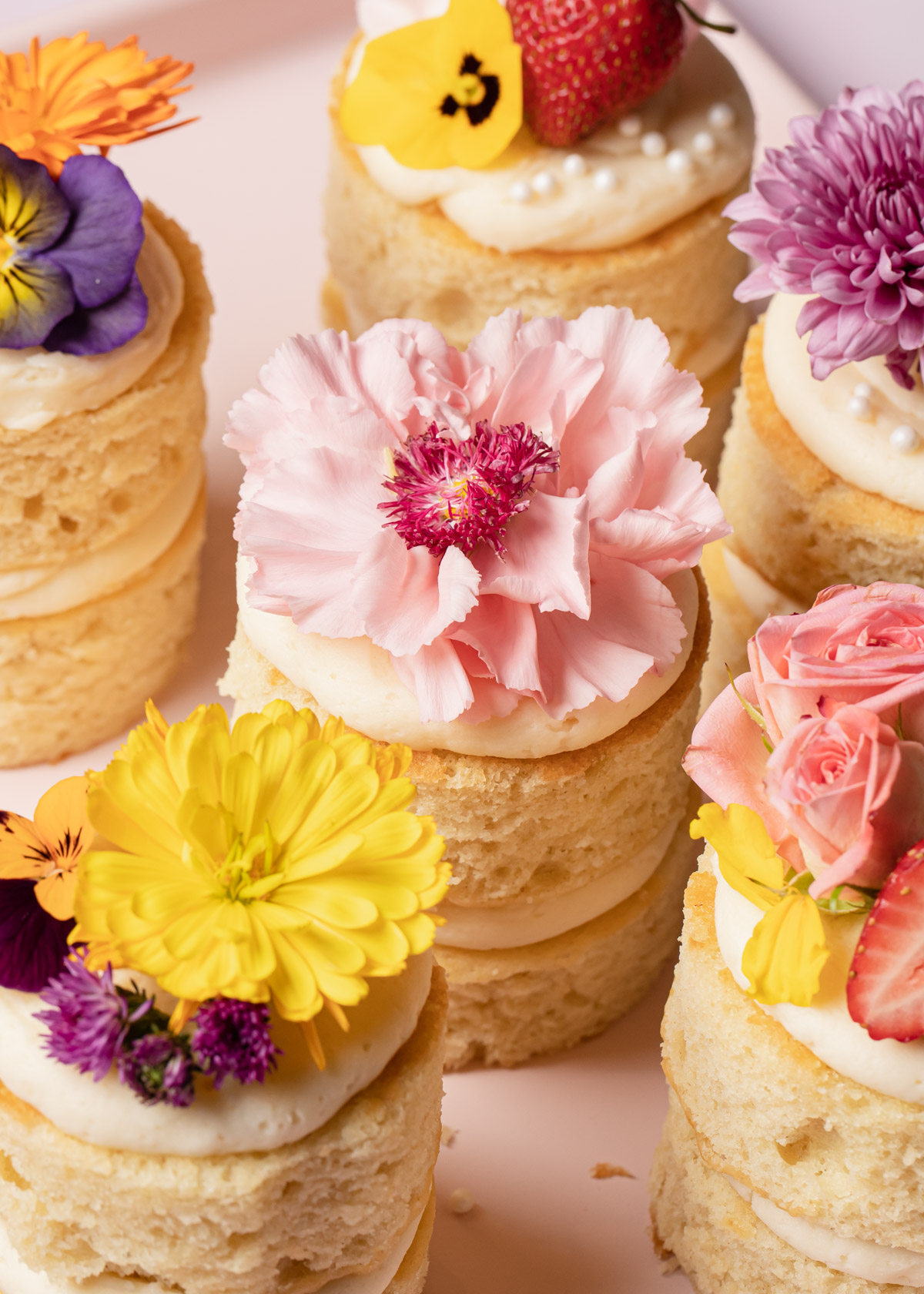 Top Tips
When match the cake rounds to make the mini layer cakes, they all might not be perfectly even or equal. Pick pairs and match any uneven tops by twisting them around so that the very top of the cake is flat.
The recipe makes a relatively thick cake. For even smaller layer cakes, I recommend baking in a large pan to create thinner layers. From there, punch out rounds using a 1 ½-inch round cutter. Using a small cutter on a thick cake won't work as well. Adjust the bake time accordingly.
Serving and Storage
The cake is super moist, so they cakes will stay fresh for a couple days. Because the sides are exposed and don't have a protective frosting barrier, I recommend serving the mini cakes the same day that they are assembled.
If making in advance, wrap bundles on mini cakes (without the flowers, if possible) in plastic wrap to keep from drying out.
The sheet can be wrapped in plastic and stored in the freezer for up to 3 months. Thaw in the refrigerator for a few hours before using.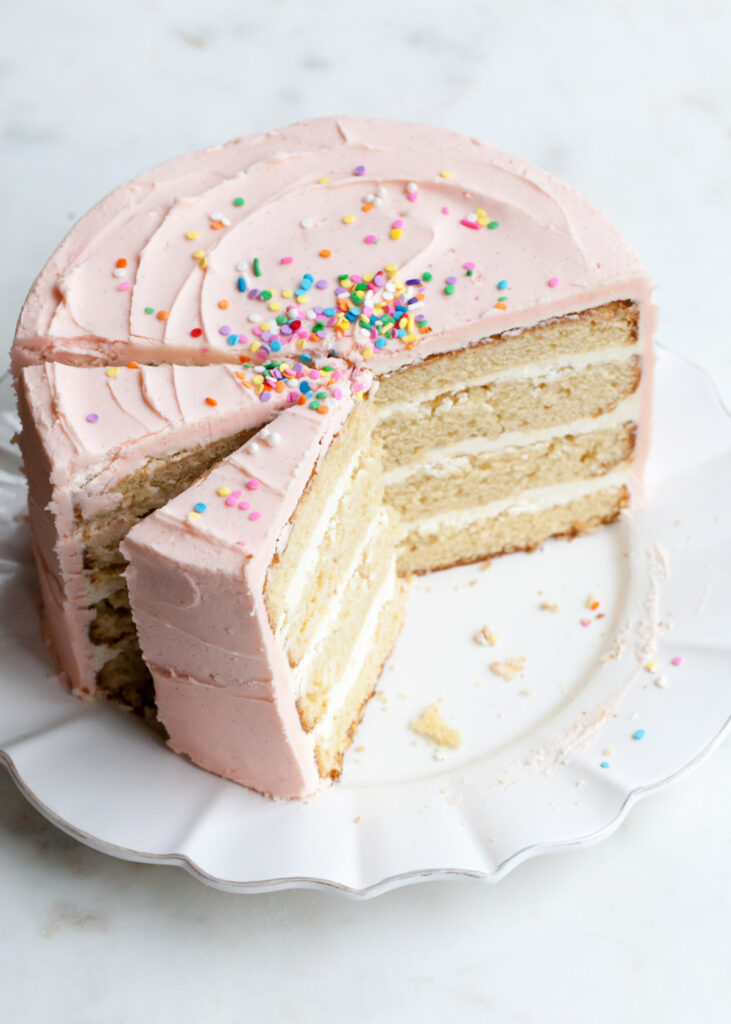 Join the Style Sweet Bake Club!
Get exclusive recipes and articles sent straight to your inbox. Become a subscriber today! Click to join.
Please leave a star review if you loved this recipe! Make sure to share your recipes and tag me on Instagram @stylesweetdaily.
Recipe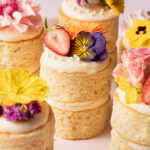 Print Recipe
Vanilla Mini Layer Cakes
Use this moist and fluffy vanilla sheet cake to make easy mini layer cakes!
Ingredients
2 ¼

cup

all-purpose flour

2

tea

baking powder

½

tea

kosher salt

½

cup

unsalted butter

1 ½

cup

granulated sugar

¼

cup

canola or vegetable oil

3

large eggs

2

tea

pure vanilla extract

1

cup

milk
Instructions
Preheat the oven to 350°F. Line a 9 X 12-inch baking pan with parchment paper and set aside.

In a large bowl, whisk together the flour, baking powder, and salt. Set aside.

Using an electric mixer, beat the butter and sugar together on medium speed until creamed together and fluffy. Next, add the oil and mix further until pale and aerated, another minute or two. Stop the mixer and scrape down the sides of the bowl.

With the mixer on medium-low, begin adding in the eggs, one at a time. Allow the eggs to absorb into the batter before adding the next. Add the vanilla extract and mix. Stop the mixer and scrape down the sides of the bowl. 

Add about half of the flour mixture and slowly mix until mostly combined. Add the milk, and turn the mixer to medium-low to combine. Add the remaining flour mixture and mix until incorporated. Stop the mixer. Give the batter a few stirs with a rubber spatula to finish mixing until smooth.

Pour the batter into the prepared pan. Bake for 25 to 28 minutes, or until a toothpick inserted into the center comes out clean. Cool the cake on a wire rack before removing from the pan.