These pillowy Strawberry Cinnamon Rolls are filled with sweet strawberry jam and slathered with fresh strawberry cream cheese frosting. An extra swirl of strawberry gives them so much flavor!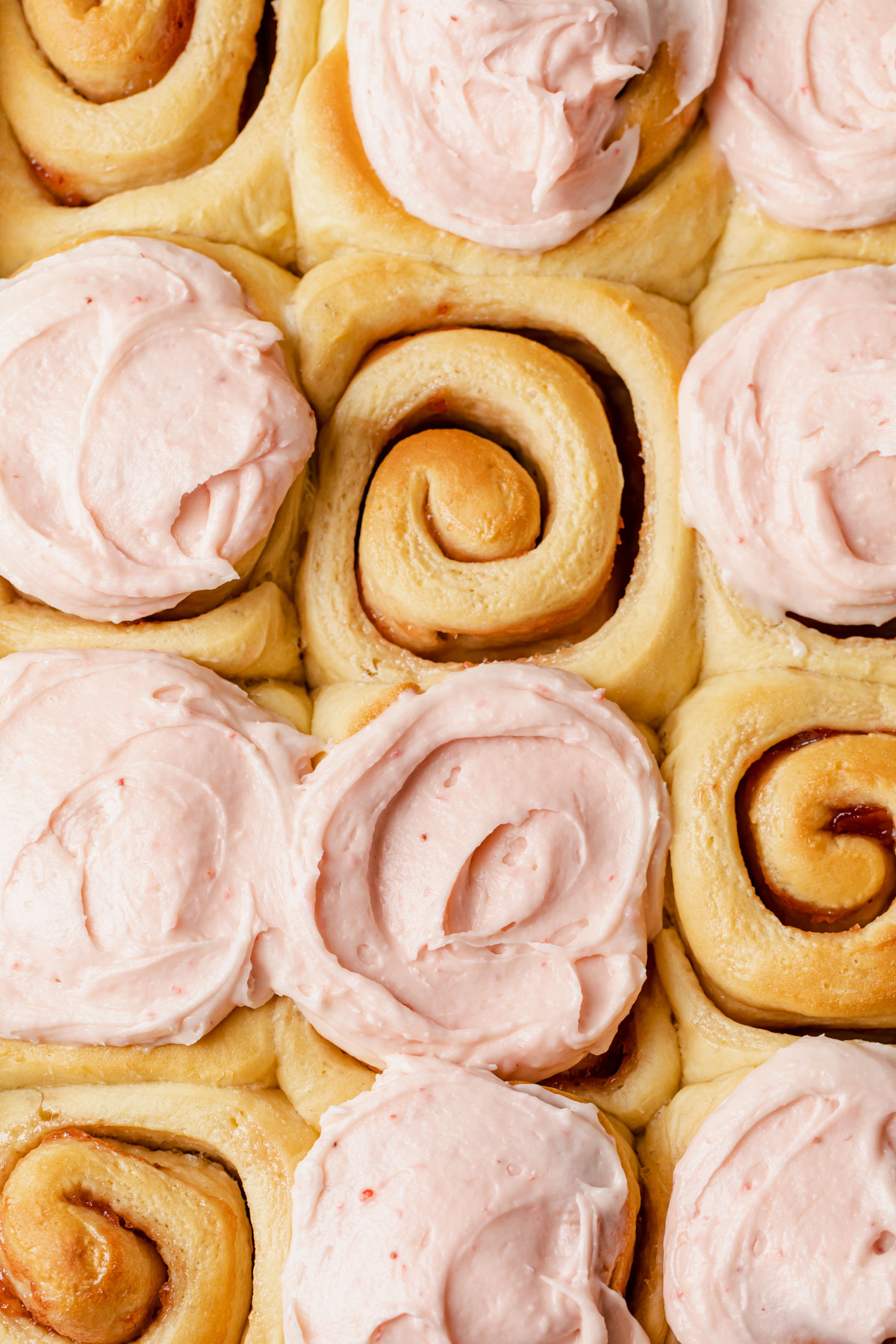 Jump to:
Why You Will Love Strawberry Cinnamon Rolls
The jam rolls are like a beautiful mix of flavor and texture. Chewy and soft, the buns are puffy with jam rolled in between pull-apart layers.
Real, fresh strawberries are pureed and cooked until thick to flavor the cream cheese frosting. It's sweet, it's tang, it's oh-so creamy!
The frosting makes them taste like strawberry cheesecake cinnamon rolls - who doesn't want to dive into one of those for breakfast?!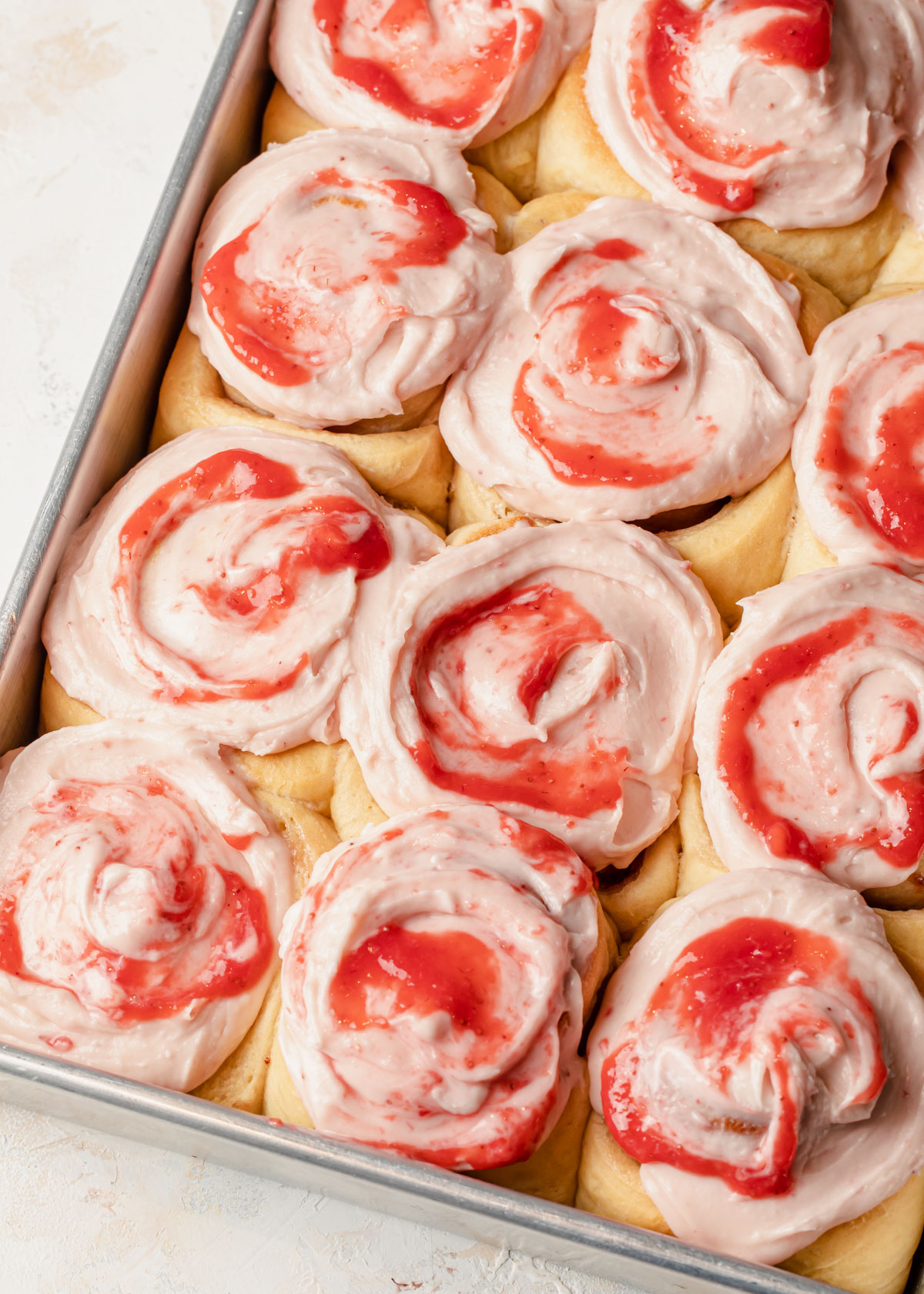 You will love the little extra dollop of strawberry puree on top. It adds another punch of strawberry flavor and bright pink color to these perfect summer strawberry cinnamon rolls.
I tend to bake a lot of cinnamon rolls in the fall and during the holidays. We always eat my Eggnog Cinnamon Rolls on Christmas, but spring and summer deserves delicious cinnamon rolls too.
Why It Works
This recipe uses a roux of milk and flour, called tangzhong, to create the soft, pillow-like dough. Unlike the name indicates, this recipe doesn't actually have cinnamon filling.
Instead, the buns are filled with sweet strawberry jam. No need to make your own jam filling here.
You should, however, make the fresh strawberry puree for the cream cheese frosting. While you could use jam or freeze dried strawberries in a pinch, you would miss out on that extra swirl of fresh strawberry sauce on top.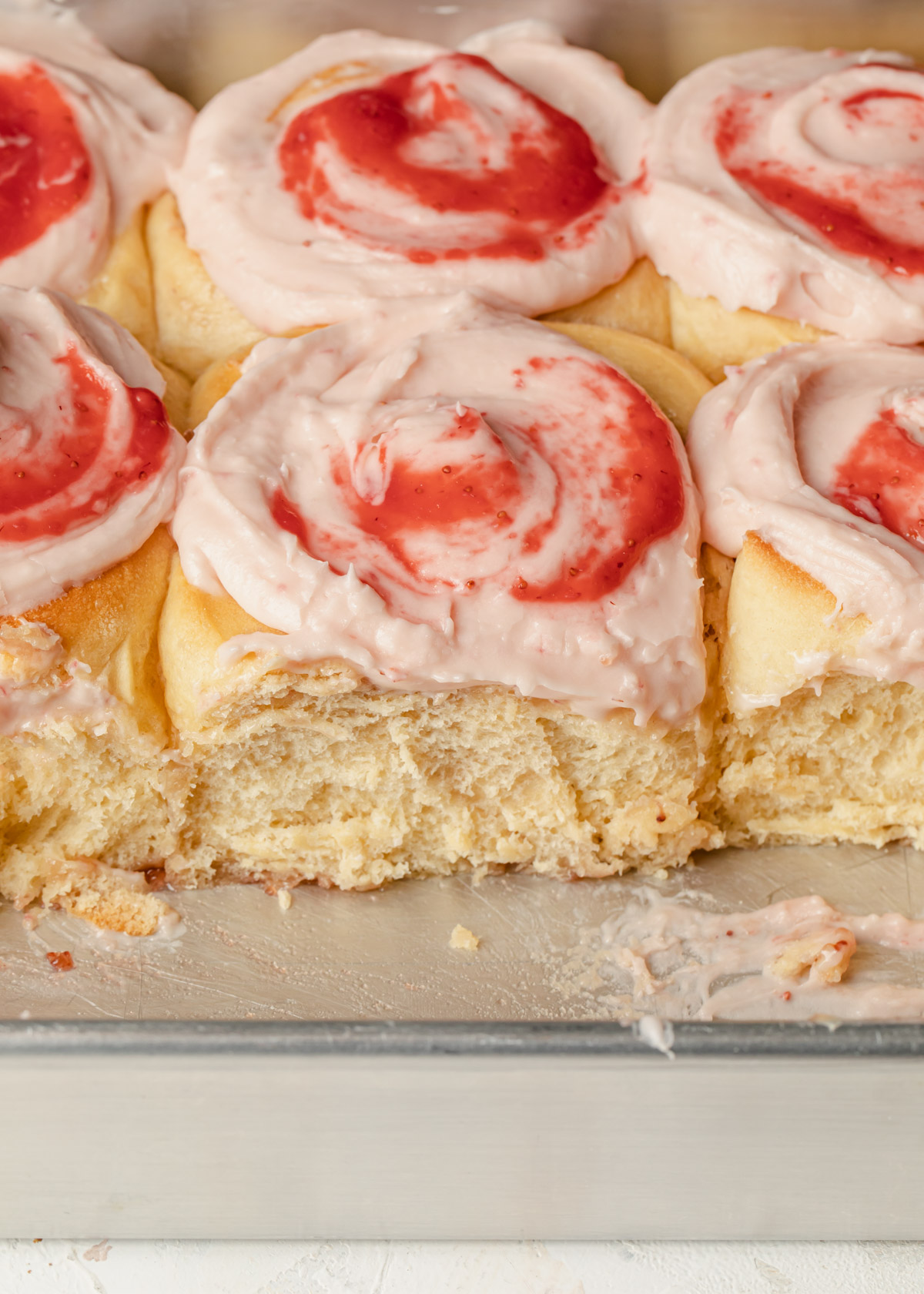 Ingredients
All-purpose flour
Bread flour
Milk
Active dry yeast
Granulated sugar
Kosher salt
Unsalted butter
Fresh strawberries
Cornstarch
Cream cheese
Strawberry jam
See recipe card for quantities.
Tools and Equipment
Saucepan
Whisk
Stand mixer (recommended)
Mini food processor or small blender
Offset spatula
9 X 13-inch baking pan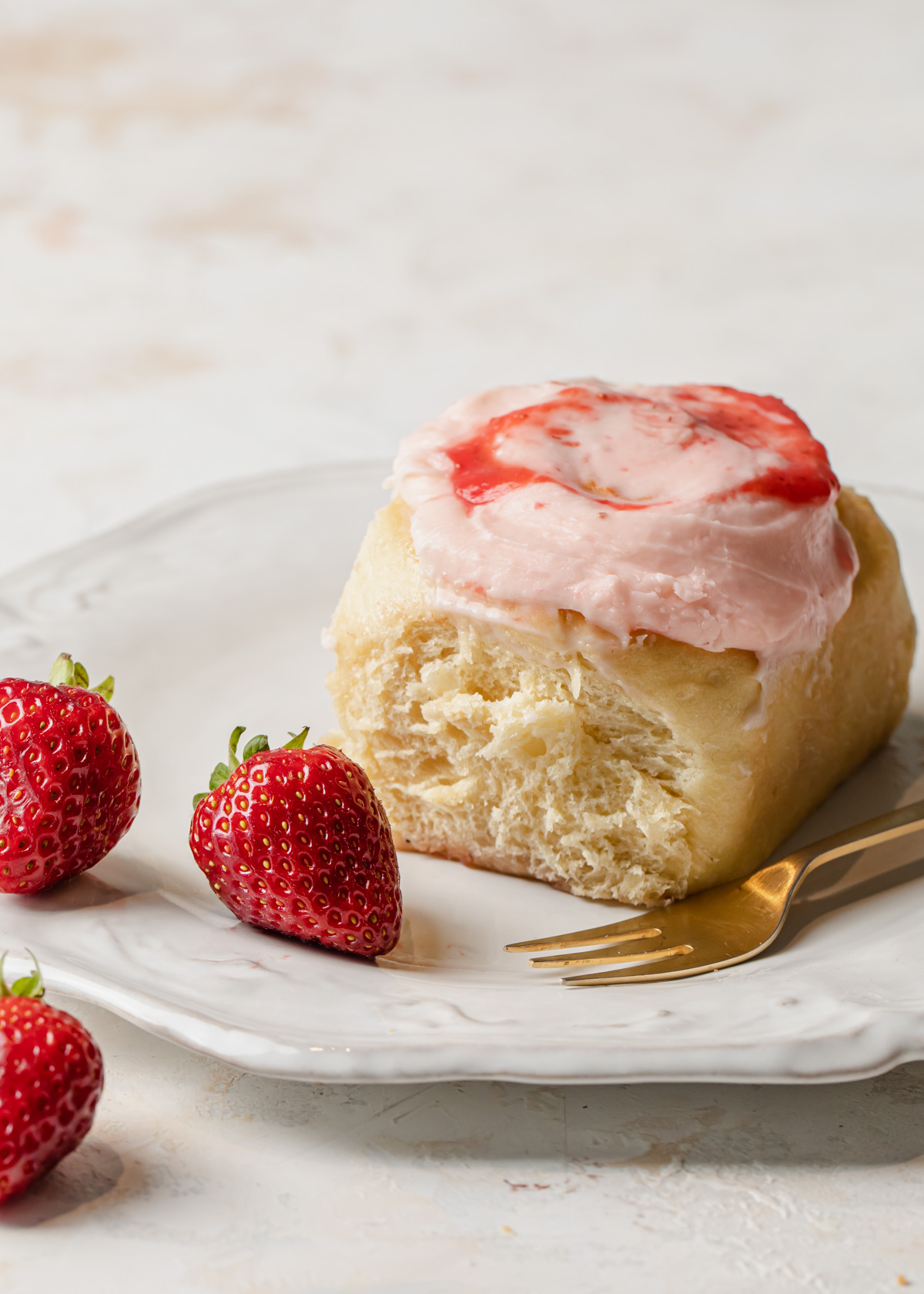 Instructions
This recipes uses tangzhong to create the dough. It is very soft, and combined with jam filling, it can be a little messy to work with. Having tools and ingredients prepared helps speed along the process.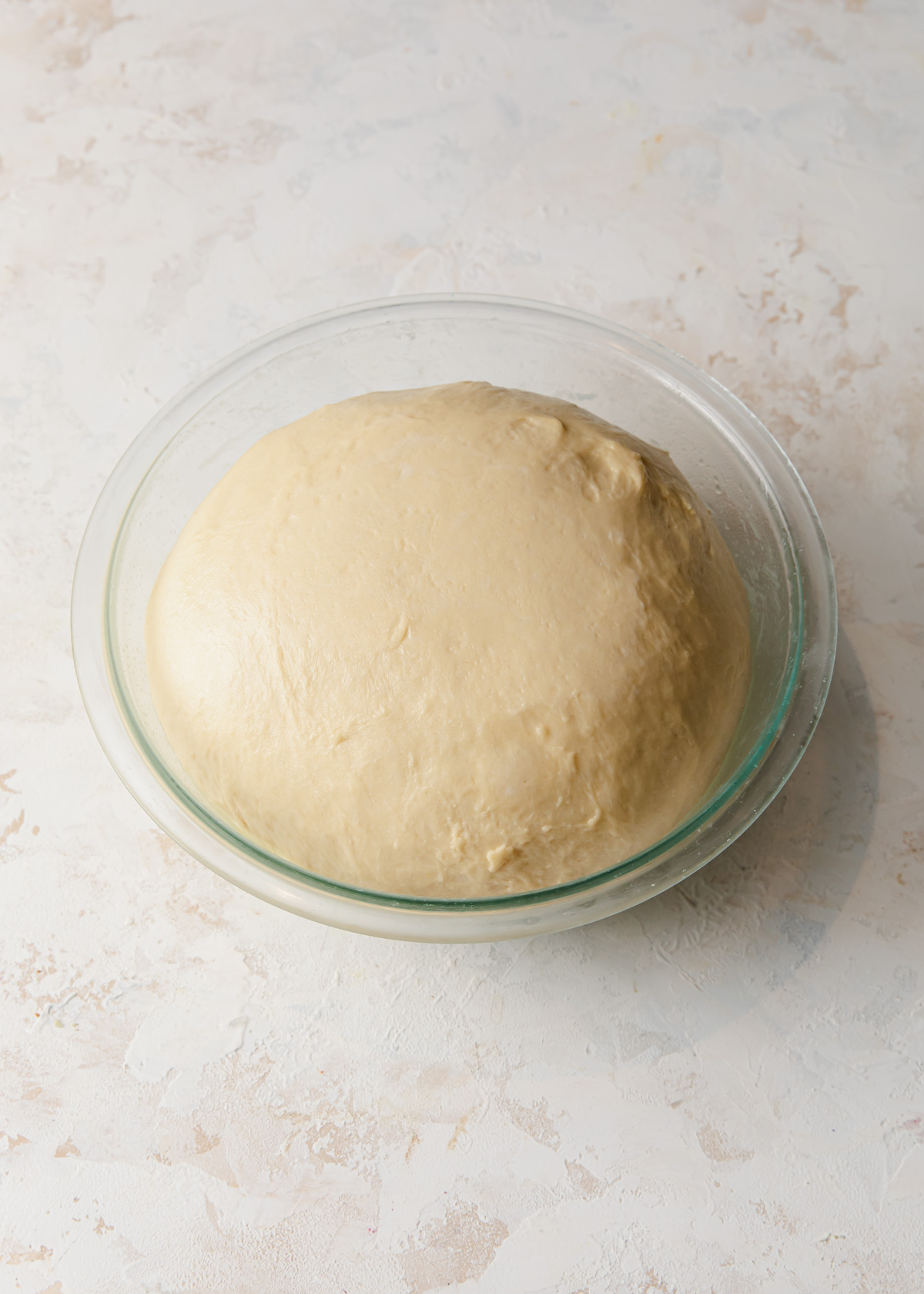 The tangzhong dough proofed and doubled in size.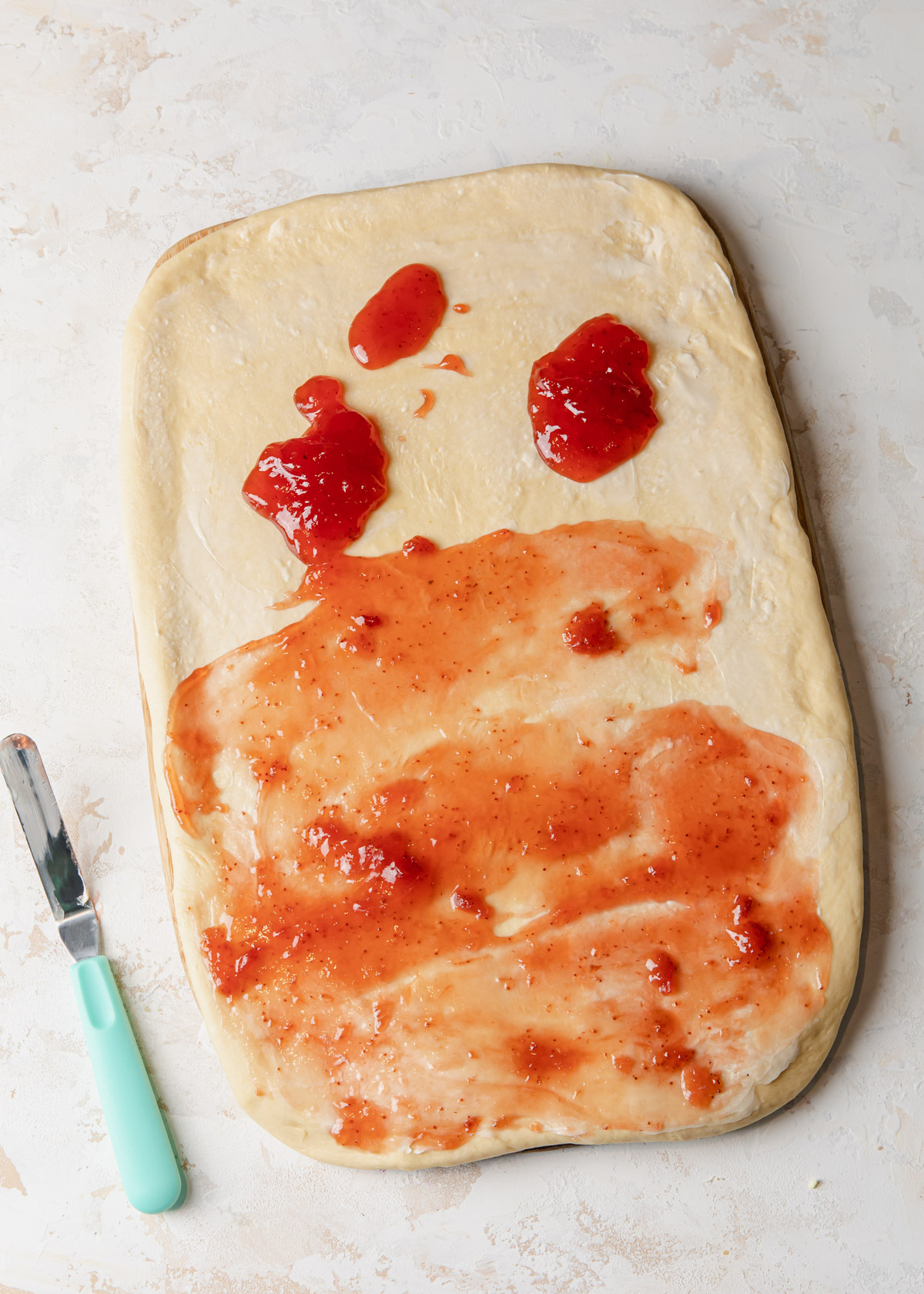 Roll out the proofed dough and spread with softened butter and jam.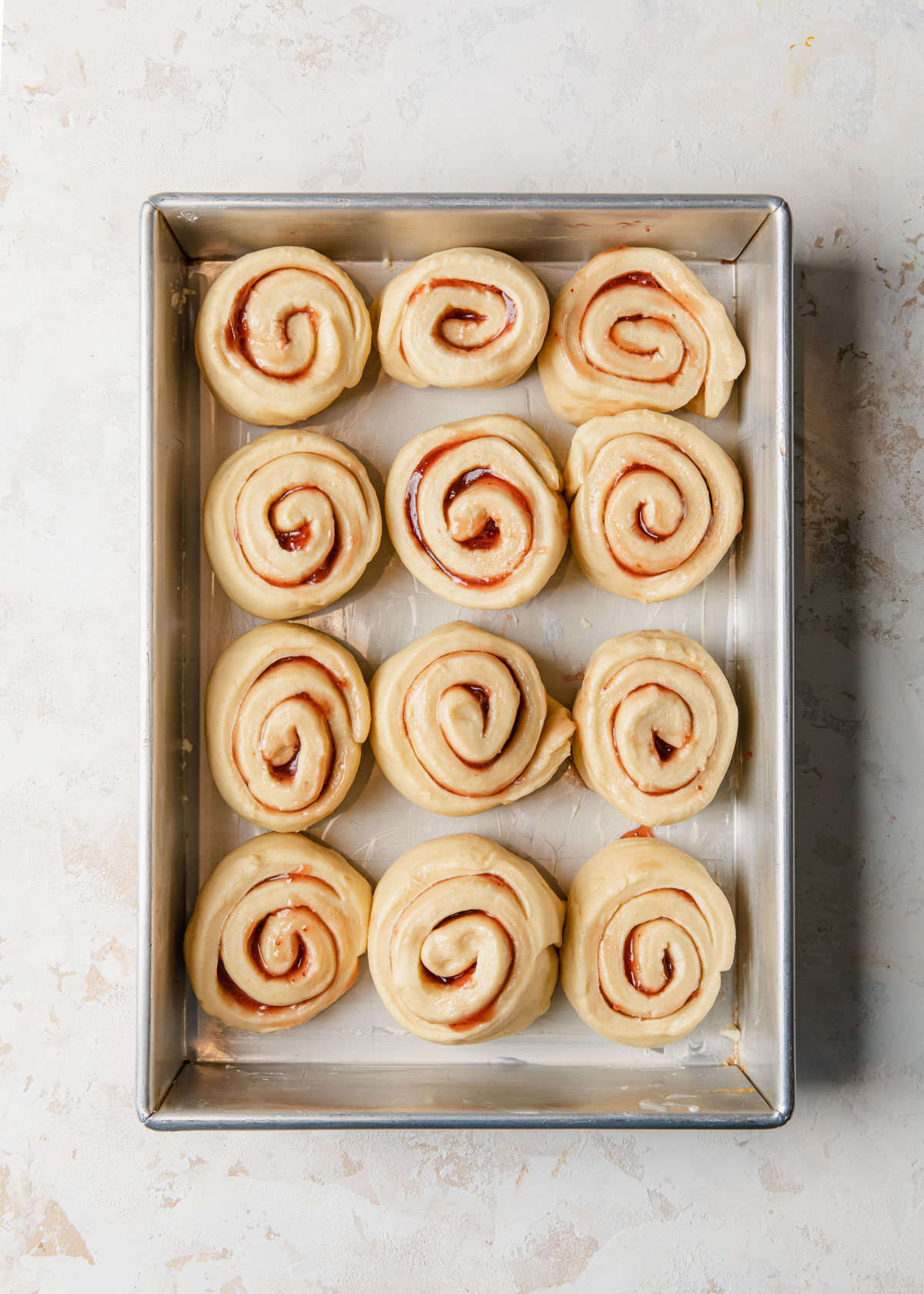 Roll up and cut the buns. Place straight into a buttered baking pan.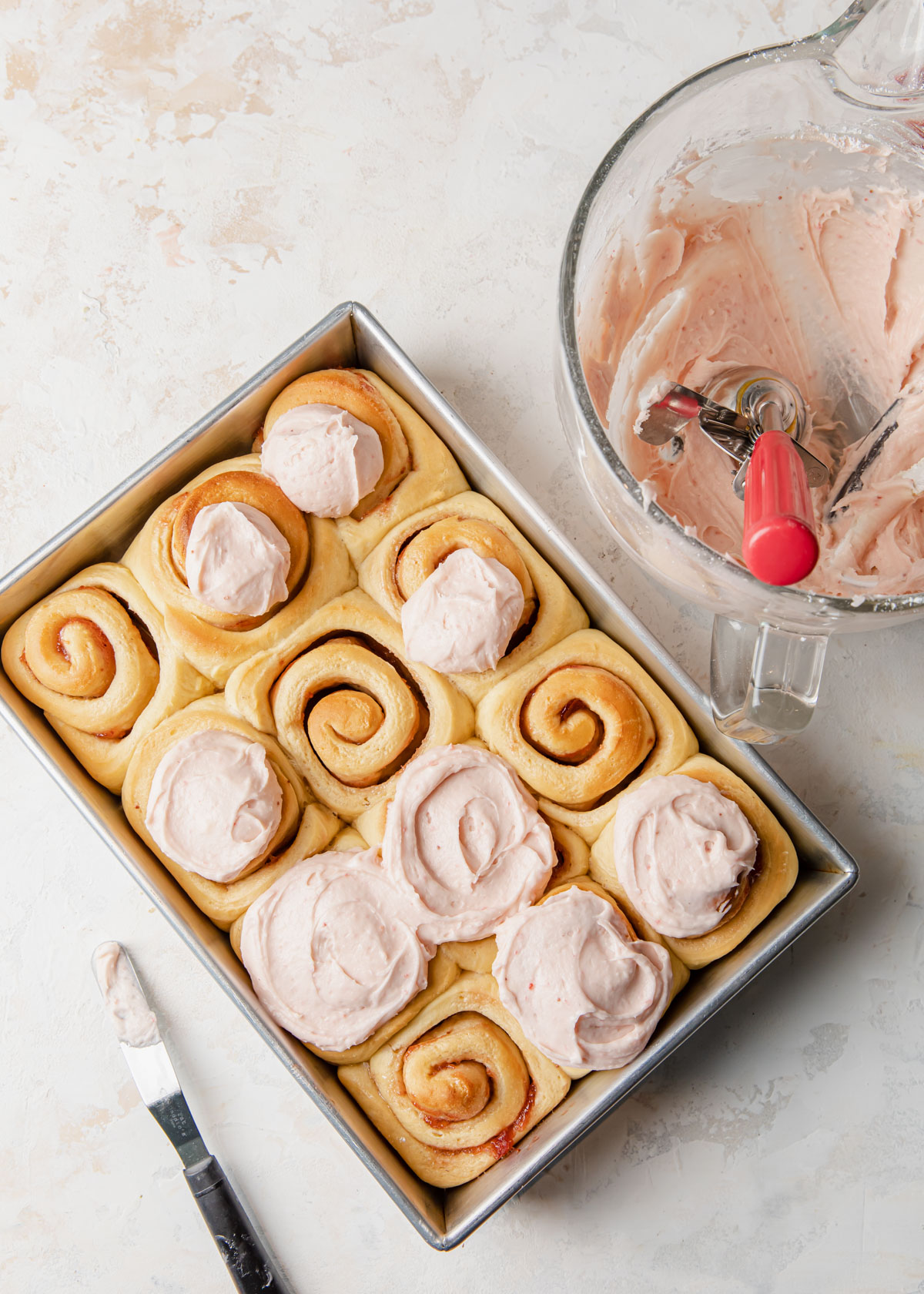 Allow the jam rolls to slightly cool before adding frosting so that it doesn't melt.
Hint: The rolled up dough will be quite soft. Use dental floss to cut into buns as a knife might squish out all of the jam filling.
Step-by-Step Strawberry Cinnamon Rolls
Make the tangzhong.
Mix the dough ingredients.
Knead the dough until smooth.
Proof the dough until doubles in size (90 minutes to 2 hours)
Roll out the dough.
Spread on the filling.
Roll and slice the buns
Let rise until puffy (about 45 minutes).
Bake!
Make the strawberry cream cheese frosting
Frost and enjoy!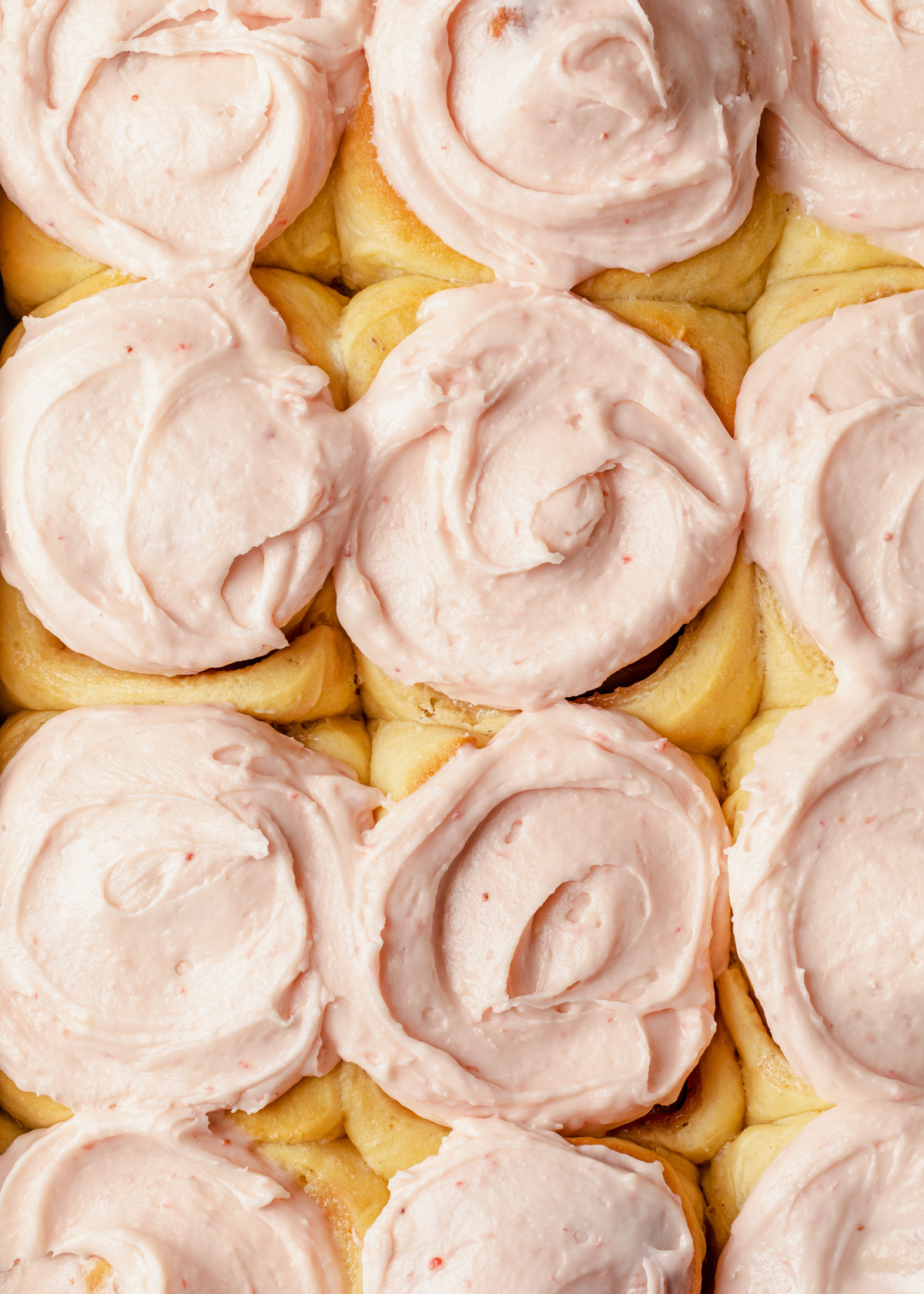 Substitutions
Strawberry Jam - skip the strawberry puree and add strawberry jam to the cream cheese frosting.
Milk - use water or non-dairy milk in place of milk in the dough recipe with similar results.
All-purpose Flour - if you don't have bread flour, use equal amounts of all-purpose flour.
Variations
Love this idea but what to give other flavors a try? Check out one of the ideas:
Blueberry Cinnamon Rolls - make the same recipe but swap blueberries and blueberry jam for strawberry.
Vanilla Glaze - skip the cream cheese and make a glaze from powdered sugar, milk, and vanilla.
Cinnamon Cinnamon Rolls - use this tangzhong recipe for the dough, but fill a frost with standard cinnamon roll ingredients.
Storage
Store the strawberry cinnamon rolls lightly covered at a cool room temperature for a few hours. Beyond that, the jam buns should be stored in the refrigerator. Reheat individual rolls in the microwave for 15 seconds or until warm.
If serving later, it is fine to leave unfrosted cinnamon rolls at room temperature for up to 3 days.
If you plan on freezing, I recommend freezing without frosting. You can freeze them wrapped in aluminum foil for up to 2 months.
To reheat frozen rolls, place the cinnamon rolls on a baking sheet and loosely cover with the foil. Bake at 300ºF for 10 to 20 minutes, or until warmed through.
Overnight Directions
Want fresh strawberry cinnamon rolls in the morning without waking at 5am? You can make this recipe in two parts.
Begin the recipe the night before you want to bake. You can place the dough in the refrigerator for either rise (before or after shaping).
In the morning, bring the dough out of the refrigerator and allow to come to room temperature (about 30 minutes) before picking up where you left off.
What is Tangzhong?
Tangzhong is a bread making technique that starts by making a roux of flour and milk or water. It is often used in Japanese milk bread recipes.
Cookbook author Yvonne Chen popularized the technique across Asia. King Arthur Baking used tangzhoung in their Recipe of the Year and helped make the technique more mainstream.
Cooking some of the flour and liquids together into a roux that is later added to the bread dough makes for an incredibly pillow-soft final product.
How to Use Active Dry Yeast
New to baking with yeast? Read all about baking with yeast and the different types of yeast available.
Recipe FAQs
What is the best way to reheat cinnamon rolls?
Once the cinnamon rolls are frosted, you can reheat individual rolls on a microwave safe plate for about 15 seconds or until warm.
Related Recipes
Looking for other recipes like this? Try these:
Recipe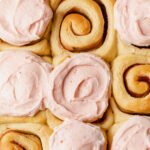 Print Recipe
Strawberry Cinnamon Rolls
These pillow soft Strawberry Cinnamon Rolls are filled with sweet strawberry jam and slathered with fresh strawberry cream cheese frosting.
Ingredients
For the Cinnamon Rolls
2 ⅓

cup

all-purpose flour

divided

1

cup

milk

divided

2 ¼

tea

dry active yeast

⅓

cup

granulated sugar

2

cups

bread flour

4

tablespoon

unsalted butter

melted

2

large eggs

1

tea

kosher salt

2

tablespoon

unsalted butter

softened

1

cup

strawberry jam
For the Strawberry Cream Cheese Frosting
1

cup

diced strawberries

2

tea

granulated sugar

1

tea

cornstarch

4

tablespoon

unsalted butter

softened

4

tablespoon

cream cheese

2 to 3

cups

powdered sugar
Instructions
Make the Cinnamon Rolls
Place ⅓ cup all-purpose flour, ½ cup milk, and ½ water in a saucepan and whisk to combine. Heat over medium heat, while whisking constantly but slowly, and cook until thickened. Remove from the heat and set aside.

Heat the reaming ½ cup milk until 100 to 110°F. You can microwave for 30 to 60 seconds until it is just hot to the touch. Pour the milk into the bowl of a stand mixer along with the yeast and about 2 teaspoons of sugar. Stir to combine and let sit until foamy.

Add in the remaining flour, bread flour, eggs, melted butter, and salt. And in the milk/flour roux and stir to combine.

Use a dough hook to knead until smooth and soft, but not too sticky.

Place the dough in an oiled mixing bowl and cover with plastic wrap. Allow to rise until doubled in size, 90 to 120 minutes.

When ready, lightly dust your work surface with a little bit of flour and roll the dough out into a large rectangle, about 18 X 14-inches.

Spread a thin layer of 2 tablespoons butter over the surface of the dough. Dollop on the jam and spread all over.

Starting at the long edge of the rectangle, carefully roll up the dough into a long log. Slide a piece of dental floss under the log until about halfway up, pull up on the strings, cross them, and pull to cut the dough in half. Continue to cut the log into 12 even pieces. If the dental floss is tricky, use a serrated knife.

Butter the inside of a 9 X 13-inch baking dish. Place the cut cinnamon rolls, cut-side up, in the bottom – leaving about a half-inch space in-between rolls. Cover with a clean kitchen towel and allow to double in size – about 30 to 45 minutes in a warm room.

Meanwhile, pre-heat the oven to 350°F. While you wait, make the strawberry sauce for the frosting (recipe steps to follow)

Remove the kitchen towel and bake the cinnamon rolls for about 25 to 35 minutes, or until slightly golden around the edges and an internal temperature of 190°F. Let cool as you finish the frosting.
Make the Strawberry Cream Cheese Frosting
Puree the diced strawberries. Pour the sauce into a saucepan along with the granulated sugar. Bring to a simmer over medium-low heat.

Make a slurry by mixing the cornstarch with a couple teaspoons water. Pour the slurry into the strawberry sauce. Whisk the sauce until it thickens then remove from the heat to cool completely.

When ready, use an electric mixer to mix the butter and cream cheese together until smooth. Add 2 cups of powdered sugar and mix on low speed until combined.

Add 2 to 4 tablespoons strawberry sauce and mix to combine. If needed, add more powdered sugar until the frosting is thick enough to spread.

Ice the cooled cinnamon rolls with the strawberry cream cheese frosting.

Add dollops of any remaining strawberry sauce on top and gently swirl with the back of a spoon or offset spatula, if desired.