This classic carrot cake recipe is layered and iced with fluffy, nutty brown butter frosting. With choose your own adventure add-ins, it's the only carrot cake recipe you will ever need.
Forever moist, not too sweet, full of flavor - this is the type of cake you start planning to make again even before the last bites are gone. It's the type of cake that you are willing to lose your dignity and fight for the last heavenly slice.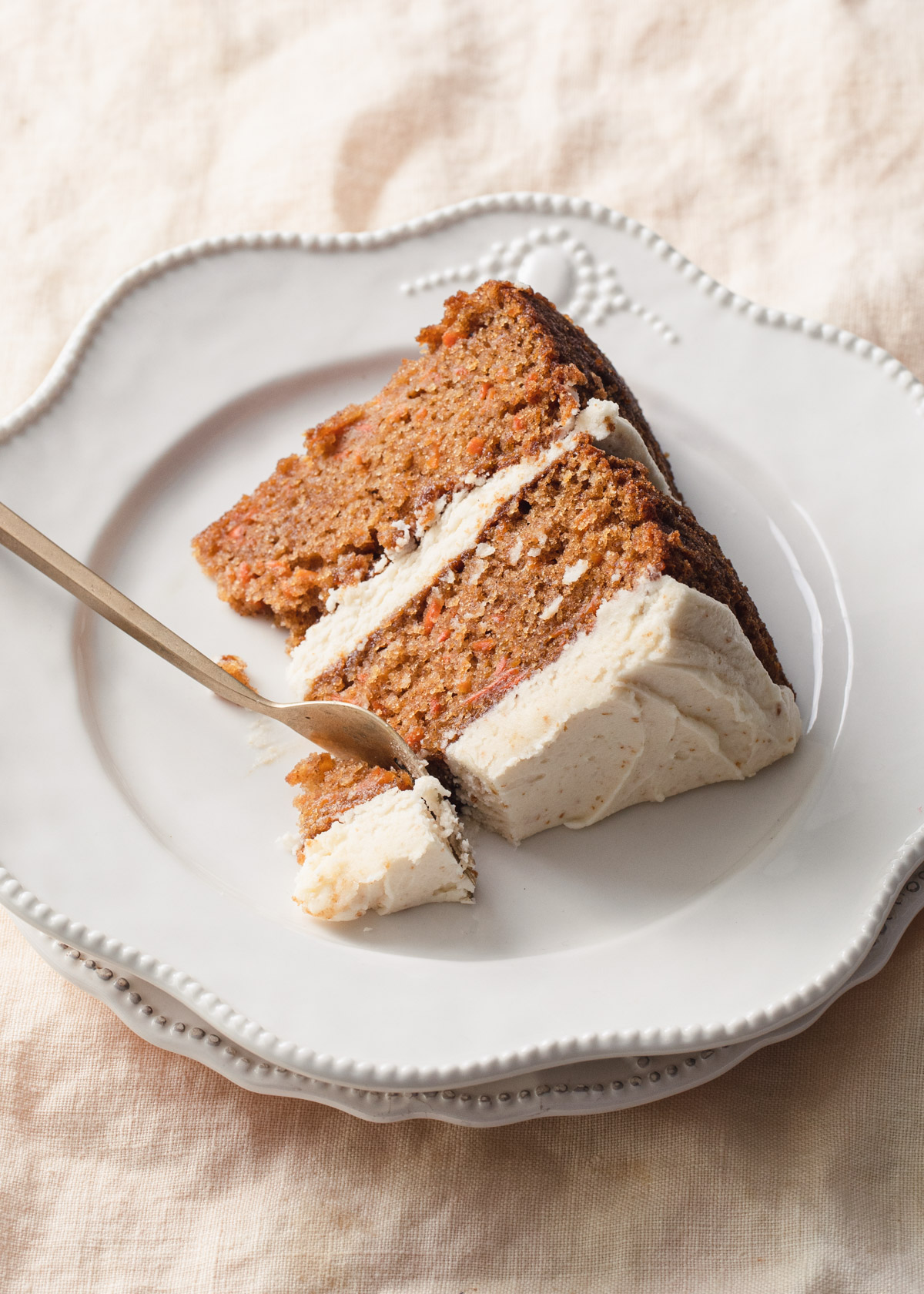 Jump to:
Why Everyone Loves This Carrot Cake
It's hard to create a "best ever" recipe when people have so many personal opinions on what makes a cake great. Especially when it comes to raisins and cream cheese frosting, carrot cake can be downright polarizing.
What people love about this particular carrot cake recipe is that it is infinitely adaptable, forgiving, and checks a lot of the boxes of a fantastic cake.
Love nuts? Go ahead and fold them into the batter (try toasting them first!). Hate raisins? Skip 'em all together.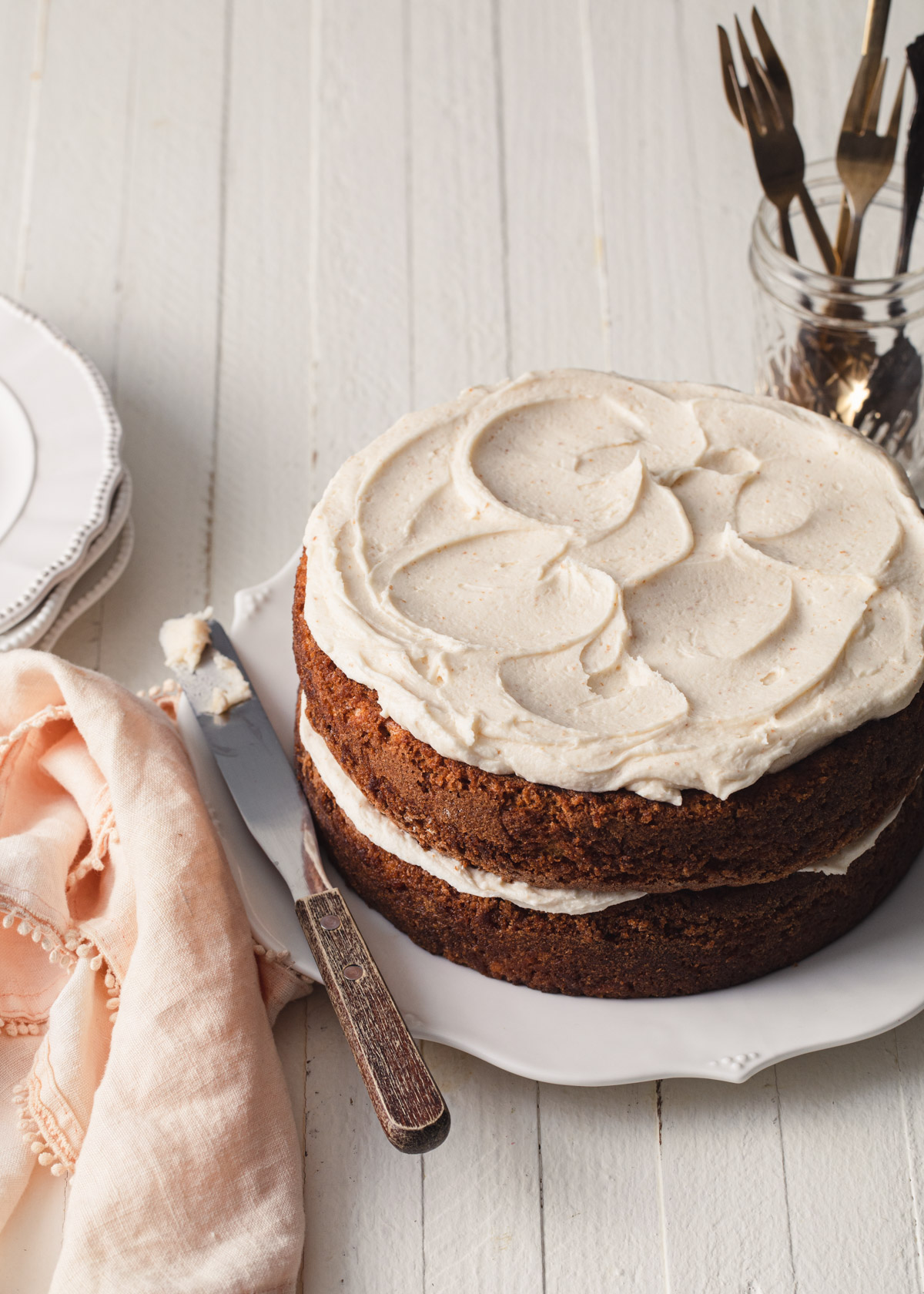 Ingredients
Oil - My preferred fat and tenderizer (think moist!) in carrot cake is a neutral taking oil. I like grapeseed oil, but canola oil also works.
Crushed Pineapple - This might be controversial, but I love crushed pineapple in carrot cake. Similar to a Hummingbird Cake, pineapple adds tons of moisture. Not a pineapple fan? Substitute it for applesauce or plain yogurt.
Ground Walnuts or Almond Flour - While some prefer their carrot cakes with chopped nuts, I'll take mine ground. Used like flour, ground walnuts in the batter adds a bit of texture and subtle nutty flavor. You may also use equal parts almond flour for a similar taste and texture. Not into nuts? Replace the ground walnuts or almond flour with ⅓ cup all-purpose flour.
Raisins - I'm anti-raisin in most baked goods. But since this is your best carrot cake, feel free to fold them into the batter along with the carrots at the end of mixing.
Spice - My favorite spices to use in baking are cinnamon, cardamom, and ginger. Feel free to create your own spice blend based on your pantry and palette.
Brown Sugar - Looking for extra flavor? Use brown sugar! White sugar alone will still taste great, but brown sugar brings depth and pairs perfectly with the brown butter frosting.
Carrots - Yes, carrot cakes need carrots. For a single cake, I shredded them by hand on a box grater. You could also use a food processor, but for this smaller amount, I don't think it's worth the fuss of taking out and washing it.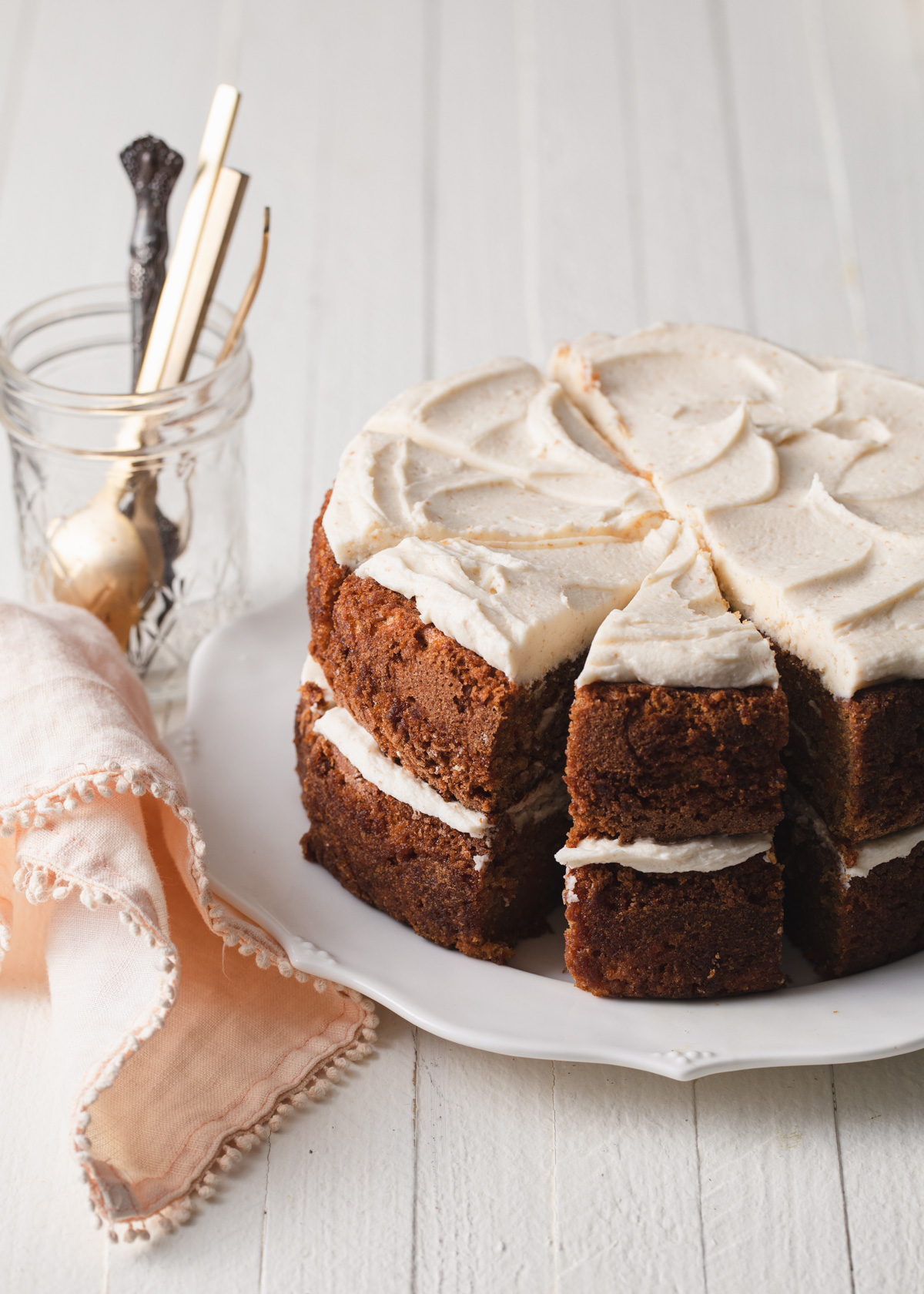 How to Make the Best Carrot Cake
Carrot cake should always be tender and moist - never dense and dry. It should also be easy to make. In this quick-mix recipe, we don't need to cream softened butter and sugar together for extra lift.
Instead, this stir-together, oil-based cake needs just two bowls to prepare the batter.
In a large mixing bowl, stir together the brown sugar, white sugar, and eggs until combined. While stirring, pour in the oil and mix until combined. Next, add the crushed pineapple (or wet ingredient of choice from the recipe).
Whisk together the flour, spices, and leavening agents to make sure all of the ingredients are evenly distributed. Adding the mixture in two batches to the wet ingredients helps ensure that the batter is not over mixed.
Save your mix-ins for the end. If you decide to add nuts and/or raisins, fold them into the batter at the end with the shredded carrots.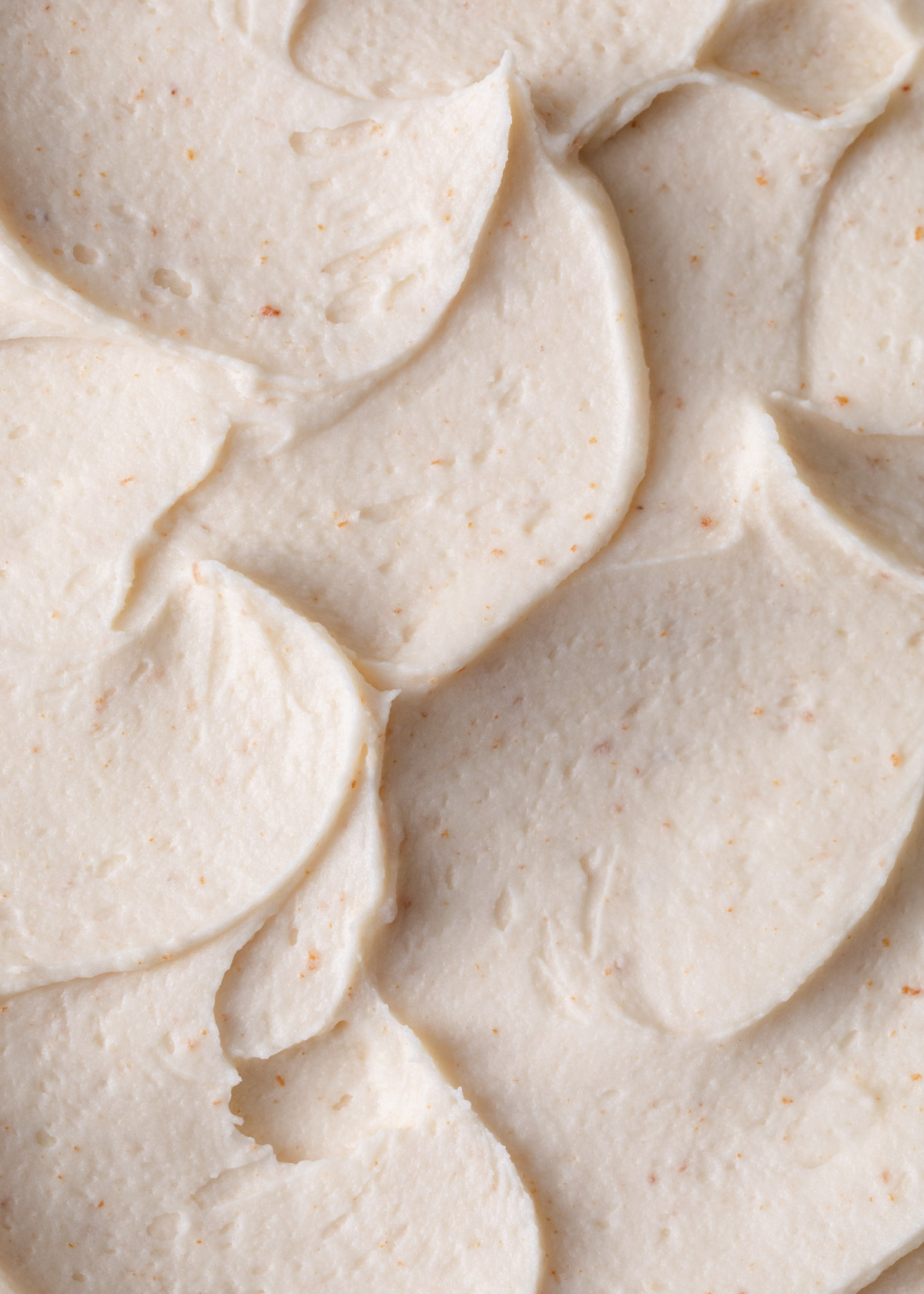 Brown Butter Frosting
Browning the butter adds a slight nuttiness and a subtle butterscotch-like flavor. Use your good vanilla, and you'll be licking the frosting from the spatula.
Don't overload the beautiful flavors of brown butter with an excessive amount of confectioner's sugar. The frosting should be soft and spreadable. Since the cake is only two layers tall, I am not overly concerned with structure and am more comfortable with a softer frosting here than when stacking a cake sky high.
But Wait...What is Brown Butter?
Some people eat carrot cake just for the traditional cream cheese frosting. This cake is covered in swoops and swirls of brown butter frosting that will make you forget all about cream cheese.
Brown butter, or beurre noisette (if you're feeling fancy) has a rich, nutty taste that enhances the flavor of both sweet and savory recipes.
More than just melted butter, brown butter is the result of gently cooked butter and toasted milk solids. Whipped with confectioners' sugar and vanilla, it brings bold, nutty, almost butterscotch flavors to the frosting.
An extra bonus that brown butter buttercream has over cream cheese frosting? It doesn't need to be refrigerated. This promotes snacking on all those delicious leftovers anytime you like.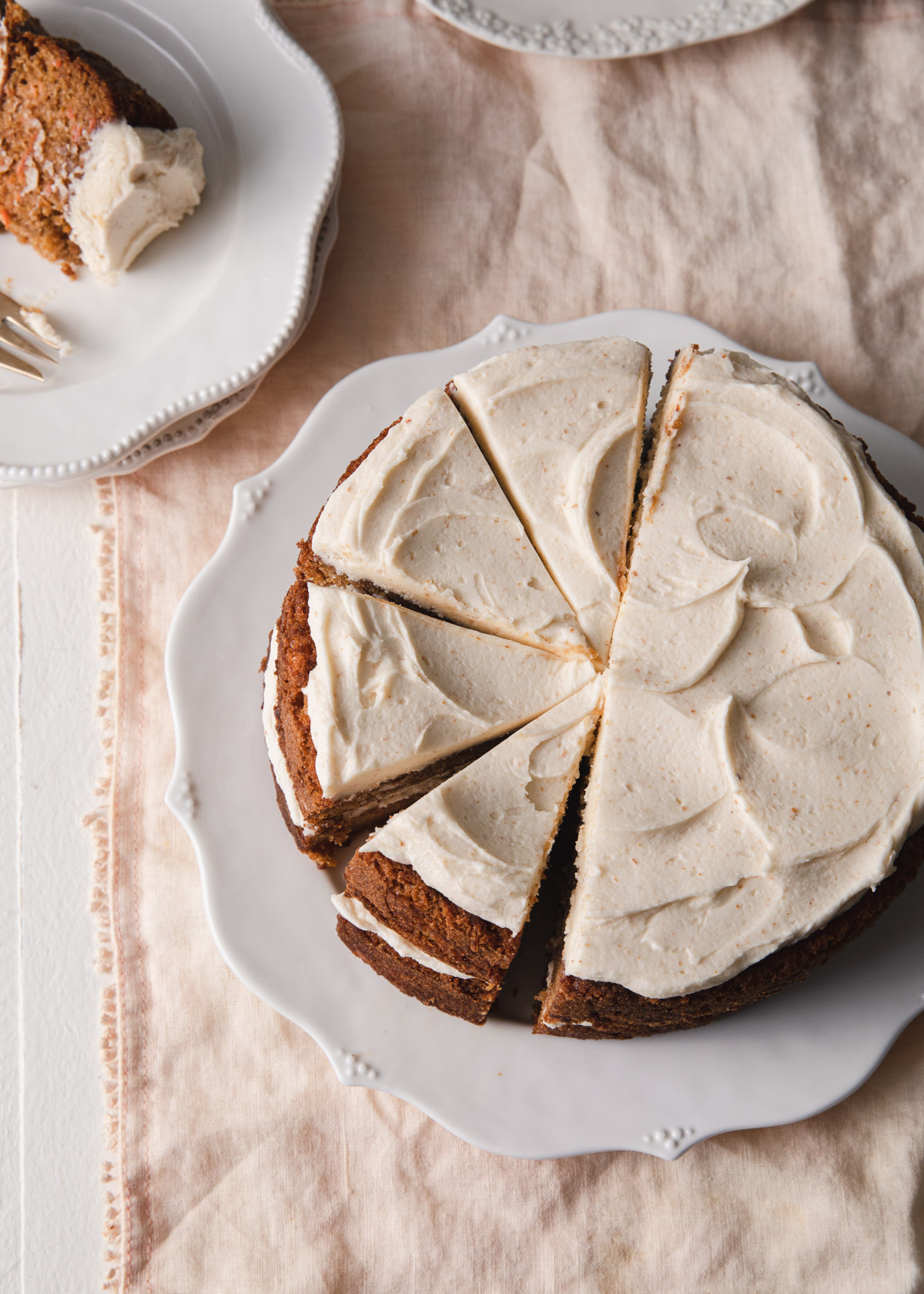 Serving and Storage
Serve and store at room temperature for up to two days, preferably in a cake box or wrapped loosely with plastic wrap
Keep any remaining leftovers after that point in the refrigerator for an additional day or two. Wrap loosely with plastic to keep the cake from drying out.
Baker's Notes:
When browning, do not boil the butter on high heat or too much water content from the butter will evaporate out

Even though the ingredients will come together sooner than the indicated time, keep mixing the frosting to incorporate enough air to make the frosting light and fluffy instead of heavy and grainy.

If you'd like the cake to be nut-free, substitute the walnut or almond flour with ⅓ cup all-purpose flour.

To create your own walnut flour, toast ¾ cups walnut pieces then grind them in a food processor. Be sure to stop processing before it turns into nut butter.

You may try substituting the pineapple with 1 cup of mashed banana or 1 cup of plain yogurt.
More Cake Recipe to Bake
Pumpkin Cake with Maple Cream Cheese Frosting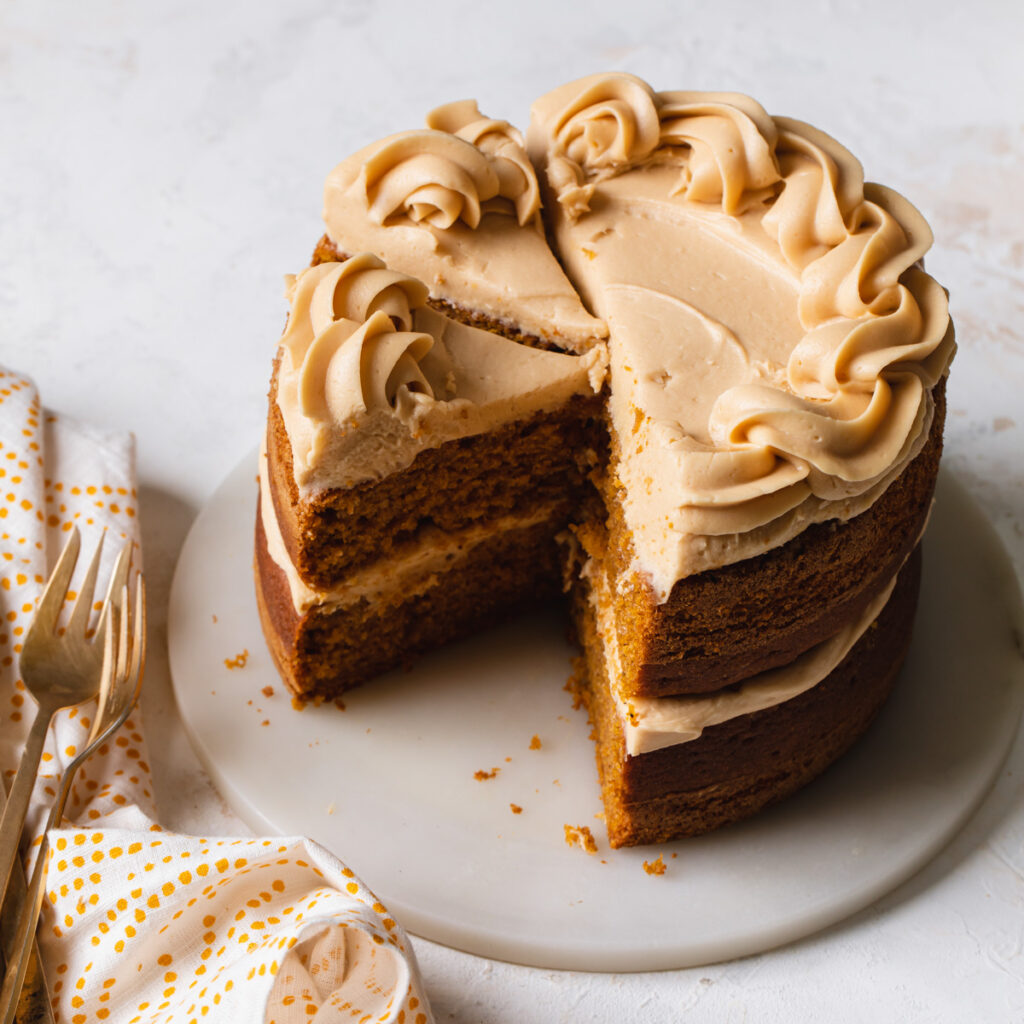 Join the Style Sweet Bake Club!
Get exclusive recipes and articles sent straight to your inbox. Become a subscriber today! Click to join.
Recipe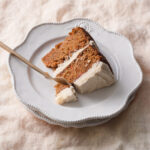 Print Recipe
Carrot Cake with Brown Butter Frosting
This classic carrot cake recipe is super moist and is layered with fluffy, nutty brown butter frosting. 
Ingredients
2

cups

all-purpose flour

½

cups

walnut or almond flour

2

teas

baking powder

1

teas

baking soda

1

teas

cinnamon

½

teas

salt

¼

teas

nutmeg

¼

teas

all spice

¾

cup

canola oil

1 ¼

cups

granulated sugar

½

cup

brown sugar

4

large eggs

1

cup

crushed pineapple or applesauce

3

cups

shredded carrots
Brown Butter Frosting
1

cup

unsalted butter, plus 2 tablespoons

2 to 3

cups

confectioners' sugar

1 to 3

tablespoon

milk

2

teas

pure vanilla extract
Instructions
Carrot Cake
Preheat the oven to 350 degrees. Grease and flour two 8-inch cake pans and set aside.

Whisk together the all-purpose flour, nut flour, baking powder, baking soda, salt, and spices. Set aside.

In a large mixing bowl or stand mixer fitted with a paddle attachment, stir together the oil, granulated sugar, and brown sugar. Add the eggs and whisk until fully combined and the batter begins to lighten in color.

Working in two batches, stir in the dry ingredients until incorporated. It is okay if a few streaks of flour remain visible.

Add the pineapple and shredded carrots. Fold until combined.

Evenly divide the batter between the prepared pans. Bake for 30 to 40 minutes, or until a toothpick inserted into the center of the cakes comes out clean. Cool on a wire rack for about 20 minutes before removing the cakes from their pans. Allow cakes to completely cool before filling and frosting. 
Brown Butter Frosting
Place ¾ cup (170 g) butter in a light-colored saucepan and melt over high heat. Once the butter begins to bubble, reduce the heat to medium-low.

Stirring every so often to keep the milk solids from burning and sticking to the bottom of the pan, continue to cook the butter until it turns an amber-colored brown and the milk solids have darkened. This will take 5 to 8 minutes. It is done when the brown butter smells nutty and toasty. Pour the brown butter into a heat-safe container. 

Allow the butter to re-solidify on the counter or chill in the refrigerator until it solidifies but remains soft, about 1 hour. It should be the consistency of softened butter when ready to turn into frosting. Meanwhile, remove the remaining butter from the refrigerator and let it come to room temperature.

When ready, add the brown butter and remaining butter to the bowl of a stand mixer fitted with the paddle attachment (or in a large bowl with a hand mixer). Mix on low speed until the butter is creamy. Stop the mixer and add in the confectioners' sugar. Mix on low speed until incorporated. 

Add a tablespoon of milk and mix to combine. Bump up the mixer speed to medium-high speed and mix until light and fluffy, about 3 to 5 minutes. Add the vanilla and more milk, a tablespoon at a time, and mix until smooth. When done, it should be smooth and spreadable.
To Assemble
Place one layer of cake on a cake stand or serving plate. Pile on half of the buttercream and spread flat with an offset spatula. Place the second layer of cake on top. Ice the top of the cake with the remaining frosting. For a rustic finish, make swirls on top by drawing "C's" and "S's" with the tip of an offset spatula or the back of a spoon.
Notes
Serve and store at room temperature for up to two days.  Keep any remaining leftovers after that point in the refrigerator for an additional day or two.

If you'd like the cake to be nut-free, substitute the walnut or almond flour with ⅓ cup all-purpose flour.

You may try substituting the pineapple with 1 cup of mashed banana or 1 cup of plain yogurt.