Bored by plain buttercream? Time to take it to the next level by making this sweet and fluffy white chocolate frosting! It is super easy to make, and its creamy texture glides right over layer cakes, cupcakes, and more.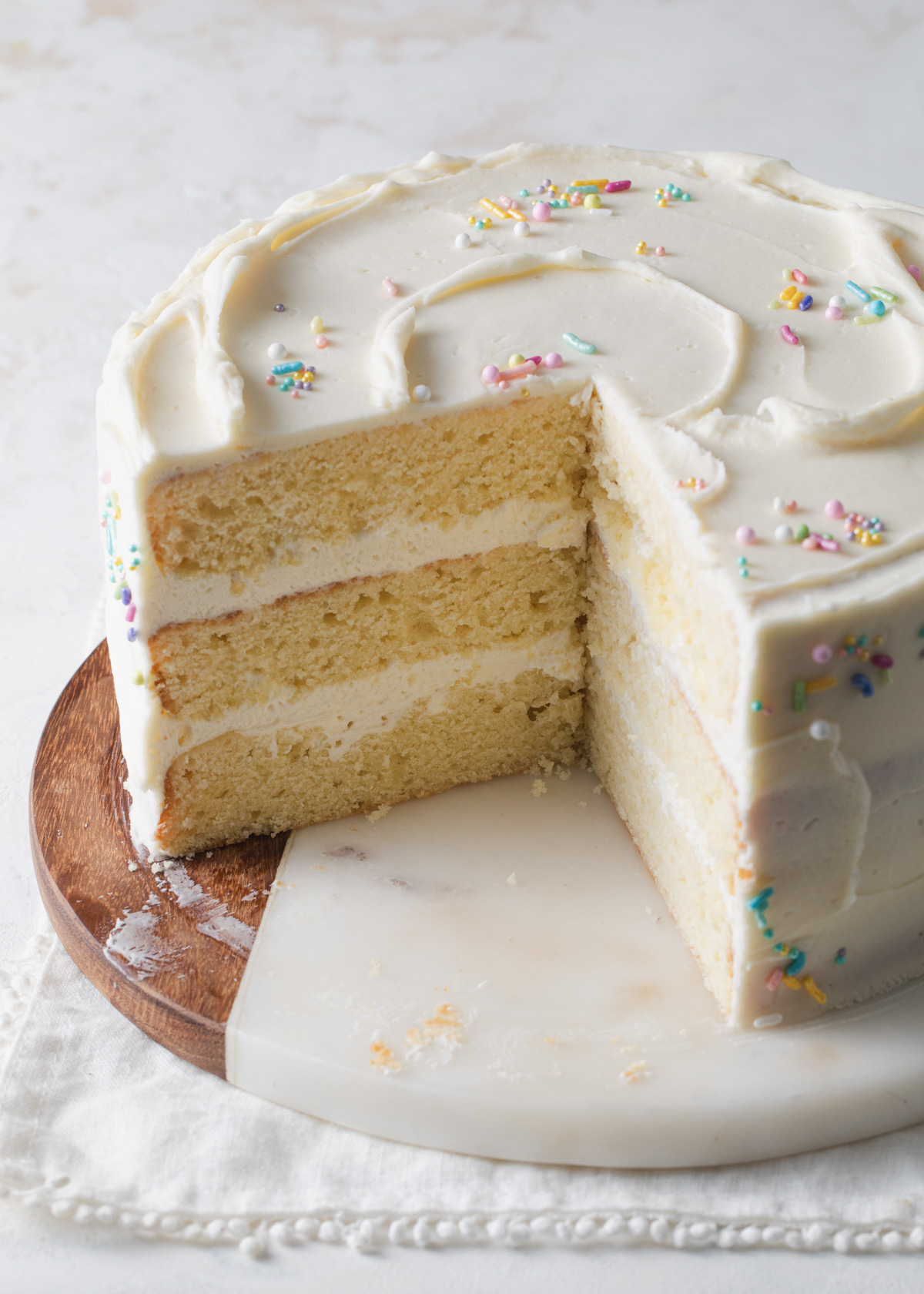 If you are a fan of simple American-style buttercream, then you are going to love this White Chocolate Buttercream Frosting. Adding melted white chocolate gives it a creamy, vanilla taste that pairs beautifully with so many different desserts.
White chocolate can be a bit sweet, so don't overload the frosting with icing sugar. Instead, let the white chocolate flavor shine and keep the texture soft and smooth.
This recipe was inspired by my whipped buttercream frosting, and pairs well with yellow cake, lemon curd cake, and brown butter cupcakes. I promise you will find endless uses for this recipe!
Jump to: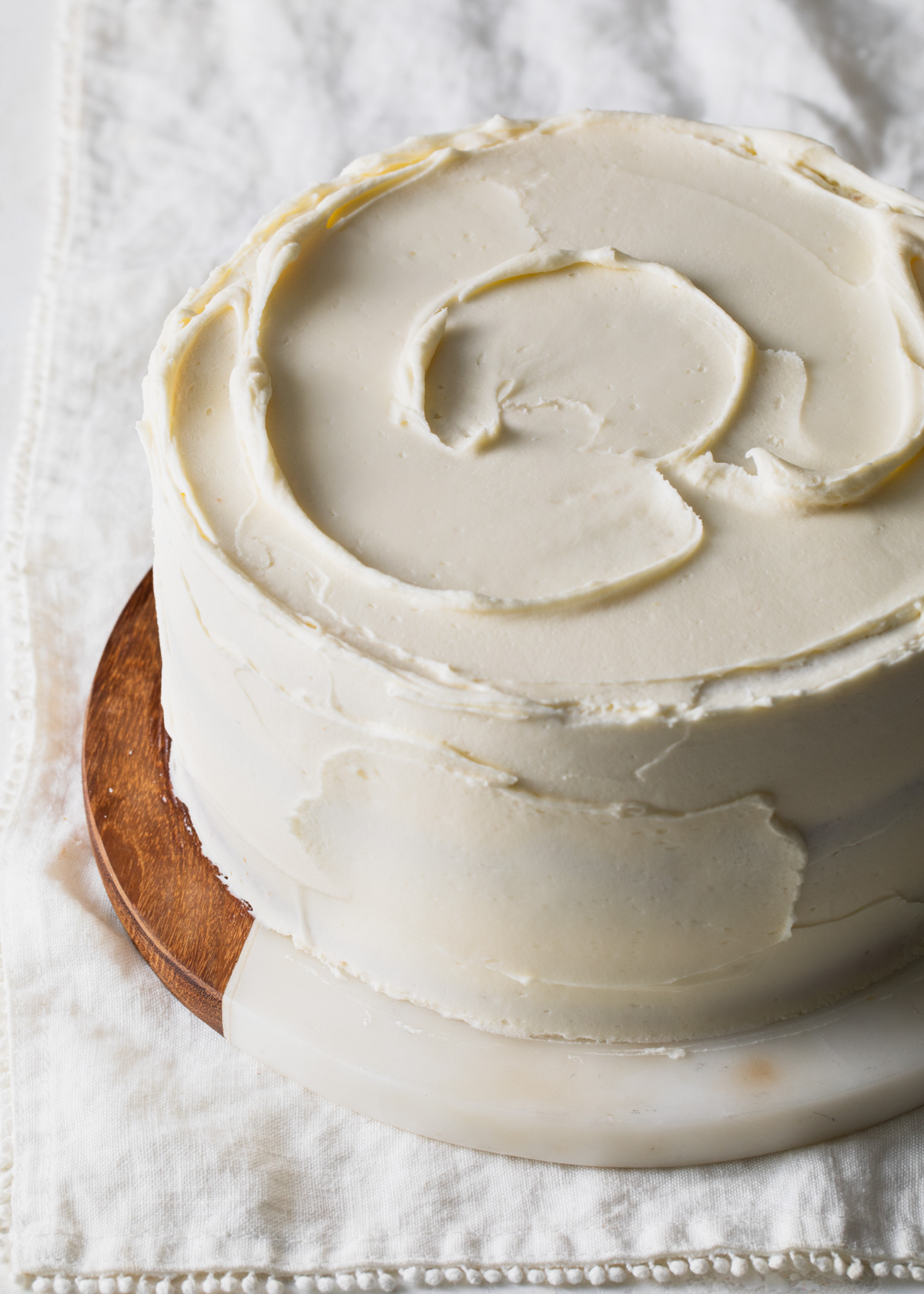 Ingredients
This white chocolate frosting is made with just a few ingredients. I suggest a high-end white chocolate to ensure that it melts super smooth. Keep it simple with chips like Ghirardelli or Callebaut
White chocolate chips
Unsalted butter
Icing sugar
Heavy cream - milk will do in a pinch
Vanilla extract
See recipe card for quantities.
Tools and Equipment
Saucepan
Heat-safe bowl
Electric mixer
Rubber spatula
Steps for Making White Chocolate Frosting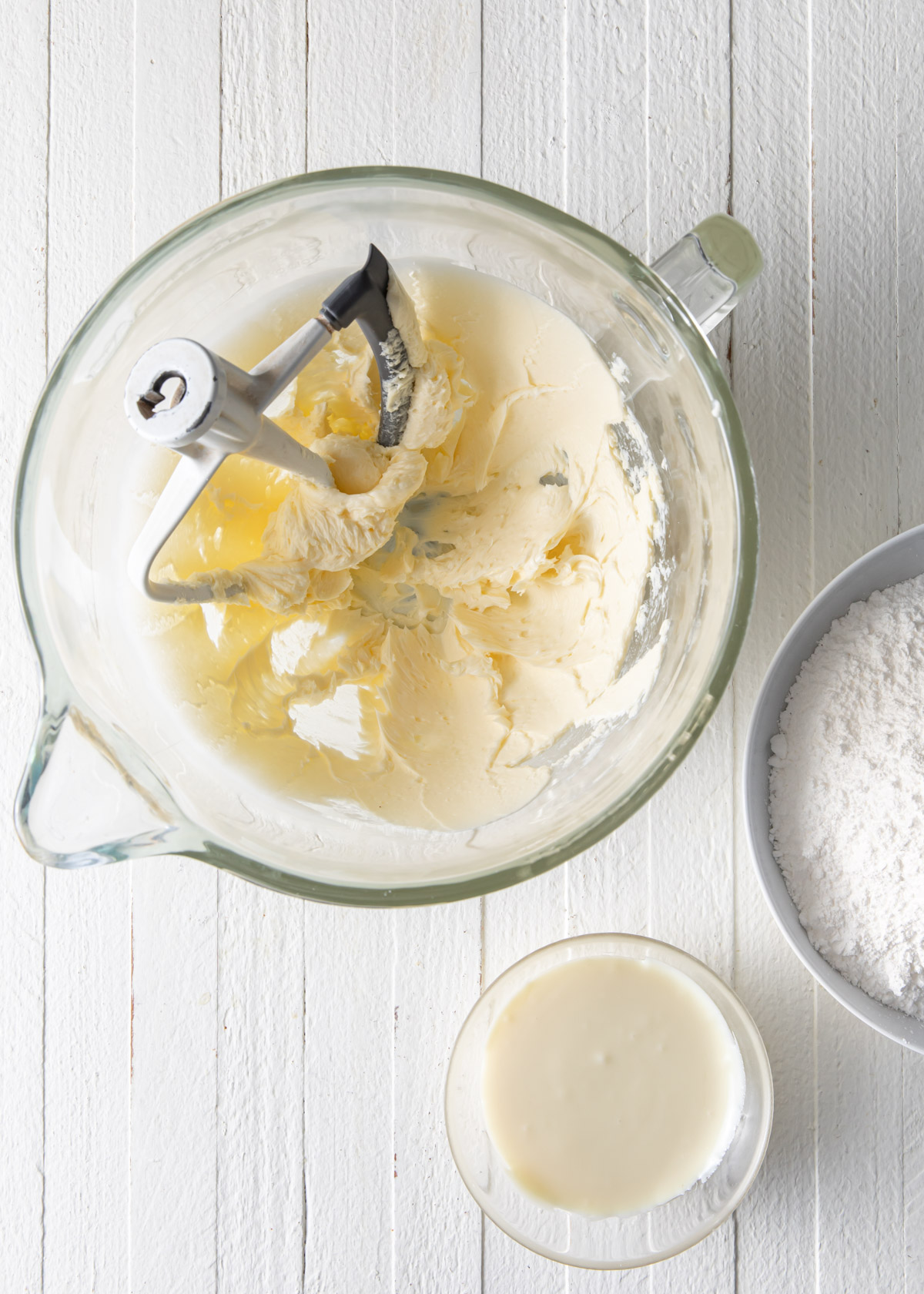 Melt the white chocolate - Melt the white chocolate in a heat-safe bowl set over a pot of simmering water. The white chocolate needs to be fully melted but no longer hot before being added to the butter.
Mix the butter - mix the butter until soft and creamy
Add the icing sugar - add all but 1 cup icing sugar, 2 tablespoons of cream, and vanilla. Mix together on low speed until combined.
Add the white chocolate - make sure the chocolate is still completely melted and slightly warm to the touch. Reheat as necessary.
Mix until creamy - mix in the melted white chocolate until smooth.
Finish the frosting - Increase the speed to medium and mix until fluffy. Add more icing sugar until it is a spreadable consistency.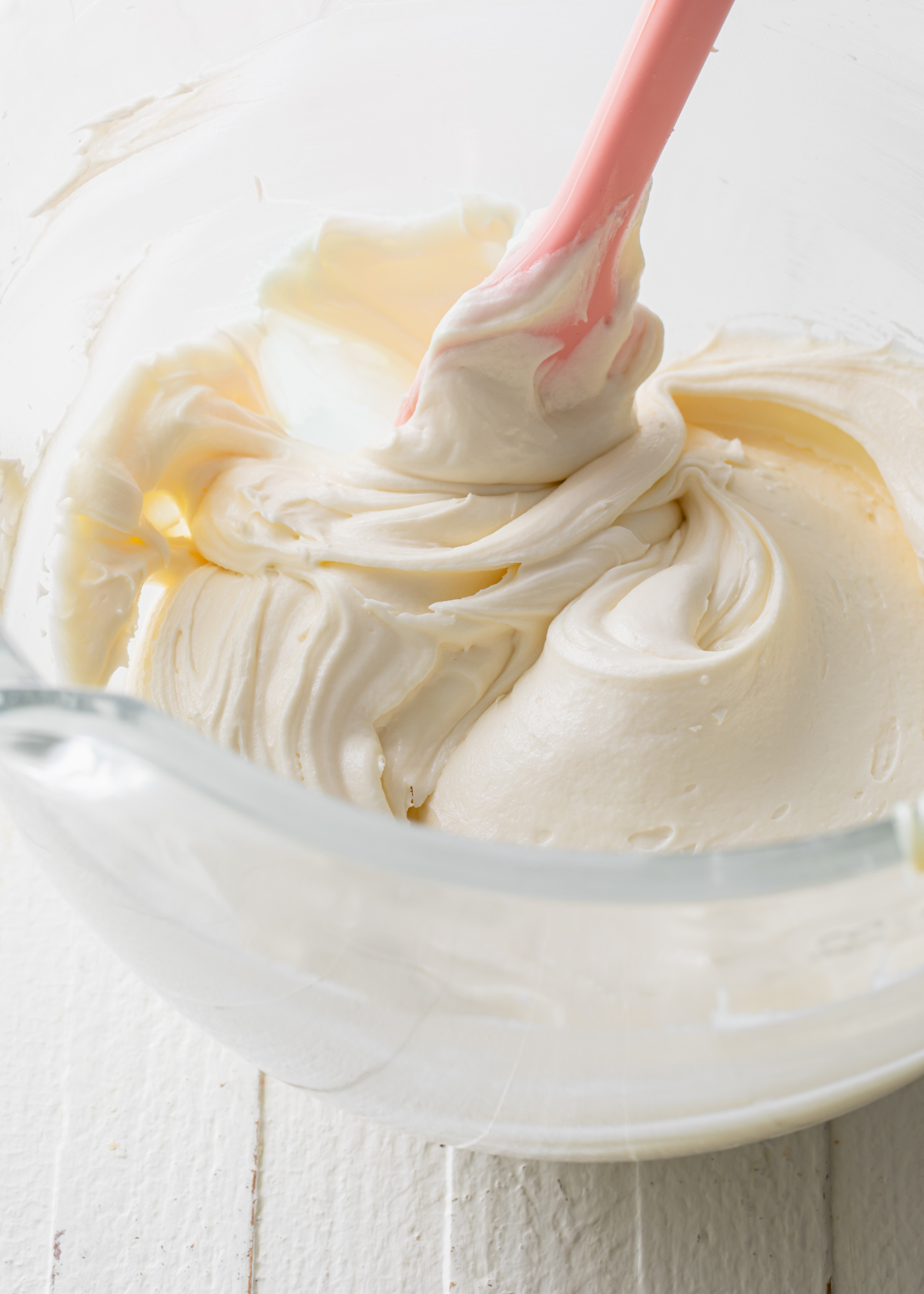 Here, the melted white chocolate has been added and mixed until smooth and creamy. It has a silky texture but not thick enough to ice a cake.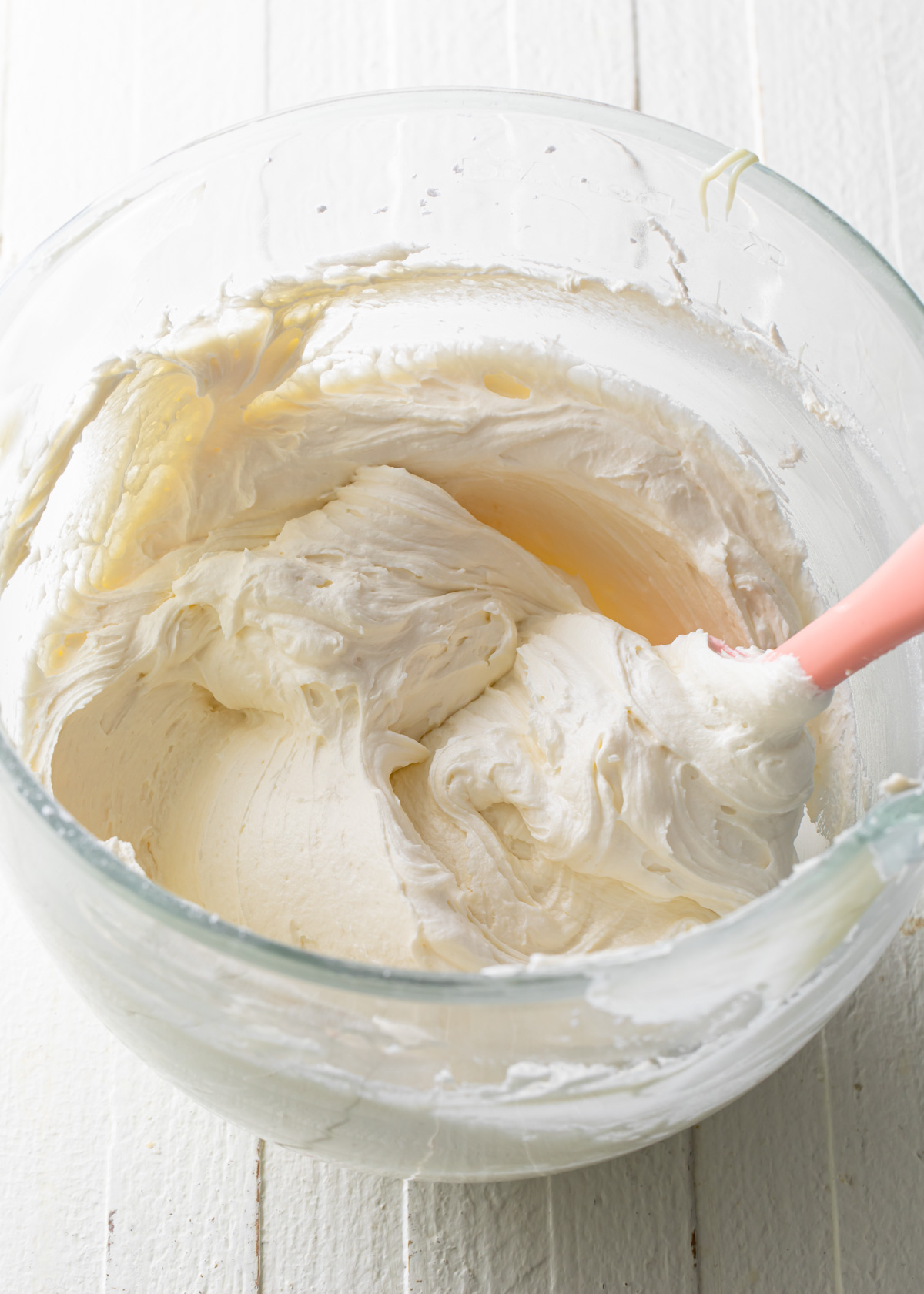 Allowing the frosting to mix a bit longer incorporates air to help it get fluffy. Add more icing sugar to thicken the frosting until spreadable.
Hint: It is super important that the ingredients are the correct temperature or the white chocolate may harden into tiny bits when added to the icing.
Substitutions
Heavy Cream - heavy cream has a higher fat content that helps frosting whip up nice and fluffy. Use milk in a pinch with similar results.
Storage
The consistency of the frosting is best just after making, so plan to use immediately. Store leftovers in an air-tight container overnight at room temperature or up to a week in the refrigerator.
Store icing in plastic wrap in the freezer for up to 3 months. Thaw in the refrigerator overnight. Bring the icing back to room temperature before remixing.
Grab the recipe for the yellow cake recipe in the photos!
The Best Way to Melt White Chocolate
While you might be tempted to toss it in the microwave, using a double-boiler is a much superior way to melt white chocolate. Gently warming the white chocolate ensures that the chocolate does not burn or seize and instead melts into a silky, creamy texture.
You can melt white chocolate in straight in a saucepan, but this can be risky. I recommend using a water bath. White chocolate can be delicate, so heating it over a pot of simmering water with less direct heat is my preferred method.
If you must, make sure to microwave at half power. Stir the chocolate every 30 seconds. In any case, make sure that no water mixes with the chocolate.
Top Tip
Pay close attention to the temperature of the ingredients. If either the butter or melted white chocolate is too warm, then the icing will be too soft and soupy.
If the butter or melted white chocolate are too cool, then you run the risk of the white chocolate hardening into bits once added to the icing.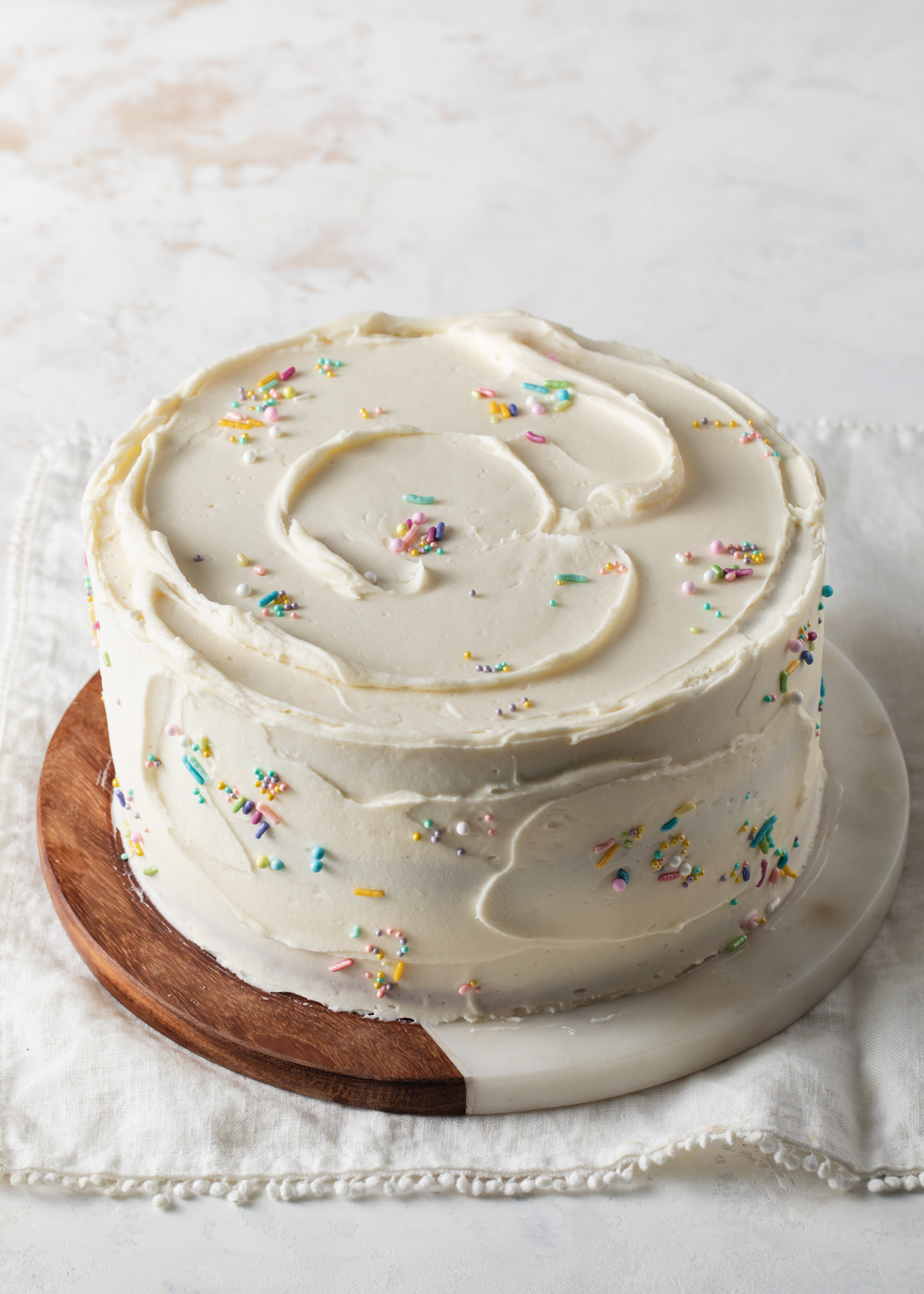 White Chocolate Frosting Recipe FAQs
How do you make buttercream less sweet?
Make sure to start with softened butter that is not too warm or melty. This will keep you from wanting to add too much icing sugar to thicken the buttercream. You can balance out the flavors with a pinch of salt.
What is American buttercream made out of?
This sweet, creamy style of buttercream is made from unsalted butter, powdered sugar, vanilla extract, and milk or heavy cream.
What is the best white chocolate for baking?
Use a high quality white chocolate to make sure it melts smoothly, like Ghirardelli or Valrhona.
Can I use white chocolate chips?
Yes! Look for a high quality brand of white chocolate chips, feves, or callets. Lower quality white chocolate chips may not melt as smoothly.
How do you melt white chocolate chips in the microwave?
Use a microwave-safe bowl and heat the chips at 50% power. Stir every 30 seconds until evenly melted.
Recipe Pairings
These are my favorite recipes to pair with this white chocolate frosting recipe:
Recipe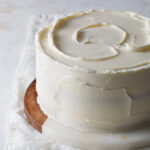 Print Recipe
White Chocolate Frosting
Sweet and creamy white chocolate frosting that is perfect for frosting cupcakes, layers cakes, and more!
Ingredients
6

ounces

white chocolate

1

cup

unsalted butter

softened

3 ½ to 4 ½

cups

icing sugar

2 to 4

tablespoon

heavy cream

1

teas

pure vanilla extract
Instructions
Fit a heat-safe bowl on top of a pot of gently simmering water to create a double-boiler. Place the white chocolate in the bowl and heat until melted. Set aside to cool.

Using a stand (or hand) mixer fitted with the paddle attachment, beat butter on medium-low speed until smooth and creamy, 1 minute.

Turn the mixer off and add the 3 ½ cups of icing sugar, 2 tablespoons of cream, and vanilla. Begin mixing on low speed until the ingredients come together - scraping the bowl occasionally.

Add the melted white chocolate and mix until smooth.

Add in the last cup of powdered sugar, a ½ cup at a time, and gradually turn up the speed of the mixer. Mix at medium speed for 2 to 4 minutes, until the buttercream begins to thicken and get fluffy. If needed, add the additional cream until desired consistency is achieved. The buttercream should spread smoothly without tearing the crumb of the cake but thick enough that it holds shape when piped and spread between the layers.
Notes
Make sure to start with softened butter that is not too greasy or melted.
The white chocolate should be completely melted but cooled slightly. It should be just barely warm to the touch to keep the icing from melting as well as the white chocolate from firming up too quickly.