Want to level up your basic vanilla cupcake? Make these fluffy Brown Butter Cupcakes with whipped buttercream frosting. They are soft, moist, and full of flavor.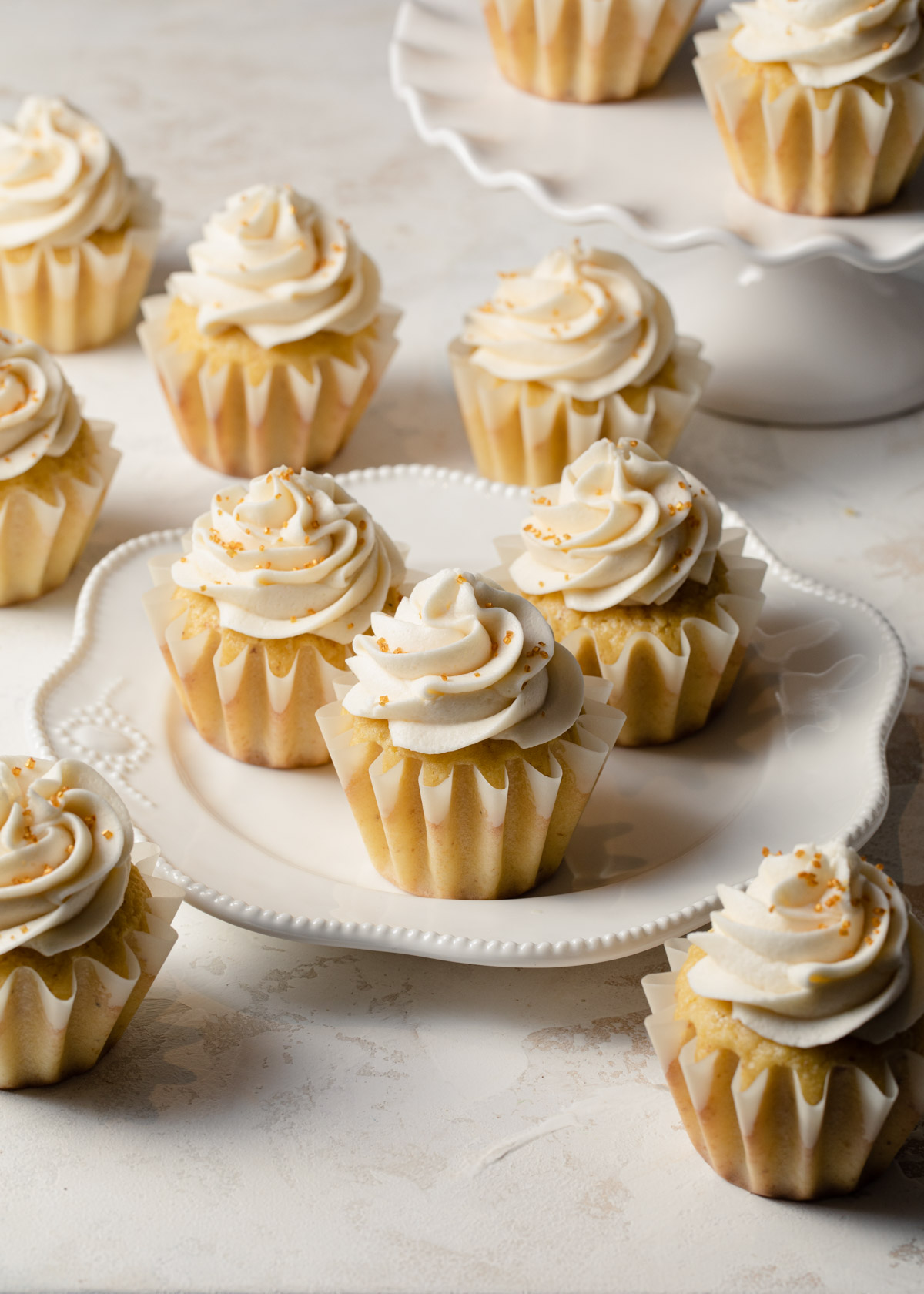 Jump to:
Why You'll Love Brown Butter Cupcakes
They might look like your typical cupcake, but the brown butter cake is packed with vanilla and brown sugar flavor notes.
Toasting the butter by melting it until it turns golden adds so much extra flavor. But don't worry, you won't need to chill it for very long. The extra step is easy and totally worth it!
You will love how soft and moist these cupcakes are. The only thing they need is a swirl of whipped buttercream frosting. It's light, fluffy, and not super sweet.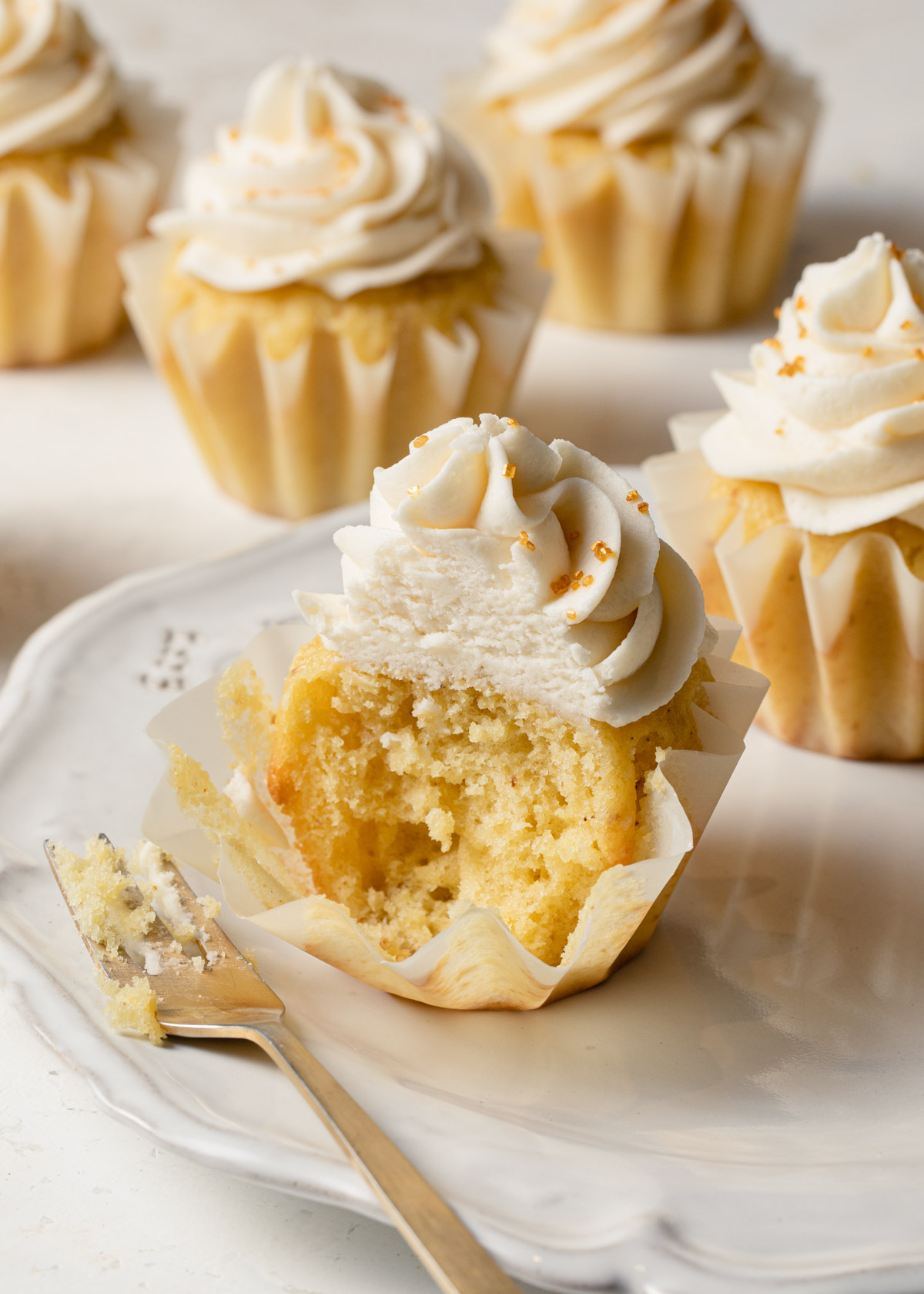 Ingredients
Unsalted butter
Large eggs
Granulated sugar
Avocado or canola oil
All-purpose flour
Baking powder
Kosher salt
Milk
Powdered sugar
Vanilla extract
See recipe card for quantities.
Tools and Equipment
Saucepan
Heat-safe spatula
Electric mixer (hand or stand)
Muffin tin
Piping bag
General kitchen tools (measuring spoons, mixing bowls, etc.)
Instructions
Start this recipe by browning unsalted butter. This extra step toasts the milk solids and adds extra flavor to the cupcakes. When done, the butter should be golden and smell nutty and fragrant.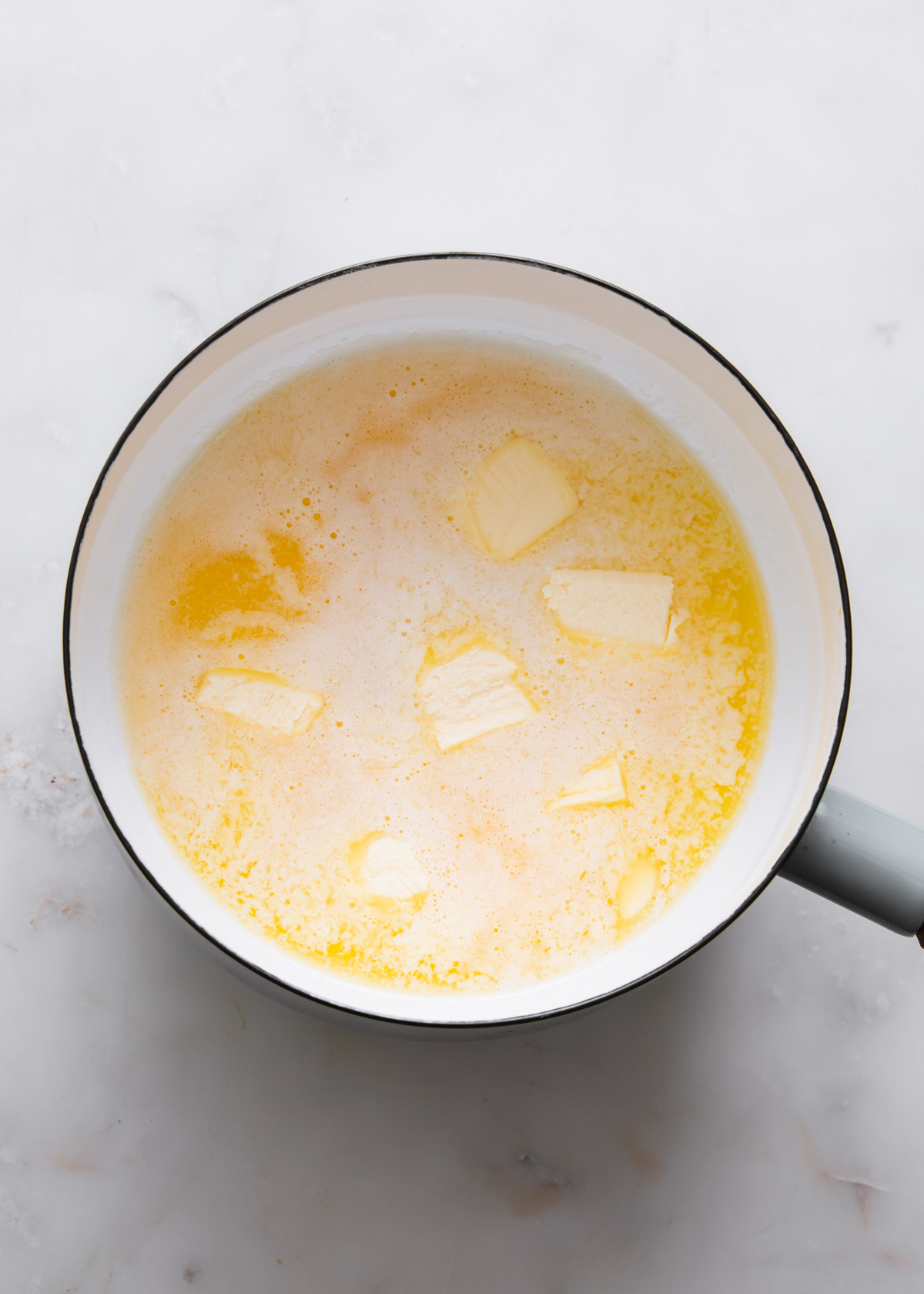 Add diced butter to a saucepan and begin melting over medium-high heat.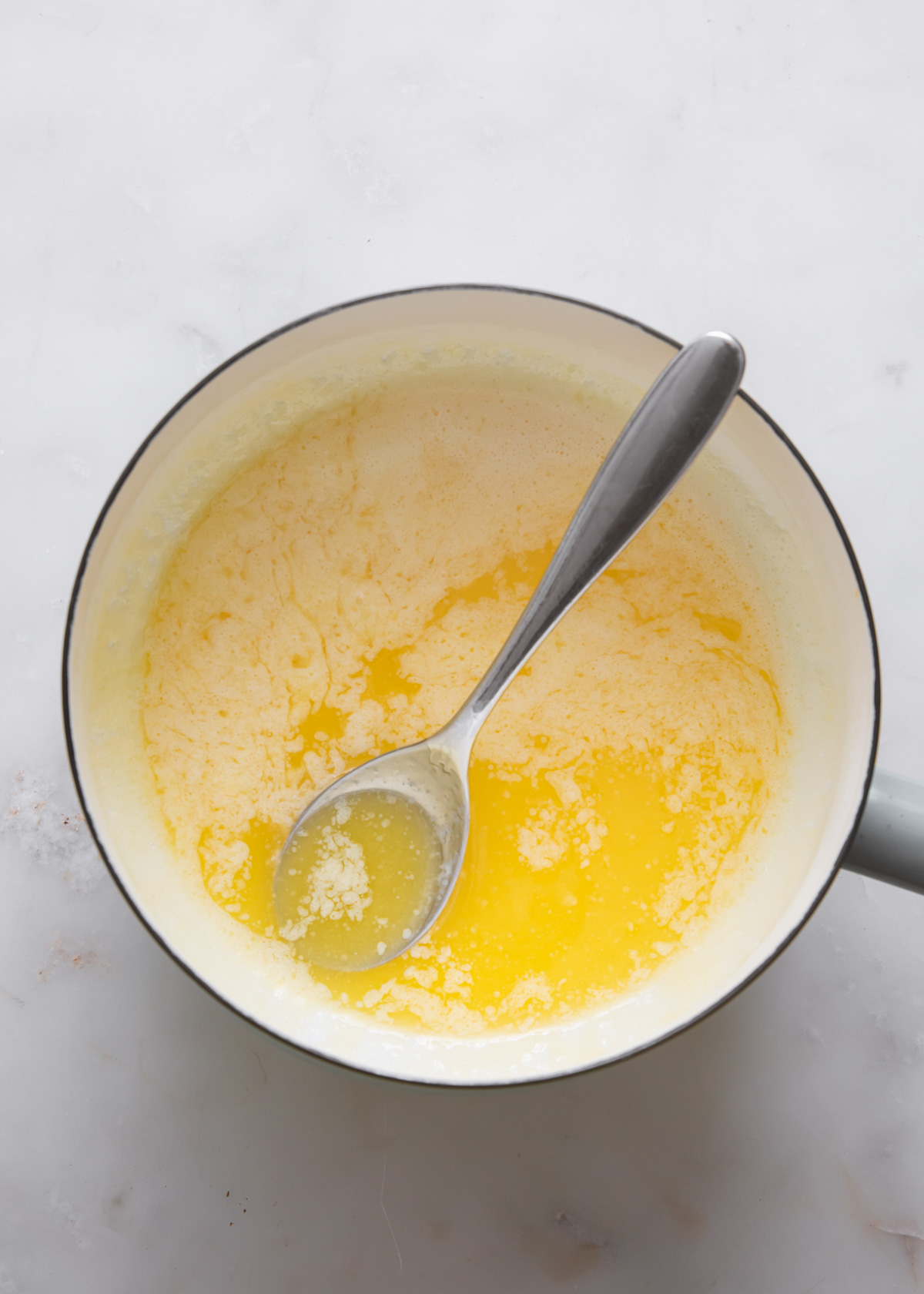 Keep cooking the butter until it completely melts. Low the heat so that it does not too vigorously.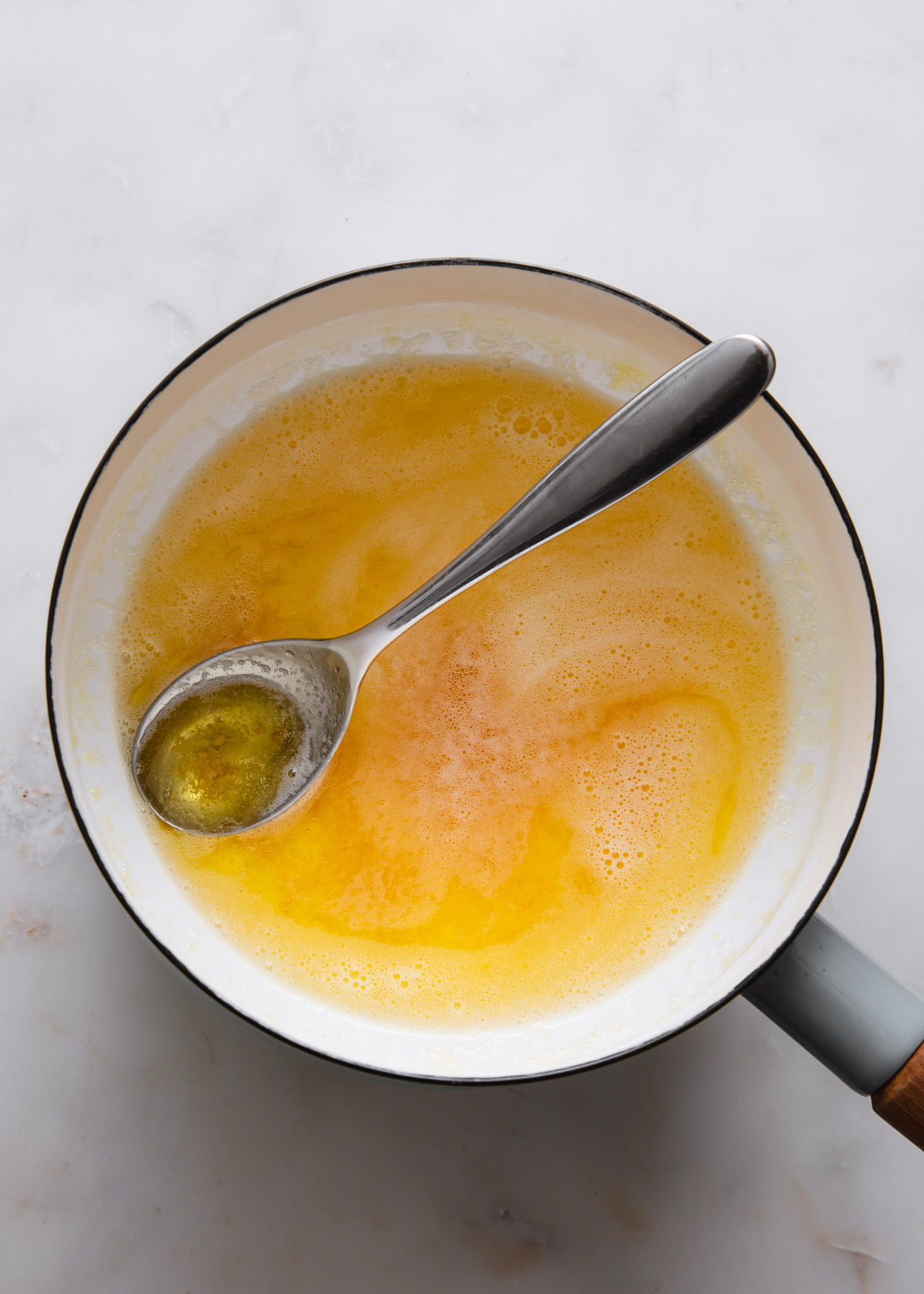 Swirl the pan around and stir occasionally to keep the milk solids from burning on the bottom.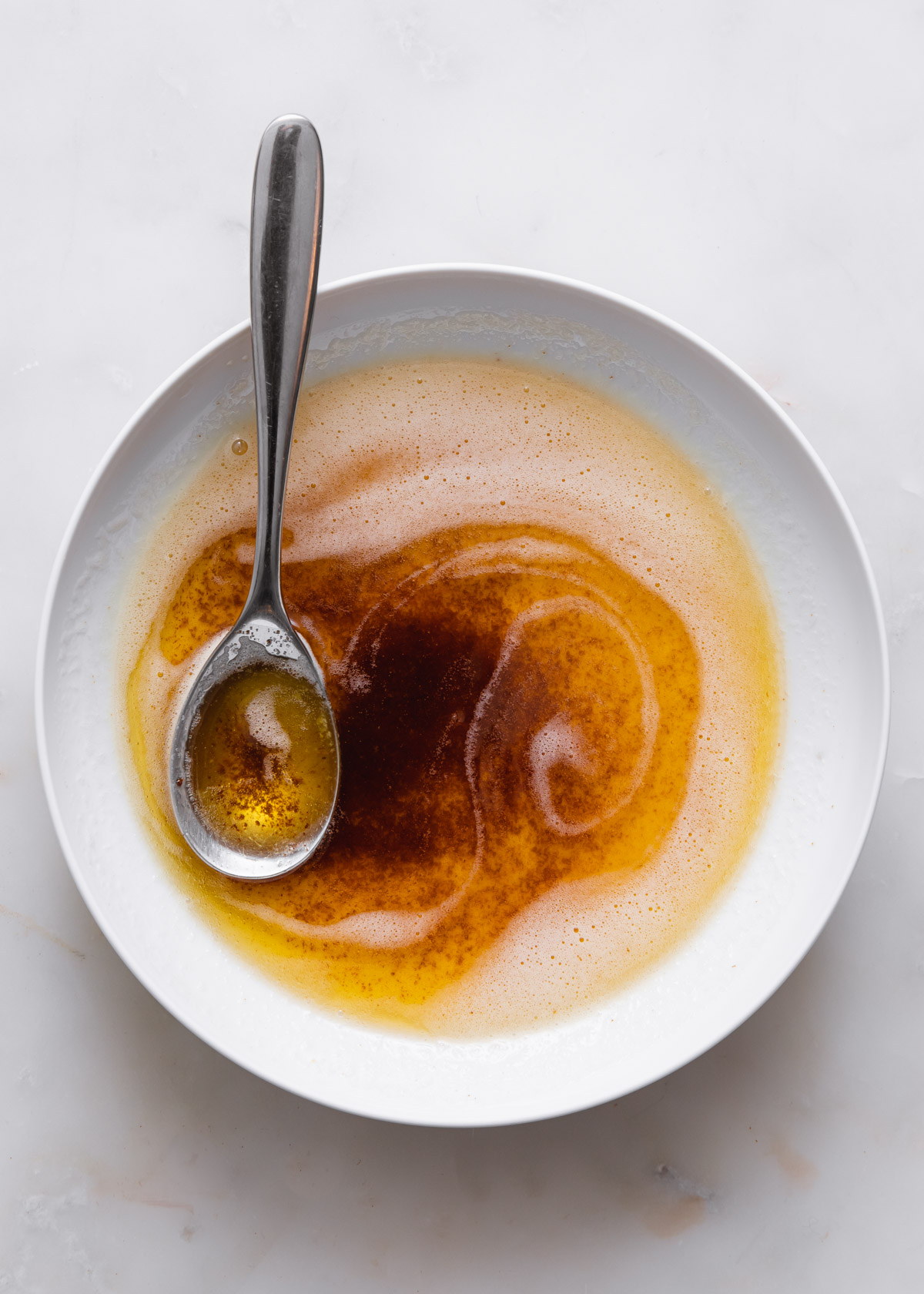 When done, the butter will be golden and the milk solids toasty brown but not burnt.
Hints: The whole process takes 5 to 8 minutes. Do not boil too vigorously or too much of the water content will evaporate off.
Stir occasionally to keep things from burning. When done, pour into a clean bowl, including the brown bits. Do not scrape any of the milk solids off from the bottom of the pan.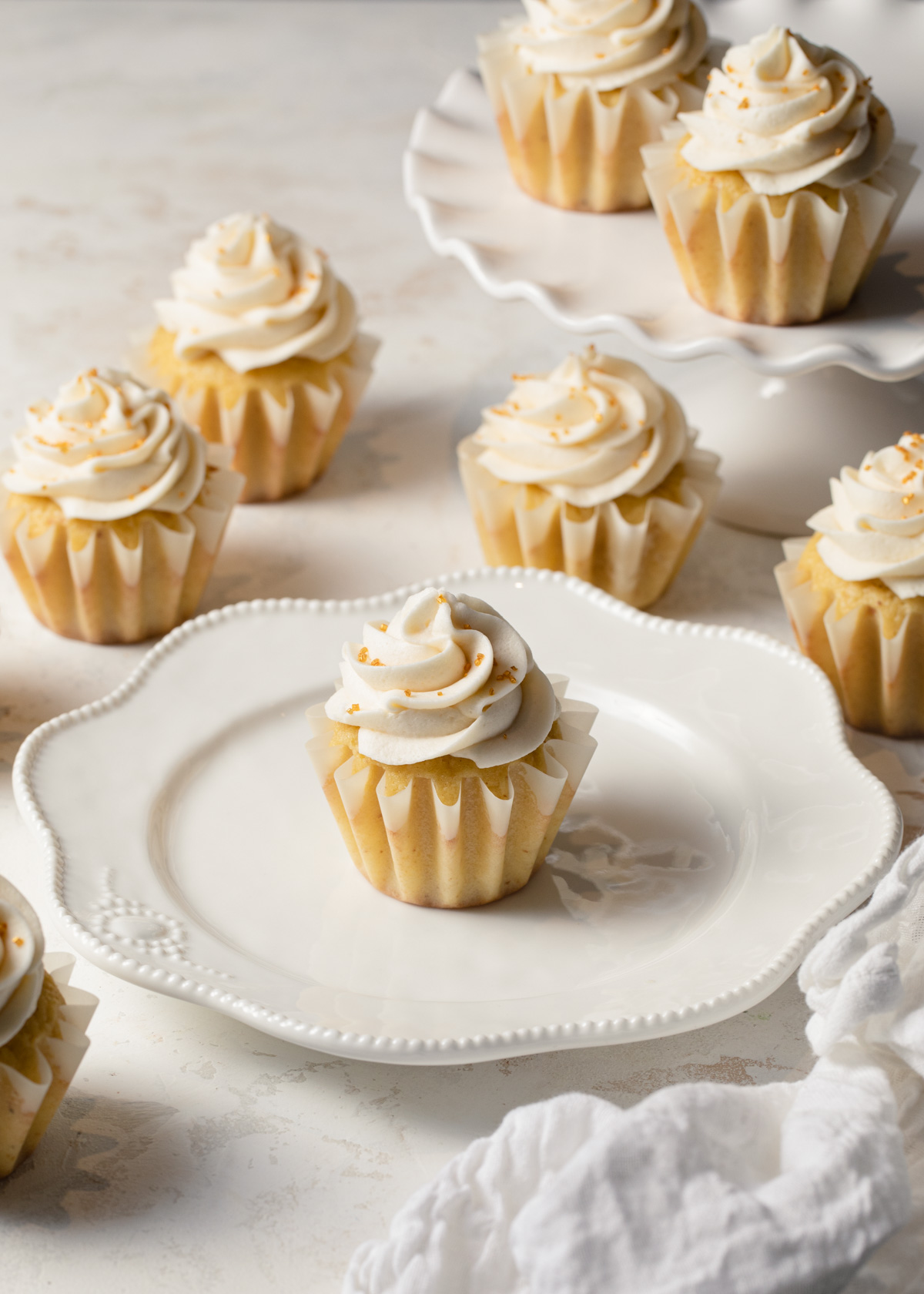 How to Make Fluffy Brown Butter Cupcakes
These cupcakes are super moist from using brown butter and a small addition of oil. These fats are liquid, as we do not re-solidify the brown butter before mixing.
Where a lot of cakes and cupcakes use the creaming method (which needs solid butter), we are starting by whipped eggs and sugar together instead.
Whip the eggs and sugar together until they double in volume and the batter falls off the whisk in thick ribbons. You should be able to draw a figure "8" with the batter before it sinks back into the mixture.
From there, add the butter, oil, and vanilla. Then, alternate adding in the dry ingredients with the milk to keep from over-mixing.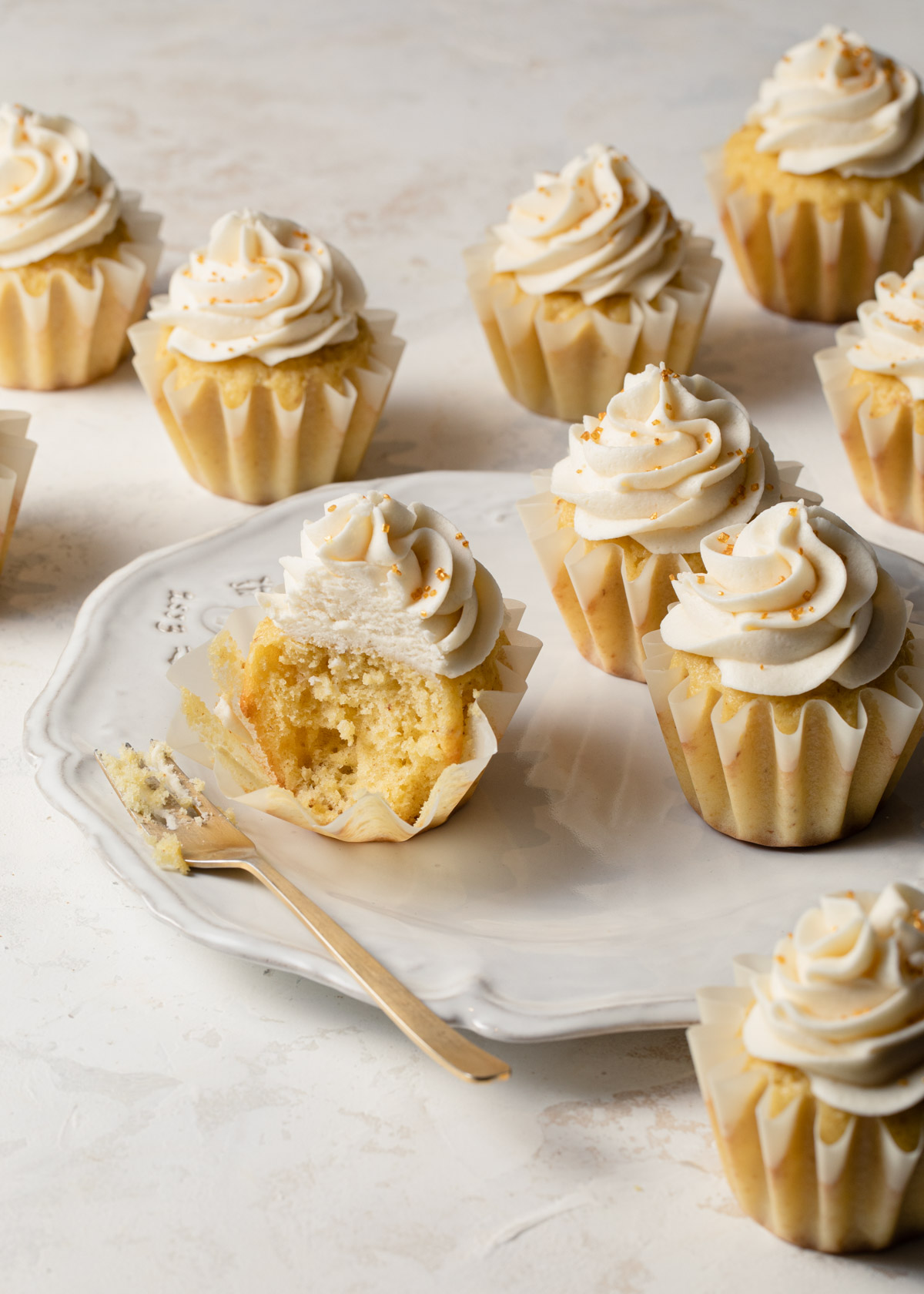 Supporting Articles
Use a large start tip, like Wilton 1M, to create the perfect swirl on top! Hold the piping bag straight down and keep even pressure as you go.
Remember to release the pressure on the piping bag when you are done, before pulling the tip away.
Substitutions
Buttermilk - Replace both the milk and sour cream with equal parts buttermilk. The texture will be slightly different but very similar.
Milk - In a pinch, you can use regular milk instead of the cream for the whipped buttercream frosting and get similar results.
Variations
Chocolate Brown Butter Cupcakes - replace the whipped buttercream with fudge frosting
Nutella Brown Butter Cupcakes - replace the whipped buttercream with Nutella frosting
Storage
Store the brown butter cupcakes at room temperature for up to 3 days. I recommend keeping them in a large lidded container - preferably with an air-tight seal vs a box.
Unfrosted cupcakes maybe be wrapped in bundles of six with plastic wrap. Store in the freezer for up to 3 months.
Top Tip
Be sure to include the toasted milk fat from the brown butter - that's where all the flavor is! If the brown bits are stuck to the bottom of the pan, then they are likely burnt. DO NOT scrape - leave these behind.
Recipe FAQs
What is Brown Butter?
Brown butter is regular butter that has been melted and cooked until golden. As it cooks, the milk solids separate and toast to take on a warm, nutty flavor.
Can I bake this recipe as a cake?
Sure! You may try baking this recipe as three, 6-inch cakes or two 8 or 9-inch cakes. Do not fill the pans more than ⅔ of the way full.
Can you freeze brown butter cupcakes?
Freeze unfrosted cupcakes by wrapping bundles of six cupcakes tightly in plastic wrap. Store in the freezer for up to 3 months.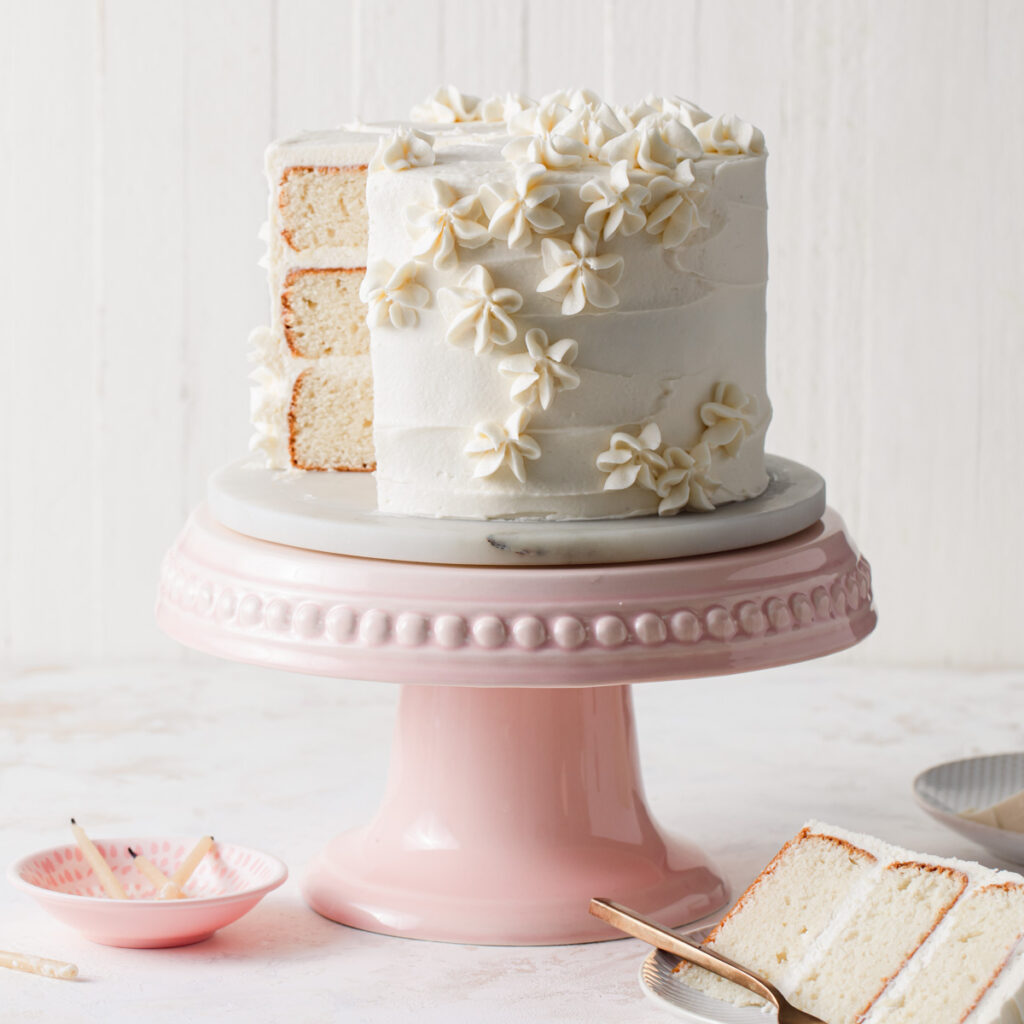 Join the Style Sweet Bake Club!
Get exclusive recipes and articles sent straight to your inbox. Become a subscriber today! Click to join.
More Cupcake Recipes to Try
Chocolate Peanut Butter Cupcakes
Please leave a star review if you loved this recipe! Make sure to share your recipes and tag me on Instagram @stylesweetdaily.
Recipe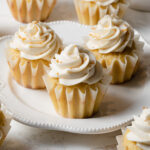 Print Recipe
Brown Butter Cupcakes
Take basic vanilla cupcakes to the next level with these moist, soft Brown Butter Cupcakes.
Ingredients
For the Brown Butter Cupcakes
10

tablespoon

unsalted butter

cubed

2 ⅓

cup

all-purpose flour

1 ½

tea

baking powder

½

tea

kosher salt

2

large eggs

1 ½

cup

granulated sugar

3

tablespoon

avocado or canola oil

2

tea

vanilla extract

½

cup

milk

½

cup

sour cream
For the Whipped Buttercream Frosting
1

cup

unsalted butter

softened

4

cups

powdered sugar

sifted as needed

2 to 4

tablespoon

heavy cream

2

tea

vanilla extract

pinch

kosher salt
Instructions
For the Brown Butter Cupcakes
Preheat the oven to 350°F.

Place the butter in a light-colored saucepan and melt over high heat. Once the butter begins to bubble, reduce the heat to medium-low.

Stirring every so often to keep the milk solids from burning and sticking to the bottom of the pan, continue to cook the butter until it turns an amber-colored brown and the milk solids have darkened. This will take 5 to 8 minutes. It is done when the brown butter smells nutty and toasty. Pour the brown butter into a heat-safe container. Place the butter in the refrigerator to cool as you continue with the recipe.

In a mixing bowl, stir together the flour, baking powder, and salt. Set aside.

Using a stand or hand mixer, beat the eggs and sugar together until they double in volume and are pale in color. When done, the batter should flow like thick ribbons. This will take about 5 minutes.

Add the brown butter, oil and vanilla and mix to combine.

Add half of the dry ingredients and mix on low speed until combined.

Pour in the milk and sour cream. Mix until smooth.

Add in the remaining dry ingredients and mix until just incorporated. Fold the batter together with a large spatula until smooth.

Line two muffin tins with cupcake liners. Use a spring-loaded cookie scoop to evenly distribute the batter. Fill the liners about ⅔ of the way full.

Bake the cupcakes for 20 to 22 minutes, or until a toothpick inserted into their centers comes out clean or with a few moist crumbs. Allow the cupcakes to cool on a wire rack before topping with frosting.
To Make the Whipped Buttercream Frosting
Using a stand (or hand) mixer fitted with the paddle attachment, beat butter on medium-low speed until smooth and creamy, 1 minute.

Turn the mixer off and add the powdered sugar, 2 tablespoons of cream, vanilla, and salt. Begin mixing on low speed until the ingredients come together - scraping the bowl occasionally.

Turn up the speed and mix at medium-high speed for 3 to 5 minutes, until the buttercream is light, airy, and nearly white. If needed, add the additional cream until desired consistency is achieved. The buttercream should spread smoothly without tearing the crumb of the cake but thick enough that it holds shape when piped and spread between the layers.

If using to ice a smooth cake, vigorously stir with a wooden spoon or stiff spatula to knock out some of the air bubbles.

To decorate, fill a piping bag fitted with a large star tip and pipe swirls on top of the cupcakes. Finish with gold sprinkles or as desired.