Moist, rich, and extra fudgy - this is the cake for all chocolate lovers. This cake is easy to make, comes together quickly, and is soft and springy yet sturdy enough to be layered sky-high with your favorite chocolate frosting.
With another birthday always on the horizon, pad your back-pocket or recipe box with this go-to cake recipe.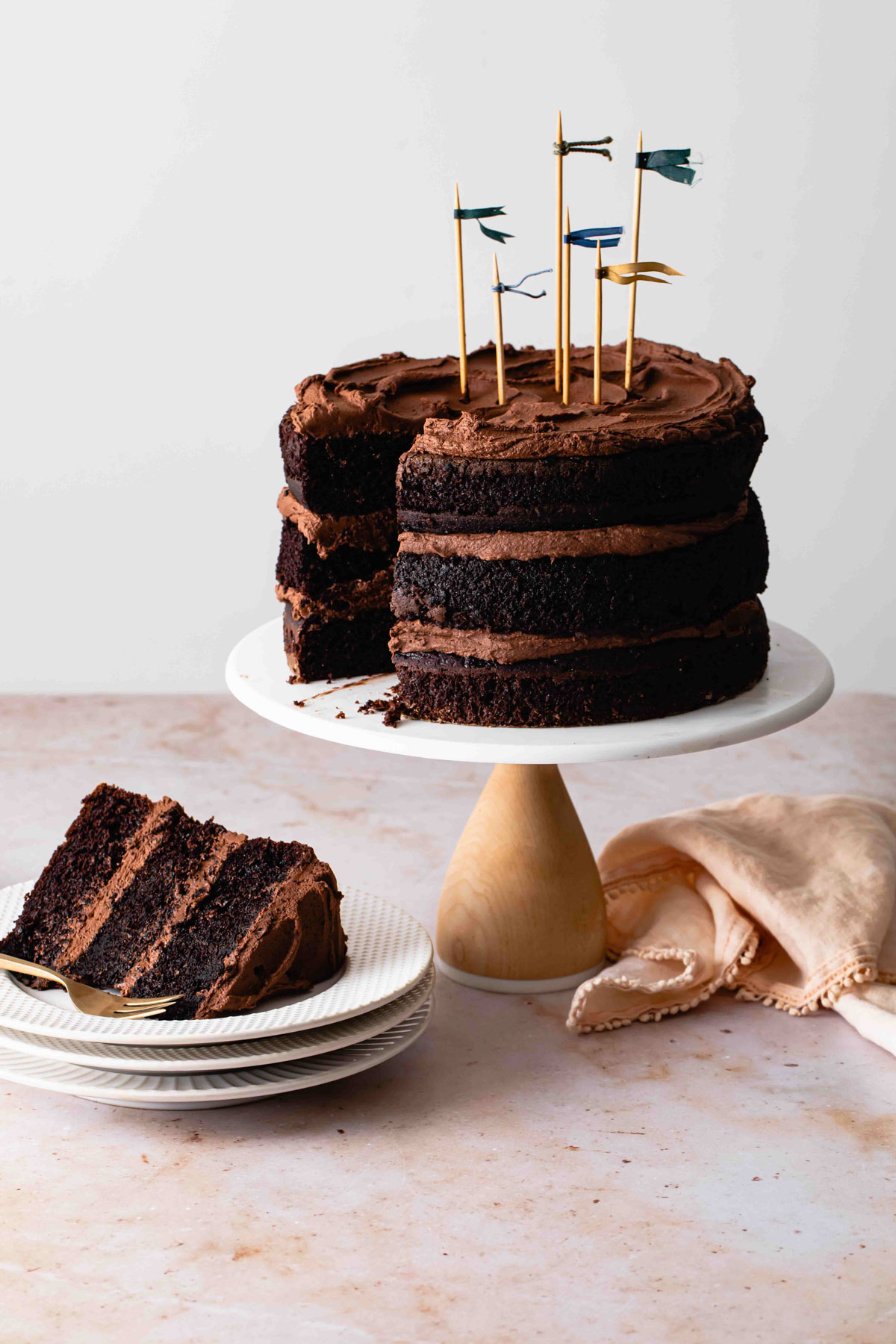 Jump to:
Why We Love This Moist Chocolate Cake
Besides being utterly mouth-watering and the cure for any chocolate craving, there are endless reasons to add this moist chocolate cake recipe to your repertoire.
This chocolate cake is easy to put together. Mix up the batter with just a couple bowls and measuring cups. Since we don't need to cream butter and sugar together like a butter cake, you can easily make this cake without a stand mixer.
This oil-based cake is moist and full of chocolaty flavor. It uses pantry staples and common ingredients that you likely already have on hand.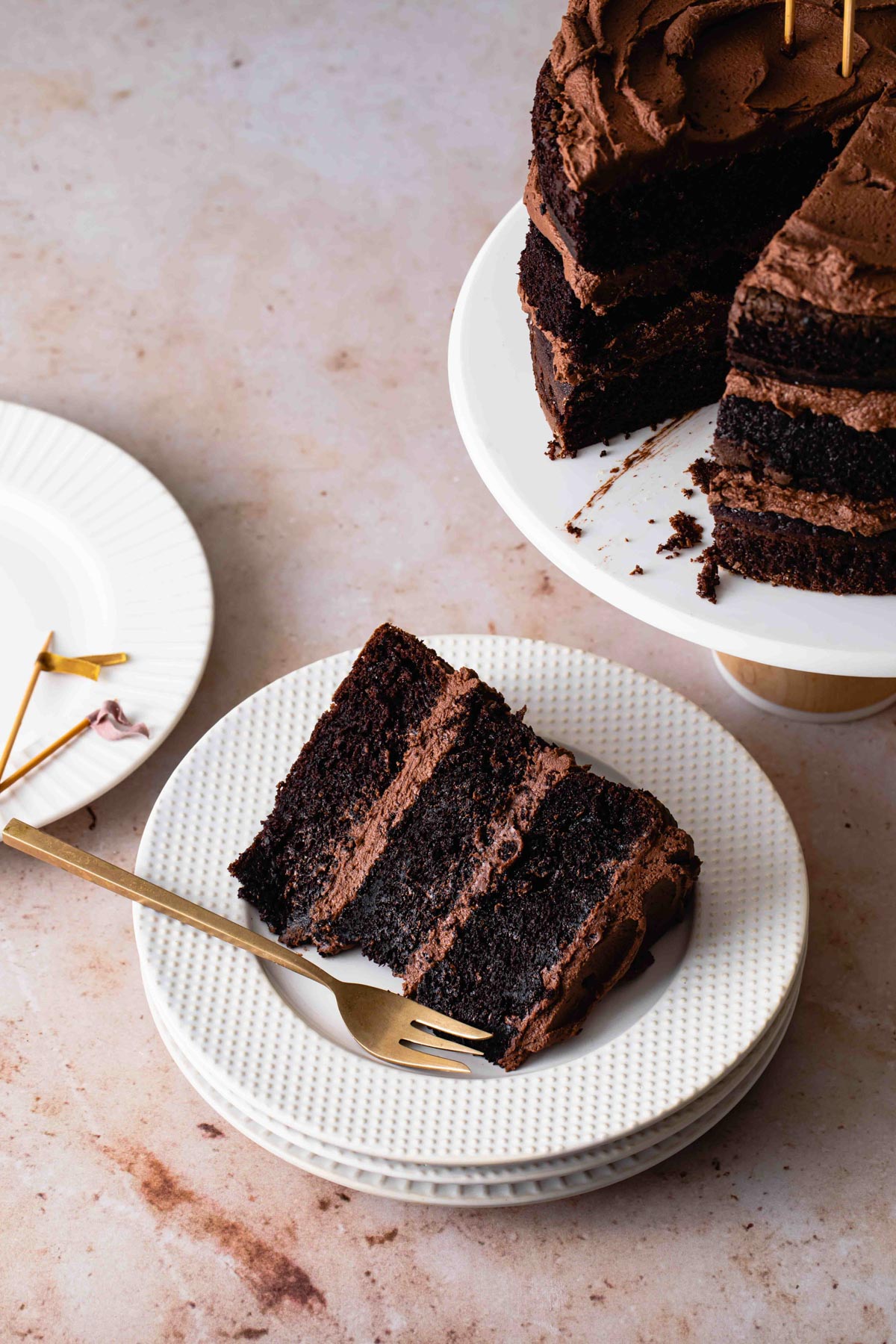 Tasting Notes
Dutch-processes cocoa powder gives it its deeply chocolatey color while a bit of coffee from instant granules or freshly brewed joe gives it a boost of flavor (I promise you can't taste the coffee in the baked cake).
The tight crumb is moist and almost squishy yet holds up to multiple layers of fluffy fudge frosting. It is easy to stack and slice without too many loose crumbs.
If something could embody moist and dense at the same time, it would be this fudgy cake.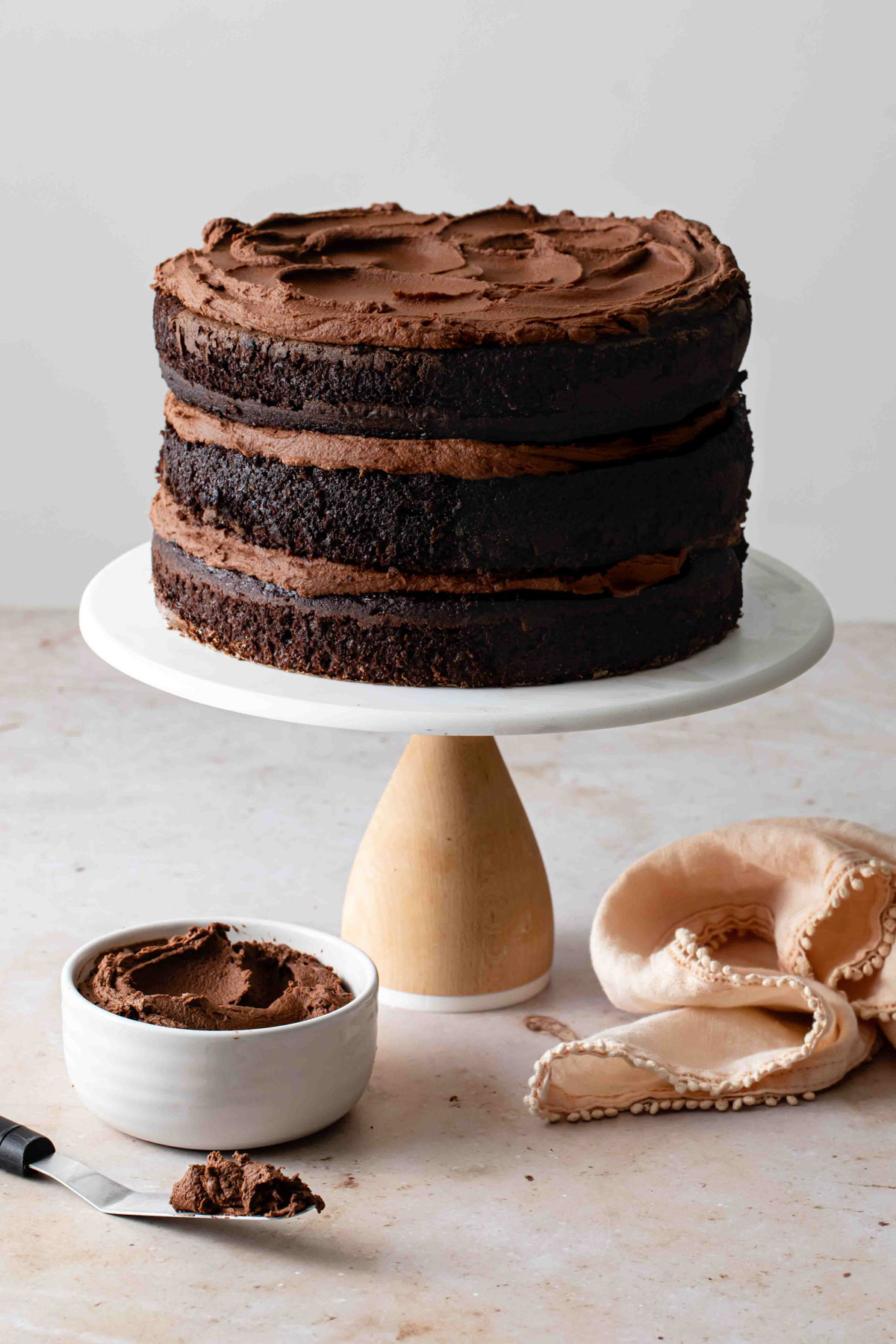 Ingredients
Oil: The fat of choice in this chocolate cake is a neutral oil, like canola or grapeseed. It tenderizes the cake and keeps it insanely moist for days. Unlike a Devil's Food Cake that uses butter to make it fluffy, the oil makes it tender with a tight crumb in the best way.
Sugar: I've experimented with using a portion of brown sugar along with white sugar in chocolate cake before, but at the end of the day, the flavor didn't change that much. This cake relies on a good amount of granulated white sugar to keep it tender and sweet.
Eggs: Eggs provide structure (from the proteins) and moisture (from the fat). Some recipes will call for an extra egg yolk, but this recipes utilizes the whole egg and gains fat from the sour cream (see below).
Sour Cream: Most cakes need a bit of liquid, fat, and acid to create the perfect texture. Sour cream mixed with a bit of milk does the trick for this chocolate cake. While many other cakes utilize buttermilk, I favor sour cream for its higher fat content.
Milk: Sour cream on its own can be a bit too thick. When cut with a bit of milk, I prefer the combination over buttermilk - and especially over buttermilk substitutes.
Flour: Save the cake flour for vanilla butter cakes. Regular all-purpose flour is my go-to for chocolate cake.
Baking Powder: A combination of baking powder and baking soda gives the cake its lift and spring.
Baking Soda: Acid is needed to react with baking soda. Since we are using Dutch-processed cocoa (where the acid has already been neutralized), less baking soda is used.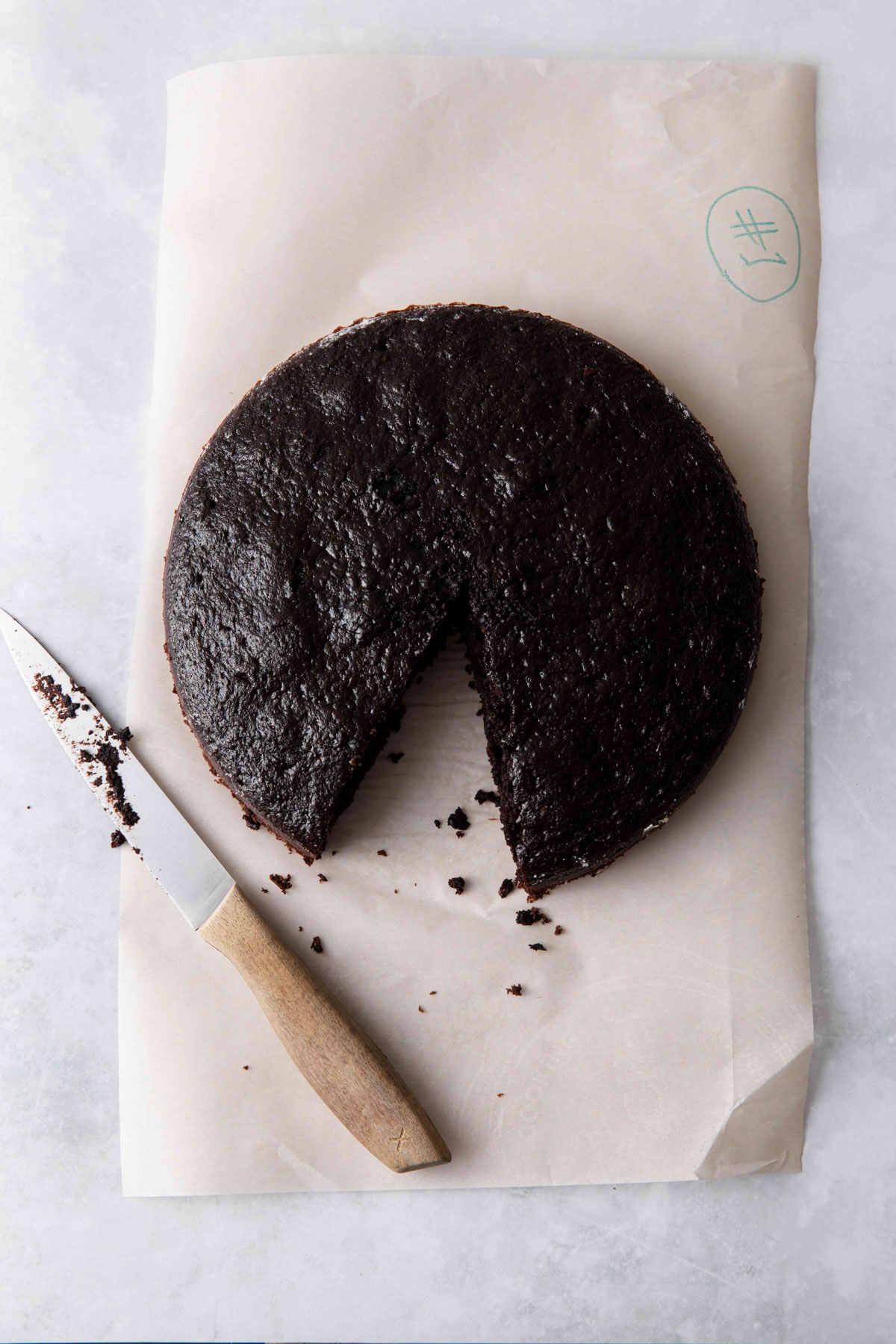 Dutch-processed Cocoa Powder: Dutch-processed cocoa starts with cocoa beans where their acidity has been neutralized. Alkaline cocoa powder is darker in color and mellow in flavor.
Salt: We are all about flavor here, and salt is the greatest gift for balancing everything out.
Hot Water or Coffee: Adding hot water or coffee at the end of mixing smooths out the batter without having to overmix. Set the kettle on at the beginning of mixing and the water is hot enough by the time it is called for at the end of the recipe. If you have extra coffee brewing, feel free to swap the water for coffee - it will help boost the overall chocolate flavor (see below).
Instant Coffee: Coffee helps enhance the overall chocolate flavor. It adds depth without actually tasting like coffee. If you don't want to use your morning brew or don't have any fresh coffee on hand, simply add instant coffee granules to the dry ingredients.
Easy steps for making a chocolate cake
Start by whisking the all of the dry ingredients together. This might feel like an unnecessary extra step, but this is your chance to make sure the leavening agents are well combined and that the cocoa powder doesn't have any lumps.
If the cocoa is extra lumpy, use a mesh sieve to sift them through.
Skip the stand mixer and grab a bowl. Start mixing the oil and sugars together by hand or with a hand mixer until combined. We are not trying to aerate the mixture at this time, so just mix until well combined and the sugar begins to dissolve.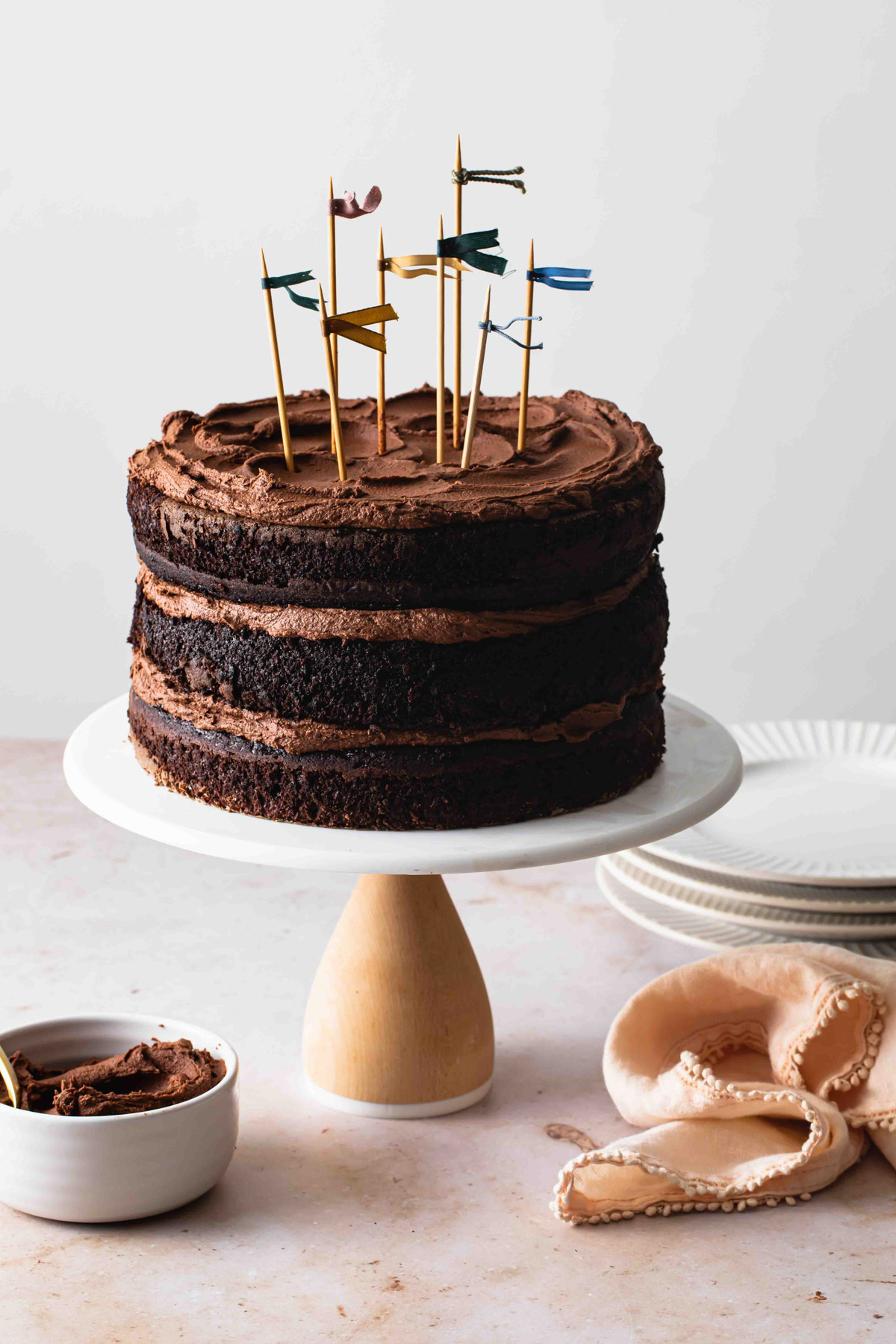 In a separate measuring cup or bowl, combine the eggs, sour cream, milk, and vanilla. Break the eggs with a fork and stir until combined. Add the egg mixture to the sugar and oil, then mix until smooth.
Next, add the dry ingredients to the batter and stir together with a large rubber spatula. The batter will start to thicken up and it will be difficult to combine with the whisk - but don't ditch the whisk just yet! Make sure to mix the batter efficiently but don't over do it.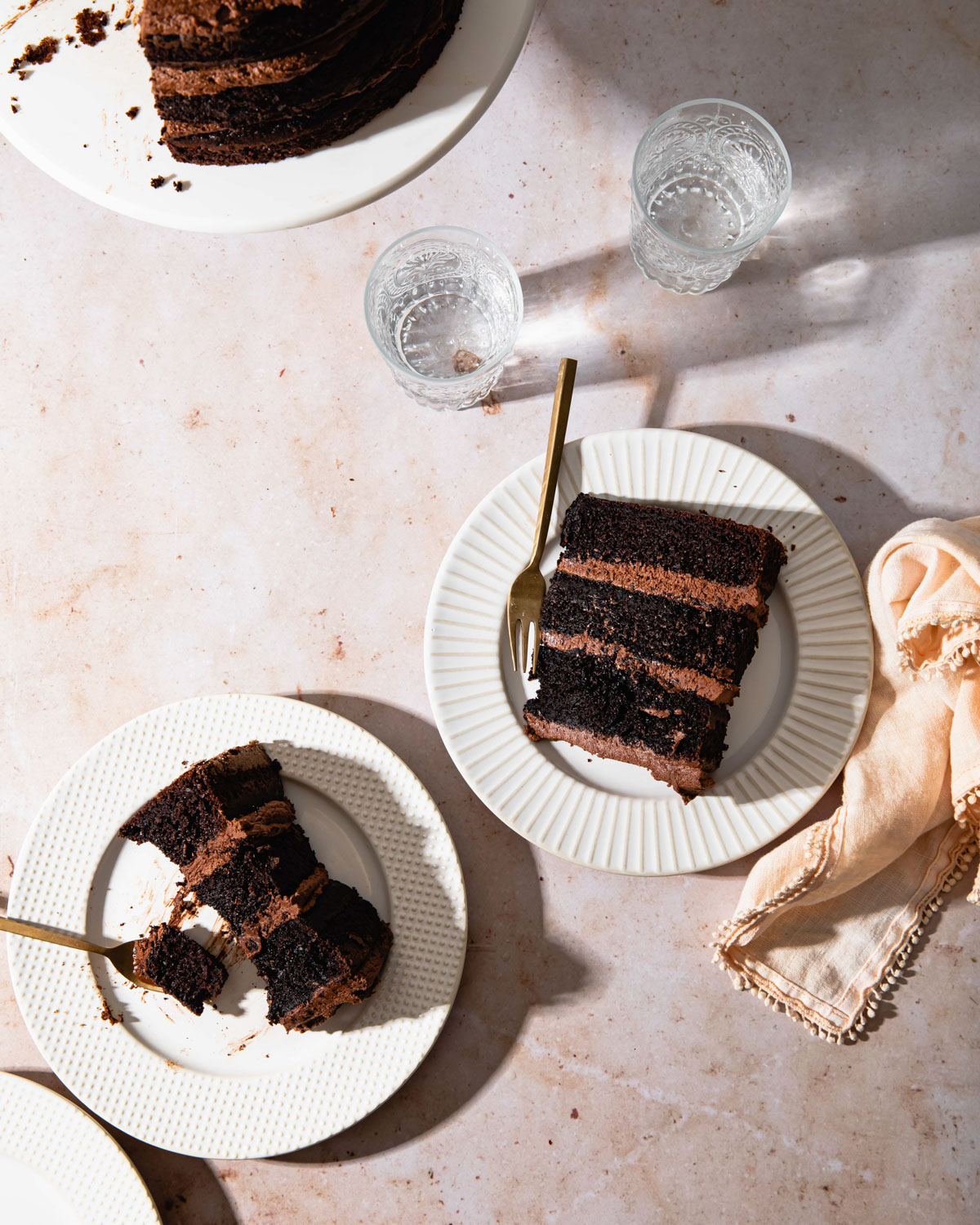 Carefully pour in the hot water and use the whisk to combine. The batter will be thin. This is normal.
Grease and flour three 8-inch cake pans and then pour in the batter. Bake in a thoroughly preheated oven for 24 to 26 minutes, or until a toothpick inserted in the center of the cakes comes out clean or with a few moist crumbs.
Substitutions
Sour Cream - You can swap out the sour cream and milk for equal parts buttermilk. The taste and texture will be comparable. If you opt for a buttermilk substitute (ie milk + vinegar), the end results will likely be slightly off.
Coffee - You can use instant coffee dissolved in hot water. If you prefer, skip the coffee all together and just use plain hot water.
Recipe FAQs
Can you substitute natural cocoa powder for Dutch-processed?
No, unfortunately you can't use natural cocoa powder instead of Dutch-processed. One is acidic while the other is neutral. You could try in a pinch, but understand that it will change the results.
Can I bake this in 9-inch cake pans?
Yes! Adjust the baking time accordingly. If you are baking the batter in two 9-inch pans, make sure to only fill the pans ⅔ of the way full.
What are the best pans for baking a layer cake?
Choose a good quality aluminum cake pan with at least 2-inch tall sides.
Can I bake this cake without the coffee?
You definitely can! I highly recommend it the coffee, though, and I promise that you won't taste coffee in the baked cake. But if you don't have any, then proceed with hot water.
Can you freeze chocolate cake?
Yes! Wait until the cakes have completely cooled before wrapping well in plastic. If desired, wrap in a layer of foil or pop the cakes into a zip-top freezer bag. Freeze for up to 3 months. Thaw in the refrigerator overnight.
Serving and Storage
Serve the cake at room temperature. Store the cake at a moderate room temperature overnight (preferably in a cake box or under a glass cake dome).
Wrap leftovers loosely in plastic and store in the refrigerator for up to 4 days.
Freeze unfrosted layers wrapped well in plastic for up to 3 months.
More Chocolate Cakes to Bake:
---
Recipe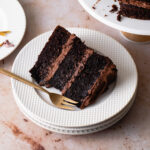 Print Recipe
Moist Chocolate Cake Recipe
Moist, rich, and extra fudgy - this is the cake for all chocolate lovers!
Ingredients
For the Chocolate Cake
2 ⅓

cups

(315g) all-purpose flour

1

cup

(100g) Dutch-processed unsweetened coca

2

teas

baking powder

1

teas

baking soda

1

teas

salt

2

teas

instant coffee

2 ½

cups

(500g) granulated sugar

¾

cup

(177ml) canola oil

3

large eggs

¾

cup

(177ml) whole milk

⅔

cup

(156ml) sour cream

2

teas

pure vanilla extract

1 ½

cup

(355ml) very hot water
For the Fudge Frosting
1 ½

cups

(340g) unsalted butter

softened

5 to 6

cups

(625g to 750g) confectioners' sugar

sifted

½

cup

(50g) unsweetened cocoa powder

1

teas

pure vanilla extract

4

tablespoon

(60ml) whole milk

½

teas

salt

8

oz

(225g) semi or bittersweet chocolate

melted and cooled
Instructions
To Make the Cake
Preheat the oven to 350°F. Grease and flour three 8-inch cake pans and set aside.

Whisk or sift together the flour, cocoa powder, baking powder, baking soda, and salt. Stir in the instant coffee granules.

In a large mixing bowl, whisk together the sugar and oil until smooth until some of the sugar begins to dissolve, about 2 minutes.

In a separate bowl, add the eggs, whole milk, sour cream, and vanilla. Use a fork to break the eggs then stir to combine. Add the egg mixture to the sugar and oil and stir together until smooth.

Add in the flour mixture to the batter and stir to combine with a large rubber spatula. Make sure that you do not leave any pockets of dry flour at the bottom of the bowl but do not overmix. Carefully pour in the hot water and whisk until smooth. The batter will be thin.

Evenly distribute the batter into the prepared pans. Bake in a preheated oven for 24 to 26 minutes or until a toothpick inserted into the center of the cakes comes out clean or with a few moist crumbs. Cool the cakes in their pans for 10 to 20 minutes before removing them from their pans. Continue to cool the cakes on a wire rack before storing, slicing, or frosting.
To Make the Fudge Frosting
Using a hand or stand mixer, cream the butter until soft and smooth.  Stop the mixer and add in the powdered sugar and cocoa powder. Turn the mixer back on low speed and mix until the dry ingredients are incorporated. Add the milk, vanilla, and salt then turn up the speed and mix on medium-high until smooth and fluffy, 2 to 4 minutes.

Stop the mixer and scrape down the bowl.  Add in the melted chocolate and mix until combined.
Notes
This recipe makes enough frosting to fill and frost one three layer, 8-inch cake.