Classic chocolate cake layers with caramel buttercream and coconut caramel drizzle.  It's like liquid gold!!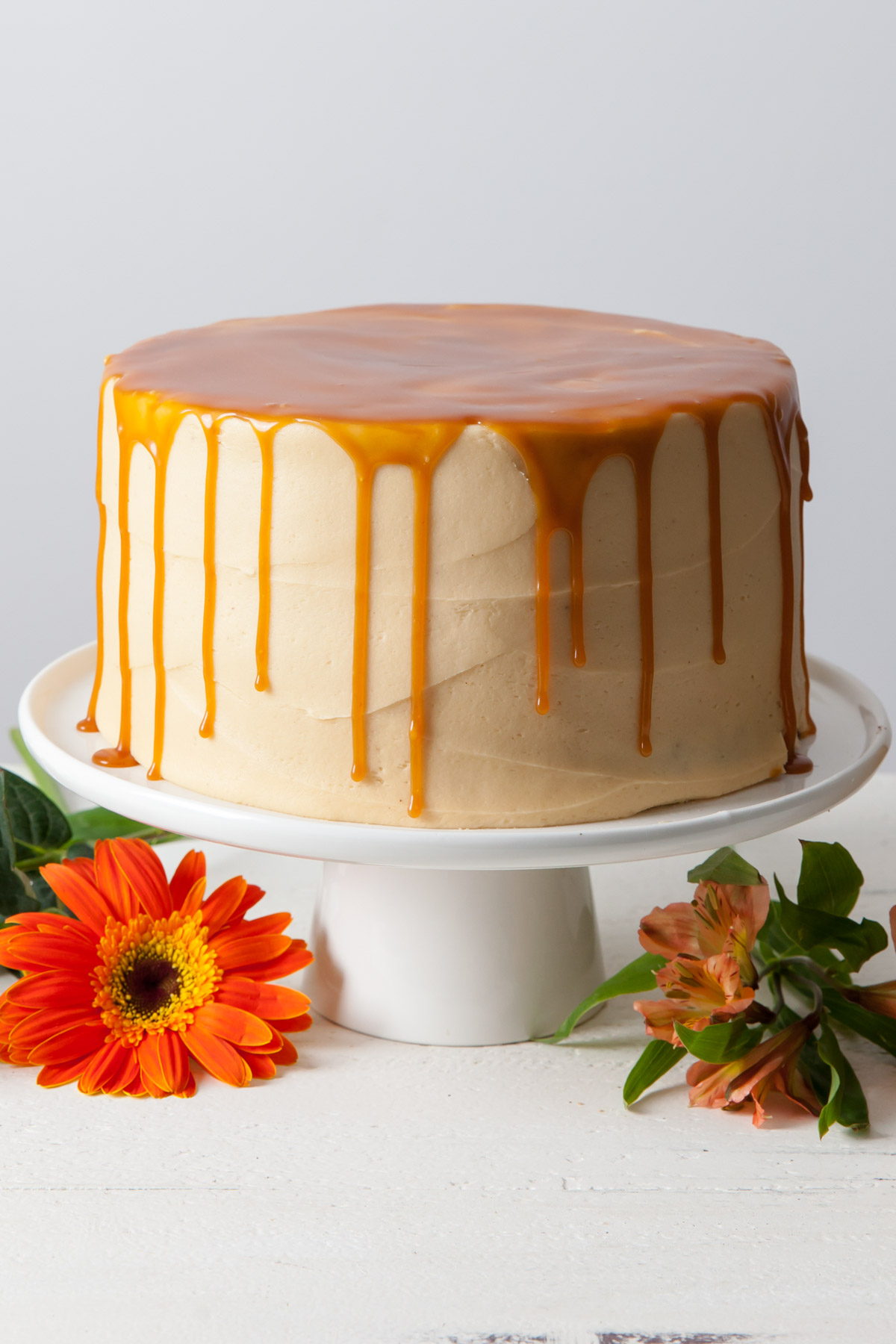 This might be one of the best tasting cakes I've had in a long time (and I eat A LOT of cake). You might even say it's life-chaging!
THIS CAKE!!!! I make so much cake that I tire of it rather quickly. I test recipes weekly and always have cake in the house, in some form or another. It takes a really outstanding recipe like this that brings me back for slice after slice instead of just forcing the leftovers on my neighbors or shoving it in the freezer.
This might be one of the tastiest chocolate cakes ever.  It is moist without feeling oily or heavy and full of chocolate flavor.  Thanks to a healthy dose of buttermilk and yogurt keeping it nice and tender, each bite pretty much melts in your mouth.  The one thing that makes this chocolate cake even better?  CARAMEL!!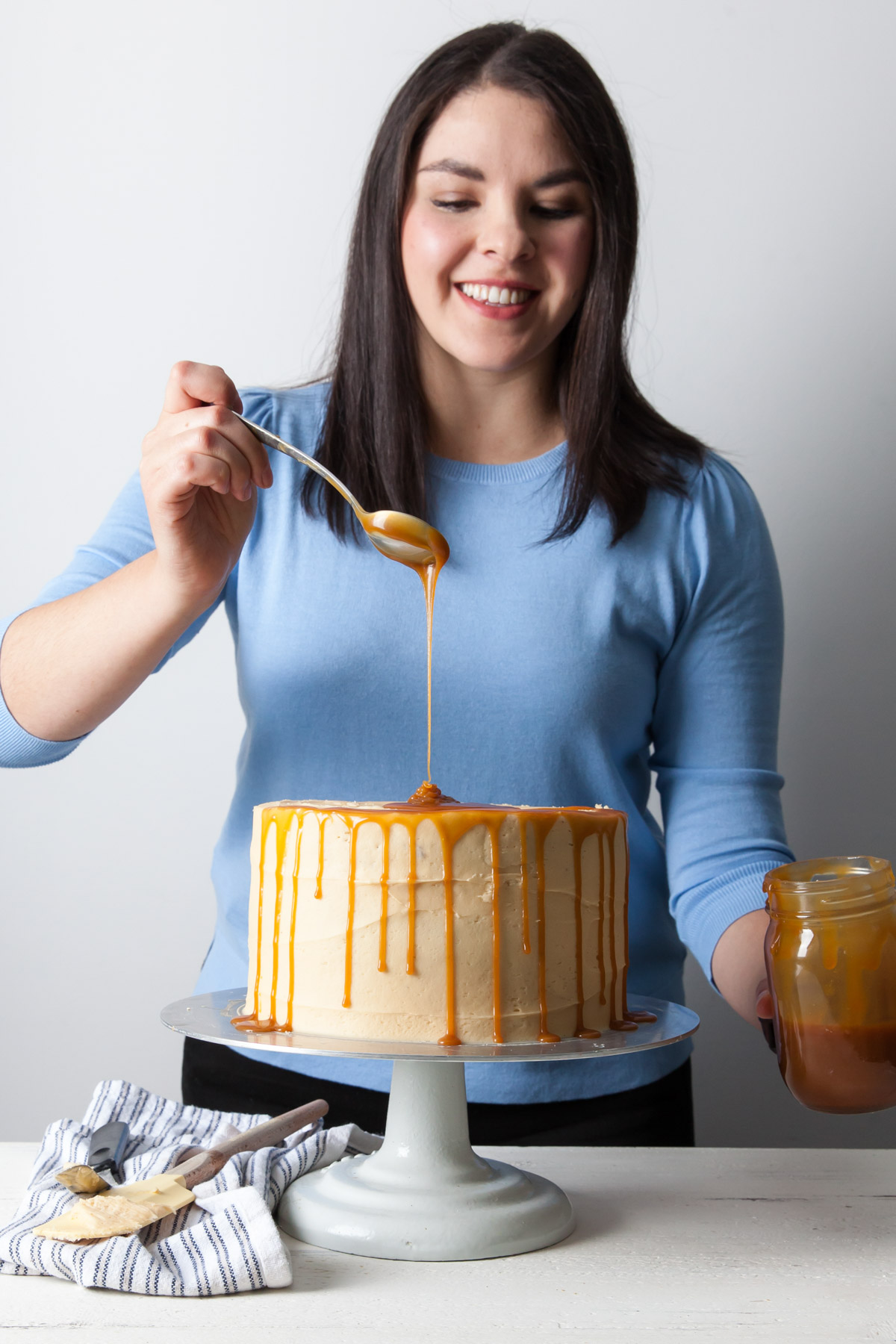 Two things intriguided me about this caramel sauce.  1) there is an option to use coconut milk instead of cream and 2) it is made using a dry method (which I'd never done before).  I thought it might be like any other salted caramel sauce that I've made, but I was pleasantly surprised!  Terrified yes, but happy with the results.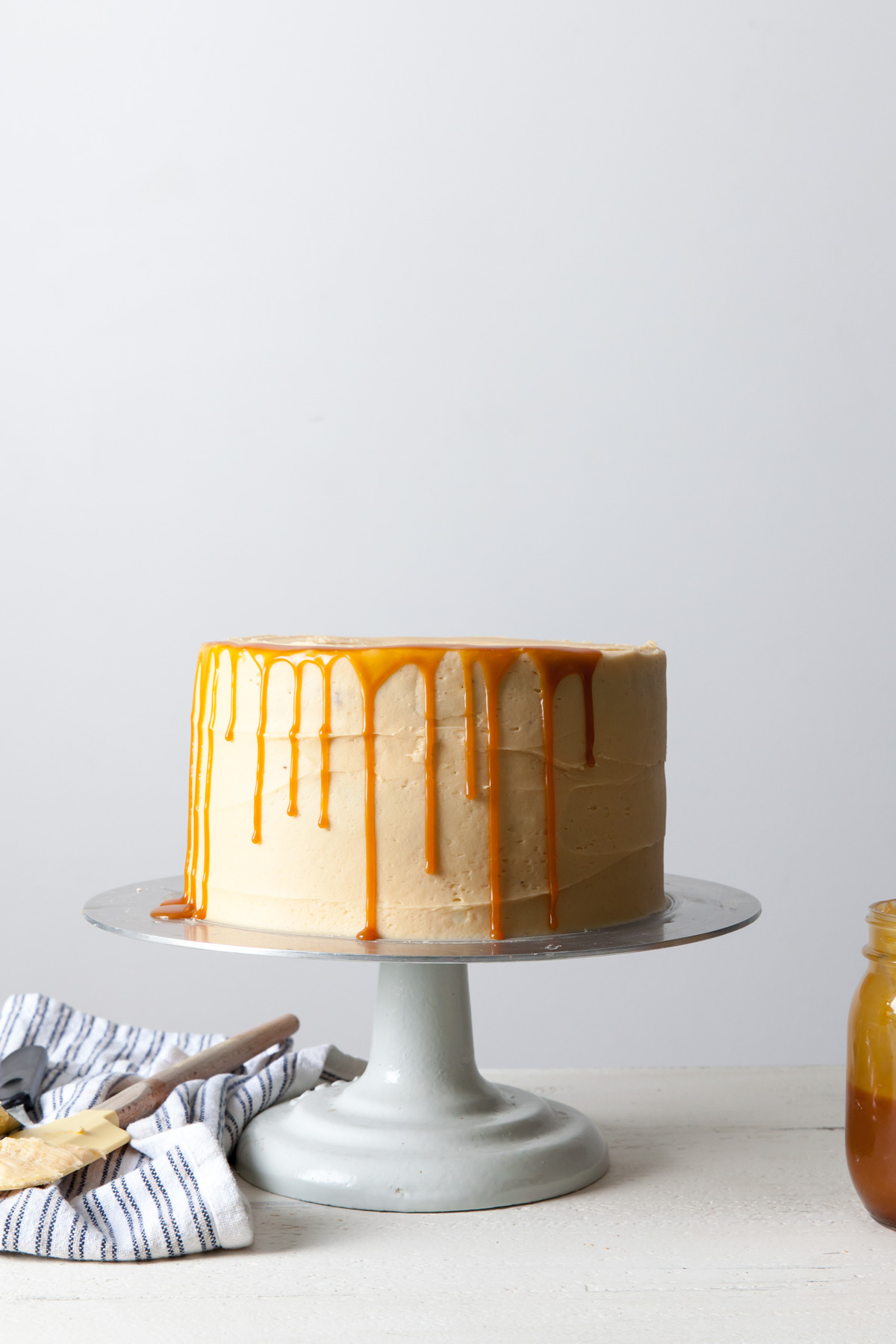 In my go-to caramel sauce, I use a wet method. I start by bringing sugar, water, and a little squirt of corn syrup to a boil before adding in butter and cream to make the caramel saucey. The corn syrup keeps the sugar from crystallizing and you don't even have to stir or use a thermometer. Just watch as it turns from cloudy to boiling to golden!
With a dry caramel method, you melt white sugar in a dry skillet.
Won't it burn? Won't it turn into a horrific mess?
I held my breath the entire time, but it worked!  The sugar melts on its on rather than burns.  It turns the same deep amber color as the wet method, before stirring in butter and cream (coconut cream, in this case) and then bringing it back to a boil until thick and glossy and delicious.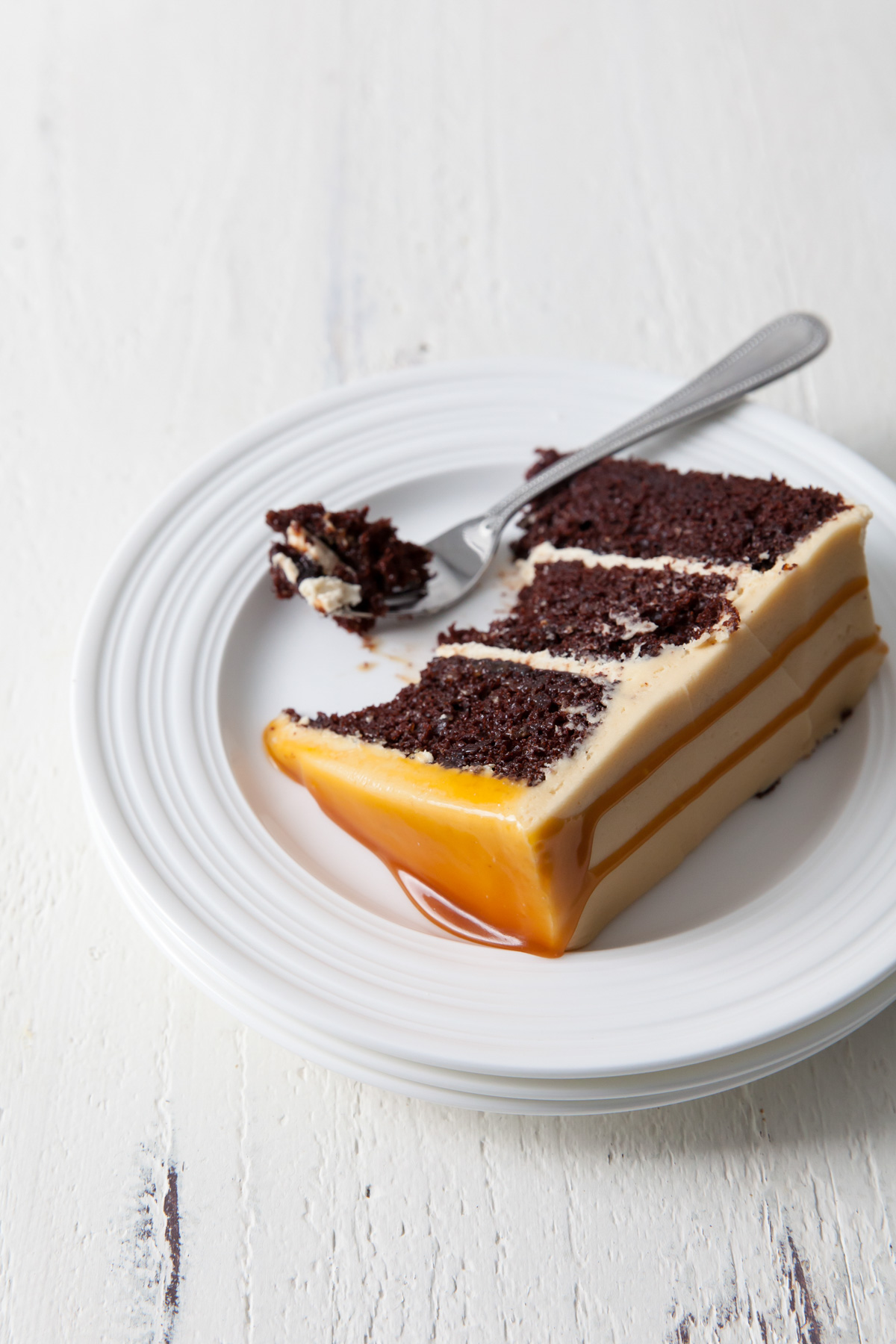 I love the addition of the subtle coconut flavor, but you could use heavy cream. The coconut isn't overbearing, but pairs beautifully with the chocolate layers and just elevates the entire cake.
This Chocolate Caramel Cake is from Tieghan Gerard's new cookbook, Half Baked Harvest.  From spectacular snack boards and over-the-top desserts to easy weeknight dinners and pics of her family goats, this gorgeous book is packed full of recipes and Tieghan's signature food styling and photography.  
Recipe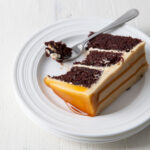 Print Recipe
Chocolate Caramel Cake
Classic chocolate cake layers with caramel buttercream and coconut caramel drizzle.
Ingredients
Chocolate Cake
2 ¼

cup

all-purpose flour

2 ¼

cup

granulated sugar

¾

cup

unsweetened cocoa powder

2

teaspoon

baking soda

2

teaspoon

baking powder

1 ½

teaspoon

salt

3

large eggs

1

cup

buttermilk

⅓

cup

plain Greek yogurt

¾

cup

canola oil

4

oz

dark chocolate

melted and cooled

1 ½

tablespoon

pure vanilla extract

¾

cup

hot coffee
Caramel Buttercream
1 ½

cup

unsalted butter

room temperature

6

oz

cream cheese

softened

3 to 4

cups

confectioner's sugar

½ to ¾

cup

caramel sauce

or to taste

2

teaspoon

vanilla extract

1

splash milk

as needed

1

pinch

salt

optional
Coconut Caramel Sauce
2

cups

granulated sugar

½

cup

unsalted butter

room temperature

1 ½

cups

coconut cream, full-fat coconut milk, or heavy cream

2

teaspoon

vanilla extract

1

teaspoon

flaky sea salt
Instructions
Chocolate Cake
Pre-heat the oven to 350 degrees.  Grease and flour three 8-inch round cake pans and set aside. Stir together the dry ingredients (including the sugar) in a mixing bowl and set aside.

Using an electric mixer, beat the eggs, buttermilk, yogurt, oil, melted chocolate, and vanilla on medium speed for about 3 minutes.  With the mixer on low, add in the dry ingredients in two batches.  Mix until combined.  Stop the mixer and scrape down the bowl.  With the mixer on low, slowly stream in the coffee and mix until combined.

Evenly distribute the cake batter between the prepared pans.  Bake for 30 to 35 minutes or until a toothpick inserted into the center comes out clean.  Cool on a wire rack fro about 20 minutes before removing the cakes from their pans.
Caramel Buttercream
Using an electric mixer, beat together the butter and cream cheese until smooth.

With the mixer on low, gradually add the confectioner's sugar until incorporated.  Turn the mixer to medium and mix until combined.  

Add in the remaining ingredients and mix until smooth.  

Add more/less caramel, sugar, and milk until desired thickness and sweetness is achieved.
Coconut Caramel Sauce
In a large, dry skillet, heat the sugar over medium-high heat. Cook the sugar until it melts into a medium golden color. Remove from the heat and carefully whisk in the butter, a tablespoon at a time. Whisk in the coconut cream.

Return the skillet to medium heat and cook until thick, about 5 minutes.  Remove from the heat and stir in the vanilla and salt. Carefully pour into a heat-safe container and cool.  Sauce will thicken as it cools.
Assembly
Place a cooled cake layer on a cake board or serving plate.  Spread on about 1 cup of buttercream with an offset spatula or the back of a spoon.  Top with the next layer of cake and repeat. Crumb coat the cake with caramel buttercream and chill in the refrigerator for 15 to 20 minutes.

Frost the cake with the remaining buttercream. Before serving, slightly reheat the caramel so that it flows (should be thicker than honey) and is about room temperature (not too warm or it might melt the buttercream). Drizzle over the cake (I start by adding drips around the edges, but can you just pour onto the top and then spread around). The caramel will most likely continue to slowly drip down the cake, so try to not get discouraged - it will still taste amazing!!