When you still want a homemade layer cake without tons of dangerous leftovers begging to be devoured, make this Chocolate Cake for Two.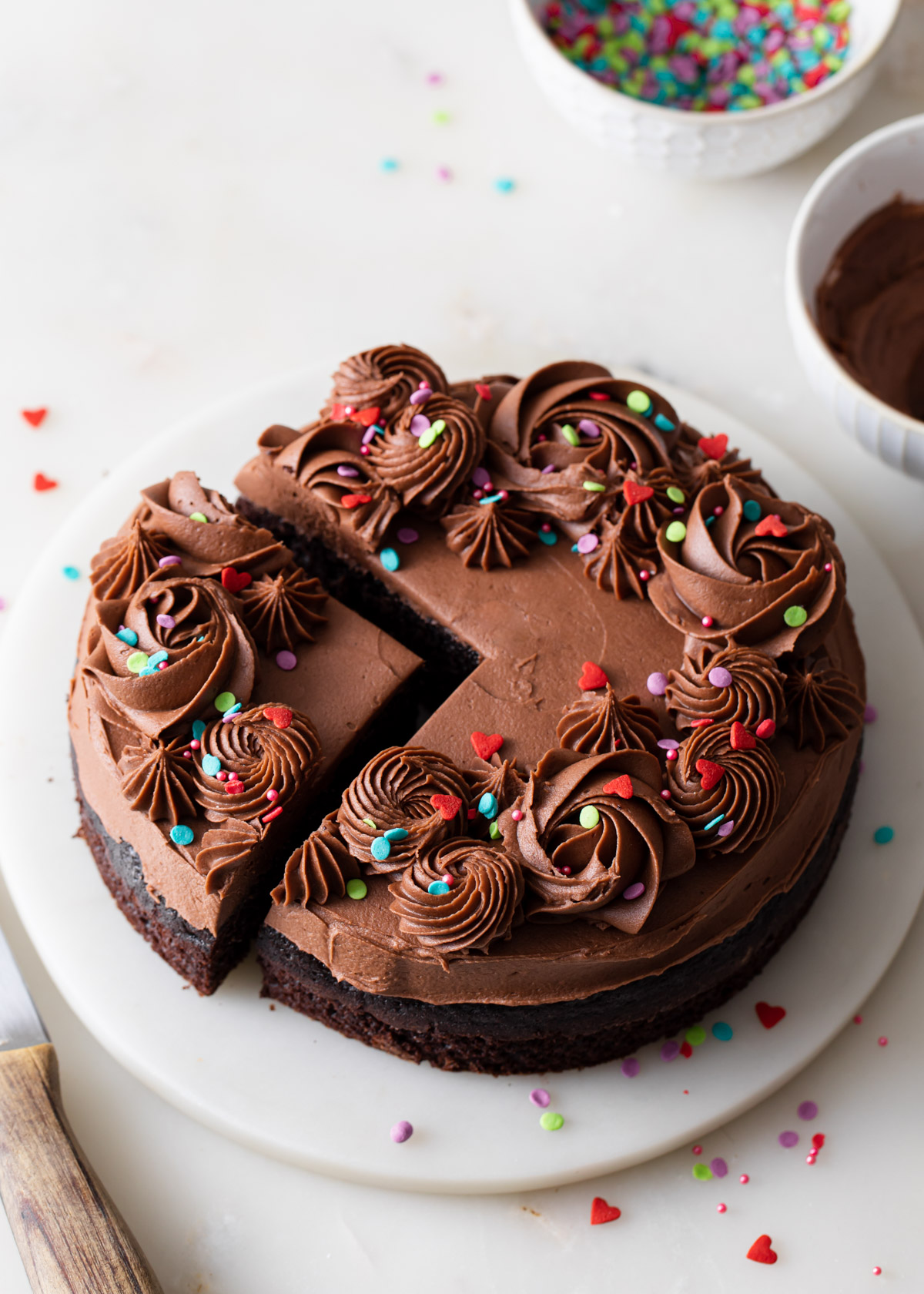 Dressed in pink and vintage glam piping, this cake is perfect for Valentine's Day or any other intimate celebration.
UPDATE: Now find a fudge frosted version too!!
Mini Chocolate Cake
I've scaled down my Classic Chocolate Cake recipe to create this perfect cake for two people. It is moist, fudge, and super easy to make.
Slice this chocolate cake for two in half horizontally to create a mini layer cake. Alternatively, slather on decadent, creamy fudge frosting and top with sprinkles.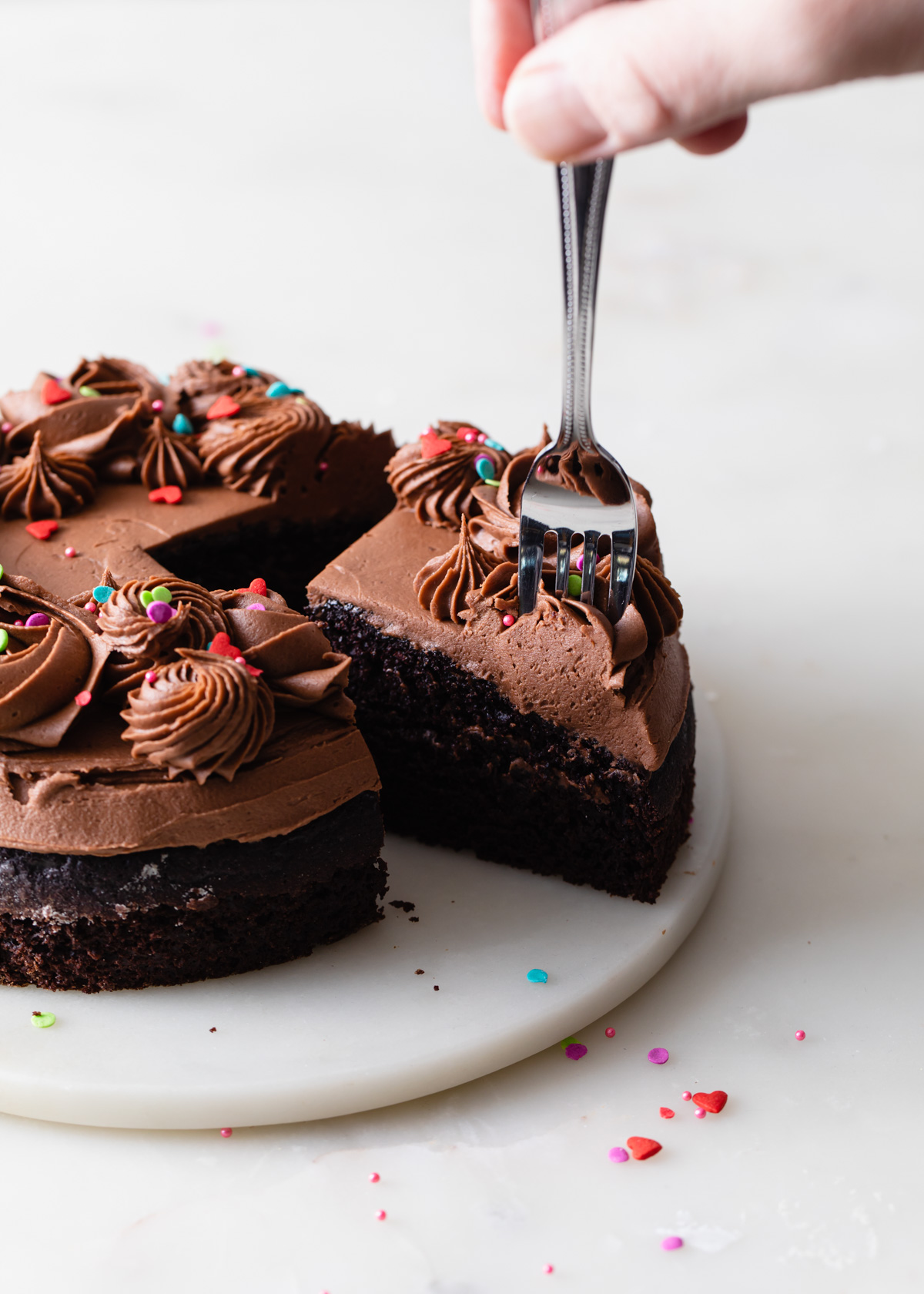 For fun, add extra frosting with decorative rosette swirls. I used both 2B and 1M star piping tips to create the different textures on top.
Holding the piping straight down, pipe icing kisses and spirals. Add a shower of sprinkles and enjoy!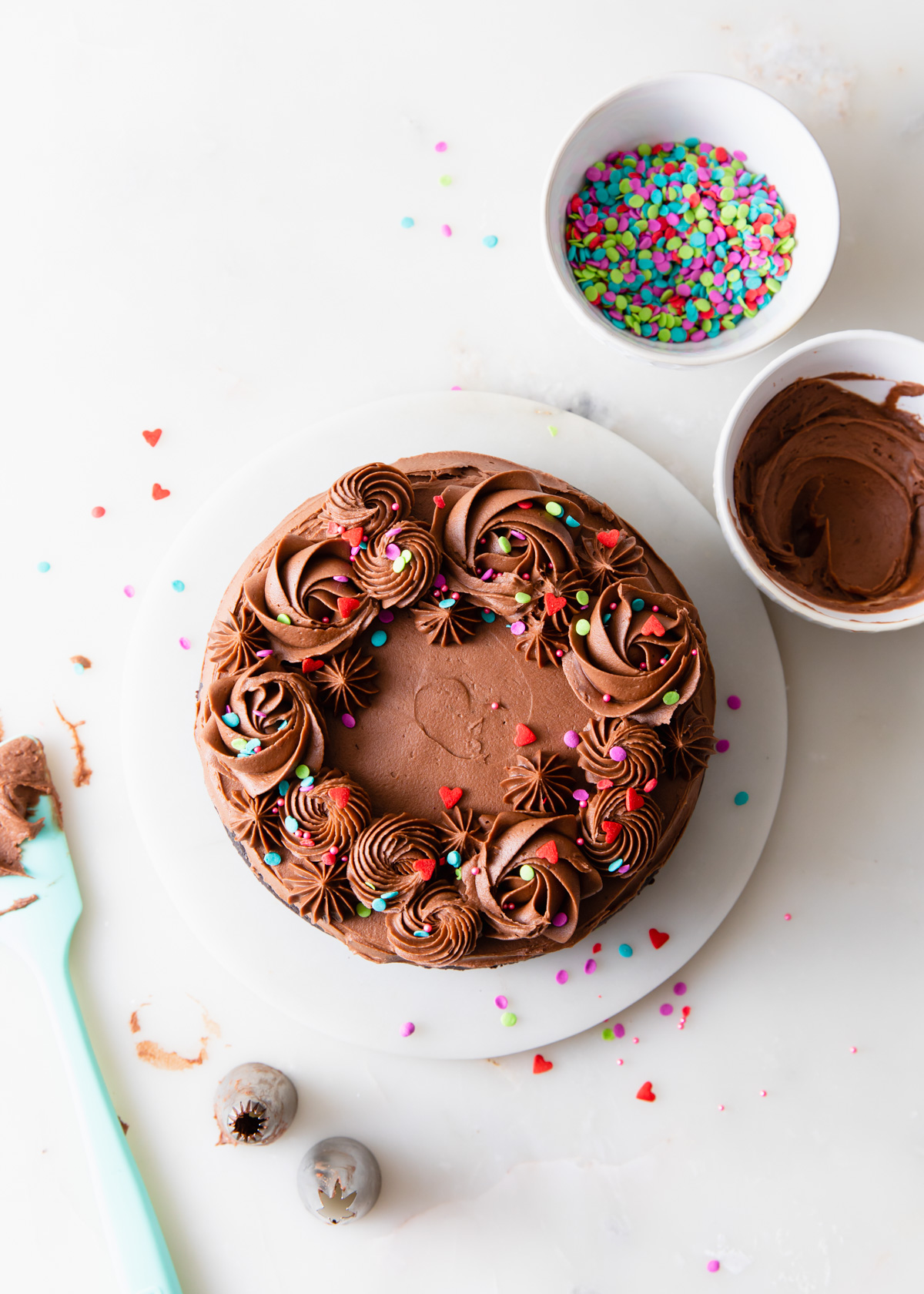 More Valentine's Day Dessert Ideas
Pistachio Linzer Heart Cookies
Sweet & Spicy Pink Peppercorn and Ganache Macarons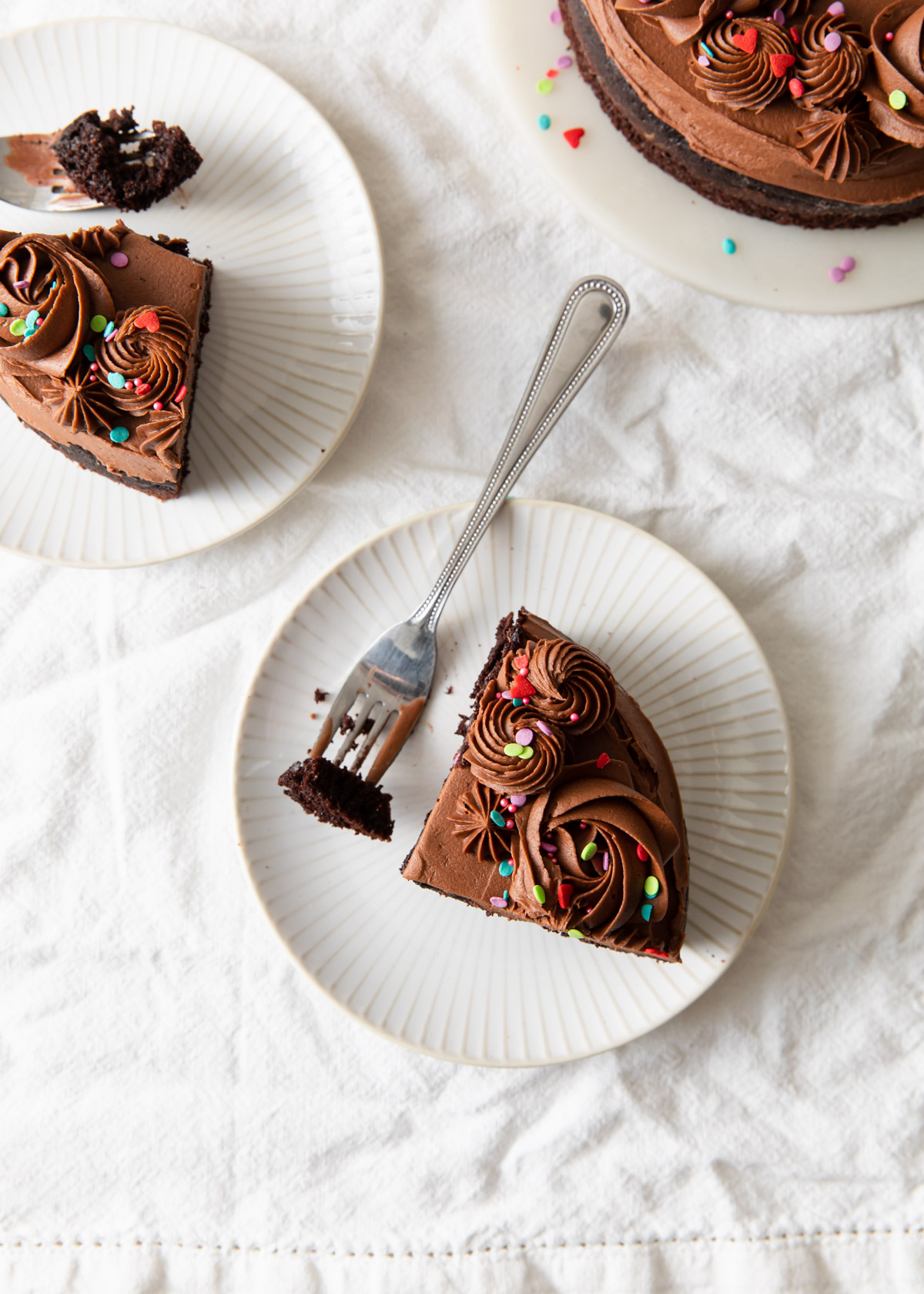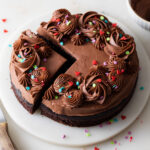 Print Recipe
Chocolate Cake for Two
When you still want a homemade layer cake without tons of dangerous leftovers begging to be devoured, make this Chocolate Cake for Two.
Ingredients
For the Chocolate Cake
½

cup

all-purpose flour

½

cup

granulated sugar

¼

cup

unsweetened cocoa powder

¼

teas

baking soda

¼

teas

baking powder

pinch salt

⅓

cup

sour cream

1

large egg

3

tablespoon

canola oil

½

teas

vanilla extract

3

tablespoon

coffee or hot water
For the Fudge Frosting
½

cup

unsalted butter, softened

1 ½ to 2

cups

confectioners' sugar

sifted

3

tablespoon

unsweetened cocoa powder

½

teas

vanilla extract

1 to 2

tablespoon

milk or hot coffee
Instructions
To Make the Cake
Preheat oven to 350°F. Grease and flour one 6-inch cake pan.

In a mixing bowl, whisk together the flour, sugar, cocoa powder, baking soda, baking powder, and salt. In a separate bowl or liquid measuring cup, stir together the sour cream, egg, oil, and vanilla.

Create a well in the center of the dry ingredients and pour in the egg mixture. Stir the batter until combined. Pour in the coffee and mix until smooth.

Tip the batter into the prepared pan and bake for 24 to 28 minutes, or until a toothpick inserted into the center of the cake comes out clean. Cool cake on a wire rack for 10 to 15 minutes before removing it from the pan. Continue to cool completely before filling or frosting the cake.
To Make the Frosting
Using a hand or stand mixer, cream the butter until soft and smooth.  Stop the mixer and add in 1 ½ cups of powdered sugar and cocoa powder. Turn the mixer back on low speed and mix until the dry ingredients are incorporated. Add the milk, vanilla, and salt then turn up the speed and mix on medium-high until smooth and fluffy, 2 to 4 minutes.

Add more sugar and/or milk until the desired consistency is achieved. The fudge frosting should be soft and silky but not runny.
Notes
Serve cake at room temperature. Leftover may be stored covered at room temperature overnight or up to 3 days in the refrigerator.
For the Pink Buttercream Chocolate Cake for Two
Small Batch Buttercream
¾ cup unsalted butter, softened
3 cups powdered sugar
1 teaspoon vanilla bean paste, or vanilla extract
1 to 2 tablespoons milk
Beat the butter at medium-low speed with an electric or hand mixer until smooth and creamy, 2 to 3 minutes.
Gradually add the powdered sugar, vanilla bean paste or extract, and 1 tablespoon of milk with mixer at low speed, scraping bowl occasionally. Mix until blended.
Beat at medium-high speed 3 to 5 minutes, until buttercream is light and airy and nearly white. If needed, add the additional milk until smooth and spreadable. Tint with gel food coloring (reserving some plain for the piping, if desired).
To Decorate the Cake
First, trim the top with a long serrated knife until it is flat and level. Split the cake into two layers by slicing the cake in half horizontally. For even layers, place the cake on a rotating turntable.
Next, score around the middle of the cake with the serrated knife first, then make small cuts (while rotating the cake) towards the center of the cake until it splits into two layers.
Place the bottom layer of cake on a cake board or serving dish. Dollop about ½ cup of buttercream on top of the cake and spread until smooth with an offset spatula. Place the second layer of cake on top and gently press down to seal. Frost the cake in a thin crumb coat of buttercream to trap in any loose chocolate cake crumbs. Chill in the refrigerator for 10 minutes.
Once the crumb coat sets, smoothly frost the cake with the buttercream. Frost the mini cake as you would a large layer cake. Learn how to ice a cake here.
For the classic buttercream piping, fill a piping bag fitted with a medium star tip with the reserved buttercream. Pipe a shell boarder around the bottom edge. For the scalloped piping on top, pipe "C" shaped scrolls. Start by piping a tight spiral that curve out to make a "C" shape with the tail. Start the spiral of the next "C" on top of the precious tail.
Lastly, finish with sprinkles or sugar pearls.