This recipe for fluffy Whipped Buttercream Frosting is made with just 5 ingredients and is so easy to make. It's not super sweet, very creamy, and so versatile. Use it to ice your favorite cakes or pipe on top cupcakes.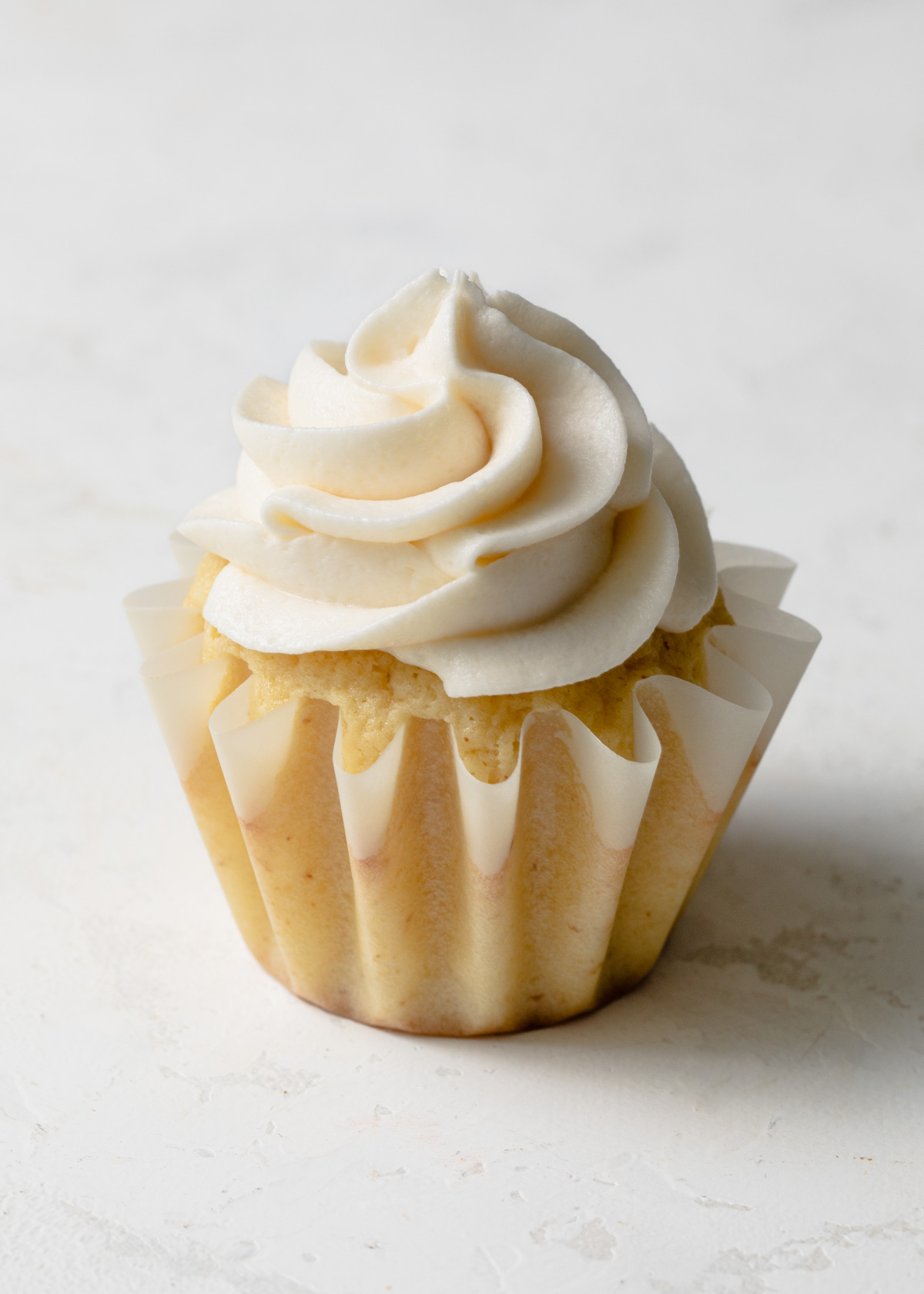 You will fall head-over-heals with this homemade frosting. Good-bye canned icing!
At only 5 ingredients and nearly just as few minutes to make, this Whipped Buttercream Frosting recipe comes together quickly and easily. Use good vanilla extract here to make it lick-off-the-spoon delicious.
What I love about this frosting is that you can use it for just about any dessert. It is stiff enough to pipe decorations or on top of cupcakes while still being smooth and creamy for filling or frosting cakes alike.
Jump to:
This biggest complaint about this American-style buttercream is that it is too sweet. Resist overloading this buttercream with powdered sugar and you're golden.
Instead make sure the butter is soft and pliable without being too melted and make sure to whip long enough. When done, the buttercream should be lighter in color and density.
Softened butter should be able to easily hold a fingerprint when lightly pressed. It should not feel greasy or be melted.
Ingredients
This easy frosting uses just 5 ingredients.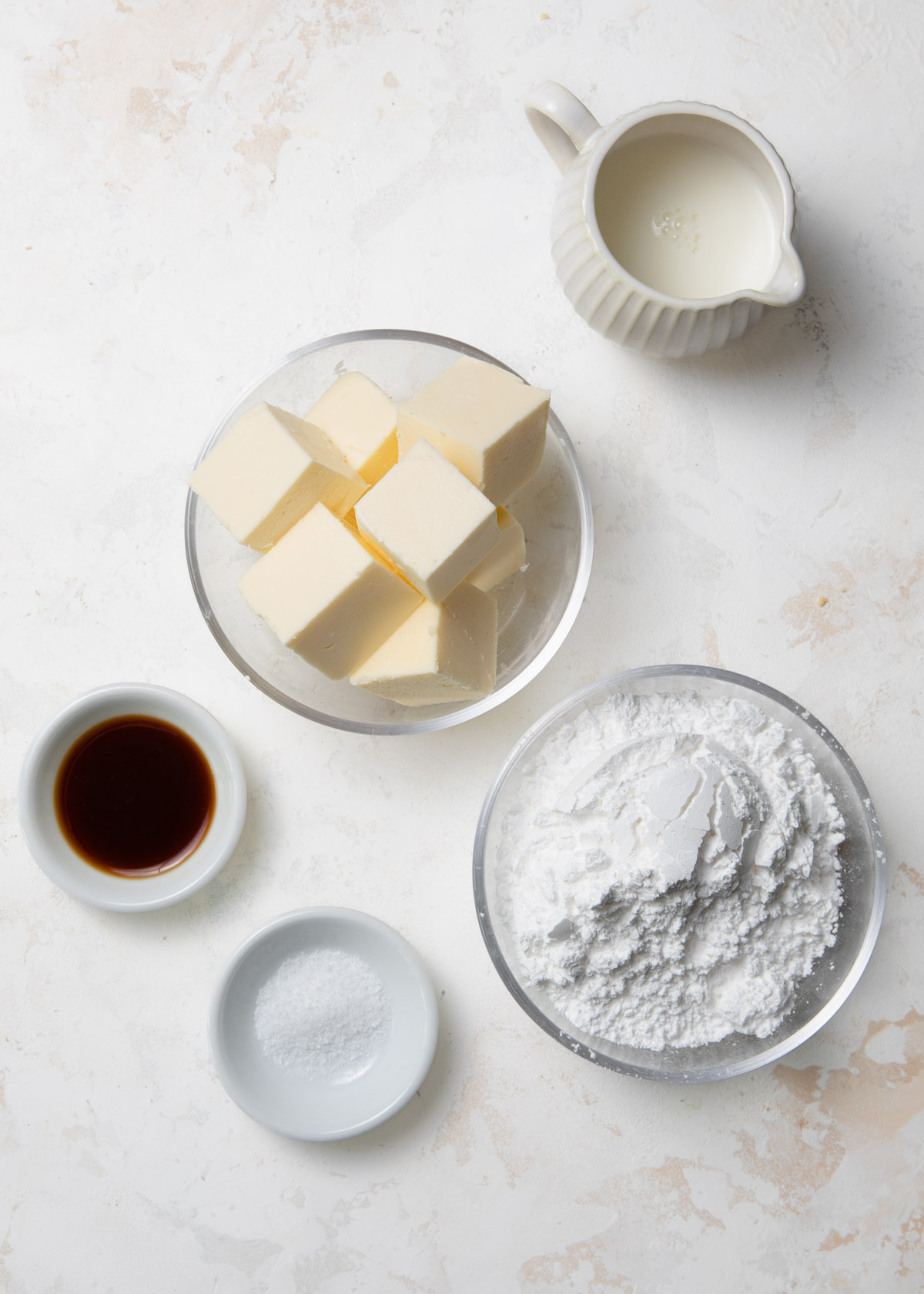 Unsalted butter - the butter should be soft and pliable but not greasy
Powdered sugar - sift the sugar is there are any clumps present
Heavy cream - this helps the frosting whip up, but it will still be fluffy with milk
Pure vanilla extract - since the ingredient list is so short, use the best vanilla you can spare
Kosher salt - a pinch of salt offsets the sweetness of the frosting
See recipe card for quantities.
Tools and Equipment
Electric mixer - I use a stand mixer, but a hand mixer should suffice
Rubber spatuala
Sieve - for sifting powdered sugar, as needed
How to Make Fluffy Whipped Buttercream Frosting
This frosting comes together in under 10 minutes. Make sure to keep mixing until it is light and fluffy!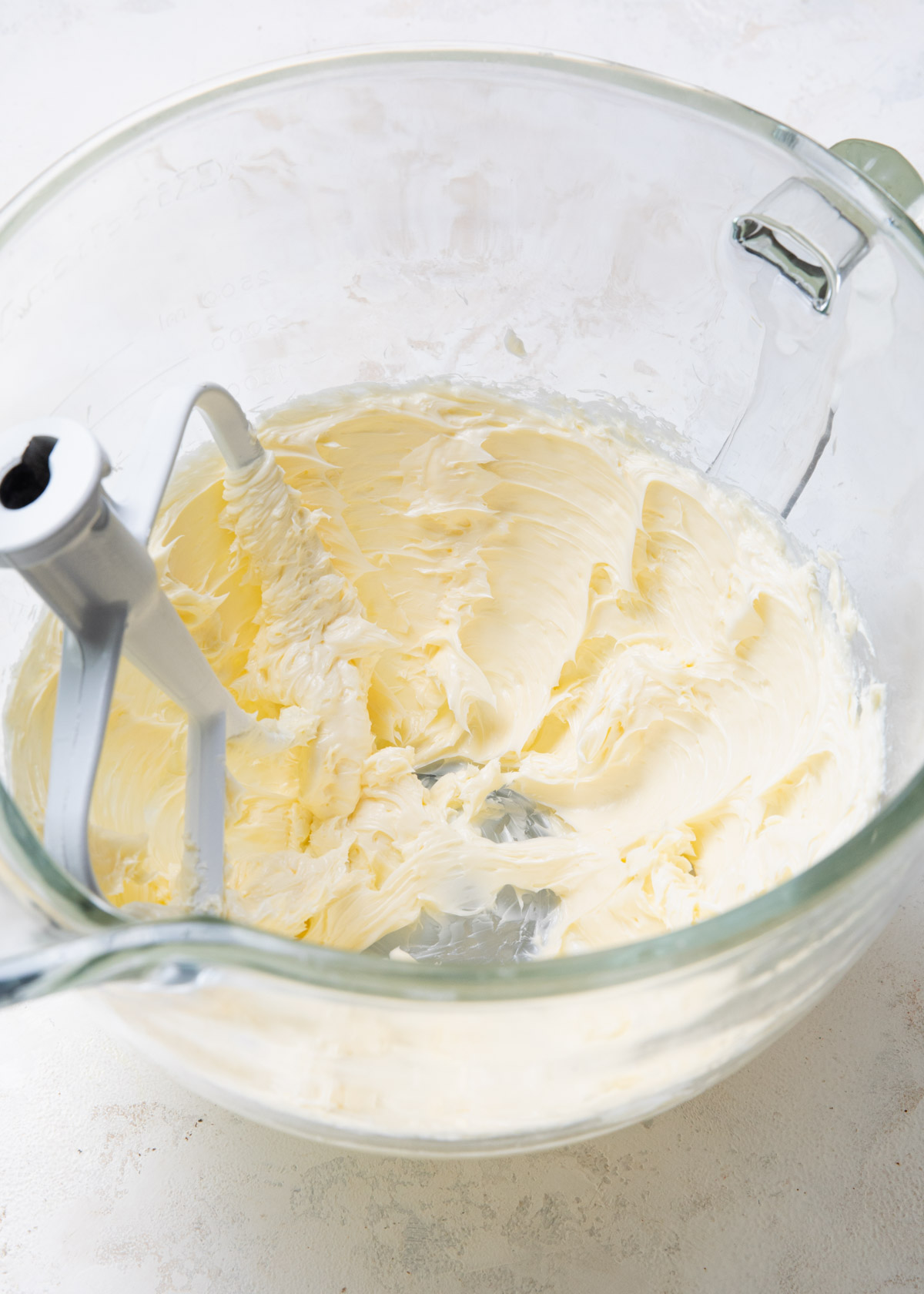 Start by mixing the butter by itself until smooth and creamy.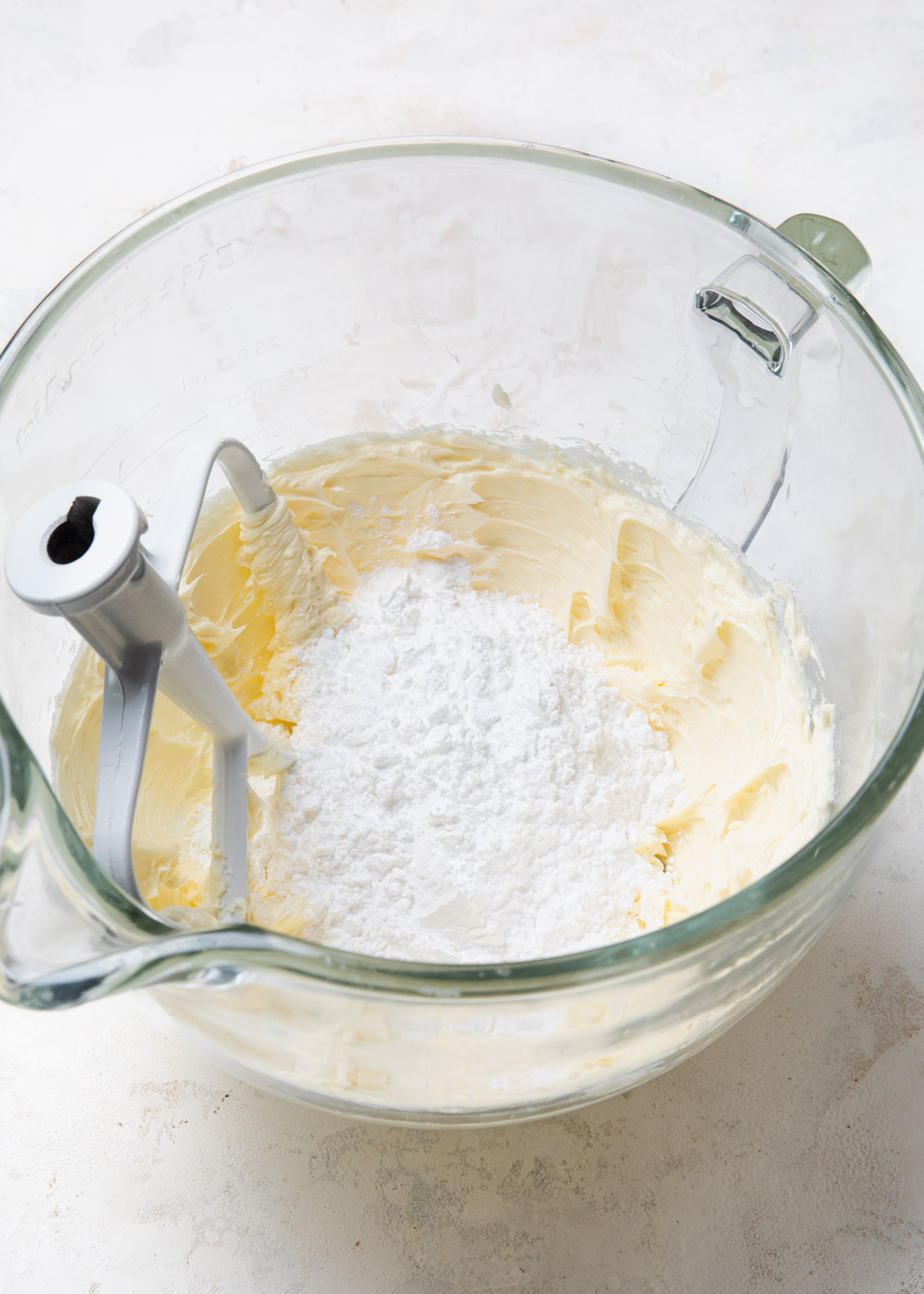 Begin adding in the remaining ingredients. Mix on low speed.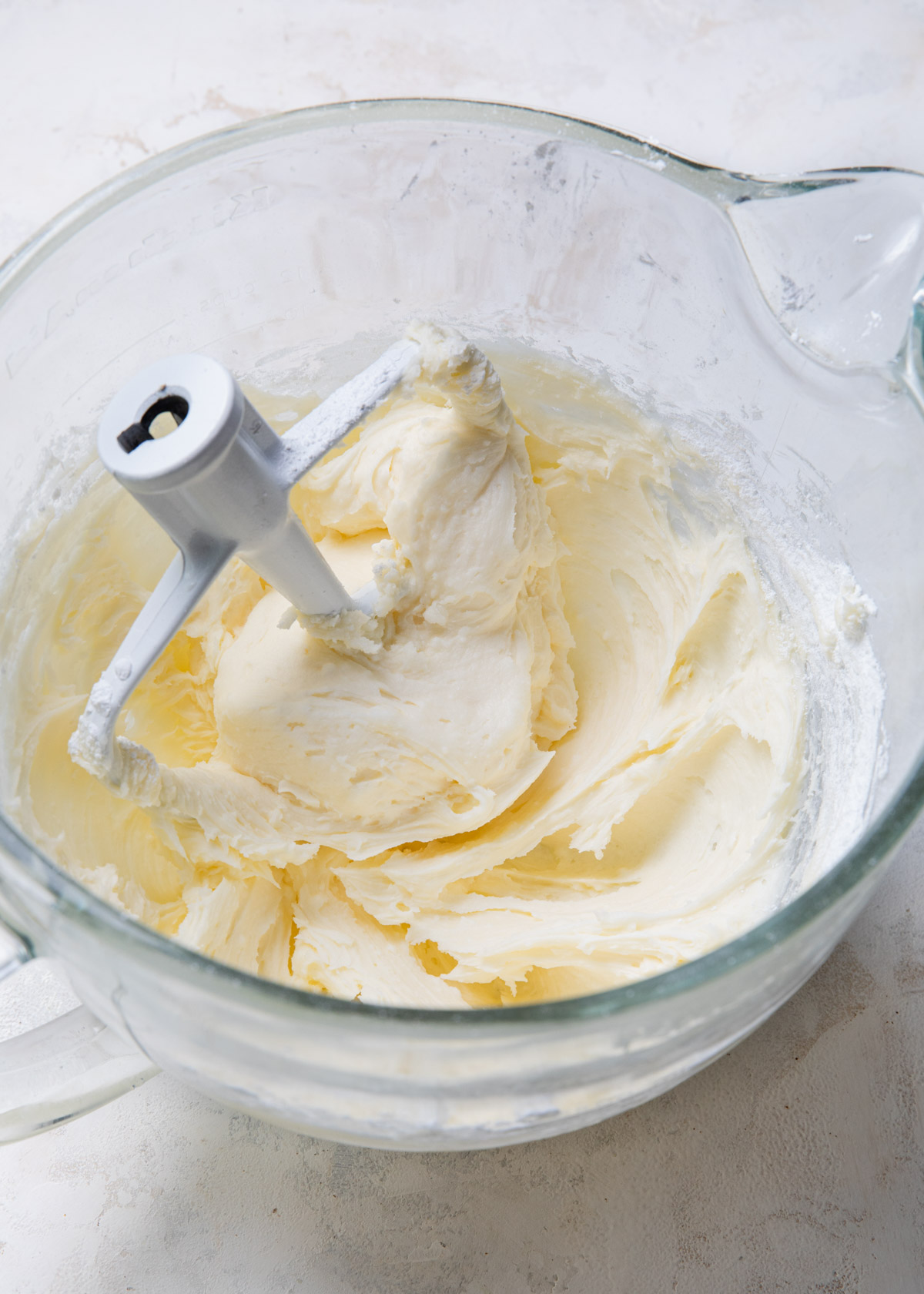 Once the ingredients are combined, the buttercream is smooth but heavy and thick.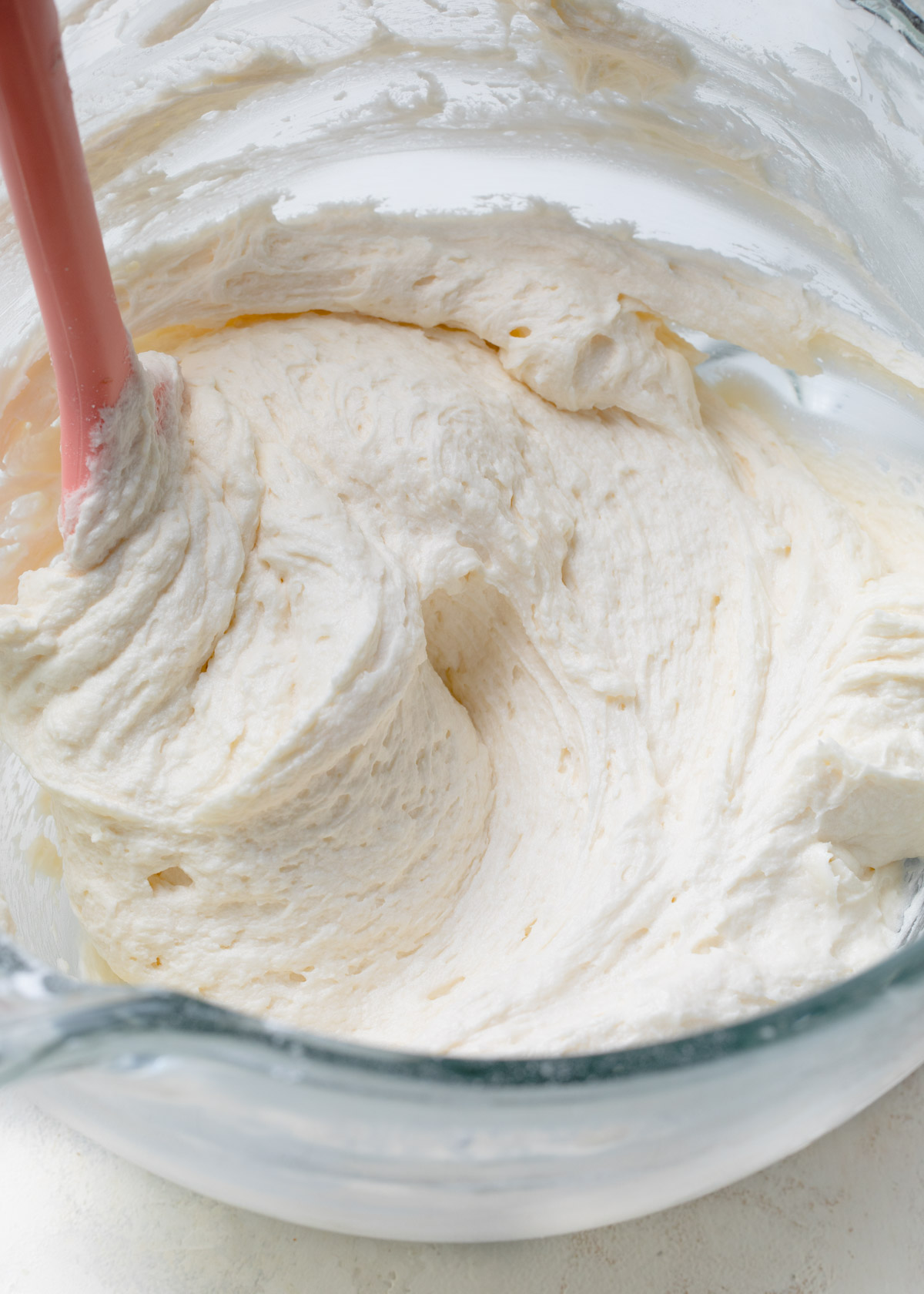 Whip the buttercream until light and fluffy, 3 to 5 minutes.
Hint: After the first stage of mixing, the whipped buttercream will look like frosting. Keep mixing to incorporate more air to make it fluffy and light.
While the finished buttercream in the picture to the right looks like it has too many air pockets, it pipes exactly like the on this cupcake: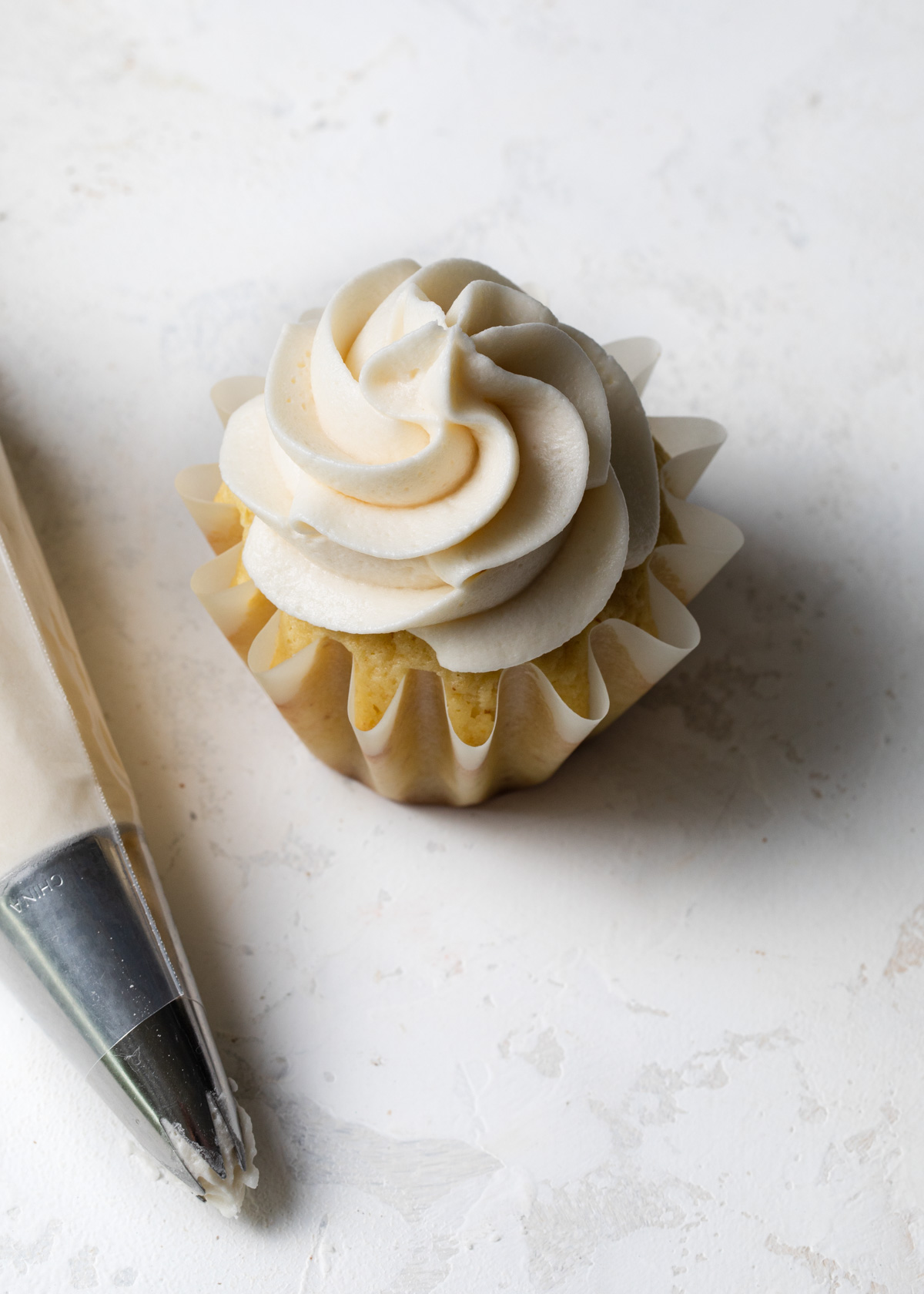 Too many air bubbles for a smooth cake? Stir vigorously with a stiff spatula or wooden spoon before icing cakes.
Substitutions
Milk - In a pinch, you can use regular milk instead of the cream with similar results.
Variations for Whipped Buttercream Frosting
Chocolate - Add 2 ounces melted and cooled chocolate plus 1 to 2 tablespoons cocoa powder midway through the mixing process.
Brown Butter - Swap half of the butter with browned butter that has been chilled until firm but flexible.
Orange Cream - Replace half the cream with orange juice and add fresh orange zest.
Storage
The whipped buttercream frosting is best used immediately after making. If making in advance, store it at room temperature for up to 1 day. Rewhip or mix by hand until light and smooth.
Frosting may be stored in the refrigerator for up to two weeks. Allow it to come to room temperature before remixing.
You may also freeze the frosting for up to 3 months. Thaw in the refrigerator overnight.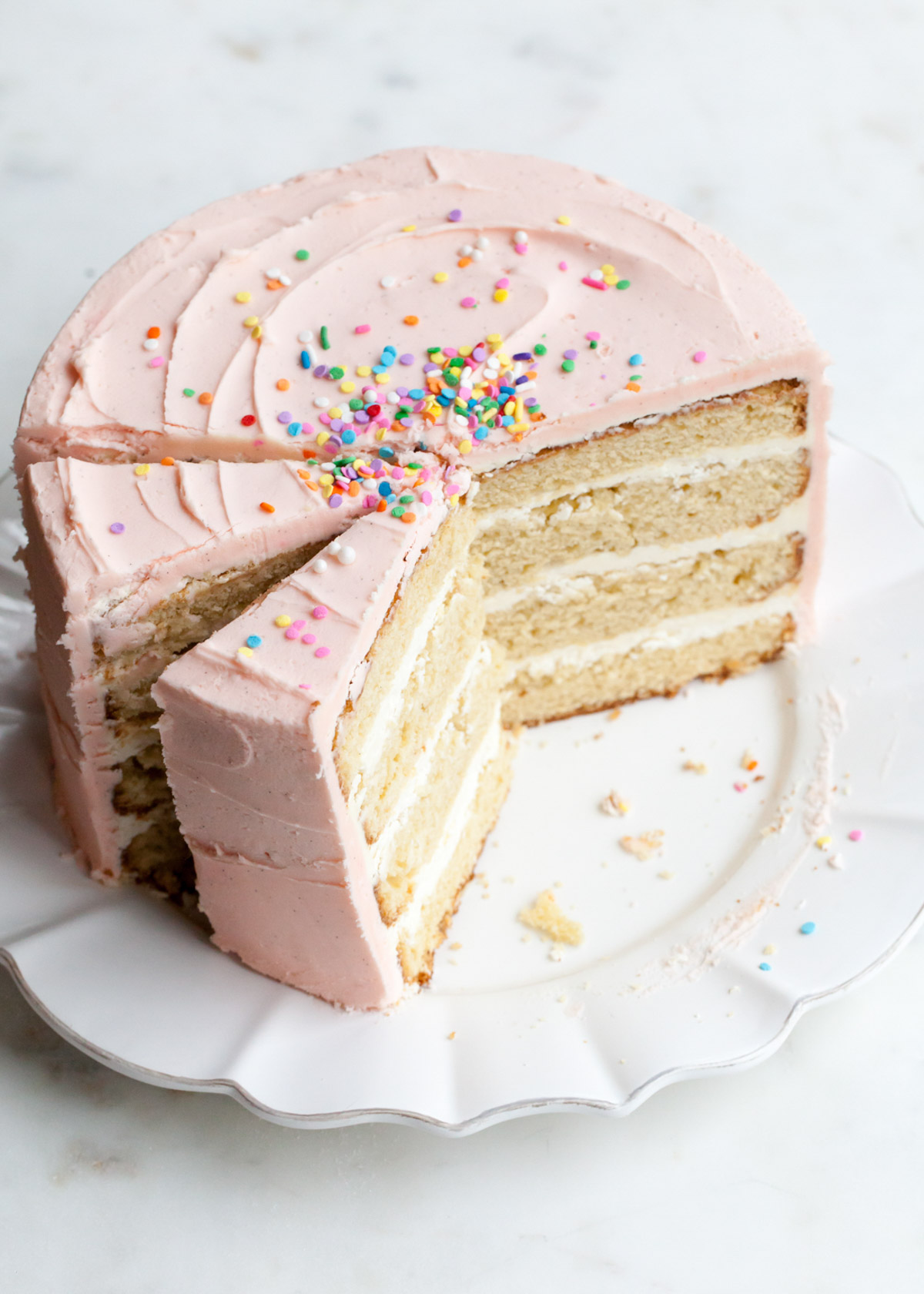 Steps for Making Whipped Buttercream Frosting
Mix the butter - use the paddle attachment on a stand mixer to smooth out the softened butter first.
Add the powdered sugar, half of the cream, vanilla, and salt - mix on low speed until everything combines
Let it whip! - Increase the speed and whip until light and fluffy
Add cream - if the buttercream is still too stiff, add the remaining cream and mix again
Smooth it out - stir the whipped buttercream with a wooden spoon or stiff spatula before icing cakes (optional)
Top Tip
If using to smoothly ice a cake, stir vigorously with a stiff spatula or wooden spoon to knock out any air bubbles. You want to whip the frosting for lightness, but do this extra step to make sure it glides on smoothly over the cake.
Recipe FAQs
Can you freeze buttercream frosting?
Yes! You can freeze buttercream for up to 3 months. The best way to do so is by making a 'pillow' of buttercream by wrapping it in plastic wrap. Thaw overnight in the refrigerator then bring to room temperature. Remix before use.
What is the best way to thicken runny buttercream icing?
Before you start adding too much powdered sugar, try putting soft buttercream in the refrigerator. The butter might have been too warm and chilling in the refrigerator may help it firm up.
Why is my buttercream frosting grainy?
Make sure to sift powdered sugar to remove any lumps before mixing. Allow enough time for the butter and sugar to whip together to help the sugar dissolve into the buttercream frosting.
Pairing
These are my favorite recipes that use whipped buttercream frosting:
Please leave a star review if you loved this recipe! Make sure to share your recipes and tag me on Instagram @stylesweetdaily.
Recipe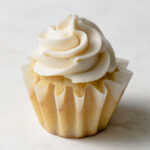 Print Recipe
Whipped Buttercream Frosting
This easy recipe for fluffy Whipped Buttercream Frosting comes together with just 5 ingredients and in under 10 minutes.
Ingredients
1

cup

unsalted butter

softened

4

cups

powdered sugar

sifted as needed

2 to 4

tablespoon

heavy cream

2

tea

pure vanilla extract

pinch

kosher salt
Instructions
Using a stand (or hand) mixer fitted with the paddle attachment, beat butter on medium-low speed until smooth and creamy, 1 minute.

Turn the mixer off and add the powdered sugar, 2 tablespoons of cream, vanilla, and salt. Begin mixing on low speed until the ingredients come together - scraping the bowl occasionally.

Turn up the speed and mix at medium-high speed for 3 to 5 minutes, until the buttercream is light, airy, and nearly white. If needed, add the additional cream until desired consistency is achieved. The buttercream should spread smoothly without tearing the crumb of the cake but thick enough that it holds shape when piped and spread between the layers.

If using to ice a smooth cake, vigorously stir with a wooden spoon or stiff spatula to knock out some of the air bubbles.