This One Bowl Vanilla Cake recipe is better than a boxed mix with that same moist, springy quality that we all love. It is so easy to make but with all the freshness and flavor of a from-scratch cake.
This super easy cake was made for summer celebrations. The cake is pretty thick but moist and full of real vanilla and butter flavors. Bake, frost, and serve it up all in the same pan or try it as a layer cake!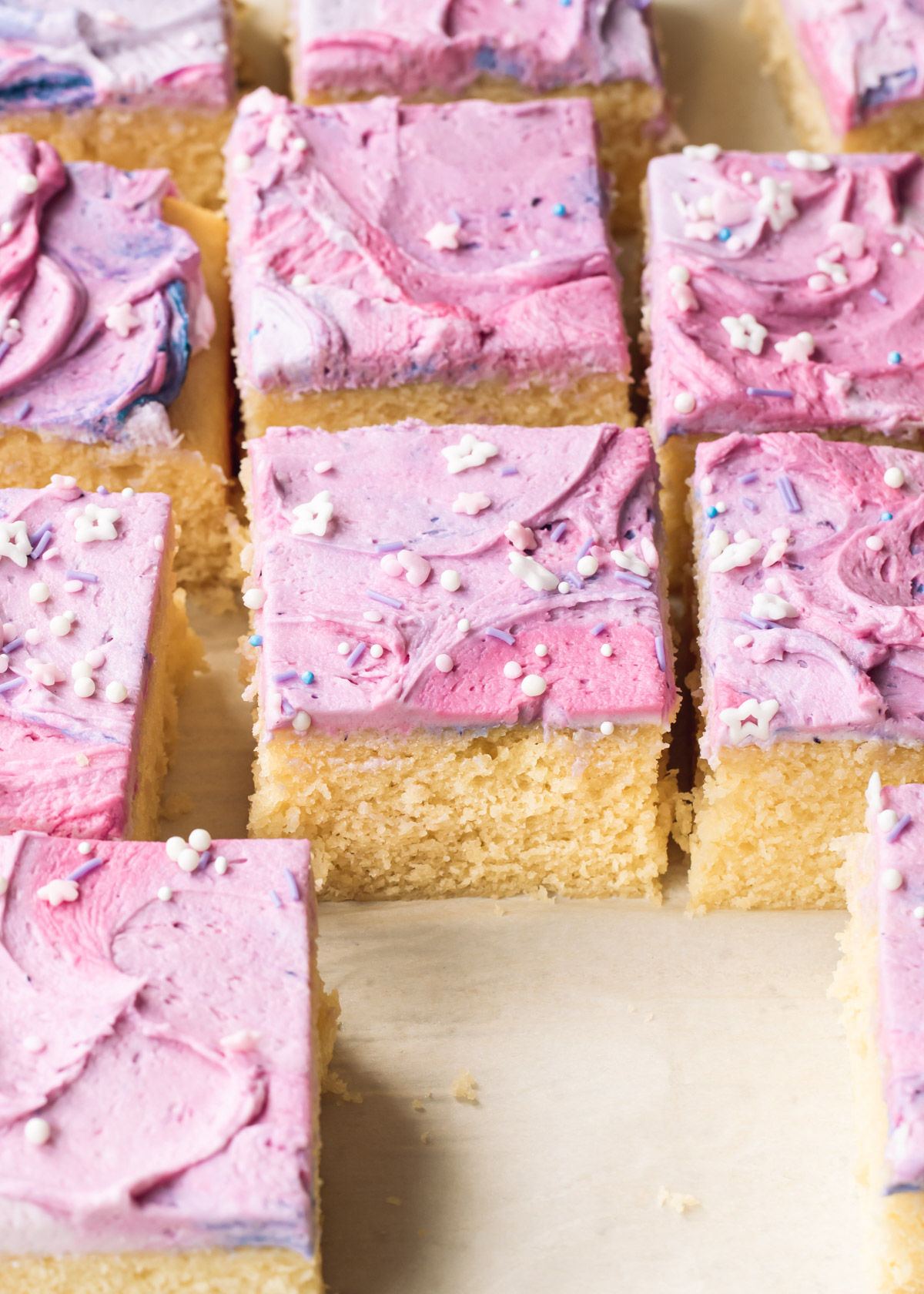 Flour, sugar, eggs, butter - the main ingredients to any great cake. Mix 'em up, throw it in the oven, and have a nostalgic dessert - right?
It is nearly impossible to replicate the same texture of a boxed cake mix using the creaming method (one of the more common ways to make a cake from scratch). The end results rely tremendously on the order in which the ingredients are added and the manner in which they are mixed.
With this one-bowl mixing method, however, we can get pretty close.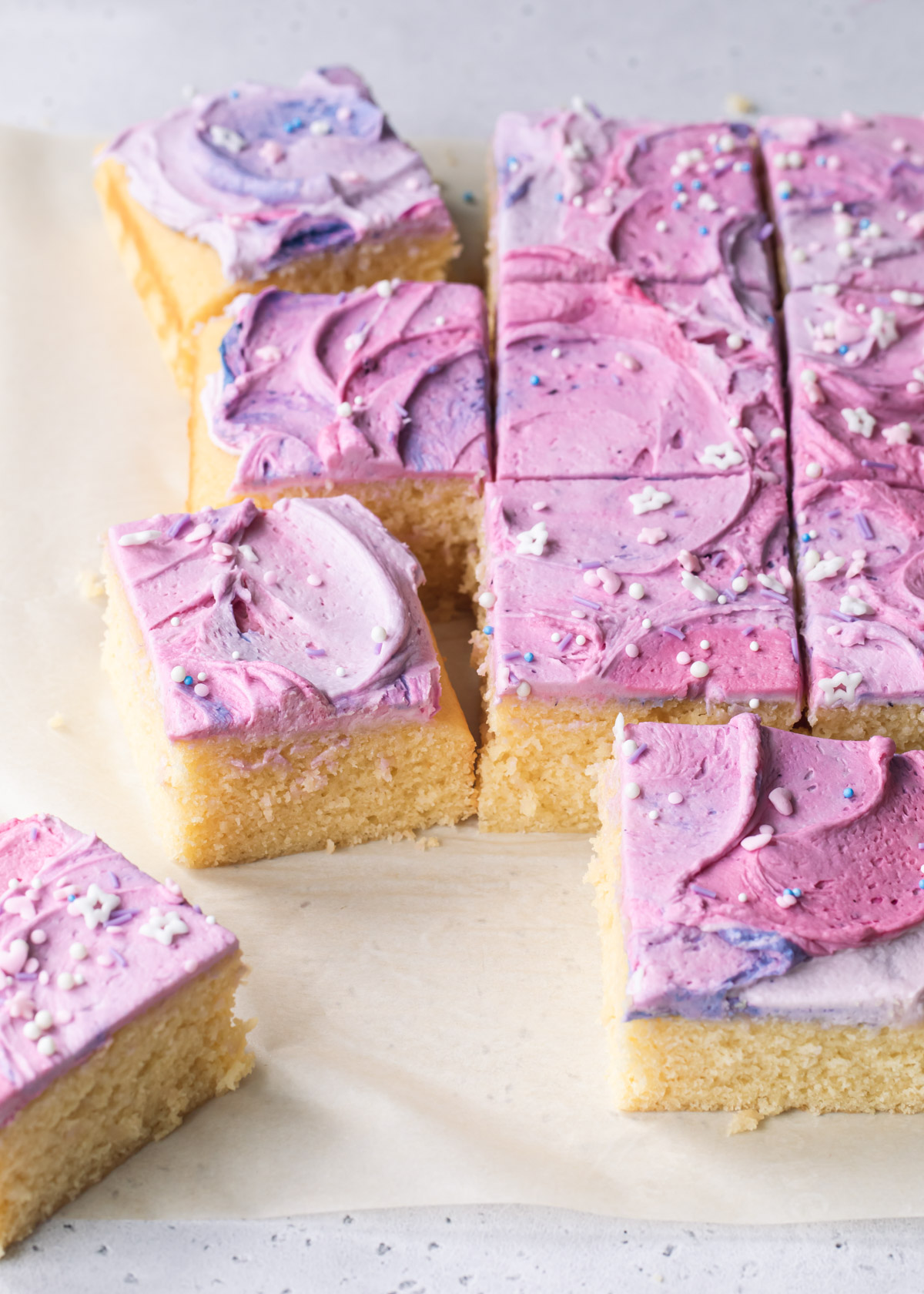 What is the One-Bowl Method?
The One-Bowl Mixing Method - a.k.a. Quick, Dump, or Blending Method, is as simple as it sounds while still producing a fluffy, moist cake crumb. It is just one step above literally chucking everything into a bowl then straight into the oven.
With no special equipment required, the one-bowl method comes together with (you guessed it) one bowl and a wooden spoon/spatula. The batter is hand-stirred until combined.
Unlike the creaming method where air is mixed into sugar and softened butter to create thousands of tiny bubbles or the foaming method where eggs are whipped until pillowy, one-bowl mixed cakes are exclusively chemically leavened (with baking powder, baking soda, or both).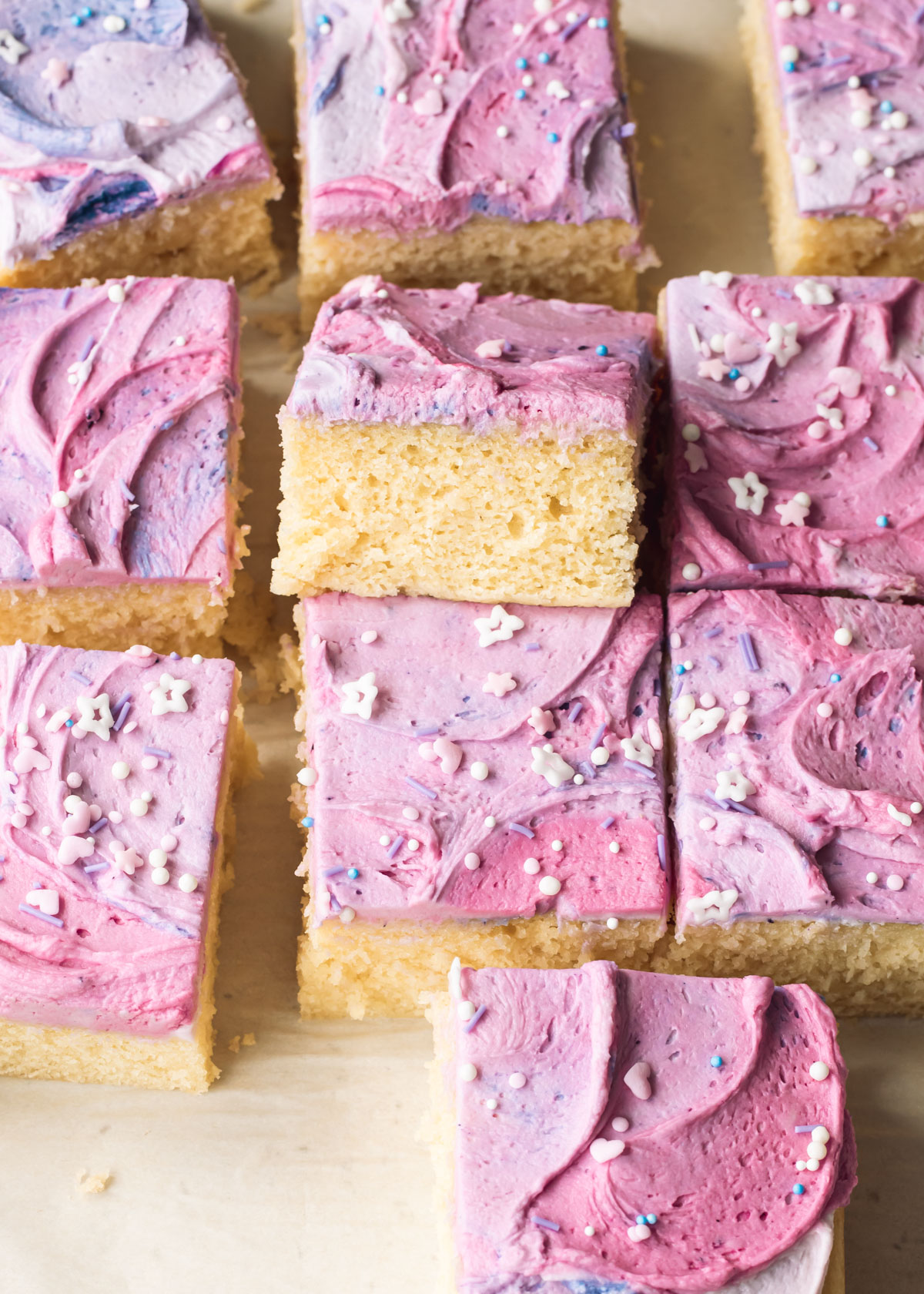 How to Make a One Bowl Vanilla Cake
Before you get too excited and throw everything into the bowl at once, remember that there is still an order in which the ingredients are mixed together.
To start, the dry ingredients (including sugar) are briefly whisked together to evenly distribute the baking powder. Then, begin adding the liquids. First, whisk in the milk, eggs, and vanilla extract. Lastly, add the softened fat (in the form of oil or melted butter or a combination of both) and stir until incorporated.
Why It Works
The fluffiness of this cake is powered by a chemical leavening agent - in this case, baking powder. While butter has a far superior flavor, cutting it with part oil add loads of moisture.
Adding the ingredients in this order creates a homogeneous batter without over-mixing. Too much agitation promotes gluten-development that results in a dense cake.
Of course you need some structure to your baked goods so they don't crumble with each bite. The combination of eggs (protein) and the simple process of stirring everything together builds just enough gluten to hold everything together.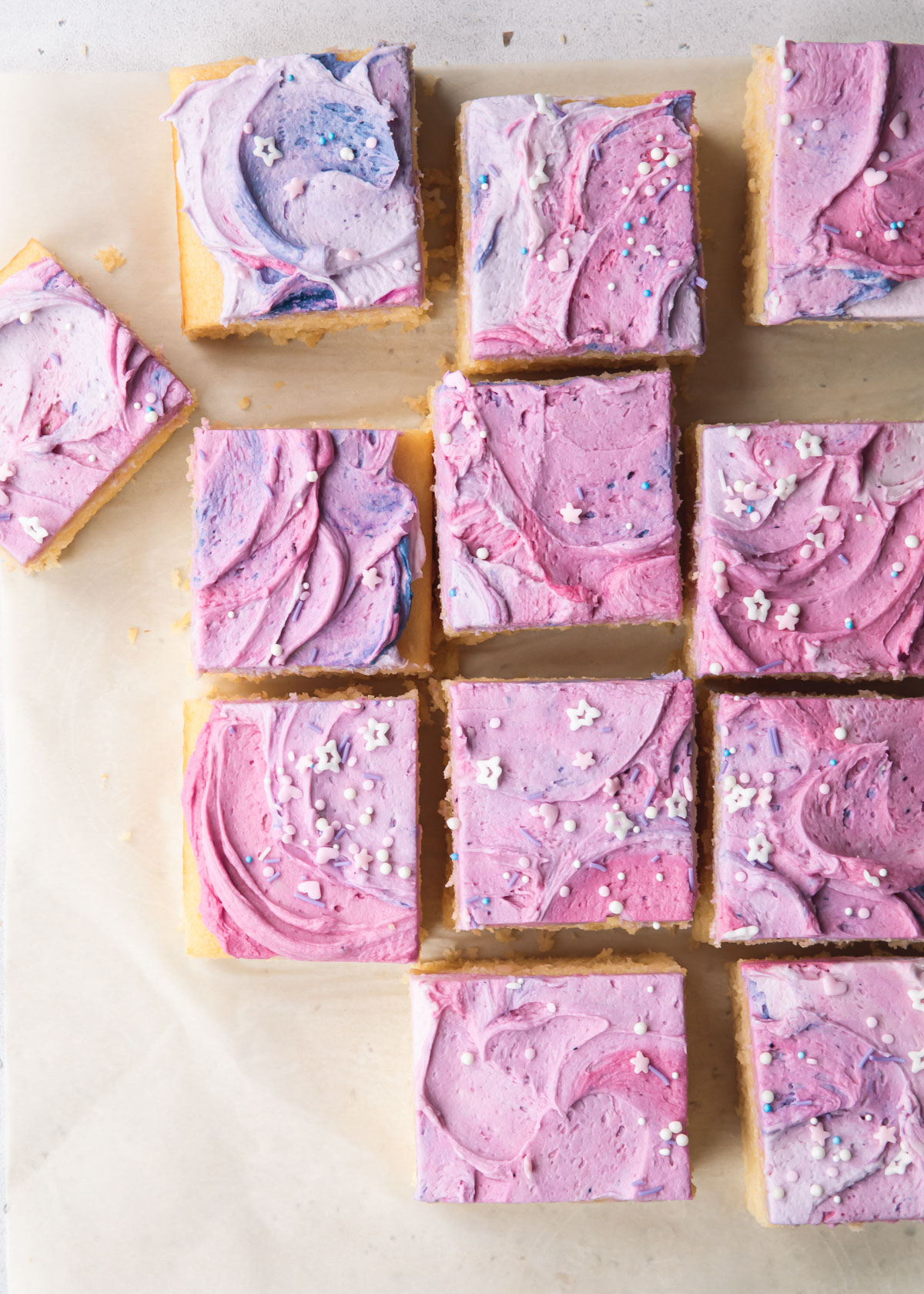 Why We Love This One Bowl Vanilla Cake
Ease, convenience, less dishes, and super tasty results - what's not to like about this once bowl vanilla cake recipe? You probably have everything you need to make this cake in your home right now. New to baking from scratch? Start here!
The cake itself is fluffy and tender. The flavors of real butter and pure vanilla extract are incomparable. Because we aren't relying on man-made (or mixer-made) aeration to give the cake its lift, the crumb is more uniform and tends to bake up rather flat.
With its spongy, bouncy texture, the crumb is most reminiscent to cake that is made from a boxed mix. Why is this a good thing? Well that depends on your preference. If you grew up on Betty Crocker and have a palette for nostalgia, then you'll likely prefer this simple cake over a complex genoise sponge (more on foam cakes soon!).
One Bowl Vanilla Cake That is Better Than Boxed Mix
If you favor the uniformity and springy texture of a boxed cake mix, then why make your own? Freshness, flavor, and preservative-free, just to name a few!
Boxed cake mix typically contains preservatives and emulsifiers. It also has that boxed flavor (you know what I mean). Sure you can doctor-up a mix all you want by swapping in real butter and milk when it calls for oil and water, but at this point, you are probably better off just making this from-scratch recipe.
Check out this article on "healthier" boxed cake mix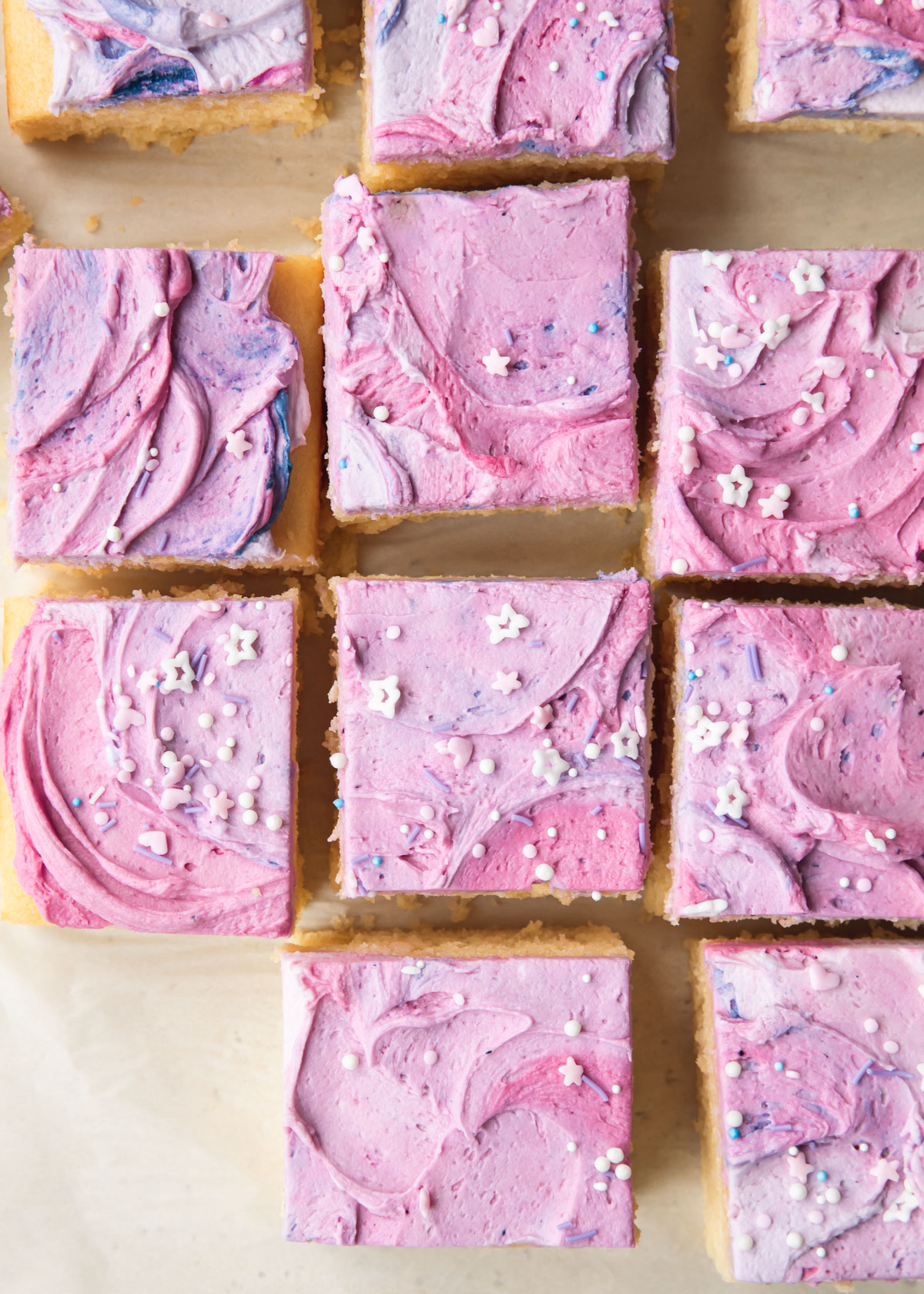 DIY Cake Mix
Go beyond the box with essentially your own DIY cake mix! Stir and store the dry ingredients in a jar. When you're ready to bake, gather your perishables and liquids and continue with the recipe as written.
Spread the love! Consider mixing up the dry ingredients as a gift. Don't forget to add a cute tag with the remaining ingredients and instructions for baking the cake.
Recipe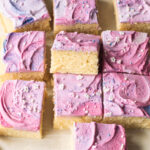 Print Recipe
One Bowl Vanilla Cake
This One Bowl Vanilla Cake recipe is better than a boxed mix with that same moist, springy quality that we all love. It is so easy to make but with all the freshness and flavor of a from-scratch cake.
Ingredients
3

cups

(375g) all-purpose flour

2

cups

(400g) granulated sugar

1

tablespoon

+ ¼ teaspoon baking powder

¾

teaspoon

salt

1 ⅓

cups

(320ml) whole milk

4

eggs

slightly beaten

2 ½

teaspoons

pure vanilla extract

⅔

cup

(153g) unsalted butter

melted and cooled

⅓

cup

(80ml) canola or grapeseed oil
Vanilla Buttercream
1

cup

unsalted butter

softened

3 to 4

cups

confectioners' sugar

2 to 4

tablespoons

whole milk

2

teaspoons

vanilla extract
Instructions
Preheat the oven to 350°F. Grease and line a 9"x13" cake pan with parchment paper.

In a large mixing bowl, whisk together the flour, sugar, baking powder, and salt. Add the milk, eggs, and vanilla extract and whisk until combined. 

Add the melted butter and oil. Whisk the batter until the fats begin to emulsify into the batter, then switch to a large rubber spatula or wooden spoon. Continue to stir until smooth. It is okay if a few lumps remain.

Tip the mixture into the prepared pan. Bake for 27 to 32 minutes or until a toothpick inserted comes out clean or with a few moist crumbs. Completely cool the cake before frosting.
For the Vanilla Buttercream
Using a stand (or hand) mixer fitted with the paddle attachment, beat butter on medium-low speed until smooth and creamy (1 to 3 minutes). 

Stop the mixer and add 3 cups of confectioners' sugar. Mix in the sugar on low speed until just combined. Add 2 tablespoons of milk and vanilla extract and mix until blended.

Turn the mixer up to medium-high speed and mix for 3 to 5 minutes, until the buttercream is light, airy, and nearly white. If needed, add the additional confectioners' sugar or milk until desired consistency is achieved. The buttercream should spread smoothly without tearing the crumb of the cake.

Reduce the mixer speed to low and mix for about a minute or two to smooth out the air bubbles.