Made with fresh or frozen blueberries, this vibrant blueberry buttercream is as tasty as it is beautiful. The all-natural blue-purple color comes from cooked blueberries that give this fluffy blueberry buttercream frosting its fresh blueberry flavor.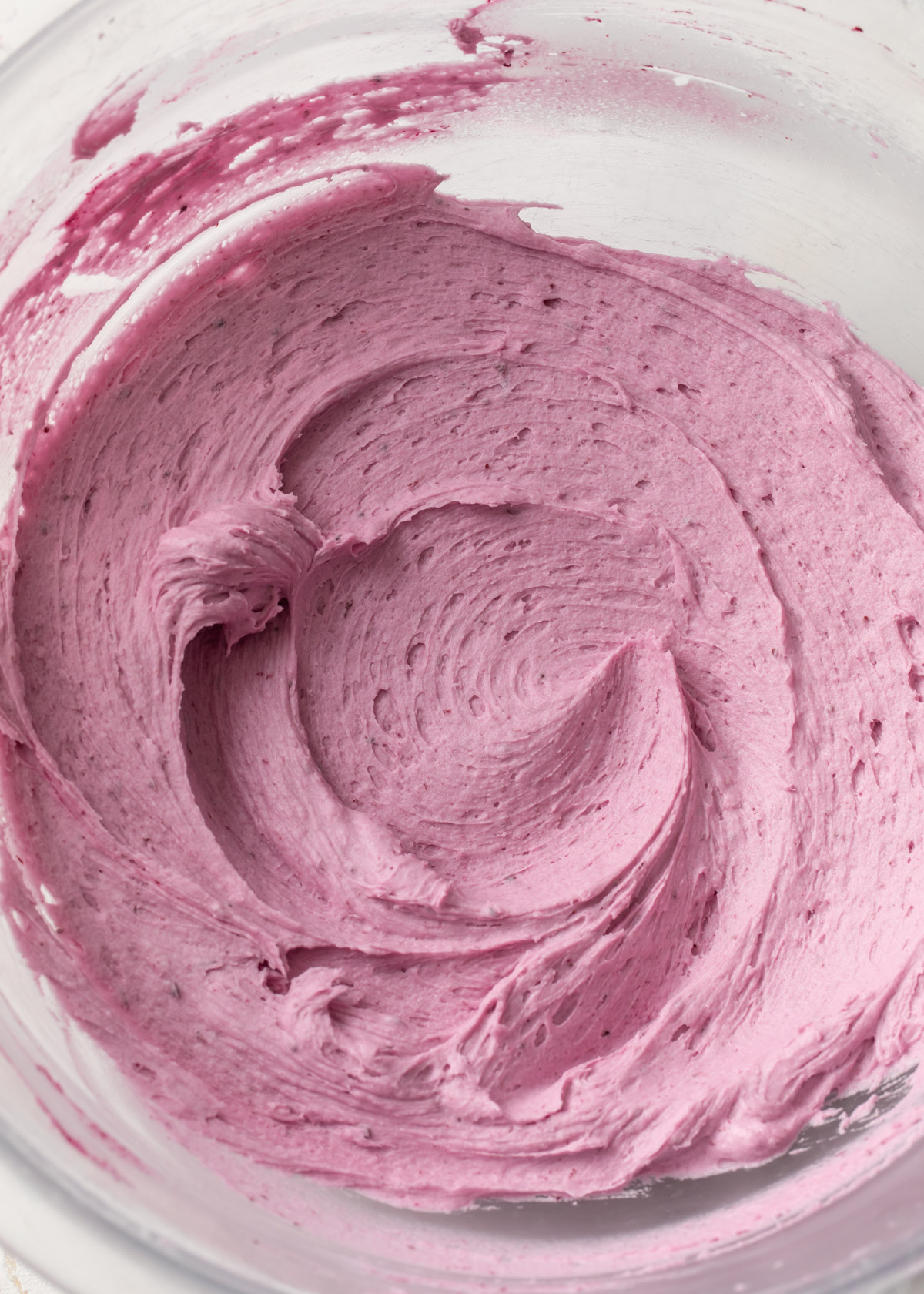 Why You'll Love This Blueberry Buttercream Icing
This beautifully vibrant blueberry buttercream is the perfect topping for cakes, cupcakes, sweet rolls, and even cookies. It is make with real blueberries to get the sweet blueberry flavor and bright purple color.
At only 5 ingredients, this blueberry buttercream recipe comes together easily. It is made first my cooking fresh or frozen blueberries then combining them with whipped buttercream frosting.
No need to pull out a food processor or make a blueberry puree, simply press the soft fruit through a mesh sieve to remove the unwanted skin and seeds.
Jump to:
Ingredients
This blueberry buttercream recipe is made with either frozen or fresh blueberries for that real blueberry flavor.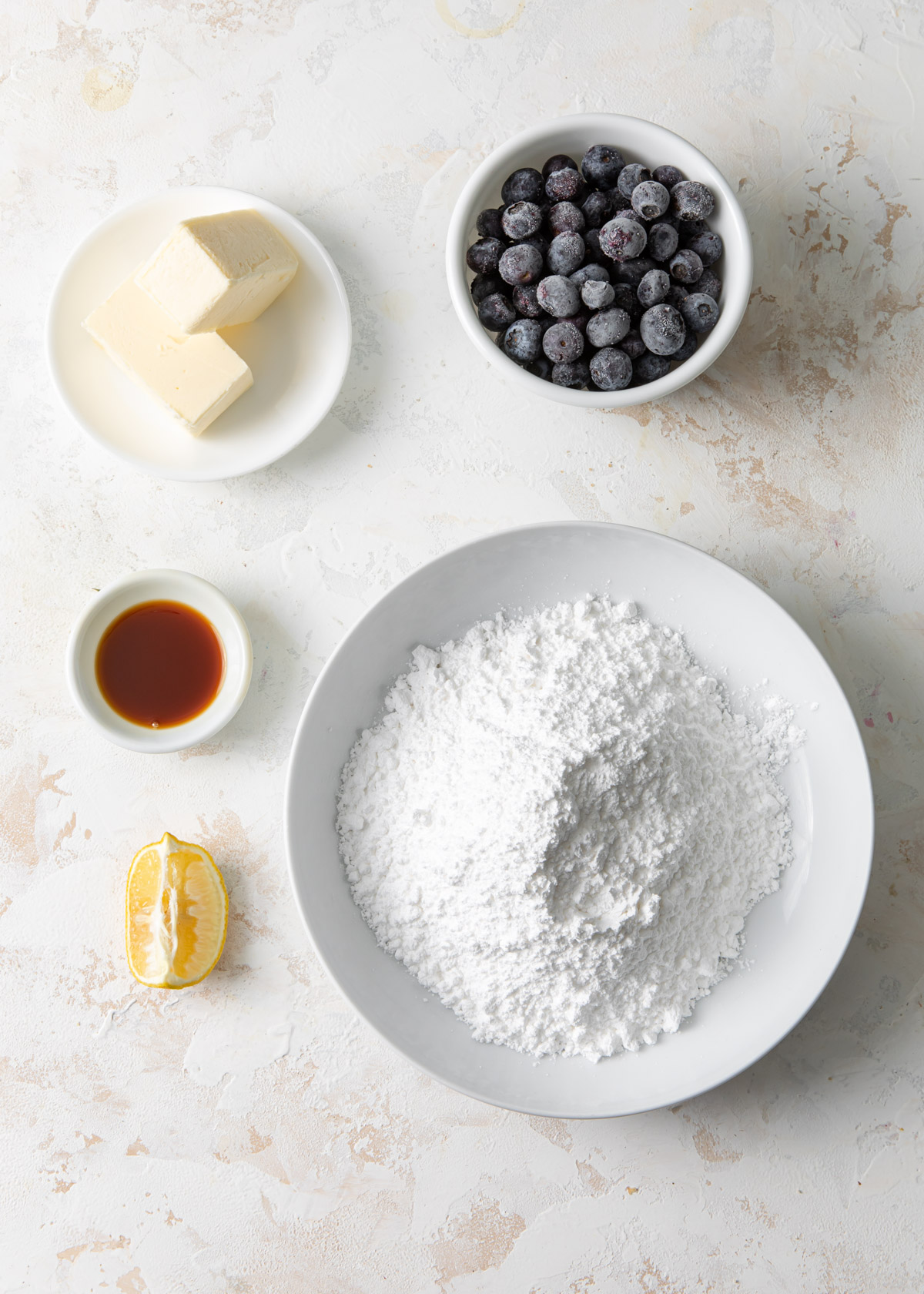 Blueberries - fresh or frozen (no need to thaw) both work here
Lemon juice - blueberries are kind of one-note, so the lemon brings out a more vibrant flavor
Powdered sugar - be sure to sift before mixing into the buttercream if there are any lumps
Unsalted butter - remove the butter from the refrigerator about an hour or two before making to ensure it is soft but not melted
Vanilla extract - use pure vanilla if it is available to you
See recipe card for quantities.
Tools and Equipment
Saucepan
Heat-safe rubber spatula
Mesh sieve
Mixing bowl
Hand or stand mixer
How to Make Blueberry Buttercream
This buttercream is made to two parts. First, cook blueberries into a sauce. Afterwards, combine the sauce with whipped buttercream to create a smooth, fluffy texture.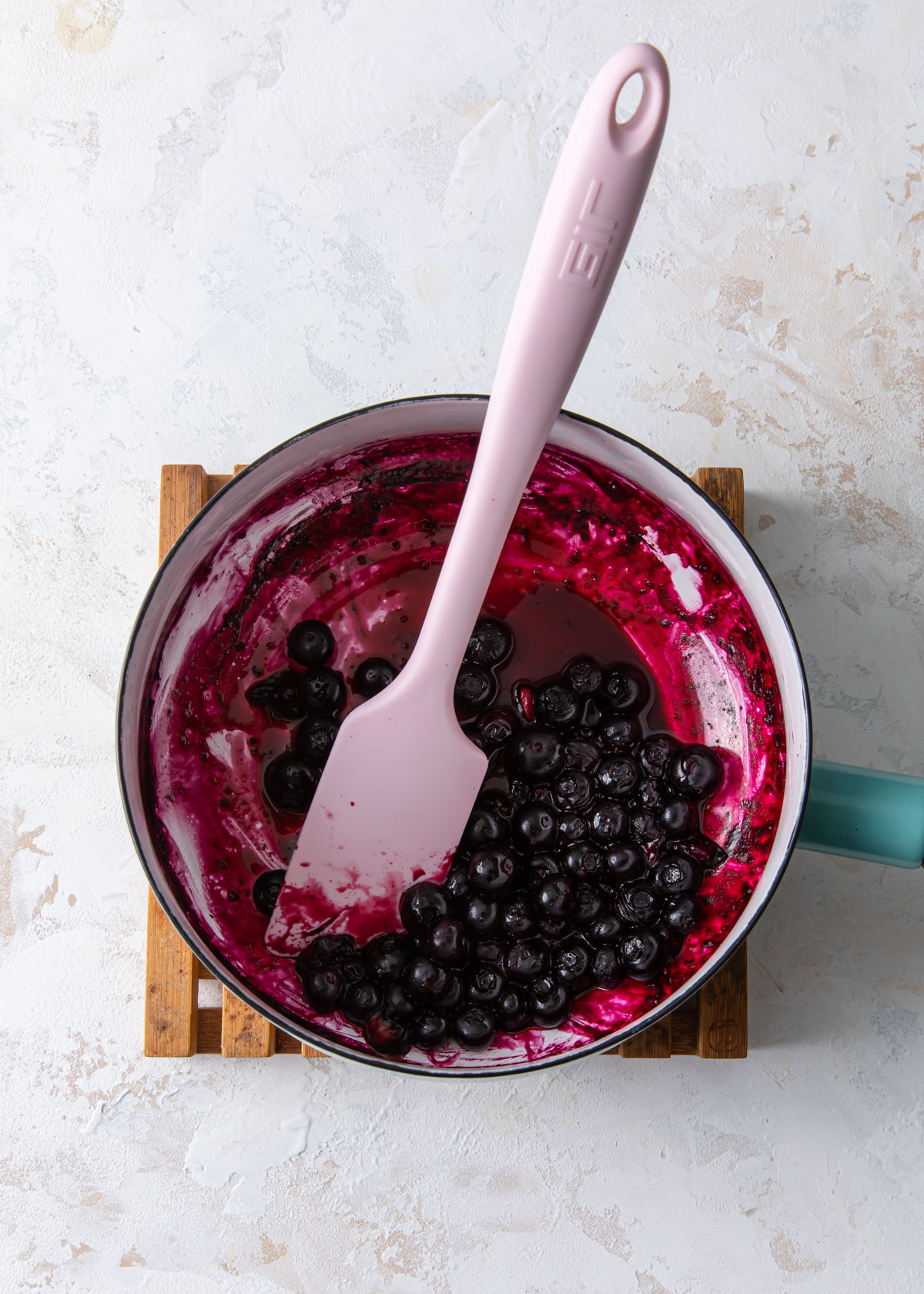 Cook whole blueberries with a dash of water and lemon juice until the fruit softens and juices simmer.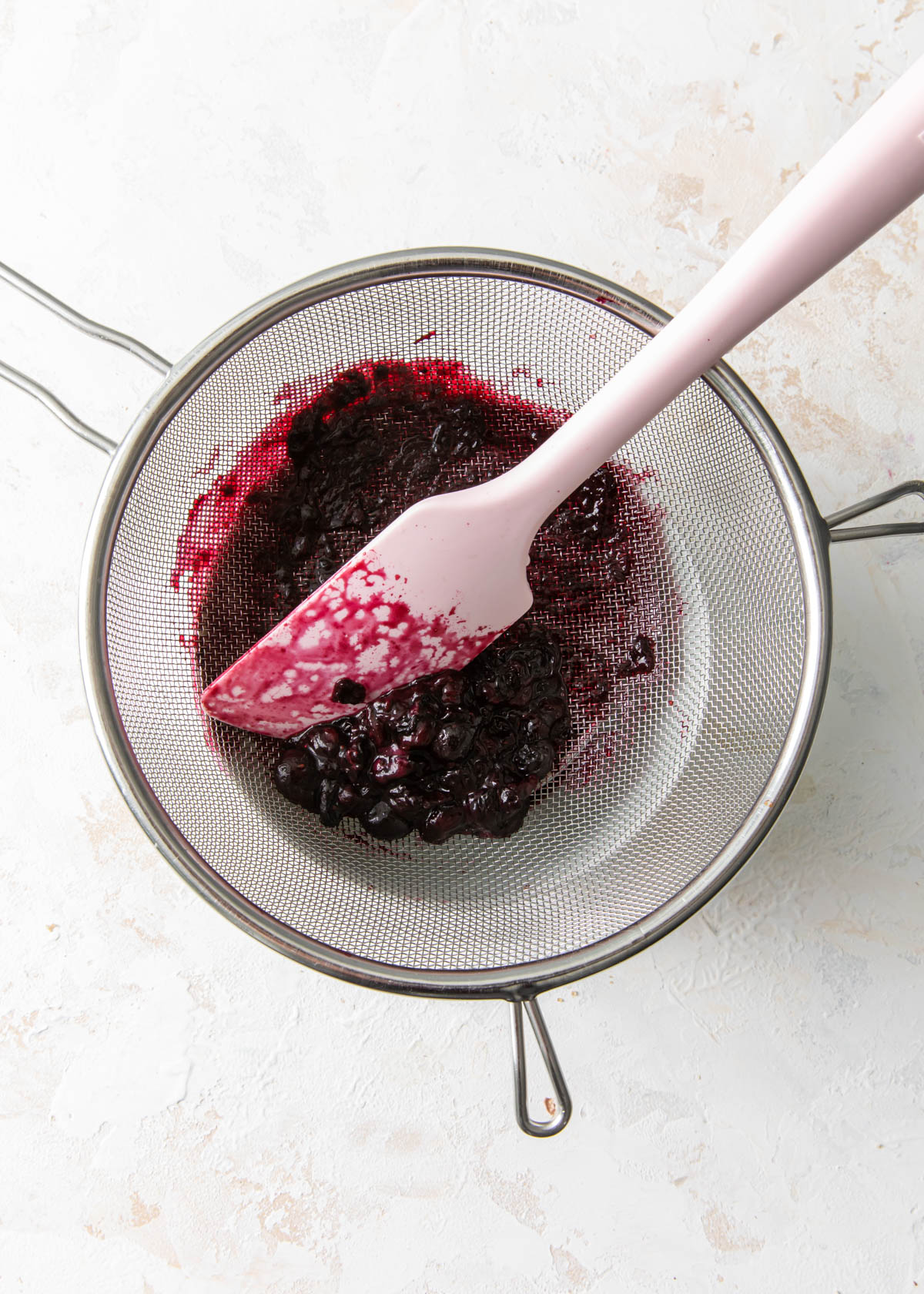 Press the cooked blueberries through a mesh sieve over a bowl. Discard the blueberry skin.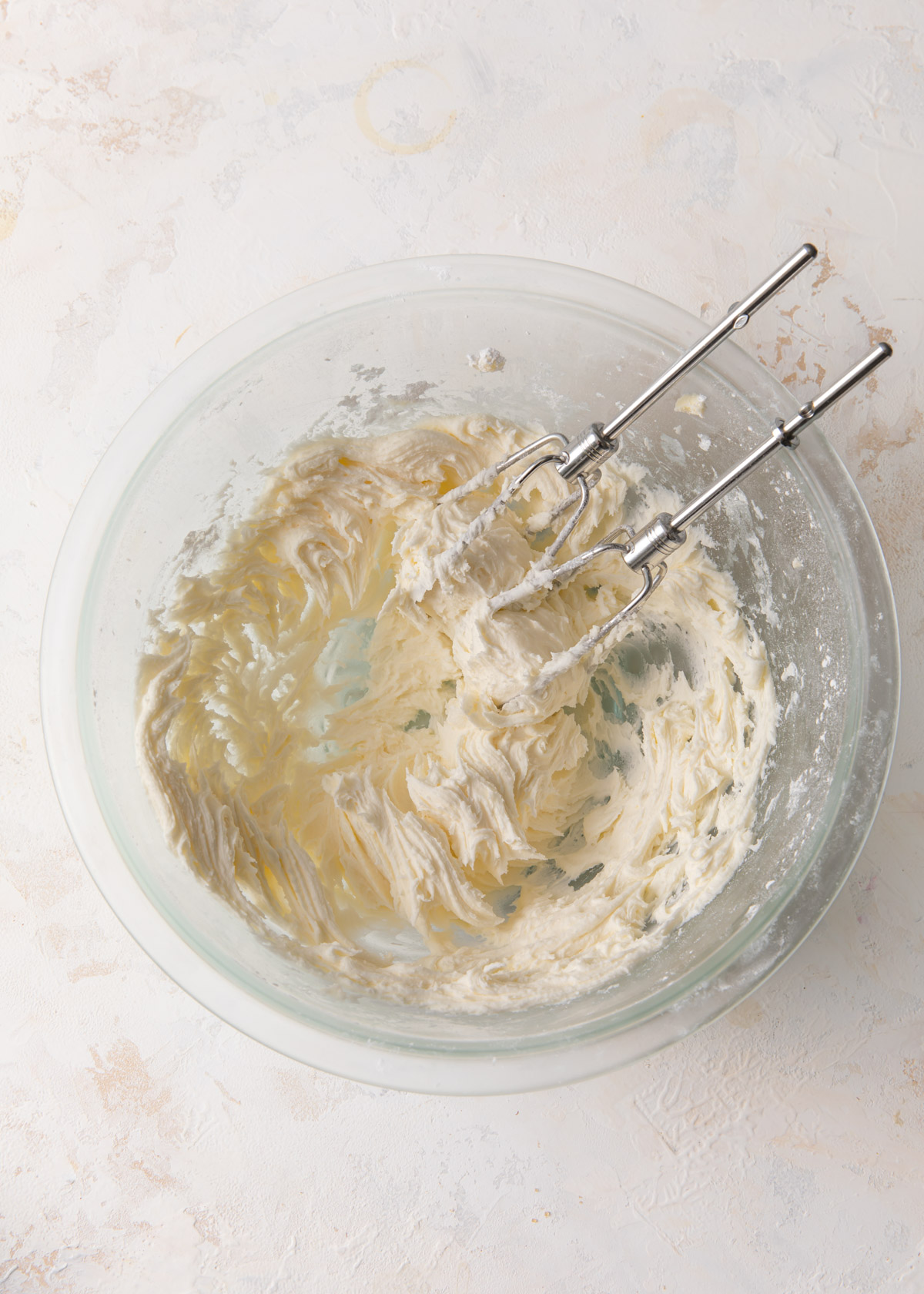 Whip together the soft butter and powdered sugar until creamy.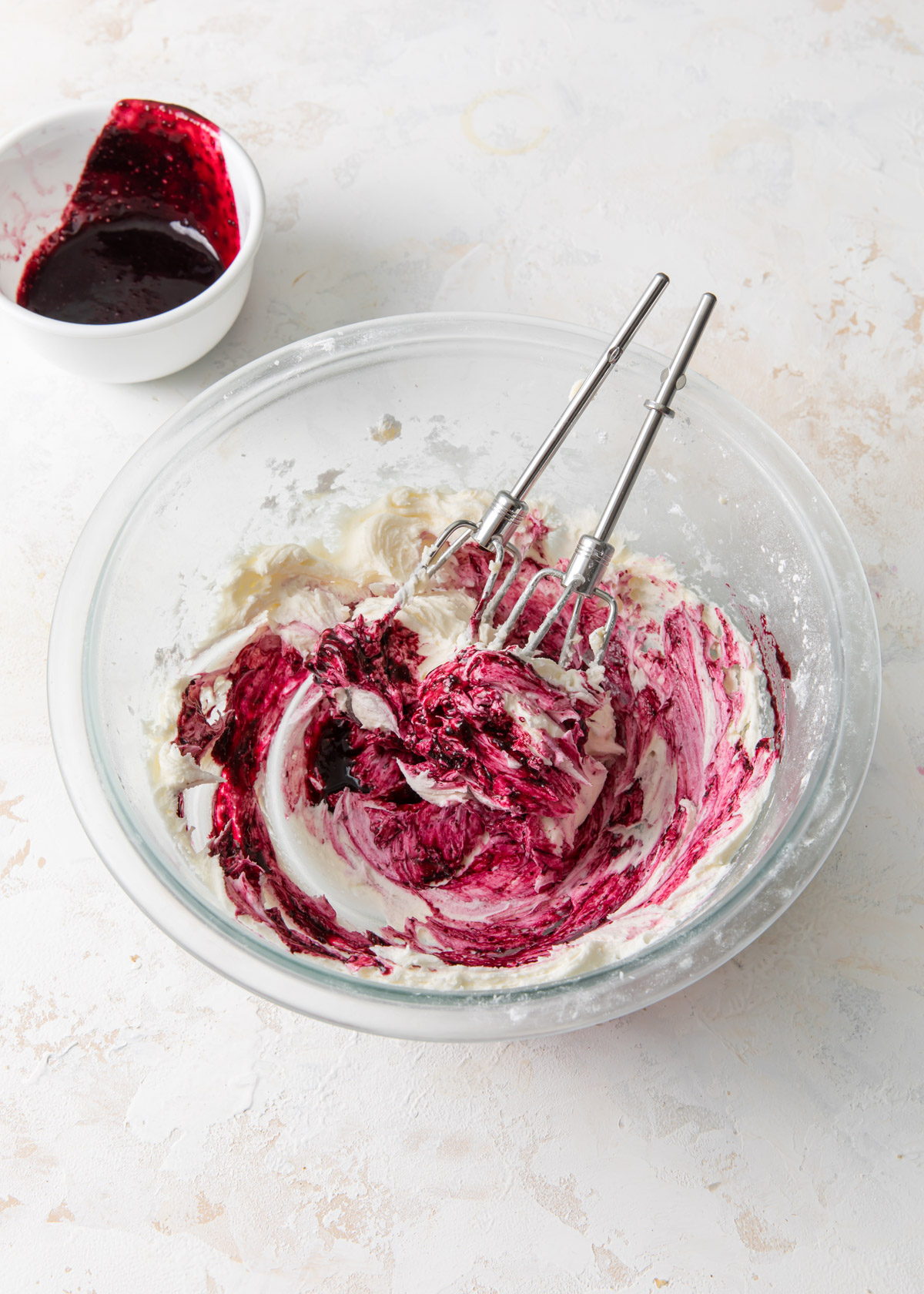 Add the cooled blueberry sauce and mix to combine.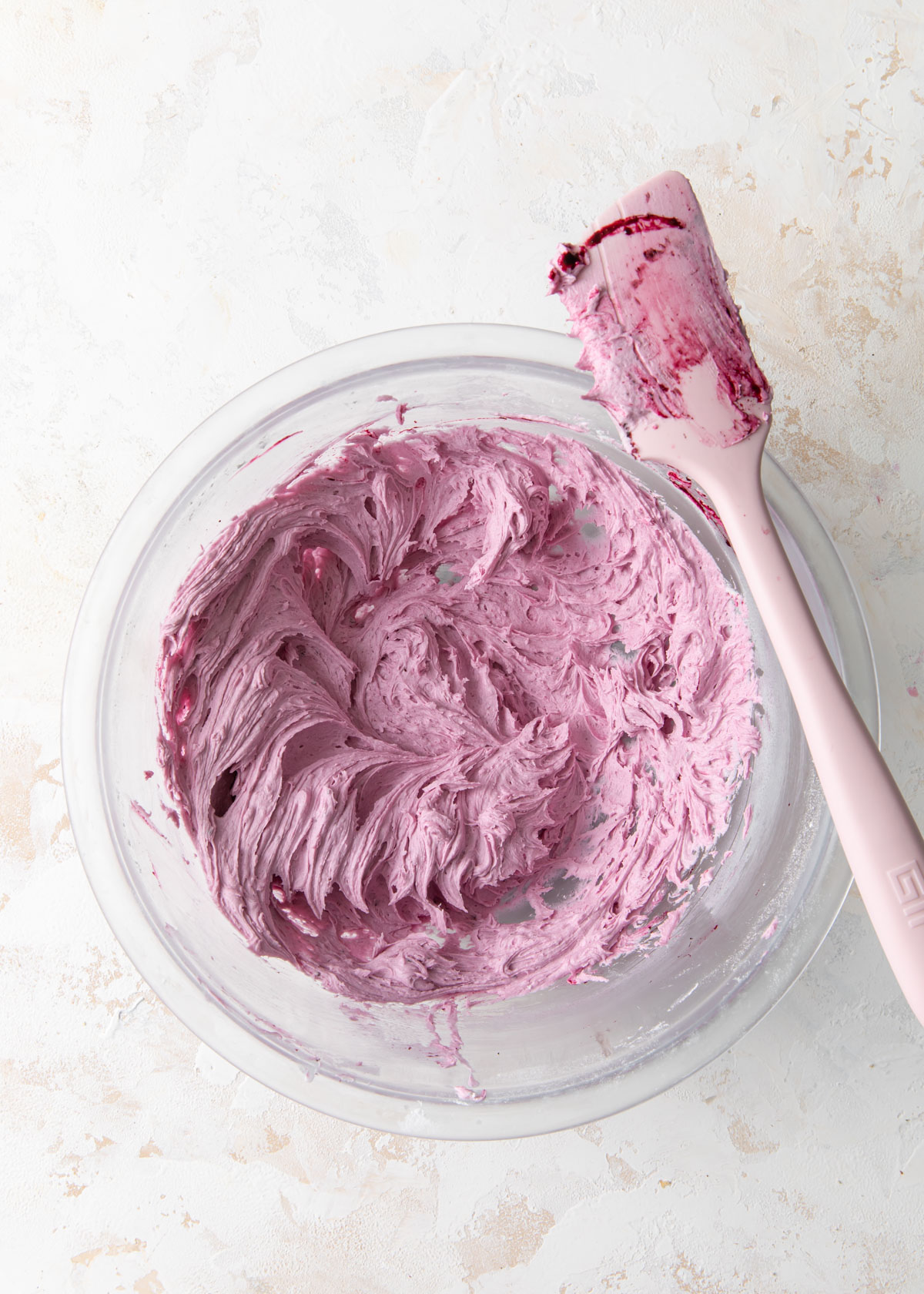 Whip the blueberry buttercream frosting until smooth yet fluffy. Add more powdered sugar or blueberry sauce until your desired thickness. It should be smooth and spreadable, not runny.
Hint: add about half of the powdered sugar to the butter to start and mix until smooth, then add some of the blueberry sauce.
Substitutions
Freeze Dried Blueberries- similar to the frosting on my Raspberry Cupcakes, you can use finely ground freeze dried blueberries to add real blueberry flavor.
Blueberry Jam - You can use a few tablespoons of blueberry jam instead of the fresh blueberry puree. However, jam is usually much sweeter so the final frosting might taste more sweet than blueberry. Look for a low sugar or double fruit jam.
Serving and Storage
Spread or pipe buttercream on your favorite baked treats.
This blueberry buttercream frosting can be made in advance and stored in an airtight container in the fridge for one week or freezer for up to three months.
If frozen, thaw overnight in the refrigerator. When ready to use, allow the frosting to come to room temperature (10 to 20 minutes), then stir until spreadable.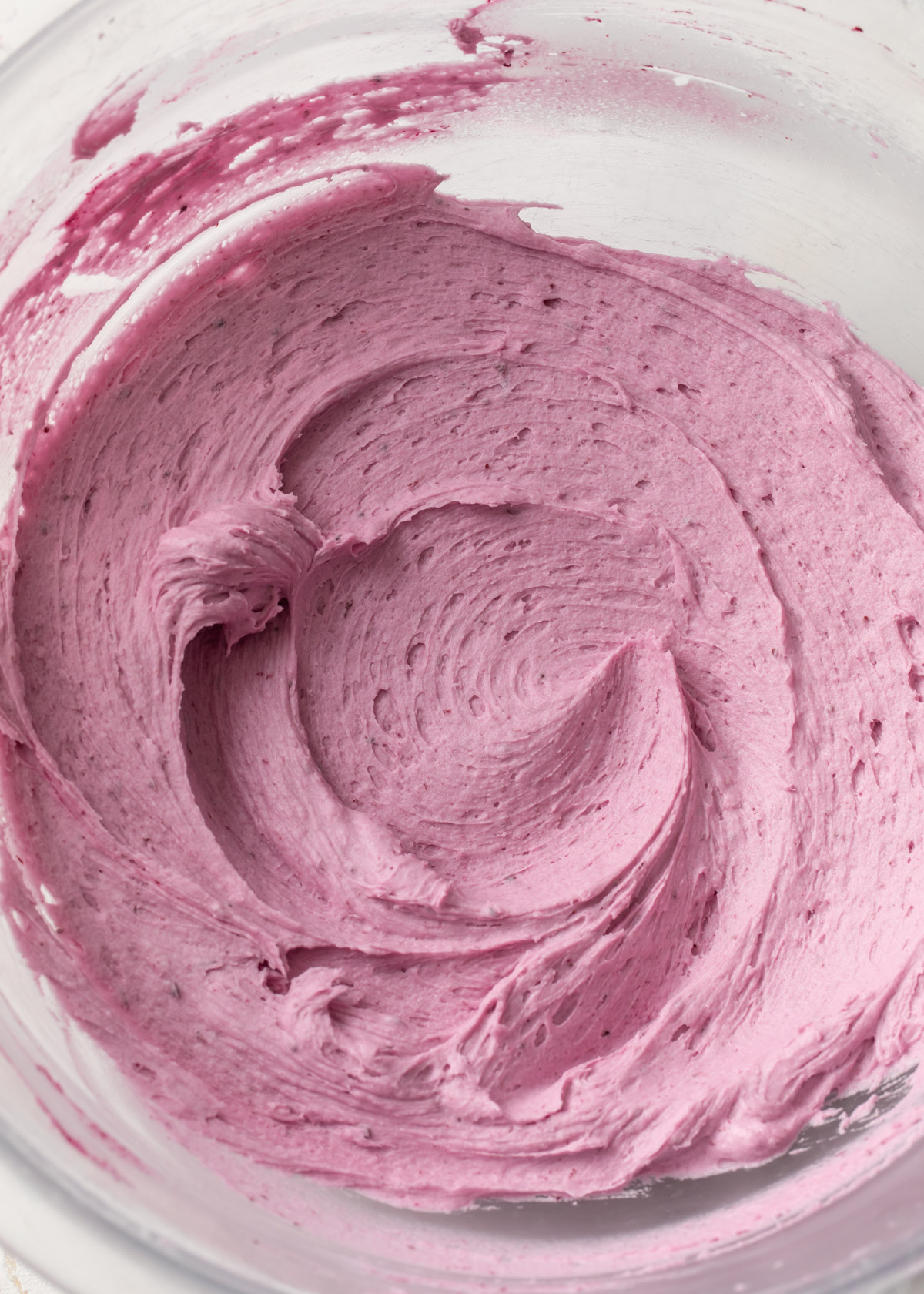 Fluffy Blueberry Buttercream Recipe FAQs
How do you make blueberry buttercream?
Make a whipped buttercream frosting recipe then add cooled blueberry puree, freeze dried blueberries, or blueberry jam.
What is the best way to thicken runny buttercream icing?
Before you start adding too much powdered sugar, try putting soft buttercream in the refrigerator. The butter might have been too warm and chilling in the refrigerator may help it firm up.
Why is my buttercream frosting grainy?
Make sure to sift powdered sugar to remove any lumps before mixing. Allow enough time for the butter and sugar to whip together to help the sugar dissolve into the buttercream frosting.
What to Pair with Blueberry Frosting
Spread blueberry buttercream frosting on all of your favorite treats. It is amazing on lemon cupcakes or swirled on these cinnamon rolls.
Blueberry frosting would pair perfectly with blueberry layer cake or on top of an easy sheet cake.
Tips for Making Blueberry Buttercream
Make the blueberry sauce first so that it has time to cool, about 20 minutes. Adding when hot will make the frosting too soft and melted.
Mix the butter first until smooth then add about half of the powdered sugar to the butter to start. Adding all of the powdered sugar at the start will make it too thick to whip. Add some of the blueberry sauce to mix then adjust the sugar to make it the correct texture.
Recipe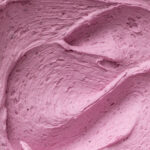 Print Recipe
Fluffy Blueberry Buttercream
Made with fresh or frozen blueberries, this vibrant blueberry buttercream is as tasty as it is beautiful.
Ingredients
1 ½

cups

blueberries

fresh or frozen

1

tablespoon

fresh lemon juice

1

cup

unsalted butter

softened

3 ½

cups

powdered sugar

sifted as needed

1

tea

vanilla extract
Instructions
Put the blueberries in a saucepan along with the lemon juice and 2 tablespoons water. Cook over medium heat until the liquids begin to simmer then reduce to low heat.

Continue to cook the blueberries until they softened and can easily be smashed with a spatula.

Place a mesh sieve over a bowl and pour in the blueberry sauce. Press down on the fruit with a spatula or the back of a spoon to release all of the juices. Discard the seeds and skin. Set aside to completely cool.

When ready, use an electric mixer to mix the butter until smooth. Add 2 cups of powdered sugar. mix on low speed until combined then mix on medium until creamy.

Add about 4 tablespoons blueberry sauce and the vanilla. Mix to combine.

Add another 1 ½ cups powdered sugar and mix to combine. Whip on medium speed until smooth and flluffy.
Notes
If the frosting is too soft, the first thing you should do is place the  frosting in the refrigerator for 10 to 20 minutes to firm it up. Adding more powdered sugar should not be your first option or the frosting might get too sweet. You can also try whipping in more softened butter than chilling to firm.
If you must, add a ¼ cup more powdered sugar at a time and stir to thicken.