This cupcake recipe is about to blow your mind! It produces the fluffiest cupcakes with jam filling and tangy, pink raspberry buttercream. Moist, tart, and sweet - these Raspberry Cupcakes are my new favorite treat.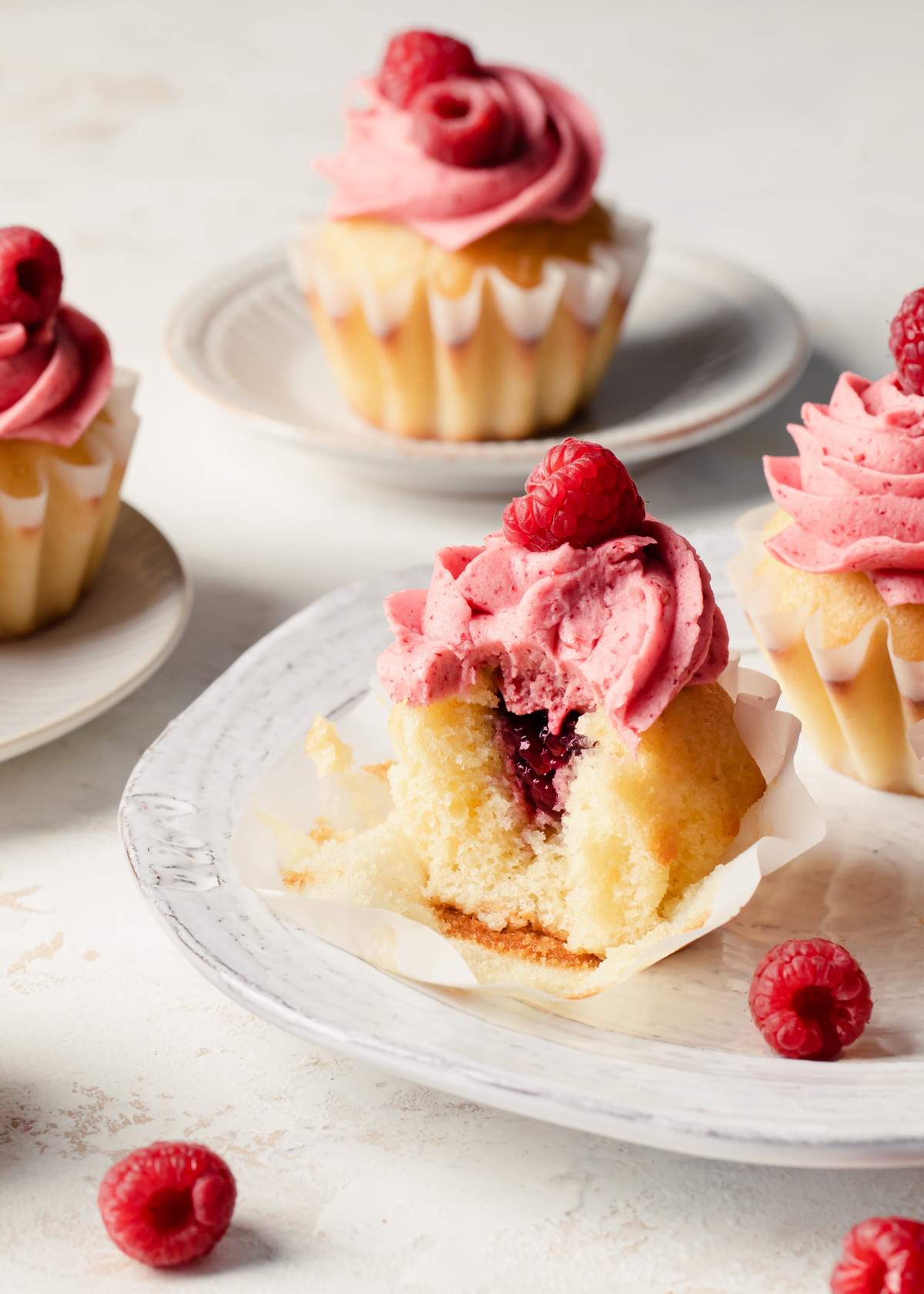 Jump to:
These cupcakes are greater than the sum of thier parts. The vanilla cake is springy and super easy to make. The creamy raspberry buttercream is packed with raspberry flavor.
Combine the moist cupcakes together with jam and WOW! I eat a lot of cake/cupcakes, and these raspberry filled cupcakes exceeded my expectations.
I don't often ask bakers to purchase specialty ingredients, but the frosting gets its punch and color from freeze dried raspberries. Trust me - it's worth it for the mouth-puckering, real raspberry flavor of the buttercream.
I was inspired by my one-bowl vanilla cake recipe in the hope that they would be equally fluffy and delicoius. It such an easy recipe that always produces a moist and springy cake, no matter its form. Baked as these raspberry cupcakes, the texture is just as tender and delicious. I added a small splash of almond extract, but pure vanilla would be equally tasty.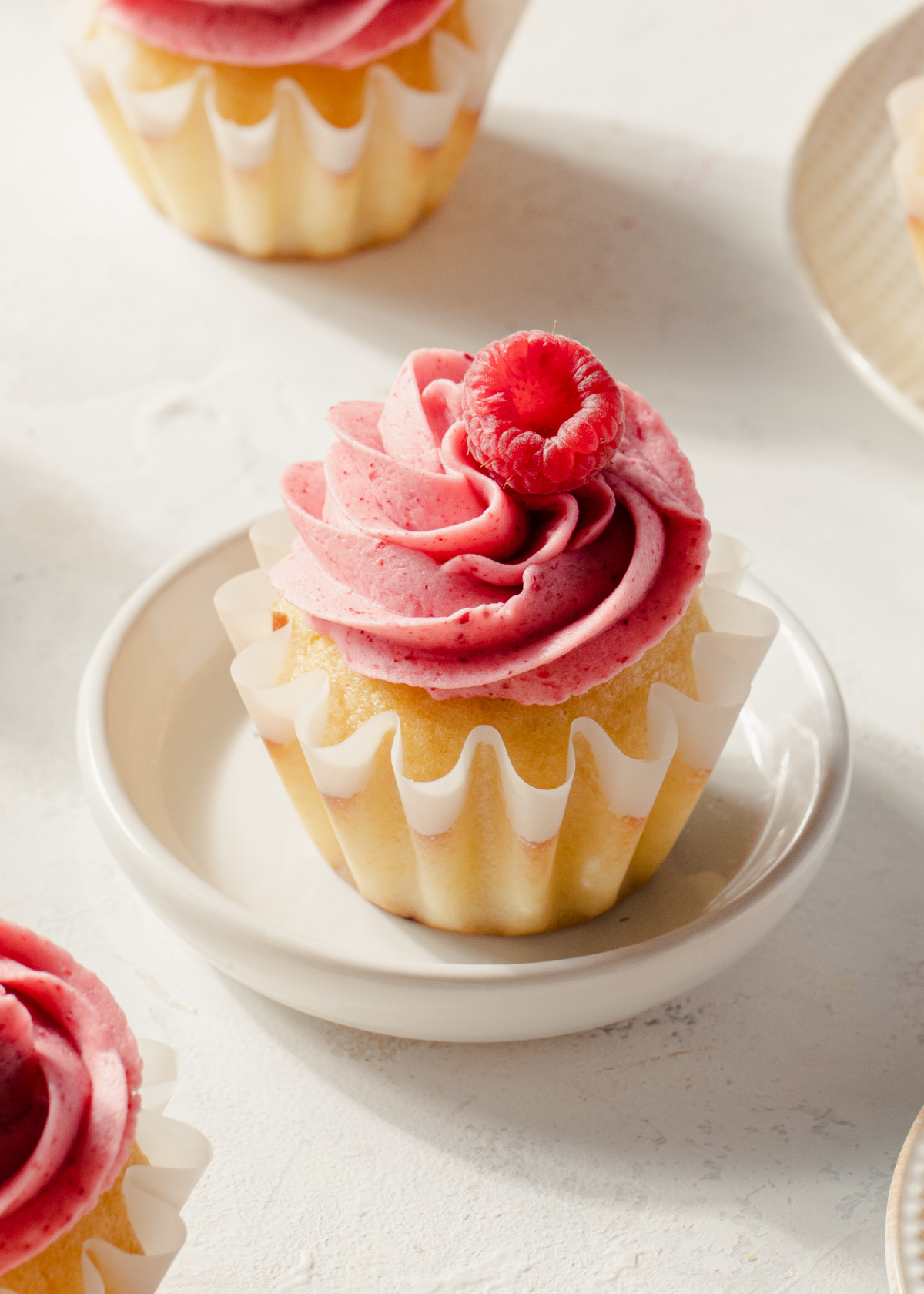 Ingredients to Make Moist Raspberry Cupcakes
Pantry
All-purpose flour, baking powder, baking soda, kosher salt, granulated sugar, powdered icing sugar, pure vanilla extract, almond extract (optional)
Fridge and Dairy
Whole milk, unsalted butter, large eggs
Extras
Raspberry jam - pick your favorite! Pick any jam that you like since the flavor will come through.
Freeze-dried raspberries - I like to keep specialty items to a minimum, but the tart frosting pretty depends on the use of ground freeze-dried raspberries for a huge punch of flavor.
Heavy whipping cream - look for a cream with 32% to 36% milk fat that will help aerate and fluff up the buttercream.
Avocado oil - both butter and oil are responsible for the cupcakes' ultimate fluffy and moist texture. Avocado oil is the best but any neutral oil, like canola or vegetable, will do.
Fresh raspberries - for decorating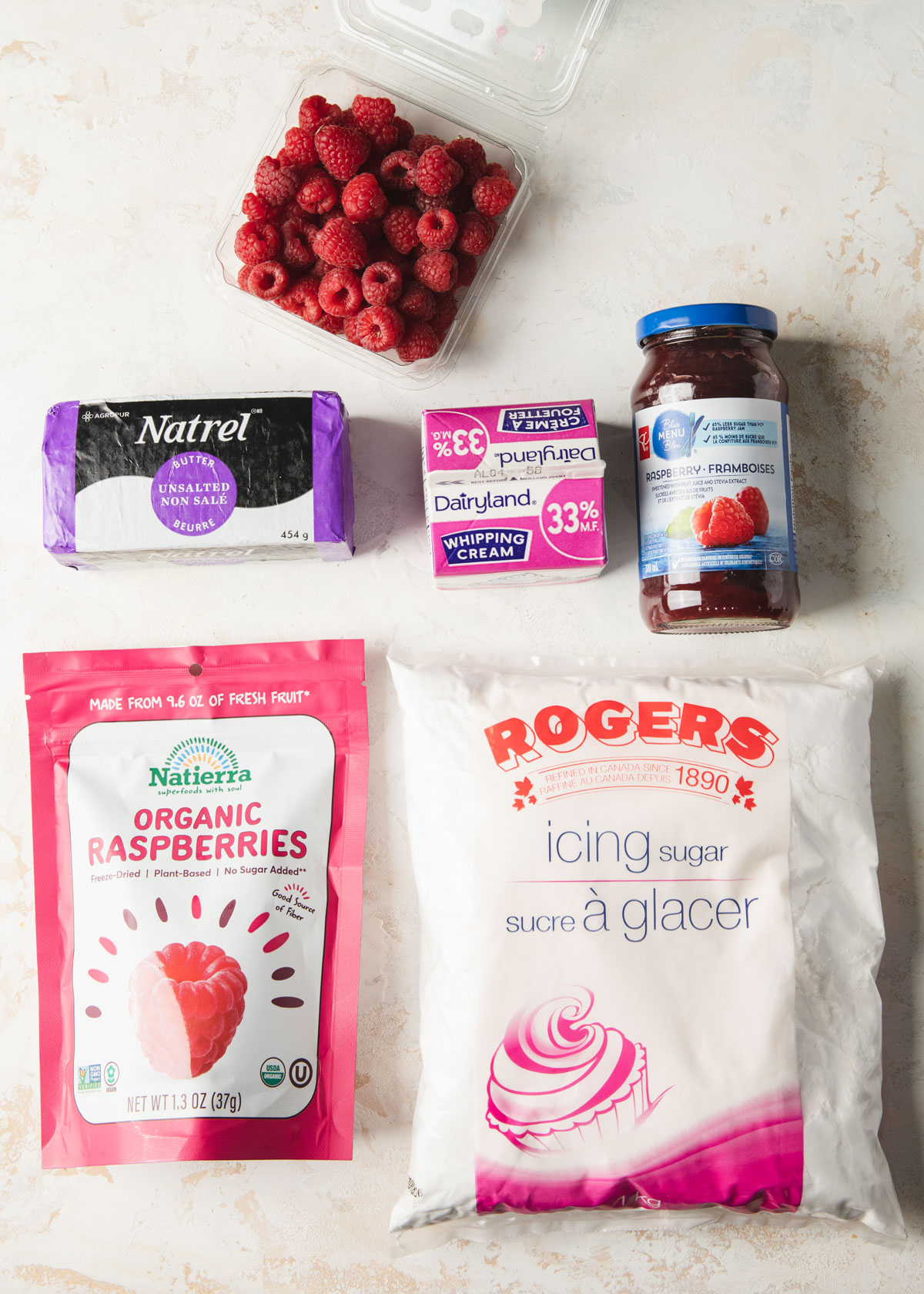 Tools and Equipment
These one-bowl cupcakes come together undeniably quick. You need an electric mixer for the frosting, but the cake batter stirs together by hand.
Mixing bowl
Whisk
Rubber spatula
Spring-loaded cookie scoop
Muffin tin
Cupcakes liners
Electric mixer
Small food processor or rolling pin
Mesh sieve
Piping bag and tips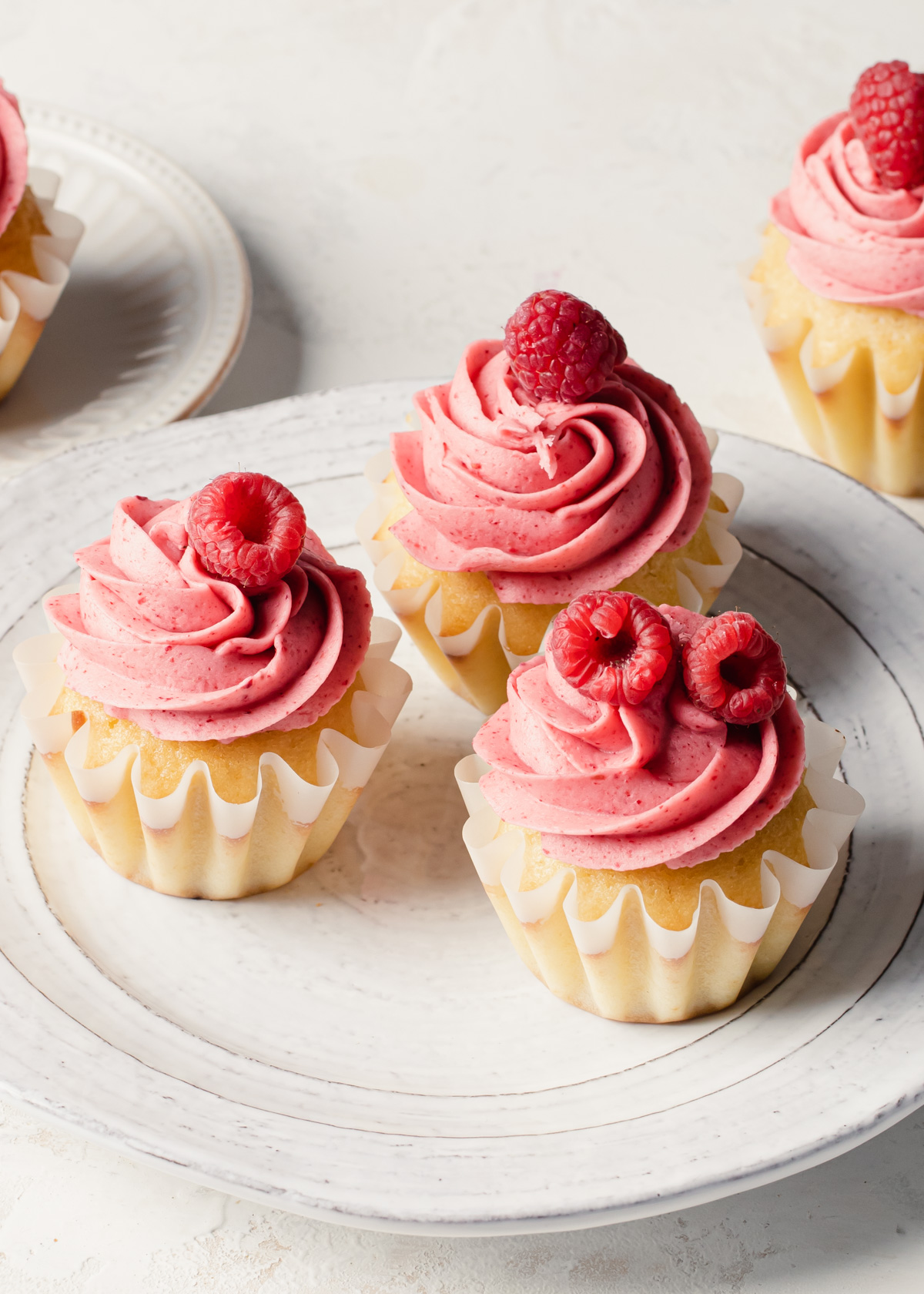 Substitutions
This recipe uses mostly straightforward baking ingredients. Additionally, you may make it gluten-free with one-to-one gluten free flour. Try a non-dairy version using plant-based milk and butter.
Freeze-dried Raspberries - If you can't source freeze dried raspberries, you can add a couple tablespoons of raspberry jam to the buttercream for a similar flavor. They will still be a tasty treat regardless.
Variations
These one-bowl vanilla cupcakes use a staple recipe that can be used for all different flavors of cupcakes. Try one of these!
Strawberry Cupcakes - use strawberry jam and swap in freeze-dried strawberries for the raspberries.
Cranberry Cupcakes - use the curd and frosting recipes from these Cranberry Cupcakes
Chocolate Raspberry - swap the vanilla cake base for Chocolate Cupcakes.
Raspberry Sheet Cake - bake the batter as a sheet cake and top with raspberry buttercream
Steps for Making Raspberry Filled Cupcakes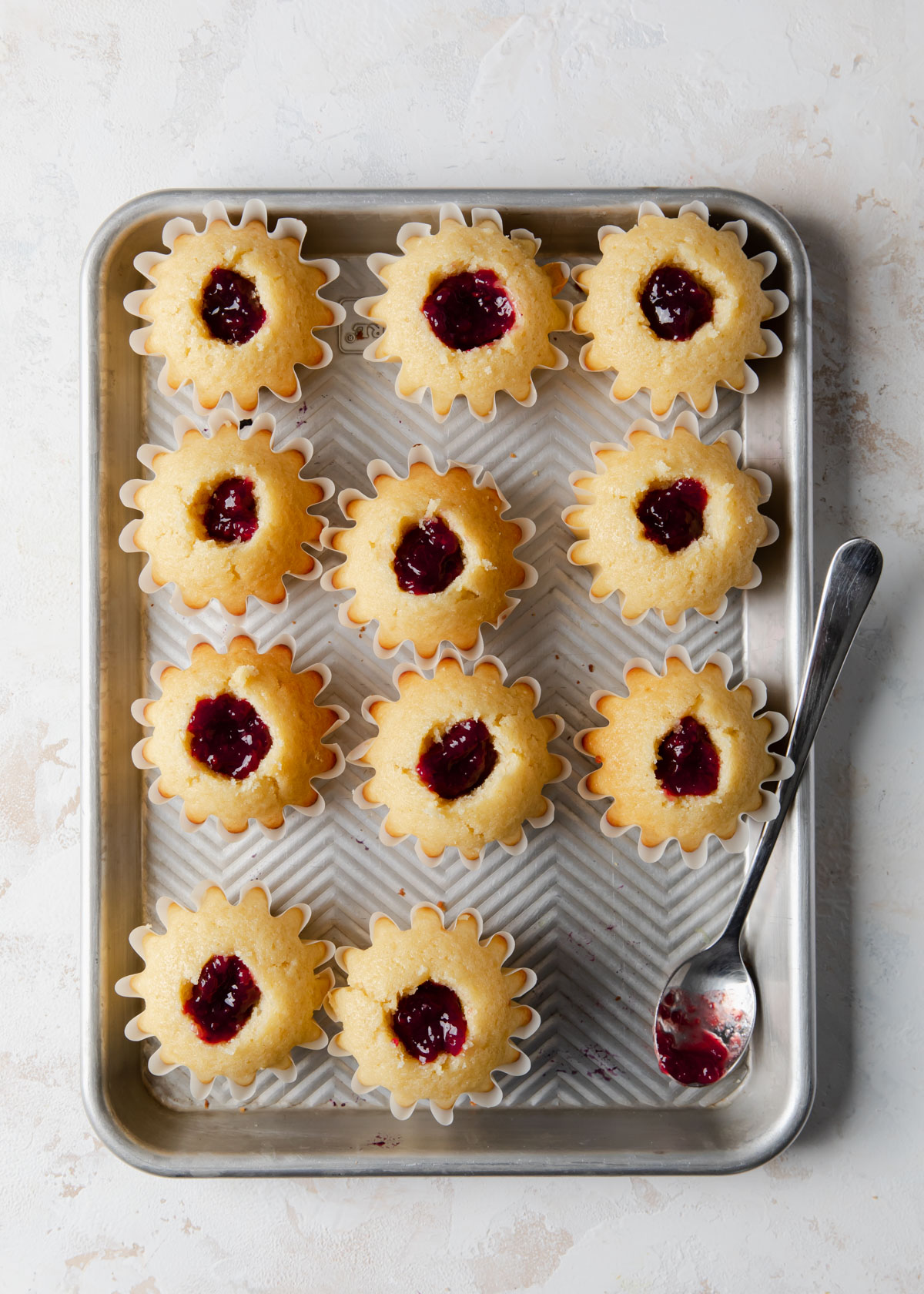 First, stir together the batter - make the easy, one-bowl cake batter
Bake the cupcakes - baking at a higher temp allows them to rise even higher
Meanwhile, crush the raspberries - use a small food processor or rolling pin to crush the freeze-dried raspberries
Make the buttercream frosting - whip it up with an electric mixer (hand or stand) and add the freeze dried raspberry powder
Fill the cupcakes - use an apple corer, inverted piping tip, or small knife to remove the centers of the cupcakes then spoon in raspberry jam
Finally, frost the cupcakes! - Swirl it up and top with fresh raspberries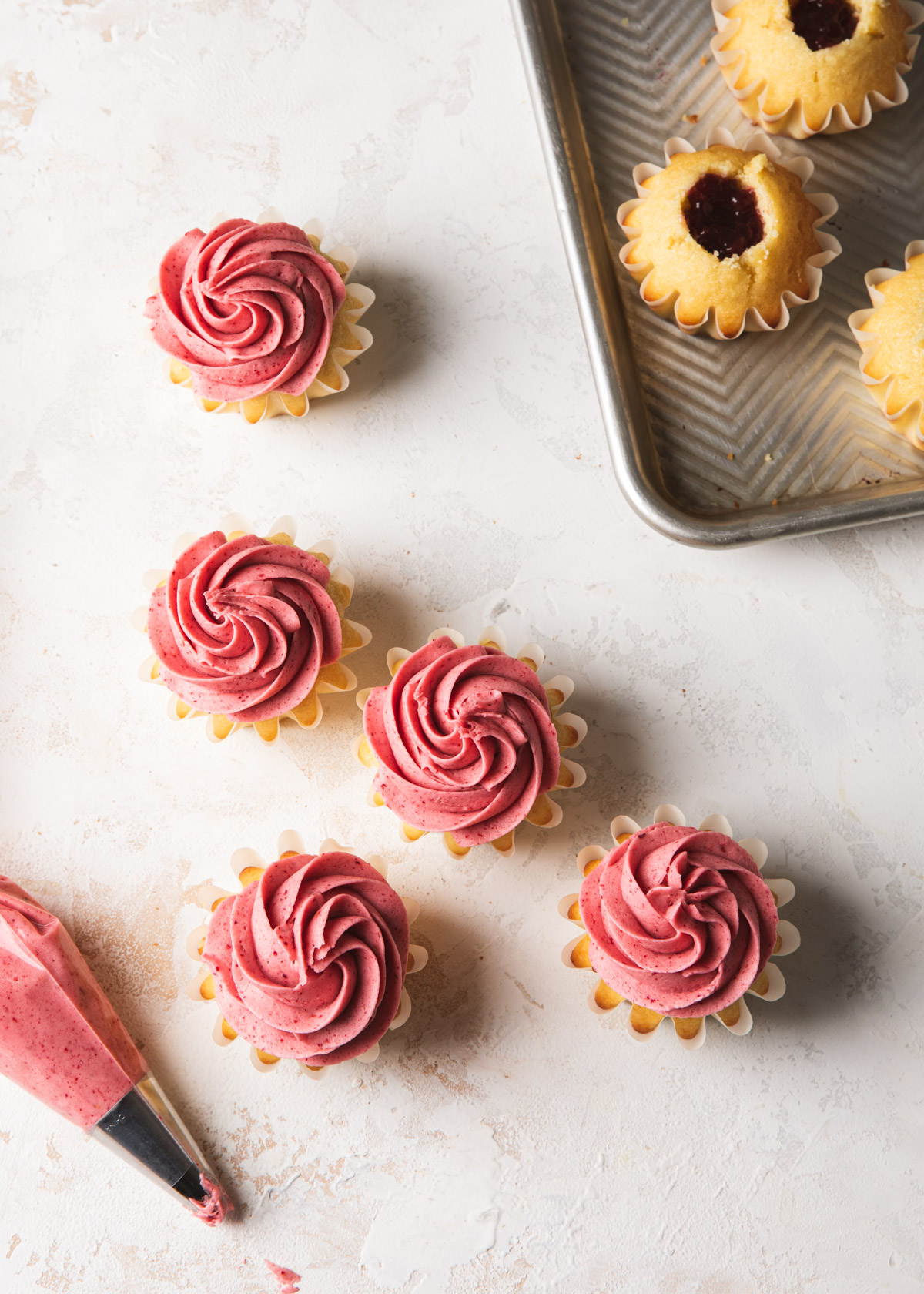 Storage
Store the cupcakes at room temperature for up to 2 days. Cover in a cake box or in an air-tight container.
In order to extend their freshness, transfer leftovers in an air-tight container to the refrigerator for up to 3 days.
Unfrosted cupcakes may be wrapped in bundles of 4 or 6 and stored in the freezer for up to one month.
Likewise, wrap leftover buttercream in plastic and store in the freezer for up to 3 months. Be sure to thaw and rewhip the frosting before using.
How to Pipe a Perfect Cupcake Swirl
These raspberry cupcakes are piped with a medium star 1M piping tip. This piping tip creates a perfect rosette.
To start, fit the piping tip into the end of a piping bag. Fill the piping bag only half full with buttercream.
Next, position the piping bag so that it is straight down over the top of the cupcakes. Apply even pressure to the piping bag and pipe a spiral - starting from the outside. Continue with a second loop around, this time coming towards the center.
Finally, release all pressure from the piping bag then lift the tip up and away from the cupcake.
Top Tip
Bake these raspberry filled cupcakes at 375°F for a little extra lift. A taller cupcake is ideal for filling with jam.
Raspberry Cupcakes FAQs
Can I bake these cupcakes in other pans?
Yes! You can use the same recipe baked as three 6-inch cake layers or two 9-inch cake layers. Try the recipe as a sheet cake.
Do I need to use freeze-dried raspberries?
You don't absolutely hate to, but they are recommended for maximum raspberry flavor. Alternatively, you can stir a couple tablespoons of raspberry jam into the buttercream.
Can you freeze cupcakes?
Cupcakes are best frozen without frosting. Wrap bundles of 4 to 6 cupcakes together in plastic wrap and freeze for 1 to 3 months. Additionally, placing them wrapped and then in a zip-top bag will prolong their freeze time.
More Cupcake Recipes to Try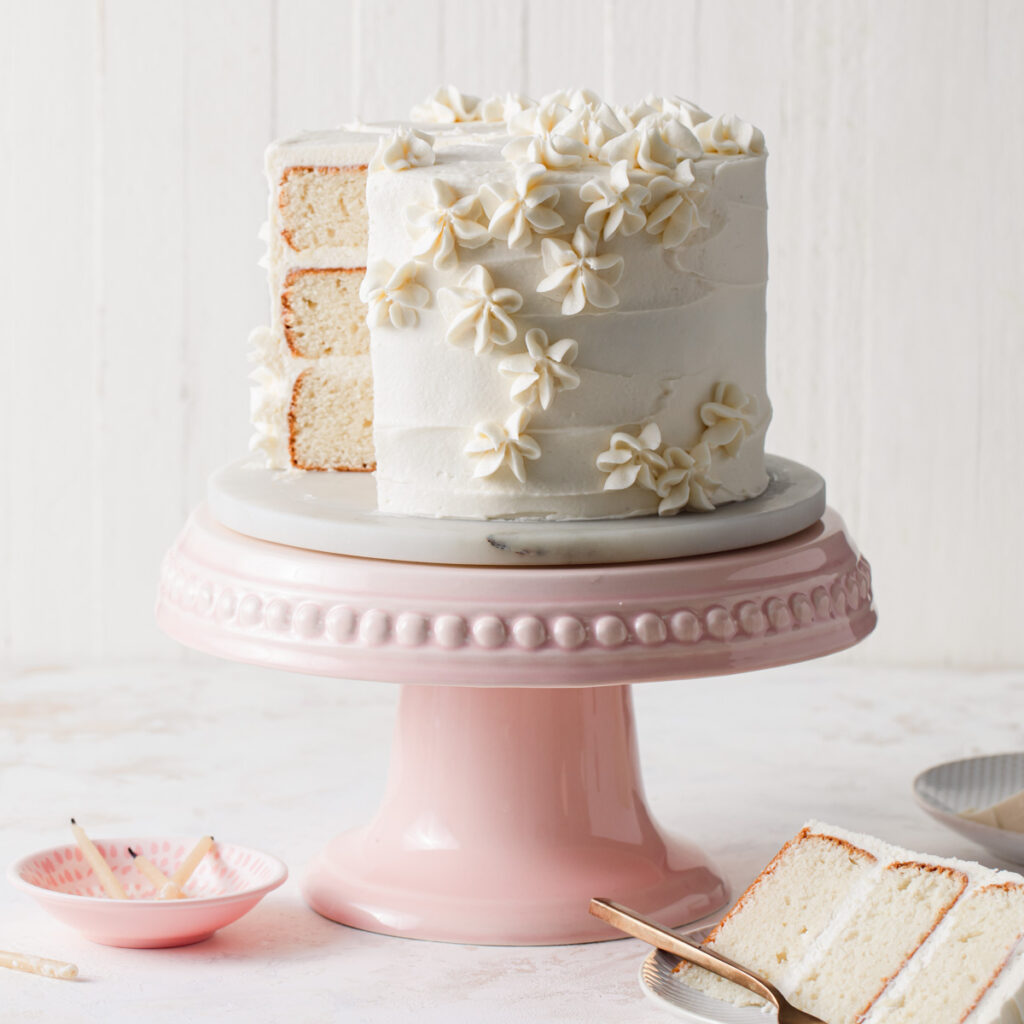 Join the Style Sweet Bake Club!
Get exclusive recipes and articles sent straight to your inbox. Become a subscriber today! Click to join.
Recipe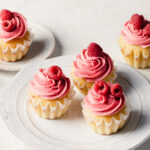 Print Recipe
Raspberry Cupcakes
The raspberry cupcakes are super fluffy, filled with raspberry jam, and topped with sweet and tangy raspberry buttercream
Ingredients
For the Cupcakes
1 ½

cup

all-purpose flour

1

cup

granulated sugar

1 ½

tea

baking powder

½

tea

kosher salt

¾

cup

whole milk

2

large eggs

1 ½

tea

vanilla extract

¼

tea

almond extract (optional)

¼

cup

unsalted butter

melted and cooled

¼

cup

avocado or canola oil
For the Raspberry Buttercream
¾

cup

freeze-dried raspberries

¾

cup

unsalted butter

softened

3

cups

powdered sugar

2

tablespoon

heavy cream

½

tea

vanilla extract

raspberry jam

for filling

fresh raspberries

for topping
Instructions
Make the Cupcakes
Preheat the oven to 375°F. Line a muffin tin with cupcake liners and set aside.

In a large mixing bowl, whisk together the flour, sugar, baking powder, and salt. Add the milk, eggs, vanilla extract, and almond (if using) then whisk until combined. 

Add the melted butter and oil. Whisk the batter until the fats begin to emulsify into the batter, then switch to a large rubber spatula or wooden spoon. Continue to stir until smooth. It is okay if a few lumps remain.

Using a spring-loaded cookie scoop (if possible), fill the cupcake liners about ¾ of the way full.

Bake in the preheated oven for 20 to 22 minutes, or until a toothpick inserted into the center comes out clean. Cool cupcakes on a wire rack before frosting.
Make the Raspberry Buttercream
Using a small food processor, grind the freeze-dried raspberries into a powder. Alternatively, crush them in a zip-top bag with a rolling pin until fine. Use a mesh sieve to sift out the seeds. It's okay if a few seeds remain. Set aside.

Using a stand (or hand) mixer fitted with the paddle attachment, beat butter on medium-low speed until smooth and creamy, 1 minute.

Turn the mixer off and add the powdered sugar, raspberry powder, cream, and vanilla. Begin mixing on low speed until the ingredients come together - scraping the bowl occasionally.

Turn up the speed and mix at medium-high speed for 3, until the buttercream is light and smooth. If needed, add additional cream until desired consistency is achieved. The buttercream should spread smoothly without tearing the crumb of the cake but thick enough that it holds shape when piped and spread between the layers.
To Assemble
Once the cupcakes are completely cool, use a paring knife, an inverted piping tip, or apple corer to cut out some of the centers of the cupakes.

Fill the centers of each cupcake with a couple teaspoons of raspberry jam.

Place the raspberry buttercream in a piping bag fitted with a 1M star tip. Pipe swirls of buttercream on top of the cakes. Add fresh raspberries, if desired.