If you think you already love snickerdoodle cookies then you are going to freak out over these Brown Butter Snickerdoodles. They are full of the same nostalgia but packed with flavorful brown sugar and butterscotch flavors.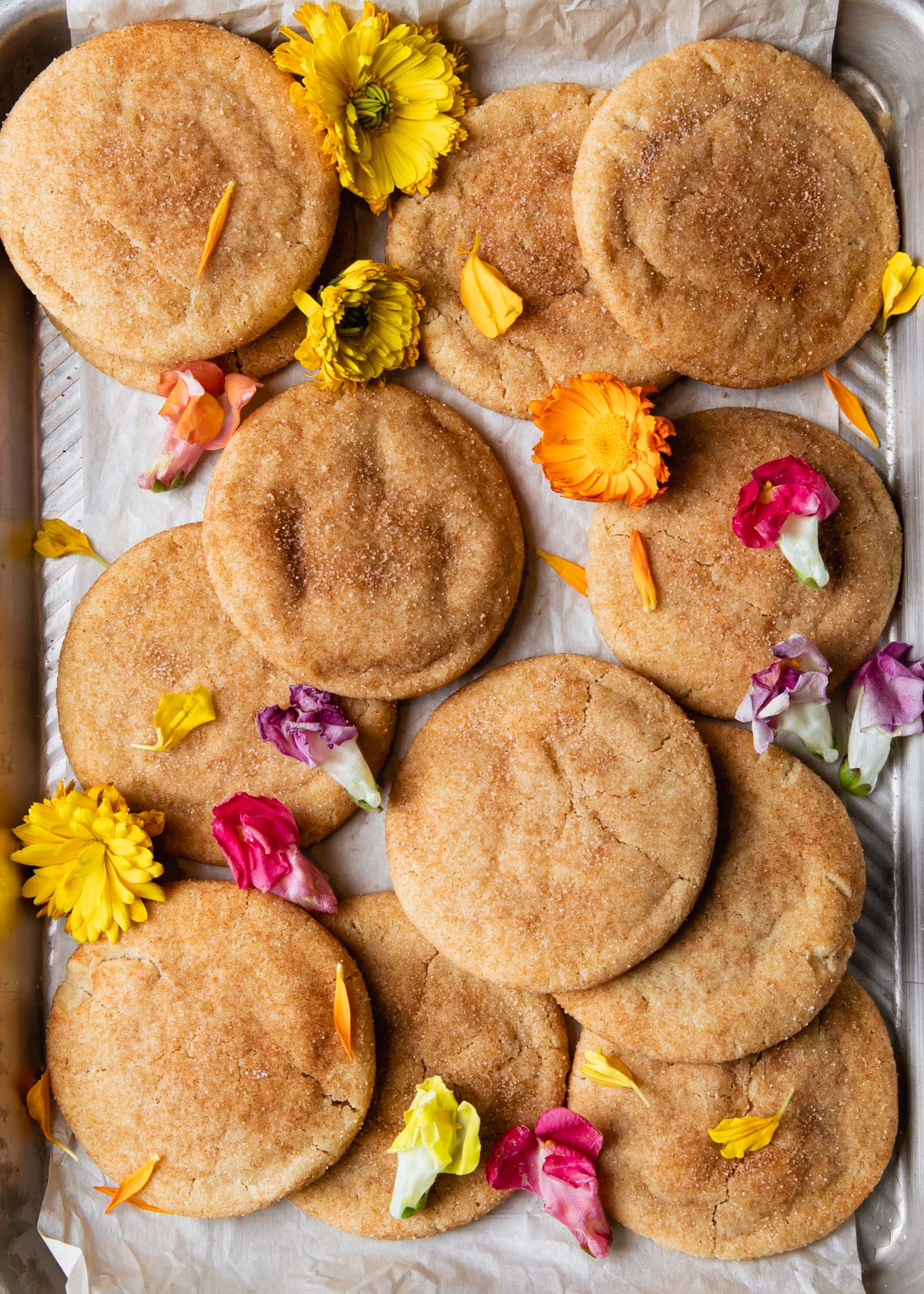 Brown Butter Snickerdoodles are a perfect year-round treat. The cinnamon-sugar coating tilts towards fall and holiday baking, but I promise you will enjoy these any time of year.
What makes these snickerdoodle cookies worth trying is their incredible texture and flavor. Substituting some the granulated sugar for brown sugar gives them an incredible chewy center and adds loads of flavor.
But of course it's the browned butter that really brings these cookies together. Melting the butter then toasting the milk solids gives the cookies a more developed, butterscotch-like flavor.
Jump to: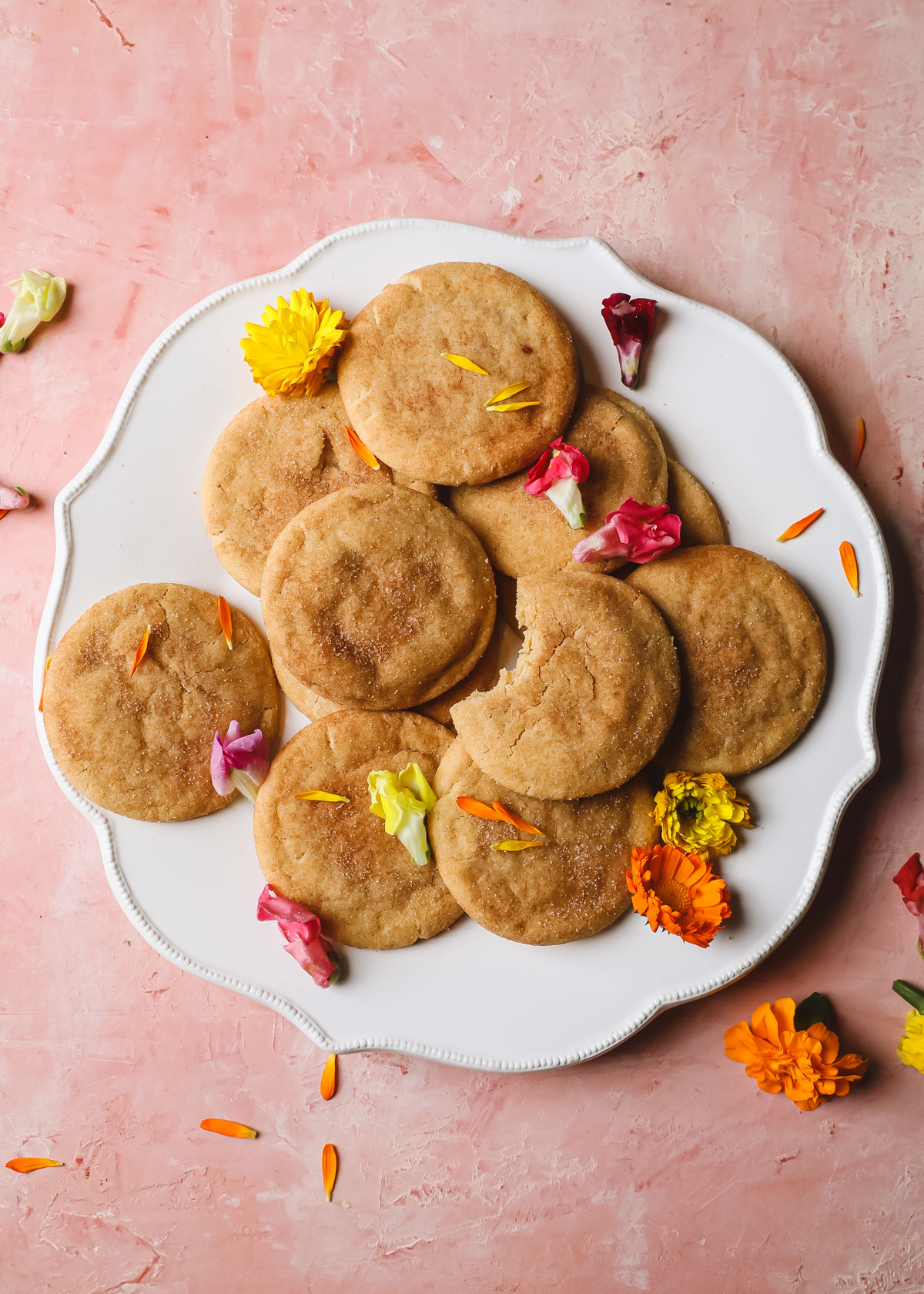 I was inspired by my pecan snickerdoodles to make these nut-free, all-season cookies. Brown butter is one of my favorite ways to boost flavor like in my brown butter cupcakes and brown butter frosting - these are no exception.
Ingredients
Unsalted butter
All-purpose flour
Baking powder
Baking soda
Kosher salt
Granulated sugar
Brown sugar
Large eggs
Vanilla extract
Ground cinnamon
See recipe card for quantities.
Tools and Equipment
These are the primary tools you will need to bake these cookies:
Saucepan
Hand or stand mixer
Cookie sheets or rimmed baking pans
Mechanical cookie or ice cream scooper
Parchment paper
General kitchen tools (measuring spoons, cups, etc).
Instructions for Baking Brown Butter Snickerdoodles
These snickerdoodle cookies are very straight-forward. There is no need to chill the dough before baking.
Browning the butter is an additional step, but it is totally worth it. The brown butter is transferred to a bowl where the remaining cold butter is added. They are stirred together and left at room temperature until cool and creamy.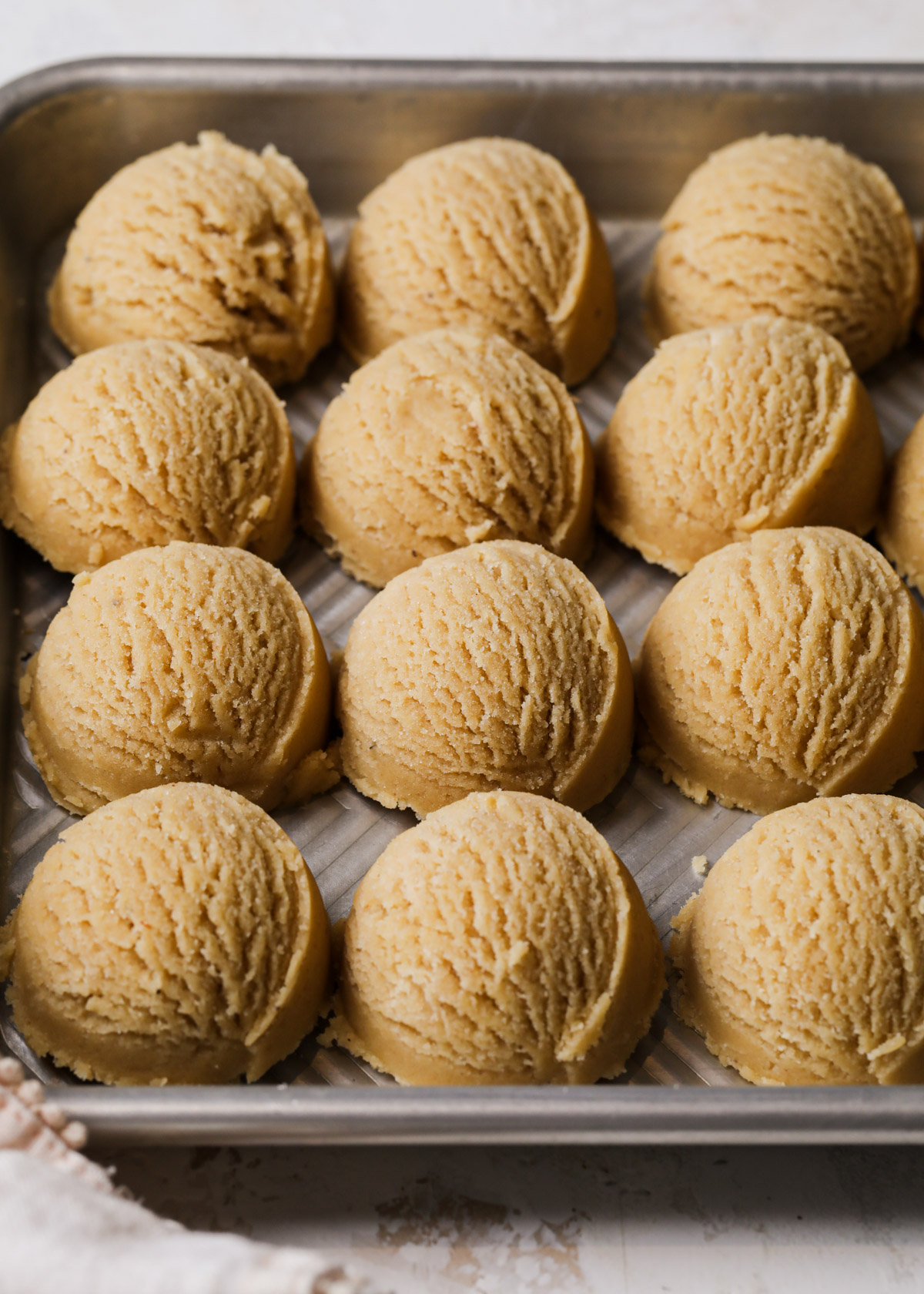 Use a spring-loaded cookie scoop for uniform cookie dough balls.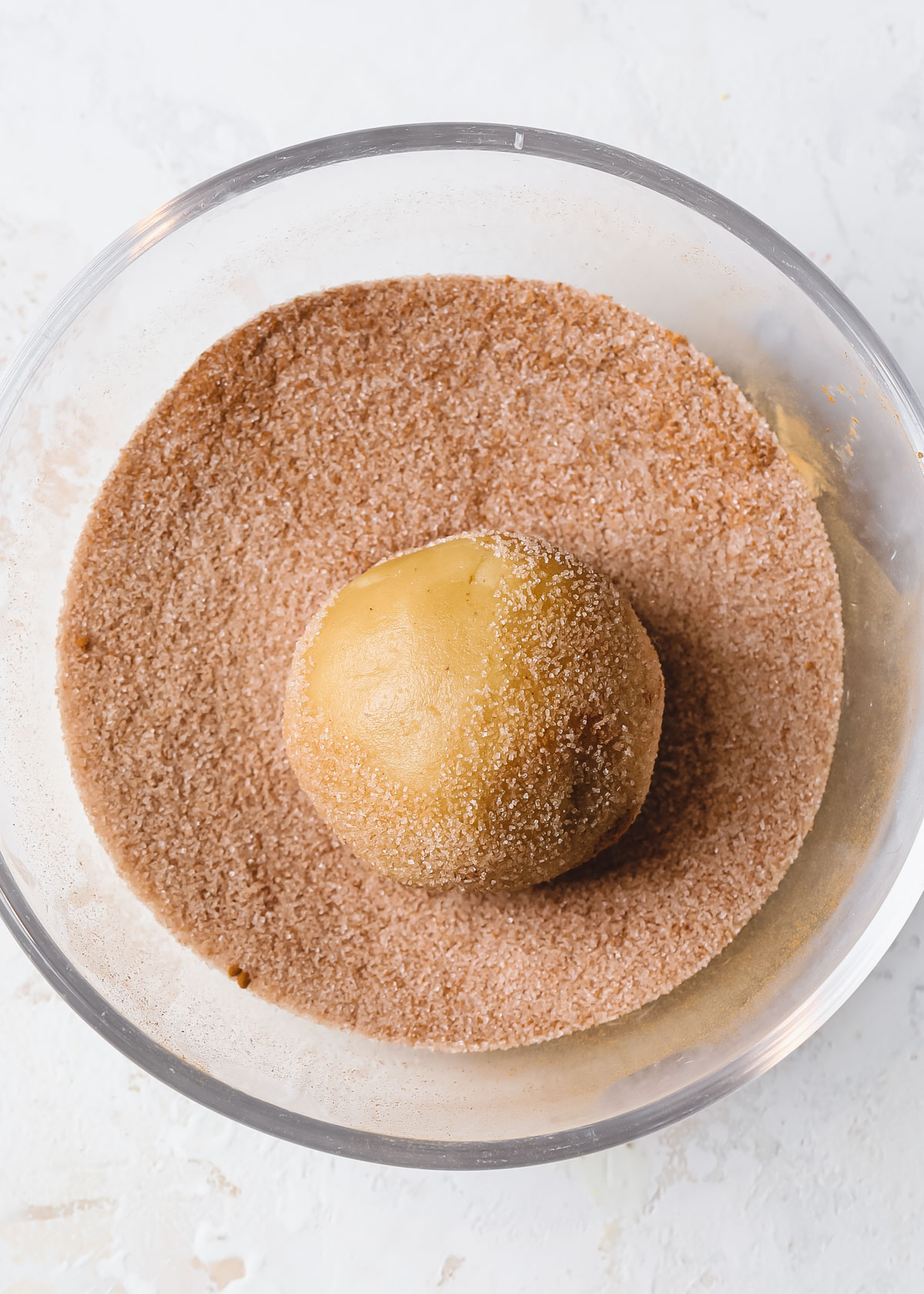 Roll the scoops of the cookie dough into a smooth ball.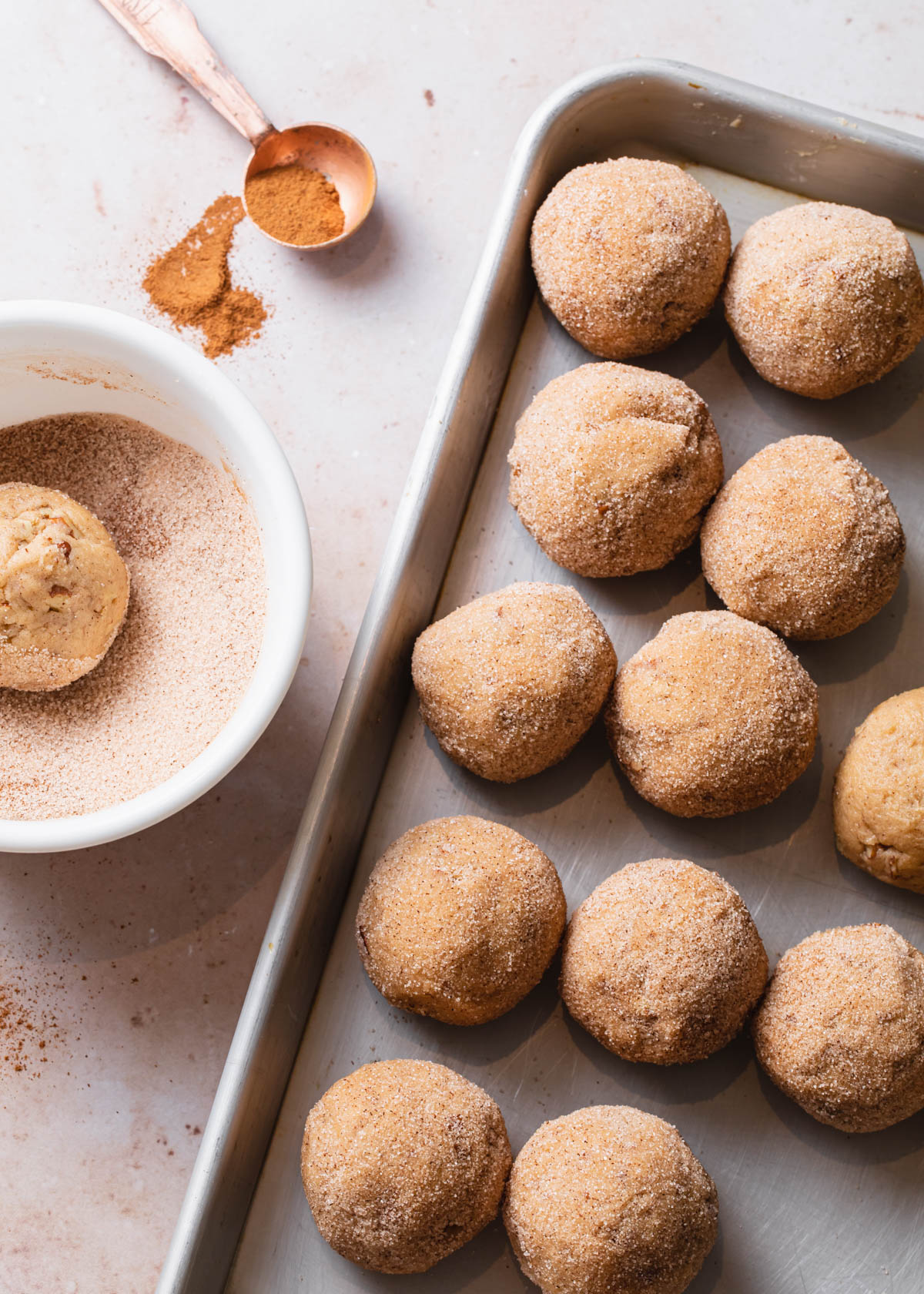 Toss the portioned and rolled dough balls in cinnamon and sugar.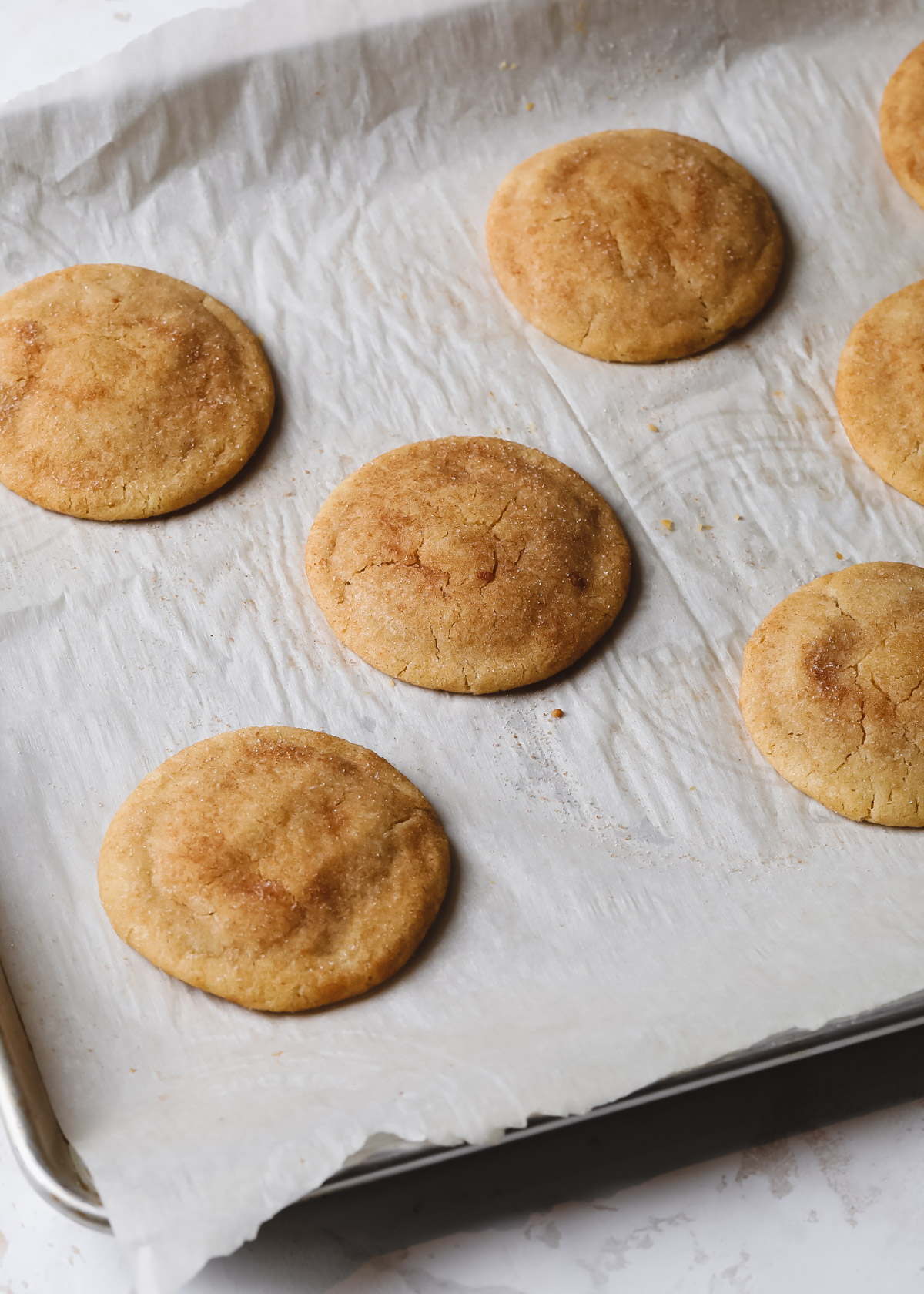 Give the baked cookies a quick smack on the counter after baking to gently deflate.
Hint: the dough is pretty stiff; pat down dough balls before baking for the perfect chewy texture.
Variations
There are not many ingredients in these brown butter snickerdoodles that can be changed without altering their flavor or texture. Looking for something similar? Try these:
Snickerdoodle Bars with cinnamon frosting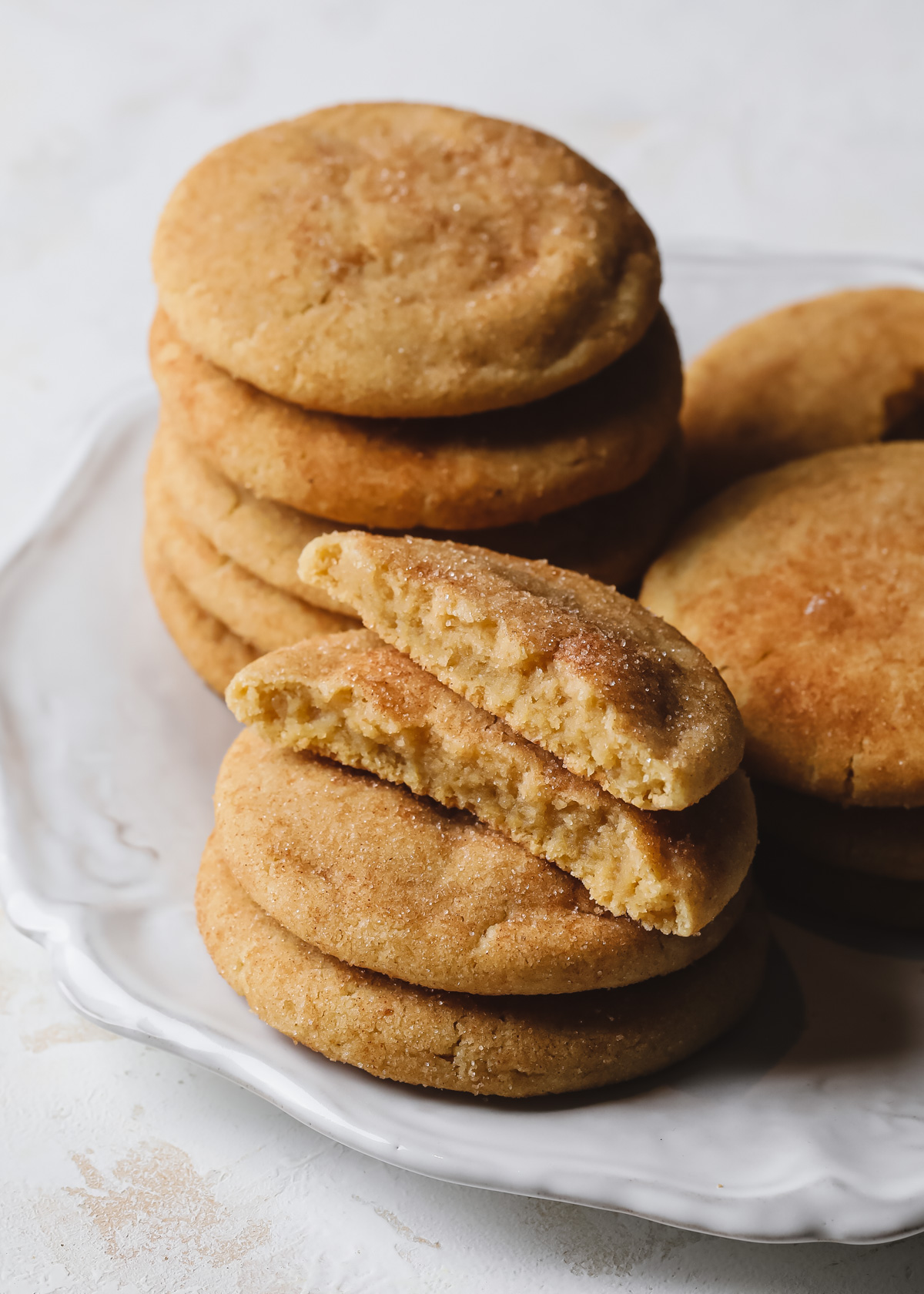 Storage
Store baked and cooled cookies at room temperature in an air-tight container or zip-top bag. The cookies are best eaten within 4 days.
You may freeze scooped cookie dough. Bake from frozen, adding an extra minute or two of bake time.
Baked and cooled cookies can be stored in the freezer in an air-tight container or zip-top bag for up to 3 months.
What is Brown Butter?
Brown butter is regular butter that has been melted and cooked until golden. As it cooks, the milk solids separate and toast to take on a warm, nutty flavor.
Steps for Browning Butter
Before making the cookie dough, start by browning unsalted butter. This extra step toasts the milk solids and adds extra flavor to the snickerdoodles. When done, the butter should be golden and smell nutty and fragrant.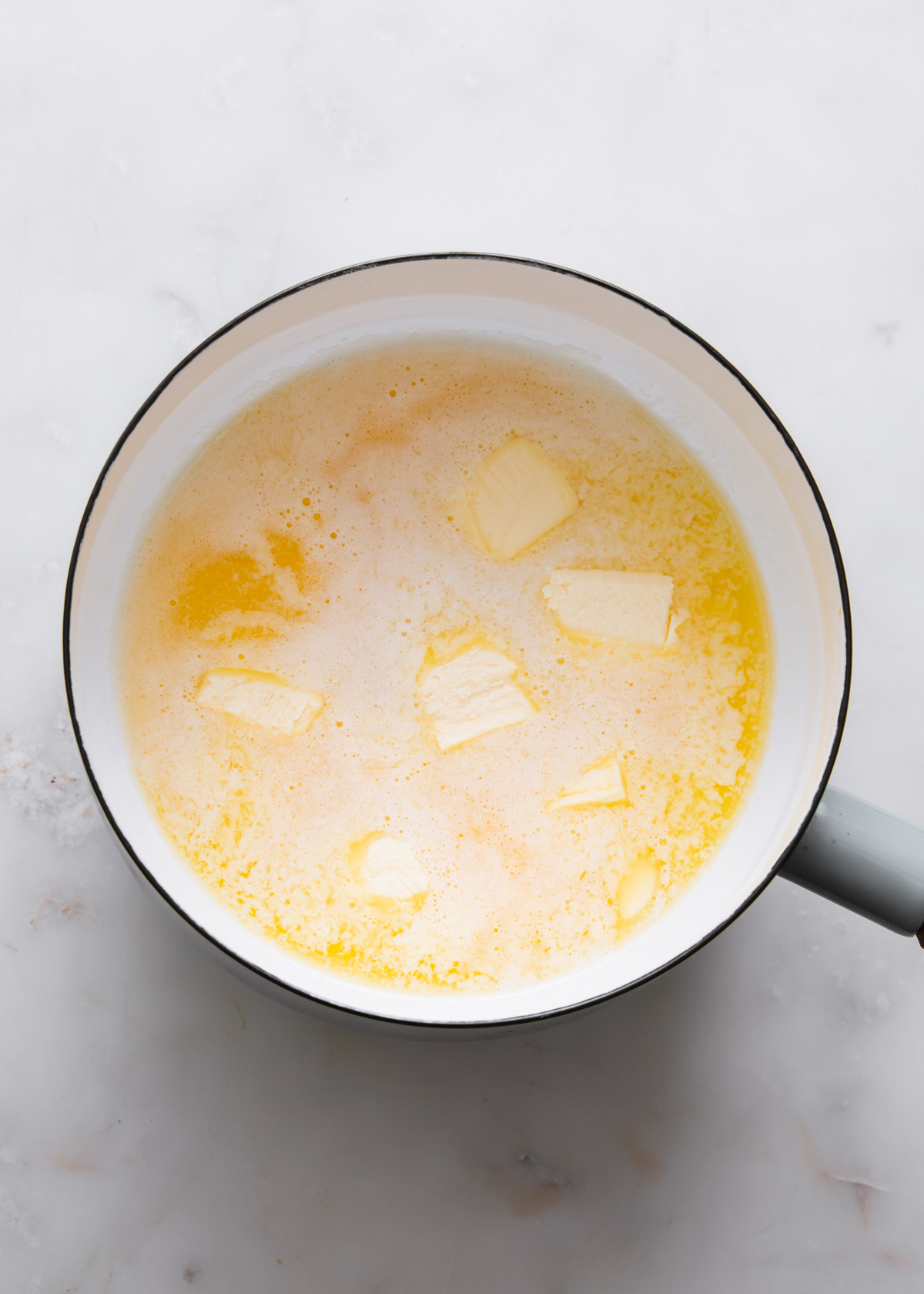 Completely melt the butter over medium heat. Continue to cook until golden brown.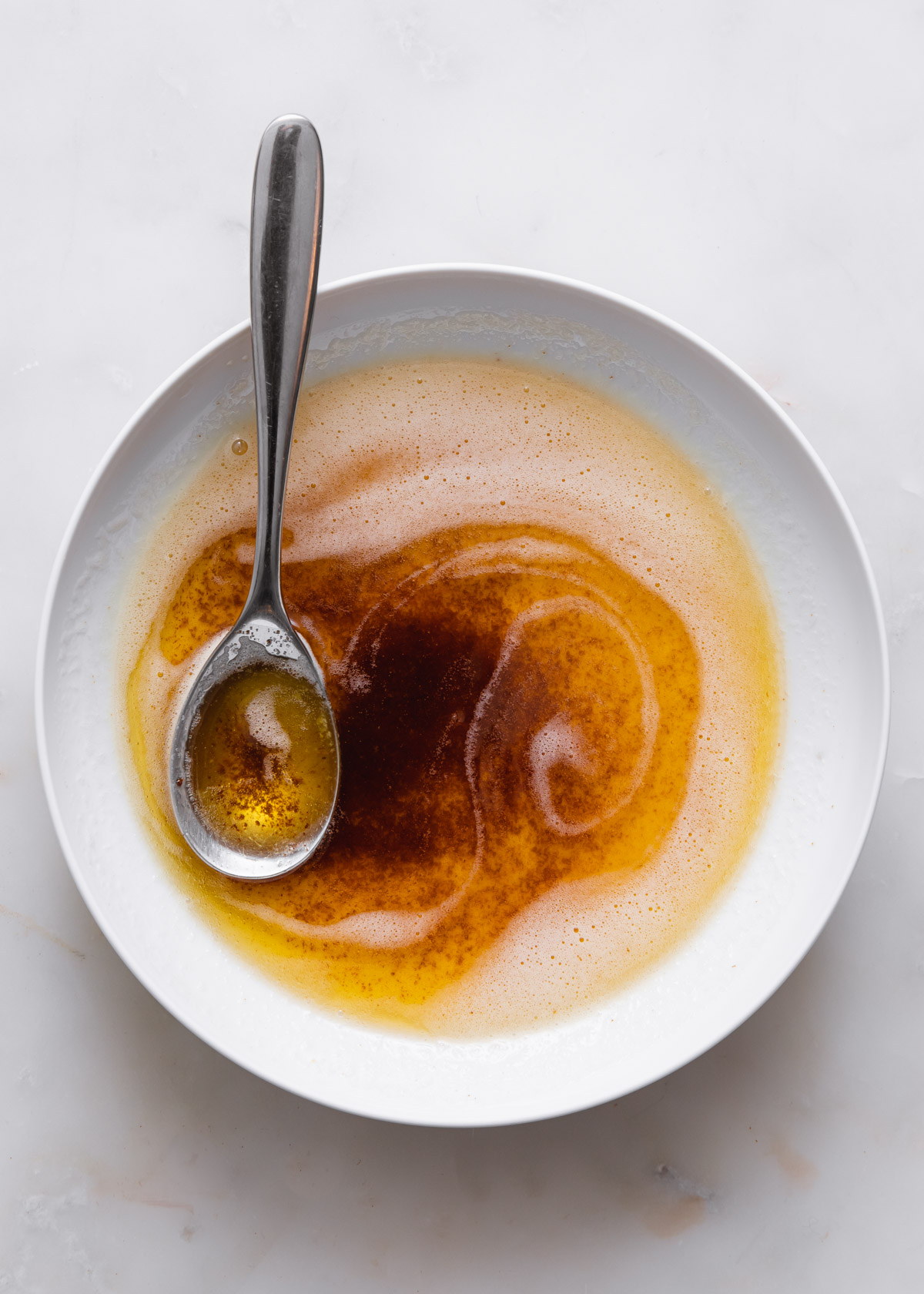 When done, the brown butter will smell nutty and be beautifully golden with toasted bits of milk fat.
Top Tips
Browning the butter takes 5 to 8 minutes. Do not boil too vigorously or too much of the water content will evaporate off.
Stir the melting butter occasionally to keep things from burning. When done, pour into a clean bowl with the remaining butter, including the brown bits. Do not scrape any of the milk solids off from the bottom of the pan.
Adding cold butter to the warm brown butter helps bring its temperature down quickly. Stir together until the whole lot if soft and cool.
What About the Cream of Tartar?
Most snickerdoodle cookie recipes use cream of tartar. I personally do not like the tangy after taste, nor do the other members in my household.
The baking soda needs acidity to complete the chemical reaction. So instead of cream of tartar, the recipe includes brown sugar.
Are they true snickerdoodles if they don't use cream of tartar? Give them a taste and let me know!
Brown Butter Snickerdoodle FAQs
What is Brown Butter?
Brown butter is regular butter that has been melted and cooked until golden. As it cooks, the milk solids separate and toast to take on a warm, nutty flavor.
Can I bake snickerdoodles with regular butter?
Yes, you sure can, but they won't taste the same. Use a total of 1 cup softened butter.
Can I freeze snickerdoodles?
You may freeze scooped cookie dough. Bake from frozen, adding an extra minute or two of bake time.
Can snickerdoodle dough be refrigerated?
Yes! You can refrigerate the dough (scooped or in a bowl) for up to about 2 days. Take the dough out of the refrigerator while the oven preheats. Gently flatten the balls of dough before baking.
Related
Looking for other recipes like these brown butter snickerdoodles? Try these: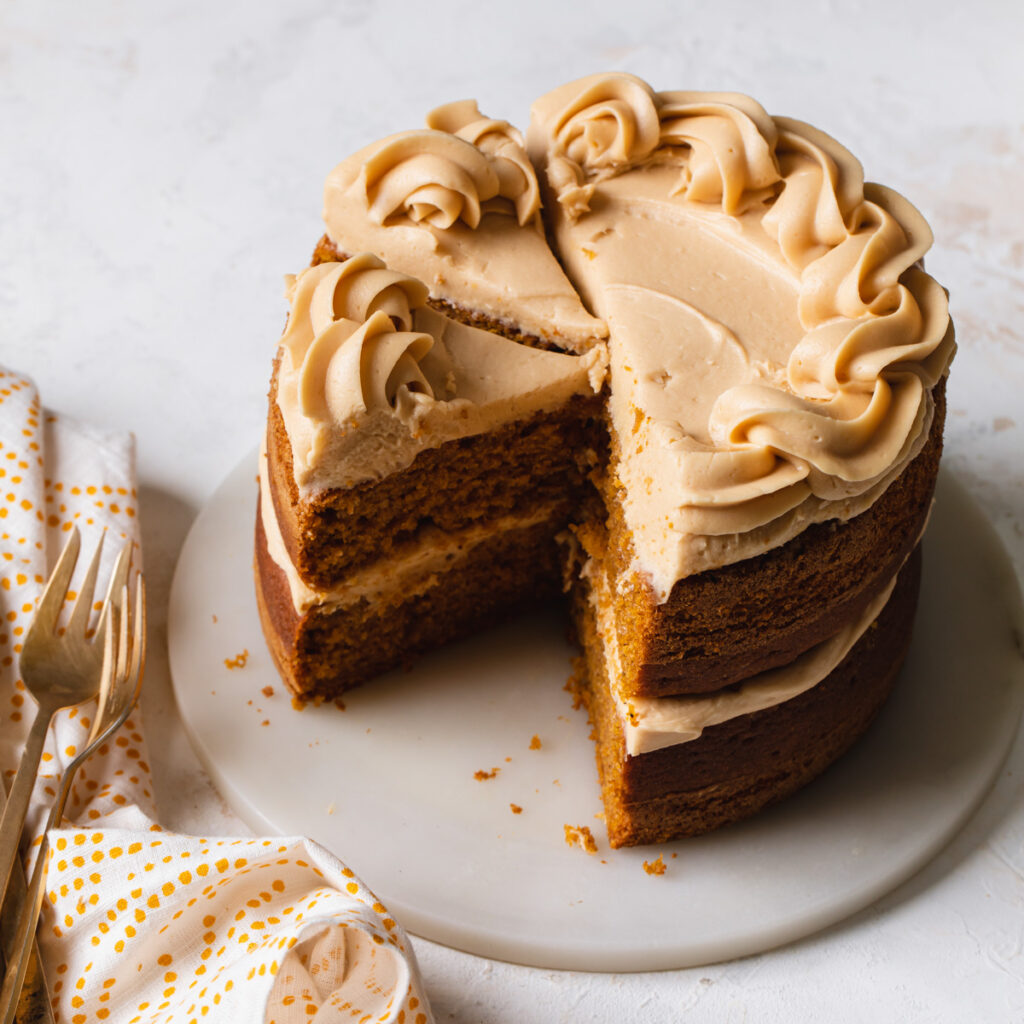 Join the Style Sweet Bake Club!
Get exclusive recipes and articles sent straight to your inbox. Become a subscriber today! Click to join.
Please leave a star review if you loved this recipe! Make sure to share your recipes and tag me on Instagram @stylesweetdaily.
Recipe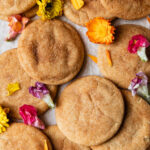 Print Recipe
Brown Butter Snickerdoodles
Brown Butter Snickerdoodles that have a chewy center, crisp edges, and are packed with flavor!
Ingredients
1 ⅓

cups

(300g) unsalted butter (approximately)*

divided, diced

3 ½

cups

(440g) all-purpose flour

1

tea

baking powder

½

tea

baking soda

½

tea

kosher salt

1 ½

cups

(300g) granulated sugar

divided

½

cup

(100g) brown sugar

1

large egg

2

egg yolks

2

tea

pure vanilla extract

2

tea

ground cinnamon
Instructions
Place ½ cup (113g) of butter in a light-coloured saucepan and melt over high heat. Once the butter begins to bubble, reduce the heat to medium-low.Stirring every so often to keep the milk solids from burning and sticking to the bottom of the pan, continue to cook the butter until it turns an amber-colored brown and the milk solids have darkened. This will take 5 to 8 minutes. It is done when the brown butter smells nutty and toasty. Pour the brown butter into a heat-safe container and weigh it.

Add enough of the remaining diced butter to the warm brown butter to equal 227g total butter (1 cup). Stir to melt the butter until combined. Allow the butters to rest at room temperature, stirring occasionally, until they are smooth, creamy, and the consistency of softened butter.

Preheat the oven to 350°F. Line two baking sheets with parchment paper and set aside.

Whisk together the flour, baking powder, baking soda, and salt. Set aside.

In a small bowl, stir together 2 teaspoons of cinnamon and ¼ cup granulated sugar and set aside.

Using an electric mixer (stand or hand mixer), mix the softened butter together with the remaining granulated and brown sugars until combined. Add in the eggs and vanilla. Mix until combined.

Stop the mixer and scrape down the sides and bottom of the bowl. In two additions, add in the half of the flour mixture at a time. Mix on low until incorporated then add in the remaining half. Mix until combined.

Use a large cookie scoop to portion the cookie dough into equal sizes (about 3 tablespoons each) and roll into balls.

Roll the cookie dough balls in the cinnamon sugar mix and place on the prepared baking sheets, at least two inches apart. Gently pat the dough balls down with the palm of your hand.

Bake for about 11 minutes. The centers should be puffy and the edges just set and slightly browned around the edges. For a chewier center, rap the bottom of the baking sheet on the oven rack to encourage the cookies to flatten slightly.

Allow cookies to cool on the baking sheet for 5 minutes before moving to a wire rack.
Notes
Make sure that the butter is not too soft or melted before you start mixing.
When browning the butter, some of the water content will evaporate off. To accommodate for the loss, weigh the brown butter. From there, add enough cold butter to form a full cup (227g).