Add this yellow 8 inch cake to your recipe box ASAP!
Looking for a versatile cake? Save this staple recipe for your next birthday party, holiday, or special event.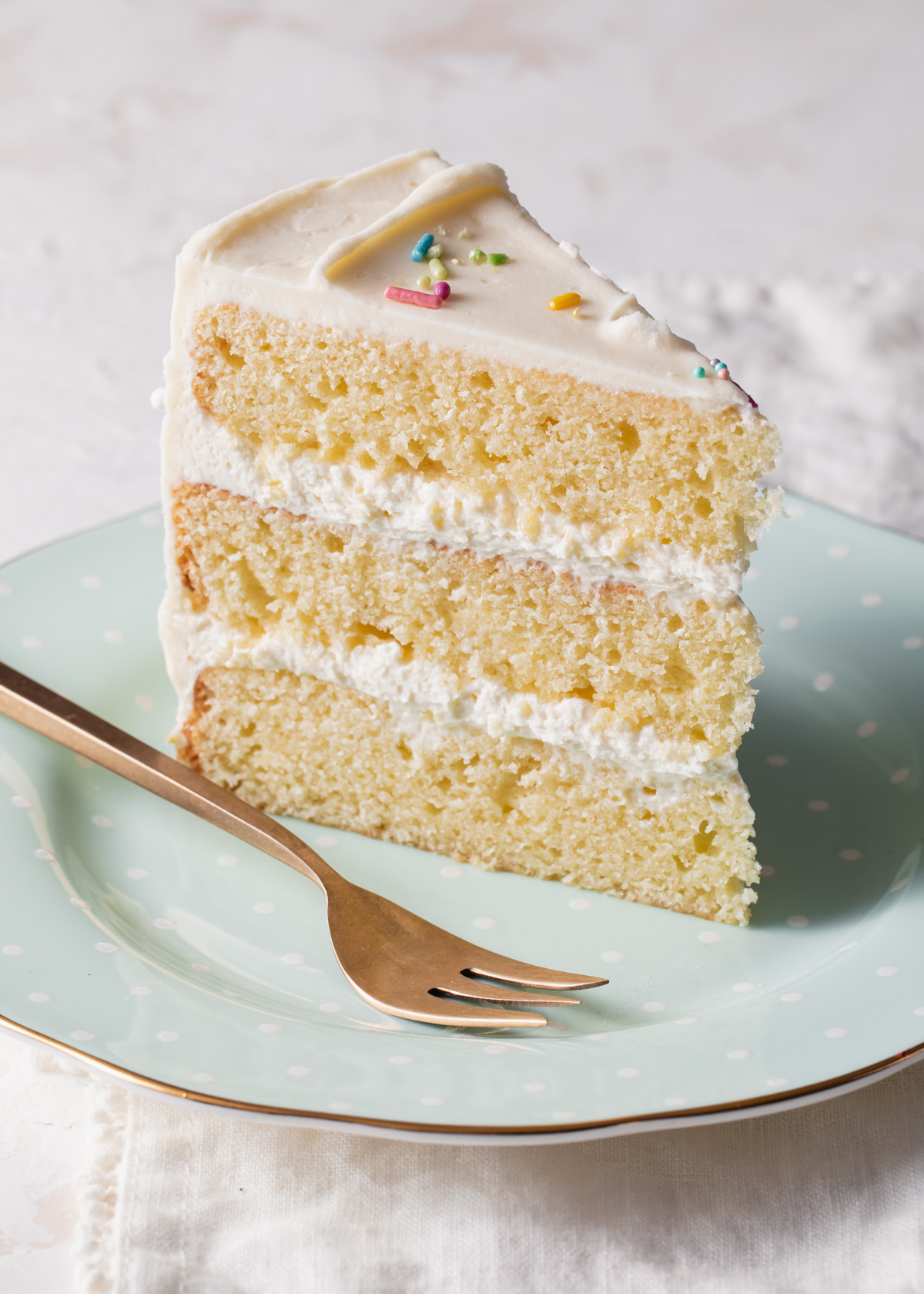 Out of all the cake recipes I make (and there are a lot of them!), I always have room in my heart and tummy for a classic yellow cake.
This 8 inch cake recipe makes three layers of moist, buttery cake that can be paired with just about any filling or frosting. It is a staple recipe that belongs in every baker's repertoire.
Hosting a party? This three layer, 8 inch cake slices into 16 wedges.
This is made with The Creaming Method and pairs well with whipped vanilla buttercream, fudge frosting, and White Chocolate Frosting (as pictured).
Jump to:
How It Works
A yellow cake gets its name from the golden color of the crumb. Where white cake is made with egg whites, yellow cake gets its color from whole eggs, egg yolks, real butter, and pure vanilla extract.
Additional egg yolks are added to the recipe for extra richness. Along with the butter and vanilla, these ingredients made for a flavoful cake.
Cake flour has a lower percentage of protein, so it works great here to make the cake layers soft. I've also incorporated sour cream. Sour cream is full of fat for moisture, tang for flavor, and acidity for tenderness.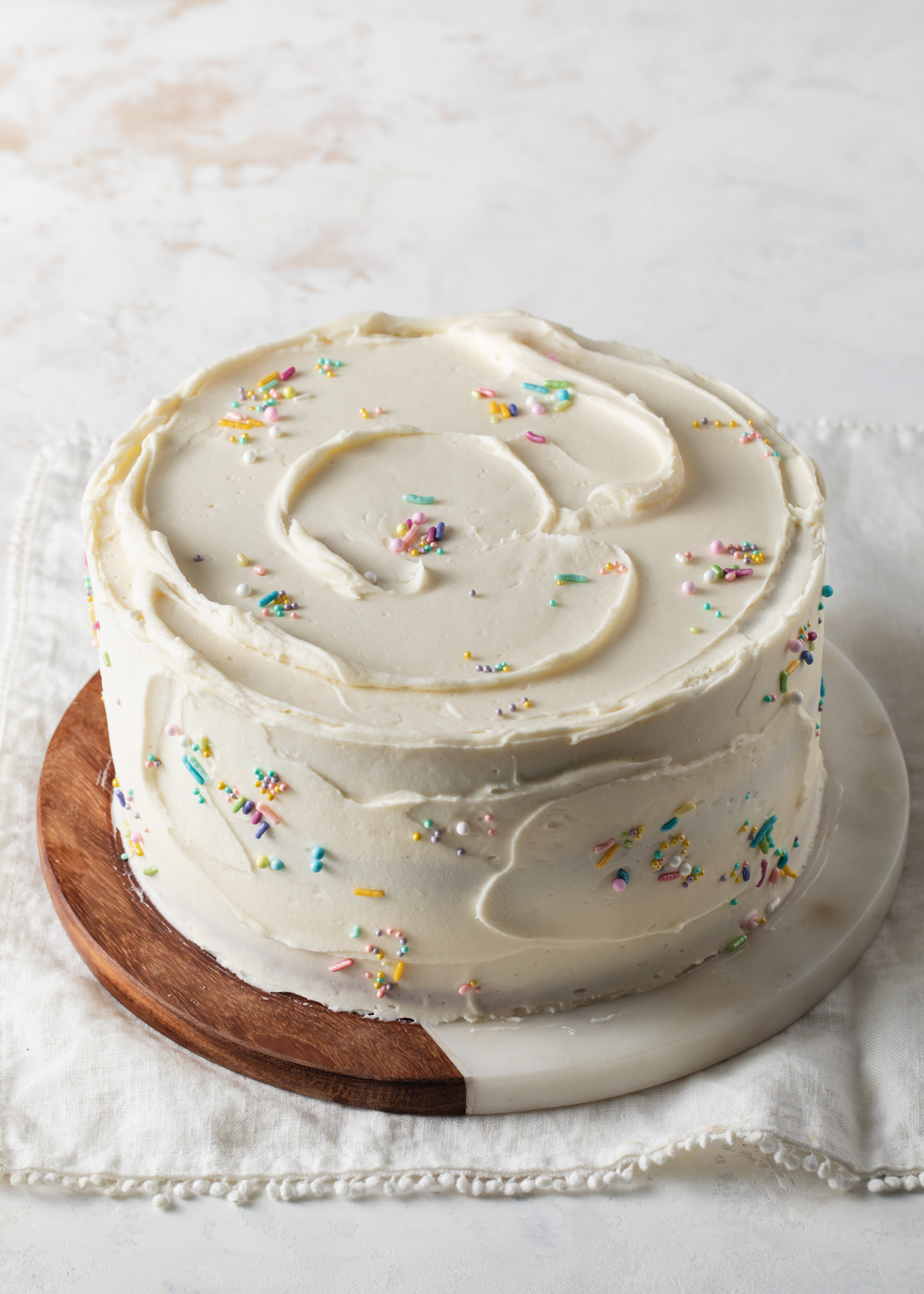 Ingredients
Using whole eggs with the addition of egg yolks gives this cake its name and yellow color. The ingredient list is short for a cake, but little differences make a big impact on texture and flavor.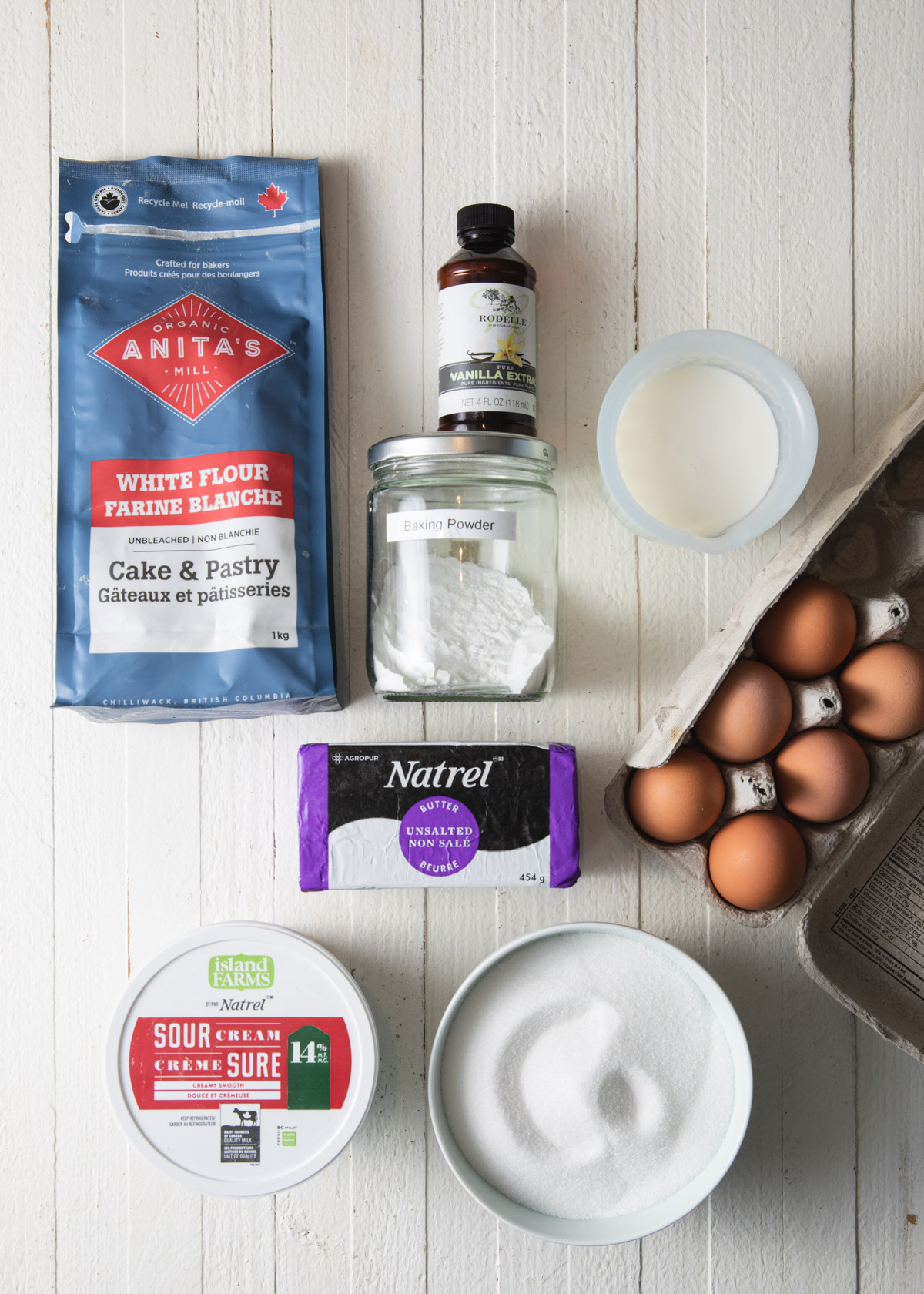 Cake flour
Baking powder
Kosher salt - measurements are for Diamond Crystal
Unsalted butter
Granulated sugar
Large eggs
Vanilla extract
Whole milk
Sour cream
See recipe card for quantities.
Tools and Equipment for an 8 inch Yellow Cake
Electric mixer
8 inch cake pans, at least 2-inches tall
Rubber spatula
General kitchen tools (measuring cups, spoons, bowls, etc.)
Instructions
To make the best 8 inch cake, consider the cake pan, pan preparation, the mixing process as well as the actual baking of the cake.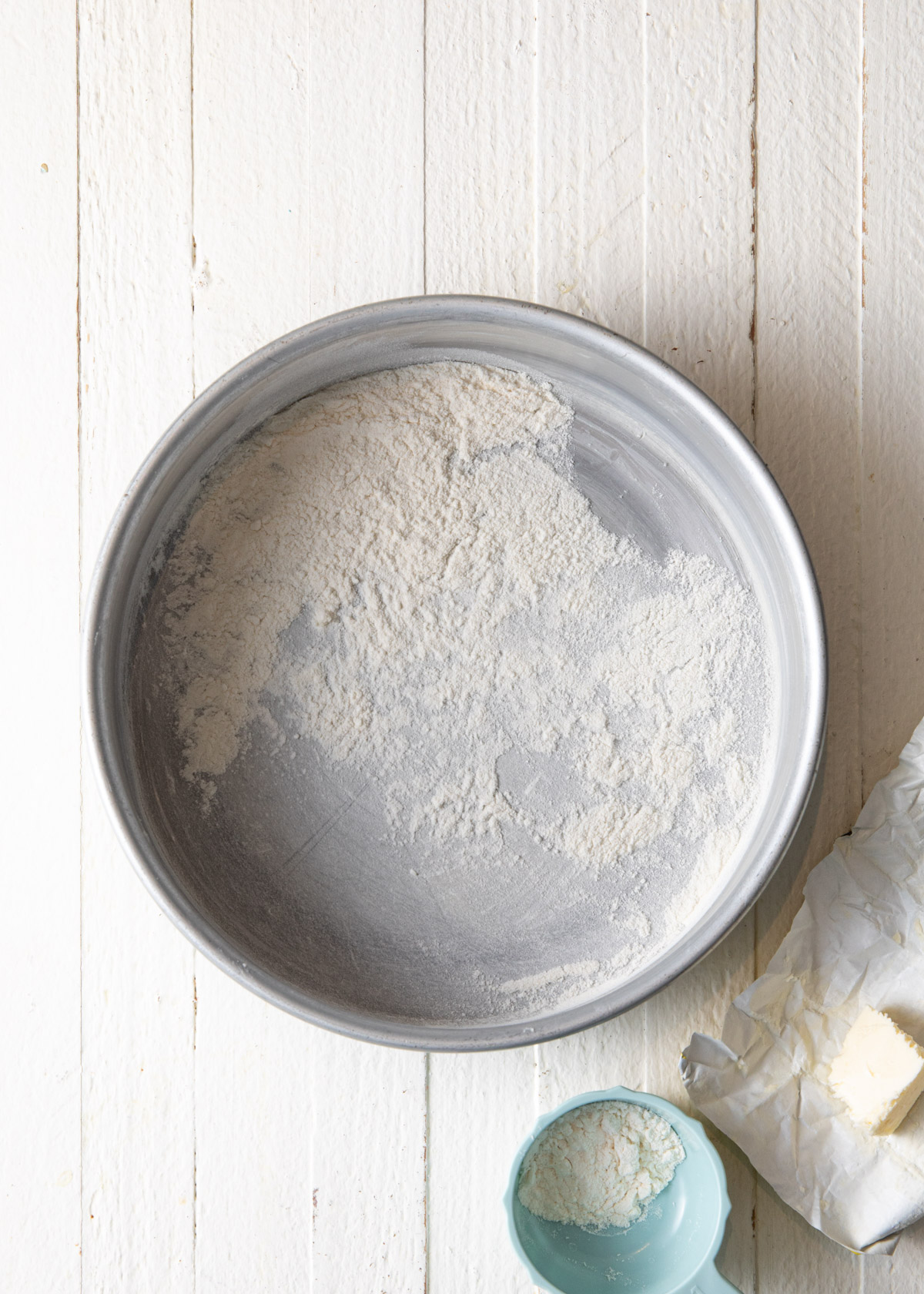 Swipe softened butter in the inside of an 8 inch round cake pan. Spoon flour inside and tap the pan so that it sticks evenly. Tip out the excess flour.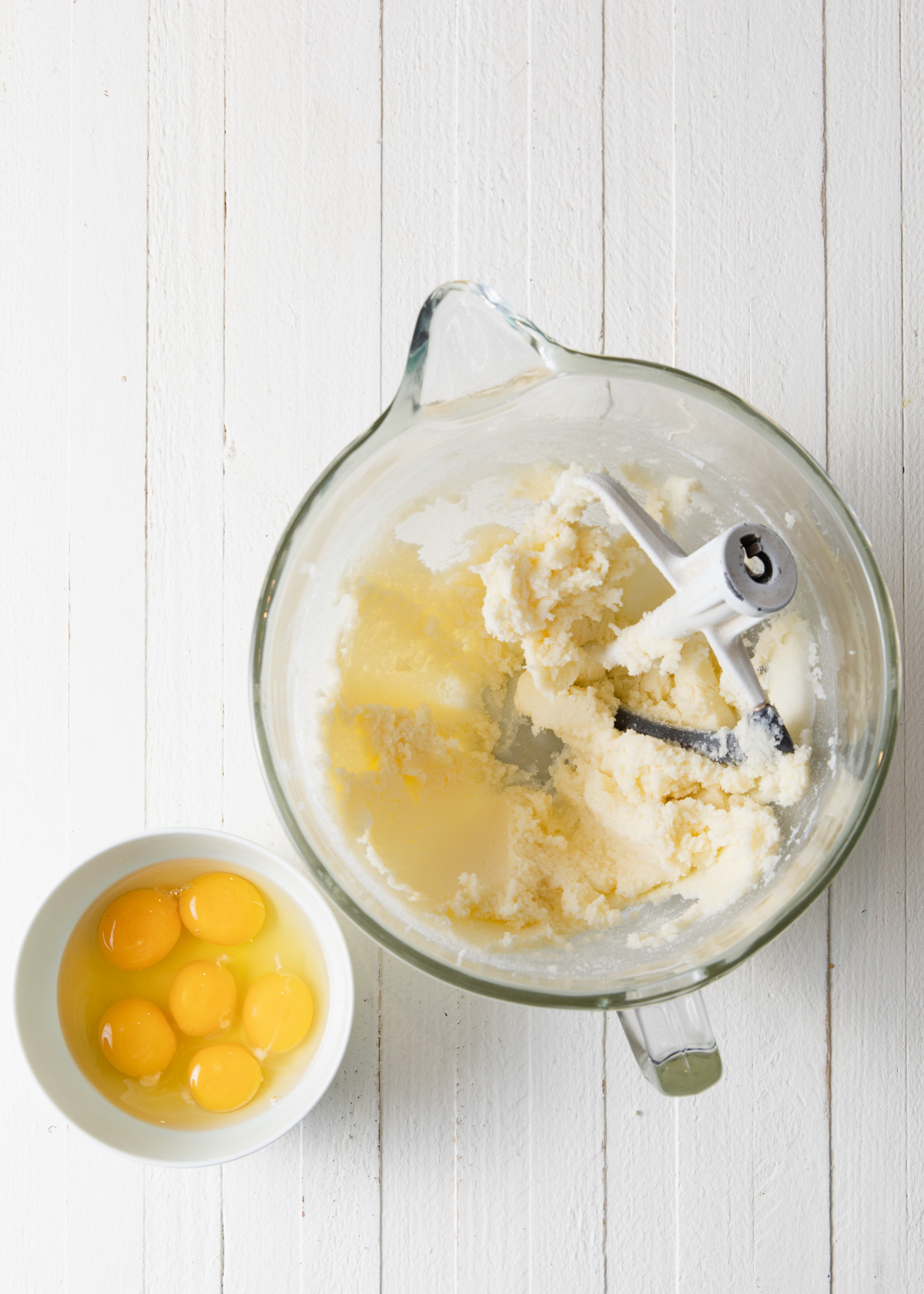 Use the creaming method to make the fluffiest, buttery yellow cake. Ensure that the ingredients are room temperature before getting started.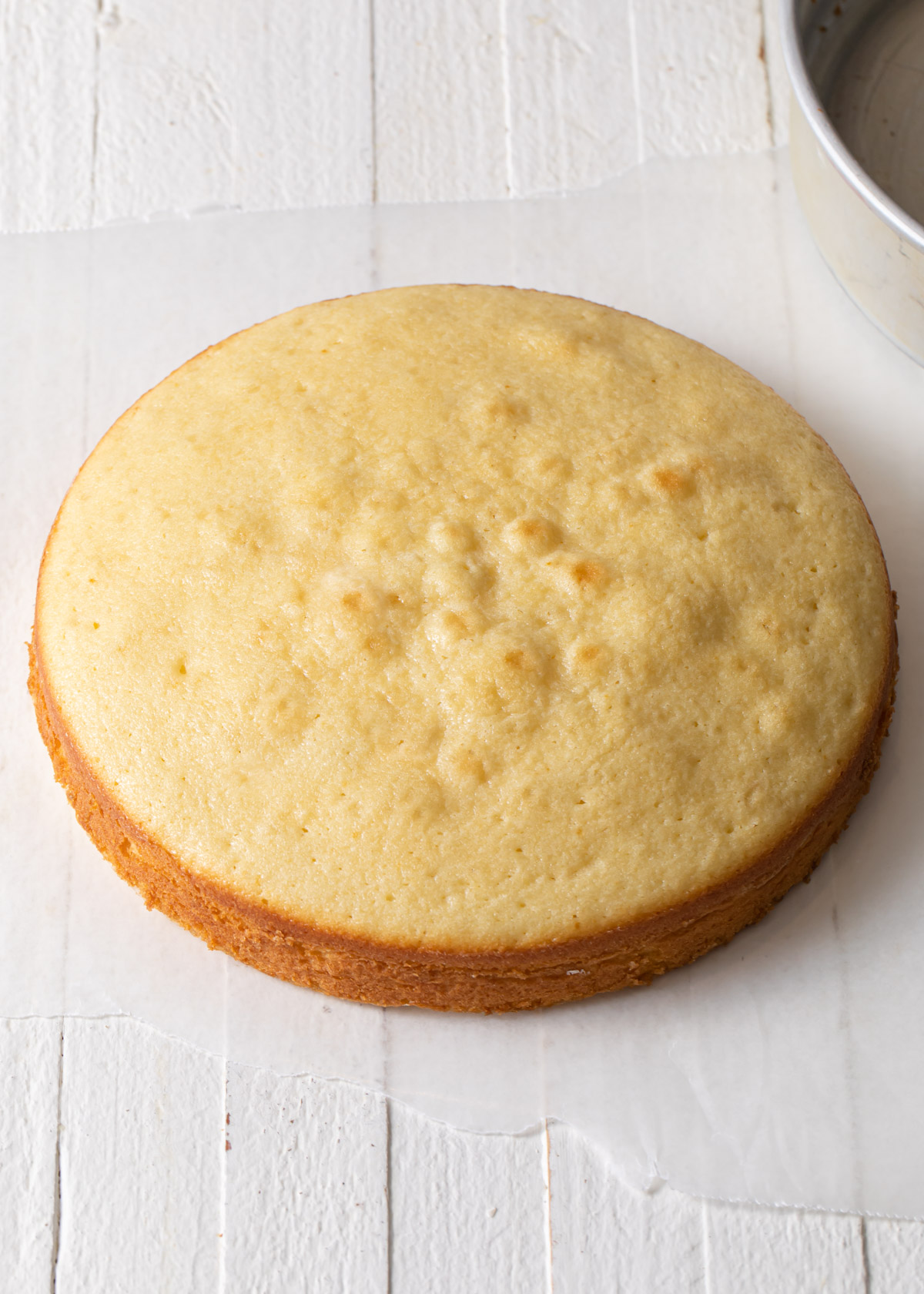 Bake the cake until slightly golden on top. It is done when a toothpick inserted into the center comes out clean or with a few moist crumbs.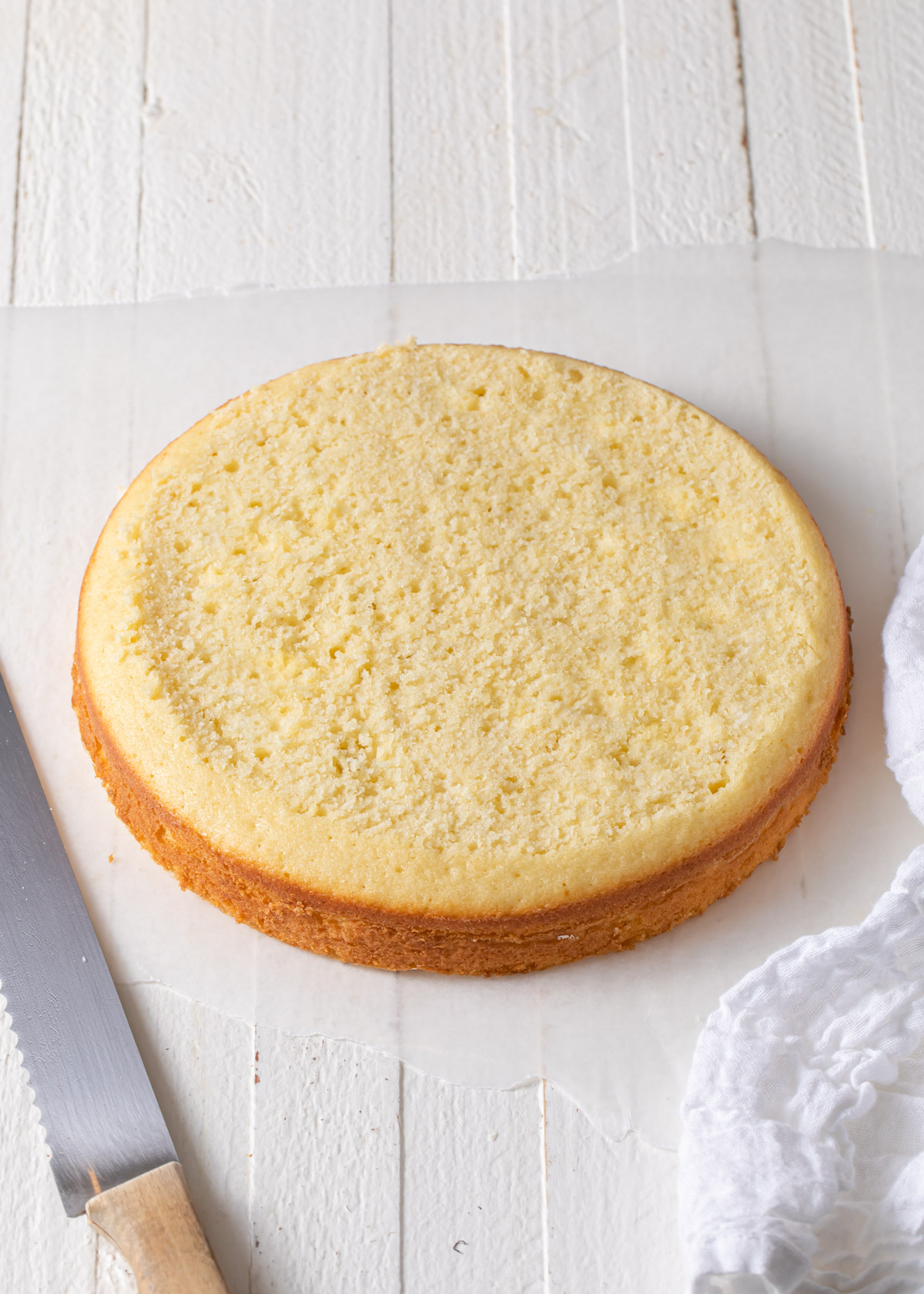 After the cake cools, trim the tip with a long serrated knife to create flat, even layers for stacking.
Hint: For extra insurance, line the greased and floured 8 inch round cake pan with parchment on the bottom.
Substitutions
Cake Flour - For every cup of cake flour, measure out 1 cup of all-purpose flour minus 2 tablespoons. Add back 2 tablespoons of either corn starch or arrowroot powder to get 1 cup of cake flour.
Sour Cream - Replace both the sour cream and milk with 1 ½ cups of buttermilk.
Variations
White Chocolate - This frosting has a sweet, creamy white chocolate flavor.
Fudge Frosting - Yellow cake and fudge frosting is a classic birthday cake option!
Cupcakes - Bake this recipe as cupcakes by filling a lined muffin tin ⅔ of the way full. Bake for about 22 minutes.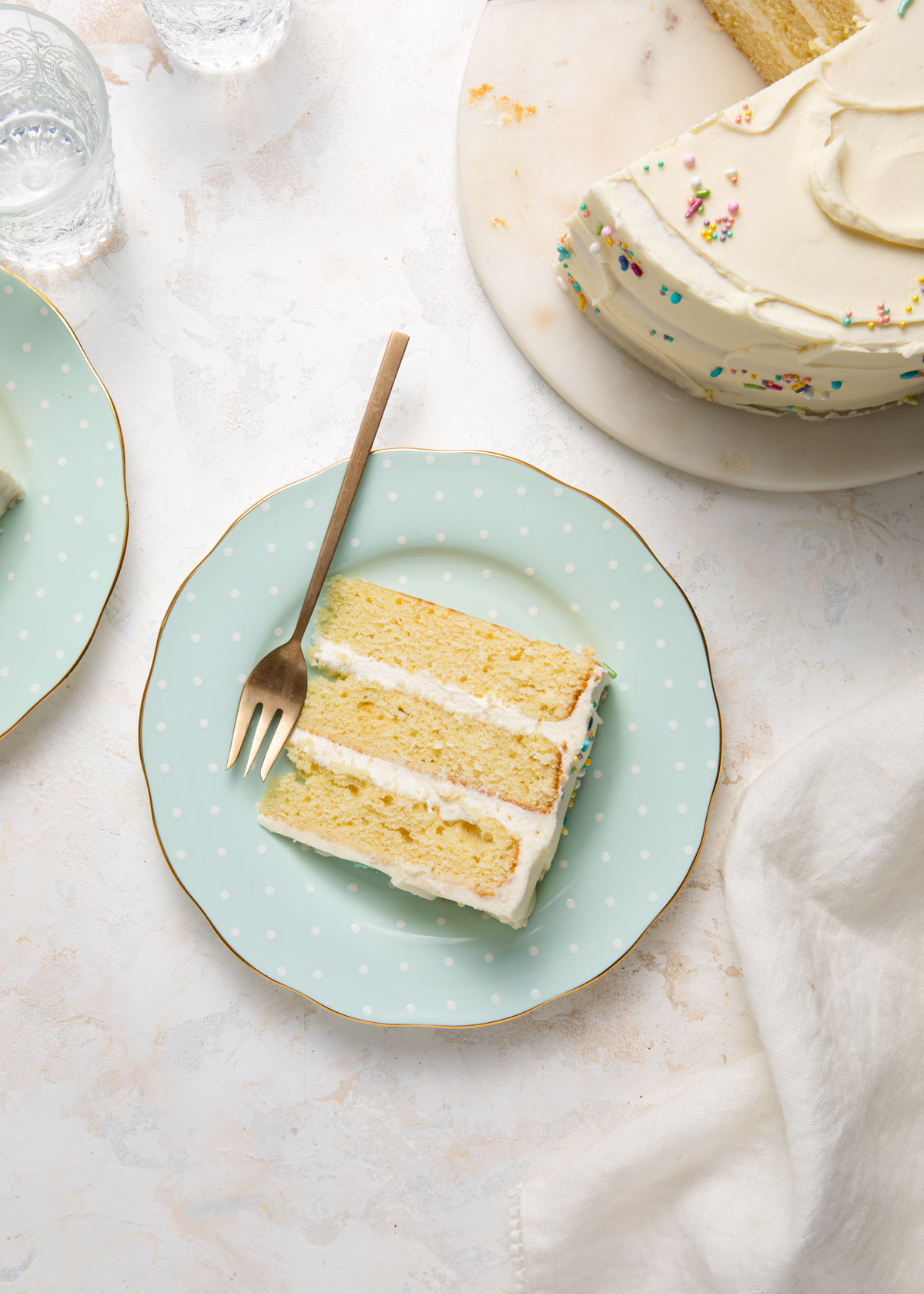 Serving and Storage
Serve the cake at room temperature. Store the cake at a moderate room temperature overnight (preferably in a cake box or under a glass cake dome).
Wrap leftovers loosely in plastic and store in the refrigerator for up to 4 days.
Freeze unfrosted layers wrapped well in plastic for up to 3 months.
Top Tip
This recipe works best by filling the creaming method. Make sure to start with softened butter and room temperature eggs and dairy.
Supporting Articles
How to Use the Creaming Method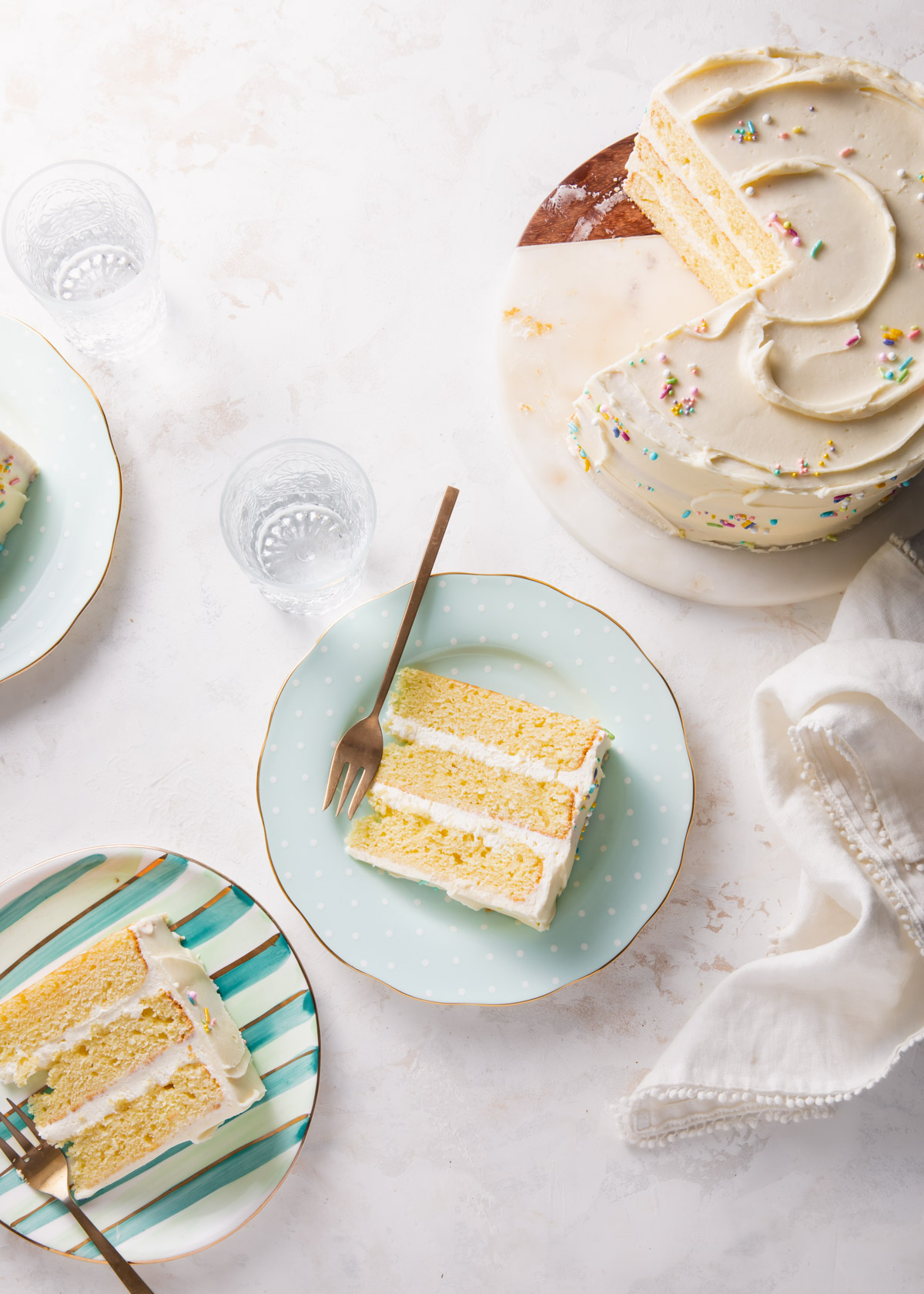 8 Inch Round Cake Recipe FAQs
Can you freeze cake layers?
Yes! You can freeze unfrosted cake layers. Wait until the cakes have completely cooled before wrapping well in plastic. If desired, wrap in a layer of foil or pop the cakes into a zip-top freezer bag. Freeze for up to 3 months. Thaw in the refrigerator overnight.
What are the best cake pans for baking?
Choose a good quality aluminum cake pan with at least 2-inch tall sides.

Do I have to use cake flour?
You don't have to use cake flour, but cake flour has a lower percentage of protein compared to all-purpose flour that makes the cake softer. See Substitutions for making your own cake flour alternative.
How many servings does an 8 inch cake feed?
A three layer 8 inch cake makes 16 cake slices.
Related Recipes
Looking for other recipes like this? Try these:
Recipe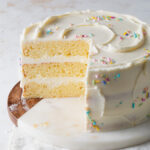 Print Recipe
Yellow 8 Inch Cake Recipe
Add this moist, buttery yellow cake to your recipe box for birthdays, holidays, and everyday celebrations.
Ingredients
3

cups

(375g) + 2 tablespoon cake flour

1

tablespoon

baking powder

1

tea

kosher salt

1

cup

(227g) unsalted butter

softened

2

cups

(400g) granulated sugar

3

large eggs

3

egg yolks

1

tablespoon

pure vanilla extract

1

cup

(240ml) whole milk

½

cup

(120ml) sour cream
Instructions
Preheat oven to 350°F.  Grease and flour three, 8-inch round cake pans then line the bottoms with parchment paper. Set aside. 

In a mixing bowl, whisk together the flour, baking powder, and salt. Set aside.

Add the butter to a stand mixer fitted with the paddle attachment. Beat butter on medium-low speed until creamy, about 1 minute. Add the sugar then mix on medium speed until the mixture is fluffy and pale in colour, about 2 to 4 minutes. Scrape sides of bowl.

Add eggs and eggs yolks, one at a time, beating on medium-low speed until blended. Add vanilla extract; beat on low speed until blended.

Stop the mixer and add in half of the flour mixture. Once this is incorporated, pour in the milk followed by the sour cream and mix to combine. After the milk is absorbed, add in the remaining flour mixture. After the last streaks of flour are incorporated, mix the batter on medium-low speed for no more than 20 seconds until smooth. 

Pour batter into prepared cake pans. Bake for 24 to 26 minutes or until wooden pick inserted in centre comes out clean.

Cool cakes on a wire rack for about 20 minutes or until pans are cool enough to handle then remove the cakes from pans. Continue to cool on a wire rack.

Wrap each layer in a double layer of plastic wrap then chill in refrigerator for at least 2 hours or up to 2 days before cutting and frosting.