Jump to Recipe
Craving crispy, light-as-air cookies or pillowy pavlova with a crunchy crust? Or do the thoughts of making soufflé or French macarons make you sweat? Fear not, because today we are learning how to make the perfect French meringue recipe.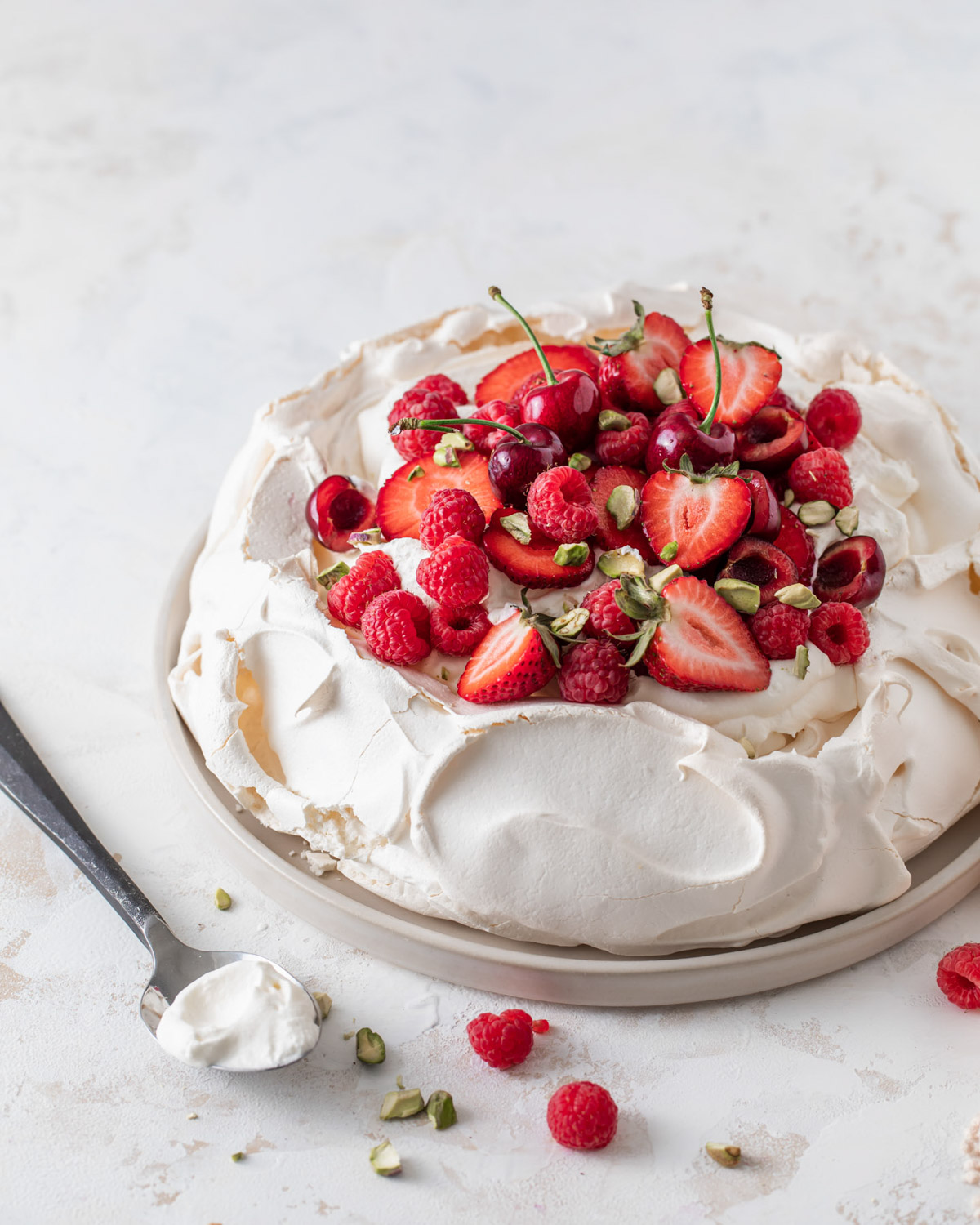 What Is French Meringue?
In its stripped-down, most basic form, meringue is merely egg whites whipped with sugar. The ratio of these two main ingredients and the way the eggs get "cooked" determines the type of the meringue.
In a French meringue recipe, dry crystalline (granulated or caster) sugar is added straight to whipping egg whites. The mixture is beaten to stiff peaks before being baked. Swiss meringue uses heat in the form of a bain-marie (water-bath) to gently heat the egg whites and sugar before they are whipped together. In an Italian meringue, sugar and water are boiled into a syrup then added to whipping egg whites in order to cook them.
Perhaps the most classic and popular of the bunch, French meringue is sweetened and stabilized with sugar. The addition of something acidic, typically cream of tartar, won't increase the volume of the whipped eggs, but is used to keep the whites from deflating too quickly. As the whites whip, they coagulate and can increase in volume to nearly eight times in volume before being folded into batters or baked into cookies and pavlova.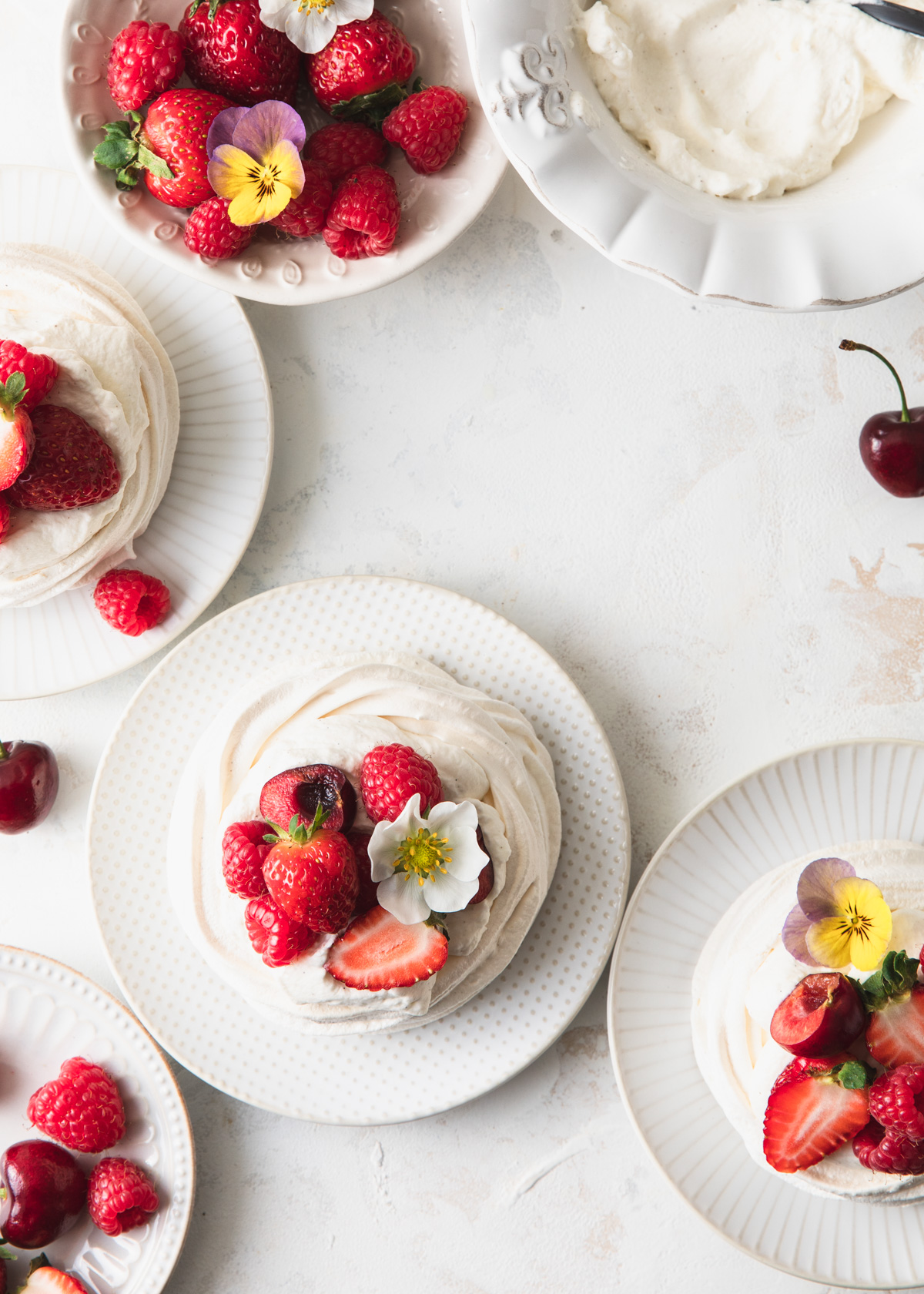 When Do We Use French Meringue?
A French meringue recipe can be turned into both elegant and easy going desserts. It can be baked and served on its own and act as building blocks for many other recipes.
Since this type of meringue is not heated during the mixing process, it must be baked or poached (like with Floating Islands) after it is whipped. The easiest way to enjoy French meringue is to bake it as crisp, crunchy cookies. Likewise, spread into a large bowl-shape (or small in the case of the mini pavlovas to follow), the baked meringue can easily be turned into a showstopping pavlova. Broken bits of baked meringue paired with sweetened cream and fresh fruit make a simple Eton Mess.
Baked in a sheet pan, French meringue makes for a marvelous roulade. Stuff it with cream, jam, and/or fruit and slice it like a jelly roll cake. So good!
French meringue is also the base of several other dessert recipes. The ratio of egg whites and sugar will likely be adjusted here (making the whites more susceptible to over-whipping, so be careful), but French meringue is folded into macaron, soufflé, and cake batters (think Angel Food and dacquoise).
Save the Swiss and Italian meringues as toppings, like for pie or in buttercream, since the egg whites are gently cooked during the mixing process.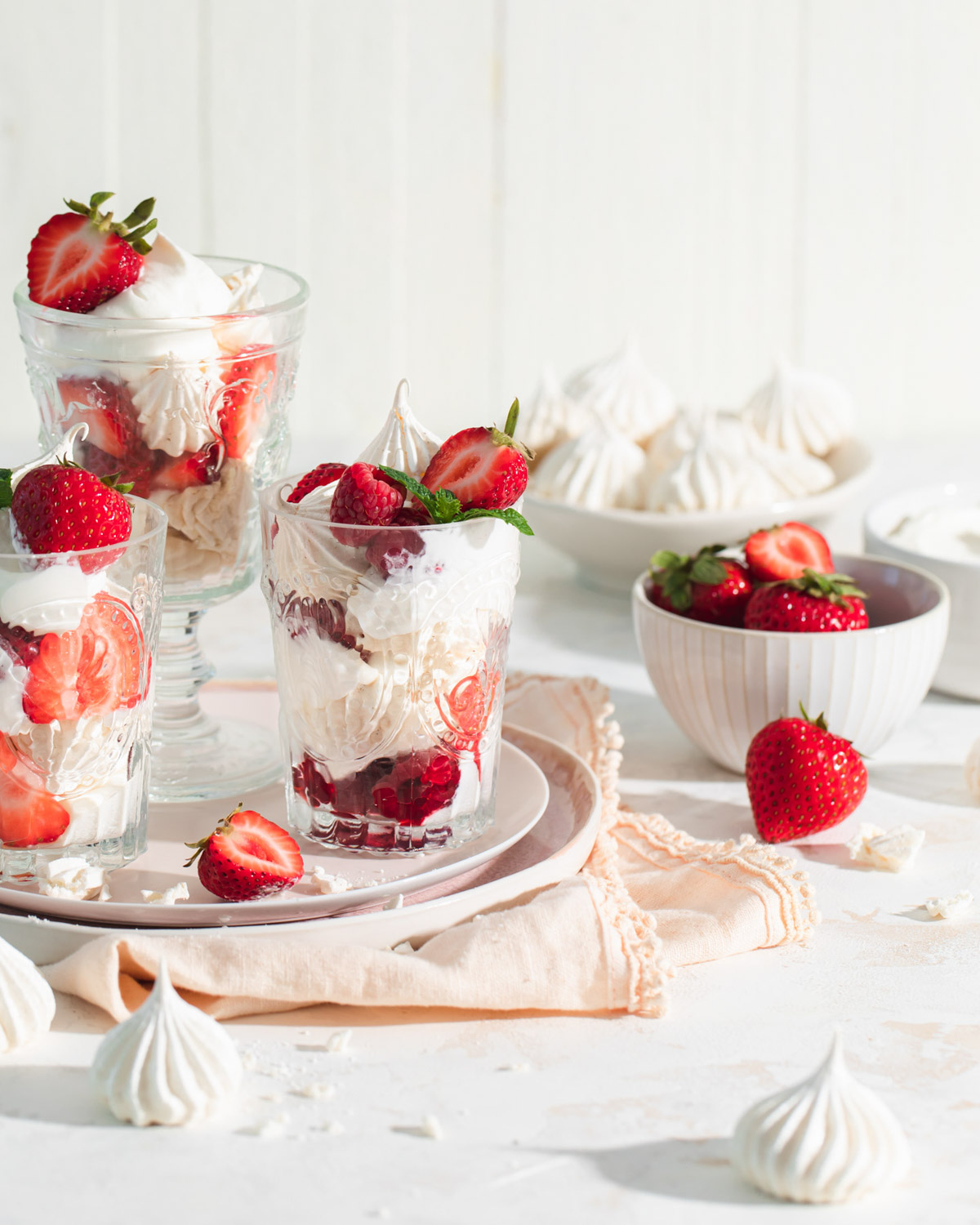 How To Make French Meringue:
The keys to making a great French meringue are speed and time. Start by slowly whipping the egg whites on low speed. You want to see tons of tiny bubbles that are starting to build up to soft peaks before adding in the sugar.
Once the whites turn opaque, it's time for sugar. Bump up the speed one notch and begin gradually adding in the sugar. I am talking very slowly - like one tablespoon at a time. It will feel like forever but this ensures that the sugar properly dissolves.
This is important for keeping your baked meringues weep-free. If the sugar is not dissolved properly, sugar syrup may leak out of your gorgeous meringues. You may opt for fine caster sugar, but it is not necessary, as long as you add it in slowly.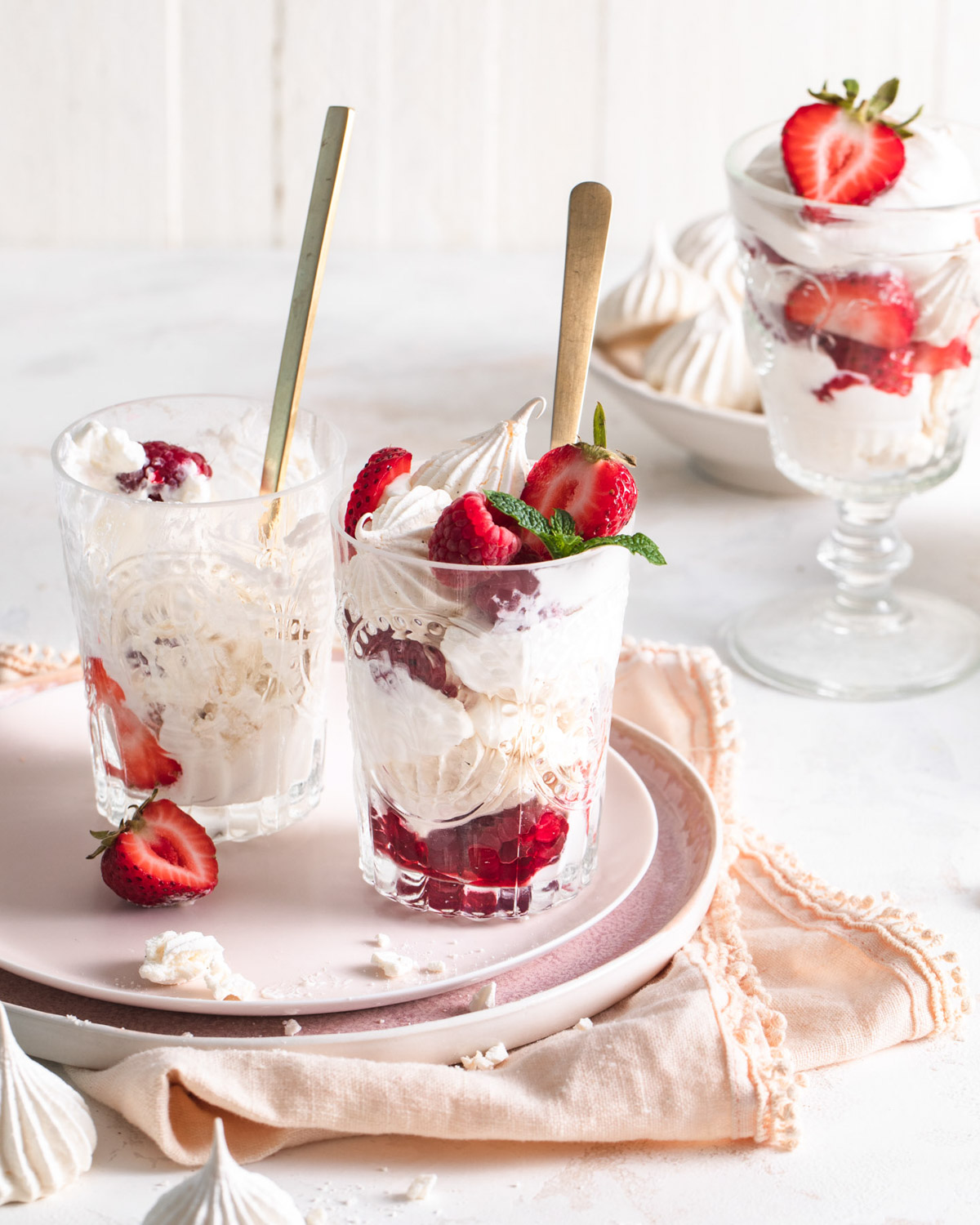 After the sugar is added, turn the mixer up to medium-high speed and mix until glossy, stiff peaks. When done, the meringue should be smooth, and not gritty, when rubbed between your fingertips. It is harder to over-whip egg whites with a large portion of sugar, but still don't go overboard. You don't want to go too far or they won't have any room to expand and puff in the oven.
Those recipes with a smaller portion of sugar need much more attention. If you go too far, the meringue will become dry and lumpy. Broken meringue is nearly impossible to fold into batters, like with macarons and soufflé, and bake with success.
Once your meringue is whipped to pretty peaks, fold, pipe, or poach as directed in the recipe.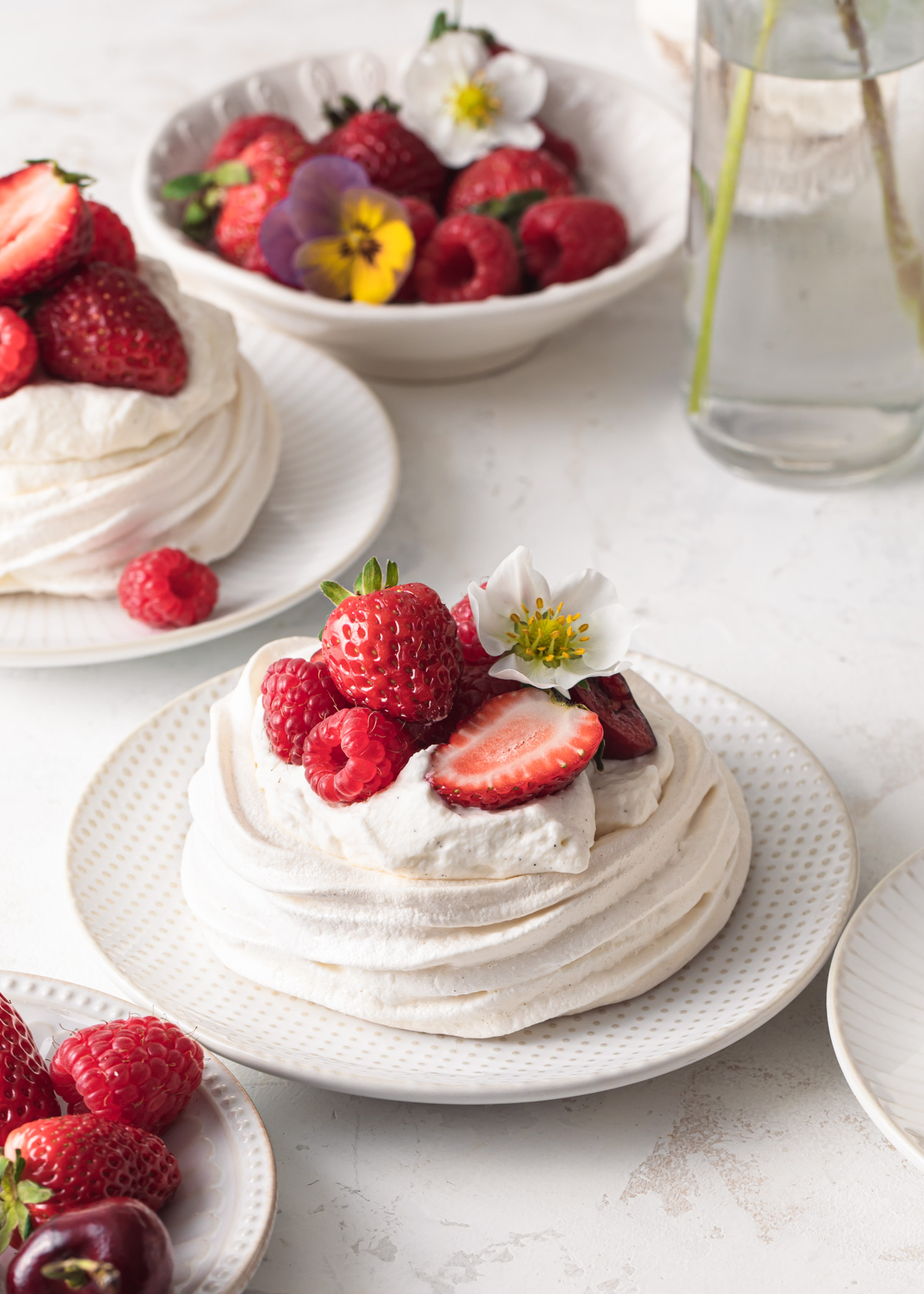 Baker's Notes:
The following recipe is for crispy, crunchy meringue cookies and mini pavlovas. To turn into one large pavlova, add 1 ¾ teaspoon cornstarch with the sugar. This will give it that chewy, marshmallow-like center. Increase the bake time to 90 to 120 minutes, or until the outside is dry and crisp. If possible, allow the pavlova to cool in the oven (turned off) with the door propped open to minimize cracks.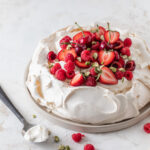 Print Recipe
The Perfect French Meringue Recipe
Use this perfect French meringue recipe to create crisp on the outside chewy in the middle mini pavlovas and meringue cookies.
Ingredients
For the French Meringue
4

large egg whites

¼

teas

cream of tartar

¾

cup

+ 2 tablespoons granulated sugar

1

teas

vanilla bean paste
For the Whipped Cream
1

cup

heavy cream

⅓

cup

confectioners' sugar

1

teas

vanilla bean paste

fresh berries to finish
Instructions
To make the French Meringue
Preheat the oven to 250°F. Make a template for 6 mini pavlovas by tracing a 3 to 3 ½-inch wide cookie cutter or bowl onto a piece of parchment paper. Flip the parchment upside down and place on a baking sheet. Set aside.

In the clean bowl of a stand mixer fitted with a whisk attachment, begin whipping the egg whites on medium-low speed until they turn opaque and have lots of tiny bubbles. 

Increase the speed to medium and add the cream of tartar. Very slowly stream in the sugar, about a tablespoon or two at time. It should take about 1 minute to add all of the sugar. Go very slowly to make sure the sugar dissolves into the egg whites.

Increase the speed to medium-high and whip until stiff peaks form. Stop the mixer and add in the vanilla bean paste. Mix on medium speed until combined.

Fill a piping bag fitted with a star tip with the meringue. Using your template as a guide, pipe 6 meringue nests on top of the parchment paper. Hold the piping bag straight down and start piping a spiral (from the center out), then continue to pipe a ring on top of the outer edge to create a bowl shape.

Reduce the heat of the oven to 225°F and bake the meringue nests for 75 to 100 minutes. When done, they should feel nearly dry on the outside. Turn off the heat and allow the meringues to cool in the oven, with the door propped open with a wooden spoon (if possible). 

Unfilled, the baked meringues can be stored in an air-tight container at room temperature (or in the oven) overnight. 
To make the Whipped Cream
When ready to serve, prepare the cream. Place the heavy cream in the bowl of a stand mixer fitted with the whisk attachment (or in a large bowl with a hand mixer). Whisk on high speed until the cream begins to thicken slightly. Stop the mixer and add the sugar and vanilla bean paste. Continue mixing on high until the cream holds soft peaks. This should only take 1 to 2 minutes total with an electric mixer, so keep a close eye. Do not overmix.

To assemble, gently spoon the whipped cream into the meringue nests and top with fresh berries.