Berries and cream have never tasted better than when paired with fluffy vanilla cake layers. Developed as a two layer, 6-inch cake, this Mini Strawberry Chiffon Cake is perfect for small celebrations and intimate gatherings.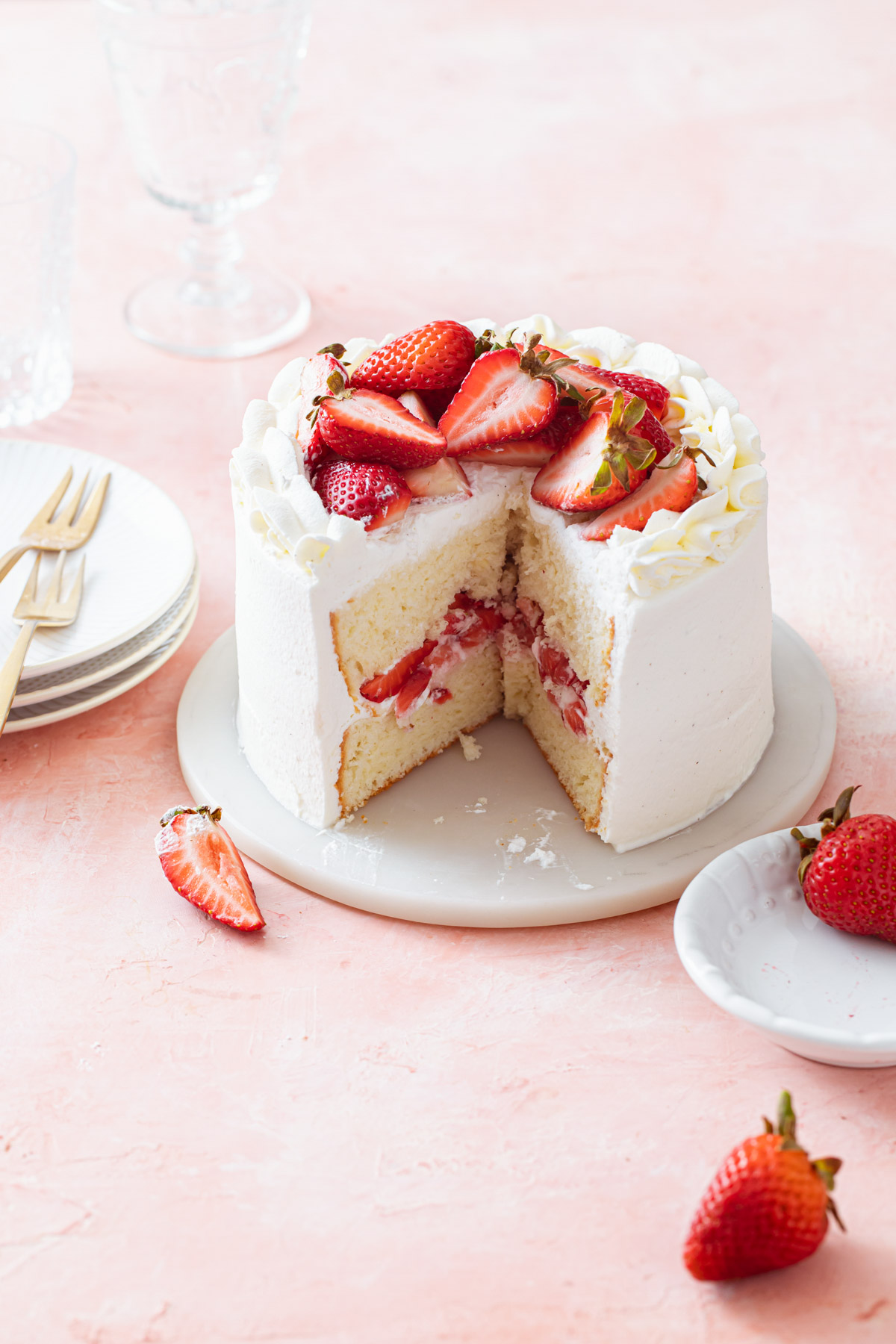 Jump to:
Why We love this Strawberry Chiffon Cake
This cake is wonderful during the spring and summer when strawberries are at their peak. The chiffon cake layers are light and fluffy. They pair perfectly with fresh berries and clouds of sweetened whipped cream in each delightful bite.
What is a Chiffon Cake?
A chiffon cake is cross between a sponge cake and oil cake. This hybrid is soft and pillowy from whipped egg whites but rich and tender from the addition of oil and fatty egg yolks. The fluffy texture of a chiffon cake is achieved by beating egg whites then folding them into the batter.
Since air can't be beaten into the oil (like you can with solid fats (butter) using the creaming method), the addition of whipped whites helps aerate and lighten the batter. Unlike some sponge cakes, the addition of baking powder ensures a nice lift to each layer.
Using oil instead of butter also means that the cakes layers will remain soft even after being refrigerated. This makes chiffon cakes wonderful pairings for fillings that need to be chilled - like pastry cream or this vanilla bean whipped cream.
Learn How to Make a Chiffon Cake like a pro!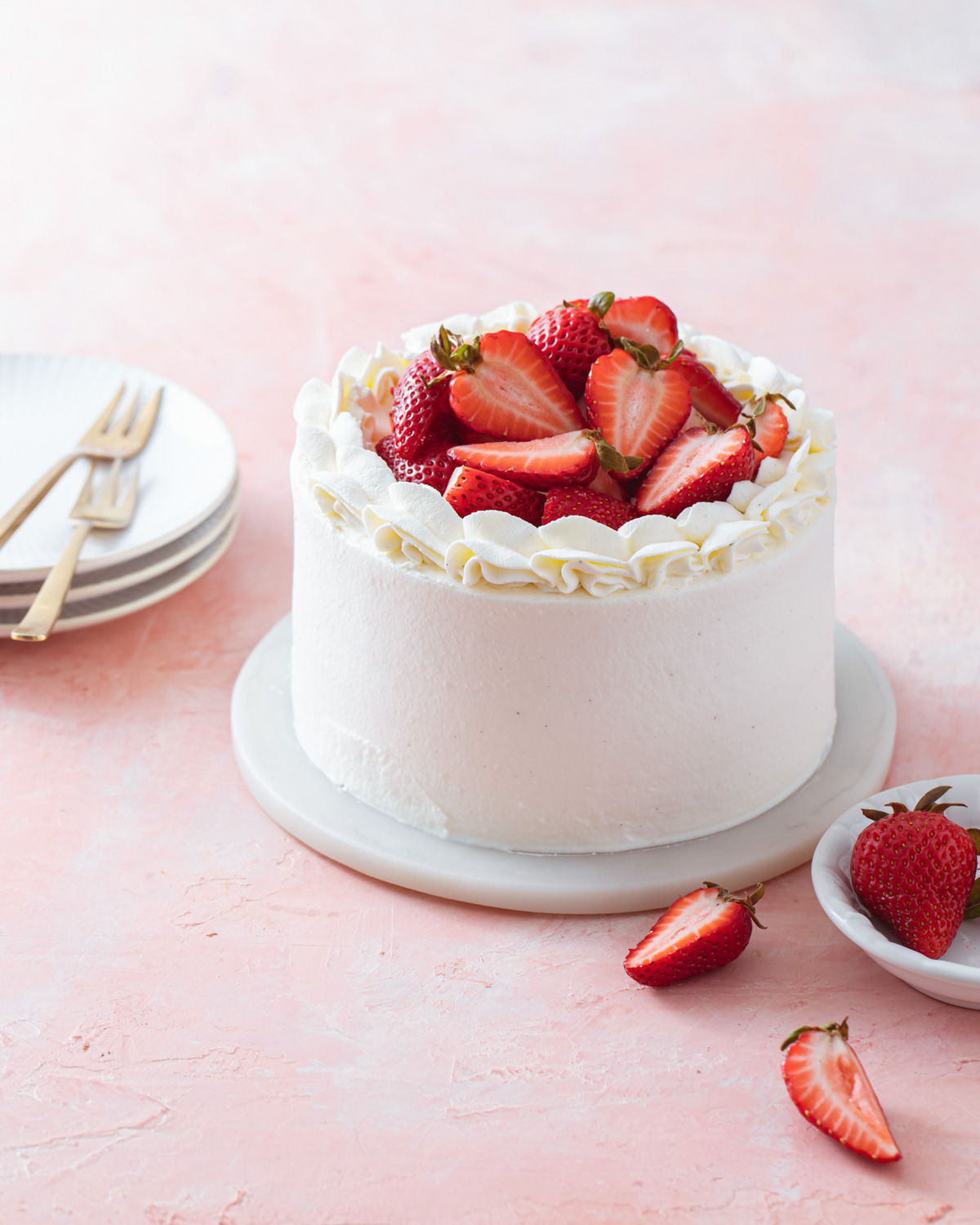 Ingredients
Cake flour
Baking powder
Salt
Canola oil
Granulated sugar
Vanilla extract and vanilla bean paste
Egg yolks
Egg whites
Whole milk
Cream of tartar
Heavy cream
Fresh strawberries
See recipe card for quantities.
Tools and Equipment
Stand or hand mixer
6-inch cake pans
Large rubber spatula
Mixing bowls
Offset spatula
Rotating cake stand
Icing smoother
Piping bag and tip, for decorating.
General kitchen tools (measuring cups, spoons, etc.)
Tasting Notes
With flavors so simple yet classic, it's times like these where I encourage you to reach for the good stuff. Real vanilla bean seeds freckle the whipped cream. I love the use of vanilla bean paste here. Not only is the flavor more concentrated and pure, it provides a little extra sweetness too.
Don't have vanilla bean paste? You can go straight to the source and use a vanilla bean. Alternatively, use equal parts pure vanilla extract.
Take the time to make your ingredients shine. Macerating the sliced berries in a bit of sugar draws out their juices and enhances their natural sweetness.
First toss the sliced strawberries in sugar, then give them a stir every so often as you prepare the cake layers and whip the cream just before assembling.
Tessa's Tip
Use a paring knife to slice a plump bean in half lengthwise. Use the tip of the knife to scrape out the seeds from the bean and add them straight into your cake batter and whipped cream. Save the pods and place them in a jar with granulated sugar to make vanilla sugar.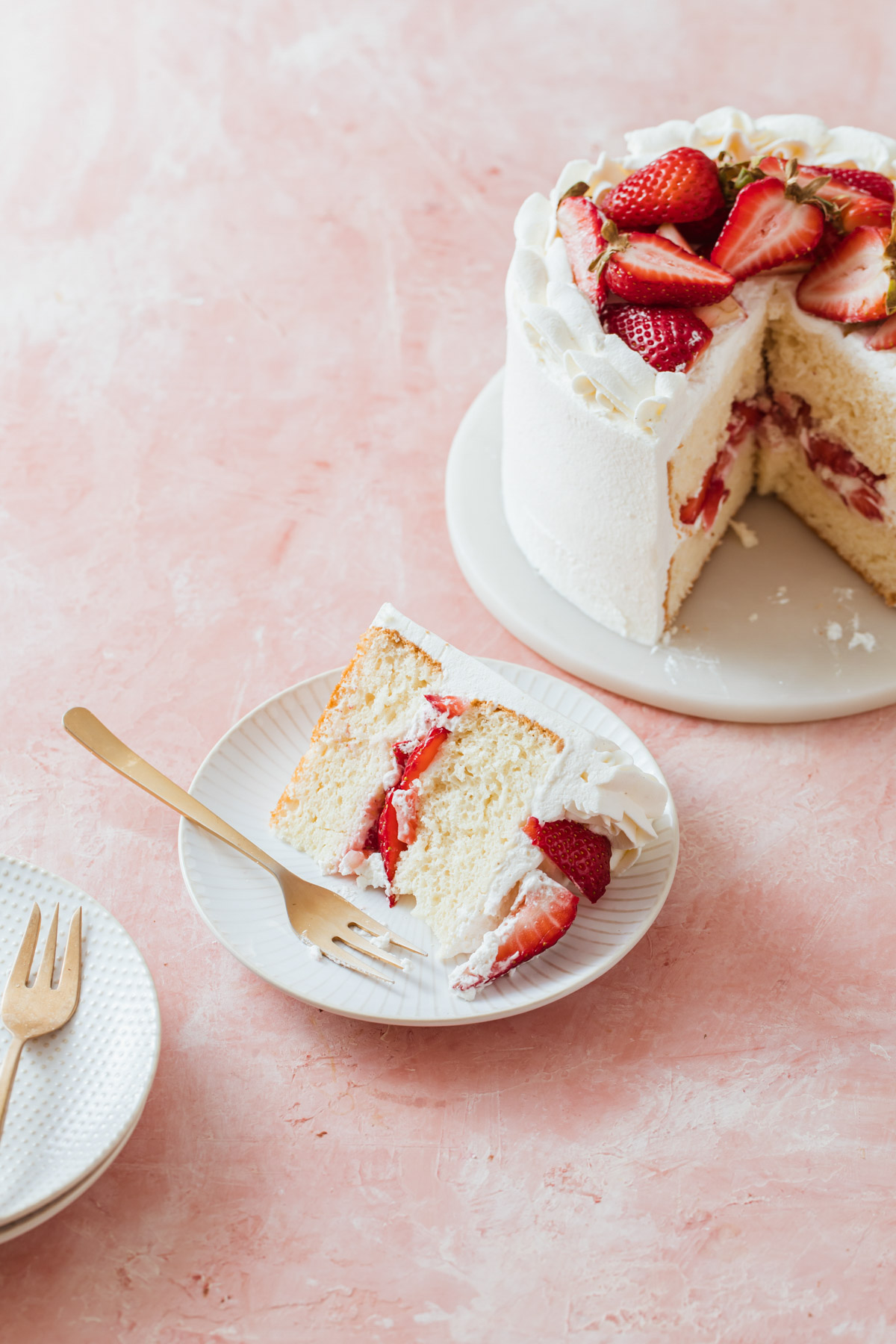 Pillowy Whipped Egg Whites
Chiffon cakes get most of their lift and fluffiness by incorporating whipped egg whites into the batter. Start by whisking egg whites on low speed until tons of tiny bubbles form. Gradually increase to medium-high and whip the whites until they hold medium peaks.
The whipped whites will be thick and billowy. When you pull the whisk out, they should have a soft but upright point on the end.
Do no over-beat the egg whites or they will dry out begin to clump together.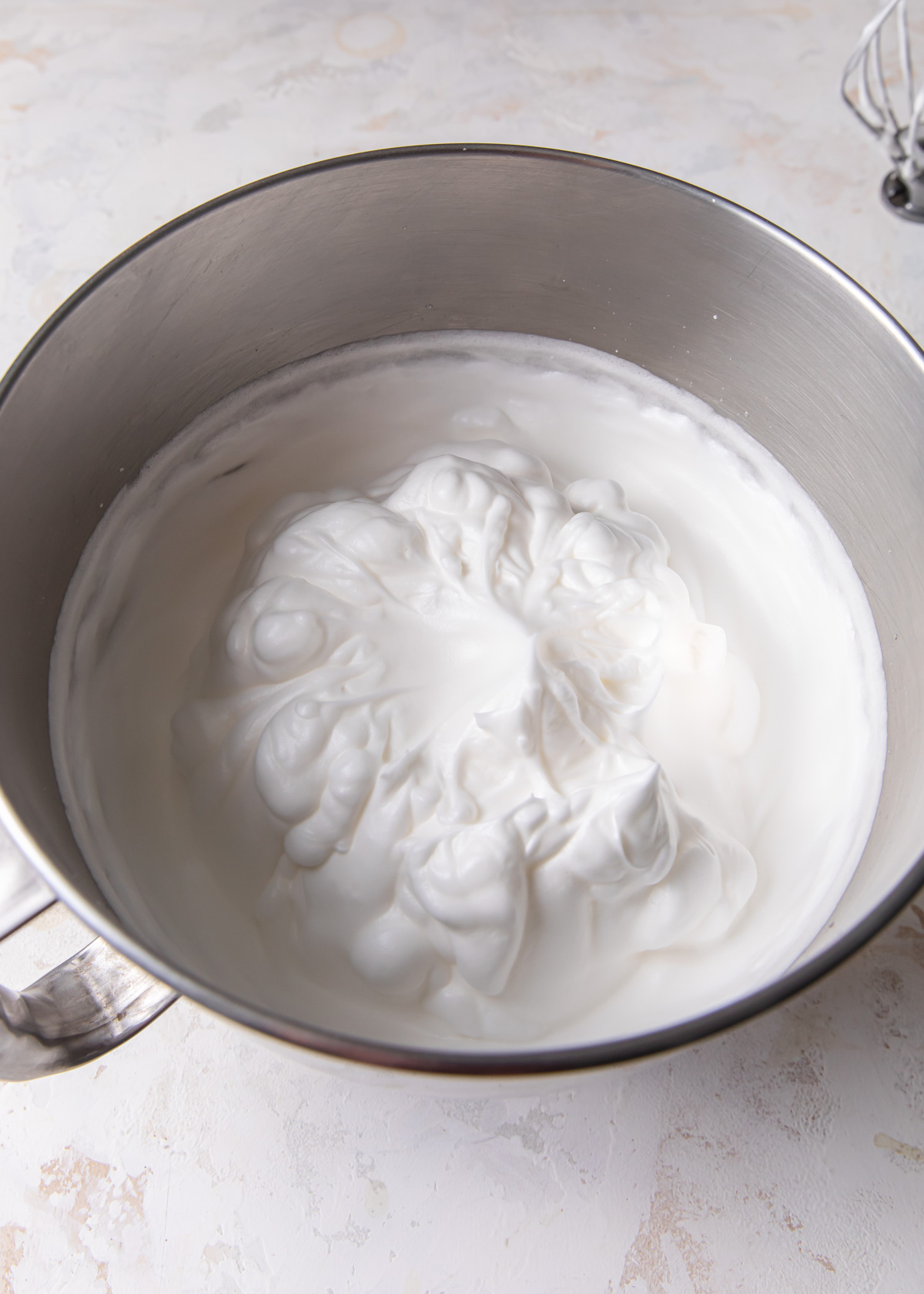 How to Ice a Cake with Whipped Cream
Frosting a cake with whipped cream can be tricky. You want to work as efficiently as possible.
Unlike buttercream that you can scrape off and start over with as often as you please, whipped cream begins to break down the more it is used and overworked.
Using whipped cream whisked to just medium peaks creates a much softer appearance but is a little trickier to work with. Give the remaining cream a few extra whisks to slightly stiffen it up at the end for piping details.
Try this Stabilized Whipped Cream to make things a bit easier!
Supporting Articles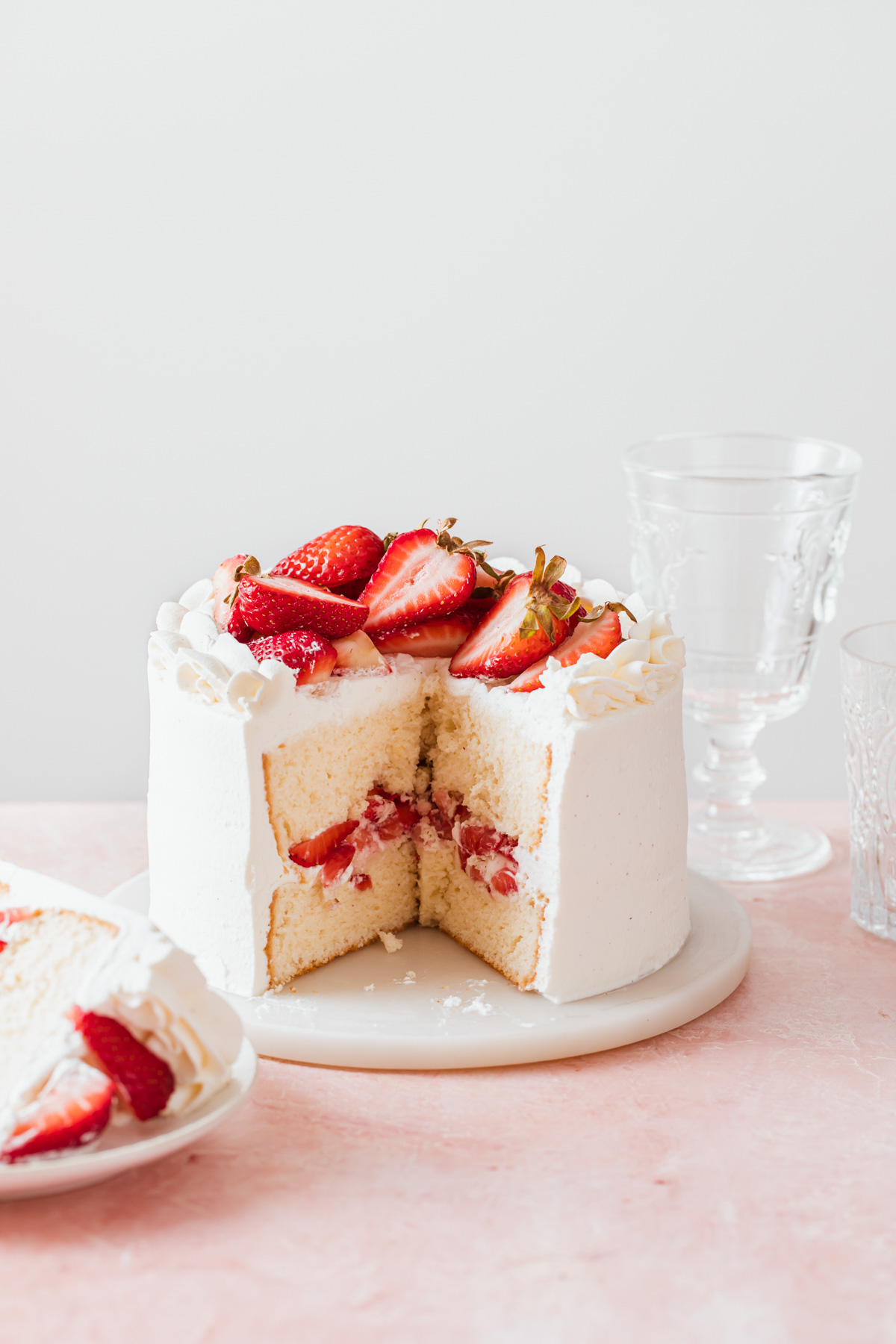 Substitutions
Cake Flour - For every cup of cake flour, measure out 1 cup of all-purpose flour minus 2 tablespoons. The, add back 2 tablespoons of either corn starch or arrowroot powder to get 1 cup of cake flour.
Strawberries - You may swap the strawberries for other fresh fruit like raspberries, sliced banana, sliced peaches, or blueberries. Importantly, make sure the fruit is relatively soft but not squishy. Keep the size of the fruit small to make slicing the cake easier.
Vanilla Bean Paste - Use the seeds of a real vanilla bean (see Tip) or pure vanilla extract.
Whipped Cream with Cream Cheese - adding a bit of cream cheese helps stabilize the whipped cream
Serving and Storage
Serve the cake within 30 minutes of assembling.
Slice the cake with a serrated bread knife.
The cake may be made in advanced and stored in the refrigerator. Refrigerate leftovers for up to 3 days.
Chiffon Cake Pans
Chiffon cakes are typically baked in a tube pan. They often have little "feet" on the edges so that you can cool the cake upside down.
For this type of sponge cake, you do not grease the sides of the pan. This encourages the batter to crawl up the sides to its highest potential and keeps the cake from falling out when flipped to cool.
When baked in a standard round pan, I recommend lining the bottom with parchment but DO NOT grease the sides. If you can, try to still cool the cakes upside down by elevating the rims of the baking pans.
The final cake may still experience some shrinkage, but it will be okay.
Recipe FAQs
What are the best cake pans for baking?
Choose a good quality aluminum cake pan with at least 2-inch tall sides.
Do I have to use cake flour?
You don't have to use cake flour, but cake flour has a lower percentage of protein compared to all-purpose flour that makes the cake softer. See Substitutions for making your own cake flour alternative.
Can I bake this cake in a different pan?
The cake may also be baked as one, 8-inch cake. Check doneness after about 25 minutes of baking. To frost, decrease the cream to 1 ½ cups and sugar to 2 tablespoons.
Baker's Notes
The cake may also be baked as one, 8-inch cake. Check doneness after about 25 minutes of baking. To frost, decrease the cream to 1 ½ cups and sugar to 2 tablespoons.

Do not over whip the cream. L

ikewise,

If you use an electric mixer, stop mixing once the cream thickens and holds soft peaks. Finish whisking by hand.

If the cream is over-whipped and appears grainy, add in a tablespoon or two of heavy cream and whisk to just combined.

DO NOT grease the sides of the pan but DO line the bottom with parchment paper to make sure the layers don't get completely stuck in the pans.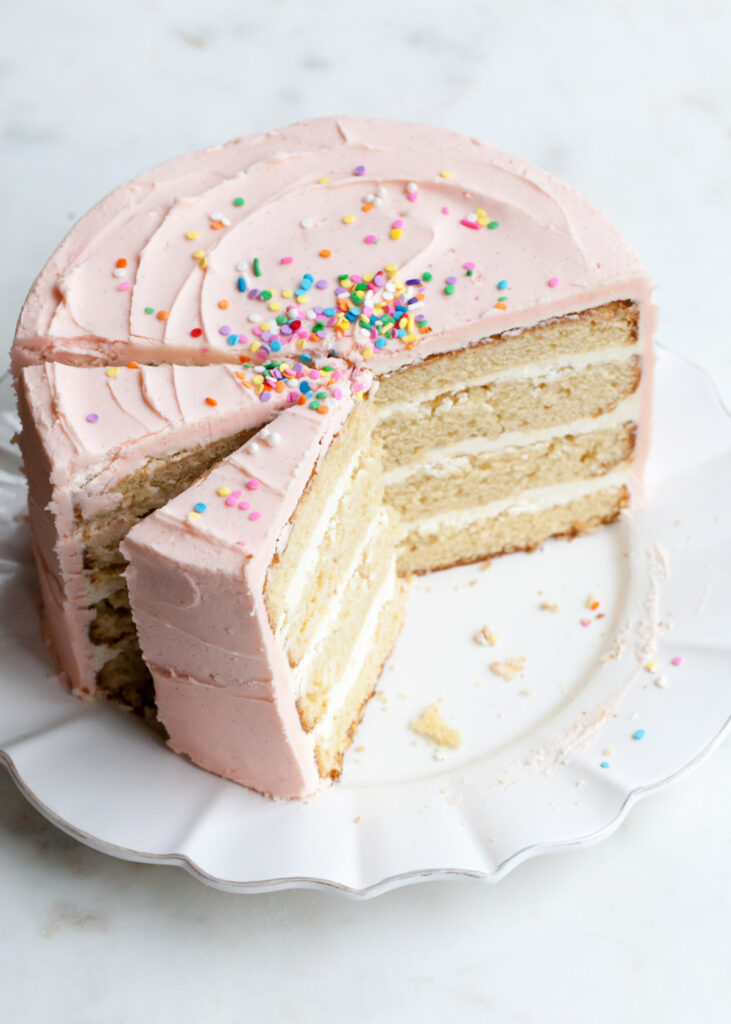 Join the Style Sweet Bake Club!
Get exclusive recipes and articles sent straight to your inbox. Become a subscriber today! Click to join.
More Cakes to Bake
Vanilla Cake with Strawberry Filling
Please leave a star review if you loved this recipe! Make sure to share your recipes and tag me on Instagram @stylesweetdaily.
Recipe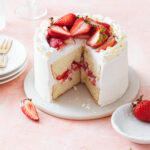 Print Recipe
Mini Strawberry Chiffon Cake
Developed as a two layer, 6-inch cake, this light and fluffy Mini Strawberry Chiffon Cake is perfect for summer celebrations.
Ingredients
For the Chiffon Cake
1

cup

(130 g) cake flour

1

tea

baking powder

¼

tea

salt

¼

cup

(60 ml) canola oil

½

cup

+ 3 tablespoons (140 g) granulated sugar

1

tea

pure vanilla extract

3

egg yolks

¼

cup

(60 ml) whole milk

4

egg whites

¼

tea

cream of tartar
For the Vanilla Bean Whipped Cream
2

cups

heavy cream

3 to 4

tablespoon

granulated sugar

1

tea

vanilla bean paste
To Assemble
⅔

cup

sliced strawberries

1

tablespoon

granulated sugar

1 ½

cups

hulled and quartered strawberries
Instructions
To Make the Cake
Preheat the oven to 350°F. Grease the bottom of two 6-inch cake pans and line them with parchment paper. Set aside.

Whisk together the cake flour, baking powder and salt. Set aside. Using an electric mixer (stand or hand), mix together the oil and all but 1 tablespoon of sugar until combined. Add the vanilla and egg yolks. Mix on medium speed for abut 3 minutes until pale in color. Stop the mixer and scrape down the bottom and sides of the bowl.

With the mixer on low, add in half of the flour mixture and mix until combined. Stream in the milk until absorbed. Add the remaining flour mixture and mix until incorporated. Set aside.

In a washed and dried mixing bowl, add the egg whites and cream of tartar. Begin whisking on low until the egg whites foam. Gradually increase the speed and add the remaining tablespoon of sugar. Mix on medium-high until the eggs hold medium-stiff peaks.

Fold about 1 cup of the whipped egg whites into the cake batter to lightened it up. Gently but deliberately fold in the remaining egg whites until combined.

Evenly divide the cake batter between the two pans. Bake for 25 to 30 minutes, or until a toothpick inserted into the centre of the cakes come out clean. Place the cakes in their pans on a wire cooling rack. Run a very thin knife or metal spatula around the inside of the pan to release the sides of the cake. Continue to cool on the wire racks. Remove the parchment paper from the bottoms before assembling.
To Make the Whipped Cream
Begin whisking the cream (with an electric mixing or by hand) until the cream begins to thicken. Add the sugar and continue to whisk until soft peaks form. Add the vanilla bean paste and whisk until the cream holds medium peaks. Do not over mix.
To Assemble
Toss the sliced strawberries with the granulated sugar and set aside (stirring every so often). Prepare the layers of cake by trimming off the tops of cooled cakes until they are flat and level. Whip the cream.

Place one layer of cake on a cake board or serving dish. Top with about 1 ¼ cups of whipped cream and spread out with an offset spatula. Use the back of a spoon to gently hollow out the center of the cream to create a "bowl" for the slices strawberries. Spoon in the strawberries, leaving their juices behind. Top with the second layer of cake.

Crumb coat the cake with a thin layer of whipped cream and chill in the refrigerator for about 10 minutes.

Smoothly frost the cake with the whipped cream. Give the remaining whipped cream a few more whisks to stiffen it slightly. Fill a piping bag fitted with a star tip with the stiffened whipped cream and pipe a shell border around the top of the cake. Pile the quartered strawberries on top and serve.
Notes
DO NOT grease the sides of the pan but DO line the bottom with parchment paper to make sure the layers don't get completely stuck in the pans.