This Lemon Chiffon Cake is made up of two light and springy layers that are sandwiched with mascarpone cream and lemon curd swirls. The cake comes together with just a few components (that can be prepared in advanced!) and is the perfect balance of casual and sophistication for any summer celebration.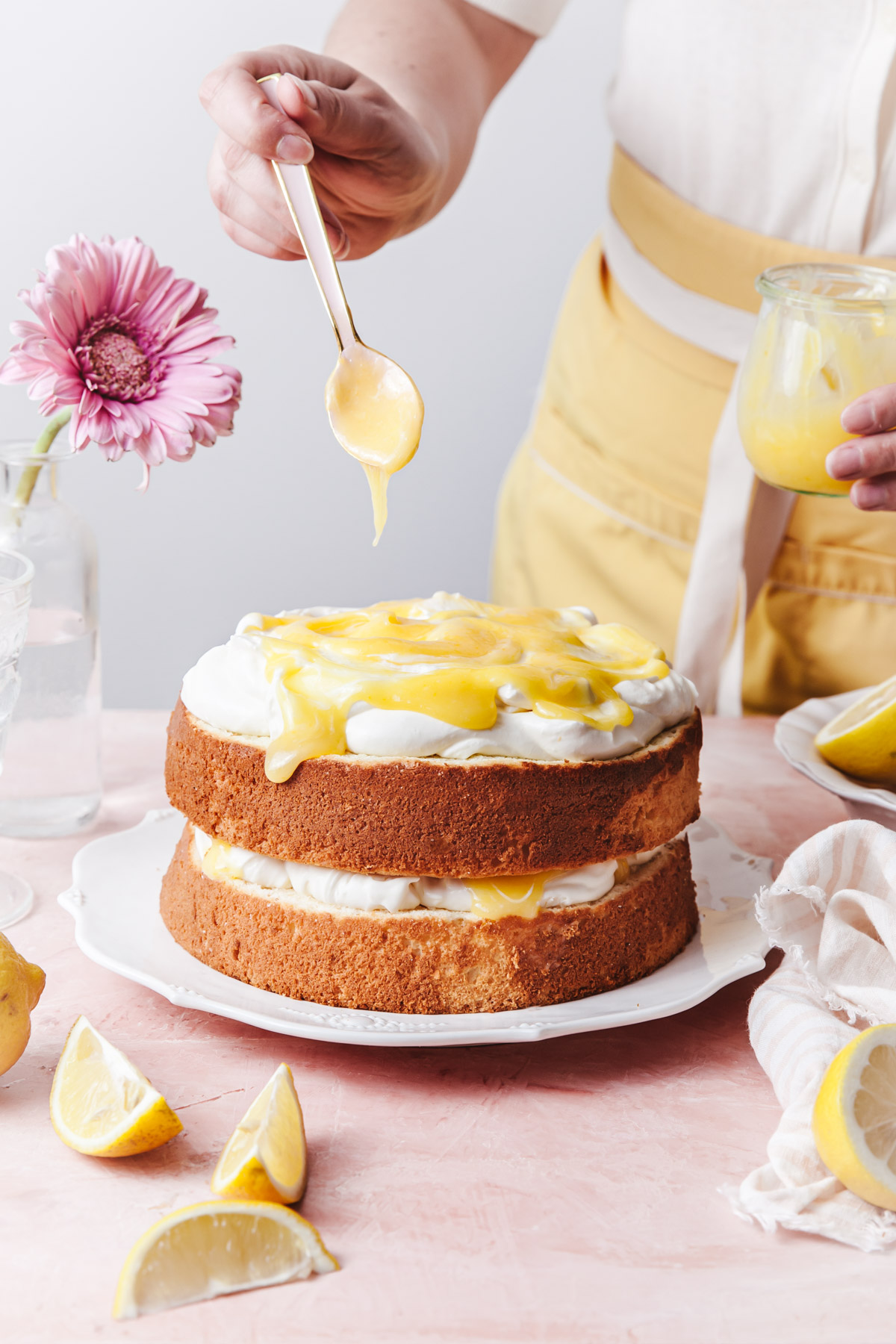 Jump to:
What is a Chiffon Cake?
When you cross a sponge cake with an oil cake, the results are this soft and pillowy yet rich and tender hybrid. Chiffon cakes have a springy texture and are much lighter than butter cakes.
How is it so Pillowy?
Chiffon cake gets its fluffy texture by beating egg whites then folding them into the rich oil and egg yolk ladened batter.
The addition of the whipped whites is important to aerate and lighten the batter since air can't be beaten into the oil (like you can with solid fats (butter) using the creaming method). Just in case that is not enough, the addition of baking powder ensures a nice lift to each layer.
Unlike most cakes, chiffon cakes are baked in un-greased baking bans. Subsequently, this allows the batter to cling and climb up the sides of the baking pan as it bakes to reach its full fluffy potential.
Learn How to Make a Chiffon Cake like a pro!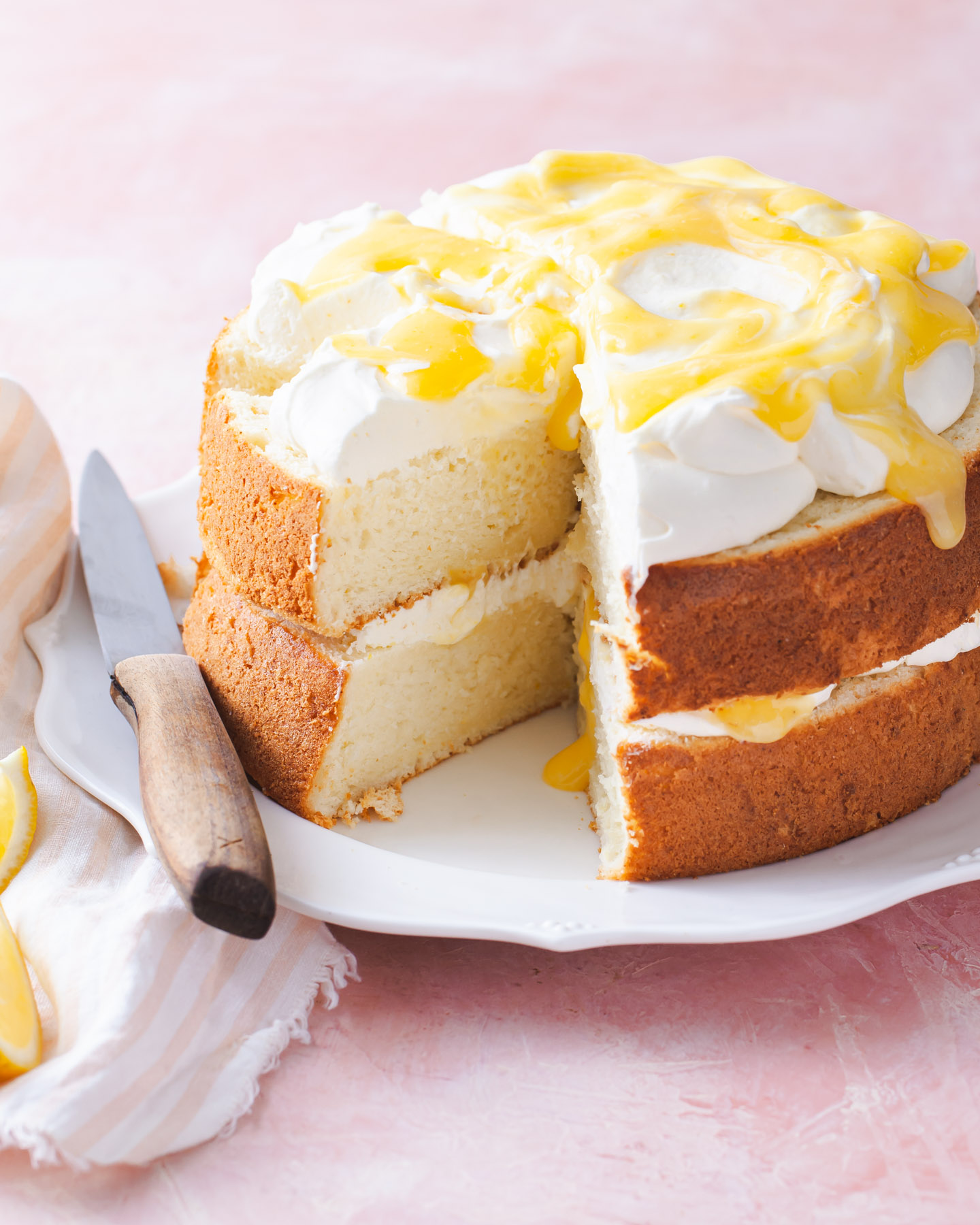 Tasting Notes
Ever refrigerate a butter-based cake and find that it gets hard and no longer soft and tender? The oil in the batter means that even after being refrigerated, chiffon cakes remain soft and pillowy.
This makes chiffon cakes wonderful pairings for fillings that need to be chilled - like pastry cream or this mascarpone cream.
This cake is bursting with lemon while remaining moist, light, and fluffy.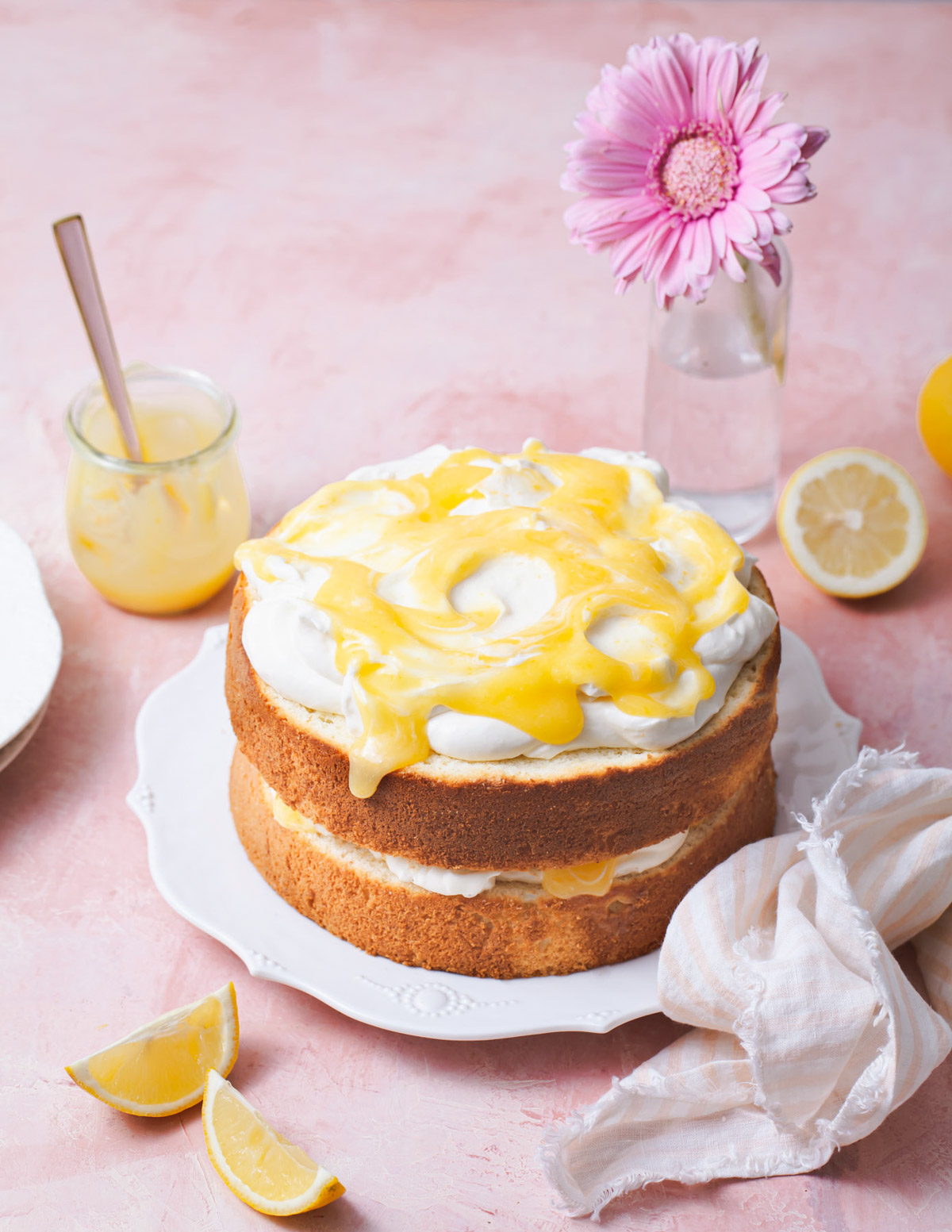 Ingredients
Unsalted butter
Granulated sugar
Fresh lemon juice and zest
Whole eggs, egg yolks and egg whites
Cake flour
Canola oil
Buttermilk
Cream of tartar
Heavy cream
Confectioners' sugar
Mascarpone
See recipe card for quantities.
Tools and Equipment
These are the primary tools you will need to bake this cake:
Stand or hand mixer
Two, 8-inch cake pans
Offset spatula
Saucepan
Whisk
General kitchen tools (measuring cups, spoons, spatula, etc).
Steps for Making a Lemon Chiffon Cake Recipe
Prepare the lemon curd - make it in advance. Store lemon curd in the refrigerator for up to one month. It needs to be cool and thick.
Begin making the cake batter - the batter is made in two parts. It begins like a standard cake by mixing sugar, oil, egg yolks, and flour.
Whip up the egg whites
Next, Fold the batter together - combine the batter and egg whites without deflating.
Bake!
Whip the cream then add the mascarpone
Fold in the lemon curd - gently mix some of the lemon curd into the mascarpone mix
Finally, Assemble and serve!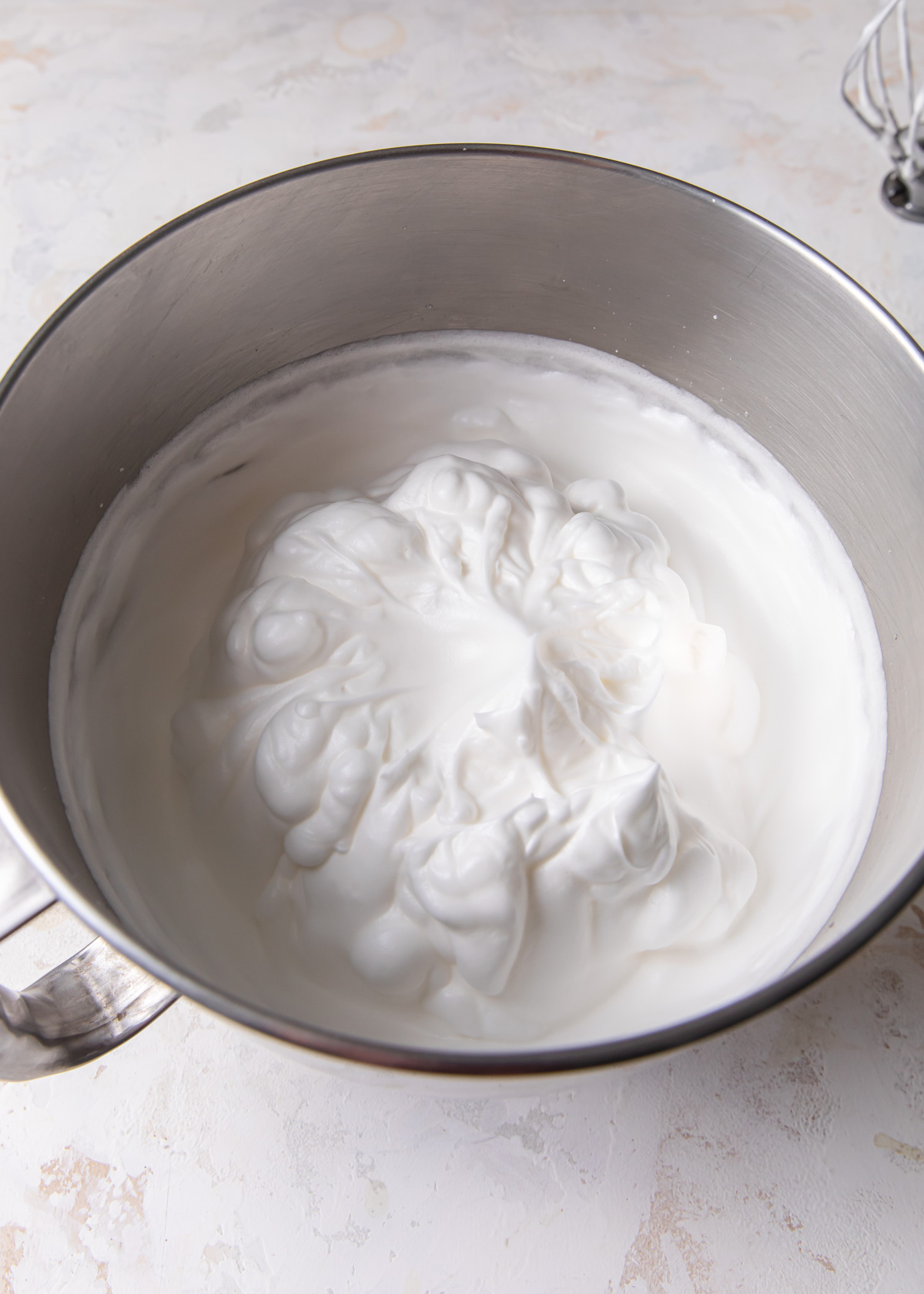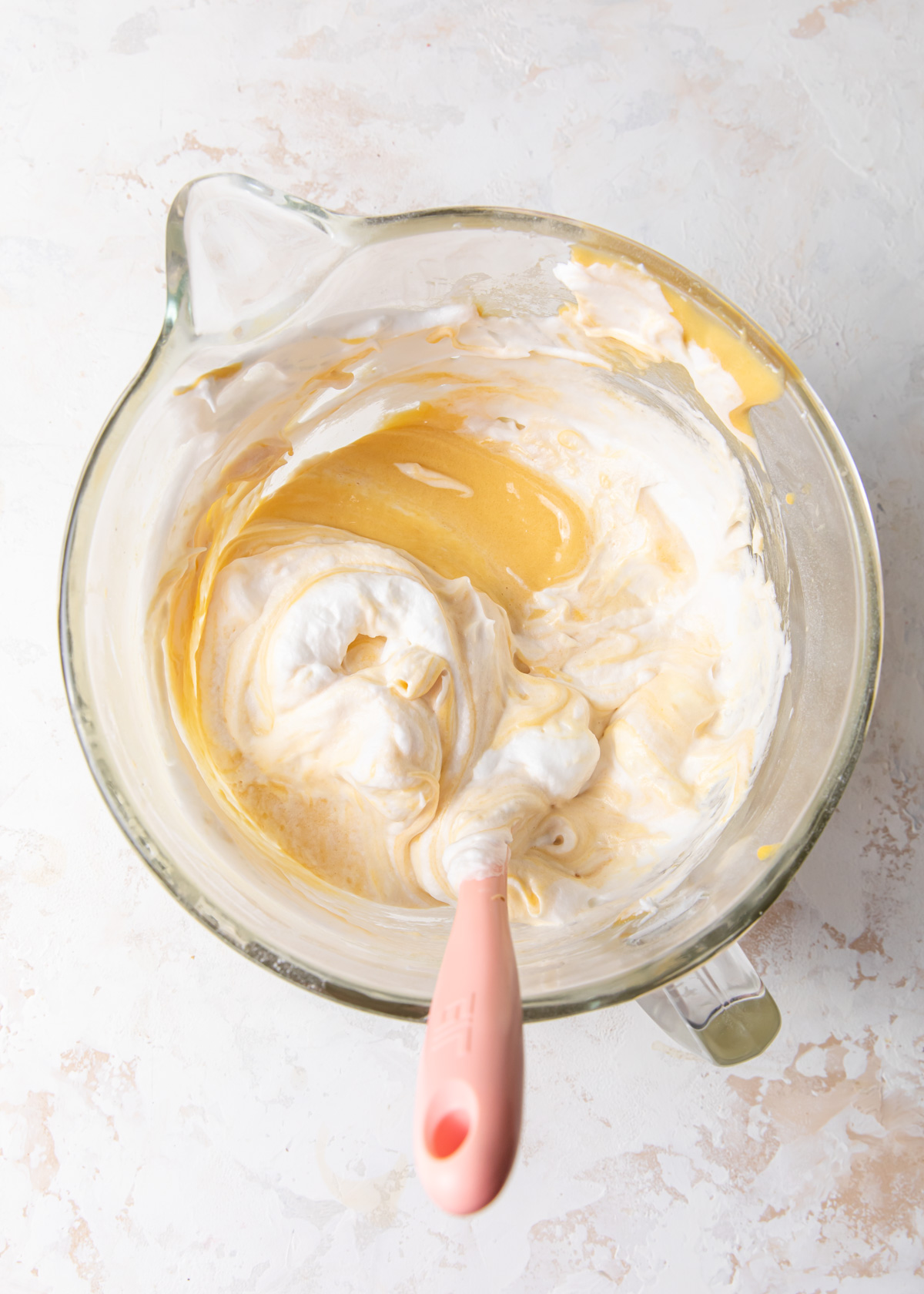 Substitutions
All-purpose flour - I have successfully made chiffon cake with all-purpose flour instead of cake flour. You can also use a cake flour alternative by removing one tablespoon of all-purpose for every 1 cup and replacing it with cornstarch.
Mascarpone - Instead, substitute equal amounts of cream cheese for the mascarpone or try this Stabilized Whipped Cream.
Variations
Make it Strawberry! - fill the cake with fresh chopped strawberries and whipped cream like this strawberry chiffon cake.
Make it a Tube! - instead of round pans, use a standard tube pan to make a more traditional chiffon cake. Increase the bake time accordingly, 45 to 50 minutes. Serve mascarpone and lemon curd on the side.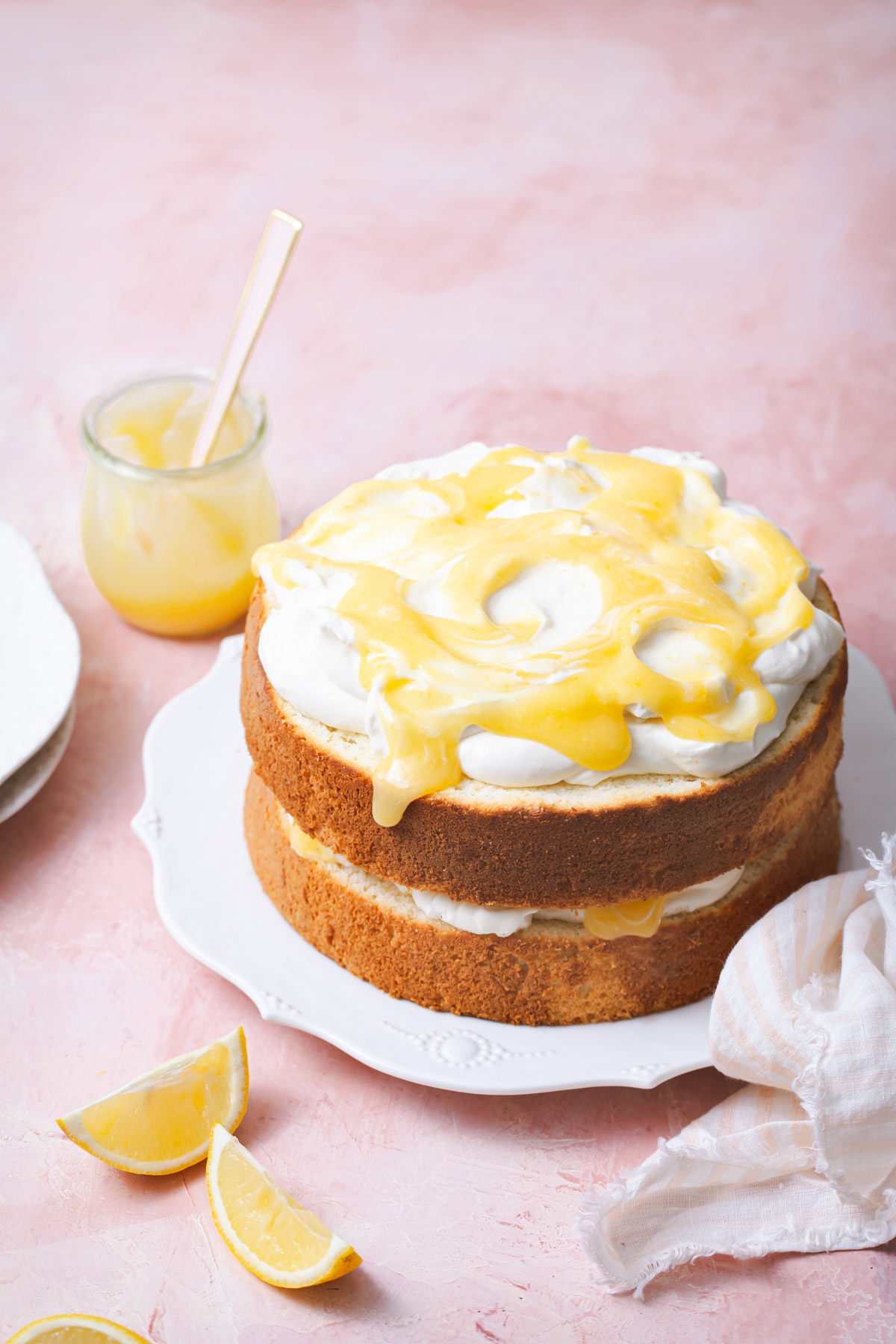 Serving and Storage
If you are able, wait until serving to finish assembling the cake.
Store the cake in the refrigerator until serving. Use plastic wrap to gently cover the sides of the cake and store in a cake box (if available) to keep it from drying out.
If making in advance, wrap the cake layers separately and store at room temperature overnight or in the refrigerator for up to 3 days.
Loosely cover and store leftovers in the refrigerator for up to 3 days.
What is Mascarpone?
Mascarpone is a soft Italian cream cheese that has a high butterfat percentage. It is rich and smooth with a slightly tangy flavor. It is much milder than goat cheese but richer then regular cream cheese. Mascarpone is commonly found in dessert toppings and tarts and is a main ingredient in traditional tiramisu.
Mascarpone also helps stabilize whipped cream. It adds richness and tang that pairs perfectly with tart, sweet lemon curd.
Instead of mascarpone, you can always use cream cheese with similar results.
Read more about making lemon curd!
Lemon Chiffon Cake Recipe FAQs
What is the difference between chiffon cake and sponge cake?
A chiffon cake is a hybrid sponge cake but uses oil and baking powder for extra insurance for list and moisture. Sponge cakes rely purely on the power of separated eggs and whipped egg whites.
What does chiffon cake taste like?
Chiffon cakes are super fluffy. Unlike Angel Food Cake, they are also rich and flavorful.
What cake pan do you use for chiffon cake?
Most chiffon cakes are baked in tube pans and cooled upside down. You can also bake them in regular round cake pans with success.
Baker's Notes
Although the cakes bake up rather flat, removing the top crust of each cake allows the filling to further soak into the cake and keep them moist and flavorful.

The bowl

needs to be

clean and

thoroughly dried

before whipping egg whites

.

The cake and lemon curd may be made in advanced and assembled just before serving.

Use a long serrated knife to cut and serve the cake.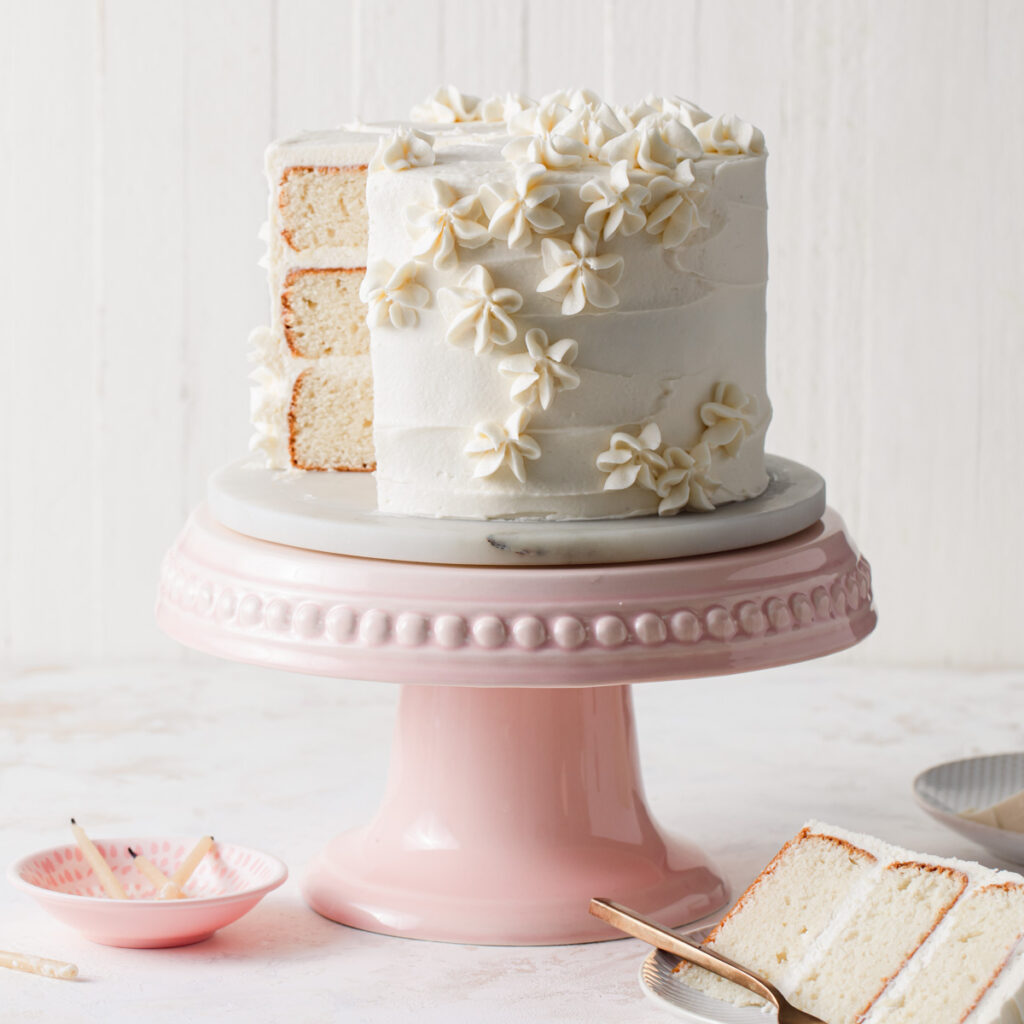 Join the Style Sweet Bake Club!
Get exclusive recipes and articles sent straight to your inbox. Become a subscriber today! Click to join.
MORE CAKES TO BAKE
Please leave a star review if you loved this recipe! Make sure to share your recipes and tag me on Instagram @stylesweetdaily.
Recipe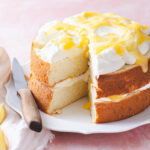 Print Recipe
Lemon Chiffon Cake
Two light and springy Lemon Chiffon Cake layers are sandwiched with mascarpone cream and lemon curd swirls. 
Ingredients
For the Lemon Curd
5

tablespoon

unsalted butter, diced

¾

cup

granulated sugar

5

tablespoon

fresh lemon juice

2

lemons, zested

2

large egg yolks

1

large egg
For the Lemon Chiffon Cake
2

cups

cake flour

1

teas

baking powder

½

teas

salt

½

cup

canola or grapeseed oil

1 ⅓

cups

granulated sugar

2

lemons, zest

2

teas

vanilla extract

6

large egg yolks

⅓

cup

buttermilk

2

tablespoon

fresh lemon juice

8

large egg whites

¾

teas

cream of tartar
For the Mascarpone Cream
1

cup

heavy cream

⅓

cup

confectioners' sugar

1

cup

mascarpone

¼

cup

Lemon Curd

prepared
Instructions
To Make the Lemon Curd
Place the butter in a heat safe bowl. Set a mesh sieve on top of the bowl and set aside.

Whisk together the sugar, lemon juice, lemon zest, egg yolks, and egg in a saucepan. Cook over medium heat, whisk stirring constantly with a heat-safe rubber spatula to keep the eggs from curdling. Cook until the lemon curd thickens enough to coat the back of a spoon or reciters 160°F on a candy thermometer.

Once thickened, remove the curd from the heat and strain through the mesh sieve into the butter. Stir the lemon curd until the butter melts and combines. Press a piece of plastic wrap directly to the surface of the curd and refrigerate until cool and thick.

Lemon curd may be made in advanced and stored for up to 1 month in the refrigerator.
To Make the Lemon Chiffon Cake
Preheat the oven to 350°F. Grease and line the bottoms (not the sides) of two 8-inch cake pans with parchment paper and set aside.

Sift together the cake flour, baking powder, and salt. Set aside.

In the bowl of stand mixer fitted with the paddle attachment (or a bowl with a hand mixer), add the sugar and lemon zest. Massage the lemon zest into the sugar with your fingertips until the zest releases its oils and becomes very fragrant. Add the oil and mix together on medium speed for 1 minute. Add the vanilla and egg yolks, waiting until each is incorporated before adding in the next. Continue to mix for a few minutes until the batter is pale in color. Stop the mixer and scrape down the bowl.

Add half of the flour mixture then mix on low until just combined. Stream in the buttermilk and lemon juice. Mix until the liquids are absorbed. And in the remaining flour and mix until smooth. Set the batter aside.

In a second mixing bowl (or clean and dry the first bowl), add the egg whites. With the whisk attachment, beat the eggs on medium-low speed until they begin to foam. Add in the cream of tartar and slowly increase the speed to medium-high. Continue to whisk until the whites hold medium peaks.

Stop the mixer and fold the whipped egg whites into the cake batter. Evenly divide the batter between the two pans. Bake for 25 to 28 minutes, or until a toothpick inserted into the center of the cakes comes out clean. Place the baked cakes on a wire rack and carefully run a thin knife around the top edge of each cake to gently release it from the sides of the pan. Allow to cool before removing the cakes from their pans. Once completely cool, use a serrated knife to trim off the tops of the cakes.
To Make the Mascarpone Cream
Place the heavy cream and confectioners' sugar in the bowl of a stand mixer fitted with the whisk attachment (or in a bowl with a hand mixer). Whisk on medium-high until the cream begins to thicken. Once it hold very soft peaks, add the mascarpone. Continue to whisk on medium-high until soft-medium peaks.

Fold in the Lemon Curd. Refrigerate until ready to use.
To Assemble
Place one layer of cake on a serving dish and cake stand. Dollop half of the mascarpone on top and gently spread to the edges with the back of a spoon or offset spatula. Place spoonfuls of lemon curd on top and gently swirl together. Place the next layer of cake on top and repeat with the remaining mascarpone and lemon curd. Serve within about 30 minutes or place in the refrigerator (covering the exposed sides loosely cover in plastic wrap.)