Part sponge cake and part oil cake, this vanilla chiffon cake is incredibly fluffy and moist at the same time. It is made by folding together a typical cake batter and clouds of puffy egg whites that give it mega lift and lightness. Let's take a look: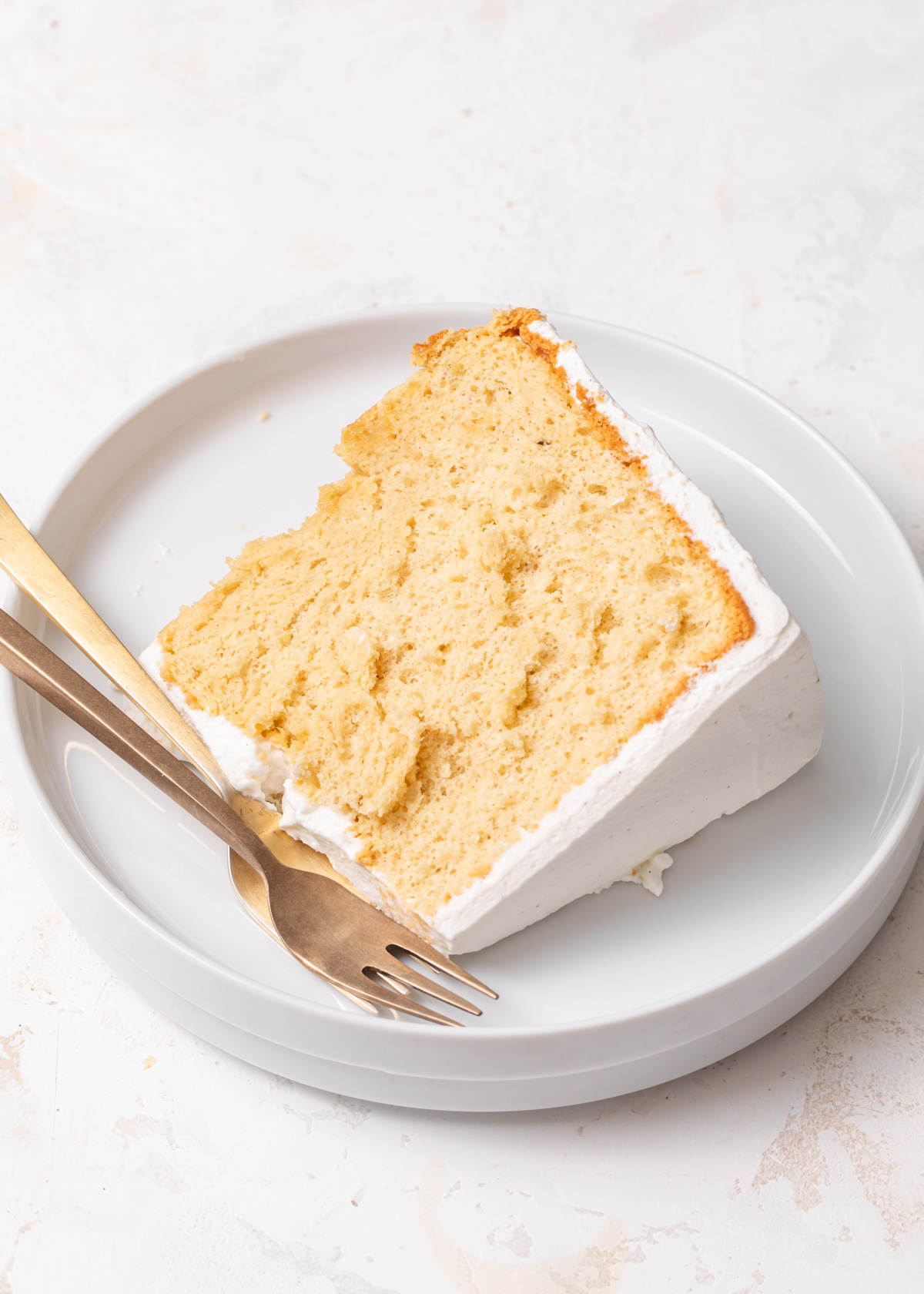 If you want the light, springy qualities of a sponge cake but with the richness of a butter cake, then this fluffy vanilla chiffon cake recipe is for you.
A chiffon cake can double as the main event while also making room for some co-stars. Serve it plain with a dollop of whipped cream and berries or treat it like a layer cake, like this lemon chiffon cake with lemon curd and mascarpone cream.
Jump to:
I picked vanilla today for learning the ins and outs of making a proper chiffon cake, but you can use this base recipe to flavor the cake with citrus, tea, and more.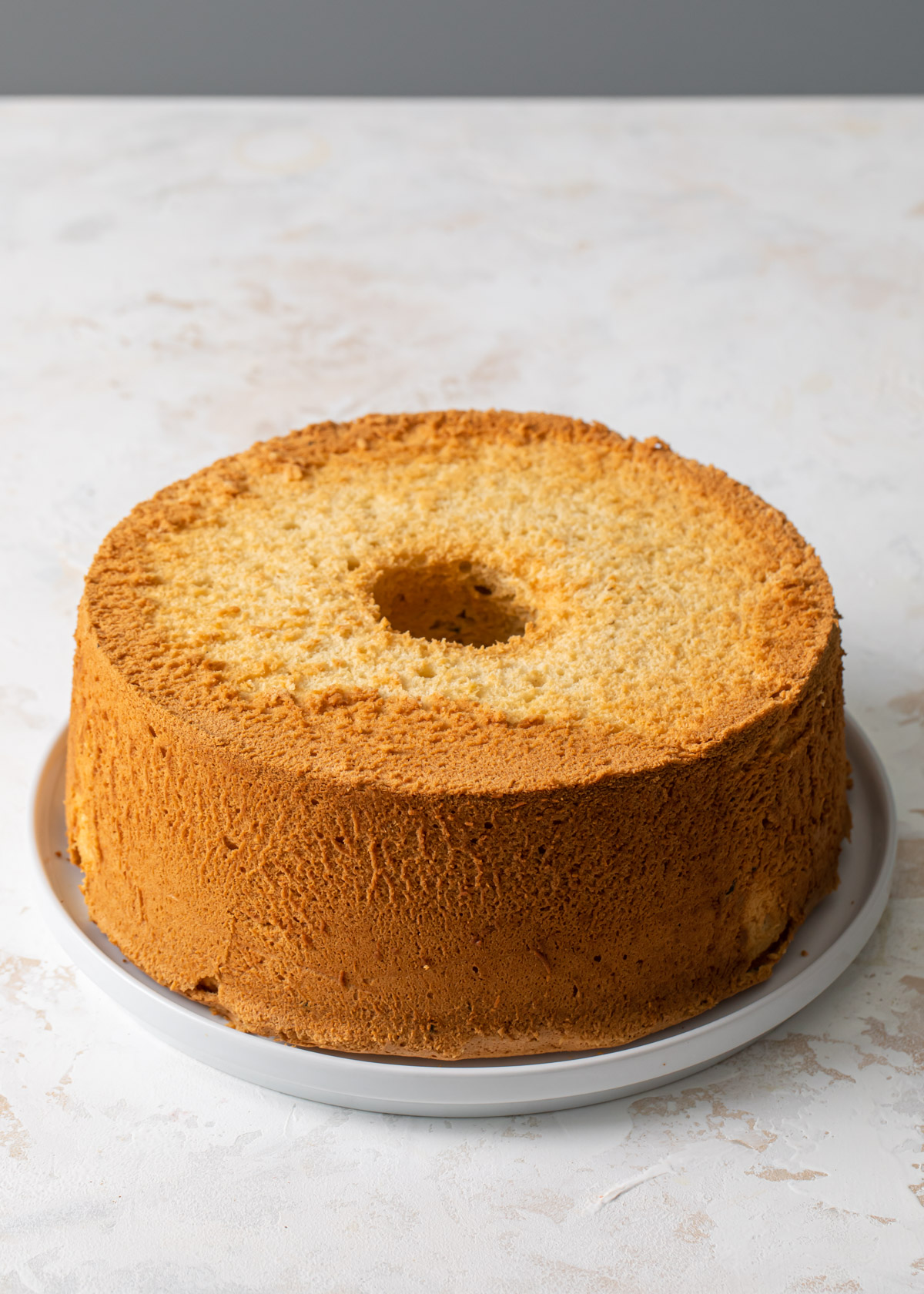 What is a Chiffon Cake?
A chiffon cake is cross between a sponge cake and an oil cake. This hybrid is soft and pillowy from whipped egg whites but rich and tender from the addition of oil and fat laden egg yolks.
A chiffon cake is moist, rich, and melt-in-your mouth tender. It is so springy that you can squish it with your hand and it will spring back.
Chiffon Cake vs Sponge Cake
So what's the difference between sponge cake and chiffon cake?
Sponge cakes or "foam" cakes are light with an open texture that they get from whipped eggs. Sponge cake recipes can call for whole eggs or only the egg whites that are whipped up to a foam.
Often, the whipped eggs are the only ingredient used to lift and leaven sponge cakes - i.e. no baking powder or baking soda.
When making a chiffon cake, whipped egg whites are folded into the cake batter. The biggest difference between most other sponge cakes and chiffon cakes is that chiffon cakes have a significant amount of oil while others have little to no additional fat beyond egg yolks.
Chiffon cakes also include baking powder to ensure proper lift.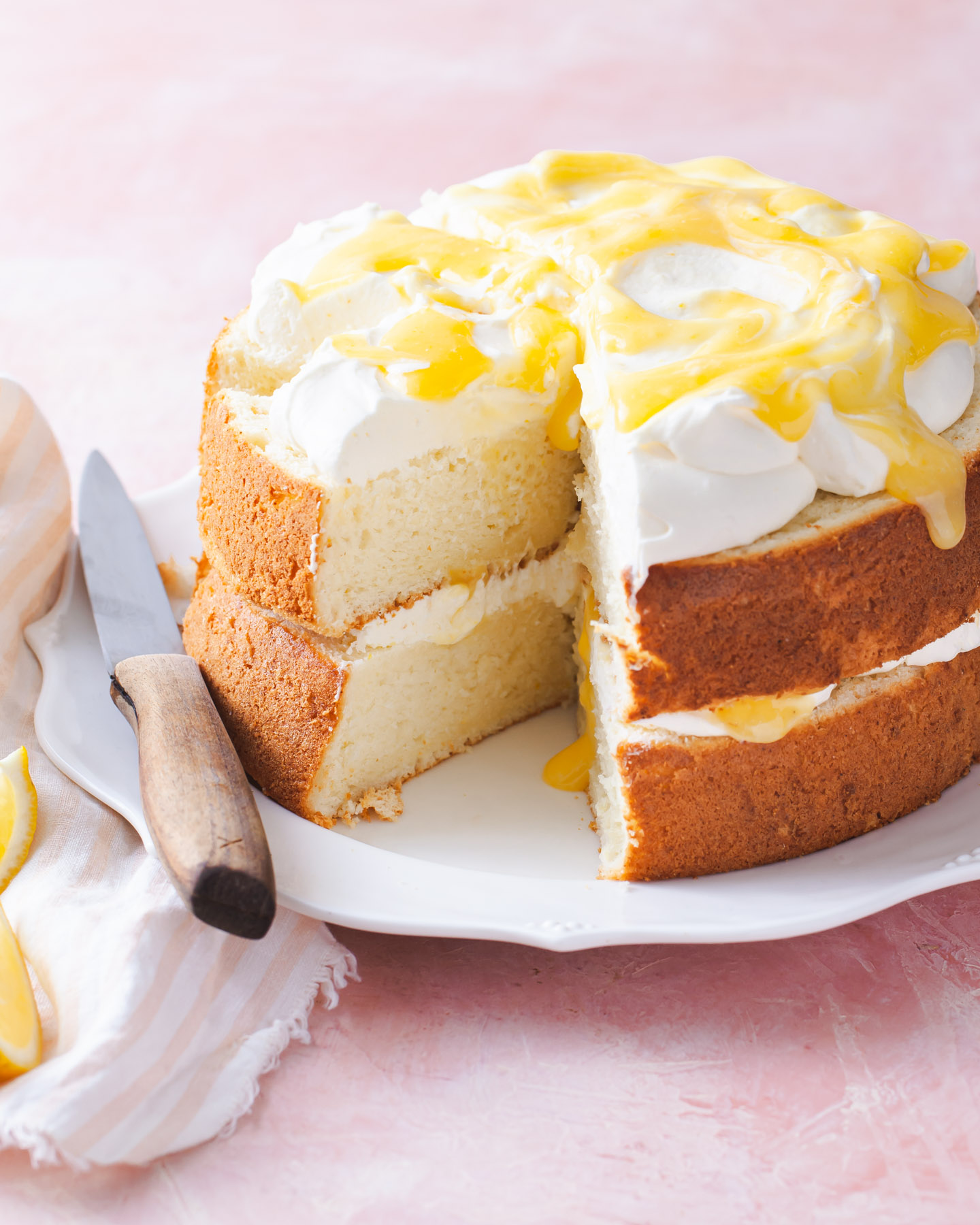 What's the difference between Angel Food Cake and Chiffon Cake?
Angel Food Cake is a type of sponge cake. It is made with only whipped egg whites. It contains no fat, but a considerable amount of sugar.
Chiffon cakes use whipped egg whites along with egg yolks and vegetable oil.
What Does Chiffon Cake Taste Like?
This light cake takes on the qualities of whatever you flavor it with. On its own, there are notes of vanilla with a buttery taste (although typically made with oil).
It's the melt-in-your-mouth quality of this cake that I adore, while still being rich and moist. Think about a dense yet buttery, rich pound cake and a feather-light but kind of bland Angel Food Cake - chiffon cake sits neatly in the middle.
Chiffon Cake Ingredients
A vanilla chiffon cake is made with common cake ingredients: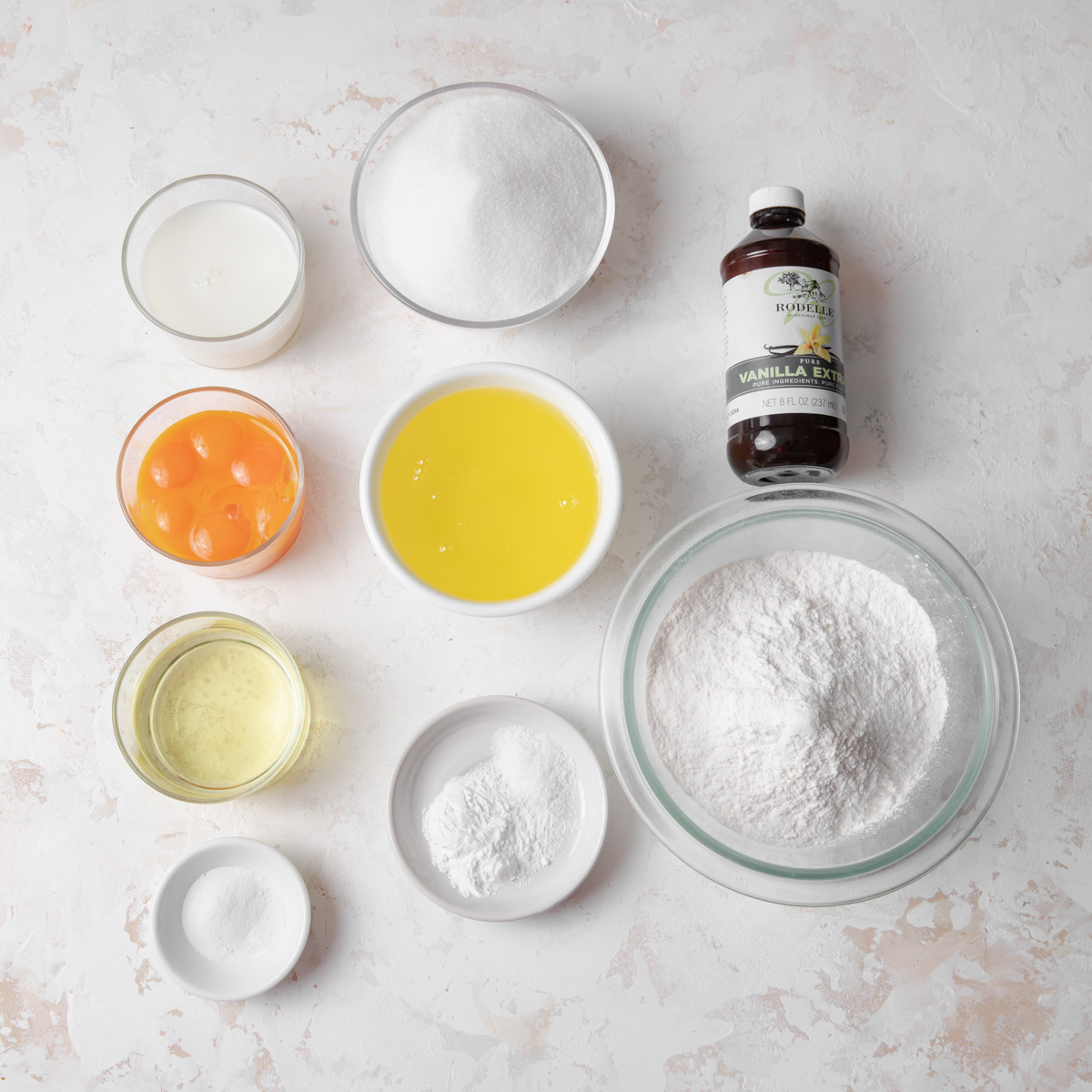 All-purpose flour - I've also used cake flour, but all-purpose still yields a soft and fluffy cake
Baking powder - unlike other sponge cakes, baking powder ensures an extra rise
Salt - use kosher salt, like Diamond Crystal
Granulated sugar
Vanilla - for an ultra vanilla chiffon cake, use the seeds of a fresh vanilla bean. Vanilla bean paste or extract also work wonderfully
Avocado or vegetable oil - any neutral oil will do
Whole milk - other percentages or non-diary milk will work too
Whole eggs - separated into yolks and whites
Cream of tartar - to help stabilize the whipped egg whites and keep them from deflating too quickly
Tools and Equipment
For as simple as the ingredients are, there are a couple specific tools needed to make a proper chiffon cake.
Unless you are looking for an arm workout, you will need an electric mixer to whip the egg whites. Fluffy egg whites can be achieved with an electric hand mixer, but I recommend a stand mixer fitted with a whisk attachment if available.
A chiffon cake is typically baked in a tube pan. A tube pan is a round baking pan that has a hollow tube in its center. The tube conducts heat for more even baking. More specifically, a chiffon cake tub pan has metal feet around the rim so that the cake can cool upside down.
Tube Pan Tip
Do not grease the sides of the tube cake pan! Unlike almost every other type of cake, you want the cake batter to crawl up the un-greased sides of the pan for maximum height. Likewise, do not grease the bottom so that the cake doesn't fall out while cooling upside-down.
Don't worry about getting the cake out - the sides and inner tube part of the pan separate after baking.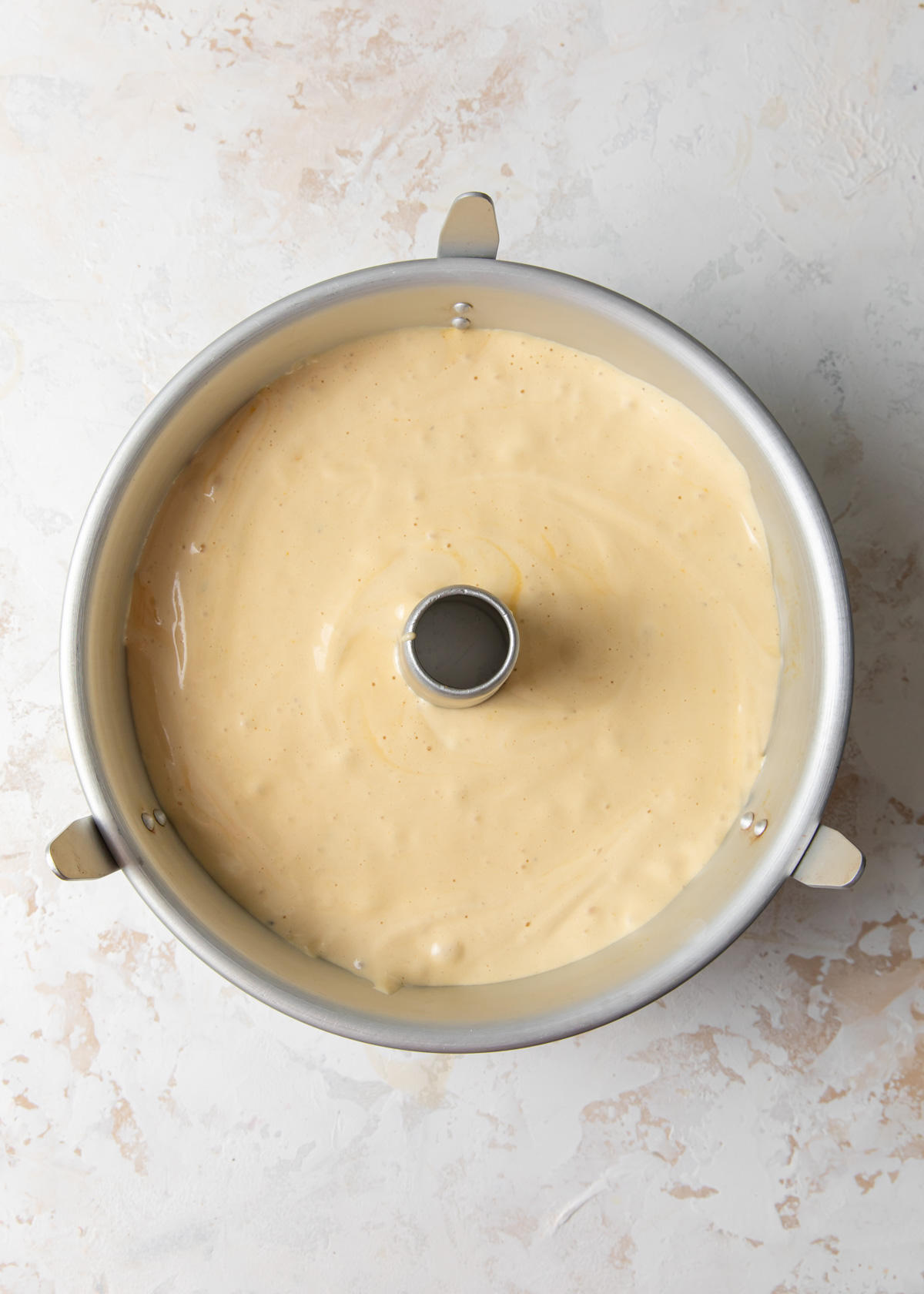 Yes, you can bake a chiffon cake in a round pan. However, it will slightly collapse after cooling. I've baked many chiffon cakes this way, at they make for some of the most delightful layer cakes, like this Strawberry Chiffon Cake.
How to Bake Chiffon Cake
If you've never made a sponge cake before, start with a vanilla chiffon cake. It is the most forgiving in the sponge cake family. Whipping and folding in egg whites for the first time can be a new experience, but the baking powder acts as a safety.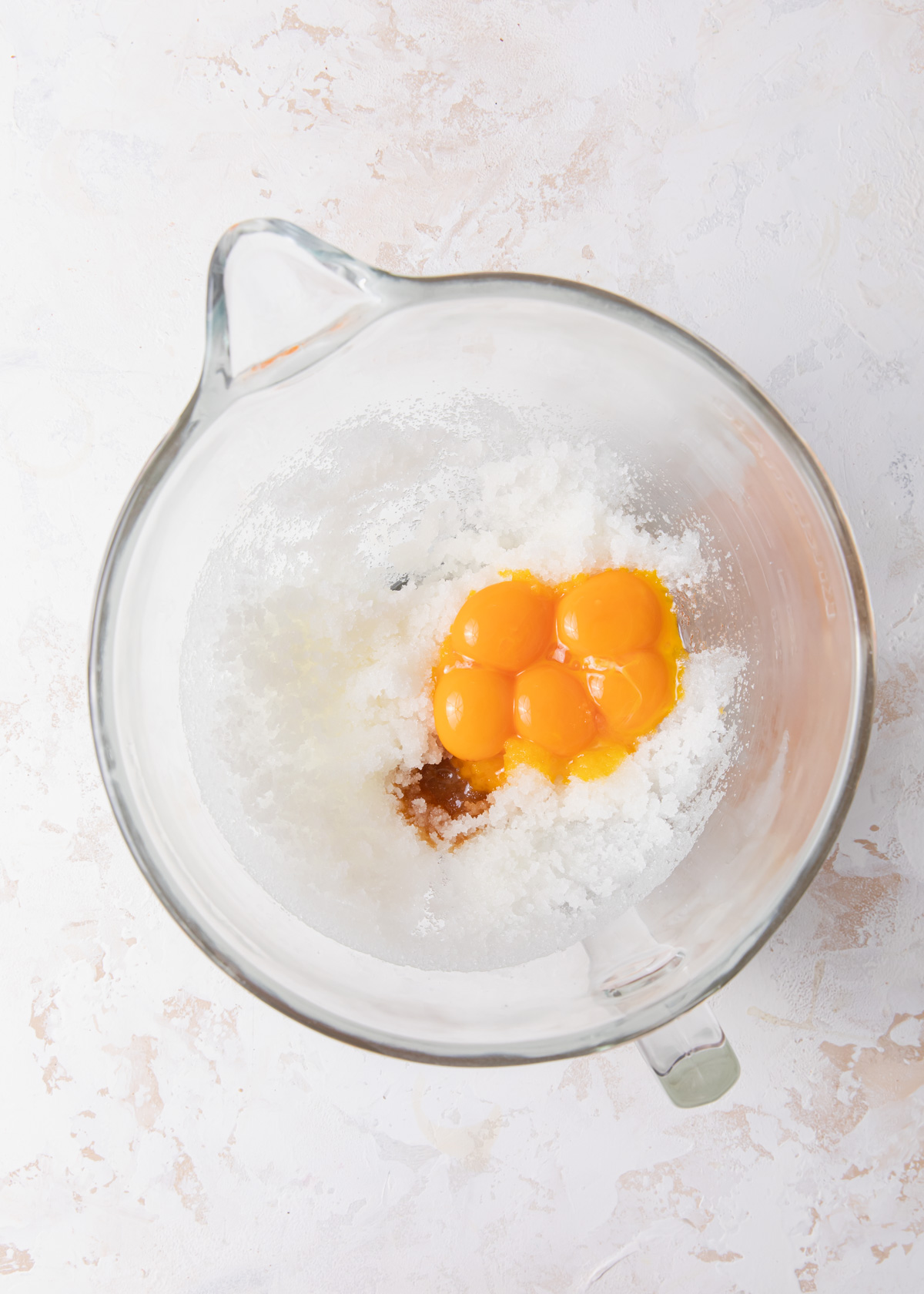 Begin by mixing together a typical cake batter - sans egg whites. Start with the sugar, oil, vanilla, and yolks.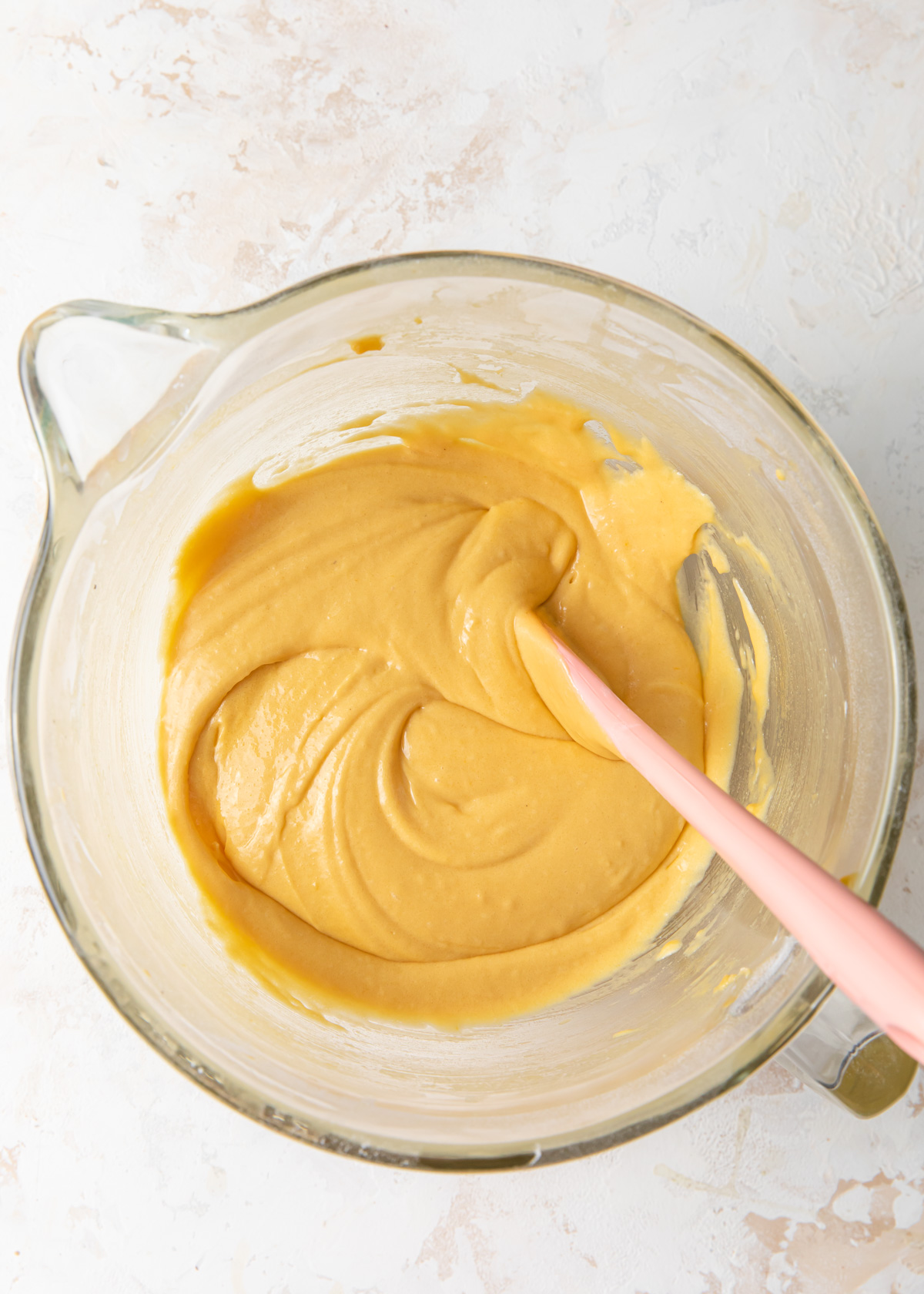 After combining the egg-sugar mixture, alternate adding in the dry ingredients and milk to make a smooth, thick batter.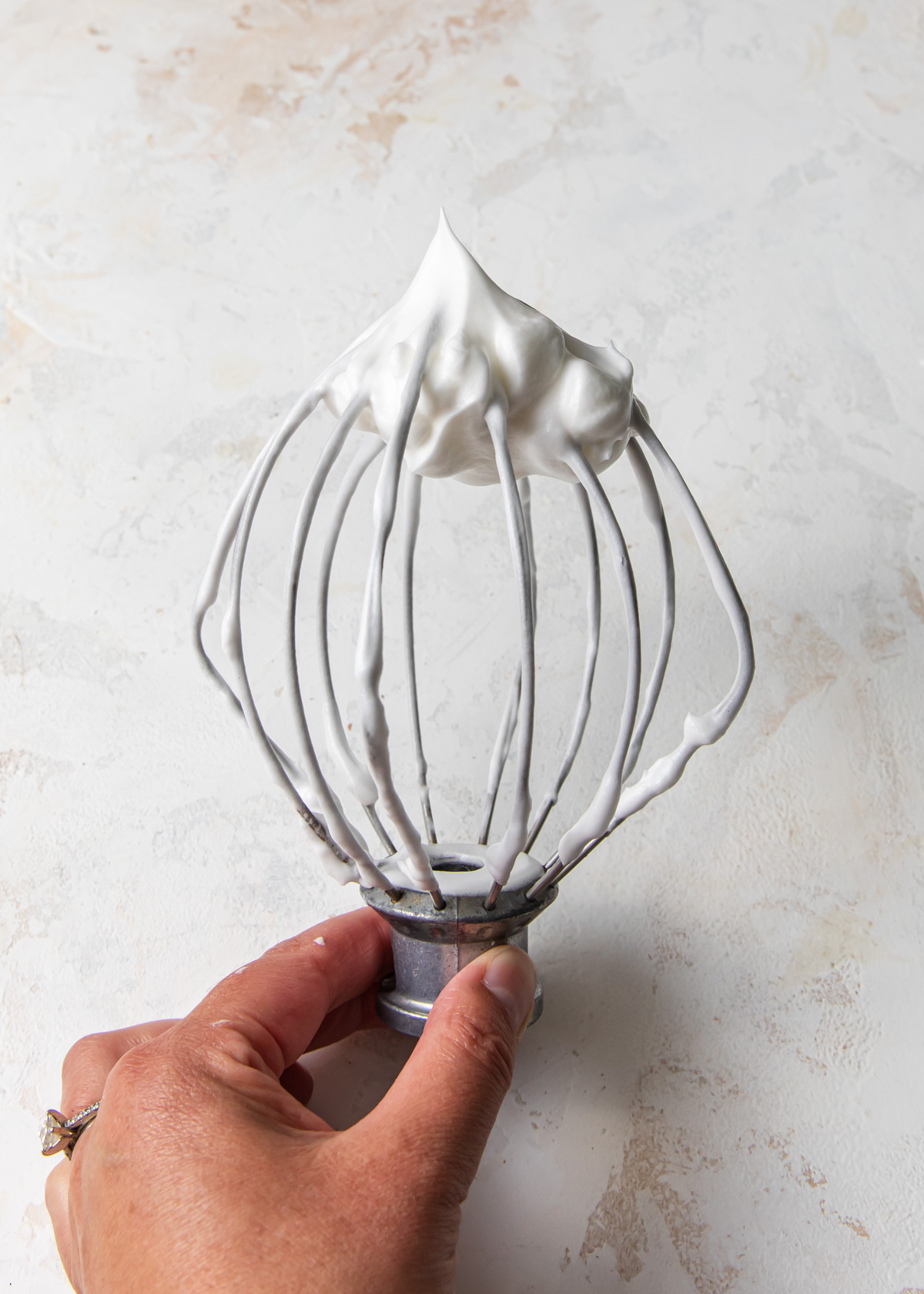 In a separately bowl, whip the egg whites until puffy and they hold medium-stiff peaks.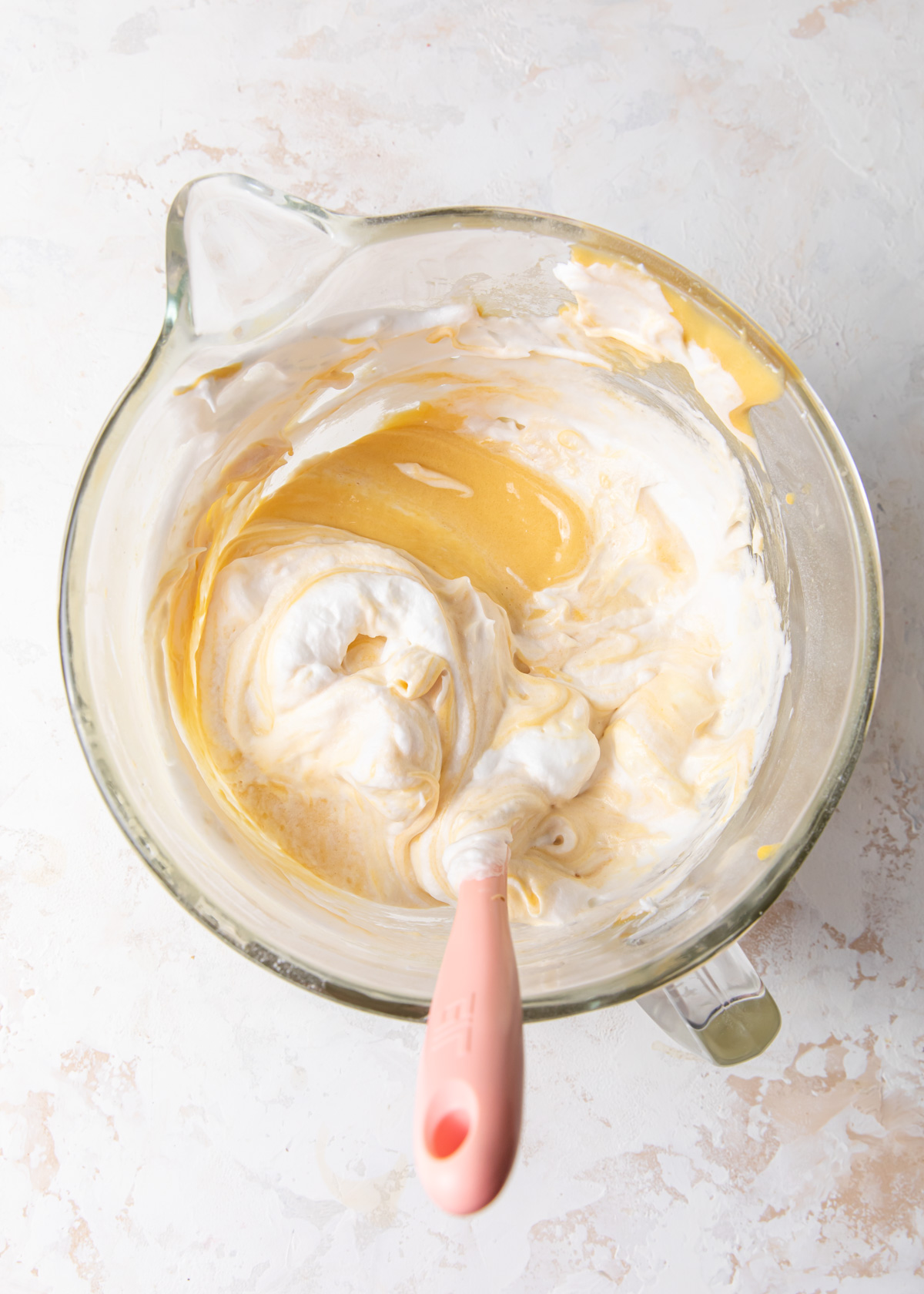 Working in 3 batches, fold the egg whites into the egg yolk batter - taking care not to deflate the whipped whites.
Pour the cake batter into an ungreased tube pan. Swirl the tip of a knife in the batter a few times to break up any large air bubbles.
Bake the chiffon cake at 325°F for about 50 minutes. Test the cake by inserting a toothpick into the center of the cake. When done, it will be clean or with a few moist crumbs.
After the cake is baked, cool the whole thing (in the tube pan) upside-down. That's what the feet are for! If your tube pan does not have feet, pop the hollow tube over the neck of a wine bottle, or similar.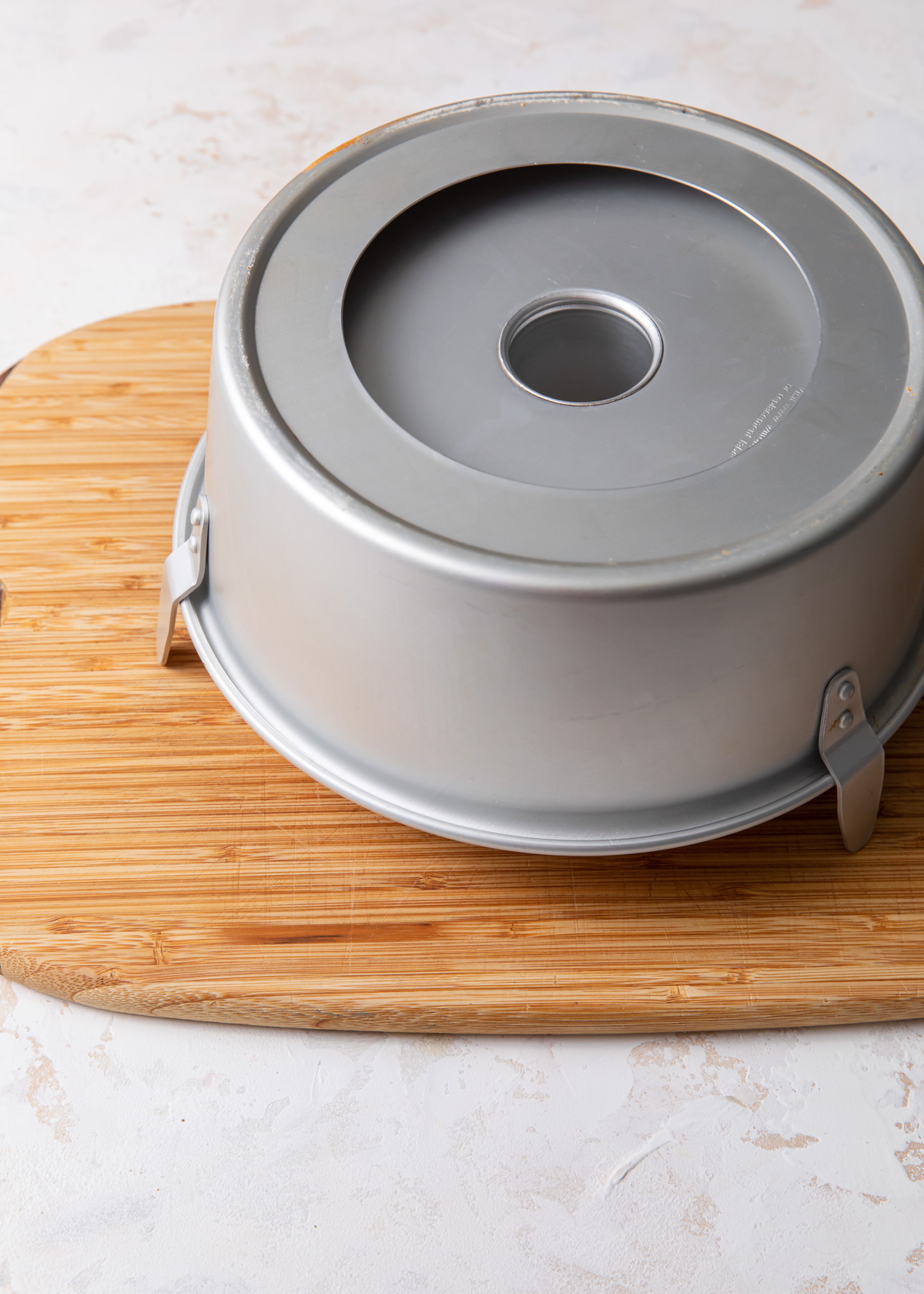 Serving and Storage
Store chiffon cake at room temperate for up to 2 days. Wrap well in plastic or put it in an air-tight container to keep the cake from drying out.
If iced with whipped cream or similar, store the cake in the refrigerator. Since the cake is made with oil, it will stay soft and tender even after refrigeration.
To freeze, wait until cake had completely cooled then wrap well in plastic. Store in the freezer for up to 2 months (longer if placed in an air-tight container or zip-top freezer bag. Thaw frozen cake in the refrigerator before serving.
How to Whip Egg Whites
The key to whipping up puffy clouds of egg whites is to start low and slow then gradually increase to high speed. Using the whisk attachment, begin mixing on low speed until tons of tiny air bubbles form.
Next, sprinkle in the cream of tartar and sugar while gradually increasing the speed to medium. After the eggs are completely opaque, turn the mixer up to medium-high speed.
Whip the egg whites until they are thick and billowy. When you stop the mixer and lift up the whisk, they should hold medium peaks.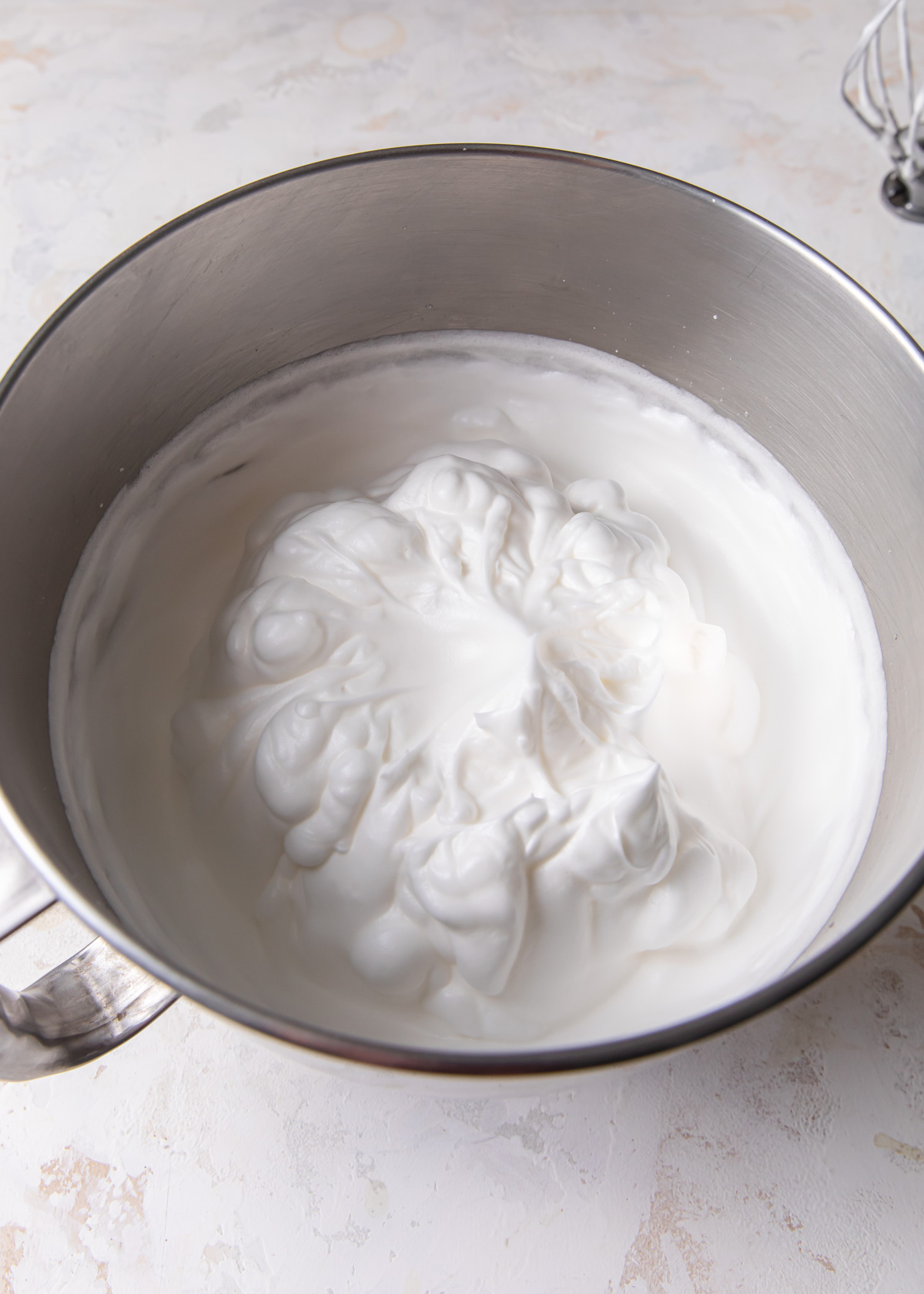 Do not over-mix egg whites. If you mix too long, the egg whites will turn dry and begin to clump together. Not only are these types of egg whites less efficient at creating puffy cakes, they are much harder to fold into the batter and can lead to a collapsed cake structure.
Tips for Whipping Egg Whites
Whip egg whites in a clean bowl. It must be free from grease. Metal and glass bowls work best.
Add an acid. Cream of tartar, lemon juice, and vinegar help stabilize whipped egg whites are keep them from deflating too quickly.
Keep egg whites free from fat. This mostly means no drips of yolk, but also free from any grease or fat residues from the mixing bowl (see first tip) or whisk.
A Mini Lesson on Folding
Folding as a cooking terms means to gently combine two ingredients or mixtures with little agitation. If whisking means to stir vigorously, folding is the opposite.
This stirring technique is often used to combine things of different densities, like a thick almond batter with fluffy egg whites when making French macarons. Folding is also used to combine ingredients that are already whipped, like whipped cream, so that they are not deflated.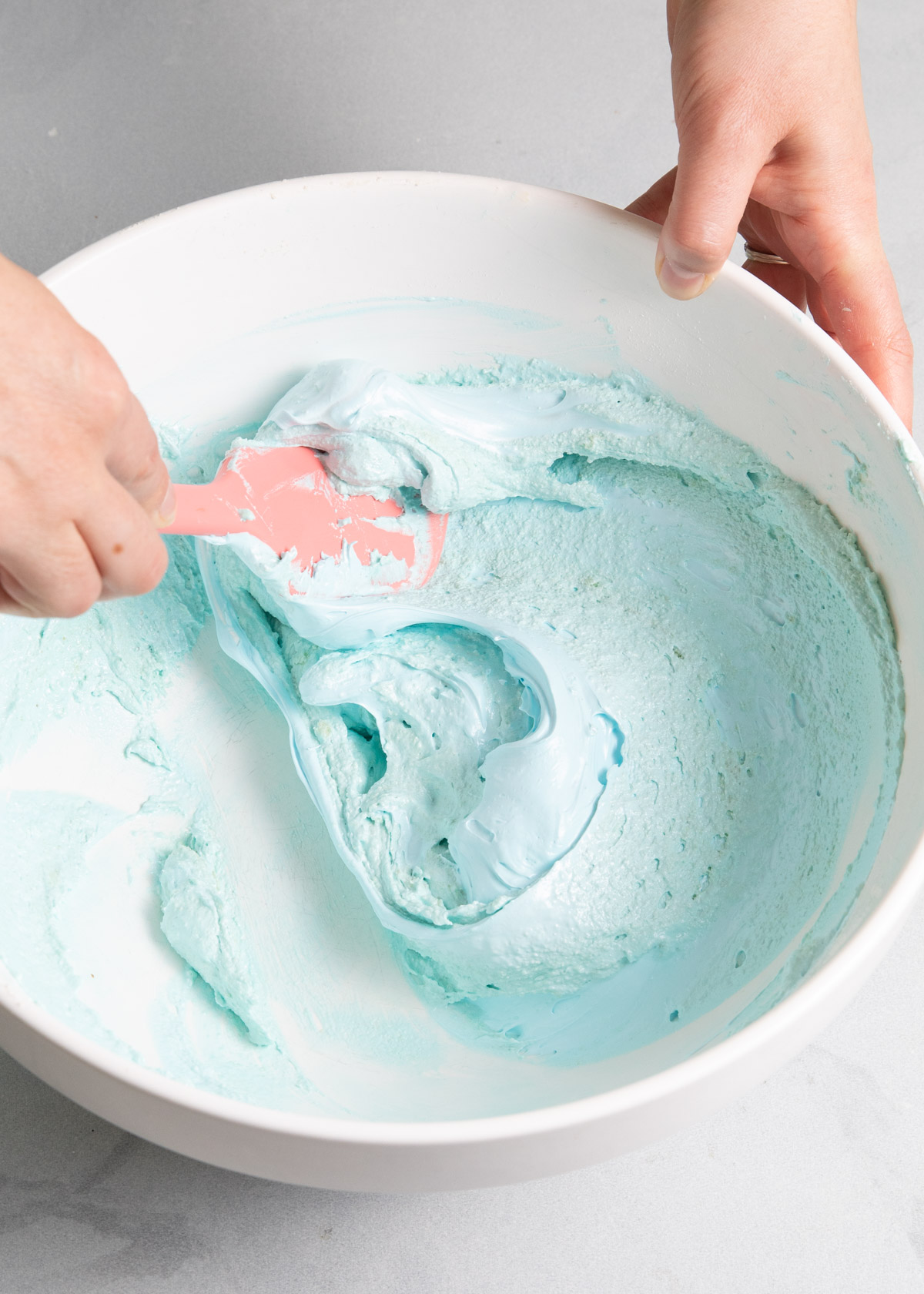 Use a "J" fold in a large bowl. To do so, take a large rubber spatula or large metal spoon to cut the mixture down the center. Next, scoop the mixture from the bottom of the bowl and flip it to the top making "J" motion. Rotate the bowl and repeat.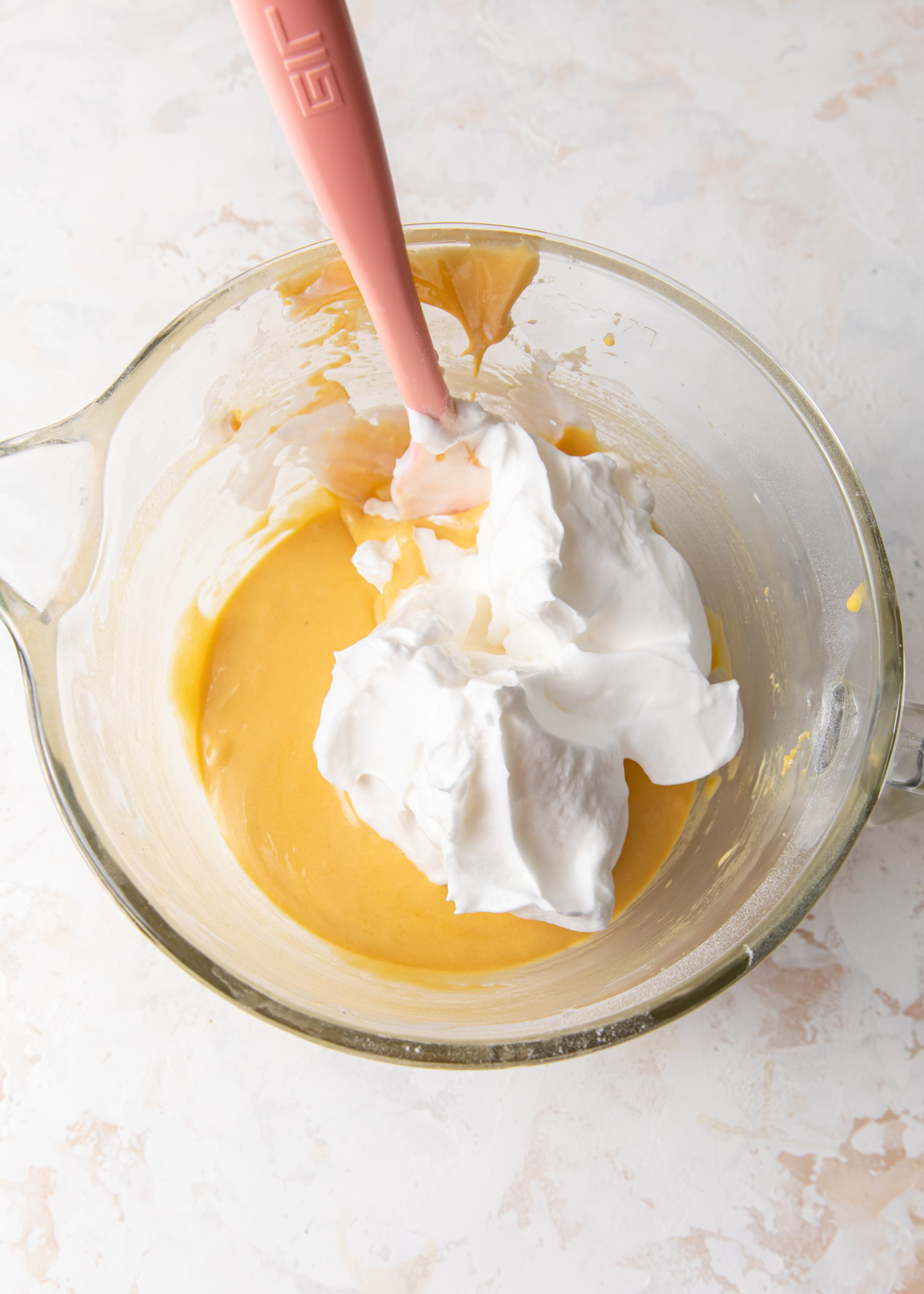 When folding mixtures with completely different texture and consistencies, it helps to temper them in. Start by combine a small amount of one of the mixtures, then gradually add the rest in batches. This helps bridge the gap between the two without over mixing.
Vanilla Chiffon Cake FAQs
What is the different between sponge cake and chiffon cake?
Sponge cakes are made up whole whipped eggs or whipped egg whites. A chiffon cake is a type of hybrid sponge cake incorporates whipped eggs whites into an oil-based cake batter. Most other sponge cakes have little to no fat and rarely use baking powder.
Do I have to use a tube pan for chiffon cake?
No, you don't have to. But tube pans are designed to cook the cake from the middle and outside. They often have feet around the rim of the pan for cooling the cake upside down. You can certainly bake a chiffon cake in a round cake pan, but it will be subject to shrining (but still super tasty!).
How long do you cool a chiffon cake?
Cool chiffon cake upside-down until it is no longer warm. Unlike a Bundt cake where you want to remove the cake from the pan while it is still warm, you can cool chiffon cake in the pan for about an hour.
Related Recipes
Love light and fluffy cakes? try these:
Recipe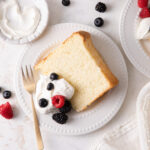 Print Recipe
Vanilla Chiffon Cake
This Vanilla Chiffon Cake is a sponge cake hybrid that is both moist and super fluffy!
Ingredients
2

cups

(250g) all-purpose flour

2

teaspoon

baking powder

½

tsp

kosher salt

1 ½

cups

(300g) granulated sugar

1

vanilla bean, seeds scraped

or vanilla bean paste

½

cup

avocado or vegetable oil

6

egg yolks

½

cup

milk

8

egg whites

¾

teaspoon

cream of tartar
Instructions
Preheat the oven to 325°F. Sift together the flour, baking powder, and salt. Set aside.

In the bowl of stand mixer fitted with the paddle attachment (or a bowl with a hand mixer), add the sugar and vanilla bean seeds. Massage the vanilla into the sugar with your fingertips until the mixture becomes very fragrant. Add the oil and egg yolks. Mix together on medium speed for a few minutes until the batter is pale in color. Stop the mixer and scrape down the bowl.

Add half of the flour mixture then mix on low until just combined. Stream in the milk. Mix until the liquids are absorbed. And in the remaining flour and mix until smooth. Set the batter aside.

In a second mixing bowl (or clean and dry the first bowl), add the egg whites. With the whisk attachment, beat the eggs on medium-low speed until they begin to foam. Add in the cream of tartar and slowly increase the speed to medium-high. Continue to whisk until the whites hold medium peaks.

Stop the mixer and fold the whipped egg whites into the cake batter. Scrape the batter into a ungreased tube pan.

Bake the cake for 45 to 50 minutes, or until a toothpick inserted into the center of the cakes comes out clean. 

Flip the pan upside down and allow to cool completely. When down, flip over and run a thin knife around the edges of the cake before removing the pan. If needed, use a long serrated knife to trim off any domed cake on top. 
Notes
Store chiffon cake at room temperate for up to 2 days. Wrap well in plastic or put it in an air-tight container to keep the cake from drying out.