This simple strawberry frosting is creamy and bursting with real strawberry flavor. It gets its pink color and real strawberry flavor from freeze dried strawberries whipped into the fluffiest buttercream frosting.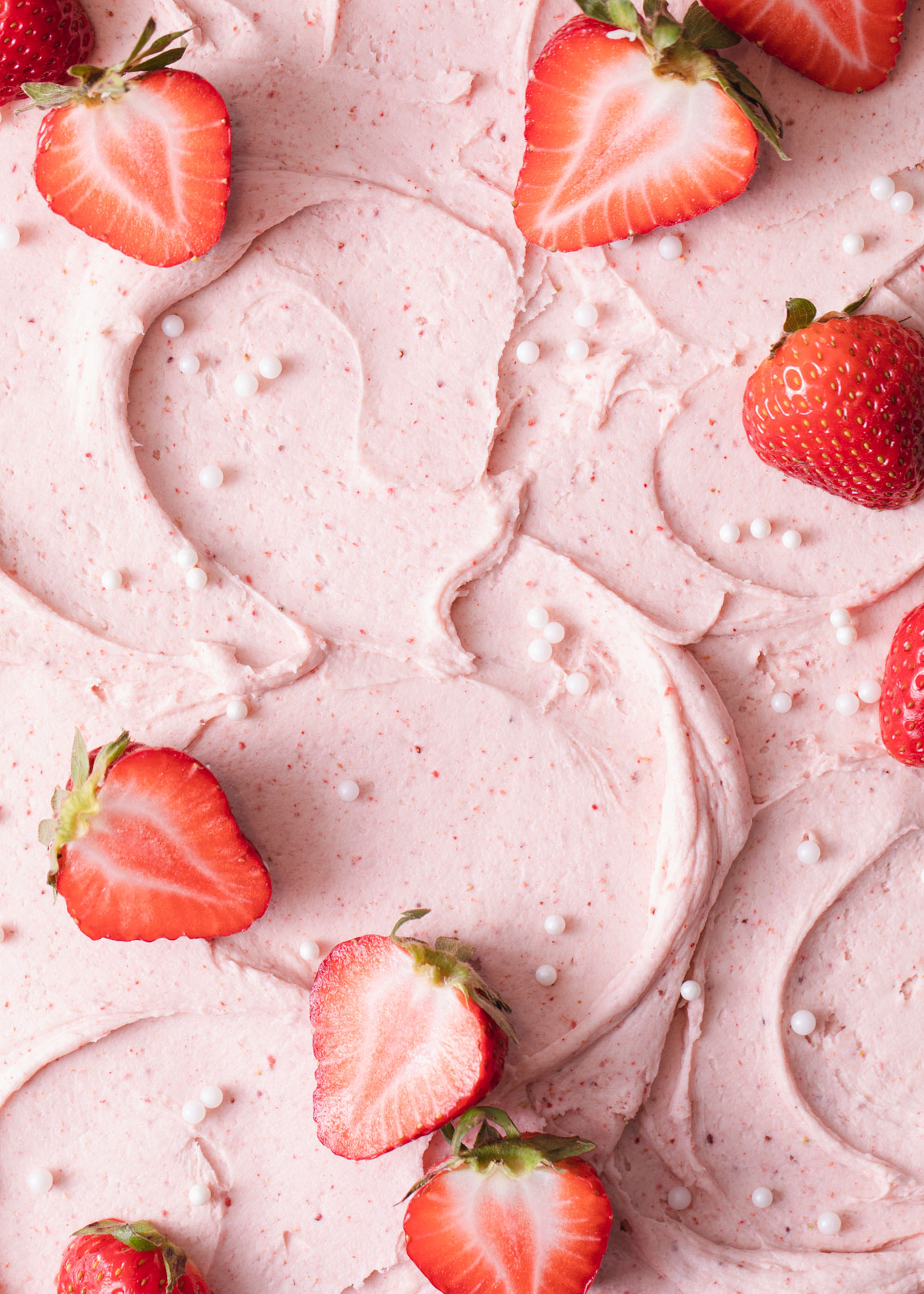 This strawberry frosting taste straight up like a strawberry milkshake. Using only 5 ingredients, it comes together super easily in less than 10 minutes.
I don't love calling for specific or hard to source ingredients, but I will make an exception when it is the main flavor of the dish. Freeze dried strawberries are the stars of the show here - responsible for both the incredible flavor and color.
If you can get your hands on a bag of freeze dried strawberries (check Trader Joe's or Target in the US), it will blow your mind just how much flavor is packed into the fruit.
Jump to:
My strawberry cream cheese frosting recipes uses fresh strawberry puree, but I wanted to make a strawberry buttercream similar to that used on my raspberry cupcakes. Honestly I would eat both options straight out of the mixing bowl, but this version is super fast, and dare I say, even more delicious!
Looking for a strawberry frosting without freeze dried strawberries? Check out this Vanilla Strawberry Cake!
Ingredients
There are only 5 ingredients in this strawberry buttercream frosting recipe, so make them count!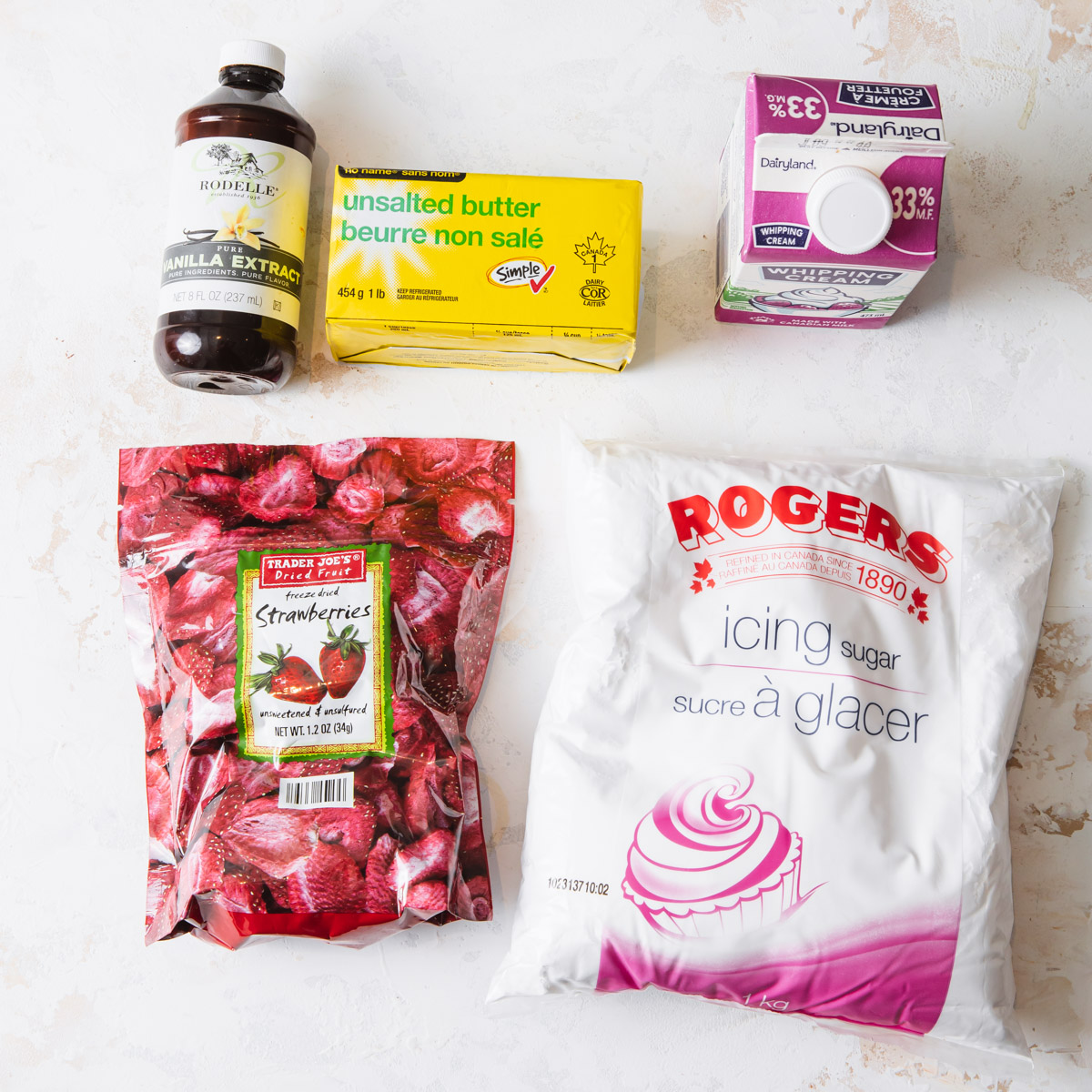 Unsalted butter - the butter needs to be softened but not greasy or melted; remove from the refrigerator 30 to 90 minutes before using
Powder sugar - sifted as necesary
Freeze dried strawberries - they should be light and dry to the touch, not sticky
Pure vanilla extract
Heavy cream - regular or non-dairy milk will also work
Tools and Equipment
I highly recommend using a food processor or mini blender to pulverize the freeze dried strawberries into dust. A spice or coffee grinder may also work. If not, you can crush them by placing in a zip-top bag and smashing with a rolling pin.
You will also need:
Mesh sieve
Electric mixer (hand or stand)
Rubber spatula
Step for Making Strawberry Frosting
Mix the butter - use the paddle attachment on a stand mixer to smooth out the softened butter first.
Meanwhile, blitz the freeze dried strawberries.
Add the powdered sugar, half of the cream, vanilla, almond, and salt - mix on low speed until everything combines. Sift in the ground freeze dried strawberries.
Let it whip! - Increase the speed and whip until light and fluffy
Add cream - if the buttercream is still too stiff, add the remaining cream and mix again
Smooth it out - stir the whipped buttercream with a wooden spoon or stiff spatula before icing cakes (optional)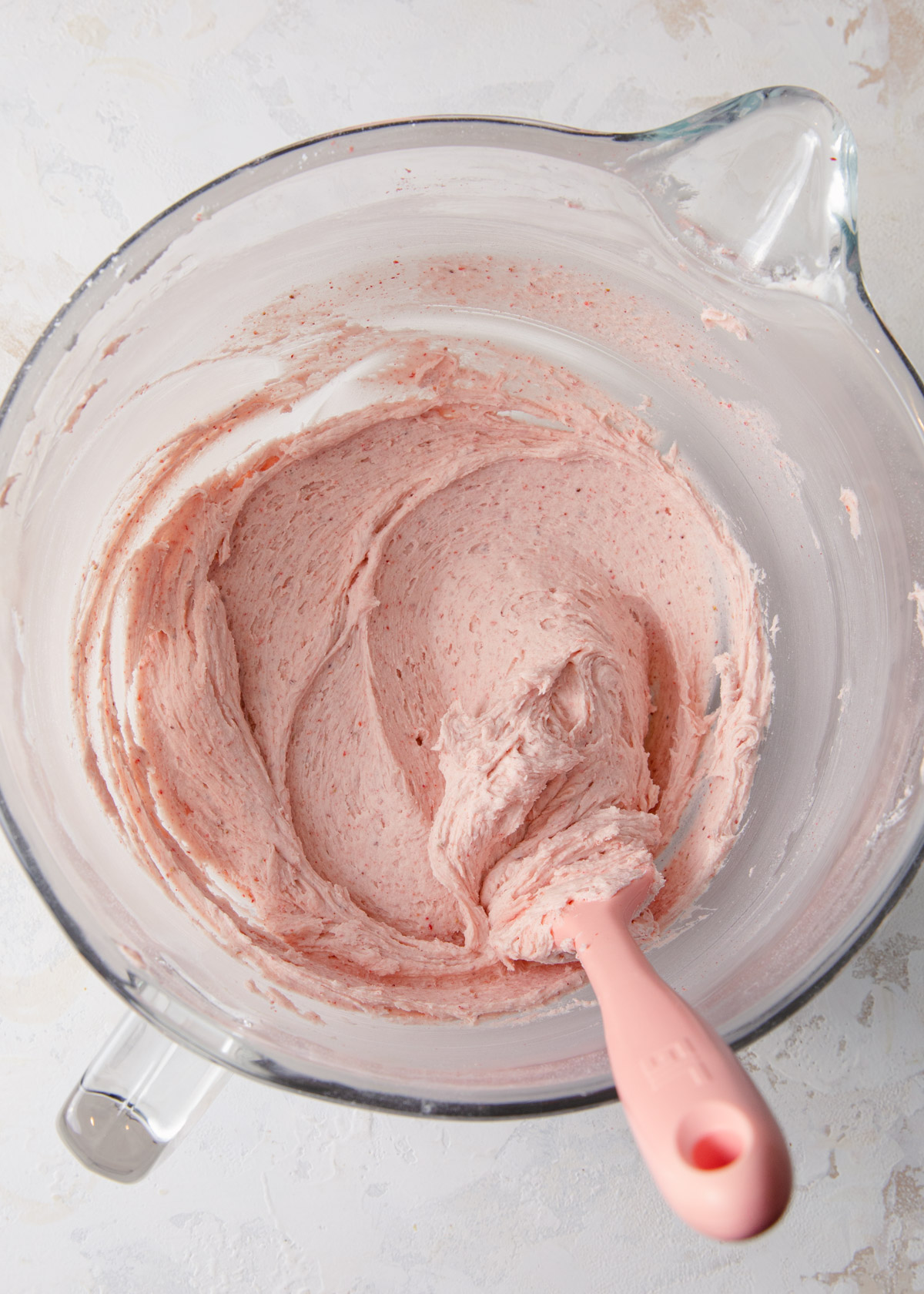 Instructions
This is a super quick recipe that comes together in just a few steps. Let's take a look: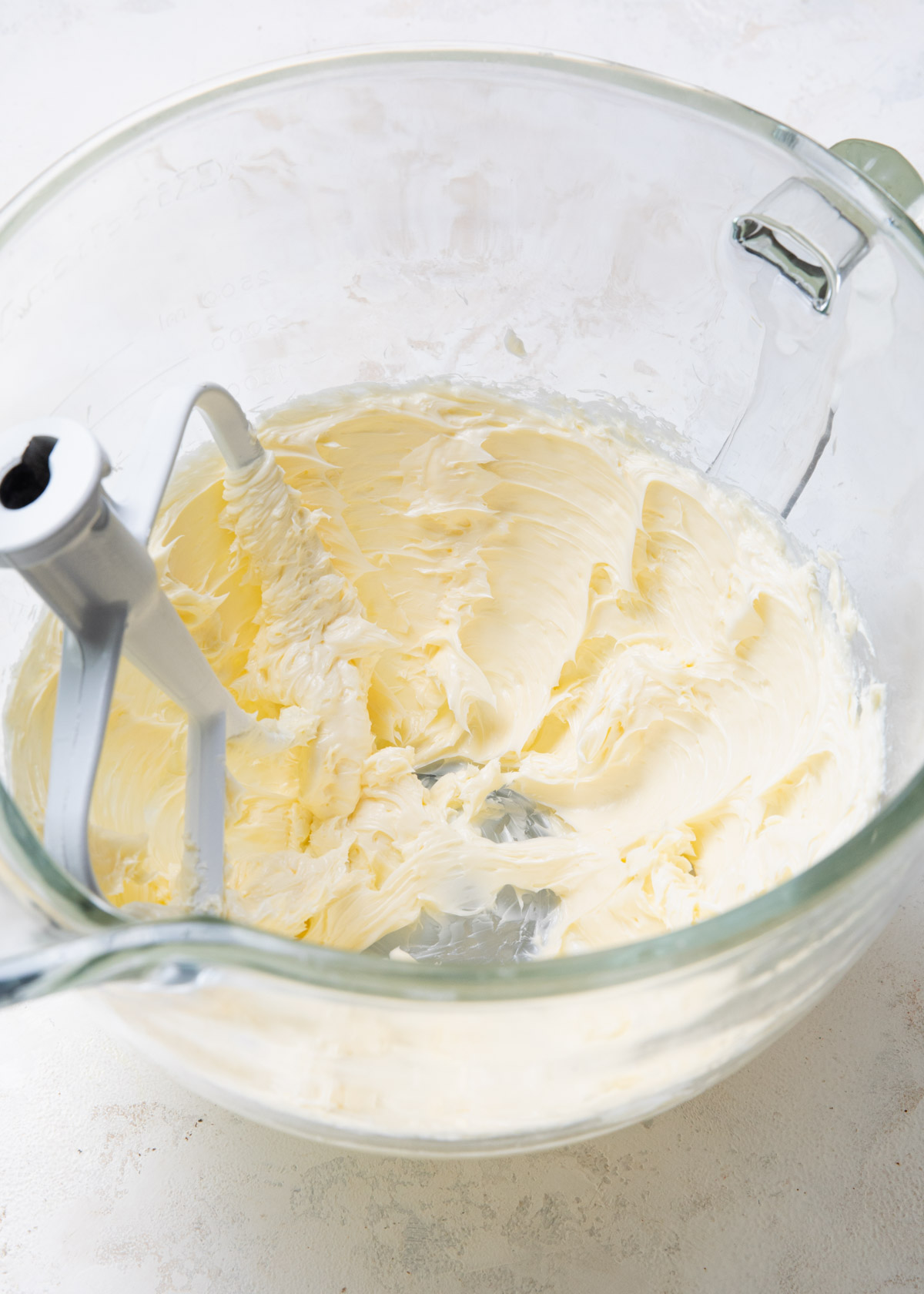 Mix the butter until creamy then slowly incorporate the powdered sugar.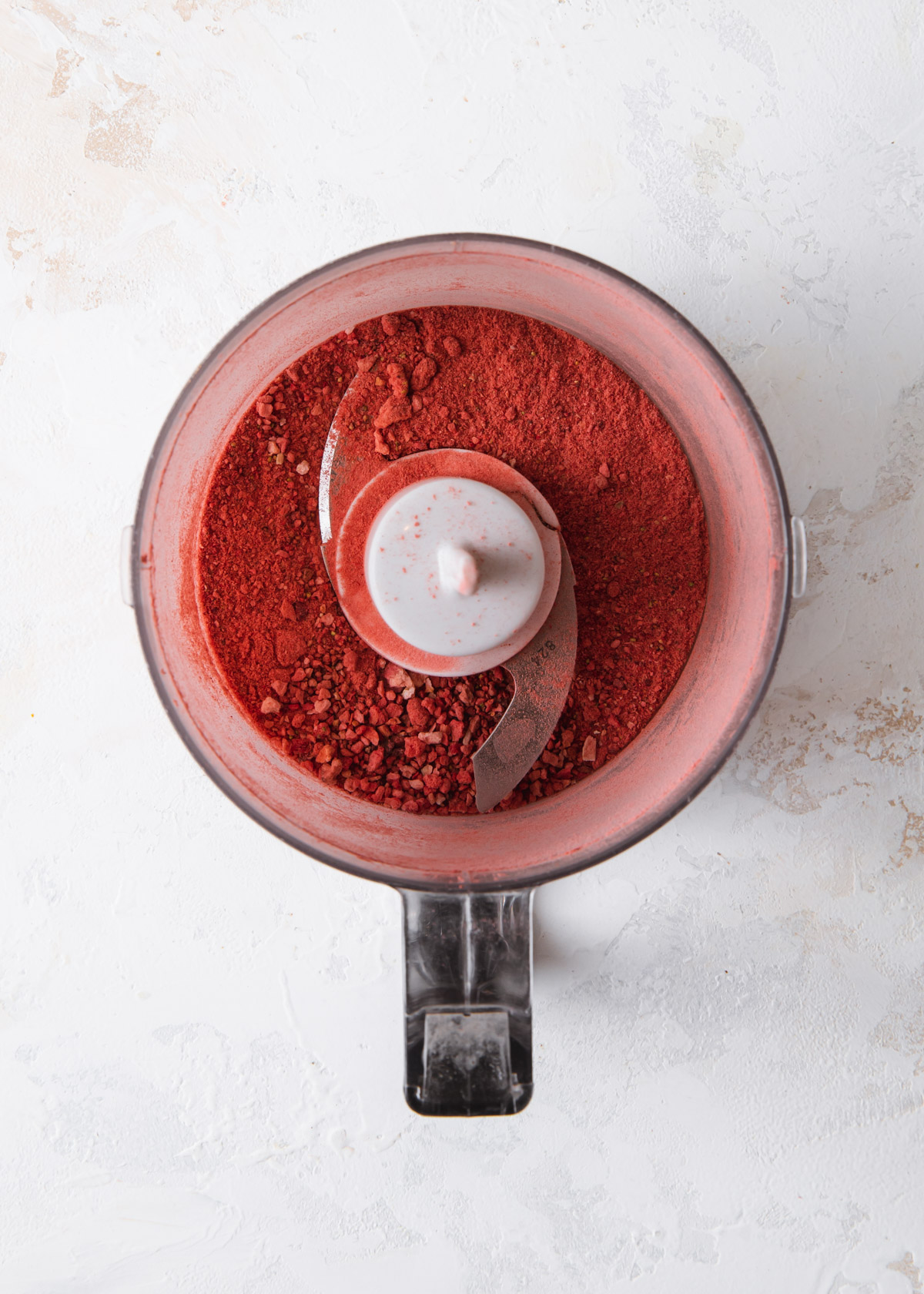 Meanwhile, grind the freeze dried strawberries into a fine powder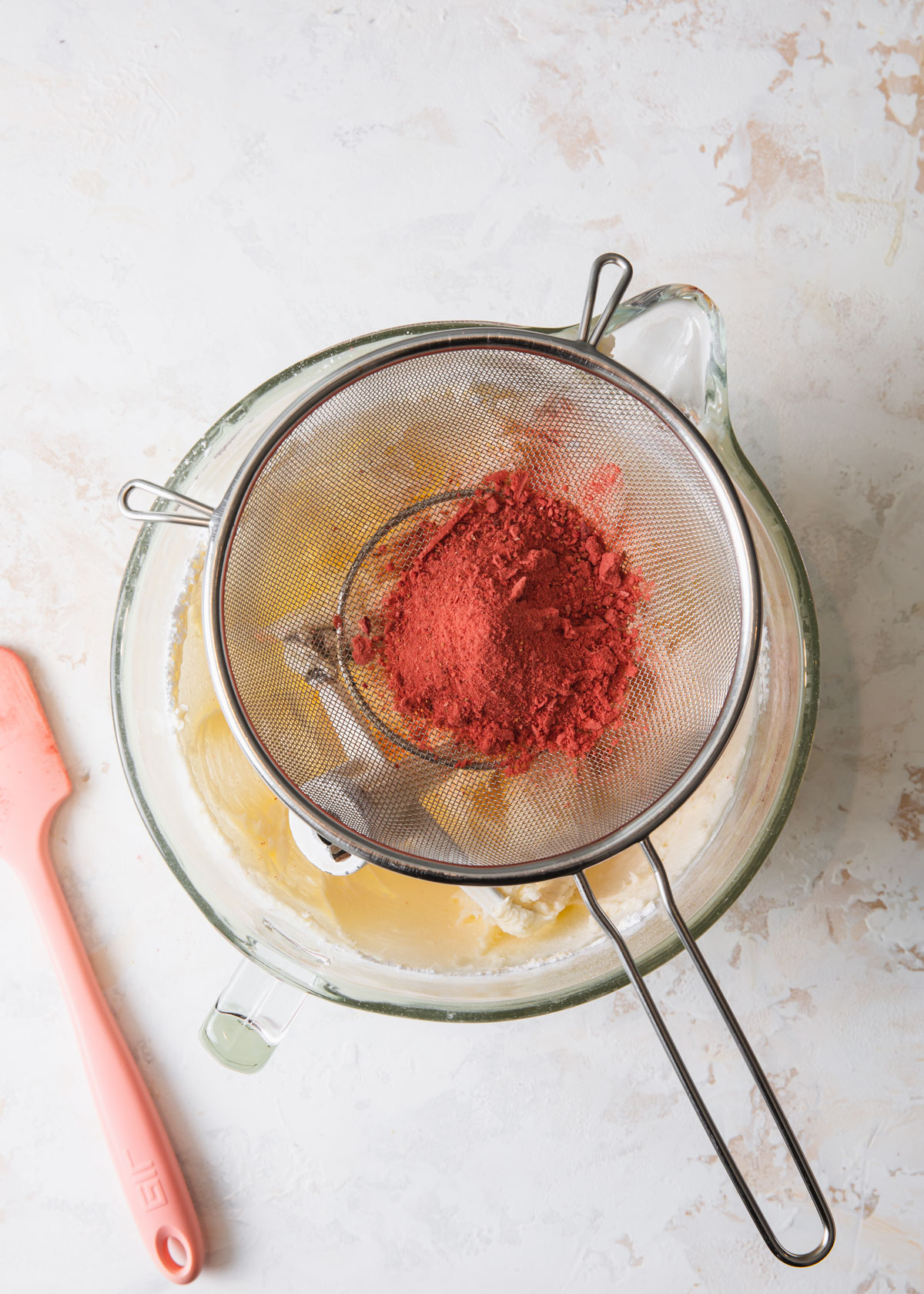 Sift the berry powder into the frosting to remove any large seeds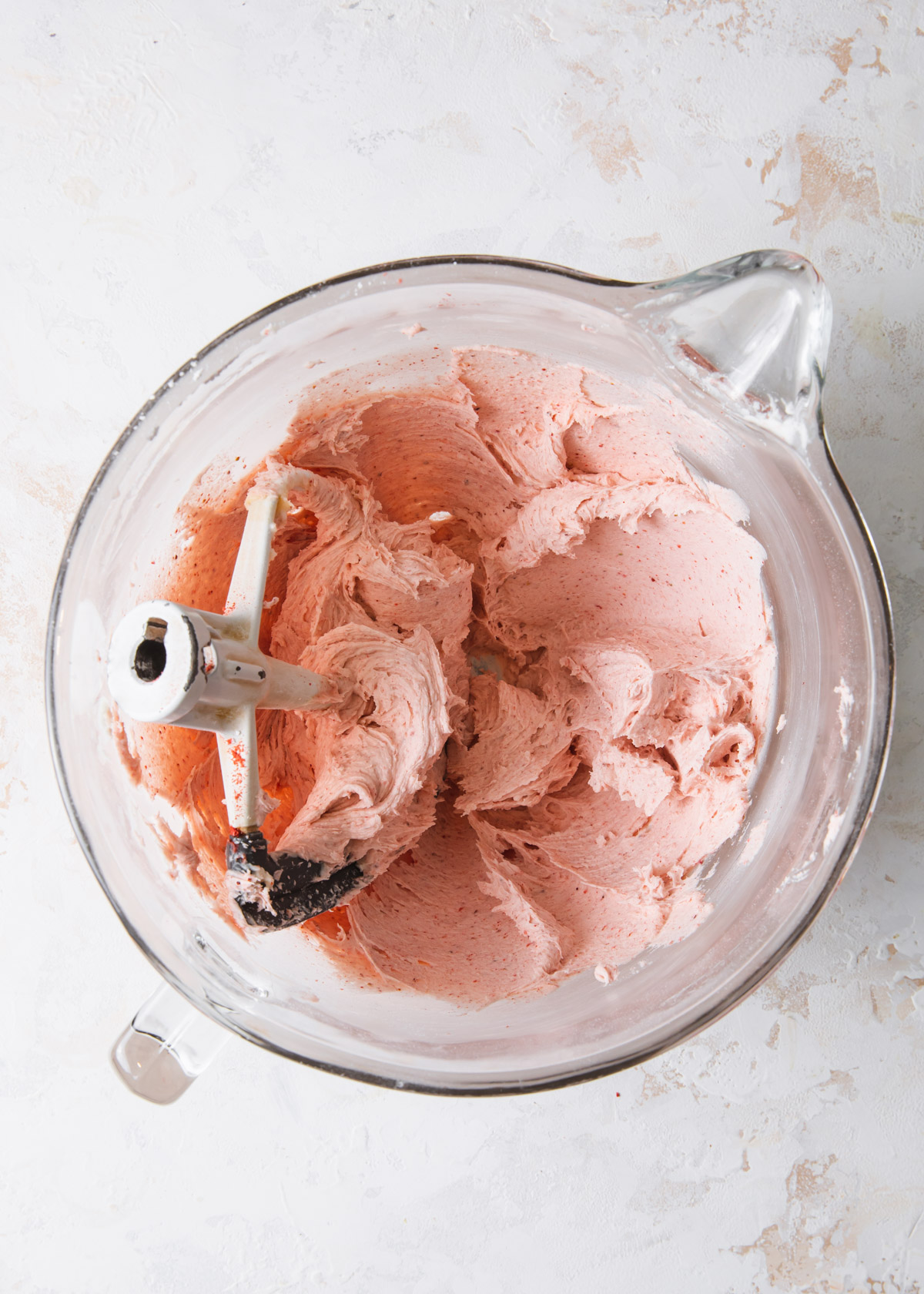 Add in all of the remaining ingredients and mix until fluffy and smooth.
Hint: once everything is incorporated, mix the frosting on high speed for a few minutes until super fluffy. Next, decrease the speed to low and let mix for a few more minutes until the frosting is totally smooth and luscious.
Substitutions
There are only 5 ingredients in this recipe, and each is important to producing its strawberry flavor and creamy texture.
Heavy Cream - you can replace with regular or non-diary milk with similar results.
Serving and Storage
Strawberry frosting is best used just after making while it is still soft. If making in advance, store it at room temperature for up to 1 day. Rewhip or mix by hand until light and smooth.
Frosting may be stored in the refrigerator for up to two weeks. Allow it to come to room temperature before remixing.
You may also freeze the frosting for up to 3 months. Thaw in the refrigerator overnight.
What to Pair with Strawberry Frosting
Everything! Such a versatile and crowd-pleasing frosting, you can spread strawberry buttercream frosting on all of your favorite treats. I first made it to spread on this strawberry sheet cake but it is also amazing on brown butter cupcakes or swirled on these cinnamon rolls.
Strawberry frosting would pair perfectly with this vanilla strawberry cake for a double strawberry option or on top of an easy sheet cake.
Do I Have to Use Freeze Dried Strawberries?
In this strawberry frosting, freeze dried strawberries are an integral part of the recipe. If you wish to use fresh strawberry puree, use the buttercream from this Vanilla Strawberry Cake.
What is the best way to thicken runny buttercream icing?
Before you start adding too much powdered sugar, try putting soft buttercream in the refrigerator. The butter might have been too warm and chilling in the refrigerator may help it firm up.
Why is my buttercream frosting grainy?
Make sure to sift powdered sugar to remove any lumps before mixing. Allow enough time for the butter and sugar to whip together to help the sugar dissolve into the buttercream frosting.
Recipe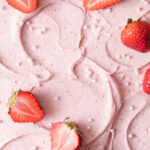 Print Recipe
5 Ingredient Strawberry Frosting
This simple strawberry frosting is creamy and bursting with real strawberry flavor from freeze dried strawberries
Ingredients
1

cup

unsalted butter

softened

1

cup

(25g) freeze dried strawberries

3 to 4

cups

powdered sugar

sifted as needed

1 to 3

tablespoon

heavy cream

2

teaspoon

vanilla extract
Instructions
Using a stand (or hand) mixer fitted with the paddle attachment, beat butter on medium-low speed until smooth and creamy, 1 minute.

Meanwhile, grind the freeze dried strawberries in a small food processor or mini blender into a fine powder.

Turn the mixer off and add 3 cups powdered sugar, 1 tablespoon of cream, and vanilla. Begin mixing on low speed until the ingredients come together - scraping the bowl occasionally.

Sift in the strawberry powder - discarding the seeds and any larger pieces.

Turn up the speed and mix at medium-high speed for 3 to 5 minutes, until the buttercream is light and airy. If needed, add the additional cream and sugar until desired consistency is achieved. The buttercream should spread smoothly without tearing the crumb of the cake but thick enough that it holds shape when piped and spread between the layers.

If using to ice a smooth cake, vigorously stir with a wooden spoon or stiff spatula to knock out some of the air bubbles.