This strawberry sheet cake is bursting with strawberry flavor. The cake is absolutely moist and delicious with creamy frosting that tastes like a strawberry milkshake. After nearly 20 years experience, I think it is my best tasting cake yet!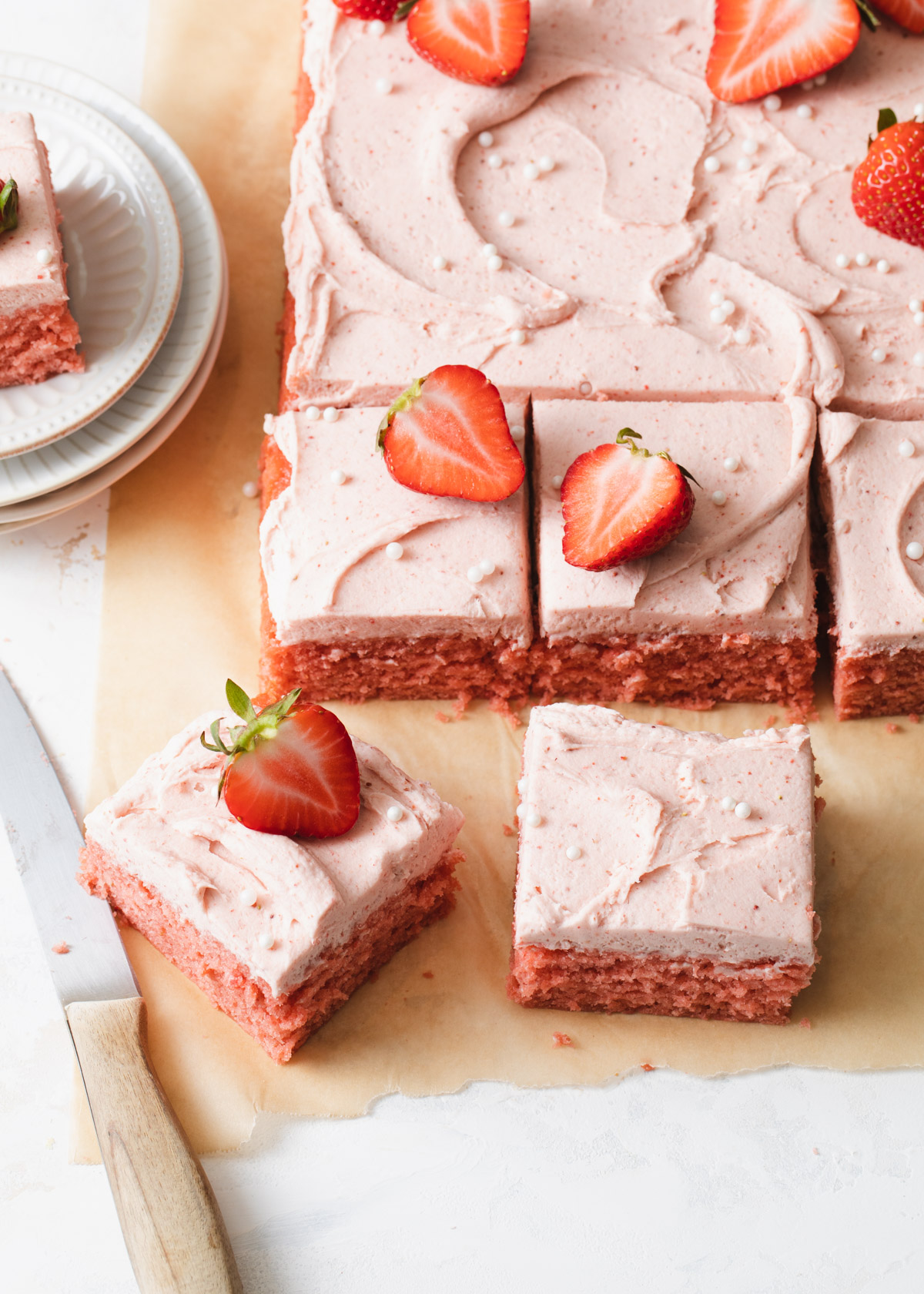 If you make one cake this season, please let it be this strawberry sheet pan cake. It bakes up in one layer, gets frosted in the pan, and is easy to transport and serve.
The flavor kind of blew my mind in this a strawberry sheet cake with fresh strawberries. I made a career out of baking cakes, but this cake is in a class of its own.
Skip the cake mix and pack it full of strawberries in two ways.
First, we blend real strawberries, cook them down to intensify the flavor, then added to the cake batter. Secondly, we use ground freeze dried strawberries to replace a portion of the icing sugar in the frosting to add a big punch of strawberry flavor.
Jump to:
I made a strawberry layer cake years ago. It's a huge hit with readers but has always lacked one thing: strawberry frosting. Redeveloped as a sheet cake, this was the perfect chance to double-down on the strawberry and give it a matching strawberry buttercream.
Strawberry Sheet Cake Recipe Video
Ingredients in a Fresh Strawberry Sheet Cake
Fresh strawberries - add tons of real strawberry flavor by blending and cooking down fresh strawberries
Granulated sugar
Lemon zest/juice - these are used to enhance the strawberry flavor
All-purpose flour
Cornstarch - lighten up the flour by adding a bit of cornstarch like a homemade cake flour
Baking powder
Baking soda
Salt
Whole Milk - any percentage or non-dairy milk will do too
Unsalted butter - make sure the butter is softened to use with the creaming method
Avocado or other neutral oil - a couple tablespoons of oil keep this cake moist for days
Vanilla extract
Large eggs - allow the eggs to come to room temperature before baking or set them in a bowl of warm water for about 15 minutes.
Powdered sugar - sifted as needed
Freeze dried strawberries - these add a huge punch of flavor to the frosting without adding any additional liquids
Heavy cream - look for a milk fat percentage of 30-35% for ultra fluffy frosting, but regular milk will do.
See recipe card for quantities.
Tool and Equipment
Here are some of the kitchen tools you will need to successfully bake and decorate this strawberry sheet cake:
Food processor
Saucepan
Electric mixer (either hand or stand will do)
Rubber spatula
Mesh sieve
9 X 13-inch cake pan
Parchment paper
Offset spatula for frosting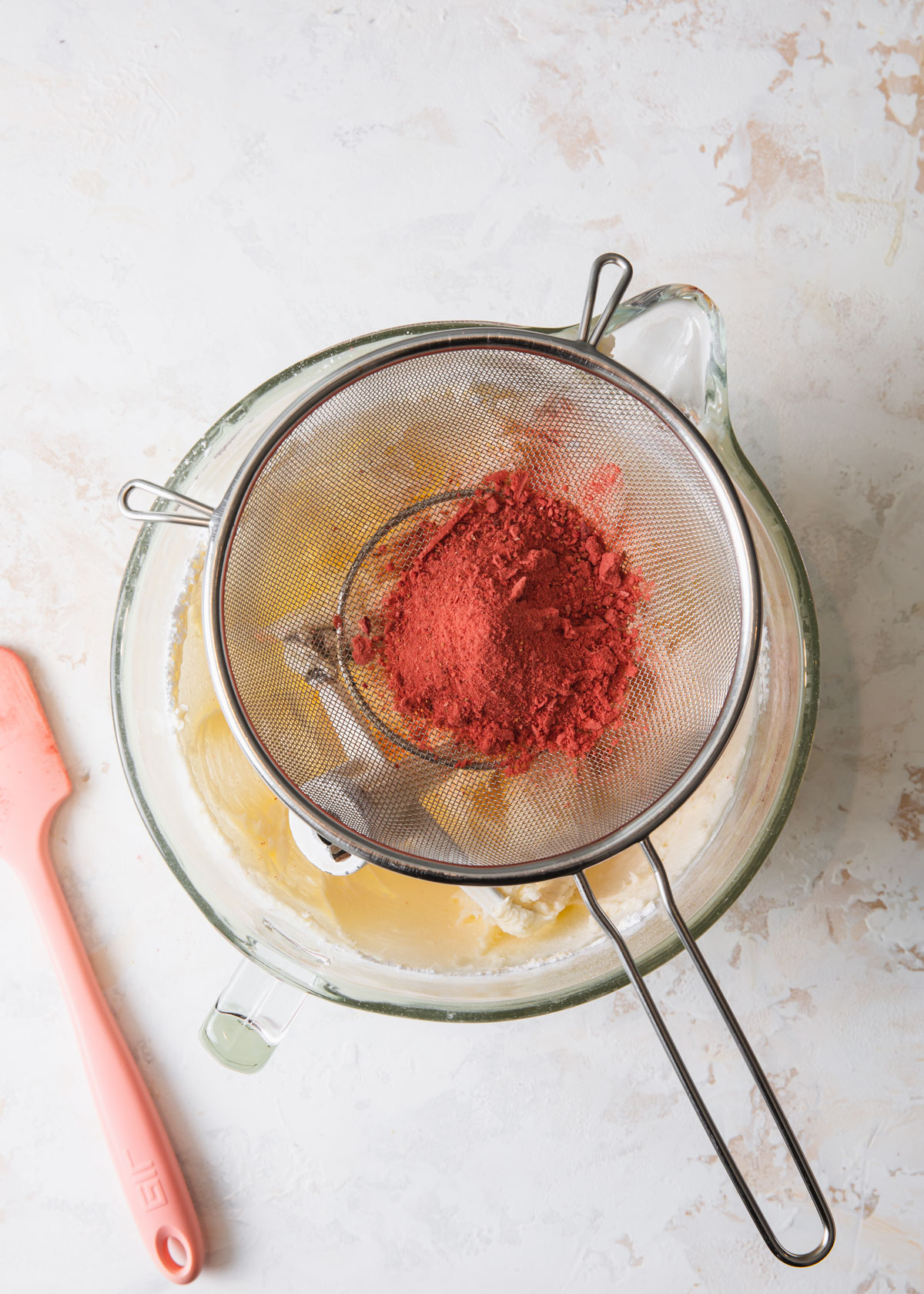 Steps for Making the Best Strawberry Sheet Cake
Make the Strawberry Puree - blend then cook the puree to reduce and concentrate the strawberry flavor. This takes 15-20 minutes.
Mix the Cake Batter - use the cooled strawberry puree alongside the milk
Bake!
Blitz the Freeze Dried Strawberries - use a mesh sieve to remove large chunks and seeds
Whip up the Buttercream
Frost the Cake! decorate with fresh strawberries and sugar pearl sprinkles, or as desired.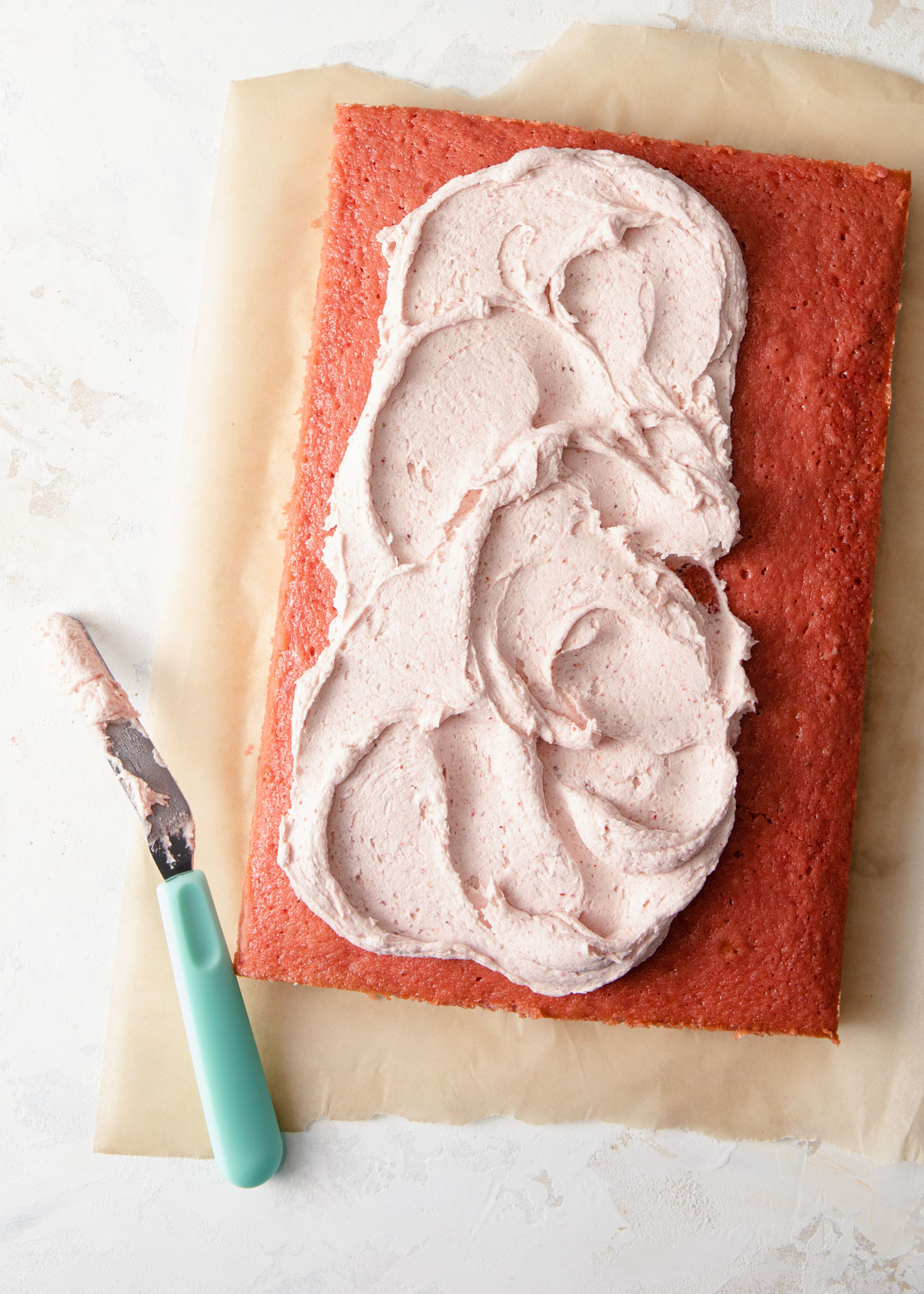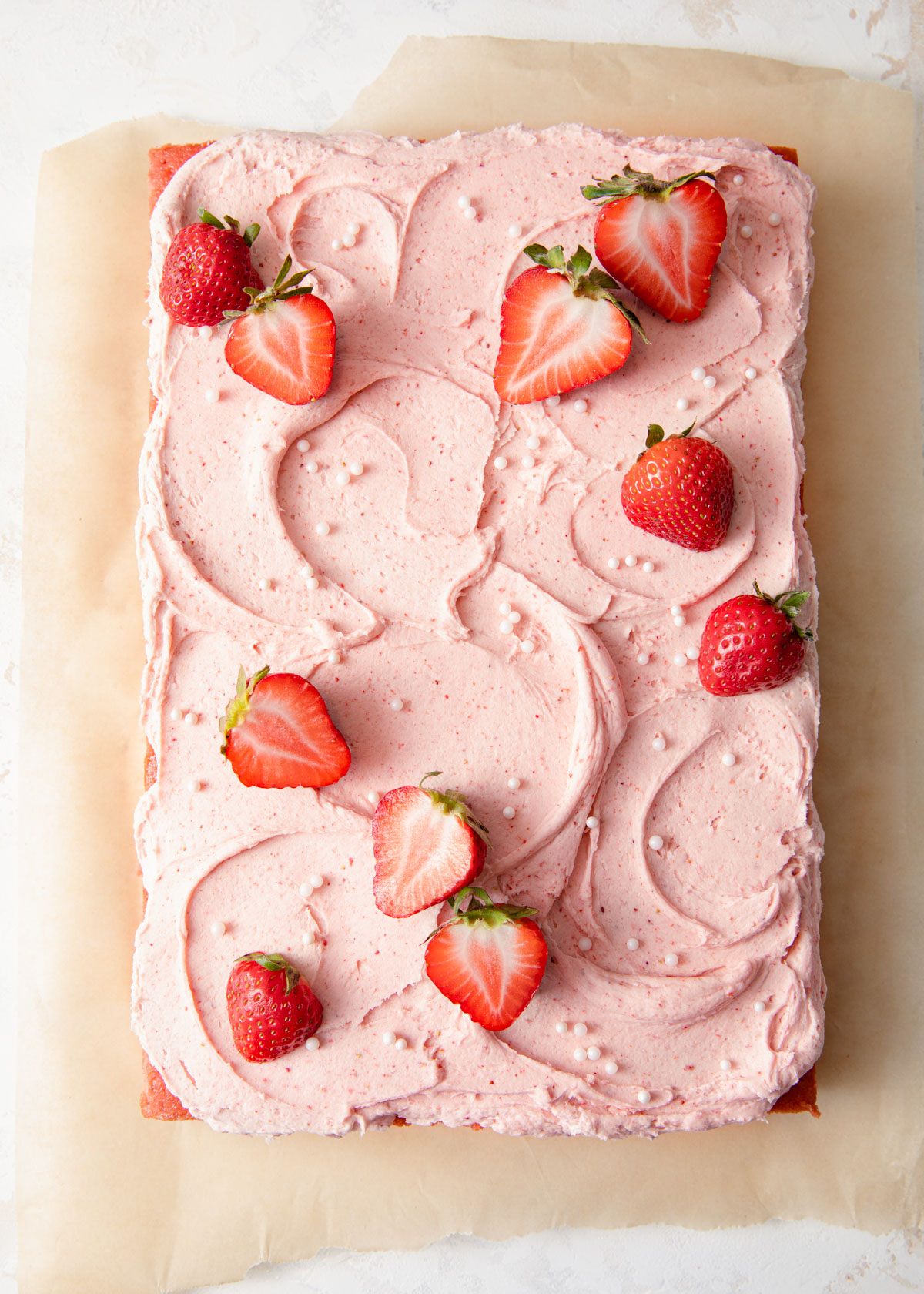 Let's Talk About Reducing Strawberry Purée!
There are a lot of recipes out there that use strawberry box cake. But not here - we are getting real strawberry flavor from the fruit itself! Even when strawberries are at their peak ripeness, reducing the puréed fruit concentrates and intensifies their flavor.
Cook the puréed strawberries over low heat until they become thick and jammy. Make sure to cool the reduced purée before adding it to your cake batter.
Can I use Frozen Strawberries?
Sure! Frozen strawberries also work here, but they have a tendency to hold onto more water. It might take a bit more time to reduce the liquid down until thick. Sweeten to taste.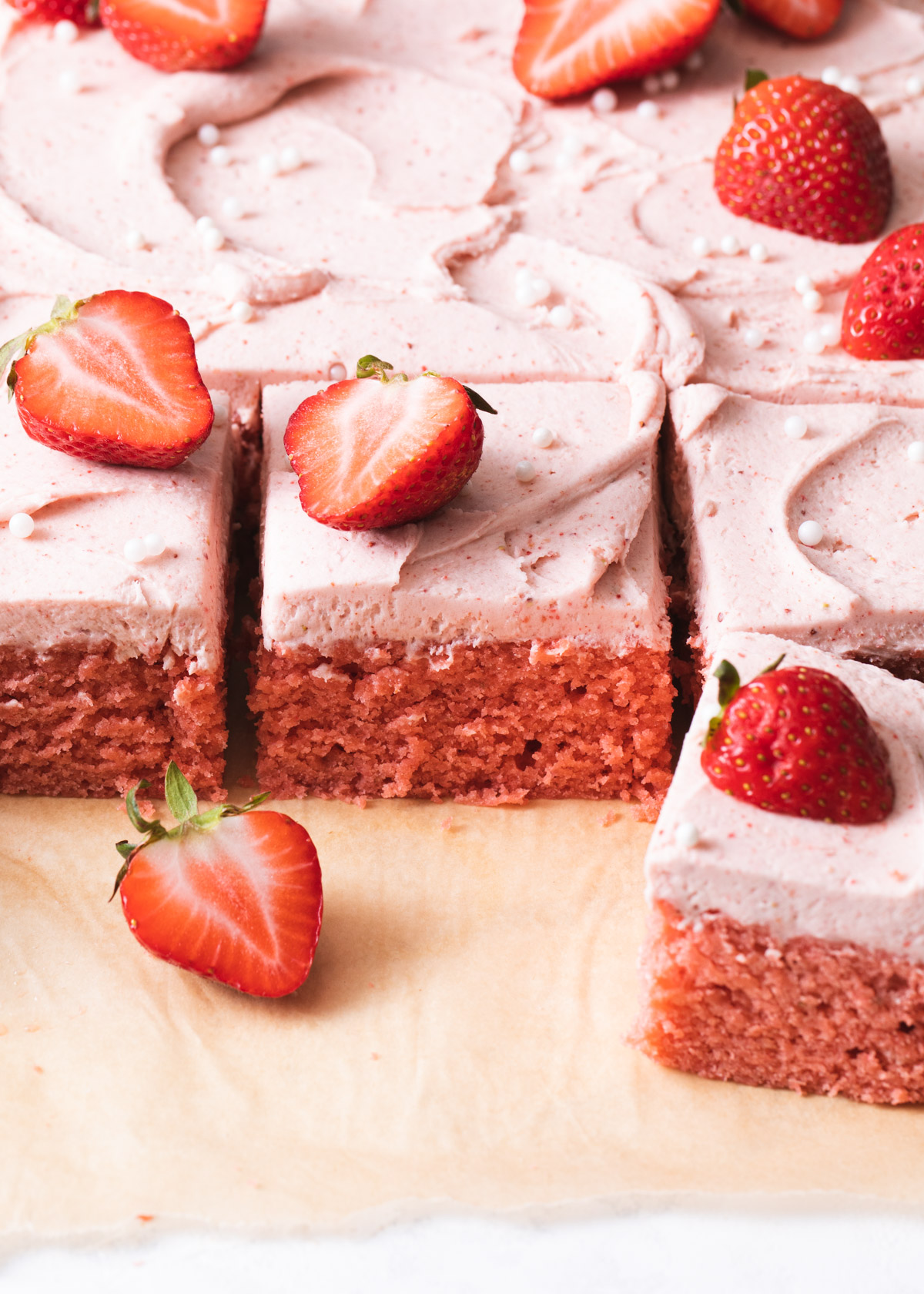 Strawberry Cake Recipe Substitutions
Frozen Strawberries - they tend to hold onto more water, but will work for the cake batter. It might take a bit more time to reduce the liquid down until thick. Sweeten to taste.
Milk - you can use milk instead of heavy cream in the frosting with similar results
Variations
Strawberry Layer Cake - bake the cake in three, 8-inch rounds
Strawberry Frosting (without freeze dried strawberries) - no freeze dried strawberries? No problem. Use the strawberry frosting from this Vanilla Cake with Strawberry Filling recipe.
Vanilla Strawberry Sheet Cake - frost the cake with vanilla whipped buttercream frosting
Try it with Strawberry Cream Cheese Frosting! - this frosting is on the softer side, but no need to worry about that in with a sheet cake.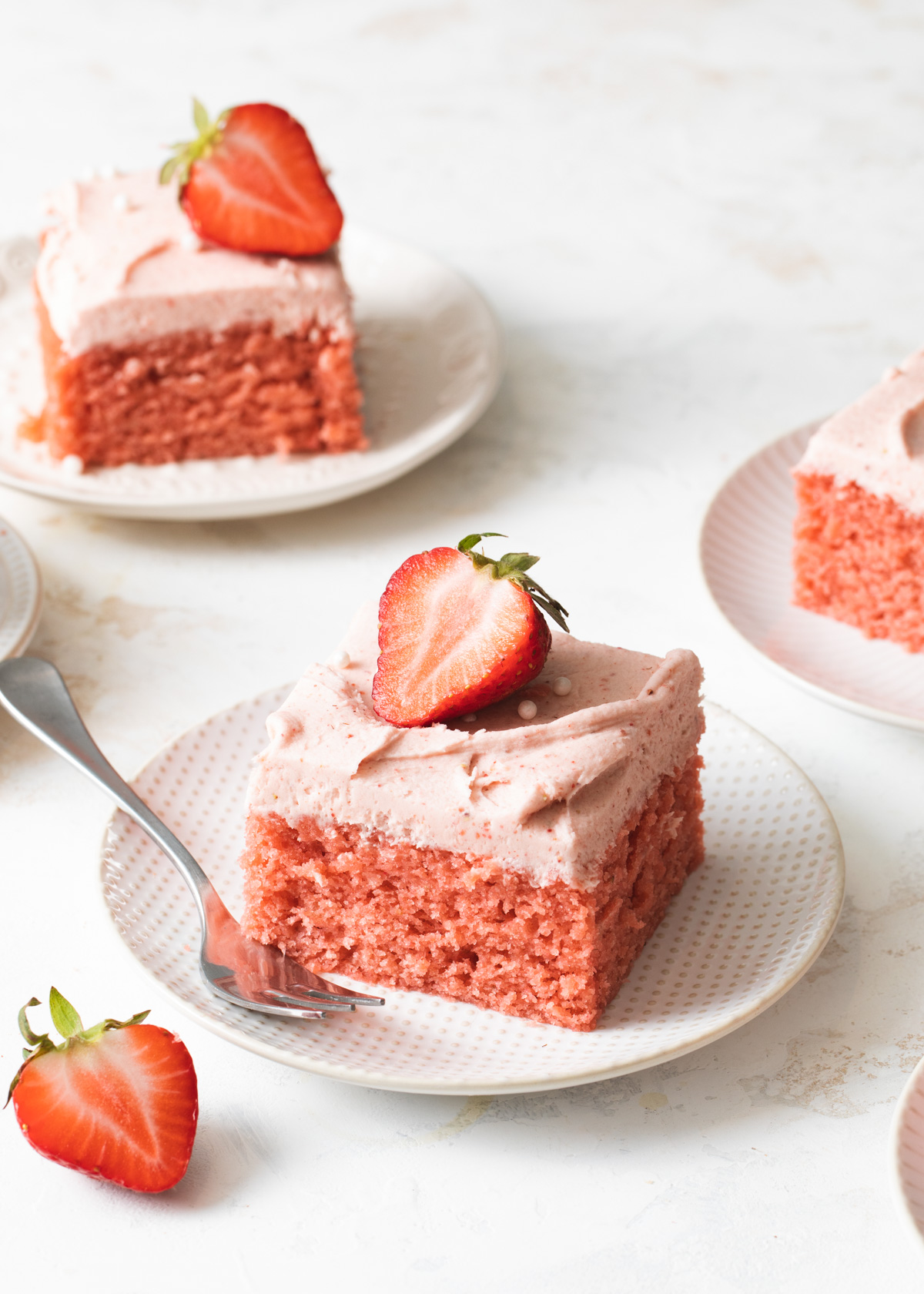 Serving and Storage
Serve and store this cake at room temperature overnight. Beyond the first night, wrap leftovers in plastic and store in the refrigerator for up to 3 additional days.
If traveling with the cake, I recommend frosting it in the pan and serving on location.
Unfrosted cake layers maybe be wrapped in plastic and placed in the freezer for up to 3 months. Thaw frozen cake layers overnight in the refrigerator.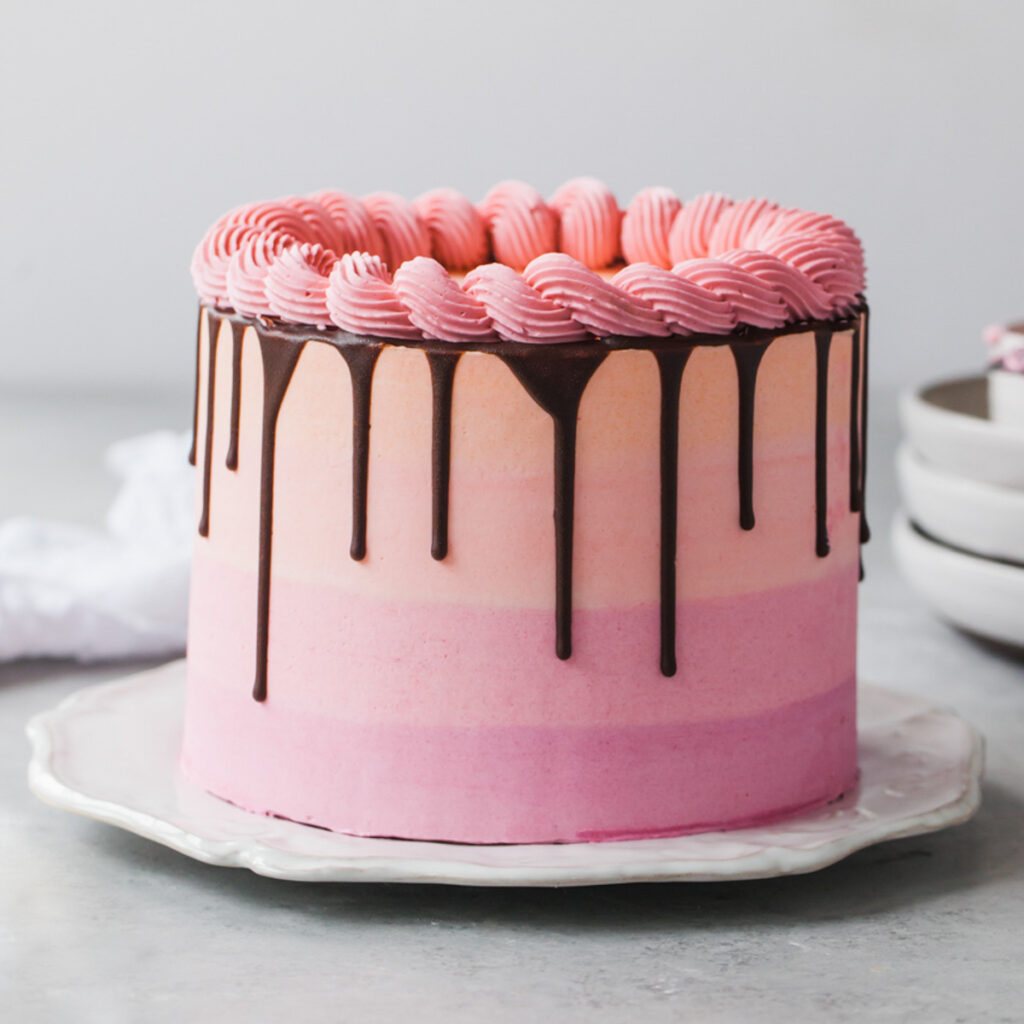 Sign up for our Newsletter!
Get exclusive recipes and articles sent straight to your inbox. Become a subscriber today! Click to join.
Related Recipes
Looking for more favorite strawberry cake recipes? Try these:
Please leave a star review if you loved this recipe! Make sure to share your recipes and tag me on Instagram @stylesweetdaily.
Recipe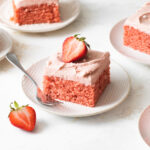 Print Recipe
Strawberry Sheet Cake
This strawberry sheet cake is absolutely moist and fluffy. Both the cake and creamy frosting are bursting with real strawberry flavor!
Ingredients
For the Strawberry Puree
2

cups

(300g) ripe strawberries

halved

1

tablespoon

granulated sugar

1

teaspoon

lemon zest

pinch salt
For the Strawberry Cake
3

cups

(375g) all-purpose flour

3

tablespoon

cornstarch

1

tablespoon

baking powder

½

teaspoon

baking soda

½

teaspoon

kosher salt

14

tablespoon

(196g) unsalted butter

softened

2

cups

(400g) granulated sugar

2

tablespoon

avocado or other neutral oil

2

teaspoon

vanilla extract

4

large eggs

1

cup

(240ml) whole milk

¾

cup

(180ml) reduced strawberry puree

pink gel food coloring

optional
For the Strawberry Frosting
1

cup

unsalted butter

softened

1

cup

(25g) freeze-dried strawberries

3 to 4

cups

powdered sugar

1 to 3

tablespoon

heavy cream

2

teaspoon

vanilla extract
Instructions
To Make the Strawberry Puree
Place all of the ingredients in a small food processor and process until smooth.

Pour the purée into a small or medium saucepan and place over medium heat until it begins to simmer. Lower the heat to low and cook, occasionally stirring, until the purée reduces down to about ¾ cup (180 ml). The purée will become thick and jammy. It will take 15 to 30 minutes to reduce over low heat. Allow the purée to cool before using in the cake. 
To Make the Strawberry Cake
Preheat the oven to 350°F. Grease and line a 9X13-inch baking pan with parchment paper. Set aside.

Whisk together the flour, cornstarch, baking powder, baking soda and salt in a medium bowl and set aside.

In the bowl of a stand mixer fitted with the paddle attachment (or in a large bowl with a hand mixer), beat the butter and sugar together on medium speed until light and fluffy, 3 to 4 minutes. Add the oil and mix to combine. Stop the mixer and scrape down the sides of the bowl. 

With the mixer on medium-low speed, add in the vanilla and eggs, one at a time allowing each to combine before adding the next. Stop the mixer and scrape down the sides of the bowl.

Add about half of the dry ingredients and mix on low speed until incorporated. Stream in the milk, followed by the strawberry purée and a few drops of food coloring, and mix until the liquids are absorbed. Add the remaining dry ingredients and mix until combined. Mix on low speed no more than 30 seconds.

Pour the batter into the prepared pan and smooth out with a spatula. Bake for 30 to 34 minutes or until a toothpick inserted into the center comes out clean or with a few moist crumbs.
To Make the Strawberry Frosting
Using a stand (or hand) mixer fitted with the paddle attachment, beat butter on medium-low speed until smooth and creamy, 1 minute.

Meanwhile, grind the freeze dried strawberries in a small food processor or mini blender into a fine powder.

Turn the mixer off and add 3 cups powdered sugar, 1 tablespoon of cream, and vanilla. Begin mixing on low speed until the ingredients come together - scraping the bowl occasionally.

Sift in the strawberry powder - discarding the seeds and any larger pieces.

Turn up the speed and mix at medium-high speed for 3 to 5 minutes, until the buttercream is light and airy. If needed, add the additional cream and sugar until desired consistency is achieved. The buttercream should spread smoothly without tearing the crumb of the cake.

Use the back of a spoon or offset spatula to swirl the buttercream on top of the cooled cake. Decorate with fresh strawberries or as desired.