This bouncy Earl Grey Chiffon Cake infuses flavors of the popular black tea into an ultra tender and fluffy chiffon cake. Allow the Earl Grey to shine under a thin blanket of sweetened whipped cream. Don't worry, the cake is moist and flavorful without tons of frosting.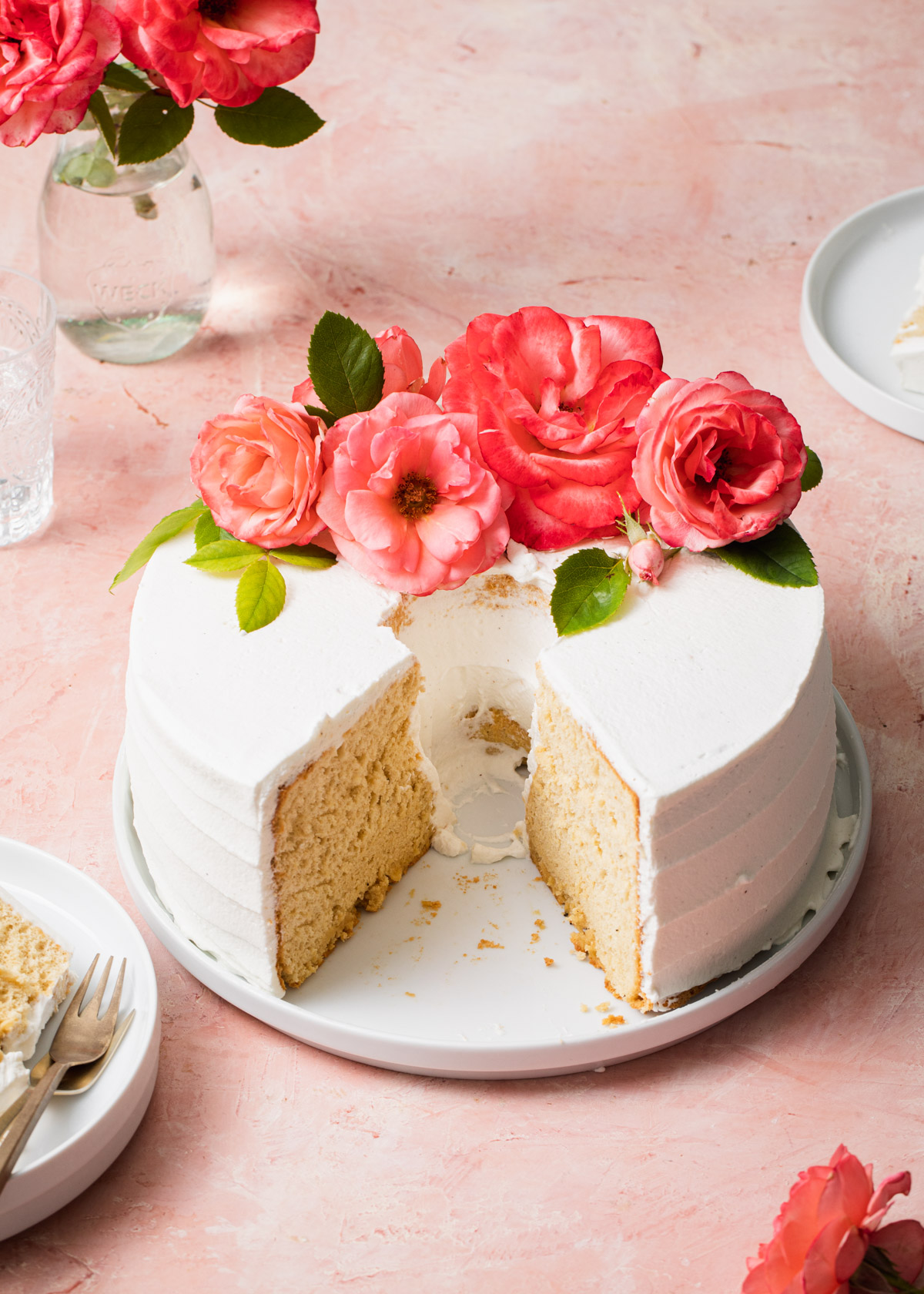 If you love a light and airy cakes that also moist and flavorful, then chiffon cake is for you. Using a bold tea like Earl Grey is a deliciously effective way to add flavor to cakes, including chiffon cake.
Earl Grey is a popular black tea that is scented with bergamot oil (a citrus that is like a combination of lemon, lime, and grapefruit). The unique flavor is hard to describe, but once you try it, the taste is very recognizable.
In this recipe, Earl Grey lends its citrusy, floral flavor to a tender yet fluffy chiffon cake.
First, steep Earl Grey tea in the milk called for in a regular chiffon cake before mixing it in. Add few chopped tea leaves at the end to add so much incredible flavor to an already delicious cake.
Jump to:
I adore chiffon cake, especially this Strawberry Chiffon Cake and Lemon Chiffon Cake in the summer. This time, the Earl Grey Chiffon Cake was baked in a proper tube pan following all the tips and tricks from the article How to Make Vanilla Chiffon Cake.
But Wait, What's a Chiffon Cake?
A chiffon cake is cross between a sponge cake and an oil cake. This hybrid is soft and pillowy from whipped egg whites but rich and tender from the addition of oil and fat laden egg yolks
Most sponge cake are exclusively leavened with whipped eggs, but chiffon cakes get a boost from baking powder to ensure their mega rise.
Chiffon cakes are feather-light without being dry. Layer them with silky Swiss meringue, coat the outside with whipped cream, or serve straight up with fresh berries.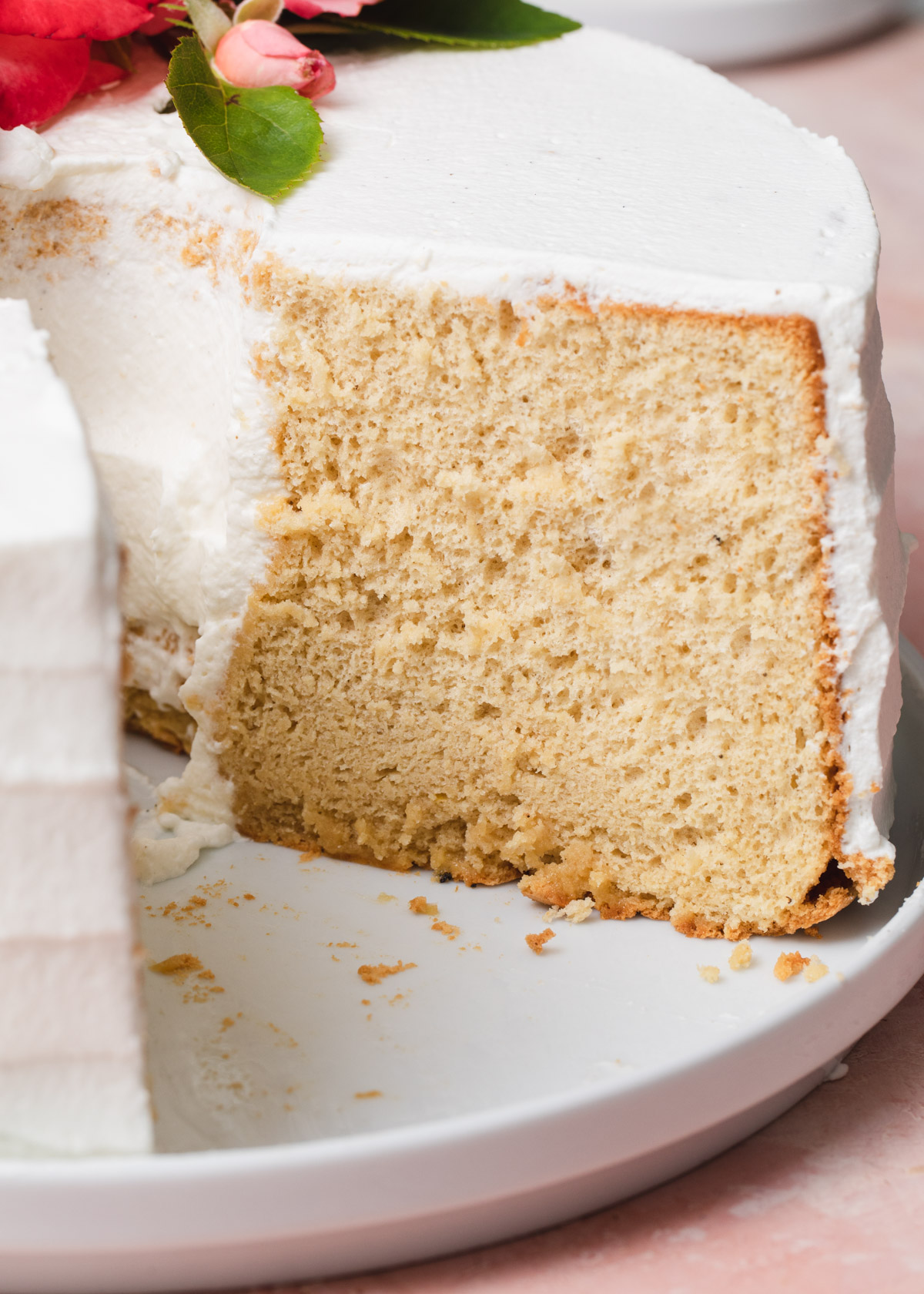 Ingredients
All-purpose flour - I've also used cake flour, but all-purpose still yields a soft and fluffy cake
Baking powder - unlike other sponge cakes, baking powder ensures an extra rise
Salt - use kosher salt, like Diamond Crystal
Granulated sugar
Earl Grey tea - loose leaf or cut from a bag
Vanilla - Vanilla bean paste or extract work wonderfully
Avocado or vegetable oil - any neutral oil will do
Whole milk - other percentages or non-diary milk will work too
Whole eggs - separated into yolks and whites
Cream of tartar - to help stabilize the whipped egg whites and keep them from deflating too quickly
See recipe card for quantities.
Tools and Equipment
A chiffon cake is typically baked in a tube pan. A tube pan is a round baking pan that has a hollow tube in its center. The tube conducts heat for more even baking. More specifically, a chiffon cake tub pan has metal feet around the rim so that the cake can cool upside down.
You will also need:
Saucepan
Mesh seive
Electric mixer
Rubber spatula
Offset spatula
General kitchen tools (measuring spoons, bowls, etc).
Steps for Making an Earl Grey Chiffon Cake
Make Earl Grey Milk - steep earl grey tea into the milk called for in a chiffon cake recipe before mixing into the batter.
Make the Batter - mix together the eggs, oil, sugar, and vanilla. Alternate adding in the dry ingredients and Earl Grey flavored milk.
Whip the Whites - use an electric whisk to whip the egg whites into thick and billowy
Fold - the egg whites into the batter
Bake!
Cool - upside down in the pan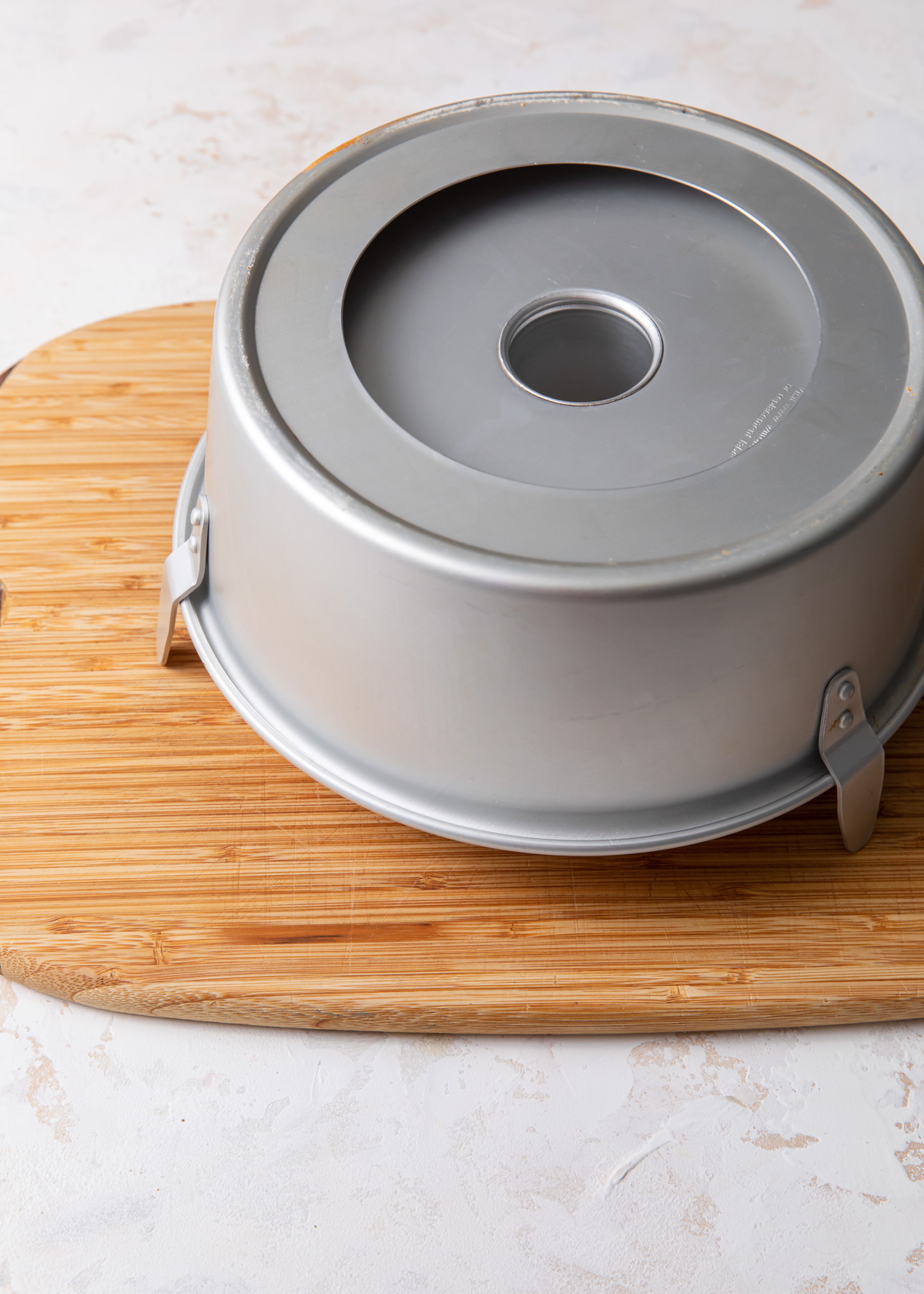 Serving and Storage
Store chiffon cake at room temperate for up to 2 days. Wrap well in plastic or put it in an air-tight container to keep the cake from drying out.
If iced with whipped cream or similar, store the cake in the refrigerator. Since the cake is made with oil, it will stay soft and tender even after refrigeration.
To freeze, wait until cake had completely cooled then wrap well in plastic. Store in the freezer for up to 2 months (longer if placed in an air-tight container or zip-top freezer bag. Thaw frozen cake in the refrigerator before serving.
Variations
Lemon Chiffon - skip the Earl Grey and use half milk and half lemon juice. Rub the zest of one lemon into the sugar before mixing in the oil and eggs.
Chai Chiffon - Swap Chai for the Earl Grey tea. Add a teaspoon each of cinnamon and ginger along with the dry ingredients.
Vanilla Bean Chiffon - skip the Earl Grey and plain milk. Rub the seeds of a vanilla bean into the sugar before mixing in the oil and eggs.
Tips for Making Fluffy Chiffon Cake
Do not over-mix egg whites. If you mix too long, the egg whites will turn dry and begin to clump together. Not only are these types of egg whites less efficient at creating puffy cakes, they are much harder to fold into the batter and can lead to a collapsed cake structure.
Whip egg whites in a clean bowl. It must be free from grease and drips of egg yolks. Metal and glass bowls work best.
Use a "J" fold in a large bowl to mix the batter and whites together. To do so, take a large rubber spatula or large metal spoon to cut the mixture down the center. Next, scoop the mixture from the bottom of the bowl and flip it to the top making "J" motion. Rotate the bowl and repeat.
Do not grease the inside of the tube pan for maximum lift.
Cool the chiffon cake upside down to decrease shrinking.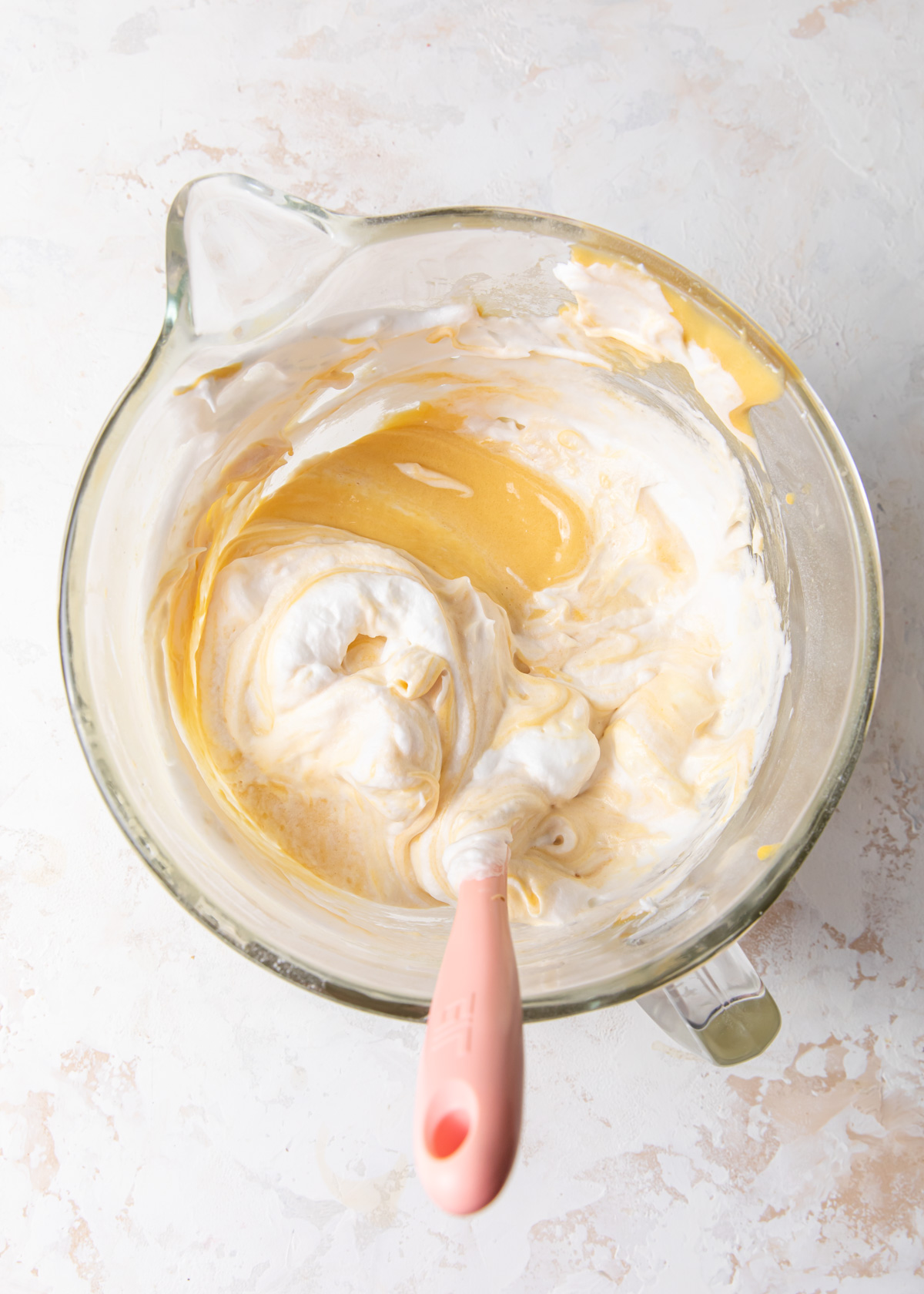 Earl Grey Chiffon Cake Recipe FAQs
What is the different between sponge cake and chiffon cake?
Sponge cakes are made up whole whipped eggs or whipped egg whites. A chiffon cake is a type of hybrid sponge cake incorporates whipped eggs whites into an oil-based cake batter. Most other sponge cakes have little to no fat and rarely use baking powder.
Do I have to use a tube pan for chiffon cake?
No, you don't have to. But tube pans are designed to cook the cake from the middle and outside. They often have feet around the rim of the pan for cooling the cake upside down. You can certainly bake a chiffon cake in a round cake pan, but it will be subject to shrining (but still super tasty!).
How long do you cool a chiffon cake?
Cool chiffon cake upside-down until it is no longer warm. Unlike a Bundt cake where you want to remove the cake from the pan while it is still warm, you can cool chiffon cake in the pan for about an hour.
Related Recipes
Love fluffy, flavorful cakes? Try one of these:
Please leave a star review if you loved this recipe! Make sure to share your recipes and tag me on Instagram @stylesweetdaily. 
Recipe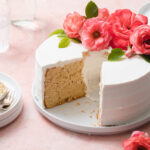 Print Recipe
Earl Grey Chiffon Cake
A bouncy moist chiffons cake infused with lovely Earl Grey tea flavor in every bite.
Ingredients
¼

cup

Earl Grey loose leaf tea

or 4 tea bags

½

cup

whole milk

2

cups

(250g) all-purpose flour

2

teaspoon

baking powder

½

teaspoon

kosher salt

1 ½

cups

(300g) granulated sugar

½

cup

avocado or vegetable oil

6

egg yolks

2

teaspoon

vanilla extract

8

egg whites

¾

teaspoon

cream of tartar

1 ½

cups

heavy cream

2

tbs

granulated sugar

1

teaspoon

vanilla extract
Instructions
Preheat the oven to 325°F.

Place the milk in a saucepan and gently heat to a simmer. Add the Earl Grey tea. Remove from the heat and cover. Let steep 10 minutes. Pour the milk through a mesh sieve and allow to cool. Reserve 2 teaspoons of tea and discard the rest.

In the bowl of stand mixer fitted with the paddle attachment (or a bowl with a hand mixer), add the sugar, oil, egg yolks, and vanilla. Mix together on medium speed for a few minutes until the batter is pale in color. Stop the mixer and scrape down the bowl.

Add half of the flour mixture then mix on low until just combined. Stream in the Earl Grey milk. Mix until the liquids are absorbed. And in the remaining flour and mix until smooth. Set the batter aside.

In a second mixing bowl (or clean and dry the first bowl), add the egg whites. With the whisk attachment, beat the eggs on medium-low speed until they begin to foam. Add in the cream of tartar and slowly increase the speed to medium-high. Continue to whisk until the whites hold medium peaks.

Meanwhile, finely chopped the reserved tea and add it to the egg yolk batter.

Stop the mixer and fold the whipped egg whites into the cake batter. Scrape the batter into a ungreased tube pan.

Bake the cake for 45 to 55 minutes, or until a toothpick inserted into the center of the cakes comes out clean. 

Flip the pan upside down and allow to cool completely. When down, flip over and run a thin knife around the edges of the cake before removing the pan. If needed, use a long serrated knife to trim off any domed cake on top. 

When cool and ready to serve, whip the heavy cream along with 2 tablespoons sugar and 1 teaspoon vanilla extract until it holds medium peaks.

Place the chiffon cake on a cake platter and spread the whipped cream all over with an offset spatula.
Notes
Store chiffon cake at room temperate for up to 2 days. Wrap well in plastic or put it in an air-tight container to keep the cake from drying out.