Do you literally dream of warm, gooey cinnamon rolls at night? With this recipe you can make these dreams come true and eat fresh-out-of-the-oven Overnight Pumpkin Cinnamon Rolls in your pajamas without having to wake at dawn!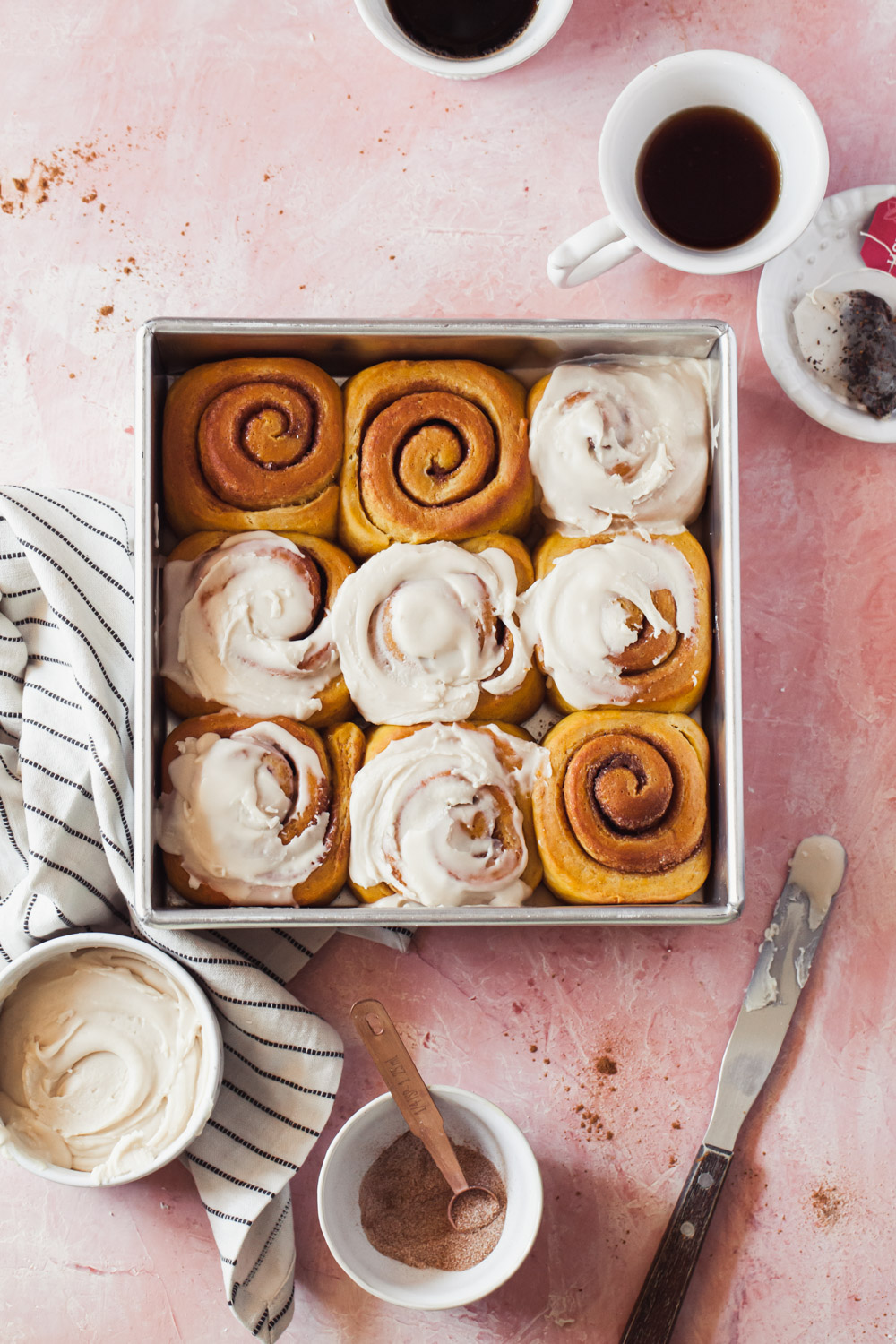 Perfect Pumpkin Cinnamon Rolls for Fall
The Overnight Pumpkin Cinnamon Rolls have everything you crave on a chilly, fall morning. The soft yet slightly chewy buns are enriched with pure pumpkin and ooze that classic cinnamon filling.
Reduced chai tea packs a ton of autumnal flavors into the simple vanilla glaze.
With hints of cardamom, cinnamon, and ginger, the glaze pairs perfectly with pumpkin and a cozy set of pajamas.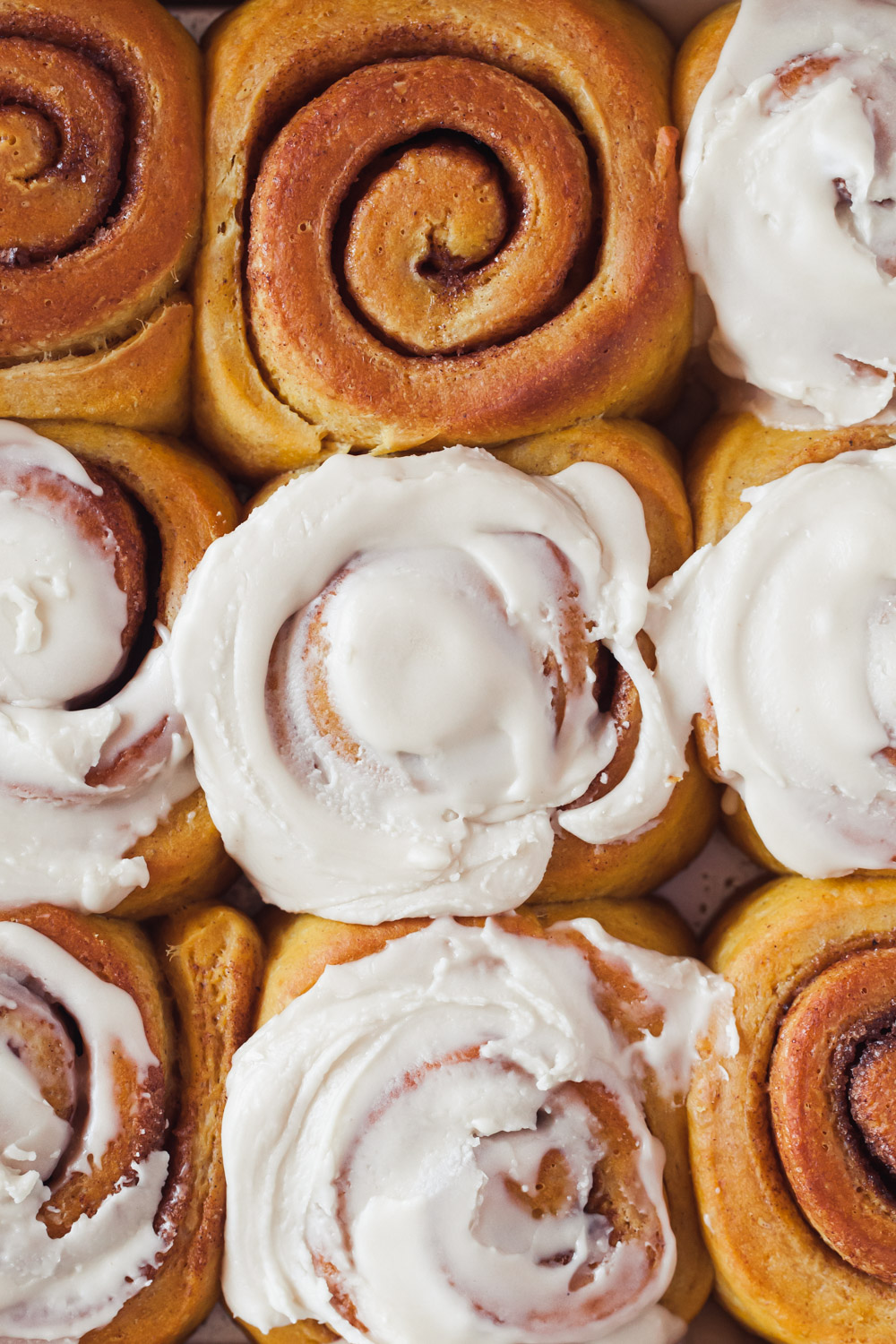 INGREDIENTS IN Pumpkin Cinnamon Rolls
Here is a quick glance at some of the ingredients needed beyond basic pantry staples. Find a complete list with quantities in the full recipe to follow.
Pure canned pumpkin
Yeast (active dry)
Unsalted butter
Milk
Eggs
Brown sugar
Cinnamon
Chai tea
Vanilla extract
Confectioners' sugar
TOOLS AND EQUIPMENT
These are the primary tools you will need to bake these cinnamon rolls:
Stand mixer with dough hook
Saucepan or microwave
Mixing bowls
Baking pan
Serrate knife or dental floss
General kitchen tools (measuring spoons, cups, etc)
Learn how to bake with yeast.
Why we love an overnight cinnamon roll recipe:
Yeasted baked goods are synonymous with lazy weekends, but in order to enjoy a warm bun in your pajamas you'd have to wake at dawn to get started! Sure you could throw on some boots and a coat over your yoga pants and pick up something from your local bakery, but it's so easy to make fresh cinnamon rolls at home without all the trouble.
Like most yeasted doughs, cinnamon rolls require two rises - one before shaping and one after.
Each proofing session can take up to two hours at room temperature (so if you want to be eating these along side your first sip of coffee, you'd have to set your alarm for like 4:30am. Unless you have a plane to catch, why would you want to do that to yourself?).
How to Proof Yeast While You Sleep
Cool temperatures slow down yeast production. Okay, great - but aren't we trying to get things moving faster and straight on to delicious town? Yes, but when you allow the long rise to happen while you are sleeping, it feels like the process is actually sped up.
Making the dough before bed and letting it rise overnight means we can get right to filling and shaping in the morning.
Alternatively, you can save the big chill for the second rise. Allow the dough to double at room temperature (about 2 hours), roll out, fill and shape the night before.
Place the shaped rolls on a baking sheet, cover, and place in the fridge overnight. Come morning, pull the rolls out so they can come to room temperature while the oven pre-heats.
Baker's Notes:
If you don't want to do an overnight rise, allow the dough to proof at room temperature for about 2 hours, or until it doubles in size.
To cut the cinnamon rolls, use a sharp serrated knife or unflavored dental floss. To use floss, take a long strand and slide it under the log, cross-wise. Pull the ends up and cross them on the top of the log. Continue to pull the ends in opposite directions until the floss cuts through the dough.
The best way to prevent over-baking is to use a probe thermometer. If you don't have one, gently tug on the center of the spiral of one of the buns with a paring knife. If it comes up rather dough and raw, then they need more baking time. If it is dry and stuck in there, then they are probably a little over-done.
Serving and Storage
We like our pumpkin cinnamon rolls served warm. You can easily reheat in the microwave for 10 to 15 seconds at a time.
Store leftover pumpkin cinnamon rolls covered in plastic wrap in the refrigerator for up to a few days. They are best served the day that they are baked.
More Pumpkin Recipes to Try:
Small-Batch Pumpkin Cake with Coffee Cream Cheese
Ice Cream Sandwiches with Pumpkin Snickerdoodles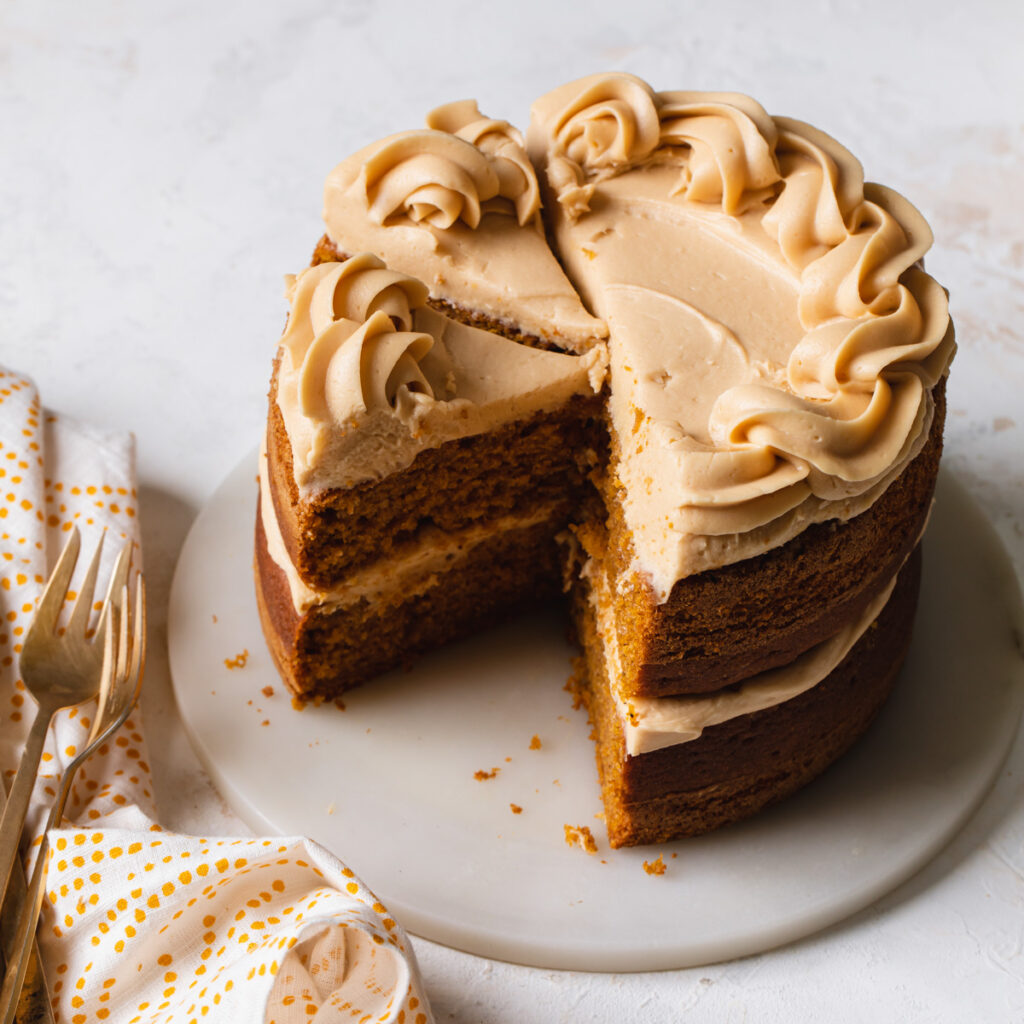 Join the Style Sweet Bake Club!
Get exclusive recipes and articles sent straight to your inbox. Become a subscriber today! Click to join.
Recipe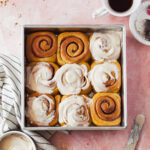 Print Recipe
Overnight Pumpkin Cinnamon Rolls with Chai-Vanilla Glaze
These fluffy, overnight pumpkin cinnamon rolls have a creamy chai-spiced vanilla glaze
Ingredients
Overnight Pumpkin Cinnamon Rolls with Chai-Vanilla Glaze
⅓

cup

warm milk

100 to 110 degrees F

2 ¼

teaspoon

dry active yeast

3

cup

all-purpose flour

½

cup

brown sugar

packed and divided

½

teaspoon

kosher salt

1

large egg

⅔

cup

pumpkin puree

3

tablespoon

unsalted butter

melted and cooled

6

tablespoon

unsalted butter

very soft, divided

2

teaspoon

ground cinnamon

2

Chai tea bags

1

teaspoon

vanilla extract

1 ½ to 2

cups

confectioners' sugar
Instructions
Overnight Pumpkin Cinnamon Rolls with Chai-Vanilla Glaze
The Night Before: In a heat-safe liquid measuring cup, stir the yeast into the warm milk and set aside for about 5 minutes, or until frothy. Place the flour, ¼ cup brown sugar and salt in the bowl of a stand mixer and stir together.

When the yeast mixture is ready, stir it into the flour mixture. In the same measuring cup, whisk together the egg, pumpkin purée, and 3 tablespoons of melted butter. Stir the pumpkin mixture into the dough. Knead on low speed with a dough hook (or by hand) for about 5 minutes until smooth, elastic, and only slightly sticky. Resist from adding in too much extra flour to keep from sticking.

Lightly grease a large mixing bowl. Gather the dough into a ball and place it in the bowl to rise. Cover the bowl with plastic wrap and place it in the refrigerator overnight (about 8 hours).*

In the Morning: Pull the dough from the refrigerator immediately and allow it to come to room temperature (30 to 60 minutes). Once the refrigerator chill is gone from the dough, lightly dust your work surface with flour and roll out the dough into a 12 X 16-inch rectangle. Spread the dough with 4 tablespoons of the softened butter. Stir together the remaining brown sugar and ground cinnamon. Sprinkle the cinnamon mixture all over the butter.

Starting with the long edge, carefully roll up the dough into a log. Cut the log into 10-12 even pieces. Place the pieces, spiral-side up, on a greased sheet pan, making sure there is enough room between the rolls for them to rise again. Loosely cover with plastic or a clean kitchen towel and allow to rise for 30 to 40 minute, until puffy.

Meanwhile, preheat the oven to 350°F. Uncover the cinnamon rolls and bake for about 28 to 32 minutes, or until the center registers 190°F on a probe thermometer. Remove from the oven and allow to slightly cool before glazing.

While the Pumpkin Cinnamon Rolls Bake: Place ¾ cup water in a saucepan and bring to a simmer. Add the tea bags and continue to simmer on low until the tea reduces to about ¼ cup of liquid. Remove from the heat.

To make the glaze, place the remaining 2 tablespoons of softened butter in a mixing bowl. Stir in about 2 tablespoons of the reduced chai tea and the vanilla. From there, add in the confectioners' sugar and whisk (by hand) until smooth. Add more sugar and/or chai tea until the desired consistency is achieved. Spread the chai-vanilla glaze over the tops of the warm pumpkin cinnamon rolls.
Notes
If you don't want to do an overnight rise, allow the dough to proof at room temperature for about 2 hours, or until it doubles in size.