Full apple flavor and served with a to-die-for apple cider caramel sauce, this Caramel Apple Cake is the perfect celebration cake for all your fall festivities. Three different types of apple are used to keep things extra moist and flavorful.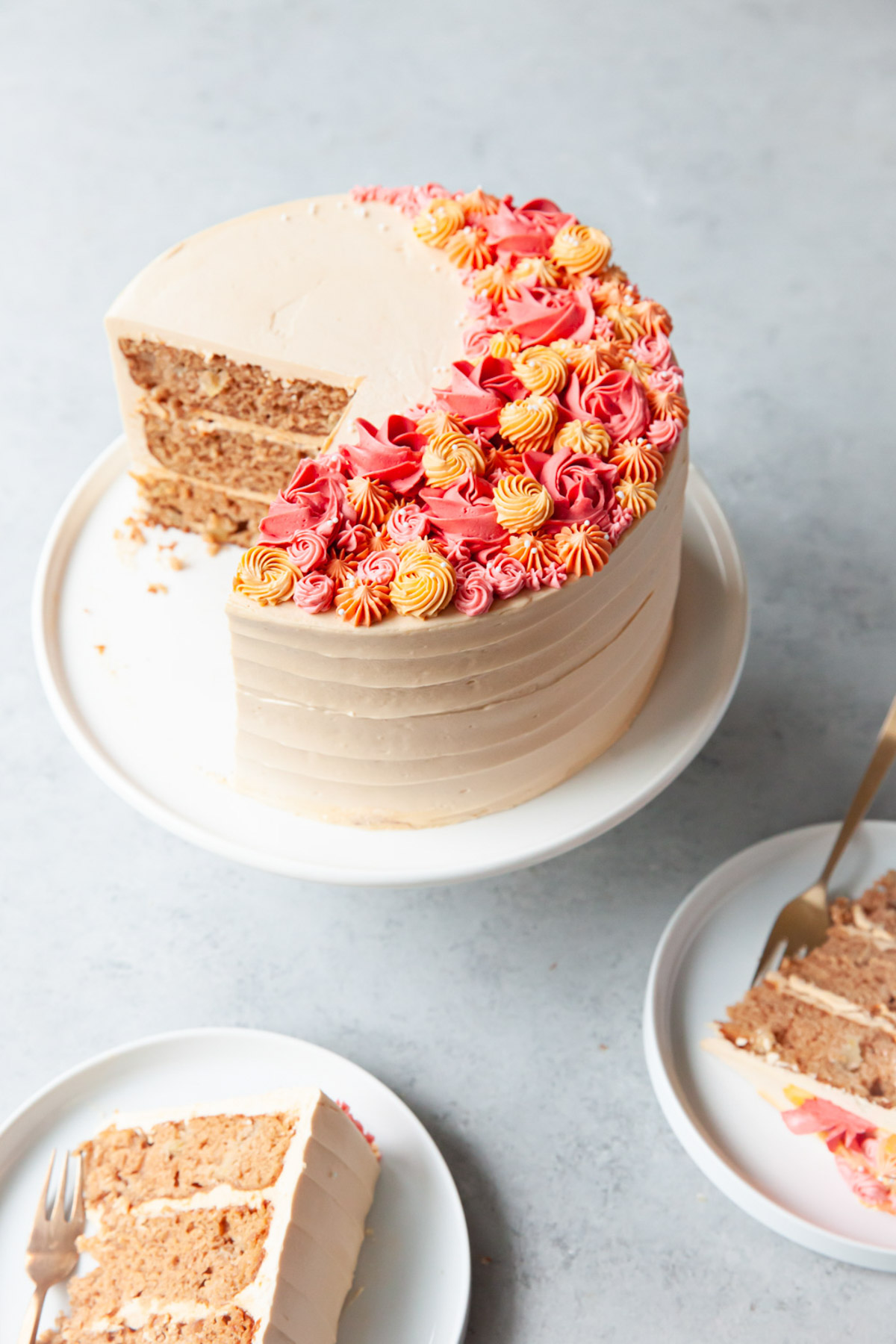 Make this cake for any fall celebration! It has three lofty layers of moist apple spice cake.
The apple cake layers are filled and frosted with creamy dulce de leche frosting. To serves, add a heavy drizzle of apple cider caramel. It might seem like extra work, but it adds so much extra flavor when sliced and served.
Making this cake for a fall celebration? The piped buttercream rosettes on top are party perfect!
Jump to:
Why You'll Love This Caramel Apple Cake
Enjoy apples three ways in this Caramel Apple Cake recipe. Fresh apples straight from the orchard provide flavor and texture in the cake layers while the applesauce keeps them moist for days.
Lastly, we reduce apple juice then replace the cream in a traditional caramel sauce to give it a super flavorful punch to drizzle over cake slices.
Ingredients
All-purpose flour - sift the flour if there are lumps; use the spoon and level method to measure
Baking powder
Ground cinnamon and ground ginger
Baking soda
Kosher salt - I recommend Diamond Crystal
Neutral Oil - like avocado, grapeseed, or canola
Granulated sugar
Brown sugar - dark or light; packed when measuring
Large eggs
Unsweetened applesauce - this will make the cake super moist
Fresh apples - I recommend a mix of sweet and tart like Granny Smith, Honeycrisp, and Pink Lady
Apple cider - cook until reduced to make the caramel sauce
Corn syrup
Unsalted butter - for the sauce and buttercream
Dulce de leche - look for this next to canned sweetened condensed milk
Tools and Equipment
8-inch round cake pans
Stand mixer (a hand mixer is okay for cake but need stand mixer for buttercream)
Saucepan
Offset spatula
Rotating cake stand (helpful)
Piping tips and bags (for decorating)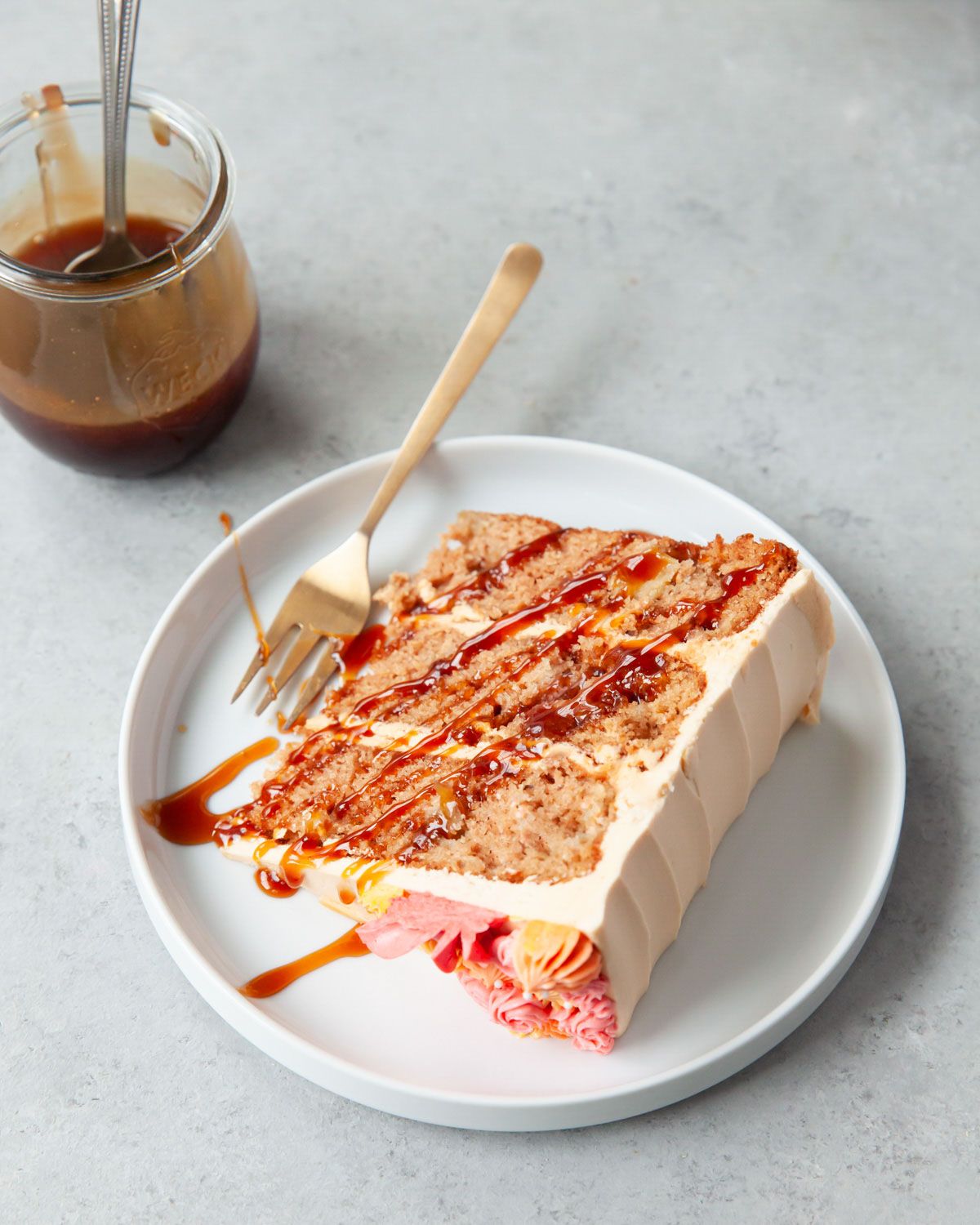 Steps for Making a Caramel Apple Cake
Dice the Apples - before getting started, make sure all of your ingredients are prepped before getting started, starting by dicing the apples.
Make the Batter - next, prepare the cake batter and fold in the diced apples
Bake!
Reduce the Apple Cider - boil the apple cider until it reduced to ¼ cup.
Caramelize the Sauce - add the brown sugar and boil to 240°F.
Whip the Buttercream - add canned dulce de leche into the Swiss meringue buttercream
Decorate! - lastly, use a variety of piping tips to pipe spiral of buttercream on top of the cake.
Substitutions
Gluten-free: you may try using a one-to-one gluten free flour for the all-purpose flour
Variations
Brown Butter Apple Cake: swap the Dulce de Leche buttercream with the brown butter frosting here.
Easy Vanilla Frosting: for a simpler version, swap the buttercream for easy whipped frosting and serve with caramel sauce.
Serving and Storage
Serve this Caramel Apple Cake at room temperature with a drizzle of the apple cider caramel sauce.
Store the cake under a cake dome or wrapped loosely with plastic at room temperature overnight. Refrigerate leftovers, in a cake box or wrapped with plastic, for up to 4 days.
To freeze, wrap the baked and cooled apple cakes in two layers of plastic wrap. Freeze for up to 3 months. Thaw frozen cakes overnight in the refrigerator.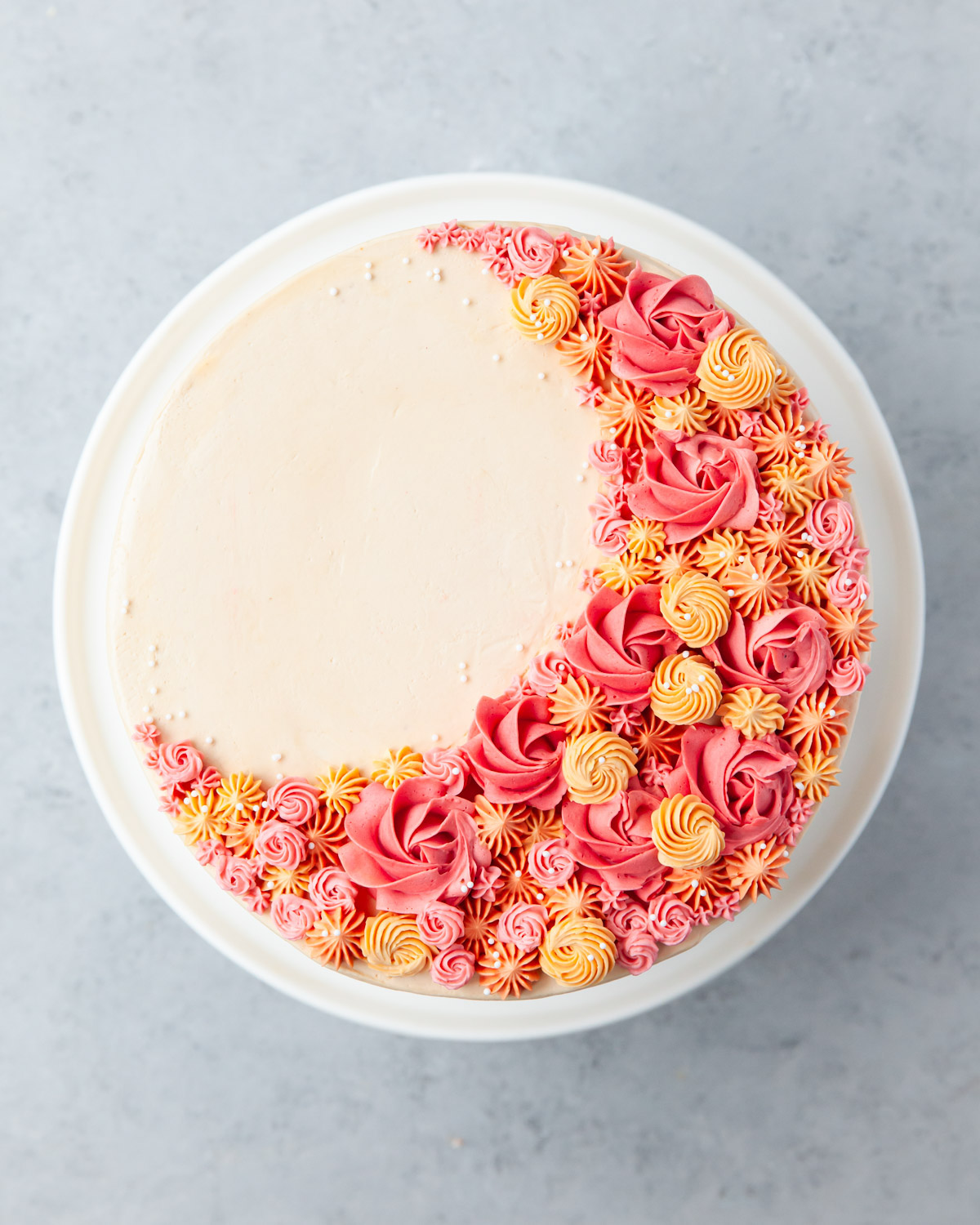 Decorating a Buttercream Flowers Cake
This recipe comes from Layered: Baking, Building and Styling Spectacular Cakes. While the cake in the book shows the sauce dripping lusciously down the sides of the cake, this version steals our favorite crescent of buttercream rosettes to crown the top.
To compensate for the decoration, the buttercream filling is thinner. Not to fear, the oil base and applesauce in the cake keep it moist for several days.
How to Make a Buttercream Flower Cake
What is Dulce de Leche?
The caramel portion of this Caramel Apple Cake is delivered in two forms: the previously mentioned apple cider caramel sauce as well as the dulce de leche buttercream filling and frosting.
Ducle de leche is a Latin American confection made from caramelizing milk. The milk is cooked down until it thickens and resembles caramel sauce. During the cooking process, much of the water evaporates as the milk reduces and sugars caramelize, resulting in the thick, sweetened sauce.
You can easily make your own by boiling an unopened can of sweetened condensed milk (or even doing so in a slow cooker).* When it is done, the milk will be a creamy, camel-colored dream.
Ready-made dulce de leche is also available at some grocery stores.
How to Make Homemade Dulce de Leche
To make your own dulce de leche, remove the label from a an unopened can of sweetened condensed milk. Place the can on its side in a large pot or Dutch oven.
Next, fill the pot with water until the can is completely submerged by about two inches. Place on the stove and bring the water to a simmer.
Cook the sweetened condensed milk for 2 to 3 hours, keeping a watchful eye and ensuring that the can is always submerged in water.
When done, remove the pot from the heat. Very carefully remove the can with tongs and allow the can to cool at room temperature a wire rack (DO NOT open while it is still HOT) or it may squirt hot liquid upon opening.
Baker's Notes
The best apples to use in this cake are Granny Smith, Honeycrisp, or Pink Lady
For the buttercream, double this recipe for Swiss meringue buttercream.
Keep cake at room temperate if serving the same day as assembled. Store leftovers in a cake box or loosely covered in plastic wrap in the refrigerator for up to 4 days.
More Apple Recipes to Make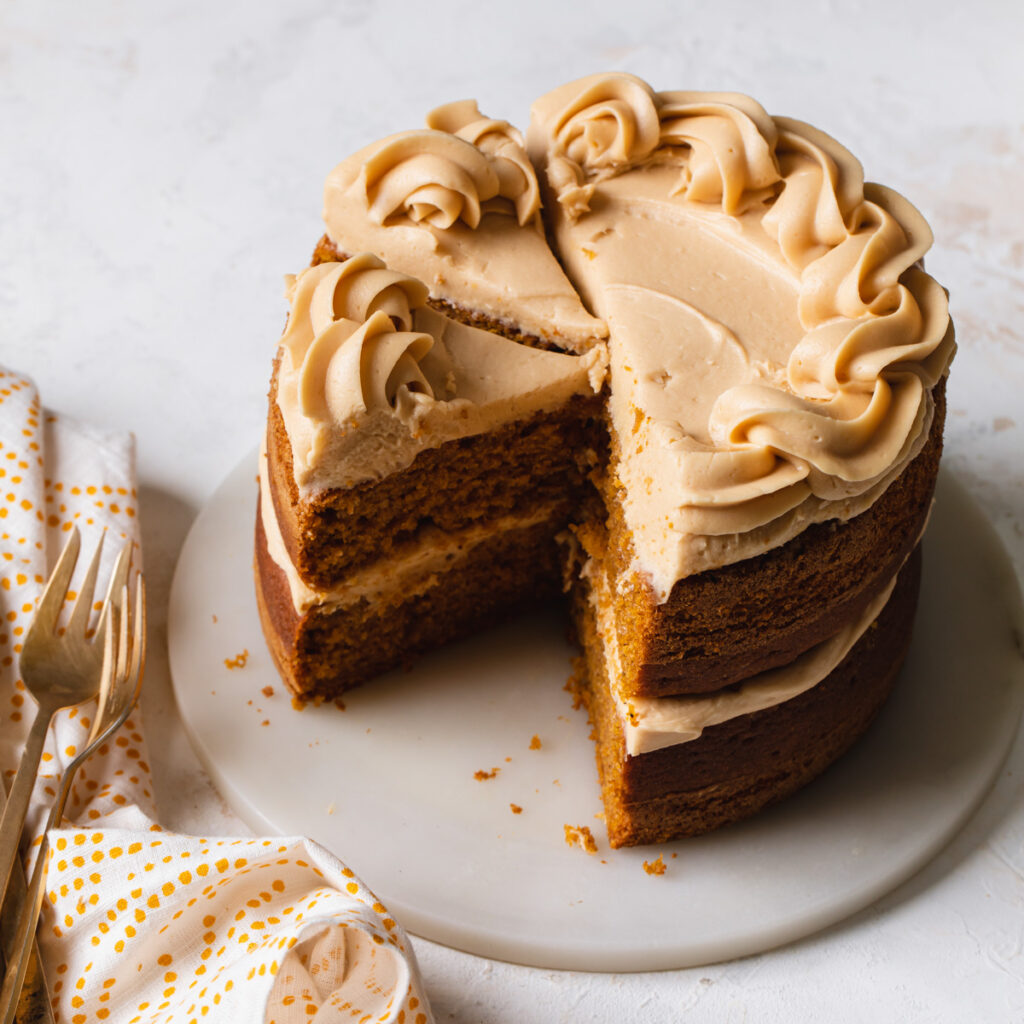 Join the Style Sweet Bake Club!
Get exclusive recipes and articles sent straight to your inbox. Become a subscriber today! Click to join.
Recipe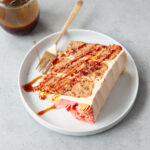 Print Recipe
Caramel Apple Spice Cake
This Caramel Apple Spice Cake is Full apple flavor with dulce de leche frosting and served with a to-die-for apple cider caramel sauce.
Ingredients
Caramel Apple Spice Cake
3

cups

all-purpose flour

2

teaspoon

baking powder

2

teaspoon

ground cinnamon

1

teaspoon

ground ginger

1

teaspoon

baking soda

½

teaspoon

kosher salt

½ cup + 2 tbsp

neutral-flavored oil

like grapeseed or canola

1

cup

granulated sugar

1

cup

brown sugar

packed

4

large eggs

¾

cup

unsweetened applesauce

1 ½

cups

finely diced peeled apples

such as Granny Smith, Honeycrisp, or Pink Lady
Apple Cider Caramel
1

cup

apple cider

½

cup

brown sugar

packed

1

teaspoon

corn syrup

2

teaspoon

unsalted butter

diced
Assembly
1

Large recipe Swiss Meringue Buttercream

See notes

¾

cup

dulce de leche

gel food coloring

optional

sugar pearls

optional
Instructions
Caramel Apple Spice Cake
Preheat the oven to 350°F. Grease and flour three 8-inch cake pans and set aside.

Sift together the flour, baking powder, cinnamon, ginger, baking soda, and salt. Set aside. In a different mixing bowl (or in a stand mixer), whisk together the oil, sugar, and and brown sugar until smooth. Whisk in the eggs, one at a time, until combined.

Add in half of the dry ingredients and stir to combine. Mix in the applesauce. Add in the remaining dry ingredients and stir – stopping just before the last of the flour streaks disappear. Fold in the diced apples until combined.

Evenly divide the cake batter among the prepared pans. Bake for 23 to 26 minutes, or until a toothpick inserted into the center of the cakes comes out clean. Cool on a wire rack for 10 to 20 minutes before removing the cakes from their pans.
Apple Cider Caramel
Place the apple cider in a saucepan and bring to a simmer. Lower the heat and continue to cook until it reduces down to ¼ cup. From there, add in the brown sugar and corn syrup. Turn the heat up to high, and cook until the mixture registers 240°F on a candy thermometer.

Remove the saucepan from the heat. Stir in the butter until smooth. Pour the caramel into a heat-safe container and allow to cool and thicken before use.
Assembly
Remove 1 ½ cups of buttercream and stir in ⅓ cup of the dulce de leche. Place one cake layer on a cake board or serving dish. Spread on half of the dulce de leche buttercream with an offset spatula until smooth. Place the second layer on top and repeat. Flip the third layer (so the the bottom of the cake faces up) on top.

Mix the remaining dulce de leche into the remaining buttercream. Crumb coat the cake and chill in the refrigerator for 15 minutes. Once chilled, frost the cake with the buttercream - being sure to reserve 1 to 2 cups for the decoration.

For the decoration, tint the remaining buttercream your color(s) of choice. Fill piping bags fitted with various piping tips (we like 1M, #32 and #16). Follow the instructions on How to Make a Buttercream Flower Cake to complete the design. Finish the top with a sprinkle of sugar pearls, if desired.

Serve with a drizzle of apple cider caramel.