Pour yourself a cuppa and settle in with this Caramel Apple Coffee Cake. Thank hefty amounts of brown sugar, diced apples, and sour cream for keeping this cake extra moist. It has a buttery crumb topping that is made even better with a drizzle of caramel sauce.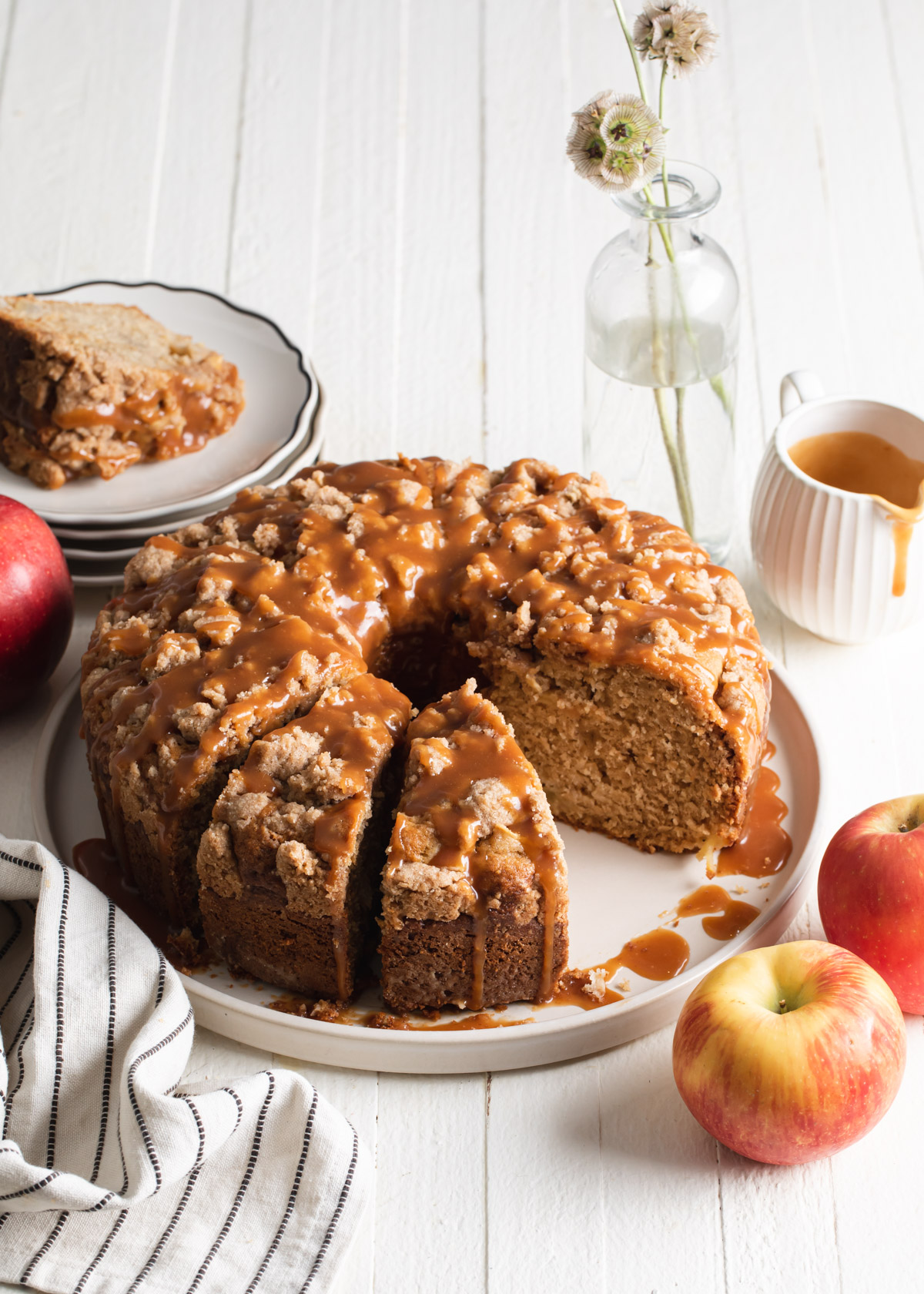 What is Apple Coffee Cake?
A coffee cake is a moist, streusel-topped cake that is served with coffee or tea. It typically does not contain coffee in the recipe, but rather it is paired with fruit, warm spices, and sometimes nuts. Although a coffee-flavored coffee cake does sound delicious, this caramel apple coffee cake is studded with diced apples and served with salted caramel sauce.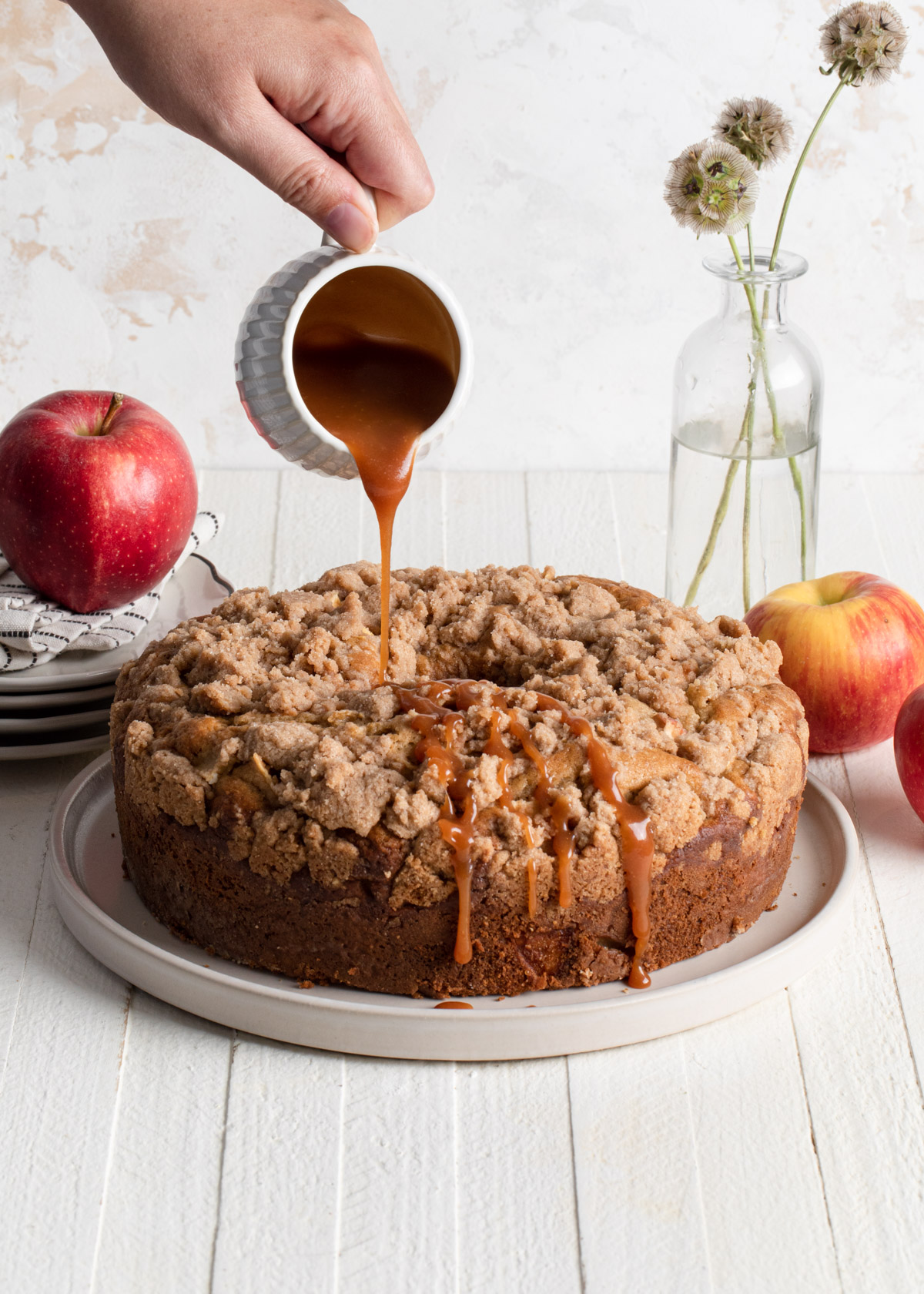 I kept the ingredients pretty simple - apples, brown sugar, and a bit of cinnamon. You could add oats or nuts to your streusel, but sometimes a buttery crumb topping (and lots of it) is all you need.
The cake itself is quite moist - even on its second or third day (if it lasts that long). Some of the diced apples melt into the batter while the use of sour cream makes the cake extra tender. The caramel sauce isn't essential, but highly recommended (as is a scoop of ice cream - yum!).
Love caramel and apple together? Try this Caramel Apple Spice Cake next!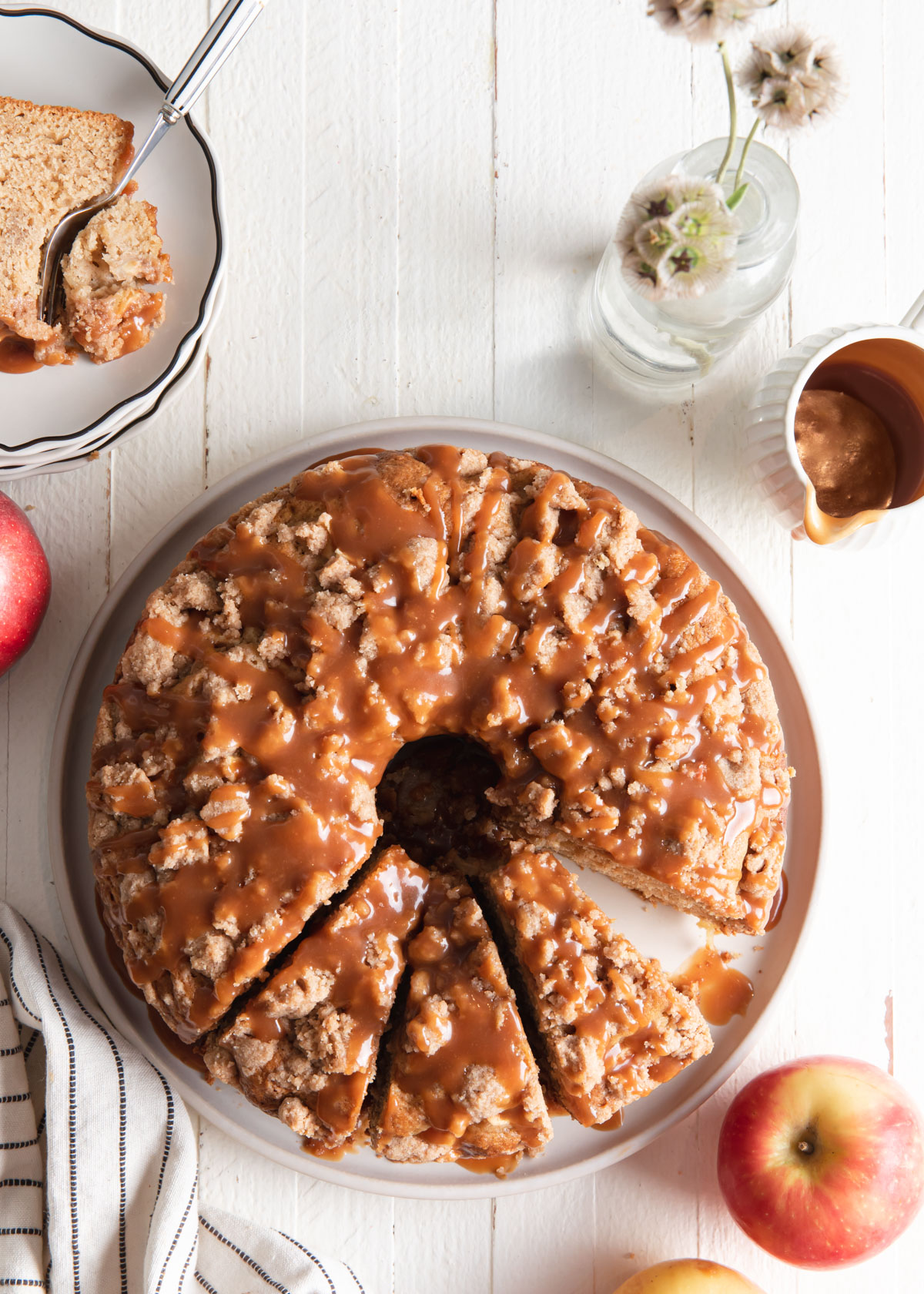 What size pan can I use to make coffee cake?
Using a 10-inch tube pan means that that the thick cake bakes more evenly. I love the look of the ring and how it cuts into nice slices.
I have not tested this recipe in a different pan size, but I suspect it might work split into two loaf pans. Check for doneness at 35 minutes. It could also be really awesome as a sheet cake, cut into squares. If using a 9x13-inch pan, check for doneness around 30 minutes.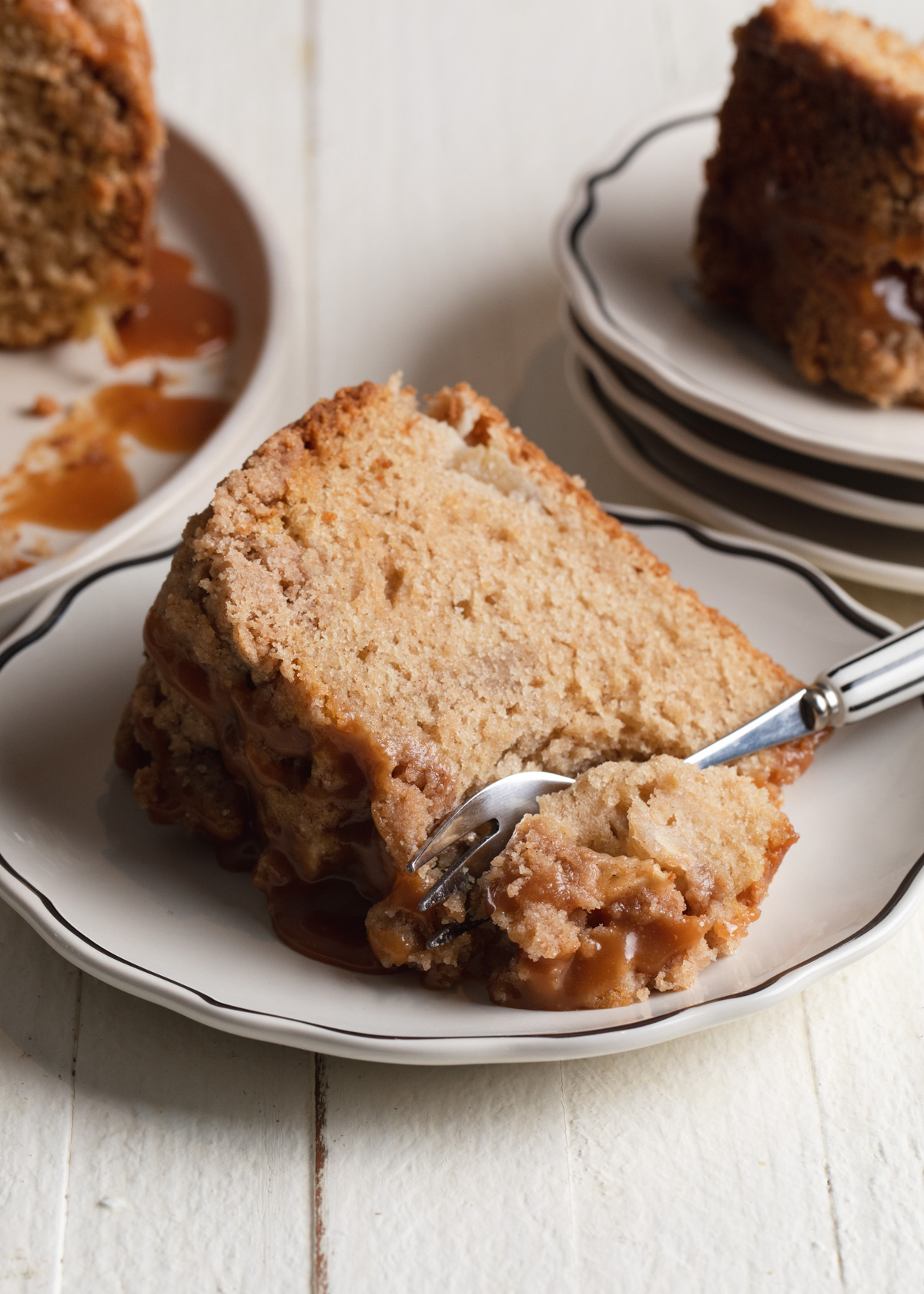 What are the best apples for baking?
For the apples, I recommend Granny Smith, Gala, or Honeycrisp. Try to select something sweet yet tart and sturdy. Even a combination of apples will work!
Slice the peeled apples into ½ to ¼-inch pieces then cut into thirds. It is okay if they are not all uniform in size; the smaller pieces will nearly melt into the batter as it bakes.
Crumb Topping
Ingredients:
¾ cup (100 g) all-purpose flour
¼ cup (50 g) granulated sugar
2 tablespoons brown sugar
1 teaspoon ground cinnamon
½ teaspoon salt
6 tablespoons unsalted butter, softened
Instructions:
In a stand mixer fitted with the paddle attachment, mix together the flour, sugars, cinnamon, and salt. Add the butter and mix on medium-low speed until the mixture combines and clumps of dough form. When done, the mixture should hold together when given a good squeeze.

Scrape the clumps of crumb topping into a bowl and place in the refrigerator as you prepare the cake batter.
Caramel Apple Coffee Cake
Ingredients:
2 ½ cups (325 g) all-purpose flour
1 teaspoon salt
1 teaspoon baking powder
1 teaspoon baking soda
¾ cup (170 g) unsalted butter, softened
1 cup (200 g) granulated sugar
¼ cup (55 g) brown sugar
3 large eggs
1 teaspoon pure vanilla extract
1 cup (240 ml) sour cream
2 heaping cups (about 320 g) diced apples, peeled
Instructions:
Preheat the oven to 350°F. Grease and flour a 10-inch tube pan and set aside.

In a mixing bowl, sift together the flour, salt, baking powder, and baking soda. Set aside.

Using the stand mixer bowl from earlier (no need to wash after making the crumb topping), place in the butter, granulated sugar, and brown sugar. Using the paddle attachment, mix the butter and sugars together on medium speed until light and fluffy, 3 to 4 minutes. Stop the mixer and scrape down the sides of the bowl.

With the mixer on medium-low, add in the eggs, one at a time. Allow each egg to fully incorporate before adding the next. Add the vanilla extract and mix until smooth.

Turn the mixer on low speed, add in half of the dry ingredients and mix until incorporated. Add in the sour cream and mix until combined. Next, add in the remaining dry ingredients and mix until incorporated. A few streaks of dry flour is okay.

Stop the mixer and fold in the diced apples.

Scoop the batter into the prepared pan. The batter will be thick. Smooth it out with a spatula or the back of a spoon.

Remove the crumb topping from the refrigerator and sprinkle it in large clumps all over the top of the batter. Place the cake on top of a rimmed baking sheet and bake for 45 to 55 minutes, or until a wooden skewer inserted into the thickest part of the cake comes out clean or with a few moist crumbs.

Allow the cake to cool completely on a wire rack before removing it from the tube pan.

Drizzle the cake with caramel sauce before serving.
Salted Caramel Sauce
Ingredients:
¾ cup (150 g) granulated sugar
2 tablespoons light corn syrup
2 tablespoons water
½ cup (120 ml) heavy cream
2 tablespoons unsalted butter, diced
¾ teaspoon salt, or to taste
1 teaspoon vanilla extract
Instructions:
Place the sugar, corn syrup, and water in a heavy-bottomed saucepan and gently swirl together to combine. Bring the sugar mixture to a boil over high heat, without stirring. Cook until the bubbles begin to slow down and the sugar mixture turns a medium golden amber color.

Remove the caramel from the heat and very carefully whisk in the heavy cream. The mixture will bubble up and steam, so use caution.

Add in the butter, salt, and vanilla extract and mix until combined.

Transfer the caramel to a heat-safe jar or container and allow to cool at room temperature. The caramel will thicken as it cools. Store it in the refrigerator until ready to use.

After being refrigerated, the caramel will harden. To serve, microwave the caramel until pourable.