These ice cream sandwiches are made with chewy, not cakey, pumpkin snickerdoodles. Rolled in pumpkin pie spiced sugar, the wonderful mix of textures from the crunchy coating, chewy cookies, and cold ice cream make the perfect fall dessert.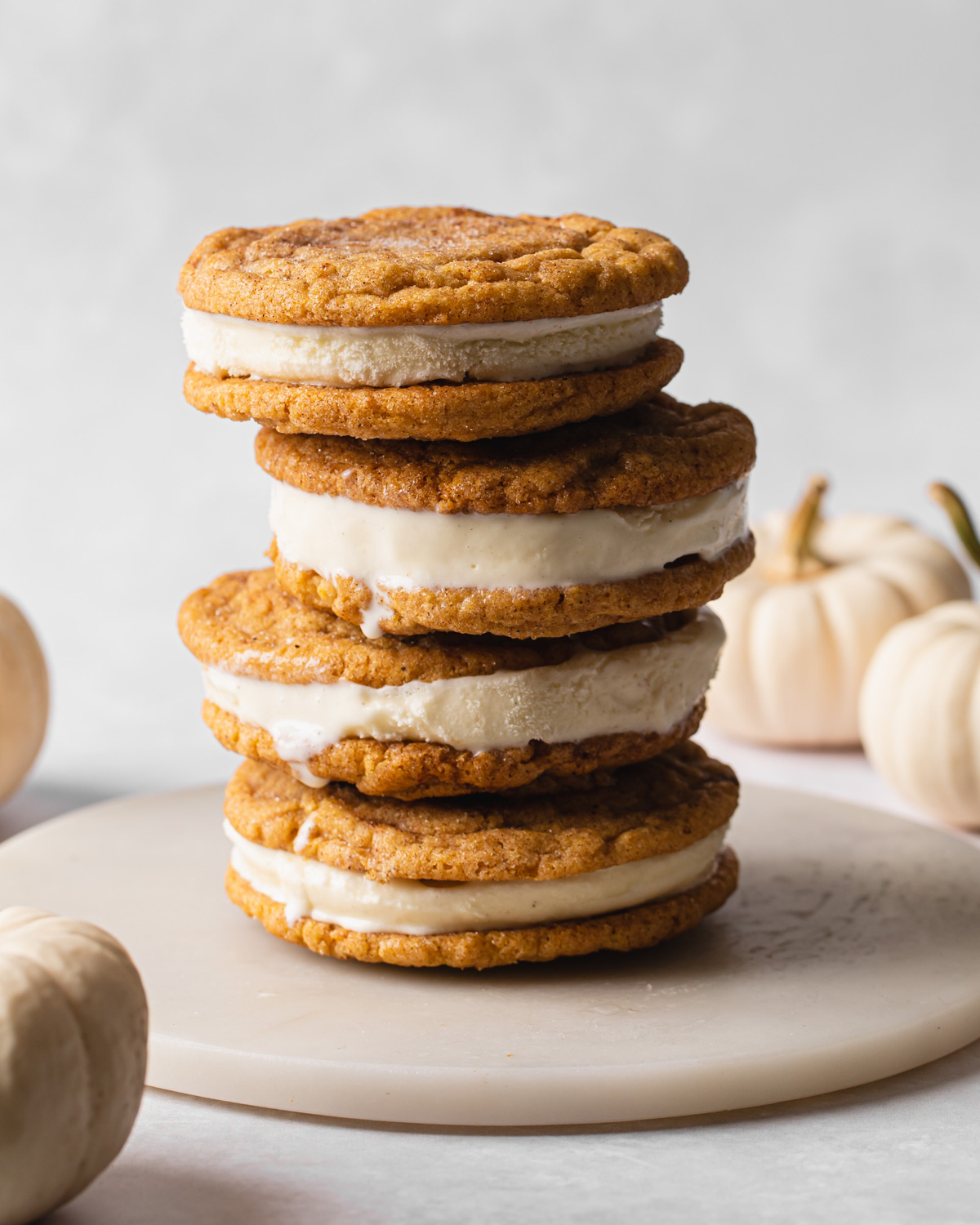 Even as the temperatures drop, this frozen treat is full of cozy flavors - best enjoyed in your favorite flannel.
What are Pumpkin Snickerdoodles?
Snickerdoodles are a type of cookie that is rolled in cinnamon sugar before baking. You will recognize them by their signature crackle surfaces and glittery sugar finish.
They can be soft and pillowy or soft and chewy in the center.
Chewier, flatter versions of these cookies create the best texture after being frozen and are ideal for when making ice cream sandwiches, like these.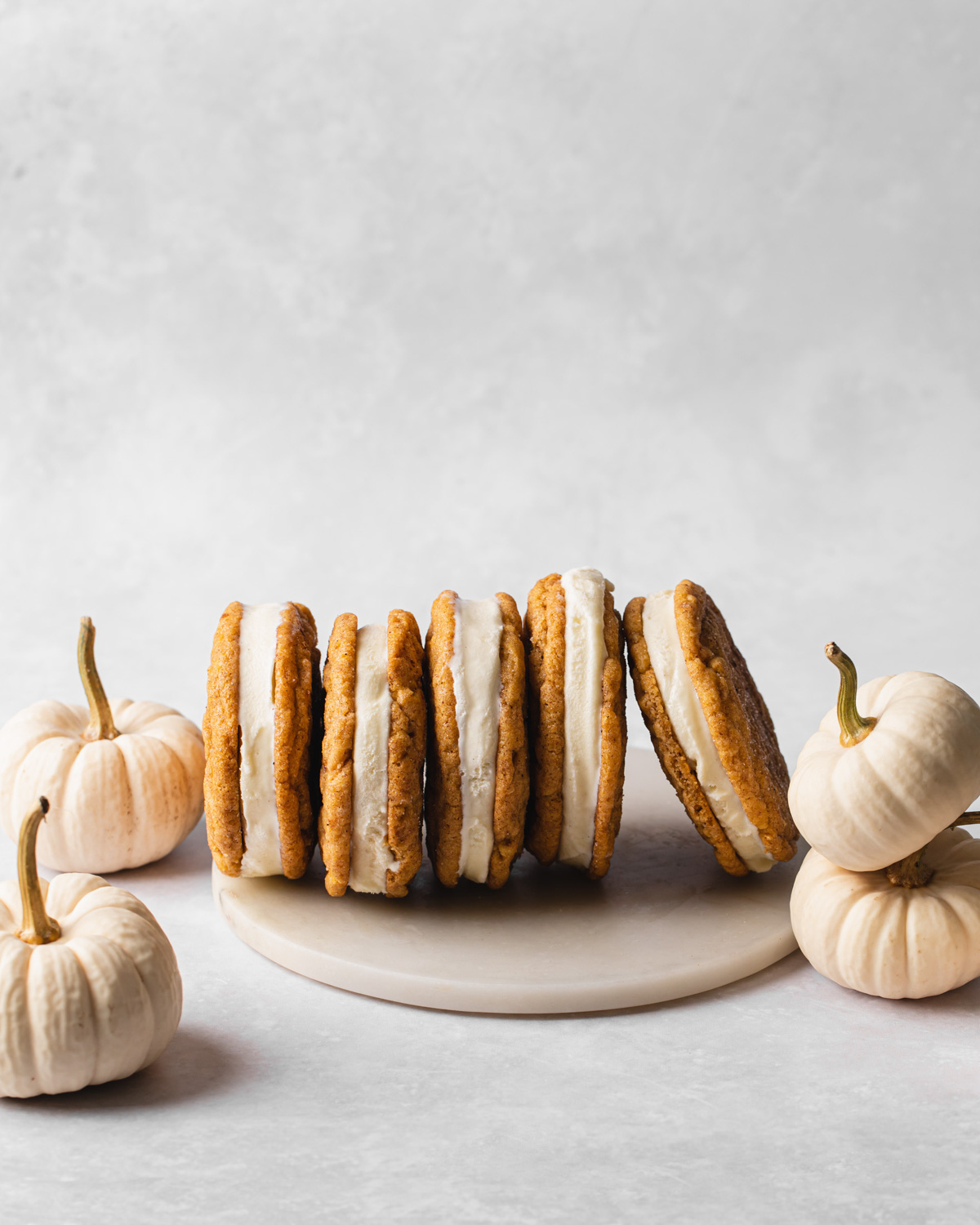 You may roll regular sugar dough in cinnamon sugar for a similar effect, but a true snickerdoodle has one key ingredient: cream of tartar. Along with baking soda, cream of tartar helps leaven the dough and keep snickerdoodles soft.
Cream of tartar is critical for achieving traditional snickerdoodle taste and texture. It is responsible for giving them their slightly tangy flavor.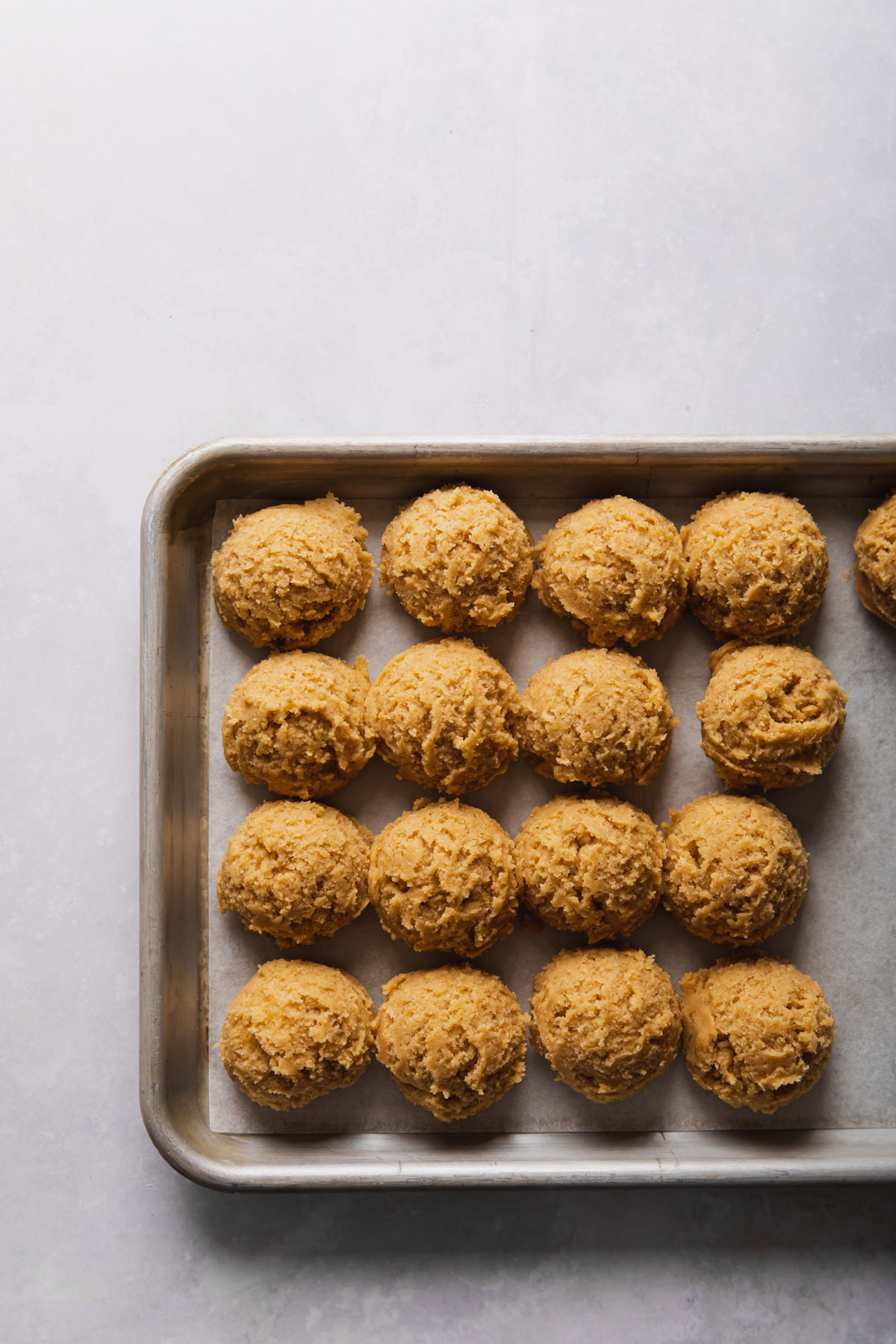 Ingredients in Pumpkin Snickerdoodles
All your baking pantry staples (plus a couple extras) can be found in snickerdoodles. Butter, sugar, eggs, vanilla, all-purpose flour, baking soda, salt, cream of tartar, and cinnamon.
Butter - Partially melted butter prevents too much air from being added when mixed with the sugar. Unlike a cake where you might rely on the creaming method to aerate the batter, keeping the fat (butter) soft here helps prevents the cookies from baking up with a cakey texture.
White sugar - White sugar not only provides necessary sweetness, but helps the snickerdoodle spread slightly. Some snickerdoodles are quite pillowy, but I prefer them flatter and chewier in the center. White sugar helps with the spread.
Brown Sugar - A bit of brown sugar adds depth of flavor and notes of butterscotch. The acidity also helps react with the baking soda to leaven the cookies.
Cream of Tartar - Cream of tartar give snickerdoodle their distinctive tang and keeps cookies soft.
Cinnamon - Before the cookie dough is baked off, they are rolled in a mixture of cinnamon and sugar. Or in this case, sugar and pumpkin pie spice!
Vanilla Ice Cream - You will need ice cream to make these into sandwiches. Your favorite tub of store-bought ice cream will work just fine in this recipe.
TOOLS AND EQUIPMENT NEEDED
These are the primary tools you will need to make these cookie sandwiches:
Hand or stand mixer
Large cookie scoop
Parchment paper
Cookie sheet
General kitchen tools (measuring spoons, cups, etc).
How to Make Pumpkin Snickerdoodles
Adding pumpkin puree to the snickerdoodle cookie dough makes them extra festive and flavorful for fall. Because pumpkin puree is high in water content, the recipe for a standard snickerdoodle recipe must be adjusted along with the addition.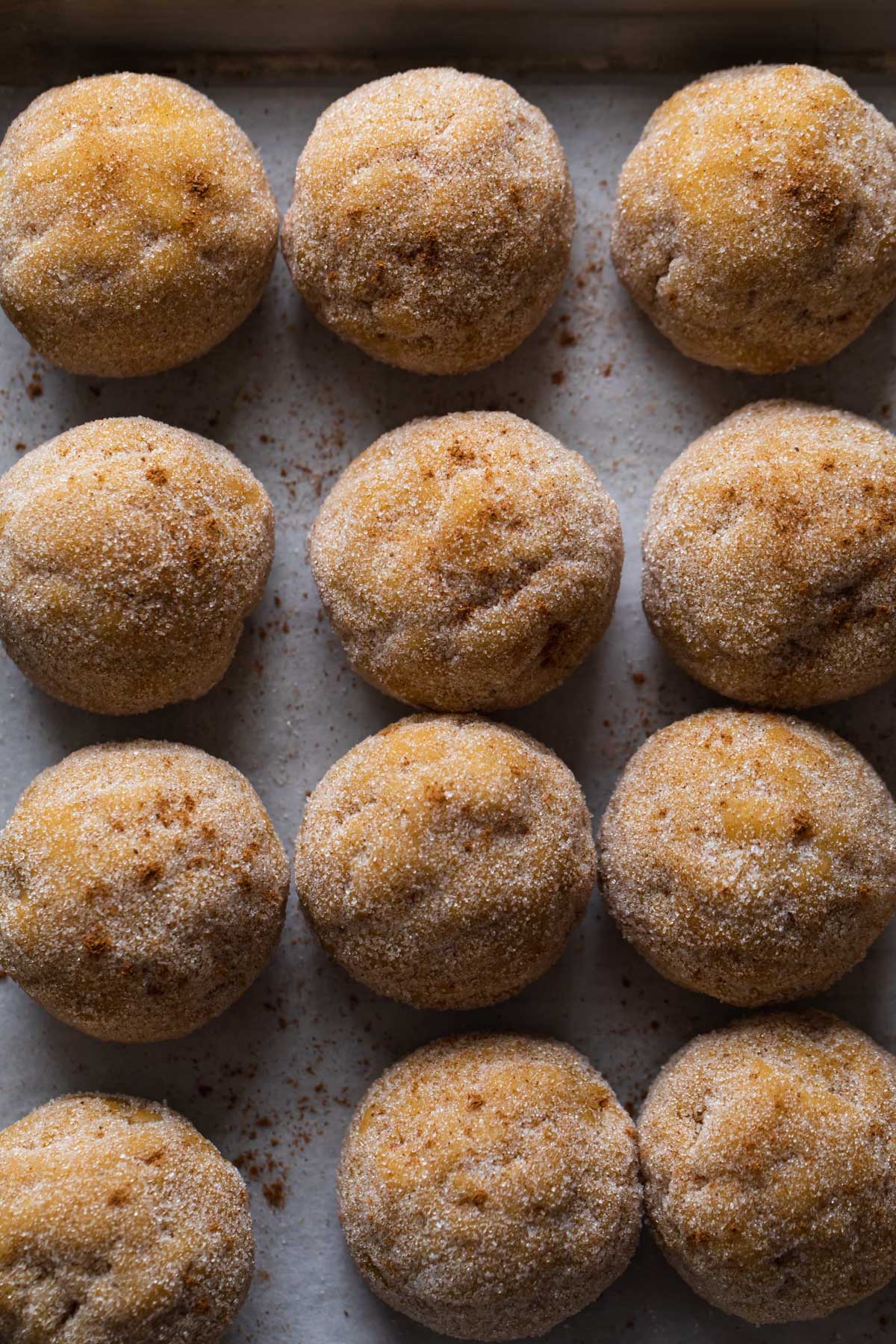 To make pumpkin snickerdoodles, bake the cookies using only an egg yolk instead of the whole egg. The pumpkin puree will essentially replace the liquid from the egg white, but keeps the richness and fat of the yolk.
Instead of just cinnamon and sugar, roll pumpkin snickerdoodles in a mixture of pumpkin pie spice before being baked.
Can Snickerdoodles be Frozen?
These pumpkin snickerdoodle can absolutely be frozen! Their chewy texture freezes up beautifully and can be eaten straight from the freezer (ideally with ice cream in between, of course).
To make ice cream sandwiches, the cookies need to be rather flat. Once stacked together, super tall cookies will make ice cream sandwiches extremely hard to eat.
While some snickerdoodles are nice and puffy, these thinner with centers that remain soft even after cooling.
How to Make Ice Cream Sandwiches
You can certainly make your own ice cream to use as the filling, but store-bought is perfectly acceptable here. Vanilla works really well with the pumpkin snickerdoodles, but I have no doubts that my Dulce de Leche ice cream would be absolutely amazing as well.
To make (nearly) mess-free ice cream sandwiches, assemble and freeze before serving. You could of course add a scoop of ice cream between two cookies and eat immediately, but let me teach you the best was to make an ice cream sandwich that lasts.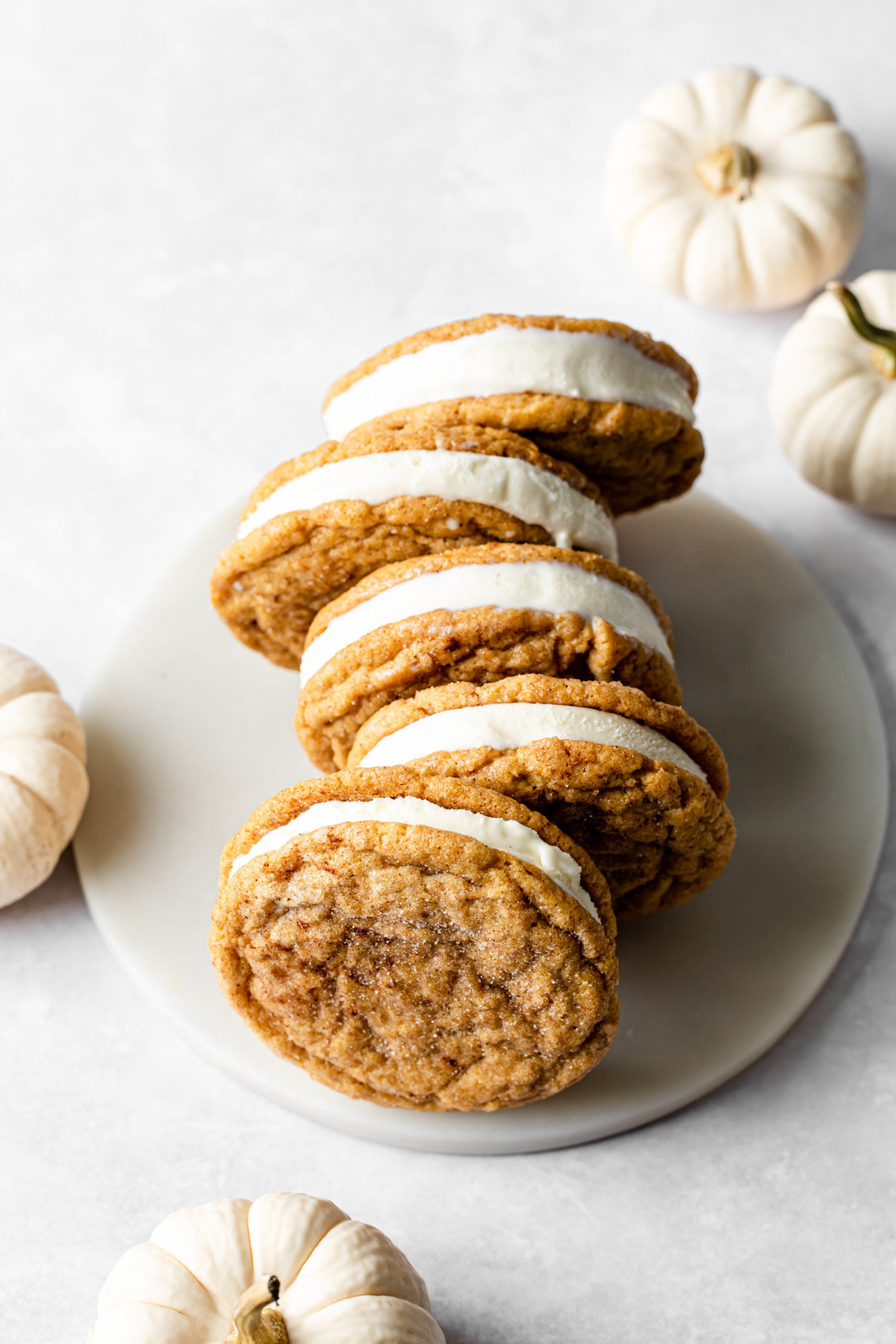 Partially thaw ice cream on the counter. You will want it to be soft enough to scoop and spread onto a quarter sheet pan, not overly melted. Working quickly, spread the ice cream into the quarter sheet pan.
Place a piece of parchment paper on top and gently press down to smooth. If you have a second pan of the same size, place it on top and gently press down to flatten into an even layer. Freeze the ice cream until solid.
To make the sandwiches, cut out disks of frozen ice cream using a round biscuit cutter that is slightly smaller than the cookies.
Place the disk of ice cream between two cookies then set on a baking sheet or cutting board. Freeze the sandwiches until ready to serve.
Steps for Making Ice Cream Sandwiches with Pumpkin Snickerdoodles
Slightly thaw the ice cream: spread the softened ice cream into a rimmed baking pan and freeze.
Make the cookie dough
Bake the cookies
Assemble the ice cream sandwiches: after the cookies are completely cooled, cut out same-sized disks of ice cream and assemble the sandwiches
Freeze until serving: the ice cream will no doubt begin to melt while assembling. They are best made in advanced and re-chilled in the freezer until serving.
Serving and Storage
These ice cream sandwiches can be made in advance and store well in the freezer. If not ready to assemble, the plain cookies may be stored in the freezer in a hefty zip-top bag.
After the sandwiches are assembled, they may be serve straight away or place back in the freezer. The ice cream will start melting while assembling, so place finished sandwiches on a baking sheet back in the freezer until complete.
Baker's Notes:
I tested baking the cookies just after forming and after a few hours in the refrigerator. Both resulted in very similar cookies.




Using partially melted butter and a COLD egg yolk bring the final temperature and texture of the final dough to a scoop-able consistency. If the dough is too soft to roll, then consider refrigerating the dough.

If making in advanced, you can refrigerate the dough before or after being scooped. Roll in the cinnamon sugar just before baking.




If coming from the refrigerator, allow for a couple more minutes of baking time.

Near the end of baking, bang the bottom of the cookie sheet on the oven racks or on a cooling rack (a la Sarah Keiffer) to encourage the collapse of the centers of the cookies.
This will not only help give the snickerdoodles their signature cracked surface, but they will also flatten out more.
More Pumpkin Recipes to Try:
Baked Pumpkin Donuts with Caramel Glaze
Overnight Pumpkin Cinnamon Rolls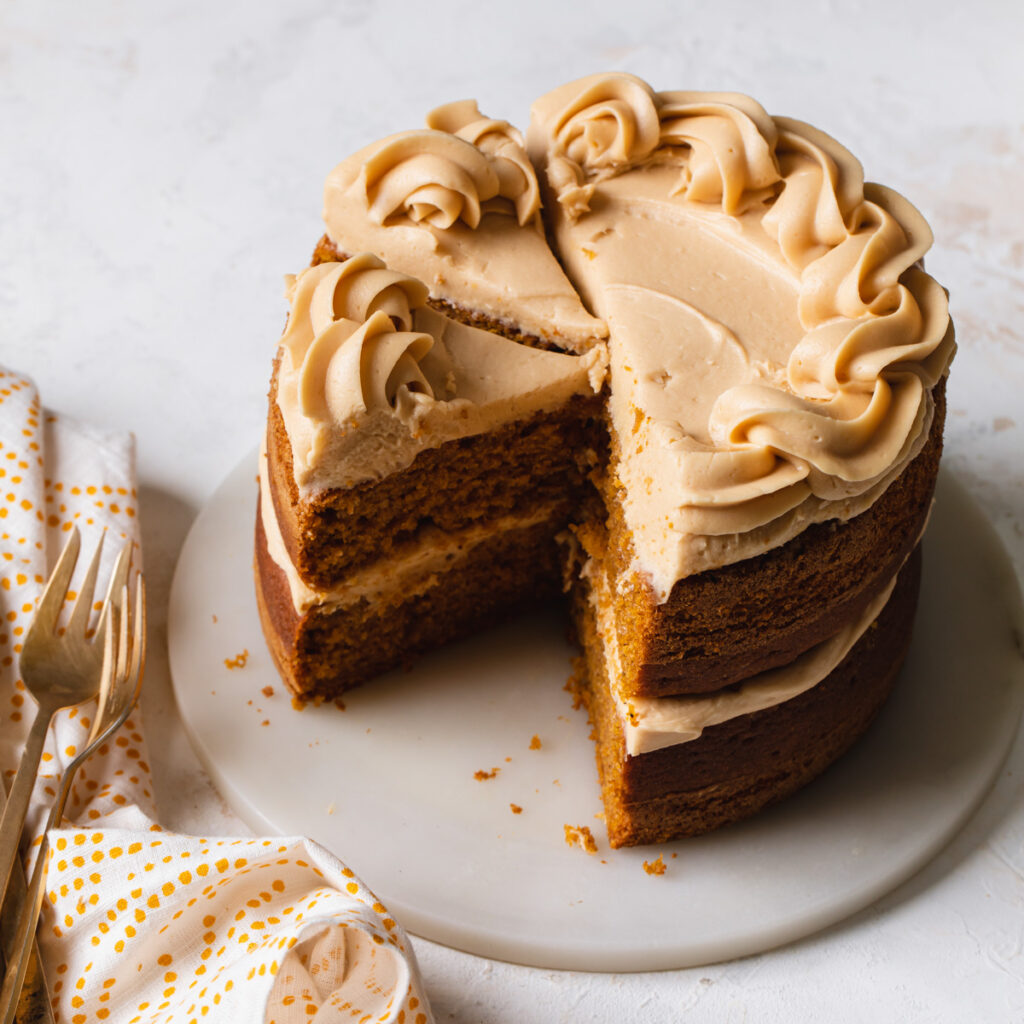 Join the Style Sweet Bake Club!
Get exclusive recipes and articles sent straight to your inbox. Become a subscriber today! Click to join.
Recipe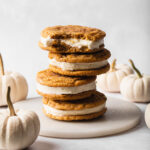 Print Recipe
Ice Cream Sandwiches with Pumpkin Snickerdoodles
These ice cream sandwiches are made with pumpkin snickerdoodles. Chewy cookies with creamy filling are the perfect fall treat!
Ingredients
Pumpkin Snickerdoodle Ice Cream Sandwiches
6 to 8

cups

vanilla ice cream or flavor of choice

slightly thawed

2 ¼

cups

all-purpose flour

1 ½

teaspoon

pumpkin pie spice

¾

teaspoon

baking soda

½

teaspoon

cream of tartar

½

teaspoon

salt

¾ cup + 2 tbsp

unsalted butter

cold and cubed

1

cup

granulated sugar

¼

cup

brown sugar

1

egg yolk

straight from fridge

1

teaspoon

vanilla extract

¼

cup

pure pumpkin puree

sugar and pumpkin pie spice

for rolling
Instructions
Pumpkin Snickerdoodle Ice Cream Sandwiches
Slightly thaw ice cream. Spread softened ice cream into an even layer on a quarter sheet pan. Cover with parchment paper then press down to smooth until flat. Refreeze until set.

Preheat the oven to 350°F. Line two baking sheets with parchment paper and set aside.

Sift together the flour, pumpkin pie spice, baking soda, cream of tartar, and salt. Set aside.

Microwave cold butter for about 20 seconds. It should just be starting to melt at this point. Using an electric mixer (stand or hand mixer), mix the partially melted butter together with the granulated and brown sugars until combined. Add in the yolk and vanilla and mix until incorporated. Add in the pumpkin puree and mix until combined.

Stop the mixer and scrape down the sides and bottom of the bowl. In two additions, add in the half of the flour mixture at a time. Mix on low until incorporated then add in the remaining half. Mix until combined.

Use a large cookie scoop to portion the cookie dough into equal sizes (about 3 tablespoons each) and roll into balls. At this time, you may chill dough in the refrigerator or continue on to baking (see Notes).

Place about ½ cup sugar and ½ teaspoon pumpkin pie spice in a shallow dish and stir to combine. Roll the cookie dough balls in the sugar mix and place on the prepared baking sheets, at least two inches apart. Gently pat the dough balls down with the palm of your hand.

Bake for about 10 minutes. At this point, rap the bottom of the baking sheet on the oven rack to encourage the cookies to flatten. Rotate the pans and continue baking for another 2 to 4 minutes. The cookies are done when they start to crisp around the edges but the centers remain soft.

Bang the bottom of the pan once again and allow cookies to cool on a wire rack.

Cut out disks of ice cream using a round biscuit cutter that is slightly smaller in size than the cookies. Place the ice cream between two cookies and press to close. Freeze ice cream sandwiches on a baking sheet until frozen. Store frozen sandwiches is a freezer bag until ready to serve.