WARNING: these Baked Pumpkin Donuts with Caramel Glaze are a bit sticky, but in all the right ways. We love them freshly glazed, but waiting until the glaze sets makes them easier to scarf down. Essentially, finger-licking is totally appropriate.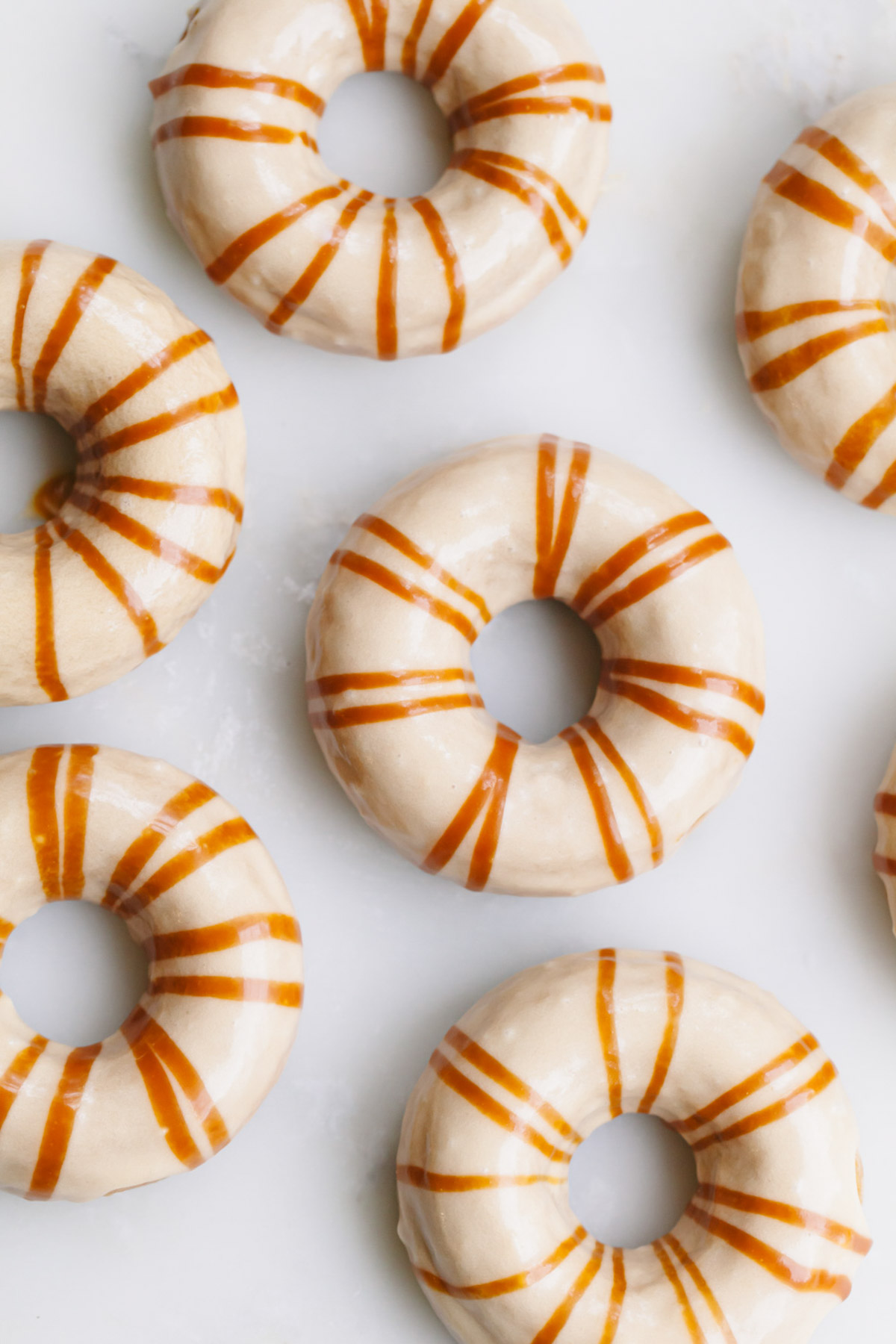 Moist Baked Pumpkin Donuts
Whether you consider a baked donut a real donut or not, these Baked Pumpkin Donuts with Caramel Glaze will have even donut purists craving more.
Call it what you want, but these pumpkin donuts or cake-lets are full of fall flavors and covered in salted caramel. If these donuts are wrong, then we don't even want to be right!
The moist donuts are packed with pumpkin, cinnamon, and spices. Salted caramel is used to make a glaze that you will want to devour.
INGREDIENTS IN BAKED PUMPKIN DONUTS
Here is a quick glance at some of the ingredients needed beyond basic pantry staples, but you can find a complete list with quantities in the full recipe to follow.
Canned Pure Pumpkin puree
Canola or grapeseed oil
Buttermilk
Eggs
Brown sugar
Granulated sugar
Cinnamon
Nutmeg or allspice
Corn syrup
Unsalted butter
Confectioners' sugar
Heavy cream
TOOLS AND EQUIPMENT
These are the primary tools you will need to bake these donuts:
Mixing bowls
Donut baking pan
Saucepan
Whisk
Piping bag (for decorations)
General kitchen tools (measuring spoons, cups, etc)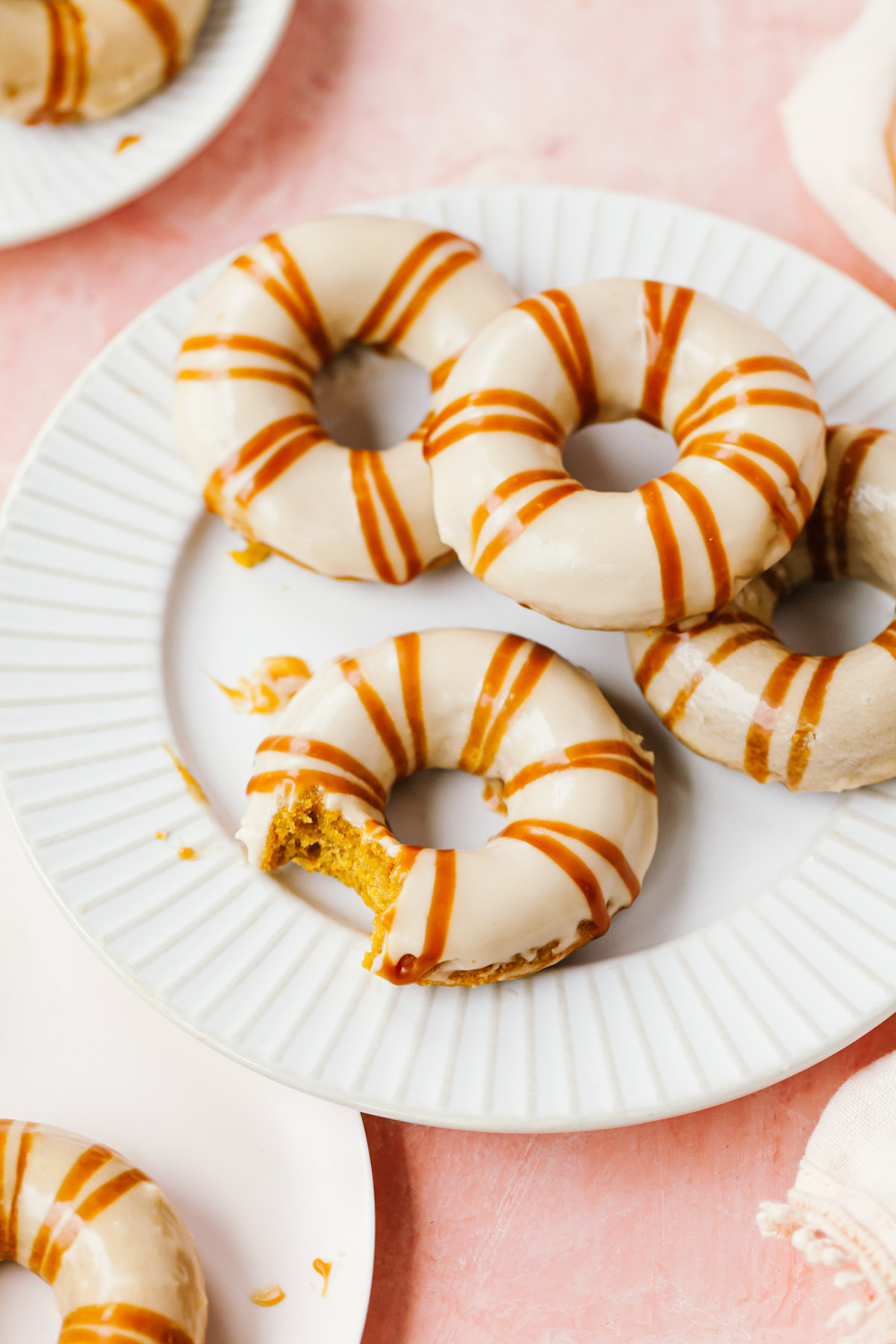 The starburst of salted caramel is fun and festive, but the donuts will taste just as delicious with the caramel drizzled over the top.
For the starburst pattern, start in the center of the donut and (while gently squeezing) move the bag over the donut and then back in around the donuts, like spoked on a wheel.
FAQ
Can I use canned pumpkin pie filling?
No, canned pumpkin pie filling already has sugar and spices added to it.
Can I use store-bough caramel sauce?
Yes, this should be a fine substitute for the homemade caramel in the glaze.
Can I freeze baked pumpkin donuts?
You may freeze unglazed baked donuts. Wrap them well in plastic then slip them into a freezer bag for up to 3 months.
Baker's Notes
Pipe the caramel sauce on to the glazed donuts before the glaze dries. You can dip then pipe a few donuts at a time before repeating.
Use a piping bag or mechanical scooper to easily and evenly fill the donut pan(s).
Donuts are best served the day (or day after) they are made.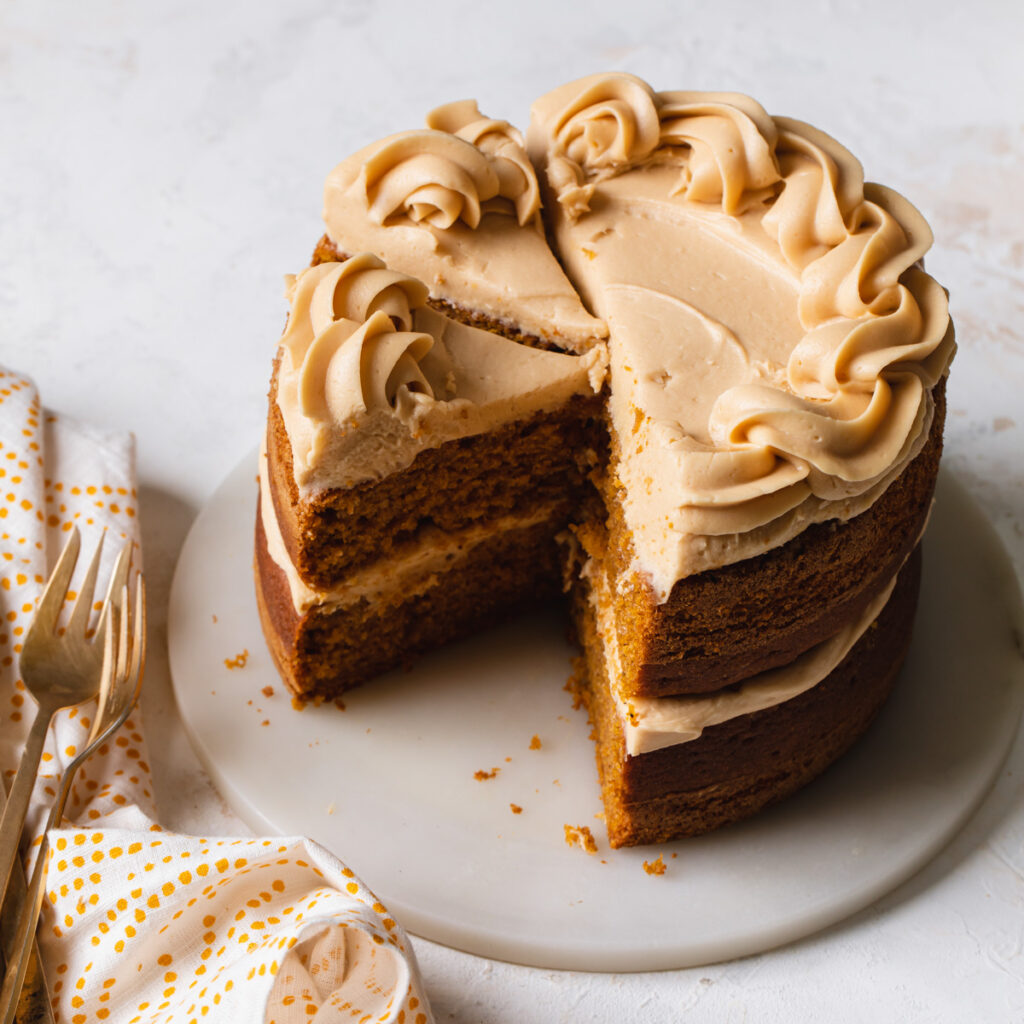 Join the Style Sweet Bake Club!
Get exclusive recipes and articles sent straight to your inbox. Become a subscriber today! Click to join.
Recipe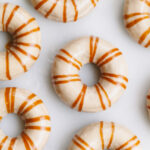 Print Recipe
Baked Pumpkin Donuts with Caramel Glaze
Moist pumpkin donuts get a salted caramel glaze for the perfect fall treat.
Ingredients
Salted Caramel Pumpkin Donuts
½

cup

grapeseed or canola oil

3

large eggs

1

cup

granulated sugar

⅓

cup

brown sugar

1 ½

cups

pumpkin puree

2

cups

all-purpose flour

1 ½

teaspoon

baking powder

1

teaspoon

ground cinnamon

¼

teaspoon

ground ginger

¼

teaspoon

ground cardamom

⅛

teaspoon

nutmeg

1

teaspoon

salt
Salted Caramel Sauce
¾

cup

granulated sugar

2

tablespoon

corn syrup

2

tablespoon

water

½

cup

heavy cream

2

tablespoon

unsalted butter

¾

teaspoon

sea salt

to taste

1

teaspoon

vanilla extract
Salted Caramel Glaze
¼

cup

Salted Caramel Sauce

2

cup

confectioner's sugar

2 to 4

tablespoon

milk
Instructions
Salted Caramel Pumpkin Donuts
Preheat the oven to 350°F. Lightly grease a donut pan with softened butter or cooking spray and set aside.

In a large mixing bowl, whisk together the oil, eggs, sugars, and pumpkin until smooth. In a separate bowl, whisk together the flour, baking powder, spices, and salt.

Tip the flour mixture into the pumpkin mixture and stir until smooth and thoroughly combined.

Fill the wells of the donut pan about ¾ of the way full with the donut batter.* Bake for 14 to 16 minutes, or until a toothpick inserted into the donuts comes out clean. Cool on a wire rack for a few minutes before popping out the donuts. Repeat with any remaining batter.
Salted Caramel Sauce
Place the sugar, syrup, and water in a small saucepan over high heat. Bring the sugar mixture to a boil and cook without stirring until the mixture turns a medium amber color. 

Once it reaches the correct color, remove from the heat. Slowly (and carefully) whisk in the cream (the mixture will bubble up a bit, so use caution).

Whisk in the butter until melted. Transfer the caramel to a heat-safe container and stir in the salt and vanilla.  Let cool until thickened.
Salted Caramel Glaze
Stir all of the ingredients together until combined and smooth. The glaze should be thick enough to cling to the donuts without running off, but thin enough that it settles smoothly on the top.

Add more milk until the correct consistency is achieved (around the same consistency of honey or slightly thicker).