A lighter, fluffier pumpkin filling with an unapologetic cloud of whipped cream go into this Easy Pumpkin Chiffon Pie recipe! This no-bake (flakey crust optional) dessert will clear up tons of room in oven for turkey at Thanksgiving.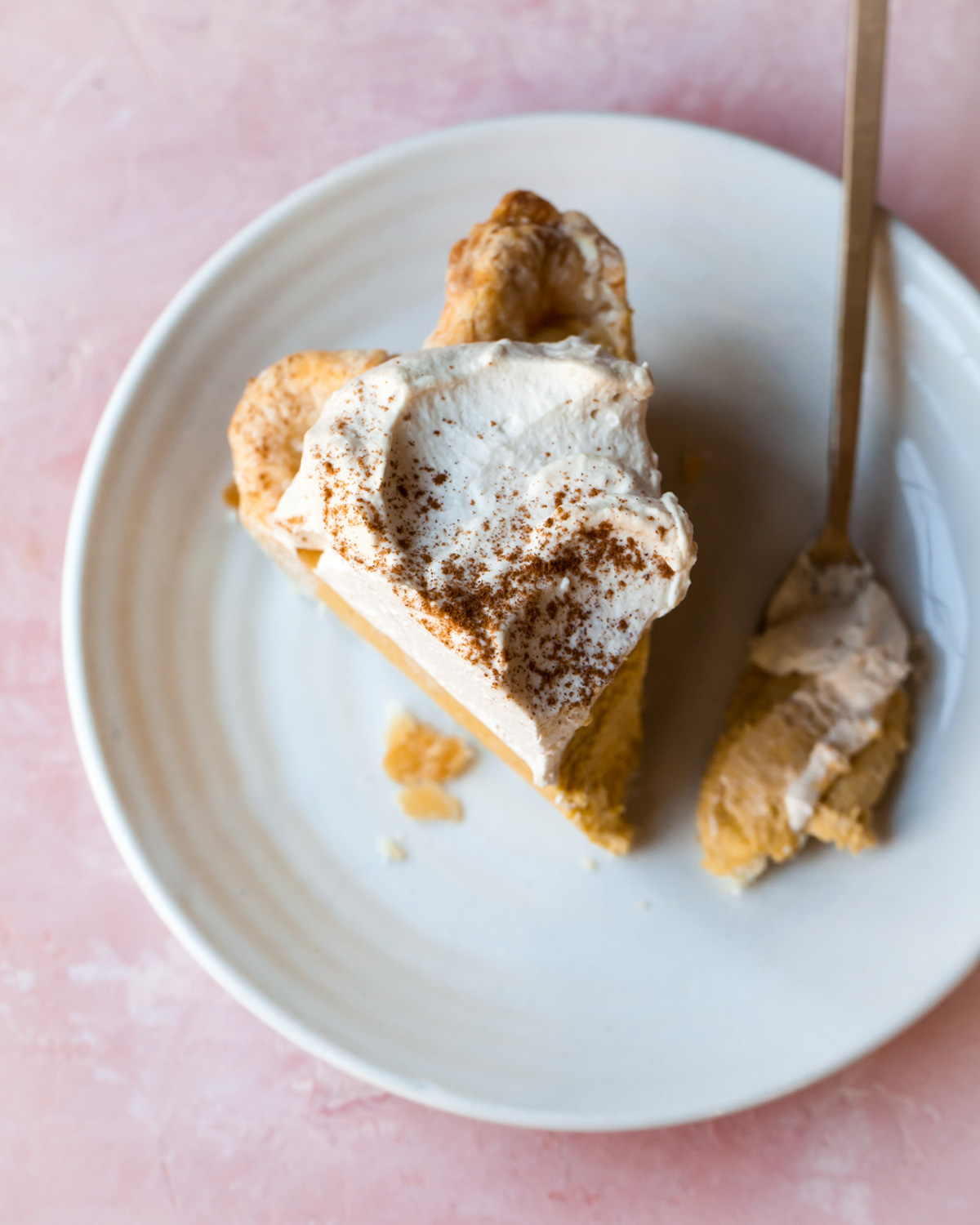 This Pumpkin Chiffon Pie turned out to be a total home run! Find traditional pumpkin pie filling too dense and heavy? Then you should definitely make this lighter, more heavenly Pumpkin Chiffon Pie for your next Thanksgiving!
I made this recipe for Canadian Thanksgiving. Between all the chaos that comes with hosting Thanksgiving, I had no intention of blogging this recipe. I (tried) to make a conscious decision to "live in the moment" and bake just for the sake of family and celebrating rather than strategically styling and documenting my bakes…
Well, I just couldn't help myself!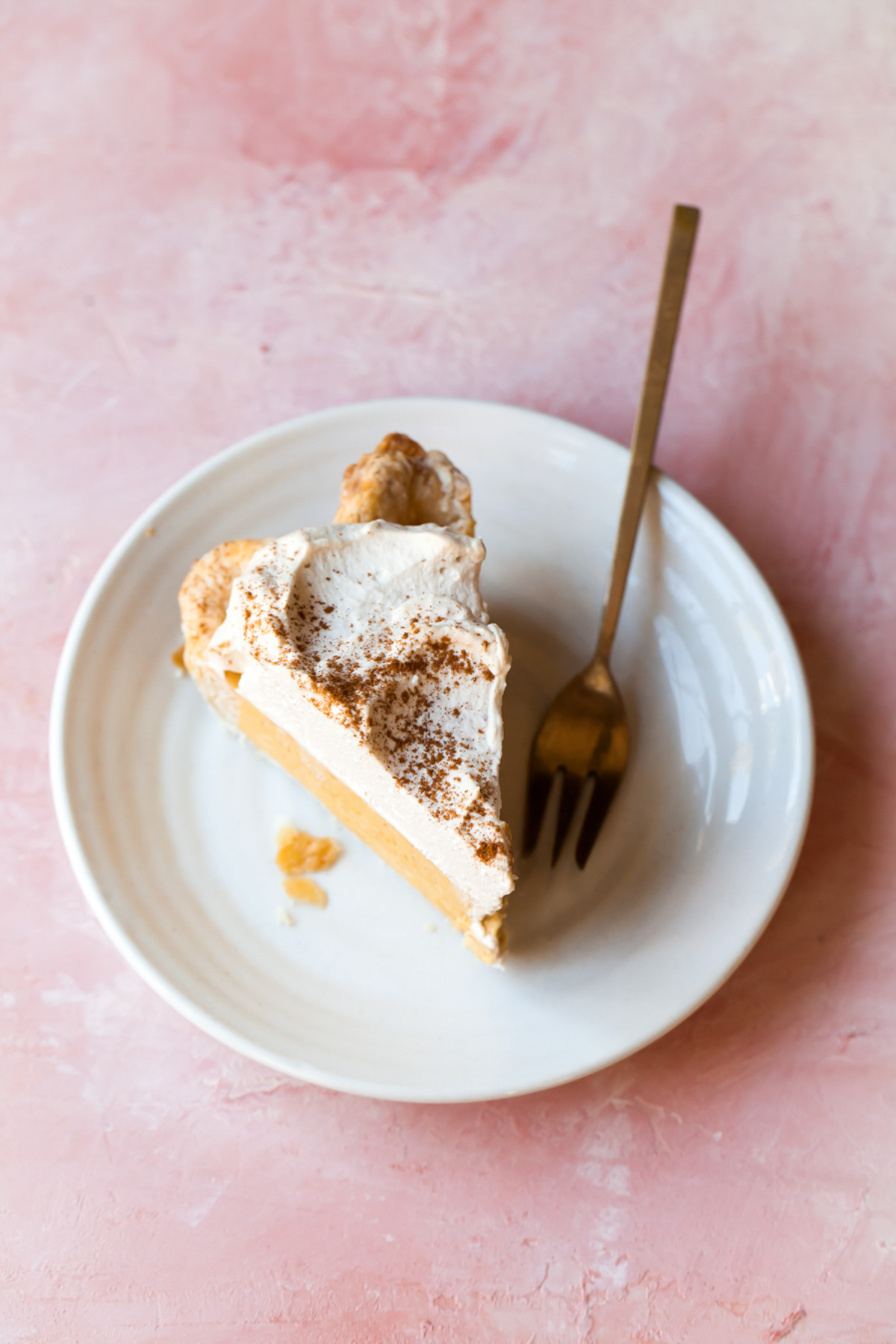 Why It Works
This recipe is pretty straight forward yet festive. The whole family loved it! It is a solid recipe and a welcoming alternative to the classic pumpkin pie.
If you want a no-bake version (as in you need more room in your oven for turkey), then you could totally opt for a graham cracker or gingersnap cookie crust. If you want flakes for days, then you can blind bake your pastry the day before.
The filling is cooked on the stove. It starts like a custard, set with gelatine, and lightened with whipped cream.
Supporting Articles
Recipe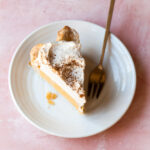 Print Recipe
Easy Pumpkin Chiffon Pie
This easy pumpkin chiffon pie has a no-bake filling in a flaky all-butter crust.
Ingredients
Pumpkin Chiffon Pie
1

Pre-baked pie crust

cooled

2

envelopes

unflavored gelatin

¼

cup

water

½

cup

granulated sugar

divided

¾

cup

whole milk

½

teaspoon

cinnamon

½

teaspoon

all-spice

¼

teaspoon

nutmeg

¼

teaspoon

ginger

¼

teaspoon

salt

3

large egg yolks

1

cup

pumpkin puree

1

cup

heavy cream

2

tablespoon

granulated sugar

½

teaspoon

vanilla extract

1

recipe Whipped Cream

may be cut in half

cinnamon for dusting
Instructions
Pumpkin Chiffon Pie
Bloom the gelatin by placing it in a bowl. Sprinkle the gelatin with the water and set aside for 5 to 8 minutes.

Meanwhile, place ¼ cup sugar, milk, spices, and salt in a saucepan. Cook over medium-high heat until the mixture barely comes to a simmer.

While the milk mixture is cooking, whisk together the egg yolks and remaining ¼ cup of sugar. Once hot, temper the milk mixture into the egg mixture by slowly whisking in a little of the hot milk in at a time.

Pour the egg-milk mixture back into the saucepan. Whisk in the pumpkin. Place the saucepan back on the stove over medium-low heat. Add the bloomed gelatin.

Stirring slowly yet constantly, bring the mixture to a slow boil (large bubbles will begin to "plop" on the surface). Continue whisking for another minute or 2 (or 160 degrees F) until thick and smooth.

Strain the pumpkin custard into a heat-safe container. Press a piece of plastic wrap directly on the top of the custard. Chill it in the refrigerator until completely cool.

After the custard cools, whip the 1 cup of cream. Begin mixing on medium-low speed until the cream begins to thicken slightly. Add the sugar and continue mixing on medium-high until soft peaks. Add the vanilla and mix until combined.

Fold the whipped cream into the cooled pumpkin custard. Start by stirring about ⅓ of the whipped cream into the pumpkin custard (no need to be gently here). Once the pumpkin custard is slightly lightened, fold in the remaining whipped cream.

Spoon the pumpkin chiffon filling into the pre-baked pie crust. Smooth it out with the back of a spoon or offset spatula. Return the pie back to the refrigerator to set, at least an hour or 2.

Top with a mound of fluffy whipped cream (or dollop small amounts on each slice when serving) and dust with cinnamon.
Notes and Storage:
- Please note the rest and chill times before getting started! Both the crust and custard can be made in advanced.
- Add the whipped cream topping just after the pumpkin chiffon filling and before it sets in the refrigerator OR add the whipped cream just before serving (either way works).
– If you don't want a mound of whipped cream on top of a pretty creamy, custardy pie, then cut the whipped cream recipe in half. Add a dollop of cream to each slice when serving.
– Store leftovers in the refrigerator loosely wrapped in plastic for 2 to 3 days.
– More traditional chiffon pies are lightened with whipped egg whites. In these recipes, the egg whites remain uncooked. I opted for whipped cream instead since I was feeding young children and didn't want to risk it.