Rich, fudge brownies, spiced buttercream and salted caramel make up this decadent chocolate brownie cake. Thick, chocolatey layers with frosting is our favorite way to serve up brownies!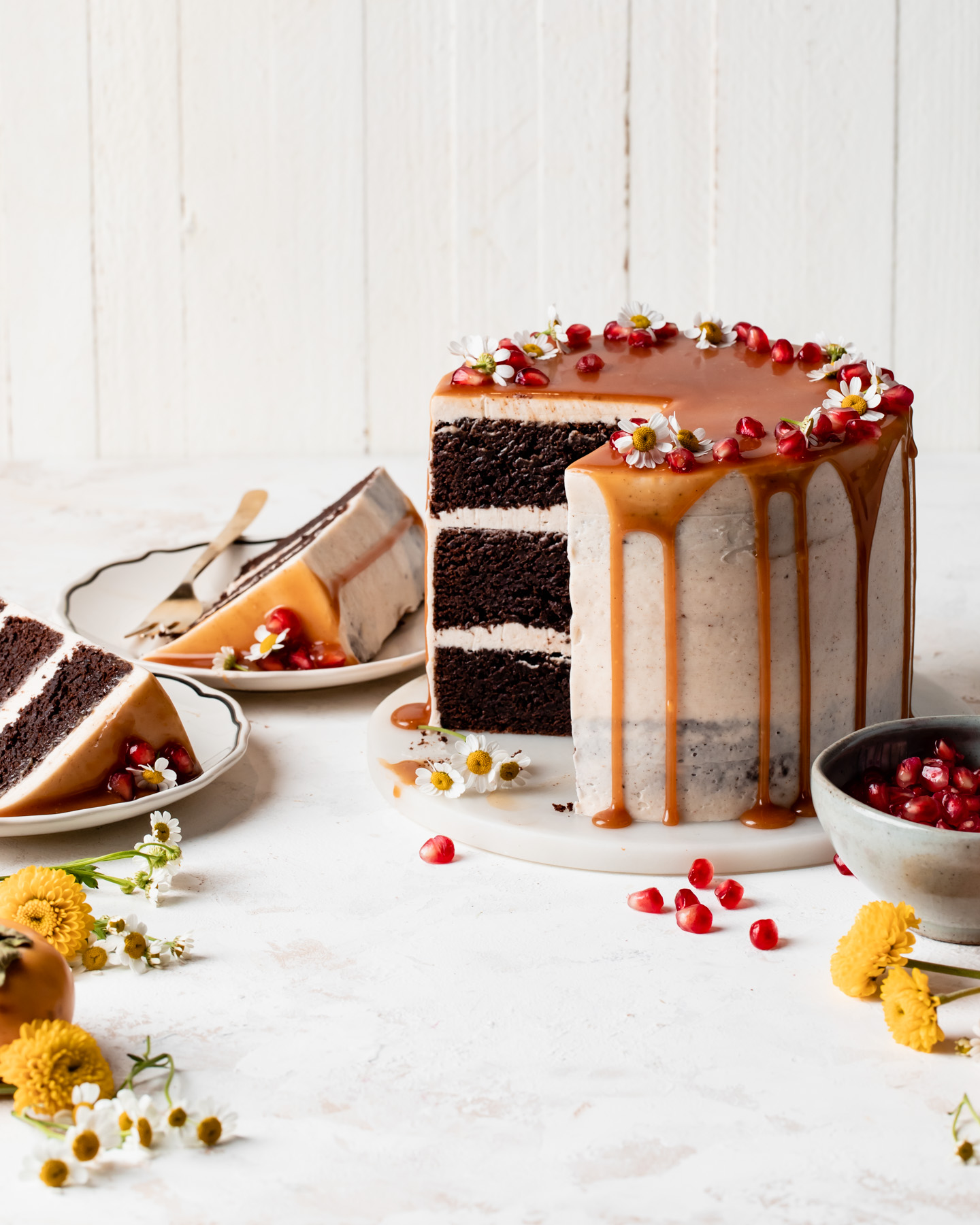 The Best Brownie Cake for Fall
You will love this cake all year long, but it is especially delicious in the fall. When everything else is flooded with apples and packed with pumpkin, this chocolate brownie cake is the perfect alternative.
Cinnamon, nutmeg, and cardamom scent the delicious buttercream.
Caramel and chocolate make the perfect pair. Lastly, pour homemade caramel over the top or drizzle each slice when serving.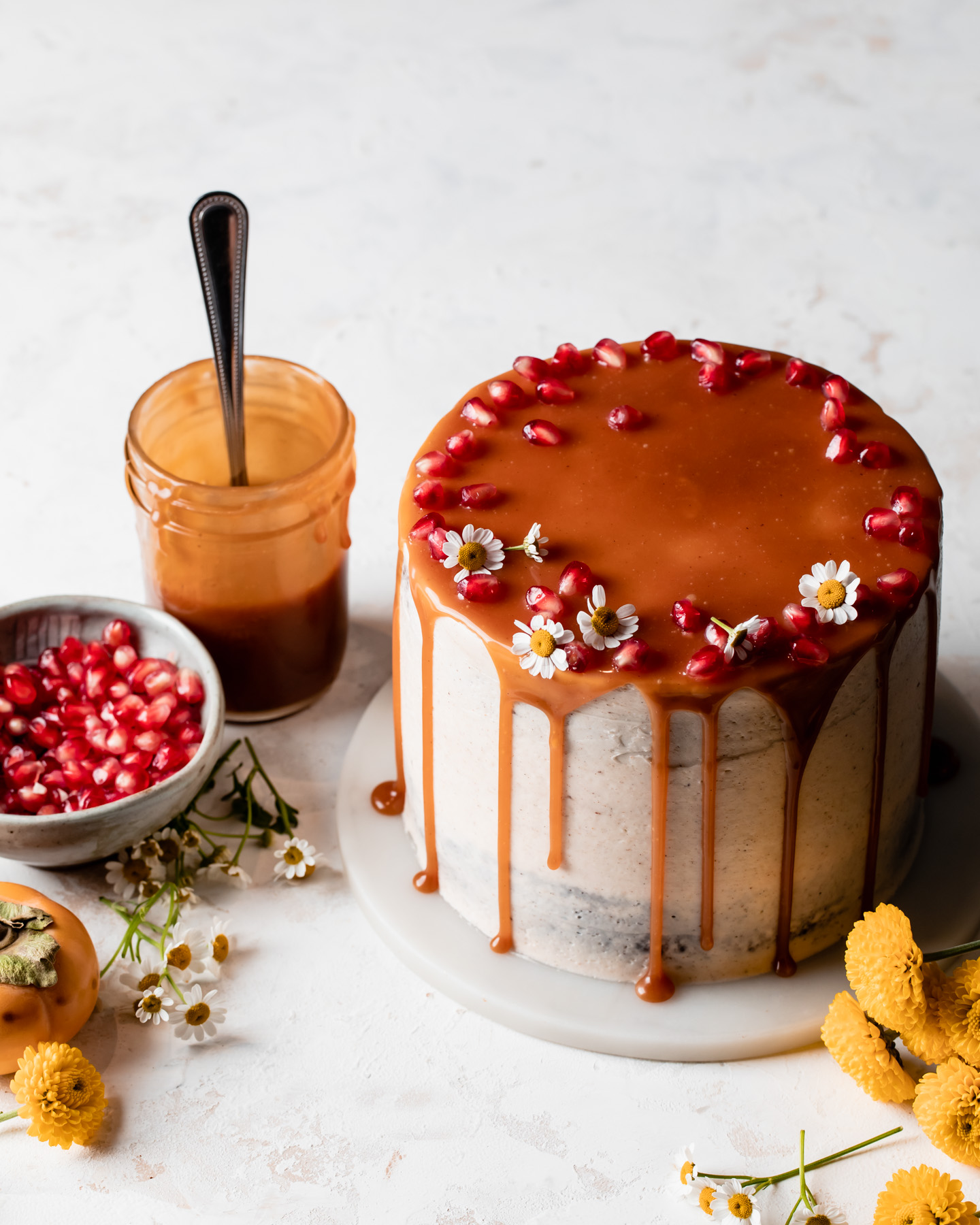 INGREDIENTS IN Chocolate Brownie CAKE
Here is a quick glance at some of the ingredients needed beyond basic pantry staples. Find a complete list with quantities in the full recipe to follow.
Unsalted butter
Dark chocolate
Unsweetened Dutch-processed cocoa powder
All-purpose flour
Granulated sugar
Eggs
Vanilla extract
Ground cinnamon
Ground cardamom
Freshly grated nutmeg
Confectioners' sugar
Corn syrup
TOOLS AND EQUIPMENT
These are the primary tools you will need to bake this cake:
Mixing bowls
Stand or hand mixer
Whisk
Rubber spatula
Saucepan
Three, 6-inch cake pans
Offset spatula
Rotating cake stand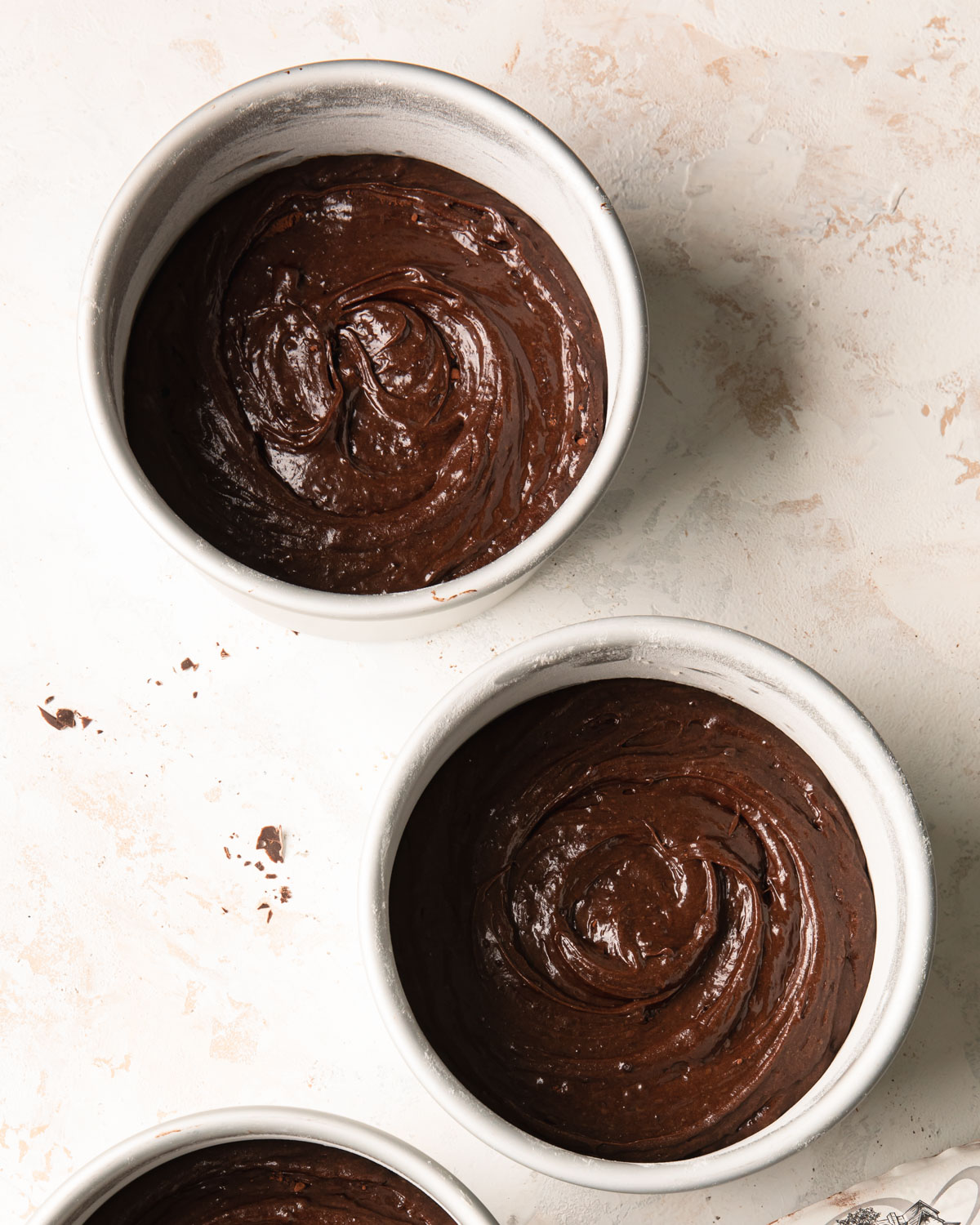 Steps for Making A Brownie Layer Cake
First, bake the brownie cake layers.
Secondly, cook the caramel sauce: the caramel can be made while the cake bakes and cools. In any case, the caramel can also be made in advance.
Make the buttercream
Assemble the cake
Frost the cake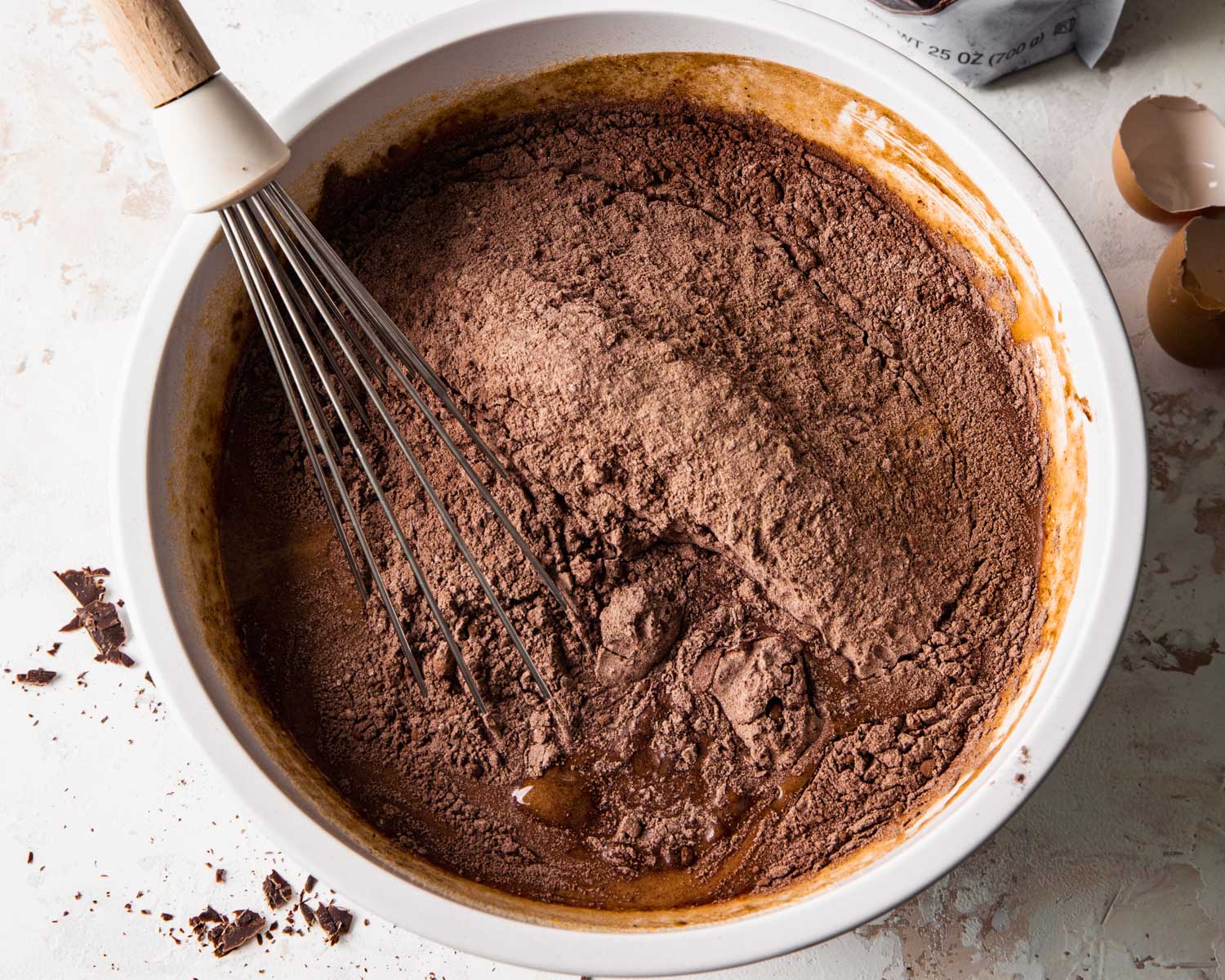 Recipe FAQs
Can I use natural cocoa powder in brownies?
No. Do not use natural cocoa powder instead of Dutch-processed. Natural is acidic while the other has been neutralized. 
Can I use store-bought caramel sauce?
Sure! If the caramel is pourable, then you can use homemade or store-bought.
Do I need corn syrup in caramel sauce?
Corn syrup keeps the sugar from crystallizing. Another option is to try a squeeze of lemon juice instead.
Can you freeze brownies?
Yes! After the cakes have completely cooled, then wrap the unfrosted brownie cake layers in plastic then pop them into a zip-top freezer bag.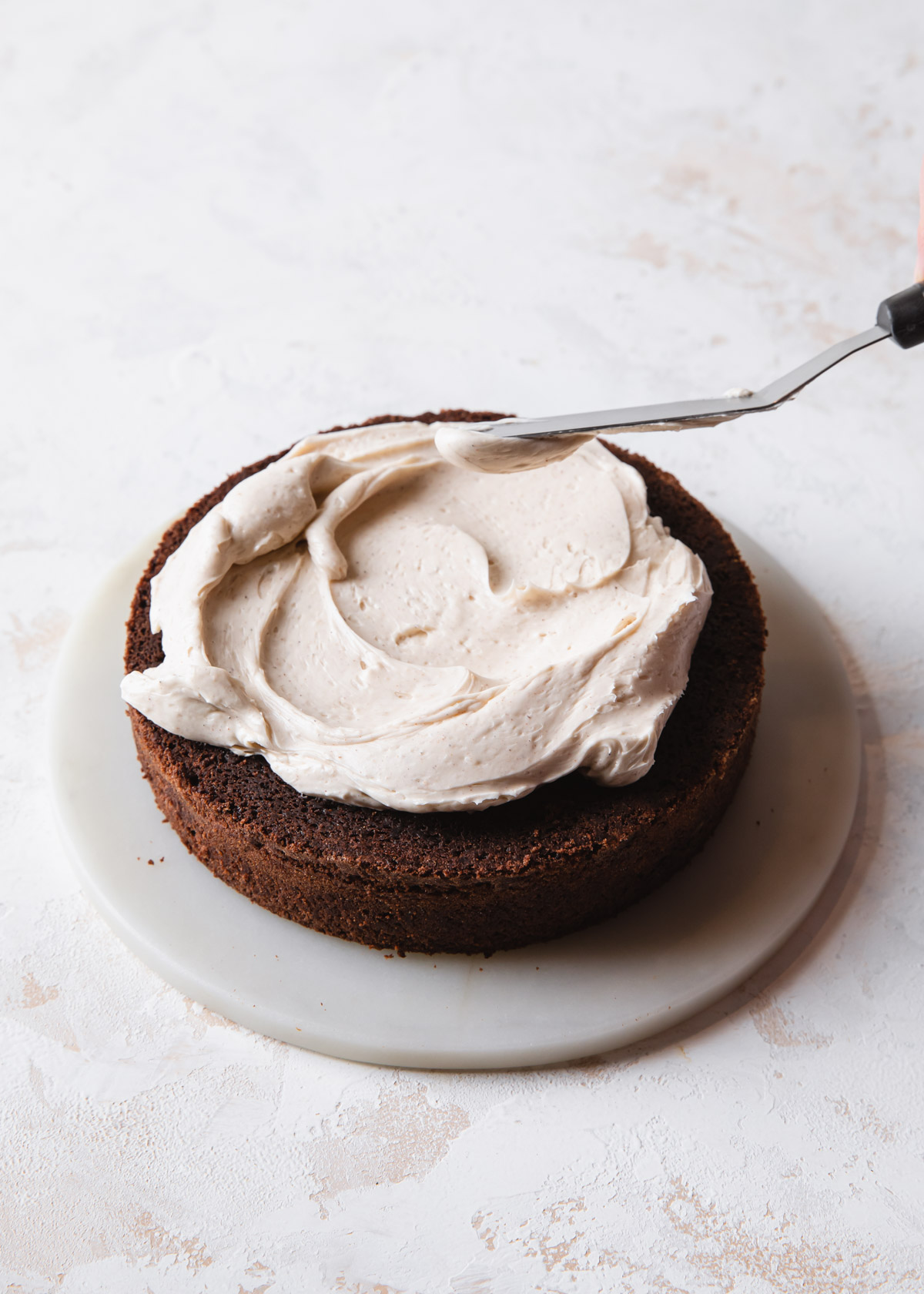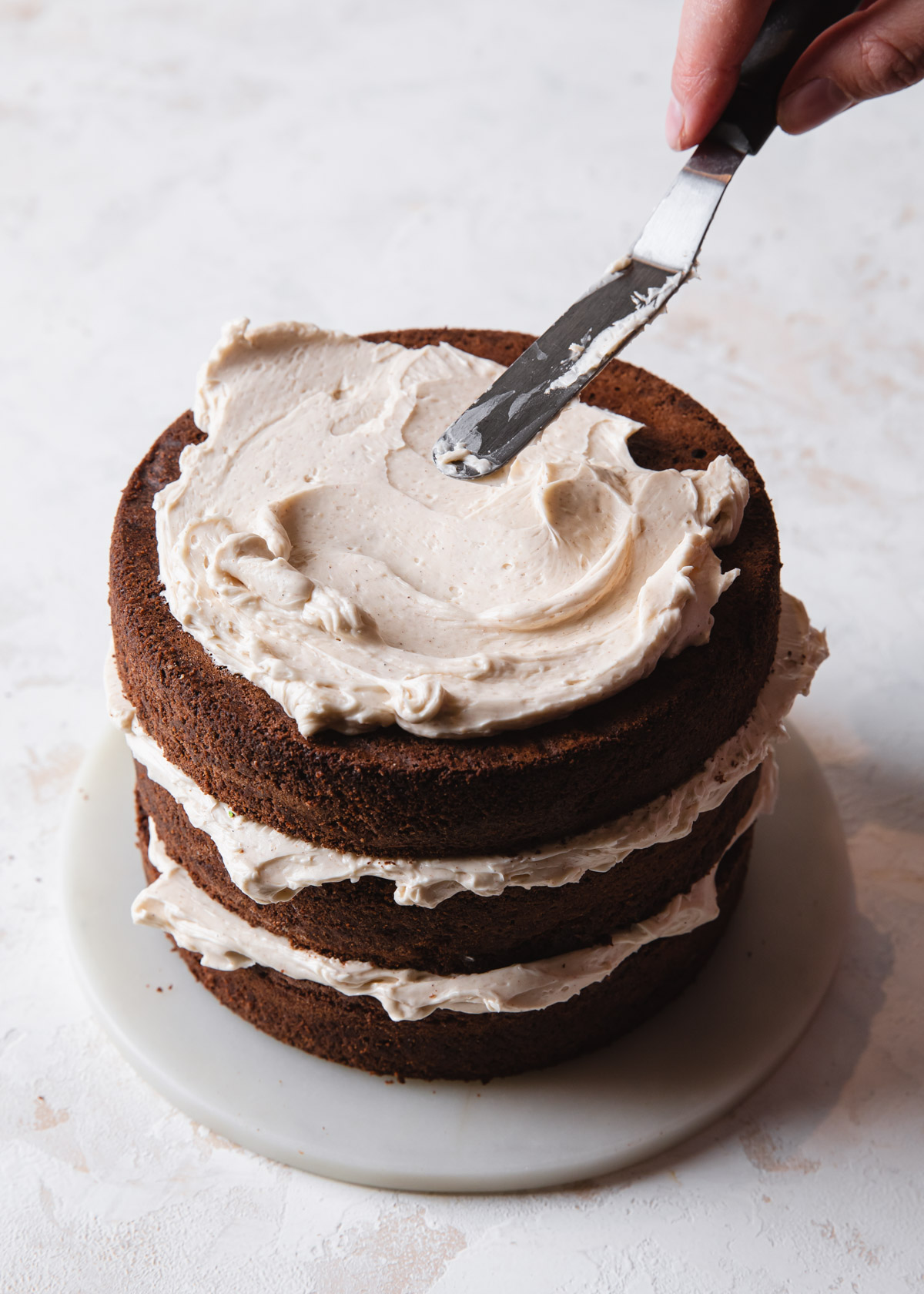 Serving and Storage
Serve this chocolate brownie cake at room temperature.
Store the cake at room temperature (preferably in a cake box or covered carrier) overnight. Store leftovers loosely wrapped in plastic in the refrigerator for up to 4 days.
When ready to eat, allow leftover slices to come to room temperature (about 15 minutes) before serving.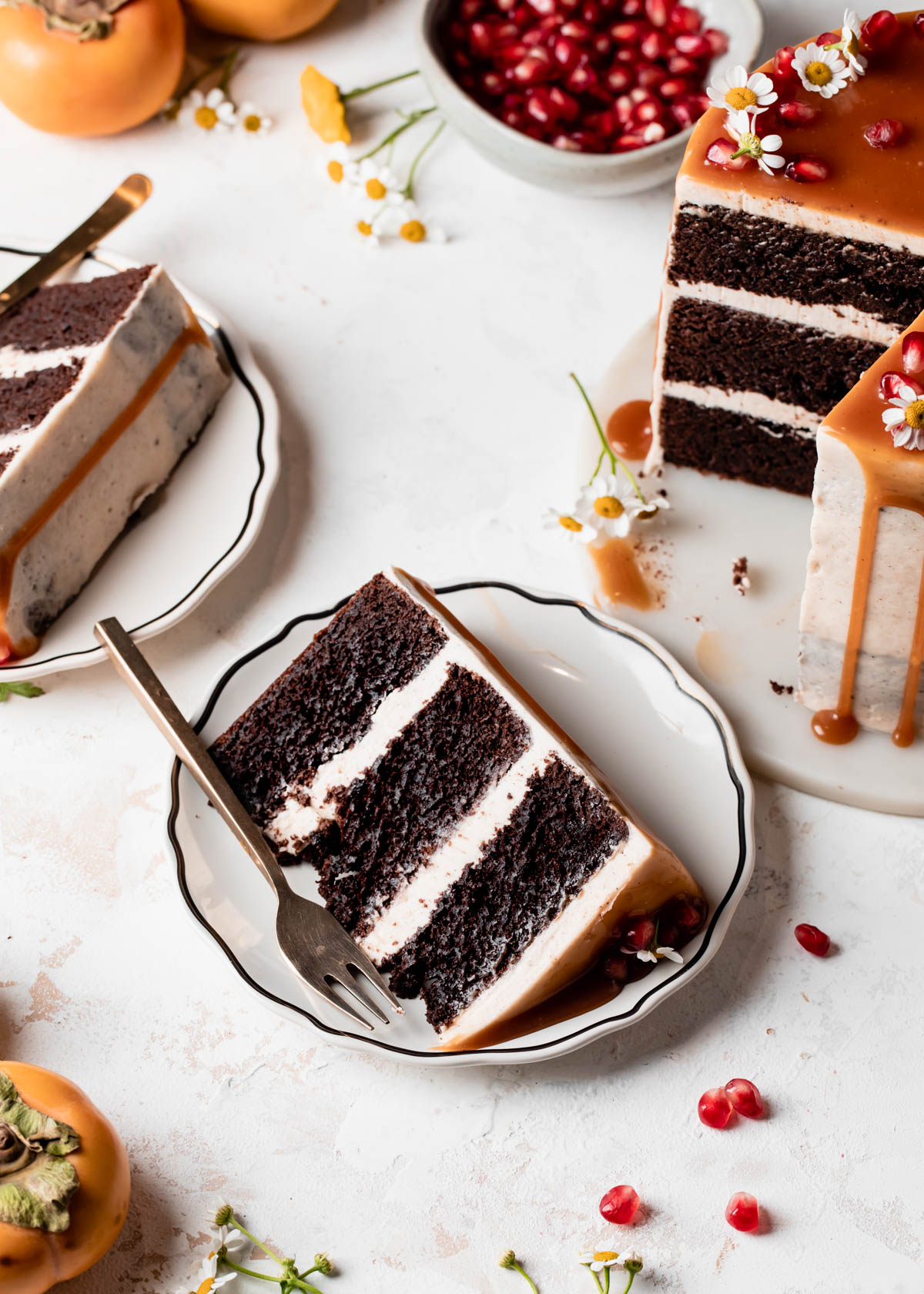 Baker's Notes
Like all other brownies, make sure you do not over bake the layers. A toothpick inserted into the center of the cakes should still have some moist crumbs.
It is normal for the brownie layers to sink in the middle slightly after they cool.
The caramel may be made in advanced and stored in the refrigerator for up to one month.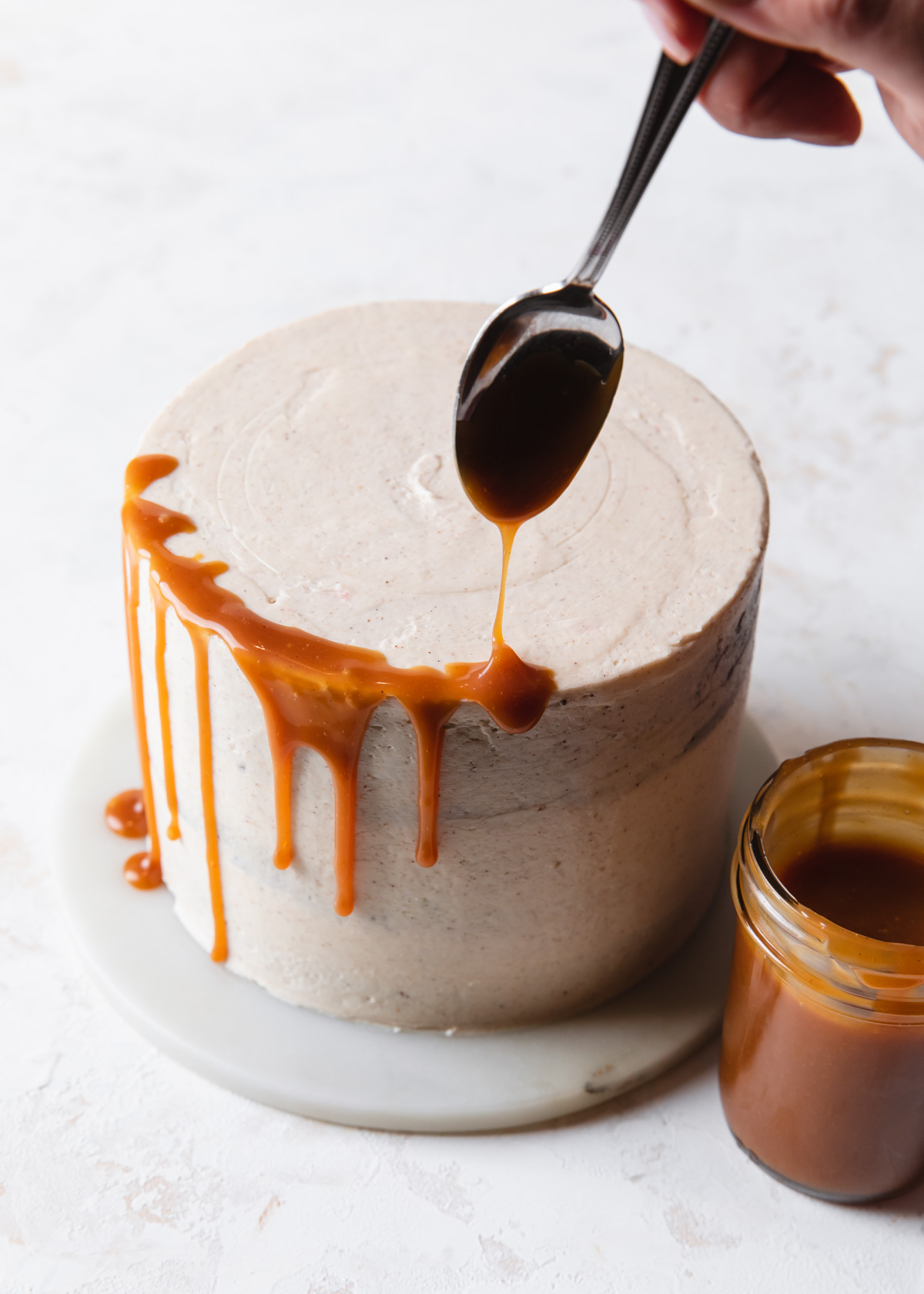 More Chocolate Cakes to Bake: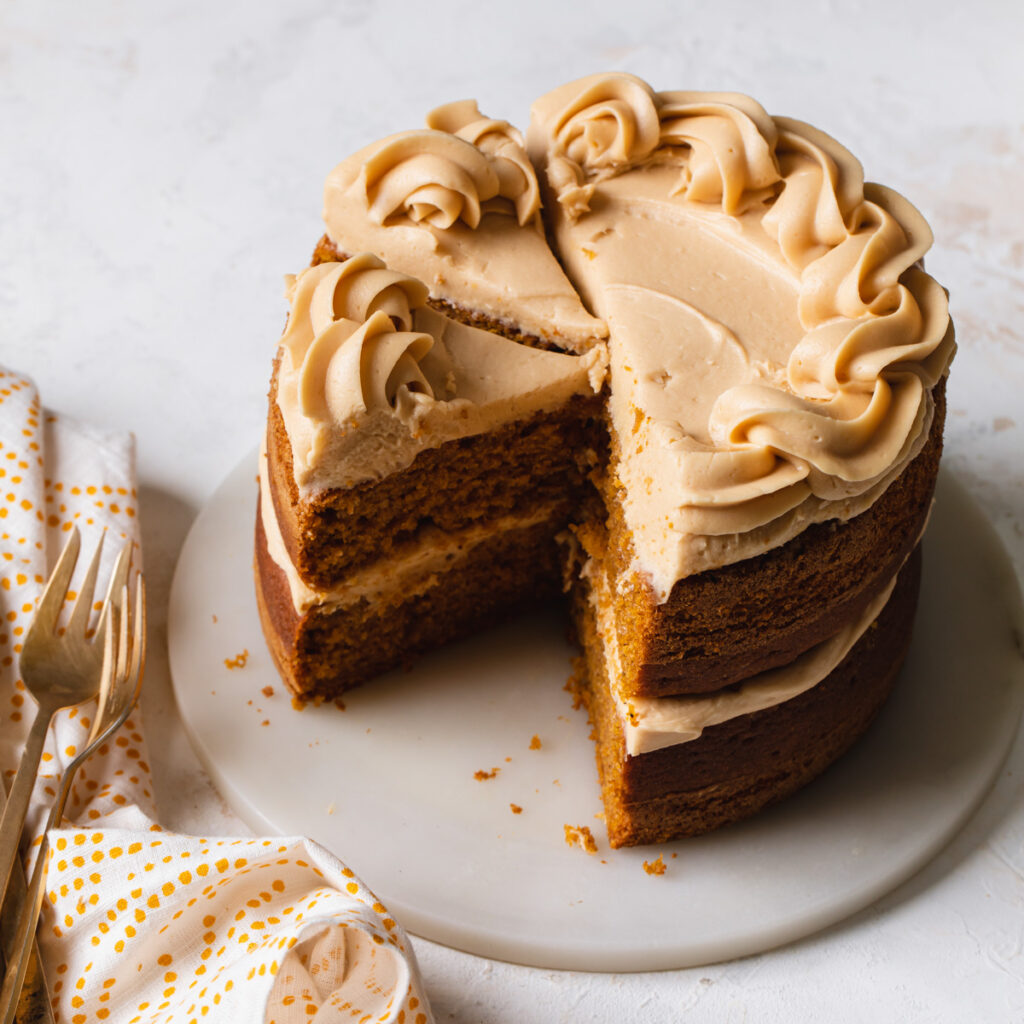 Join the Style Sweet Bake Club!
Get exclusive recipes and articles sent straight to your inbox. Become a subscriber today! Click to join.
Recipe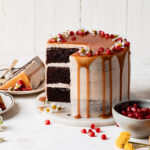 Print Recipe
Chocolate Brownie Cake
This chocolate brownie cake is layered with fudgy brownies and spiced buttercream with caramel sauce on top.
Ingredients
For the Brownie Cake
1 ½

cups

unsalted butter

diced

4

ounces

dark chocolate

chopped

1

cup

unsweetened Dutch-processed cocoa powder

1

cup

all-purpose flour

1 ½

tea

baking powder

1

tea

salt

2 ½

cups

granulated sugar

6

large eggs

1

tea

pure vanilla extract
For the Caramel Sauce
¾

cup

granulated sugar

2

tablespoon

water

2

tablespoon

light corn syrup

½

cup

heavy cream

1

tea

pure vanilla extract

½

tea

salt, or to taste

2

tablespoon

unsalted butter, softened
For the Cinnamon Spice Buttercream
1

cup

unsalted butter

softened

31/2 to 4

cups

confectioners' sugar

2

tablespoon

whole milk

1

tea

pure vanilla extract

1

tea

ground cinnamon

½

tea

ground cardamom

¼

tea

freshly grated nutmeg
Instructions
To Make the Brownie Cake
Preheat the oven to 350°F. Grease and line the bottoms of three 6-inch cake pans with parchment paper and set aside.

Place the butter and chocolate in a heat-safe bowl set over a saucepan of simmering water. Cook until the butter and chocolate melt. Stir together and set aside to cool.

In a medium bowl, whisk together the cocoa powder, flour, baking powder, and salt. Set aside.

In a large bowl, whisk together the eggs and sugar until pale and frothy, 3 to 5 minutes. Add the vanilla extract and mix to combine. Pour in the cooled chocolate mister and whisk until combined. Add the cocoa mixture. Use a rubber spatula to stir the batter together until there are no visible streaks of dry flour. A few lumps are okay.

Divid the batter evenly between the prepared pans. Bake for 30 to 40 minutes, or until a wooden skewer inserted into the center comes out with a few moist crumbs. Do not overbake.

Allow the brownie cakes to cool on a wire rack for 30 minutes. Once the pans are cool enough to handle, run a thin knife around the inner edge of the pan and unmold the cake layers. Allow the cake layers to completely cool.
To Make the Caramel Sauce
Place the sugar, corn syrup, and water in a heavy-bottomed saucepan and gently swirl together to combine. Bring the sugar mixture to a boil over high heat, without stirring. Cook until the bubbles begin to slow down and the sugar mixture turns a medium golden amber color.

Remove the caramel from the heat and very carefully whisk in the heavy cream. The mixture will bubble up and steam, so use caution. 

Add in the butter, salt, and vanilla extract and mix until combined. 

Transfer the caramel to a heat-safe jar or container and allow to cool at room temperature. The caramel will thicken as it cools.
To Make Cinnamon Spiced Buttercream
Using a stand (or hand) mixer fitted with the paddle attachment, beat butter on medium-low speed until smooth and creamy (1 to 3 minutes). 

Stop the mixer and add 3 ½ cups of confectioners' sugar. Mix in the sugar on low speed until just combined. Add 2 tablespoons of milk, vanilla extract, and spices and mix until blended.

Turn the mixer up to medium-high speed and mix for 3 to 5 minutes, until the buttercream is light, airy, and nearly white. If needed, add the additional confectioners' sugar or milk until desired consistency is achieved. The buttercream should spread smoothly without tearing the crumb of the cake.

Reduce the mixer speed to low and mix for about a minute or two to smooth out the air bubbles.
To Assemble
Try the tops of the brownie cake layers with a serrated knife until flat. Place one layer of cake on a cake board or serving plate.

Spread 1 cup of buttercream on top with a an offset spatula until smooth. Place the next layer on top and repeat.

Crumb coat the cake with a thin layer of buttercream and chill in the refrigerator for about 15 mintues.

Use the remaining buttercream to frost the cake with a thin layer of icing. Pour the cooled caramel over the top of the cake and decorate as desired.