Calling all coffee lovers - this one is for you. Silky and smooth, this coffee buttercream is so good and bursting with creamy coffee flavor. Not that into coffee? I bet this recipe will convince you otherwise.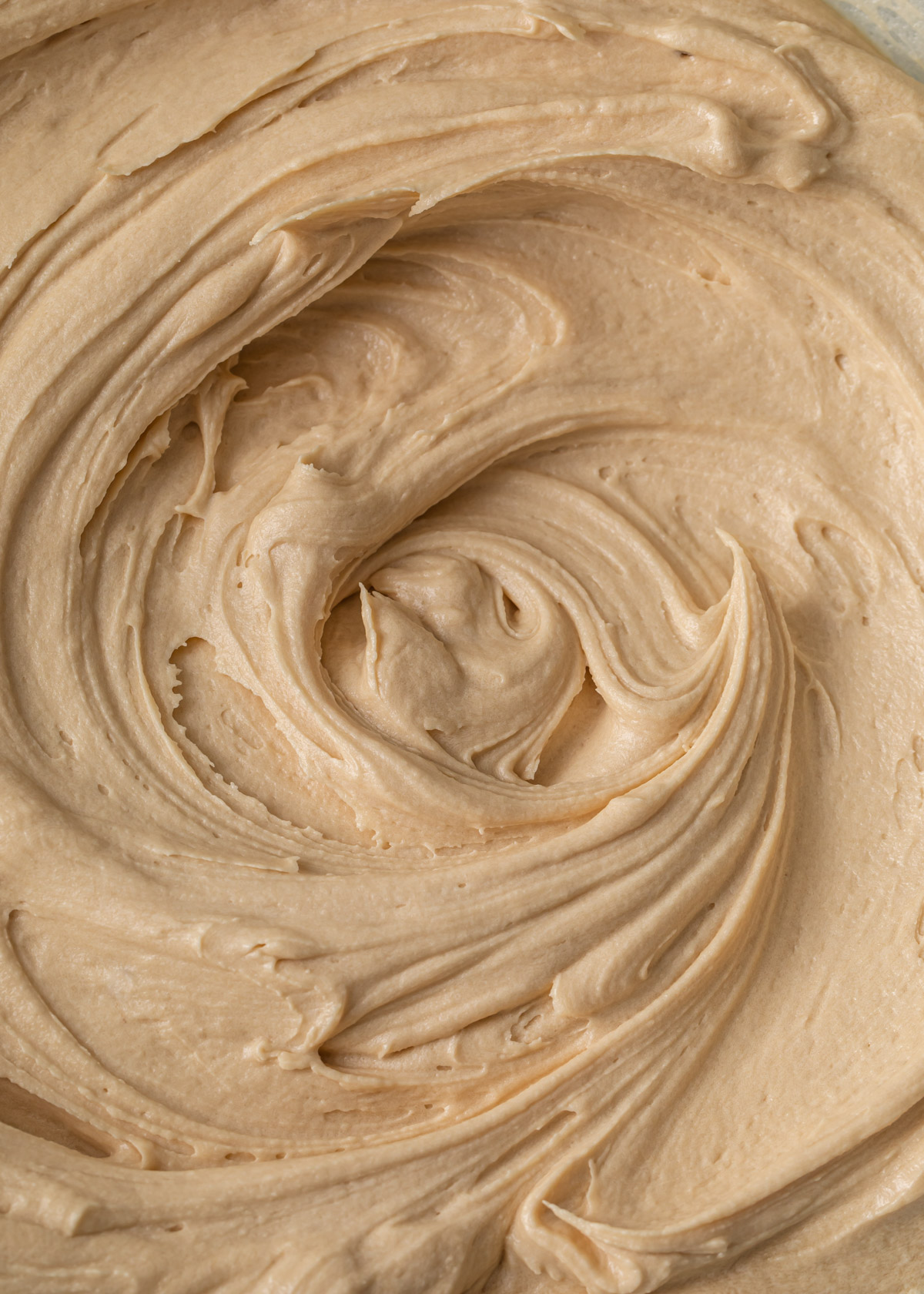 The Best Coffee Frosting
This sweet, creamy coffee buttercream taste just like your favorite latte. Even if you think you don't like coffee, I bet you will find many ways to enjoy this buttercream.
Coffee buttercream pairs perfectly with so many different cake flavors - both expected and unique. Spread it over moist chocolate cake layers for a mocha combination or even pumpkin cupcakes for some PSL vibes.
What I love about this coffee buttercream recipe is that the flavor is as mild or strong as you want it to be. We are using instant coffee granules dissolved in water to make a coffee concentrate to balance out the sweetness of whipped buttercream frosting.
Jump to:
The Best Way to Add Coffee to Buttercream
As much as you might want to pour from your morning brew, adding straight-up coffee to buttercream isn't always the best idea. Trying to force too much liquid into buttercream causes it to be runny, or even worse - split and curdle.
Instant coffee and instant espresso are both workhorses in any baker's pantry. Simply dissolve in water and add to cake batters, frostings, pastry cream, and much more.
Using coffee granules means that you can make a concentrated amount of coffee or espresso by mixing them with a small amount of water to create a slurry. This adds so much flavor without too much additional liquid that can alter the texture of the original recipe.
Ingredients
This coffee buttercream comes together with just 4 ingredients!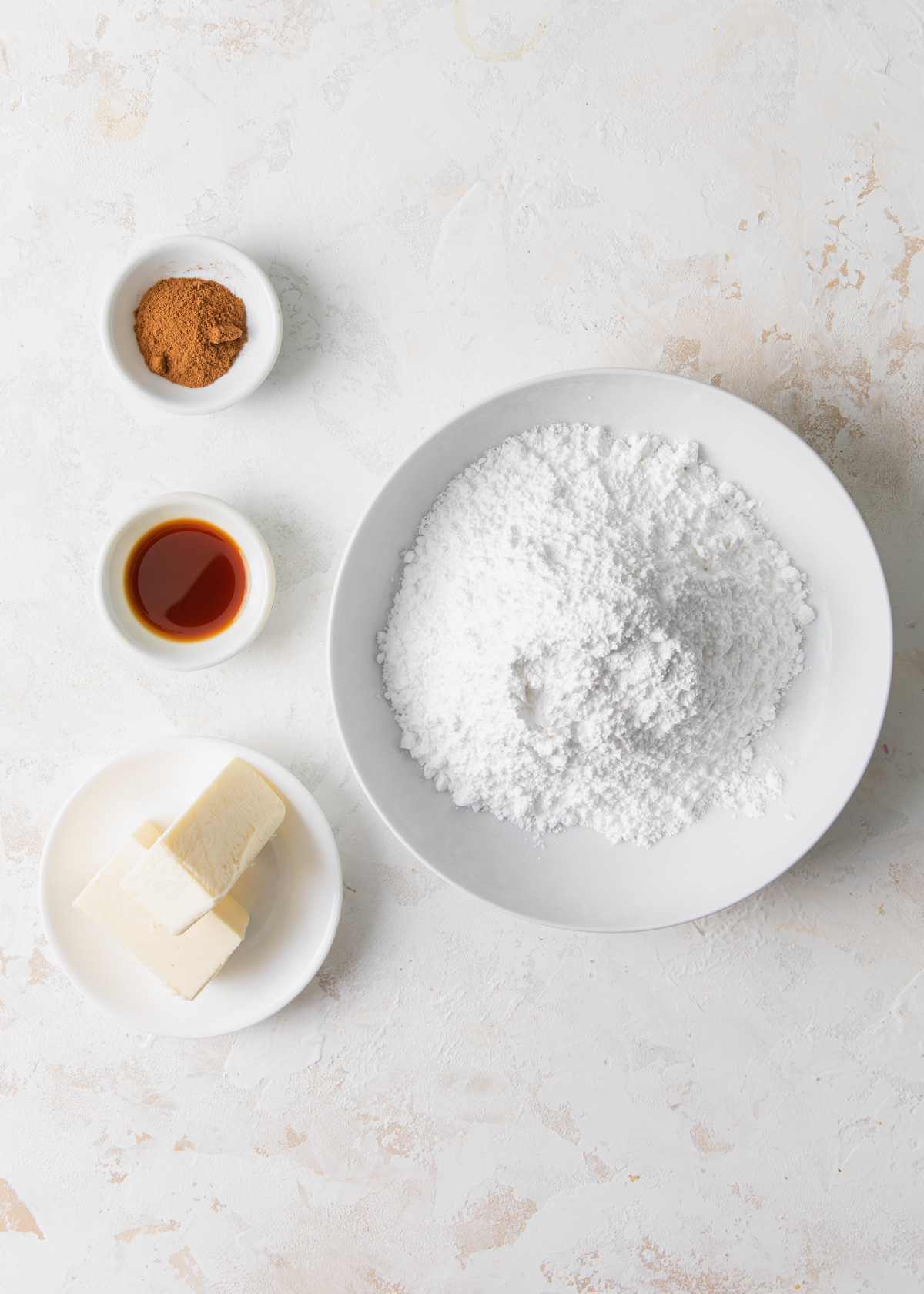 Instant coffee granules - dissolving instant coffee into a small amount of water makes a concentrated coffee to add to whipped buttercream frosting
Unsalted butter - make sure to remove the butter from the refrigerator with plenty of time to soften but not melt.
Powdered sugar - sifted, as needed
Vanilla extract
See recipe card for quantities.
Tools Need to Make Coffee Buttercream
I always recommend using an electric mixer to make fluffy buttercream frosting. It is nearly impossible to whip enough air into the butter mixture by hand and end up with a smooth yet light texture.
Use a hand or stand mixer fitted with the paddle attachment. If in the end the buttercream is not smooth enough or has too many air bubbles, stir it vigorously with a wooden spoon or stiff rubber spatula.
How to Add Coffee to Buttercream
It is so easy to add coffee to buttercream for a delicious, creaming frosting. All you have to do is dissolve instant coffee in water and add it to your favorite buttercream frosting.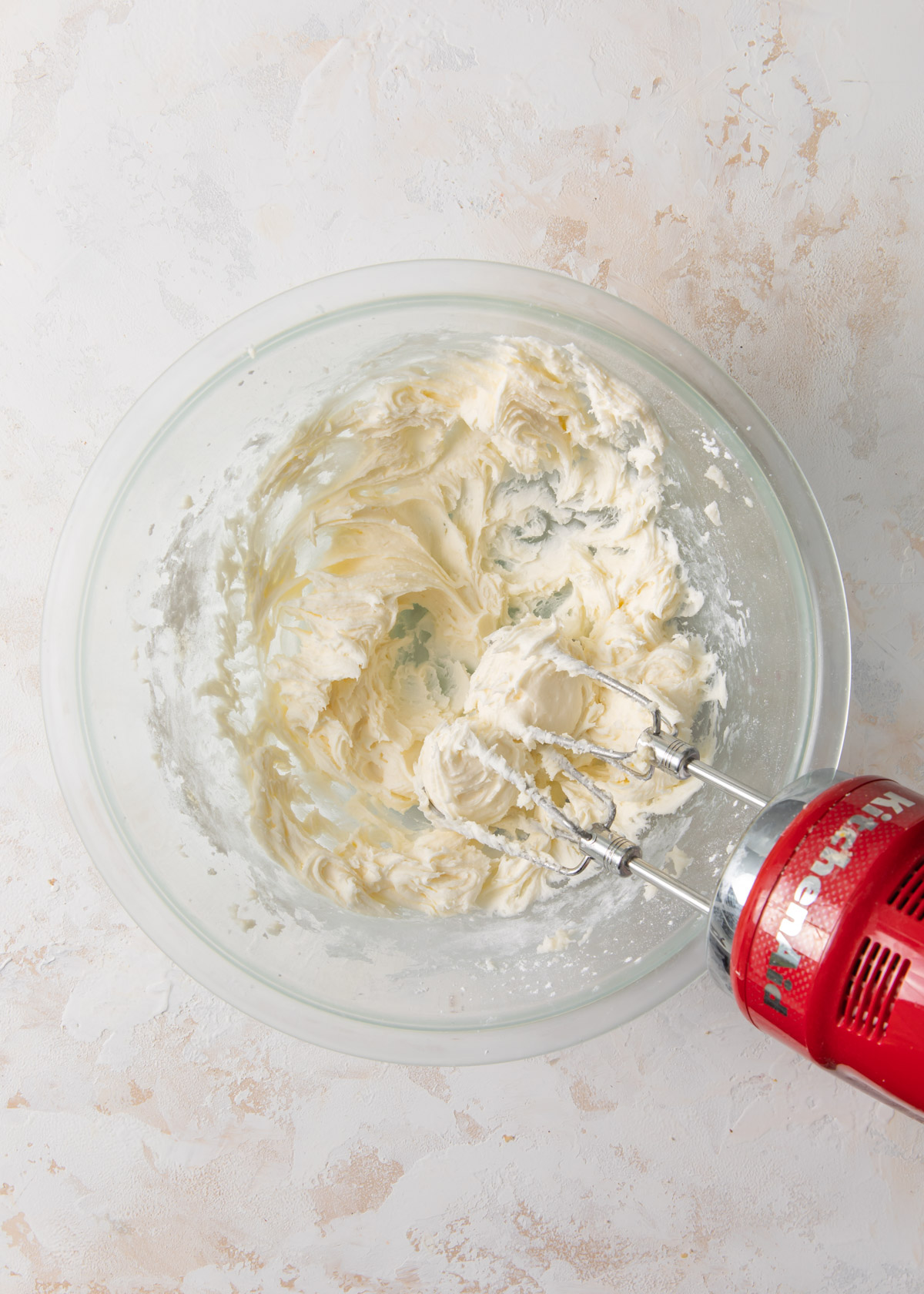 Whip softened butter and powdered sugar together until creamy.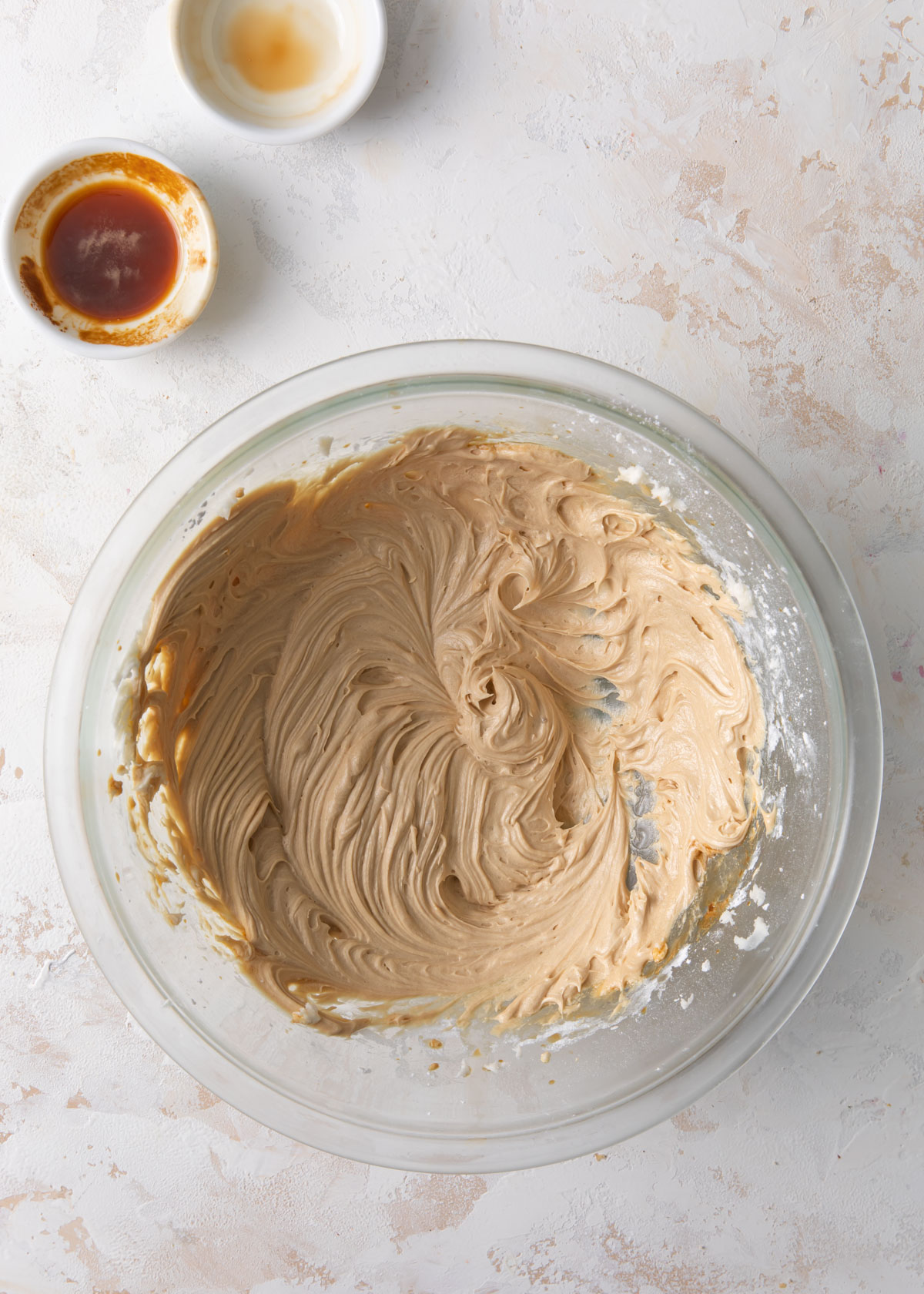 Add the vanilla and dissolved coffee and whip until smooth.
Hint: add about half of the powdered sugar to the butter to start and mix until smooth, then add the coffee to loosen it up. Add the remaining sugar to thicken and whip to the desired texture.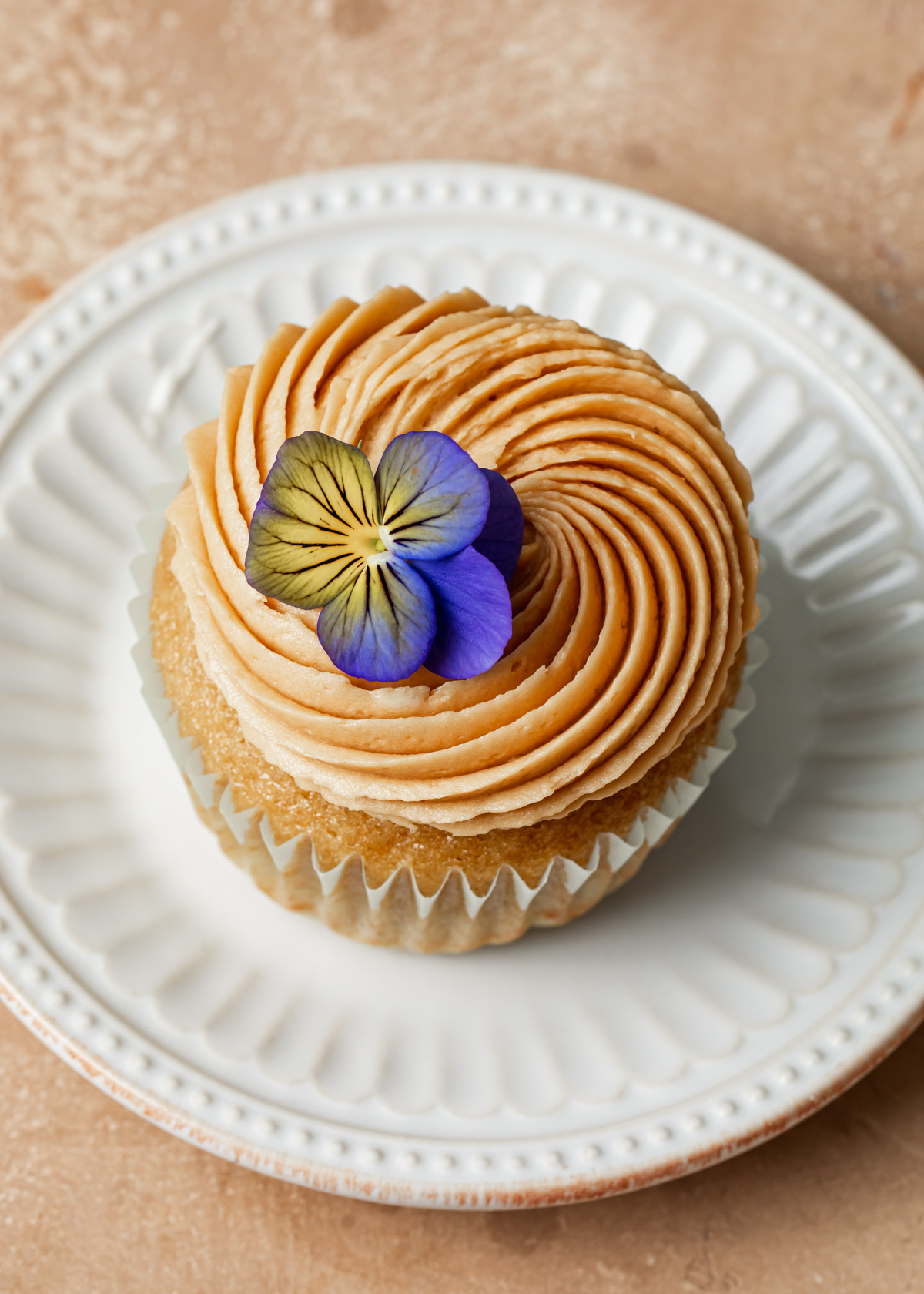 Serving and Storage
Spread or pipe buttercream on your favorite baked treats.
This coffee buttercream frosting can be made in advance and stored in an airtight container in the fridge for one week or freezer for up to three months.
If frozen, thaw overnight in the refrigerator. When ready to use, allow the frosting to come to room temperature (10 to 20 minutes), then stir until spreadable.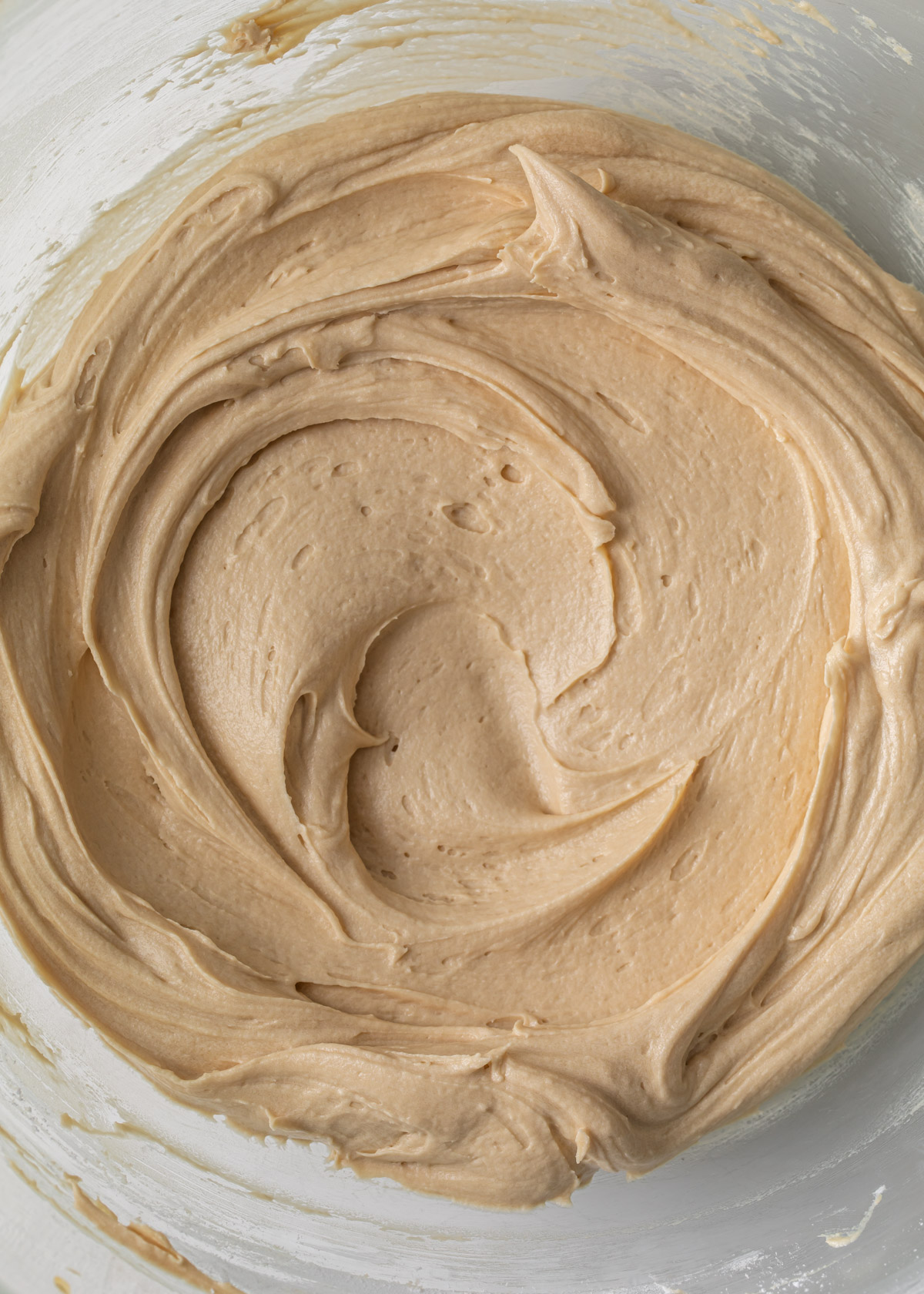 Variations
Mocha - Make it mocha by adding ¼ cup unsweetened cocoa powder with the powdered sugar.
Coffee Buttercream Recipe FAQs
What is the best way to thicken runny buttercream icing?
Before you start adding too much powdered sugar, try putting soft buttercream in the refrigerator. The butter might have been too warm and chilling in the refrigerator may help it firm up.
Why is my buttercream frosting grainy?
Make sure to sift powdered sugar to remove any lumps before mixing. Allow enough time for the butter and sugar to whip together to help the sugar dissolve into the buttercream frosting.
Why does my coffee buttercream curdle?
If you add regular brewed coffee to buttercream, it can split and curdle from too much liquid. Use instant coffee dissolved into a small amount of water instead.
What to Pair with Coffee Buttercream
Coffee pairs well with so many flavors! Pick something neutral like chocolate or vanilla for mocha and cappuccino flavor profiles. Or go bold and mix with pumpkin, gingerbread, or even passion fruit!
Recipe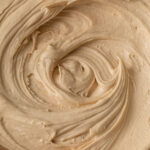 Print Recipe
Easy Coffee Buttercream
This sweet, creamy coffee buttercream taste just like your favorite latte.
Ingredients
2 to 4

tea

instand coffee

or espresso

1

cup

unsalted butter

softened

3 ½

cups

powdered sugar

1

tea

vanilla extract
Instructions
Mix the instant coffee with a tablespoon or two of warm water to create a slurry. Set aside.

Use an electric mixer to mix the softened butter until smooth.

Add about half the powder sugar and mix on low until combined. Increase the speed and mix until smooth.

Add the coffee slurry and mix until smooth.

Add the remaining powdered sugar and mix on low until incorporated. Increase the speed and mix on medium until light and smooth.

Use to ice your favorite cakes and cupcakes!