With a ripple of rainbow and a crunchy sprinkle streusel, this Birthday Coffee Cake is the breakfast celebration treat of our dreams! It is THE breakfast birthday cake of all breakfast birthday cakes - the annual exception when an AM sugar rush is totally encouraged.
Not your birthday? Make this cake to add a bit of rainbow magic anytime, any day of the year.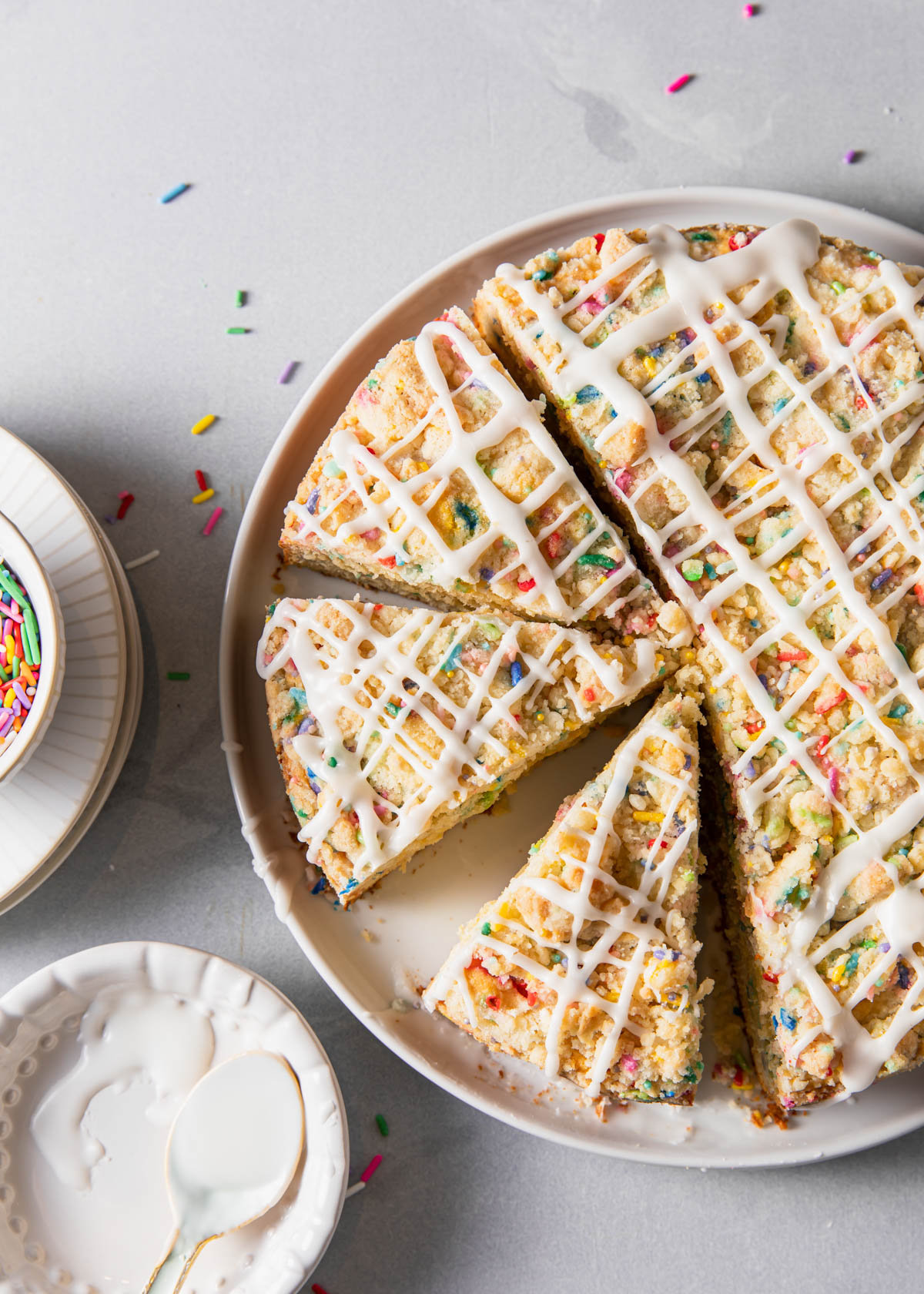 Jump to:
Why We Love this Coffee Cake
Packed with sprinkles inside and out, there is no hope in honestly selling this cake as a breakfast item. However, once a year, I think we can make an exception.
Admittedly, this recipe started as somewhat of a novelty, but as it started to disappear, piece by piece, off my kitchen counter, I knew we had a winner. It's the breakfast birthday cake you never knew you needed!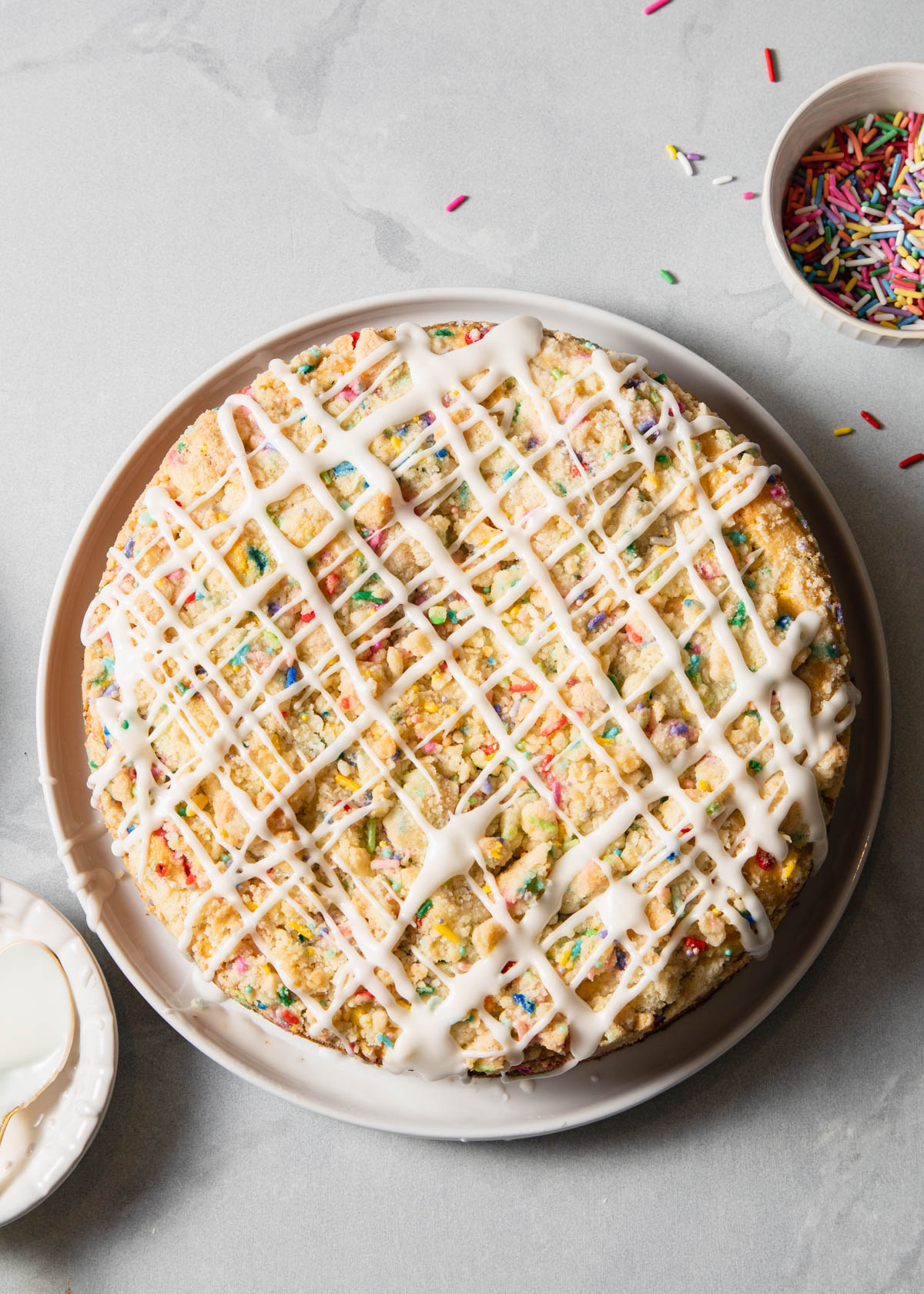 Like most sour cream coffee cakes, the crumb is dense yet moist. Half of the sprinkle streusel ripples through the middle of the cake while the remaining portion adds crunch and color to the top.
Ingredients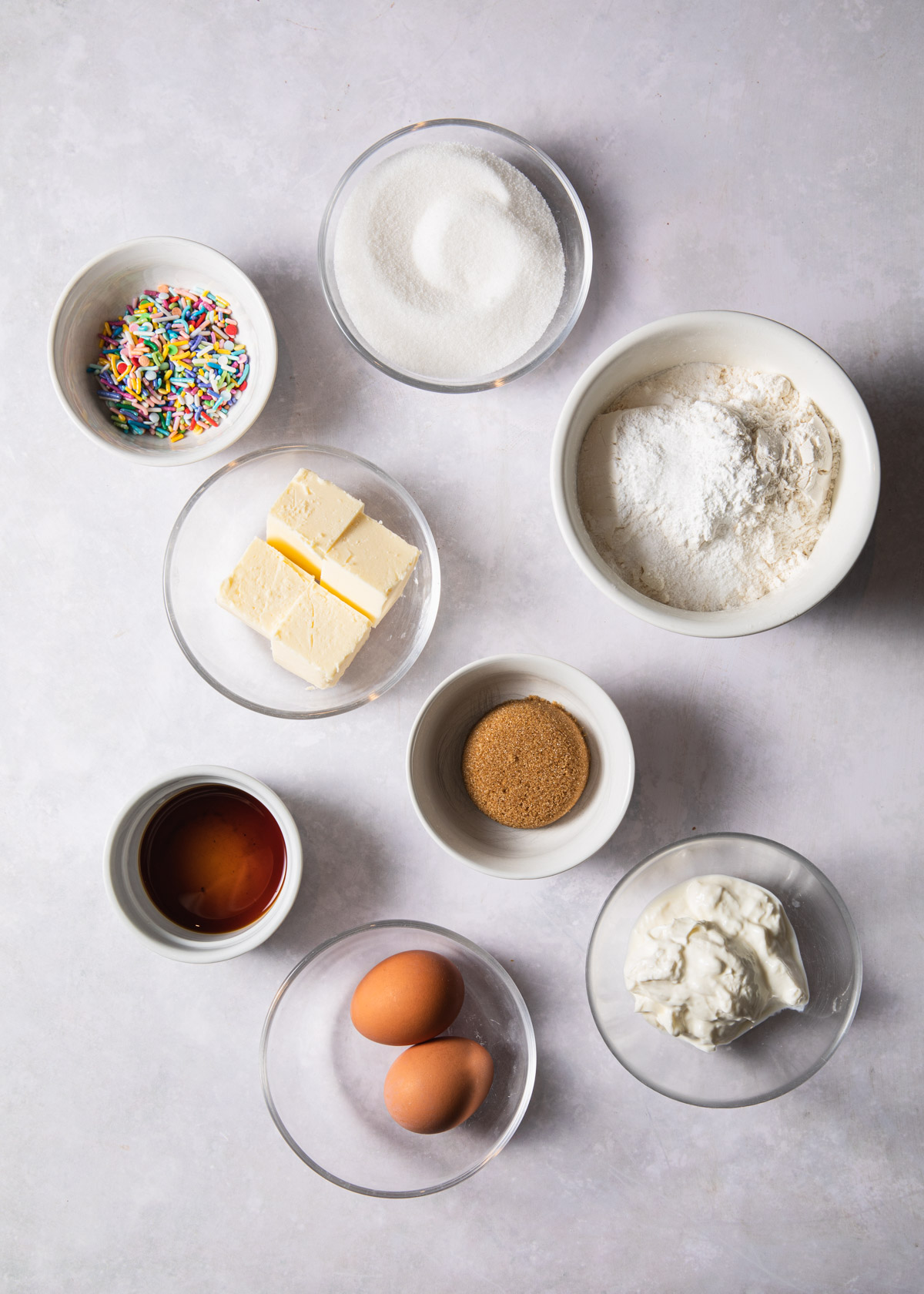 All-purpose flour
Granulated sugar
Assorted Sprinkles - see Types of Sprinkles
Brown sugar
Unsalted butter
Eggs
Vanilla extract
Almond extract - optional, but lends a more nostalgic birthday cake taste
Sour cream - for max moisture!
Milk
Confectioners' sugar -for the glaze
See recipe card for quantities.
Tools and Equipment
This cake comes together easily with just a few tools and basic utensils. Here is what you will need:
9 to 10-inch pan (springform recommended)
Mixing bowls
Hand or stand mixer
General kitchen tools (measuring cups, spoons, etc).
Steps for Making a Birthday Coffee Cake
This cake begins with the creaming method by mixing the softened butter and sugar together until light and fluffy. From there, the eggs are added.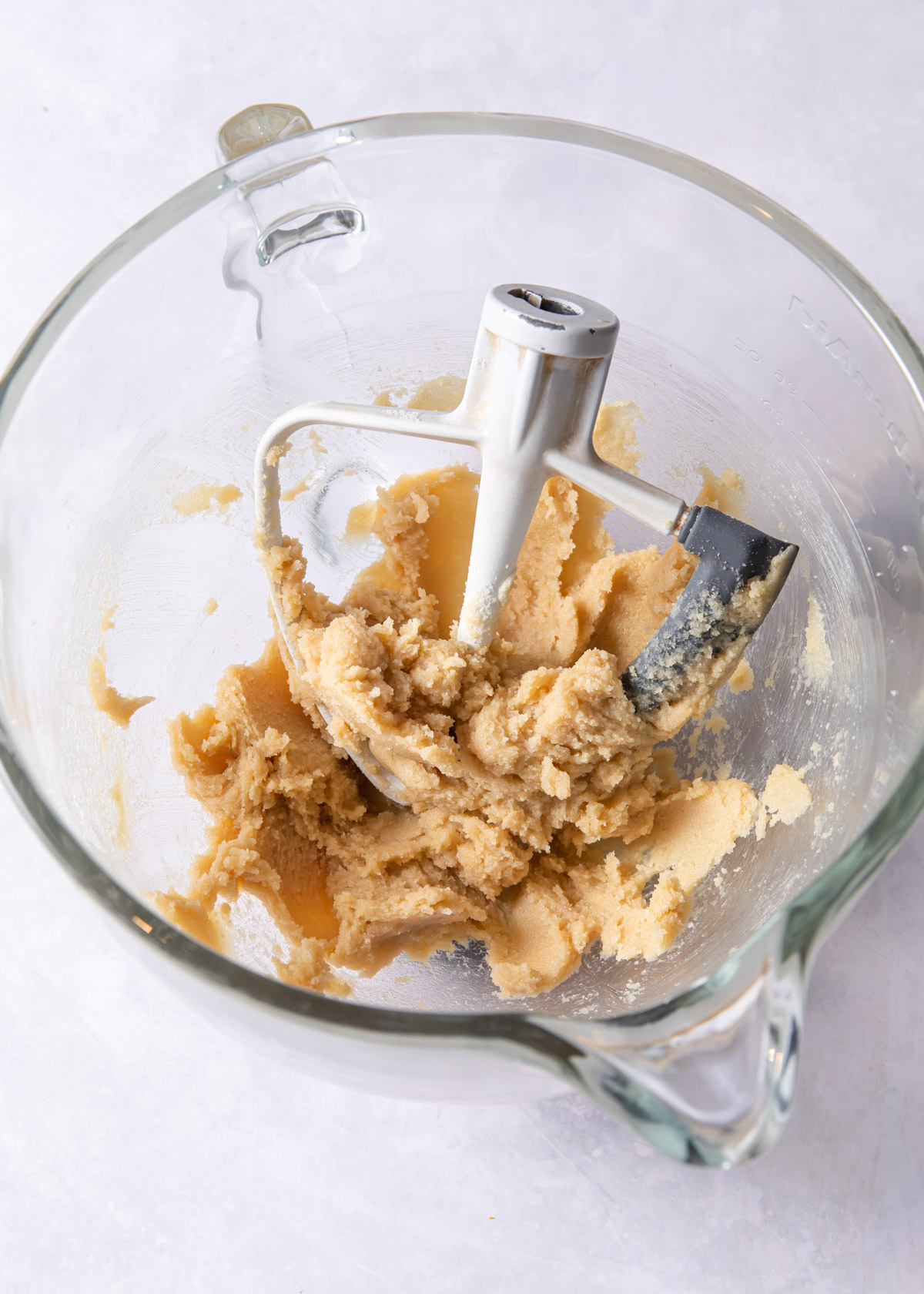 Softened butter, granulated, and brown sugar are mixed until fluffy.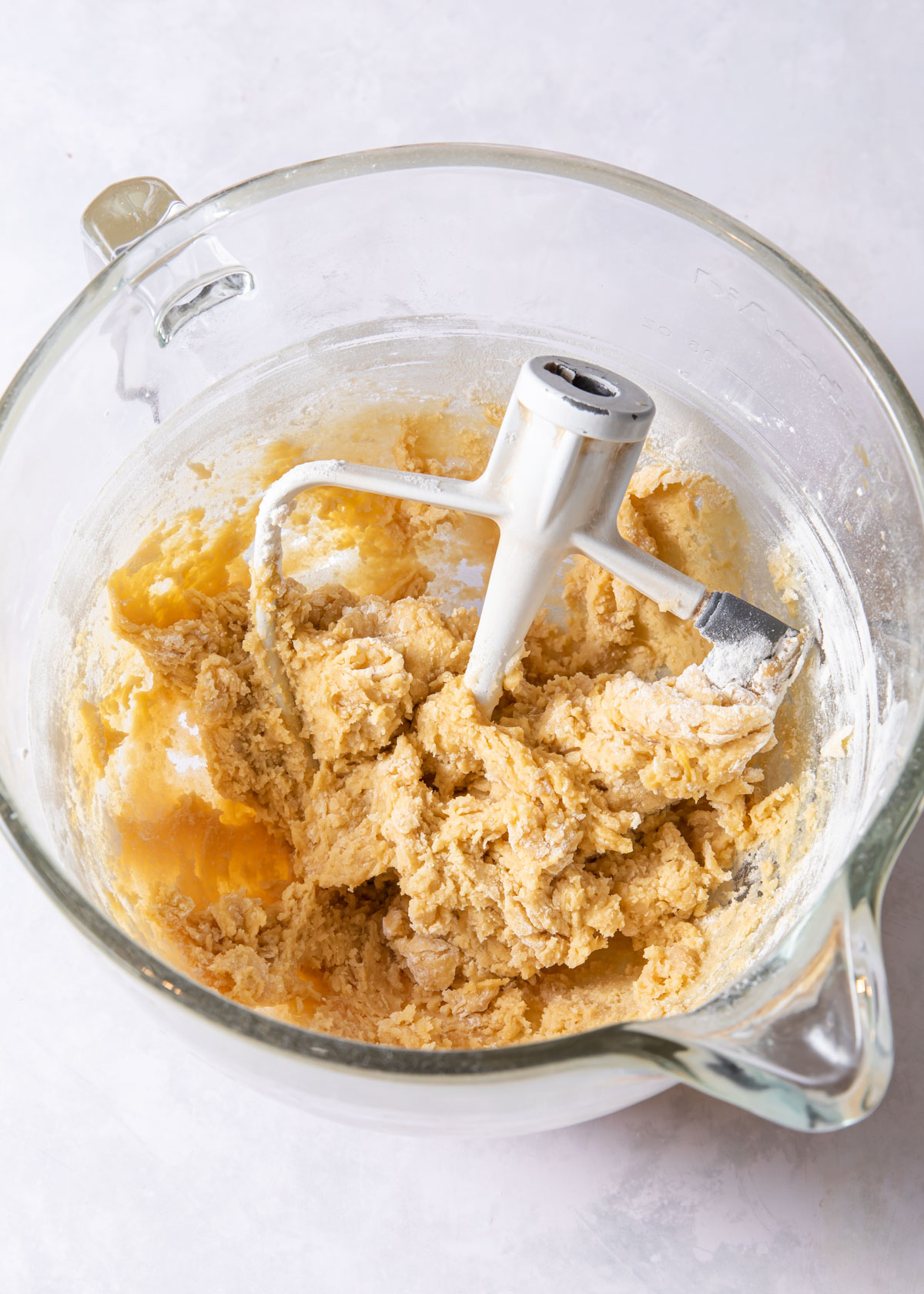 After the eggs, add half of the dry ingredients and mix to combine.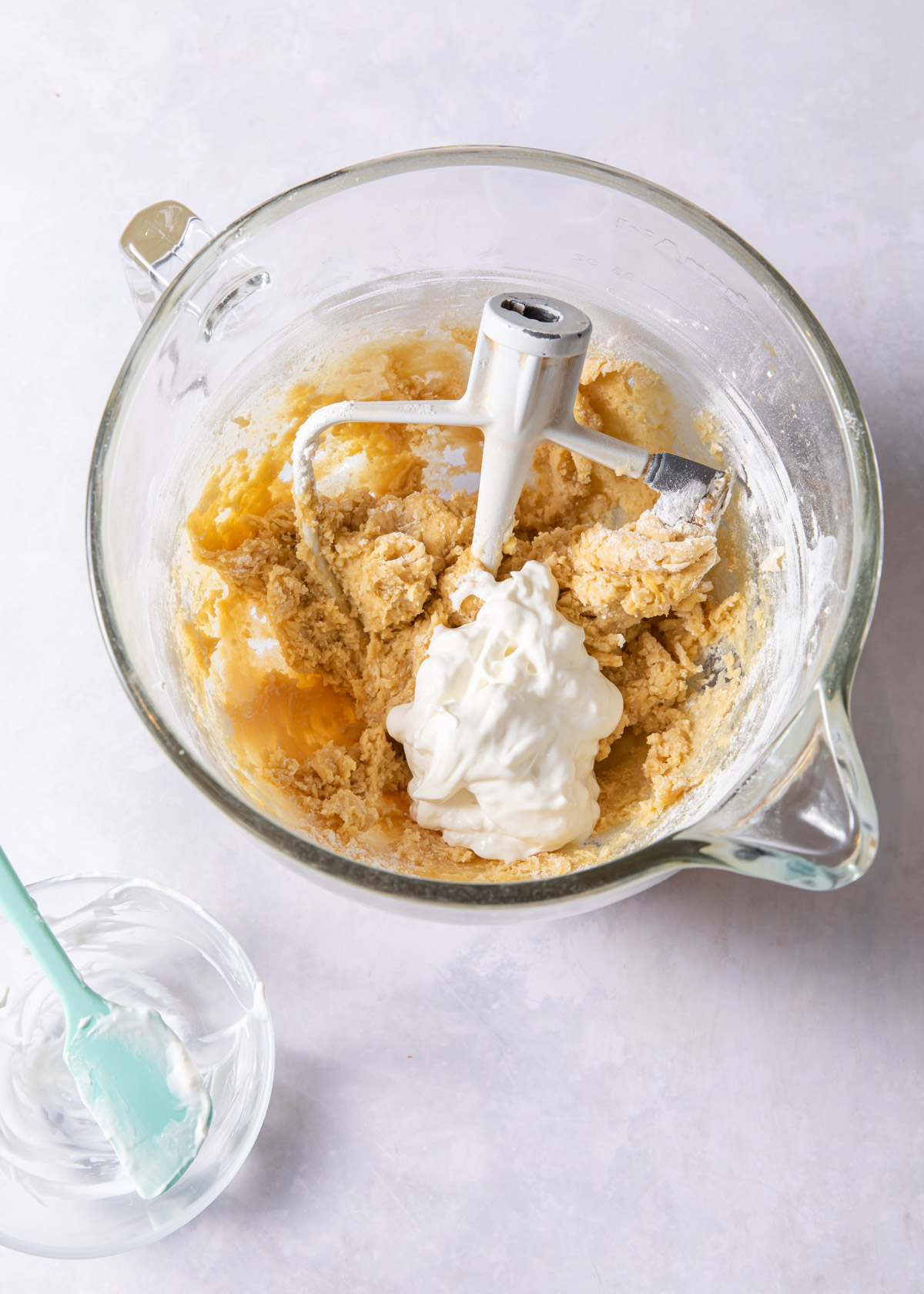 Alternate adding in the dry ingredients with the sour cream and milk.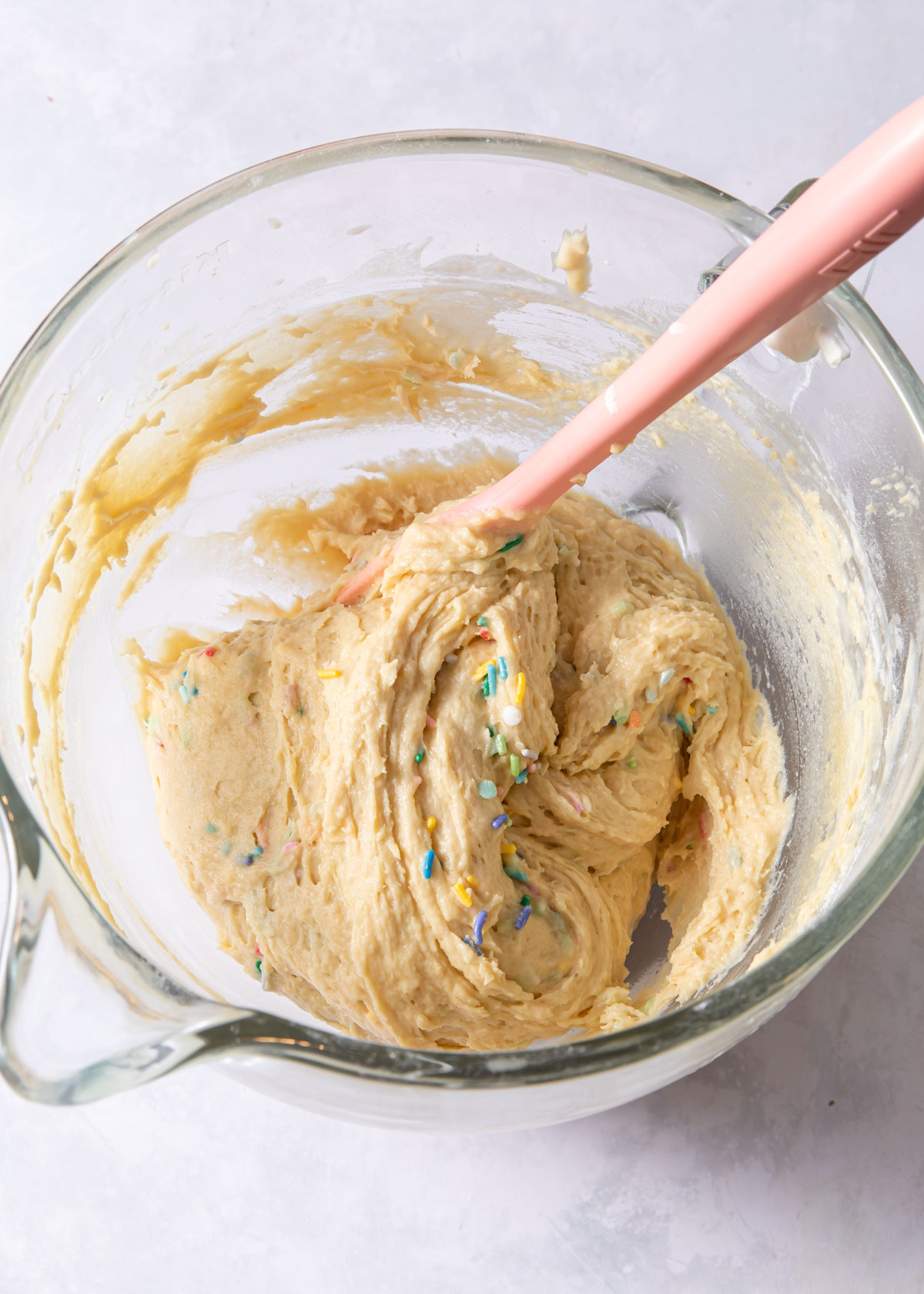 Lastly, fold in the sprinkles.
This coffee cake is baked in layers. Use a portion of the sprinkle streusel crumb in the middle. Carefully spread the remaining batter on top then give a generous shower of sprinkles to cover.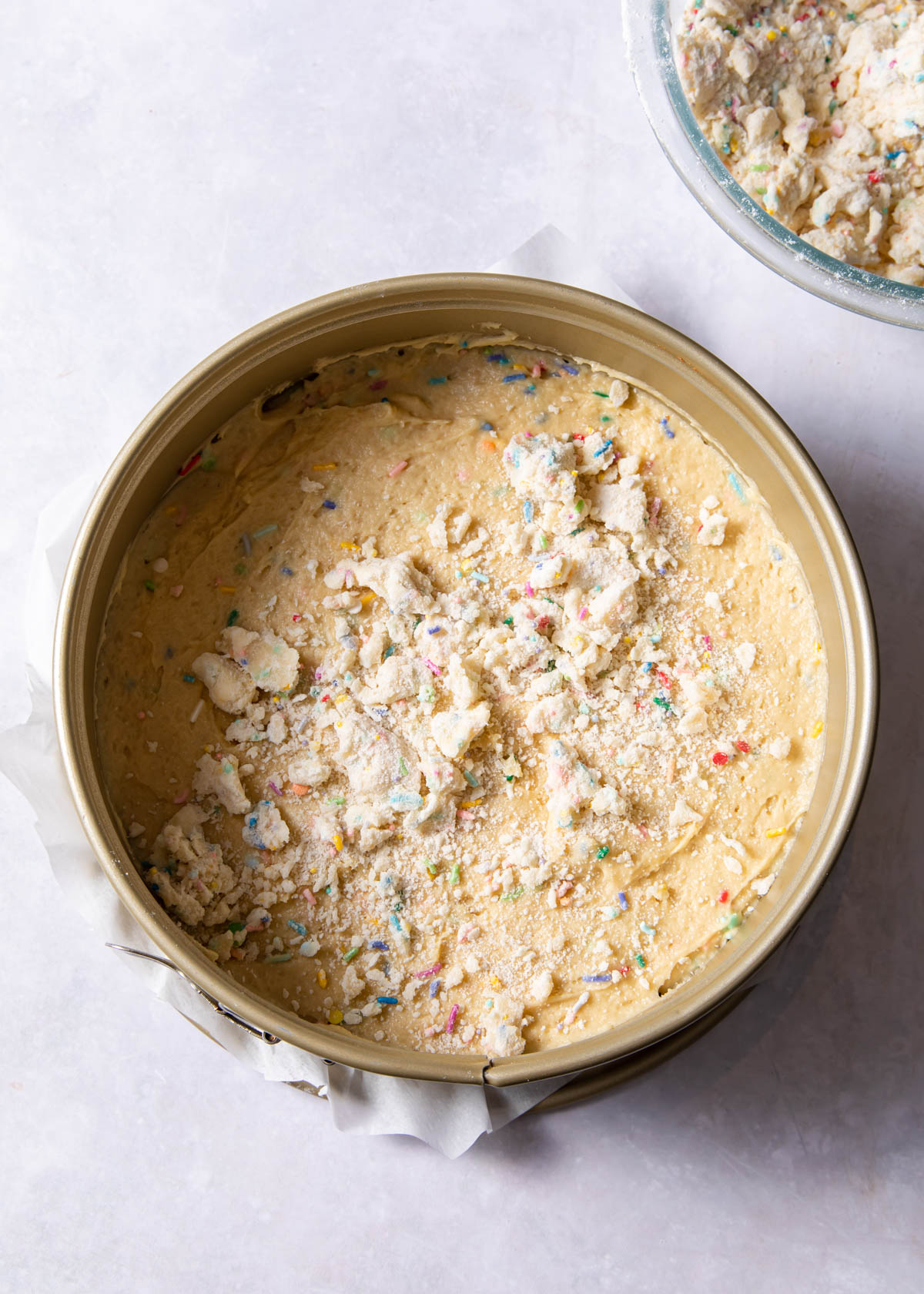 A Note About Sprinkles
This cake tastes like birthdays. And by that I mean the taste is heavy on the sprinkles. Make sure your sprinkles are fresh before adding them into the cake batter. Sprinkles can go bad and have the ability to impart a rancid taste through the cake, so make sure to taste test them first!
All in all, this is a super fun, festive treat. It plays on our love and nostalgia for all-things-sprinkle but with the freshness of being homemade.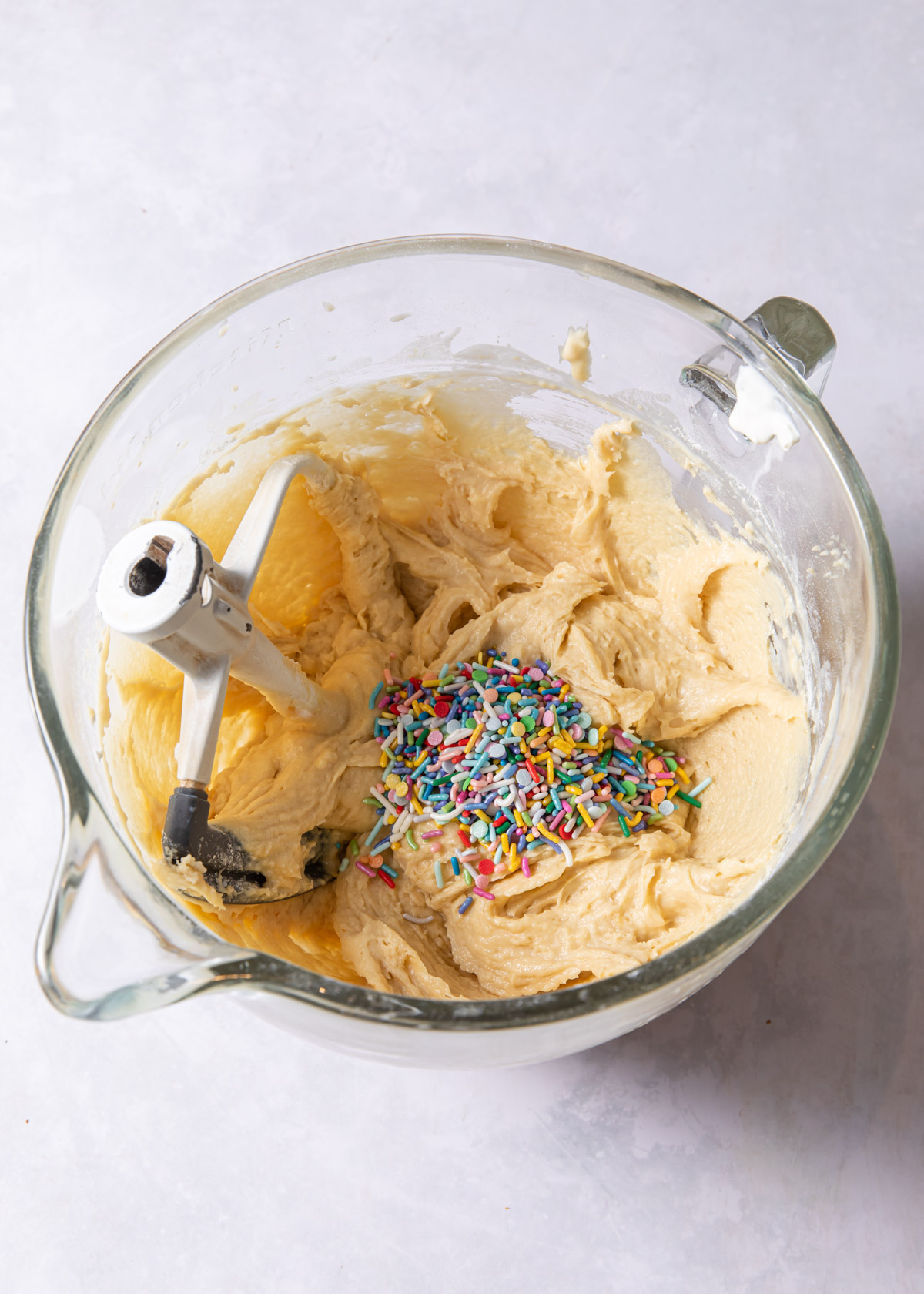 Types of Sprinkles for Funfetti Cake
Quins - These types of sprinkles are flat, colorful, and come in a variety of shapes. They are most recognizable as being round, flat, and sequin-like (possible where they got the name?)
They don't keep their shape when baked, but their colors suspend beautifully when folded in a cake batter.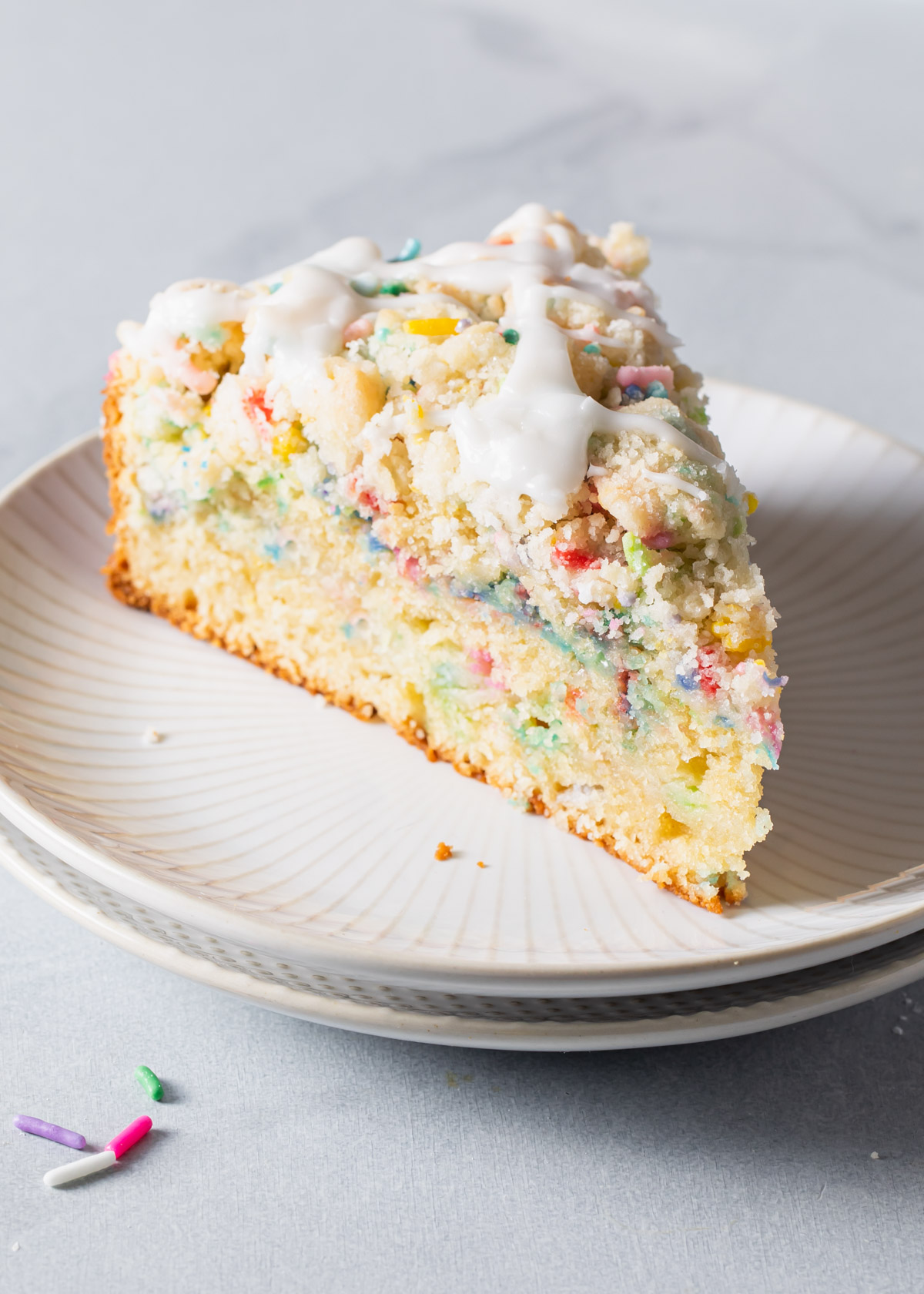 Jimmies - These rod-shaped sprinkles are typically multi-colored or chocolate. Think of the sprinkles you spoon over frozen yogurt - these are probably them. They also bake up well in any funfetti-like recipe.
Add these at the very end of mixing and fold gently to keep the colors from bleeding and turning the batter blue/grey.
Nonpareils - These super tiny, multi-colored sugar balls are also known as Hundreds and Thousands (what is feels like when you accidentally spill them on your kitchen floor).
Unlike the previous two variations, I don't typically recommend nonpareils for baking within a batter. However, when mixed with the other sprinkles to make the streusel here, it worked out great! I love the look of the tiny orbs in the crumb topping.
Substitutions
Sour cream - Instead of the sour cream and milk, use equal parts buttermilk. Alternatively, use plain, full-fat Greek yogurt instead of sour cream.
Serving and Storage
Store the cake in an air-tight container or covered in plastic wrap at room temperature for up to 3 days.
Tips for Making Birthday Coffee Cake
If the crumble top begins to brown to quickly before the center of the cake is set, tent the cake pan with foil.

Make sure that your sprinkles are fresh! Sprinkles expire and can taste terrible. Try them before adding to the cake. This cake is very heavy on sprinkle flavor, so if you sprinkles have gone bad, the taste of the cake will definitely be altered.

The cake may also be baked in a 9 X 9-inch square pan.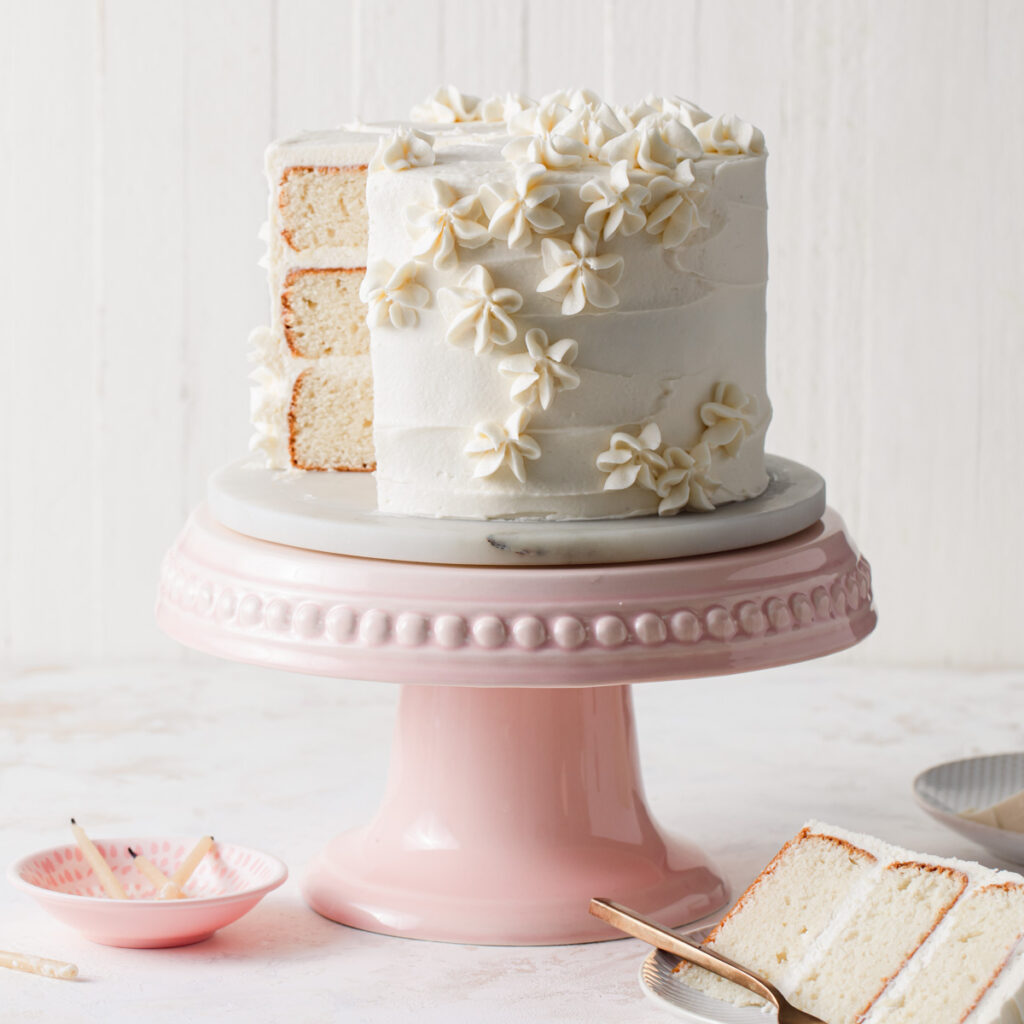 Join the Style Sweet Bake Club!
Get exclusive recipes and articles sent straight to your inbox. Become a subscriber today! Click to join.
More Cake Recipes:
Please leave a star review if you loved this recipe! Make sure to share your recipes and tag me on Instagram @stylesweetdaily.
Recipe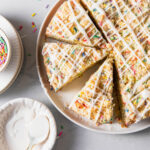 Print Recipe
Birthday Coffee Cake
With a ripple of rainbow and a crunchy sprinkle streusel, this Birthday Coffee Cake is the breakfast celebration treat of our dreams!
Ingredients
Sprinkle Streusel
1

cup

all-purpose flour

½

cup

granulated sugar

⅓

cup

sprinkles

assorted

¼

cup

brown sugar

¼

teaspoon

salt

½

cup

unsalted butter
Birthday Coffee Cake
2

cups

all-purpose flour

1

teaspoon

baking powder

½

teaspoon

baking soda

½

teaspoon

salt

½

cup

unsalted butter

softened

¾

cup

granulated sugar

¼

cup

brown sugar

2

large eggs

1 ½

teaspoon

vanilla extract

¼

teaspoon

almond extract

½

cup

sour cream

½

cup

whole milk

⅓

cup

sprinkles

assorted
Vanilla Glaze
½

cup

confectioner's sugar

2 to 3

teaspoon

milk

½

teaspoon

vanilla bean paste or extract
Instructions
Sprinkle Streusel
Add the flour, granulated sugar, sprinkles, brown sugar, and salt in a mixing bowl. Stir to combine.

Cut in the soft butter and stir with a wooden spoon until the streusel begins to clump together.

Place in the refrigerator as you prepare the batter.
Birthday Coffee Cake
Pre-heat oven to 350°F. Grease and flour a 9-inch spring form pan and line the bottom with parchment paper. Set aside.

Whisk together the flour, baking powder, baking soda, and salt in a mixing bowl and set aside.

Using an electric mixer (hand or stand mixer), to mix together the butter, granulated sugar, and brown sugar until light and fluffy, about 3 minutes. With the mixer on low, add the eggs - one at a time. Add the vanilla and almond and mix until combined. Stop the mixer and scrape down the sides and bottom of the bowl.

With the mixer on low, add in half of the flour mixture and mix until combined. Add the sour cream and milk. Mix until the liquids absorb into the batter. Add the remaining flour mixture and mix until just incorporated. It is okay if a few dry streaks remain. Stop the mixer and fold in the sprinkles until just combined. Do not overmix or the sprinkles may bleed.

Spoon about ⅔ of the batter into the pan and spread into a smooth layer with an offset spatula. Remove the streusel from the fridge and sprinkle on about ⅓ of the mixture - breaking it up into small clumps as needed.

Carefully spoon on the remaining batter and spread until smooth. Top the batter with the remaining streusel.

Bake the cake for 30 to 40 minutes, or until a toothpick inserted into the center comes out clean or with a few moist crumbs (just not totally raw). Be careful not to over-bake. Cool the cake on a wire rack before adding the glaze and serving.
Vanilla Glaze
Stir together the ingredients in a mixing bowl until smooth. 

Add more milk until desired drizzling consistency is achieved. It should drip easily from a spoon but still coat the cake without running everywhere.

Spoon the glaze over the cake before serving.