With crispy edges and centers that stay soft and fudgy long after they've cooled, these giant Double Chocolate Chip Cookies are a chocoholic's dream come true.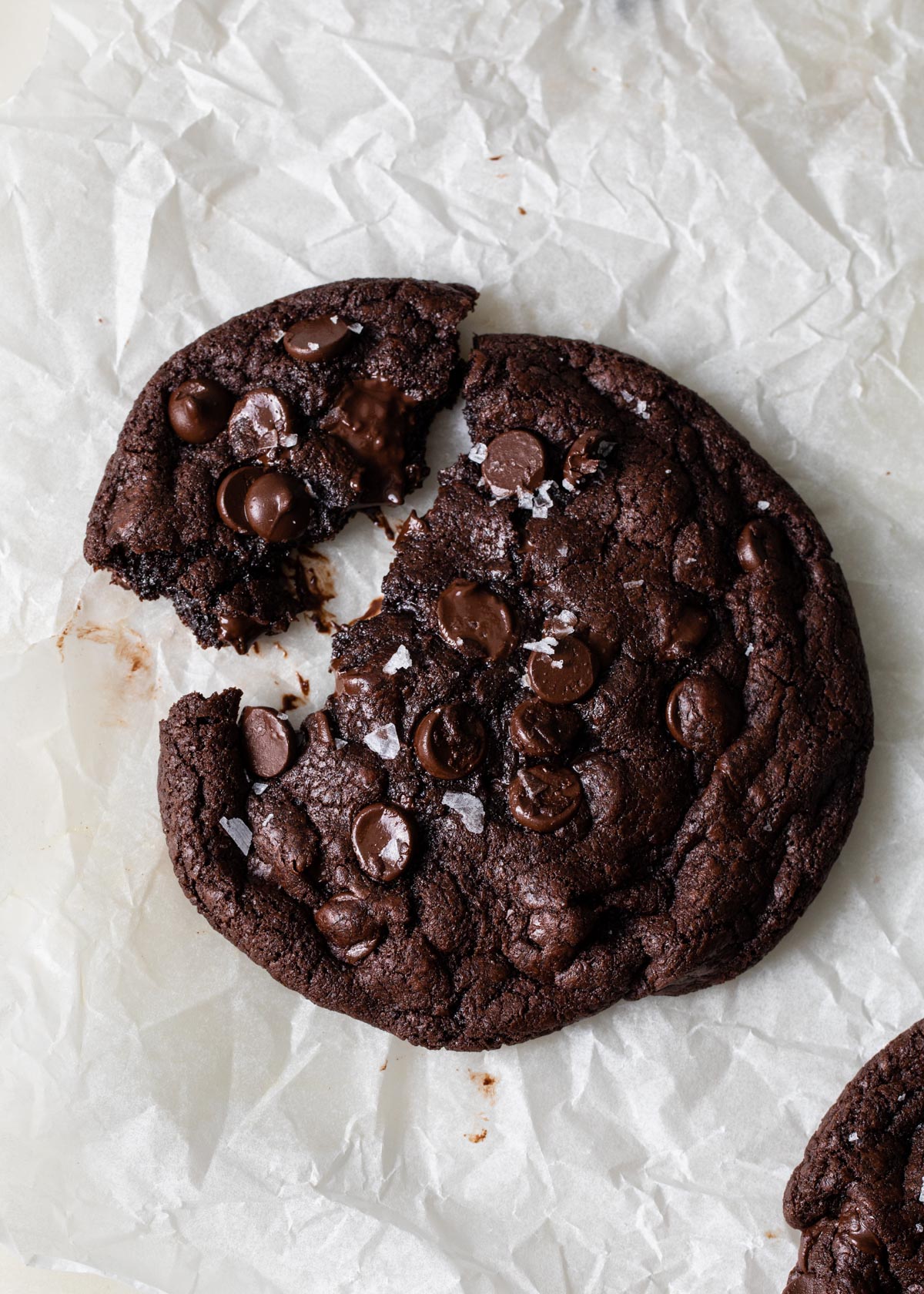 Why We Love Double Chocolate Chip Cookies
These double chocolate chip cookies are extra-large and seriously addictive. The crispy edges contrast with the soft, fudgy centers and melted chocolate. We love how the centers remain truffle-like even after they've cooled.
This recipe is quick and easy. You can make it with a hand mixer or a wooden spoon. The dough uses mostly pantry staples and does not require chilling.
Ingredients at a Glance
Here are the ingredients you will need beyond basic pantry staples:
Chocolate Chips - Often cookie recipes these days call for chocolate feves or chocolate chunks chopped from a bar of high quality chocolate. While I am a big fan of such recipes and chocolate pools on top of my baked cookies, regular bagged chocolate chips work great here. Opt for bittersweet chocolate chips if you can, but milk and semi-sweet chocolate will suffice.
Unsweetened Cocoa Powder - Added cocoa powder makes these double chocolate chip cookies versus standard chocolate chip. Dutch-processed cocoa starts with cocoa beans where their acidity has been neutralized. Alkaline cocoa powder is darker in color and mellow in flavor.
Unsalted Butter - Using warm, melted butter start dissolving the sugar in the batter. If the dough is too soft to roll, try chilling it for 10 to 20 minutes before baking.
Granulated and Brown Sugars - Using a higher percentage of white sugar helps the cookies spread and keeps them from becoming too cake-y while brown sugar adds more depth and caramel flavors.
Flaky Sea Salt - Finishing salt like Maldon or Fleur de sel helps round out the flavors. Do not use table salt on top of the cookies.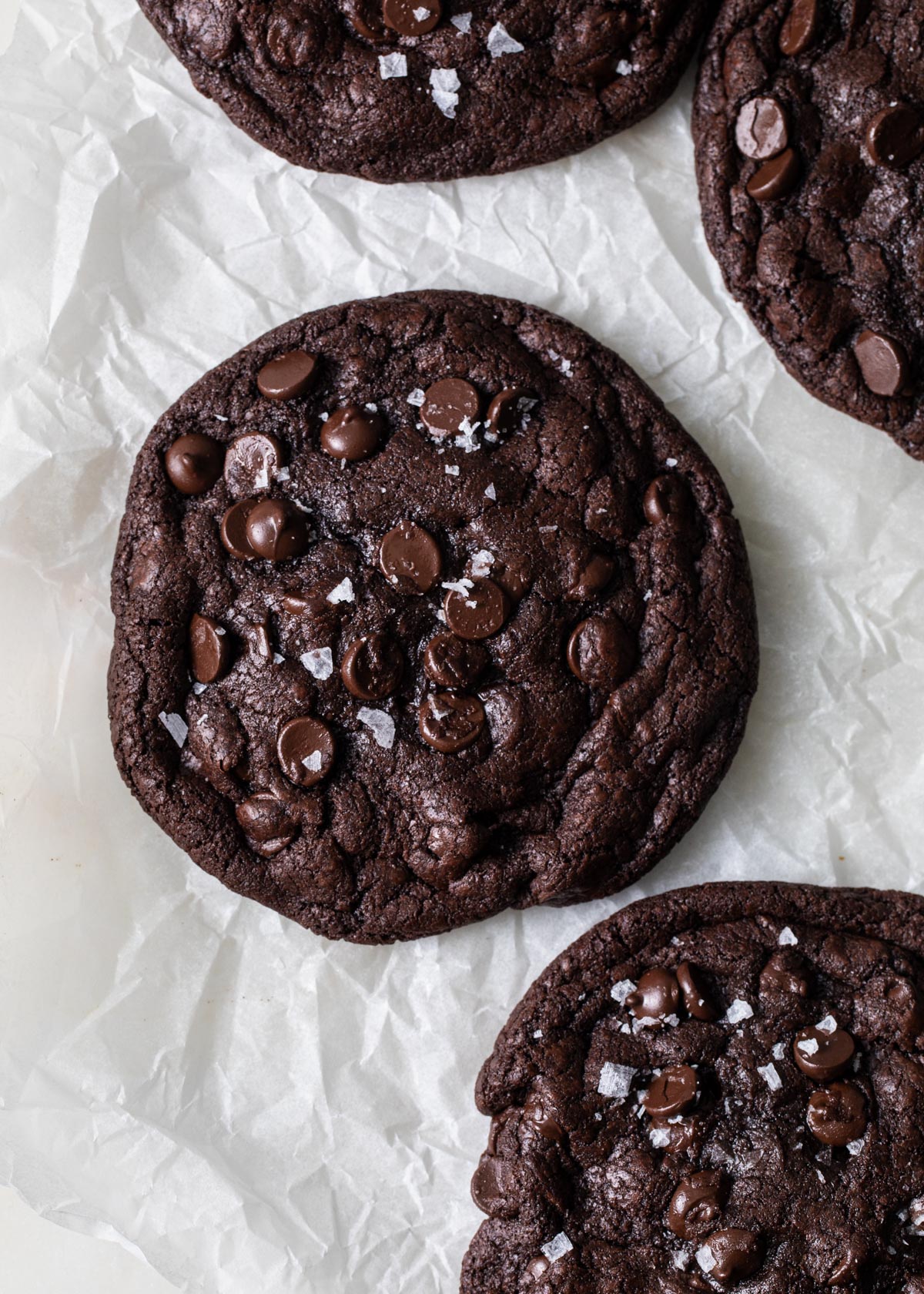 Tips for Making Double Chocolate Chip Cookies
Melting the butter and combining it with the sugars helps the sugars dissolve before baking. Mix with a hand mixer long enough to melt the sugar. To test, rub a little bit of the mixture before your fingers to feel if the sugar is dissolving.
Add the egg and egg yolk and keep mixing. This produces a thin, crackly finish on the baked cookies, similar to the papery tops of brownies.
If you want to forgo this process, you can mix the batter with a wooden spoon. Even without the crackle tops, the cookies are still deliciously fudgy.
For the best cookies, weigh out the flour. Too much flour will dramatically change the texture of the cookies. If the cookie dough is too soft to roll, chill it for 10 to 20 minutes before baking instead of adding more flour.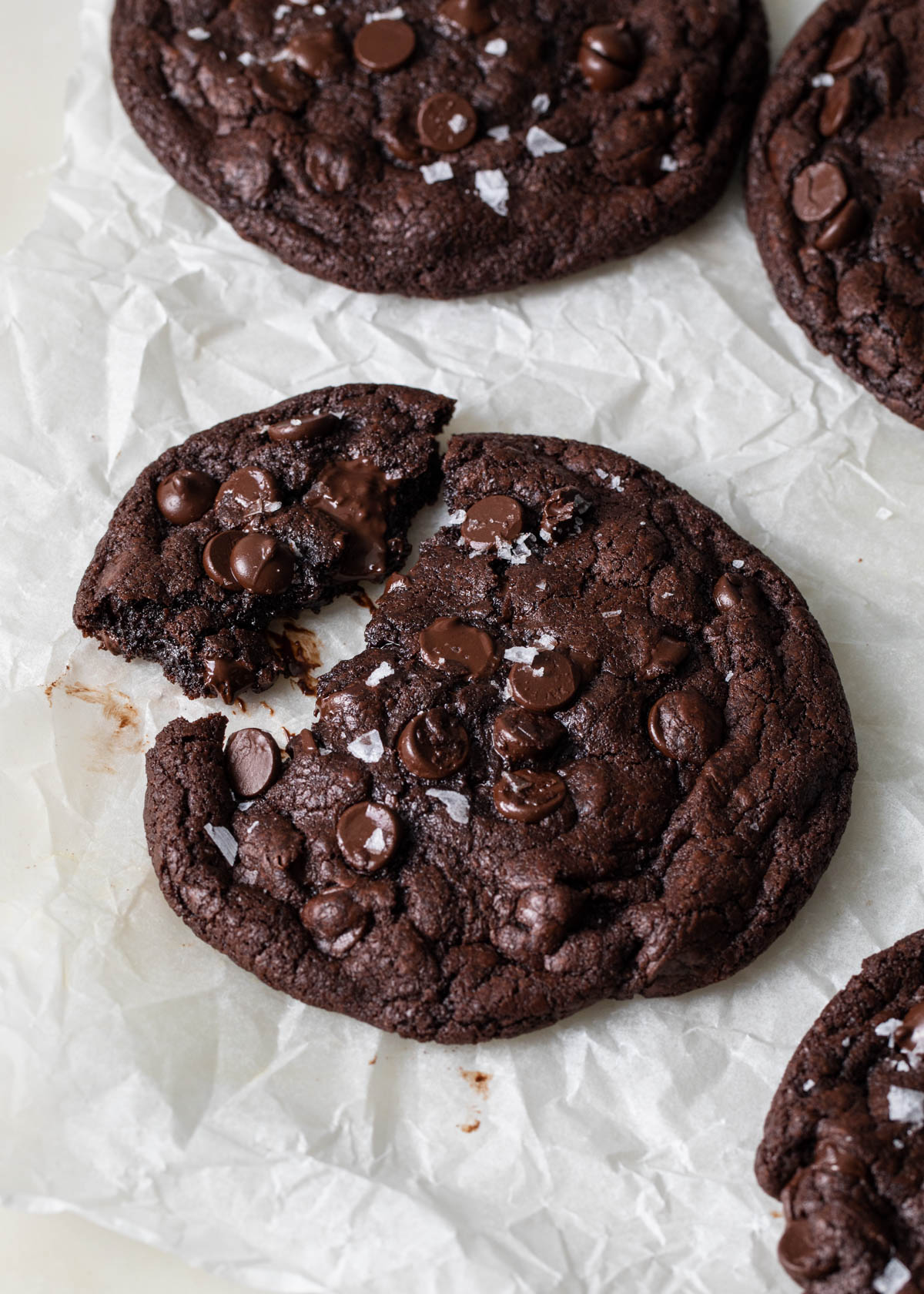 Serving and Storage
These cookies are amazing still warm from the oven, but try to resist. Even just a few minutes cooling on the baking pan will help them set without being overbaked. The melty chocolate is perfect with a glass of milk or cup of coffee, but the centers still remain soft once completely cooled - if they last that long.
Store leftovers in an airtight container at room temperature for up to 4 days.
Baker's Notes
You may replace the hot coffee with hot water. The coffee helps enhance the chocolate flavor and the cookies will not taste like coffee.

Regular bittersweet chocolate chips work great in this recipe.

This recipe was developed using a hand mixer. A wooden spoon would also work for this recipe.

The finished dough can be a bit soft. If it is too melty, chill the dough for 10 to 20 minutes before rolling and baking.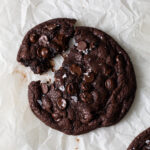 Print Recipe
Double Chocolate Chip Cookies
With crispy edges and fudgy centers, these giant Double Chocolate Cookies are a chocoholic's dream come true.
Ingredients
1 ½

cups

(195g) all-purpose flour

½

cup

(50g) Dutch processed unsweetened cocoa powder

1

tea

baking soda

1

tea

kosher salt

¾

cup

(170g) unsalted butter

1

cup

(200g) granules sugar

¼

cup

(50g) brown sugar

1

large egg

1

egg yolk

2

teas

vanilla extract

1 ½

cups

chocolate chip

flaky sea salt for sprinkling
Instructions
Preheat the oven to 350°F. Line two baking sheets with parchment paper and set aside. Whisk together the flour, cocoa powder, baking soda, and salt. Set aside.

in microwave-safe mixing bowl, melt the butter. Add the white and brown sugars and mix until well combined and the sugars begin to dissolve (a hand mixer works well here).

Add the egg, egg yolk, and vanilla. Continue to mix until sugar nearly dissolves.

Add in the dry ingredients and stir to combine.

Fold in the chocolate chips until combined.

Weigh out the dough into 100g portions and roll each into a ball. The balls will be slightly large than a golf ball. There will be about 9 equal portions.

Place the rolled cookie dough on the prepared baking pans, at least three inches apart. Slightly flatten each cookie and bake for 13 to 14 minutes. When done, the edges should be set but the centers will remain soft. Repeat with the remaining dough. Cool the cookies on the baking sheet over a wire cooling rack. Sprinkle with flaky salt, if desired.

Cool the cookies on the baking sheet for about 5 minutes then carefully transfer them to a wire cooling rack. Sprinkle with flaky salt, if desired.