Rolled oats got a glow up in these chewy, Oatmeal Craisin Cookies. I swapped traditional raisins for plump, tart dried cranberries and added chopped walnuts for crunch and texture. My kids convinced me to add chocolate and nobody regrets it.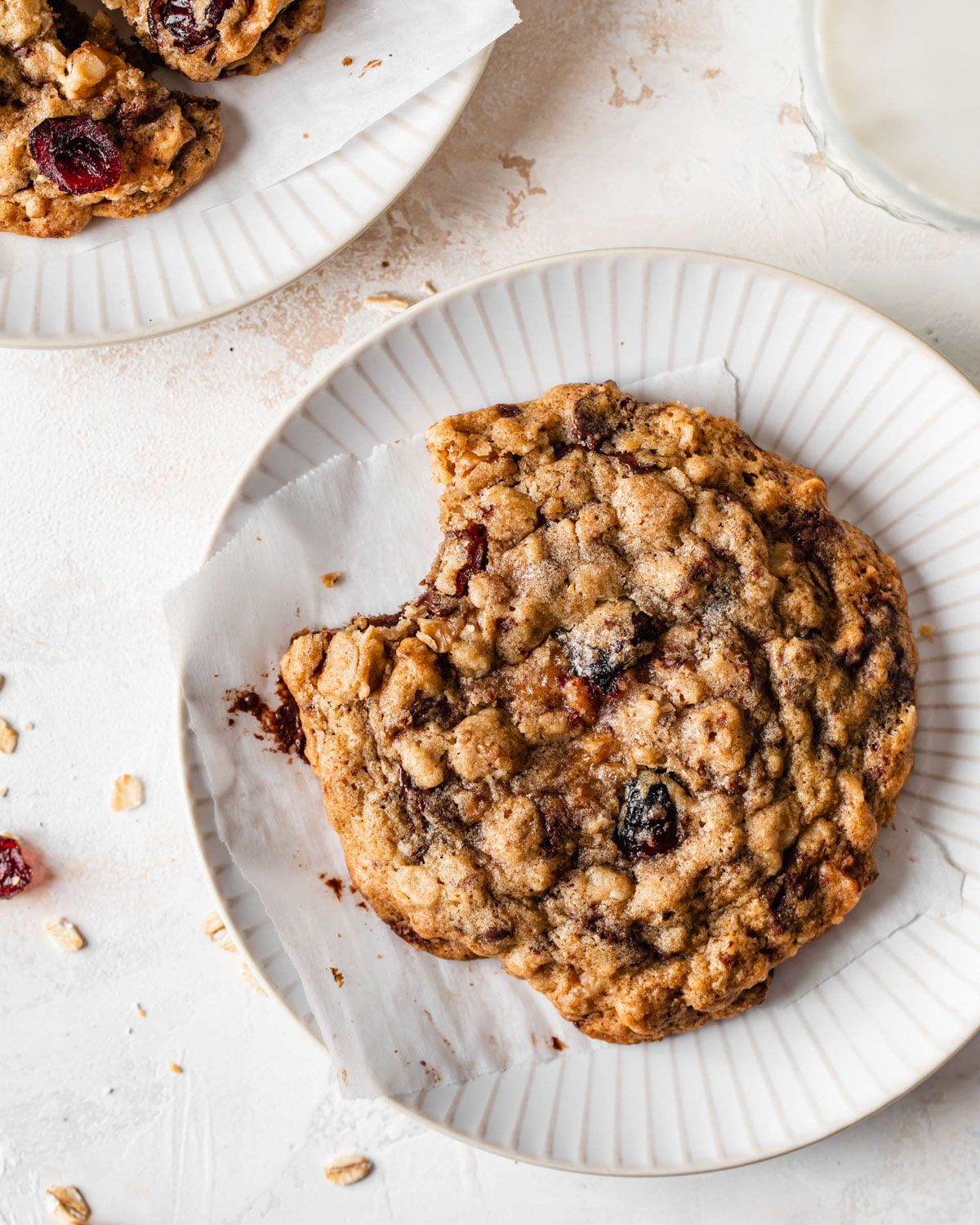 Why You'll Love these Cranberry Oatmeal Cookies
UPDATE: make this recipe extra-large or as regular cookies with the same great taste, crunchy edges, and chewy center.
Jump to:
These cranberry oatmeal cookies are packed full of flavor and texture. If you're keen, a double-scoop of cookie dough makes 8 giant cookies that are both crisp on the outside and chewy in the middle.
Both brown and white sugars play together perfectly to create a cookie that spreads just enough while still laden with butterscotch notes.
Using a base for classic oatmeal raisin cookies, the add-in combinations are endless!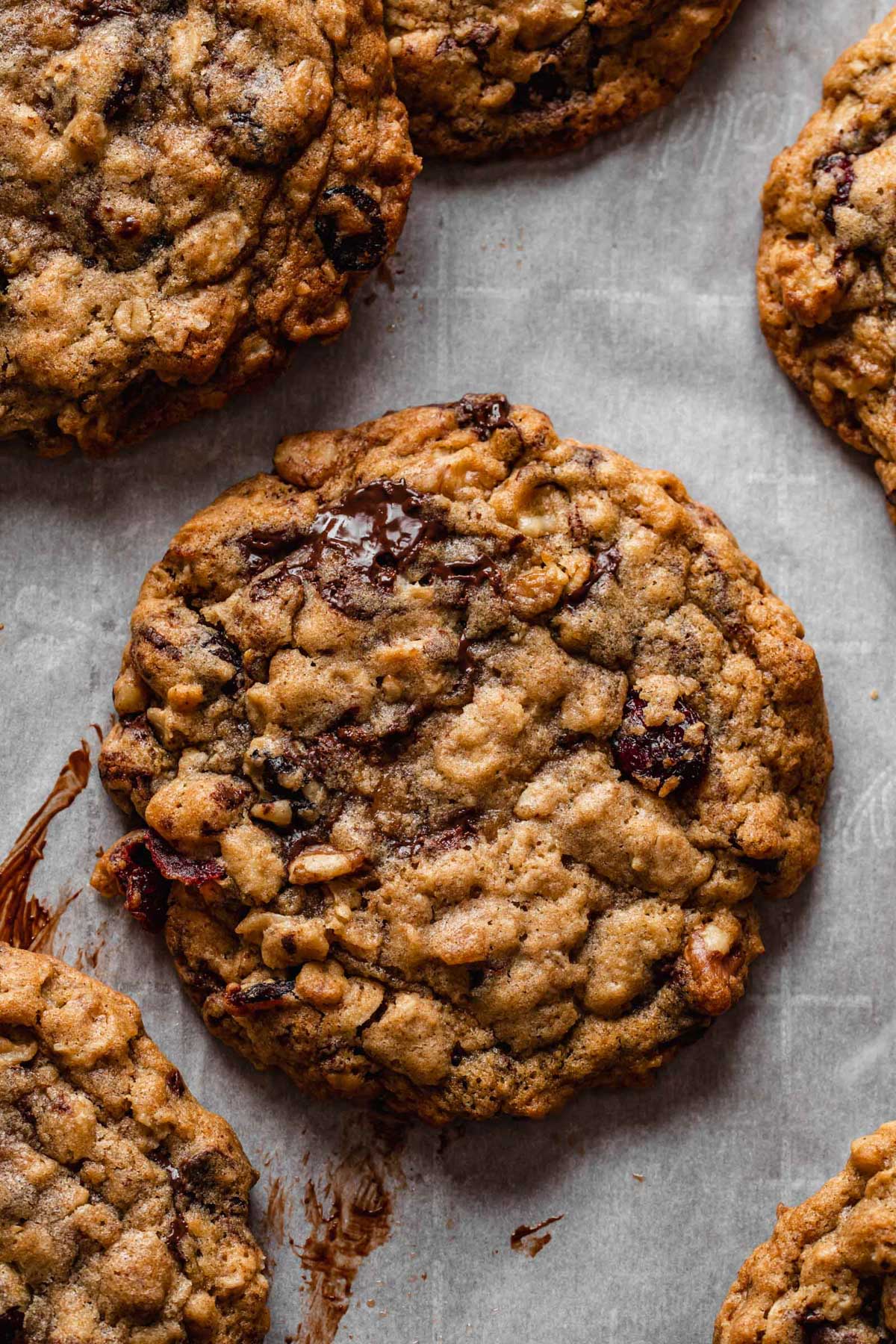 Texture of Oatmeal Craisin Cookies
Instead of a thick cookie that bakes like a brick, be sure to flatten these big boys before hitting the oven. They will spread and develop a crispy crust around the edges while the middle stays moist and chewy for days!
The bits of walnut add crunch while the oats and plump cranberries keep the centers soft and perfectly chewy.
Ingredients at a Glance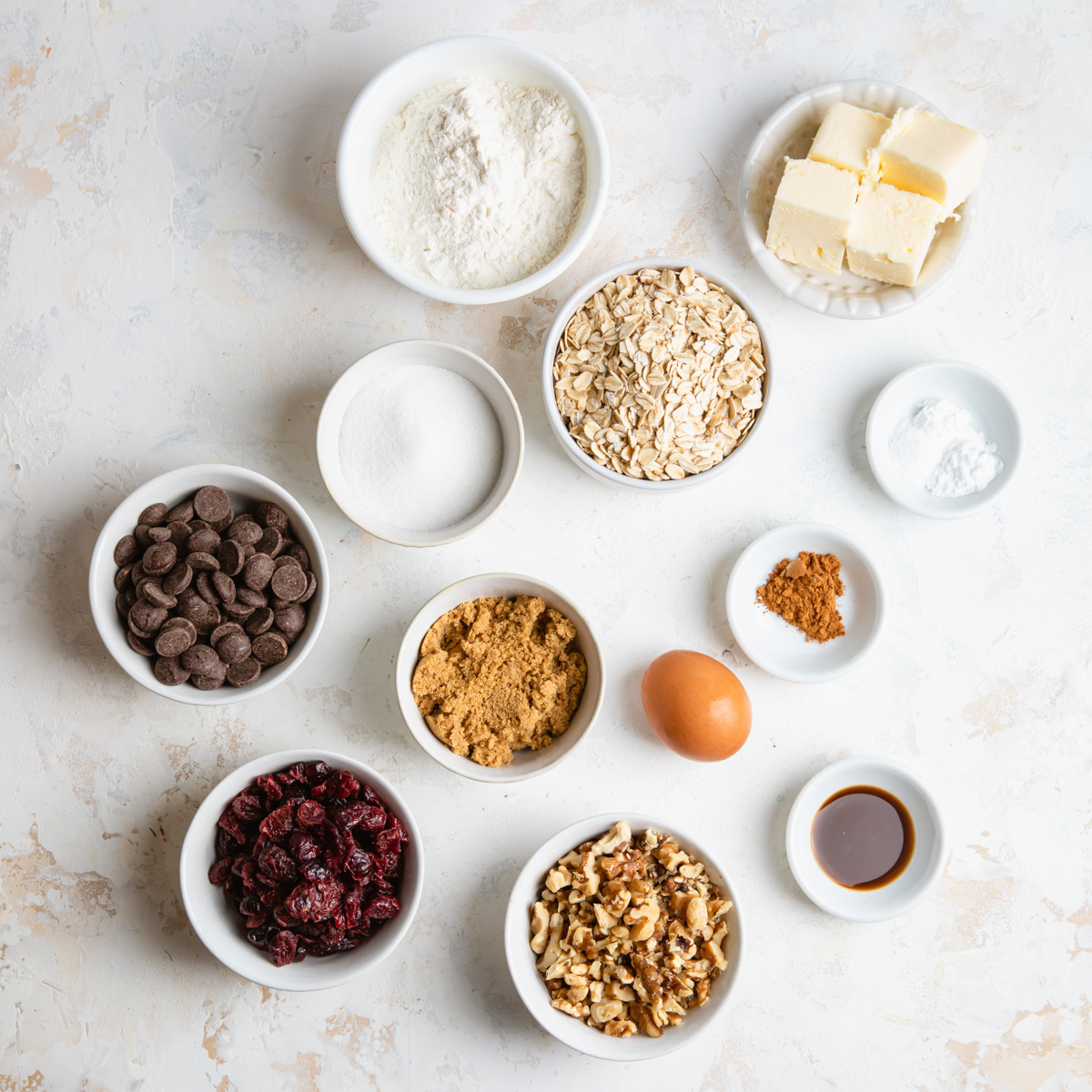 Dried Cranberries: Personally, I think dried cranberries are far superior to raisins - adding both sweet and tart flavors to the cookies.
Dark Chocolate Chunks or Chips: Bits of chopped chocolate created melty puddles throughout, but you may opt for chocolate chips instead.
Walnuts: These cookies have toasted walnut pieces. Various other nuts or seeds, like pecans and pumpkin seeds, would work as well.
Brown Sugar: Brown sugar adds flavor and browning in these cookies and help keep the centers moist and chewy.
White Sugar: White sugar helps the cookies spread so that they aren't too thick or dense.
Rolled Oats: Use old fashioned oats, not instant, in this recipe.
Unsalted Butter: The butter will be partially melted in the recipe, so no need to let it come to room temperature first.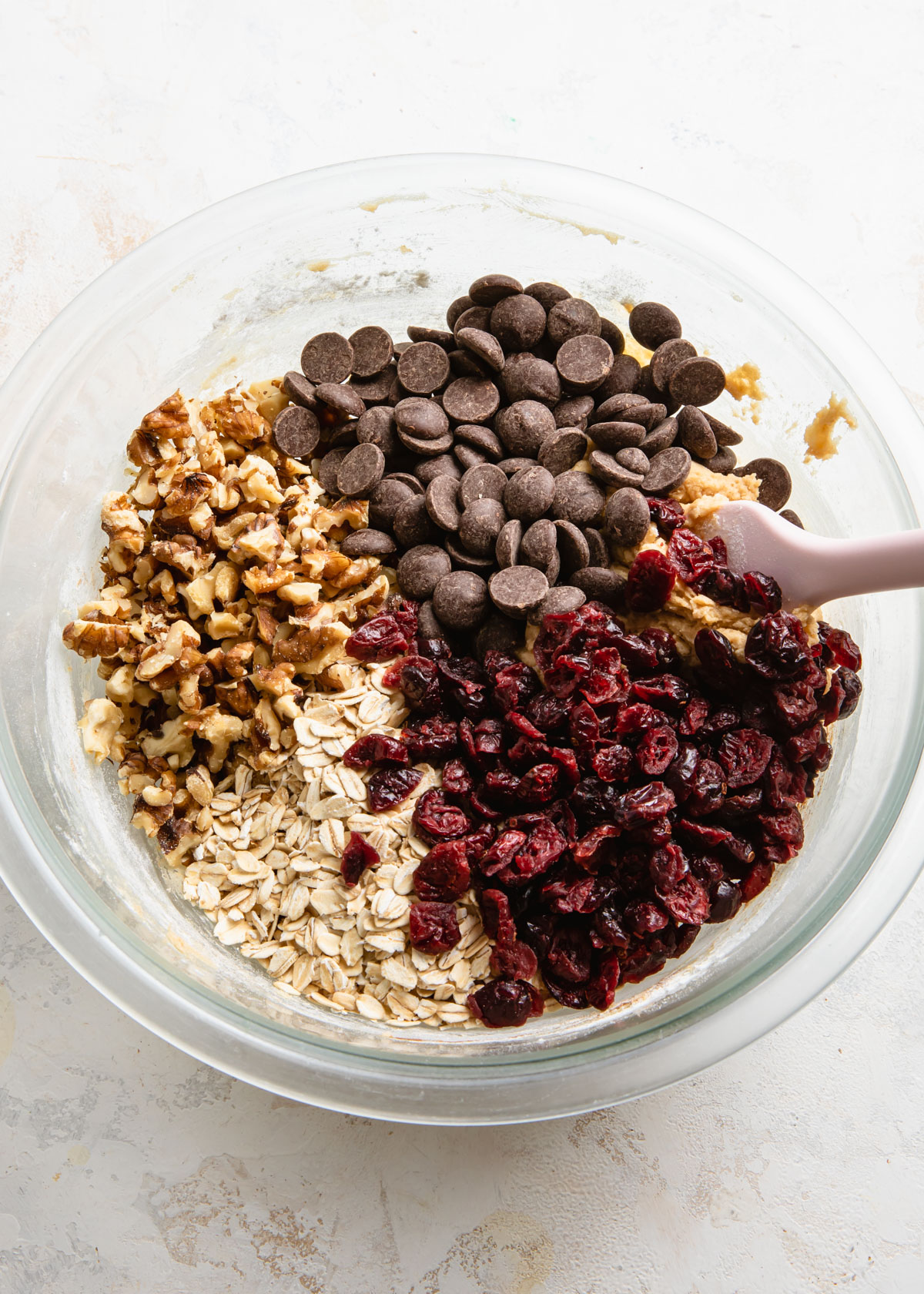 How to Make Oatmeal Craisin Cookies
This stir-together cookie recipe comes together in a large bowl. Mix super soft butter with a wooden spoon or spatula - no mixer required!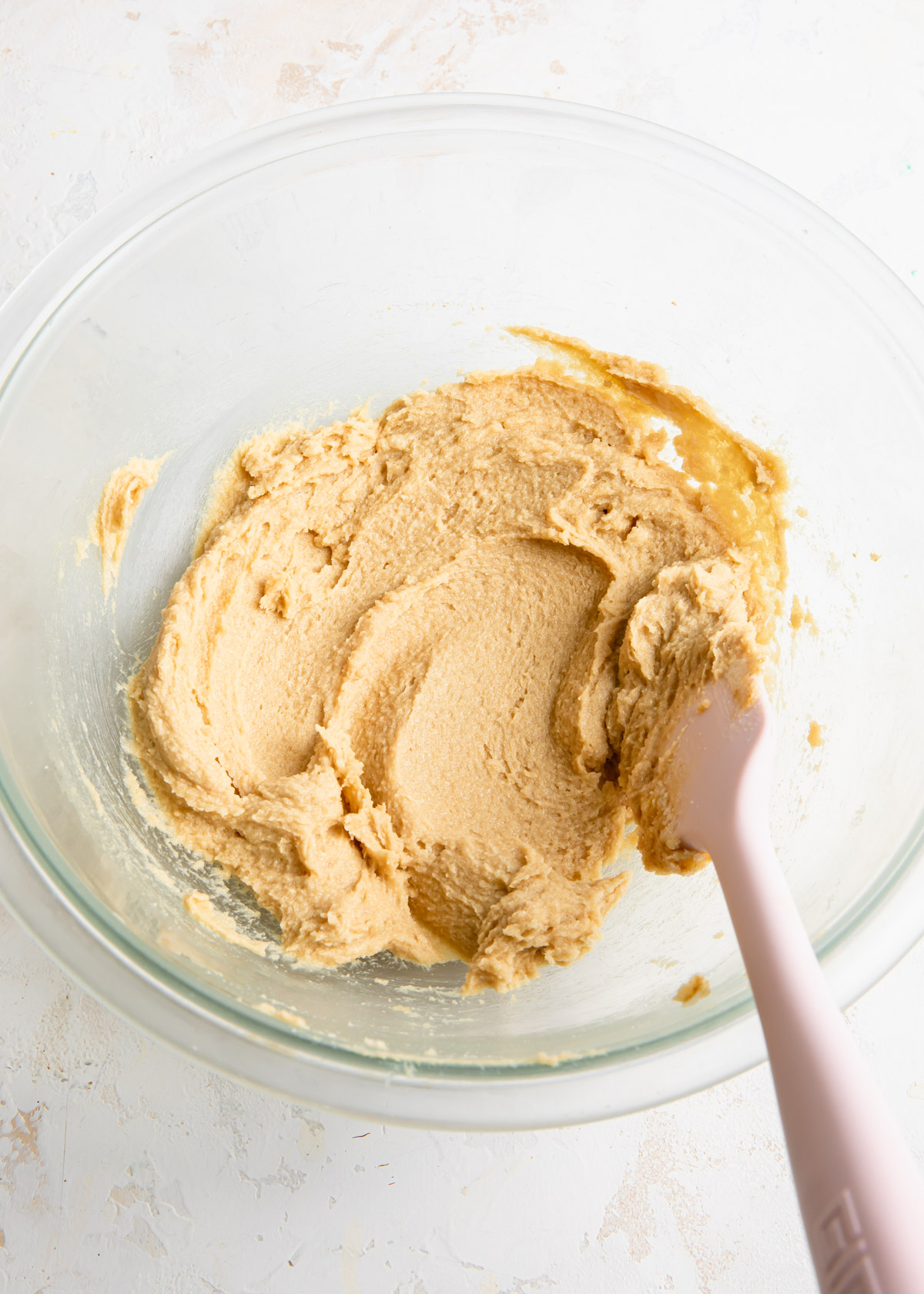 Partially melt the butter so that it is soft enough to stir by hand with the sugar.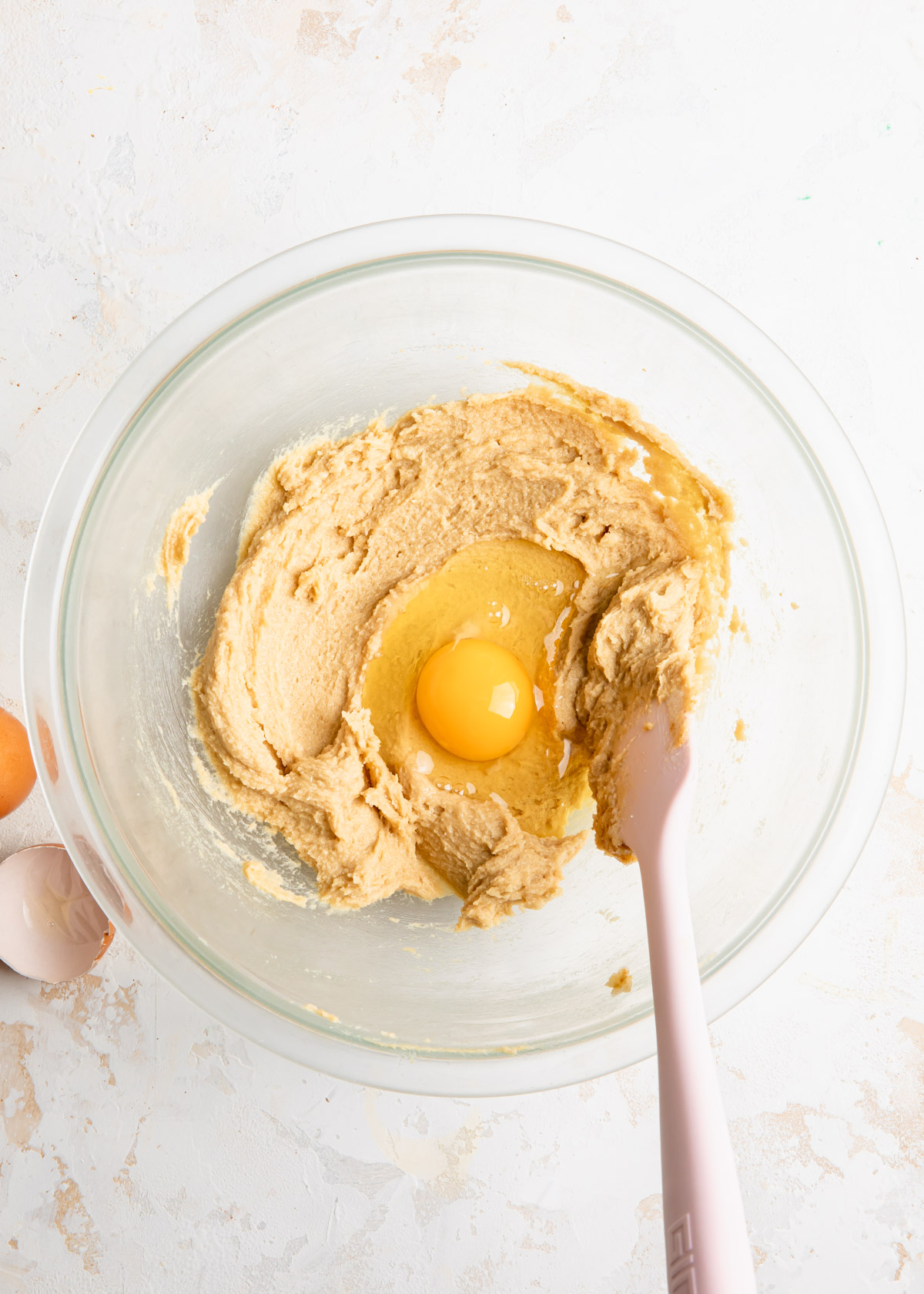 After the butter is mixed with the sugar, stir in the eggs.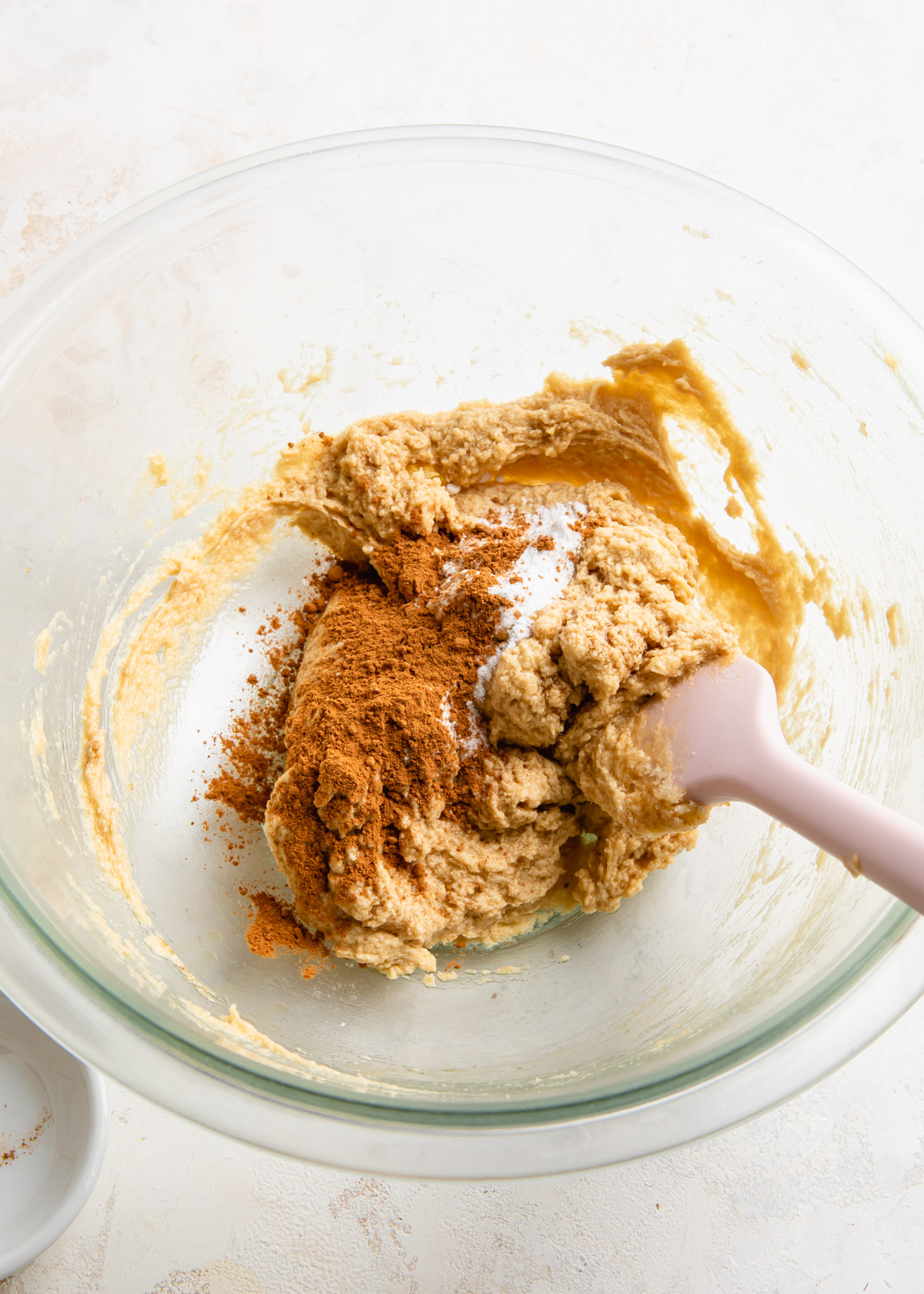 Begin adding in the dry ingredients to form the dough.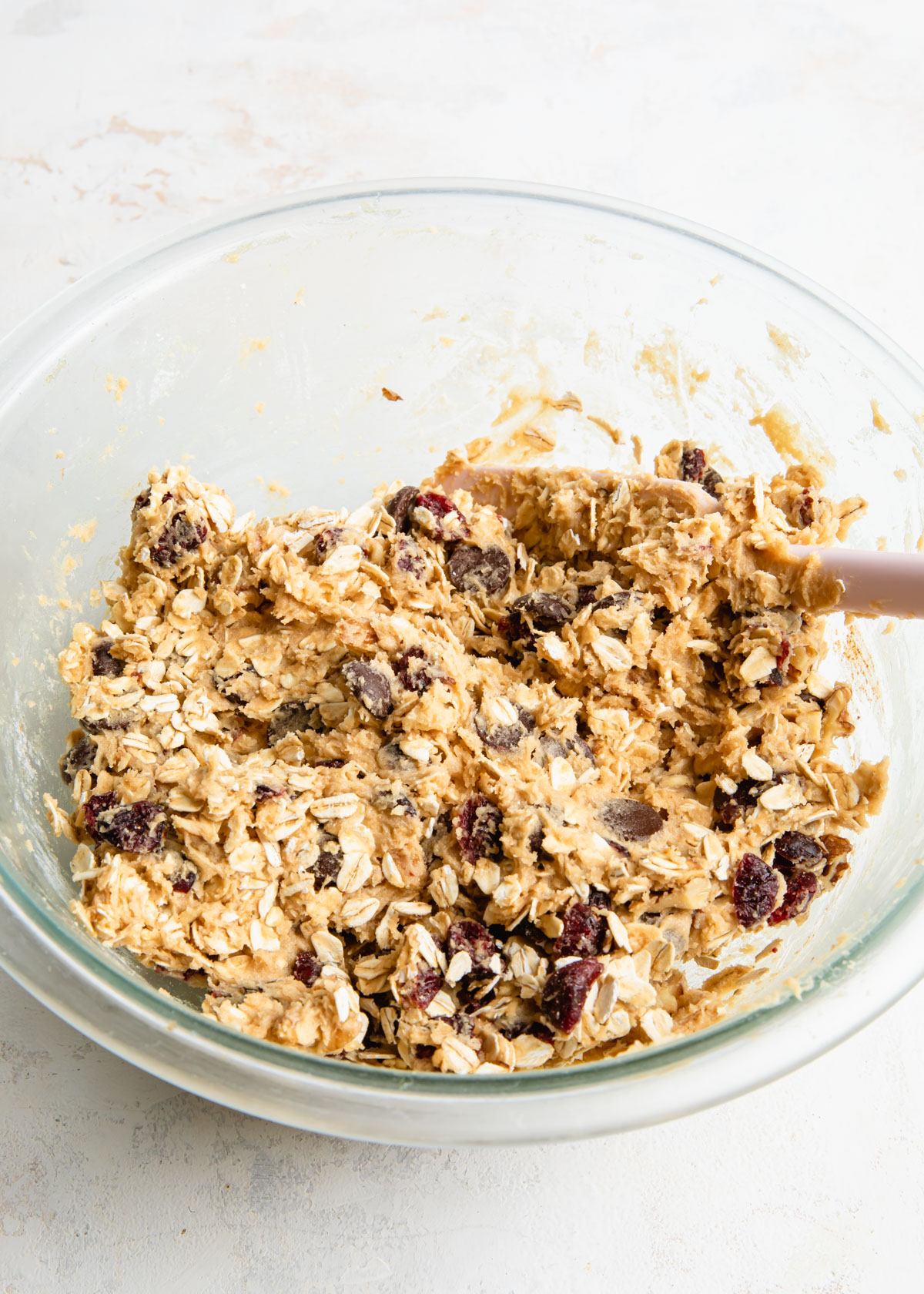 Add the mix-ins (oats, cranberries, nuts, and chocolate) and full to combine.
This dough is ready to scoop and bake immediately after mixing. Flatten slightly for the best texture and slight spread.
Tessa's Tips
Used rolled oats, not instant.

Rotate the baking sheet halfway through baking. Bang the bottom of the sheet on the oven rack when rotating and once done baking to encourage the centers to collapse.

Feel free to swap in different mix-ins. You should have 1 ½ cups total of mix-ins (not including chocolate chips, if using)
Do you have to flatten oatmeal cookies before baking?
I definitely recommend gently pressing the balls of dough down with the palm of your hand before baking. This makes for the best texture without being thick and hard.
Oatmeal Craisin Cookie Recipe Video
Oatmeal Cookie Variations
These cookies were inspired by my Trail Mix Cookies from a few years ago. I like the idea of swapping in different nuts, seeds, and dried fruit to make different variations.
Only have pecans or prefer seeds to nuts? Toss those in too! Some other flavor ideas include: dried cherries/chopped almonds/white chocolate; salted pumpkin seeds/sesame seeds/dark chocolate; sultanas/roasted hazelnuts/milk chocolate.
I originally made these cookies as extra-large. They also bake beautifully as a more modest, medium size.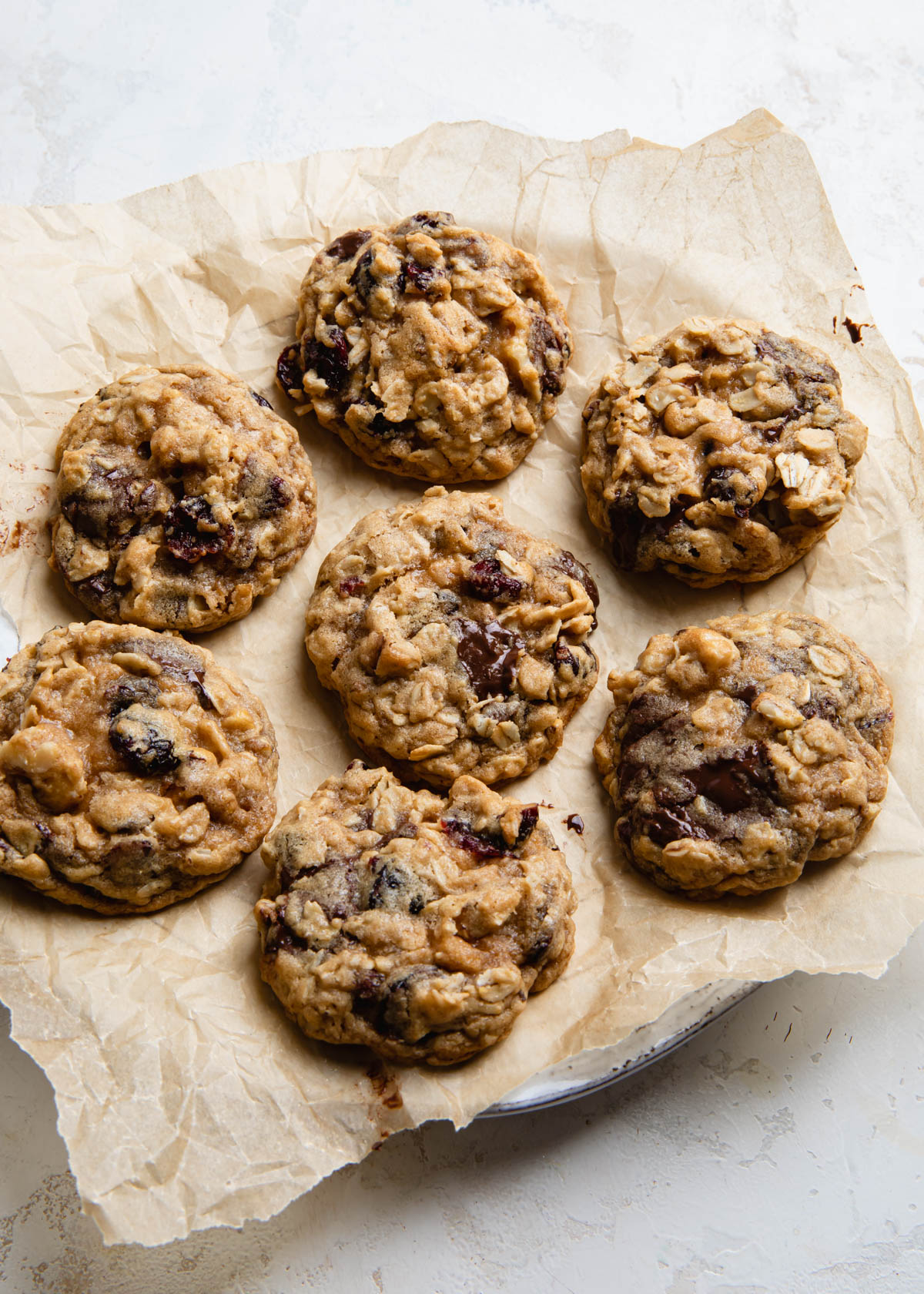 Serving and Storage
For the best texture, enjoy these cookies after they cool. The centers will remain soft while the edges will be slightly crisp.
Store leftover cookies in an air-tight container at room temperature for up to 4 days.
Freeze cooled cookies in a zip-top plastic bag in the freezer for up to 3 months.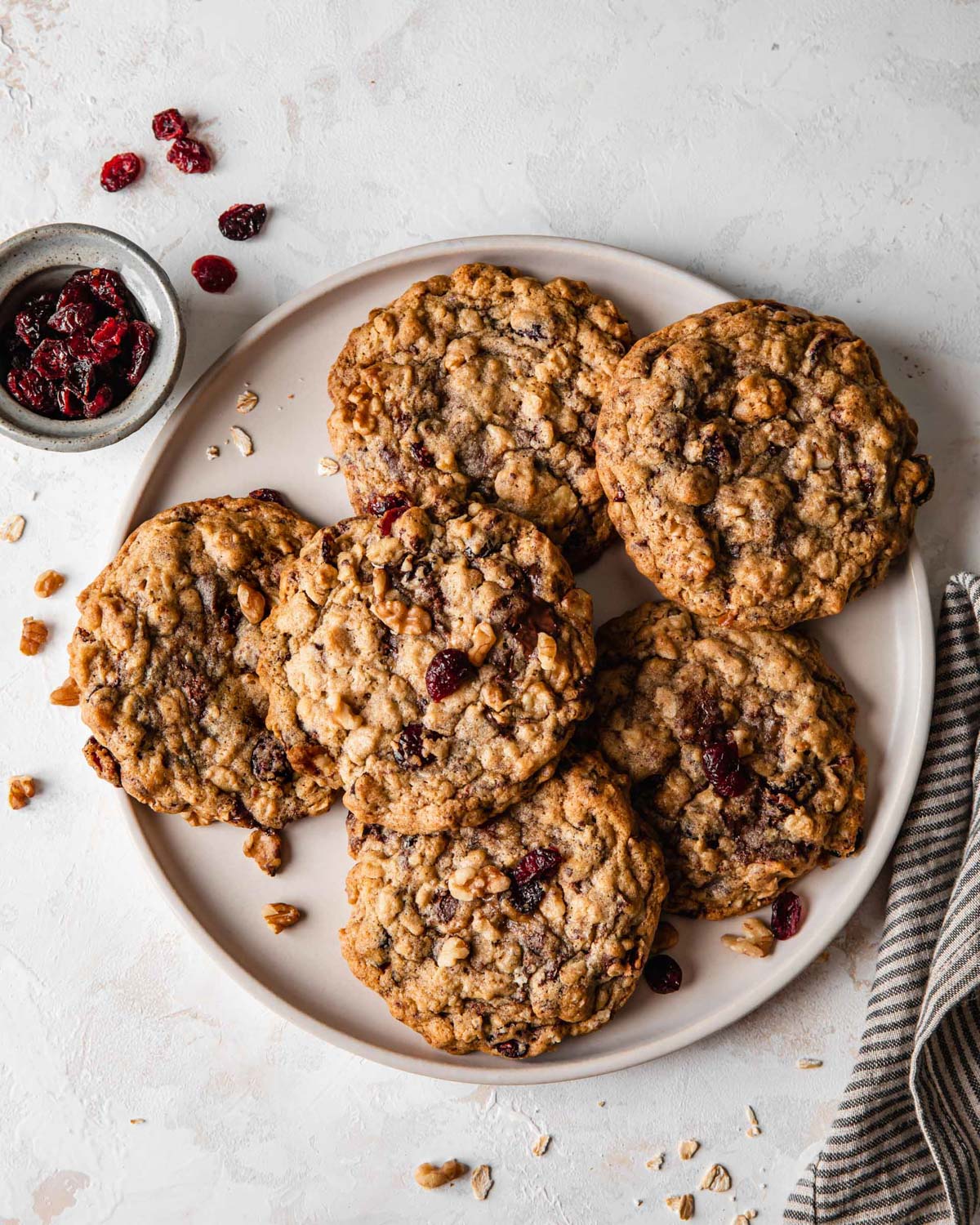 Tips for Baking with Kids
We can all thank my children for these Giant Cranberry Oatmeal Cookies. This recipe is perfect for baking with kids because there are so many opportunities to toss things in.
They take turns adding in the different ingredients - oats, cranberries, walnuts, chocolate. Pre-measuring ingredients then letting the kids toss them in keeps everyone involved.
It was their idea to add the chocolate (of course), and the cookies are even better for it. Again - don't have all the exact mix-ins? Toss in whatever you have to make your own combination!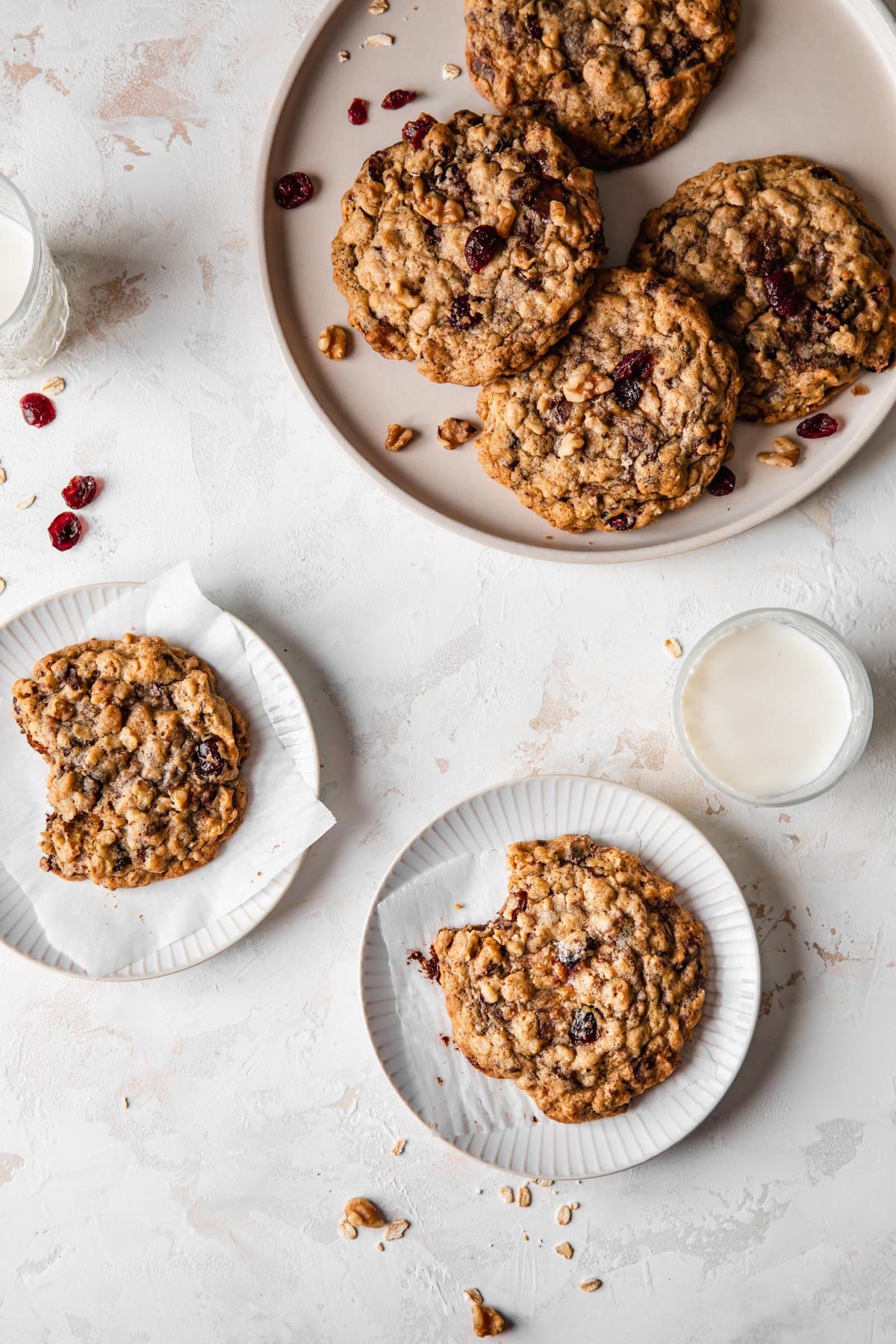 Even More Cookies to Bake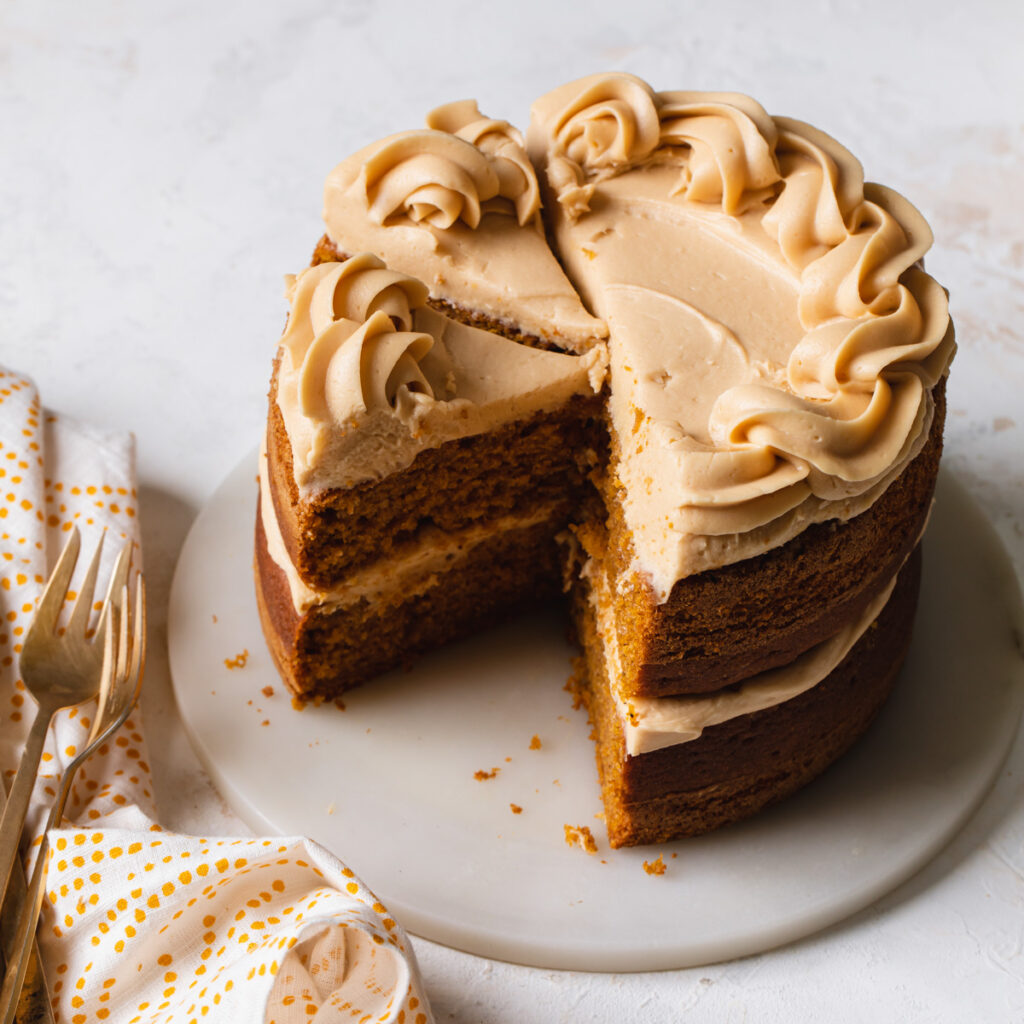 Join the Style Sweet Bake Club!
Get exclusive recipes and articles sent straight to your inbox. Become a subscriber today! Click to join.
Recipe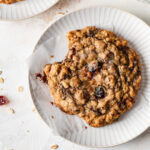 Print Recipe
Giant Cranberry Oatmeal Cookies
Swap traditional raisins for plump, tart dried cranberries in these moist, chewy Giant Cranberry Oatmeal Cookies.
Ingredients
Giant Cranberry Oatmeal Cookies
1

cup

all-purpose flour

½

teaspoon

baking soda

¼

teaspoon

baking powder

½

teaspoon

salt

½

teaspoon

cinnamon

½

cup

unsalted butter

6

tablespoon

granulated sugar

6

tablespoon

brown sugar

1

large egg

1

teaspoon

pure vanilla extract

1

cup

rolled oats

¾

cup

dried cranberries

¾

cup

chopped walnuts

toasted

3

oz

chopped dark chocolate
Instructions
Giant Cranberry Oatmeal Cookies
Preheat the oven to 350°F. Line two baking sheets with parchment paper and set aside. Whisk the flour, baking soda, baking powder, salt, and cinnamon together. Set aside.

Place the butter in a microwave-safe bowl and heat in 20 second intervals until the butter is very soft but not all the way melted. Pour the butter into a bowl of a stand mixer fitted with the paddle attachment (or a mixing bowl and hand mixer) and add in the granulated and brown sugars. Mix on medium until combined. The butter might still be warm but shouldn't be hot to the touch.

Add the egg and vanilla and mix until combined.

Working in two batches, and half of the flour mixture in at a time. Mix on low until just barely combined (some streaks of flour will remain). Add the oats and mix to combine. Add in the cranberries, walnuts, and chocolate. Mix on low until incorporated.

Scoop the dough into 6 tablespoon balls (I used a 3 tablespoon scoop and piled them on top of each other). Alternatively, weigh the dough into about 3 ounce portions. You should get about 8 portions of dough. Evenly space out the dough on the two sheets, at least 3 inches apart, and pat down flat.

Bake in the oven for 13 to 15 minutes. When done, the edges should have some browning and feel firm while the centers will still be soft. Rotate the pans halfway through baking, banging the bottom of the pans against the oven racks at this time and at the end of baking to encourage the centers to collapse and spread.

Cool cooking on their baking sheets for 5 to10 minutes, then transfer them to a wire rack.