This Lemon Icebox Cake is made up of fluffy whipped cream layered with graham crackers, tangy lemon curd, and fresh raspberries. It sets up in the refrigerator for an easy, no-bake summer dessert.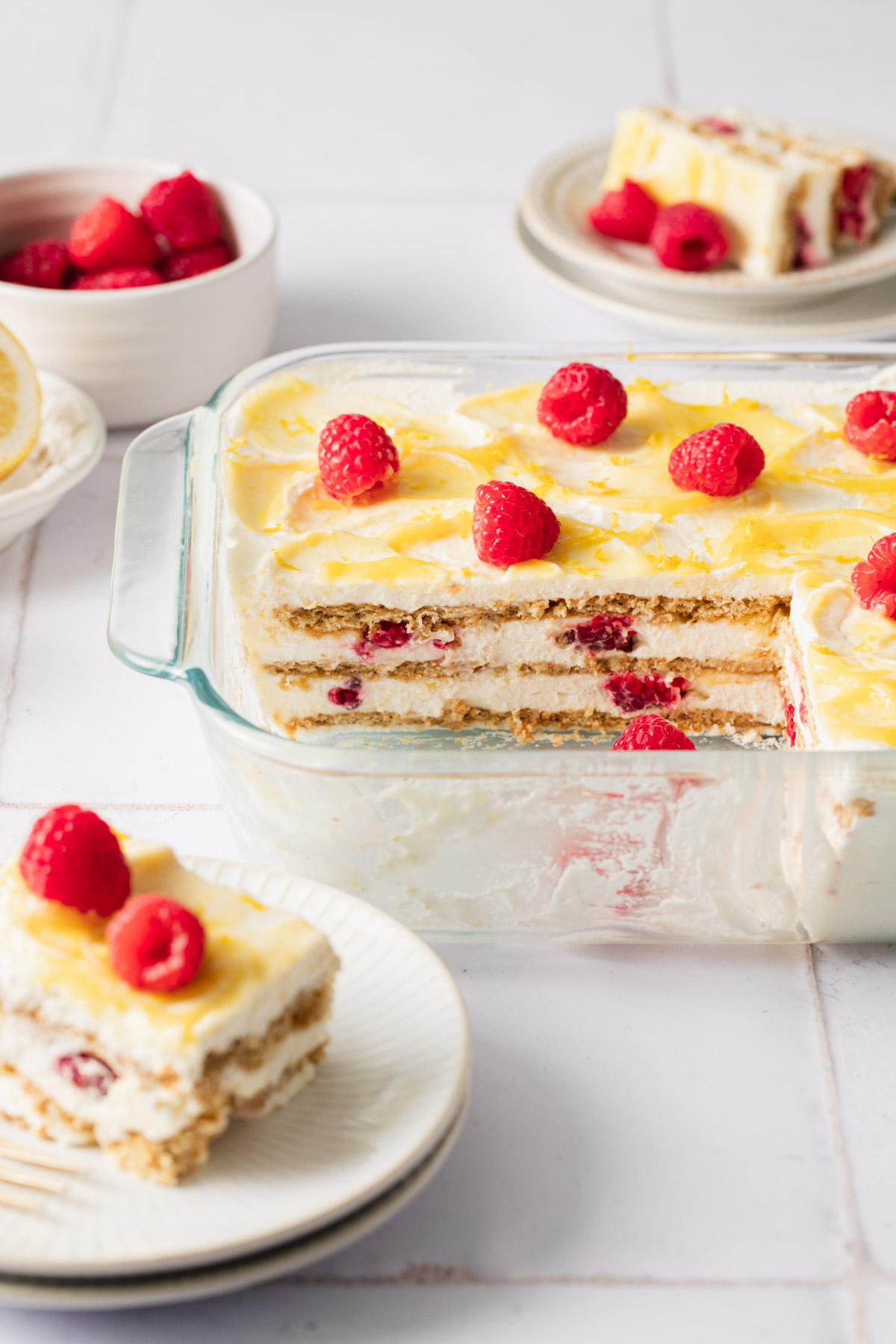 Why We Love This Lemon Icebox Cake
When you don't want to turn on your oven, make this easy, no-bake Lemon Icebox Cake. This recipe is perfect for the peak of raspberry season and uses raspberries both between the layers and on top of the icebox cake.
The lemon curd and fresh raspberries make a tangy and delightful pair. Altogether, this recipe is creamy and refreshing. It is incredibly low-effort but full of flavor and nostalgia.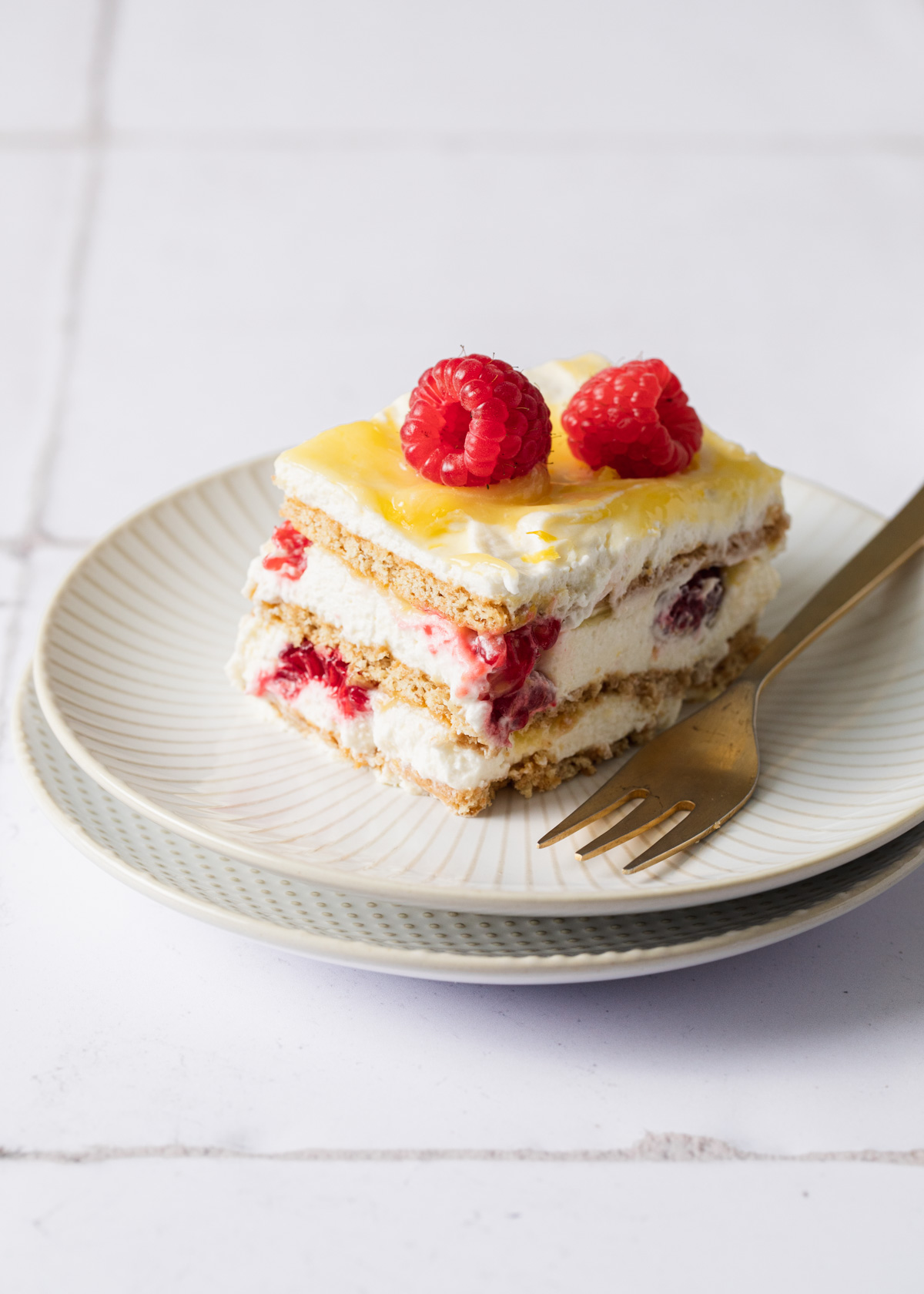 What is an Icebox Cake?
An icebox cake is a retro dessert that layers together wafer cookies or graham crackers with a creamy element. After time spent in the refrigerator, or icebox, the cookies soften and become spoonable and cake-like.
Since they need to be stored in the refrigerator until serving, icebox cakes are the perfect make-ahead dessert. When ready to eat, they are sliced straight out of the baking dish.
Icebox cakes are infinitely customizable. You can use chocolate cookies, graham crackers, or ladyfinger biscuits. Add soft or sliced fruit, cookie crumbles, or dizzles of caramel for added flavor and texture.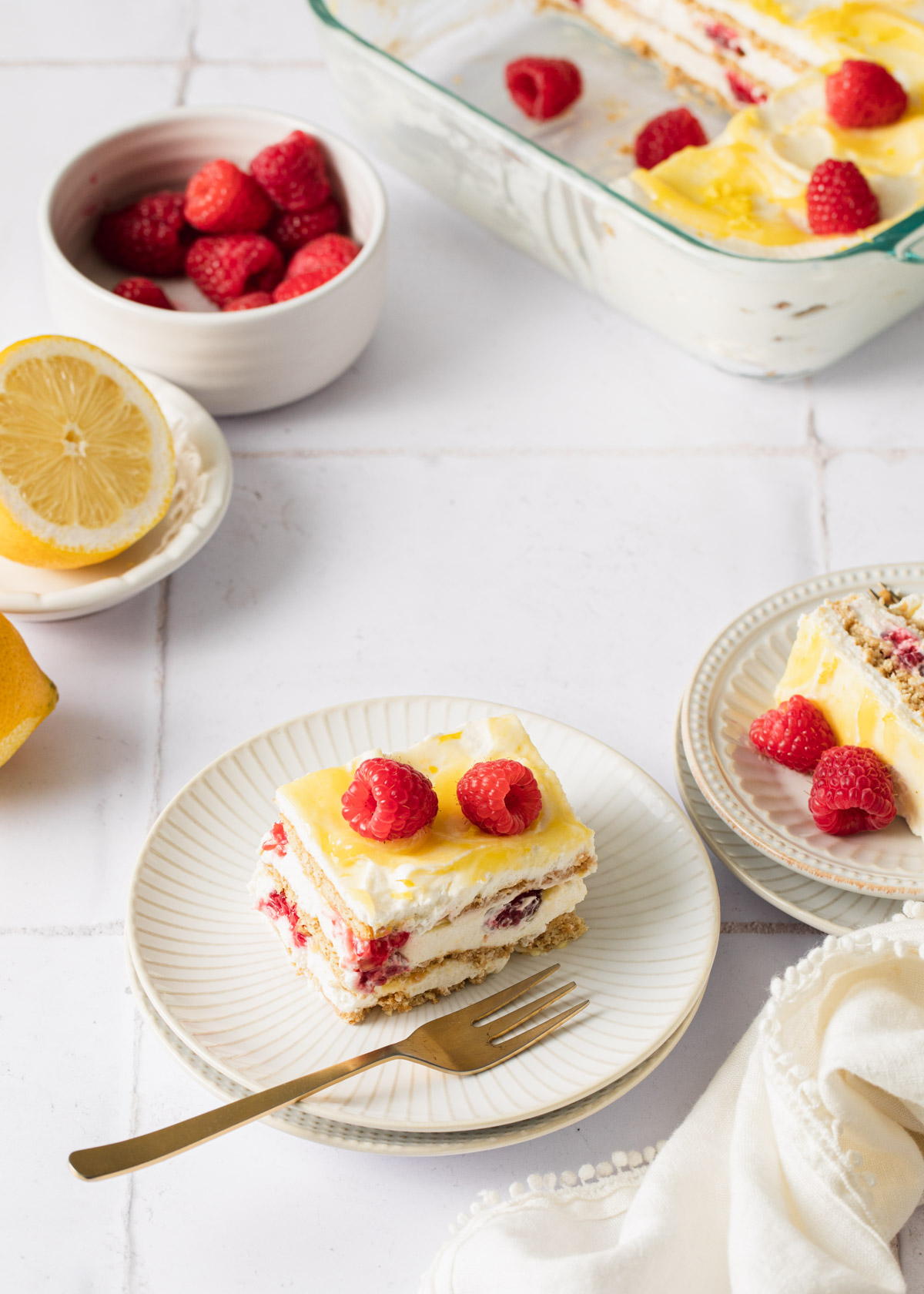 Ingredients at a Glance
Here are some of the ingredients needed beyond basic pantry staples:
Graham Crackers - classic Honeymaid work well here, but other wafer cookies would be fine. Sheets of graham crackers easily fit in square and rectangular pans.

Heavy Cream - look for a heavy cream that is between 33 and 35% milk fat. Keep the cream cold before whipping.

Lemon Curd - use store-bought or homemade lemon curd for added flavor and punch!

Fresh Raspberries - soft fruit, like raspberries, make serving this icebox cake easy. Use fresh raspberries instead of frozen.
Learn how to make your own lemon curd!
FAQ
What can I substitute for the graham crackers?
Instead of graham crackers, you may try Nilla wafers, ladyfingers, or chocolate wafer cookies. Graham crackers are preferred because their shape easily fits square and rectangular baking pans. Different cookies may take longer to soften in the refrigerator.
Can I use different fruit?
You may use other soft or sliced fruit instead of the raspberries. Try thinly sliced strawberries, mango, or diced peaches.
Can I double the recipe?
This recipe is made for an 8 X 8-inch square pan. You may double the ingredients to fit a 9 X 13-inch pan.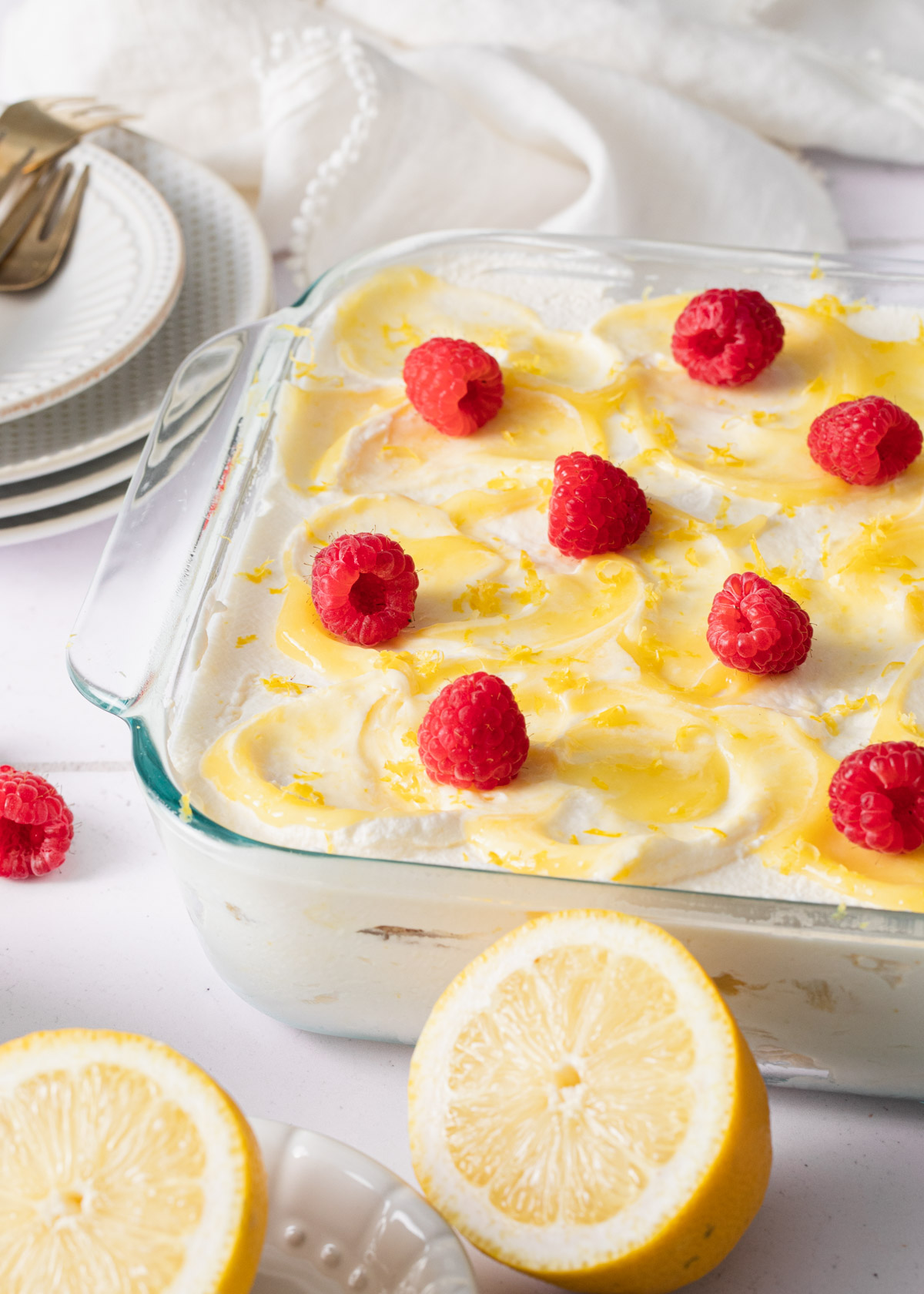 How to a Make Lemon Icebox Cake
To make an icebox, start by whipping heavy cream until it holds stiff peaks.
Next, spread a thin layer of whipped cream on the bottom a baking pan and cover it in a layer of graham crackers - fitting the sheets in like puzzle pieces.
Continue adding layers of cream, swirls of lemon curds, pieces of fresh raspberries, and graham crackers - ending with a whipped cream layer.
Chill the icebox cake in the refrigerator for at least 4 hours, or until the crackers have softened.
Serve straight from the pan and enjoy!
Notes and Storage
The icebox cake needs at least 4 hours to set up in the refrigerator, so plan accordingly.

If making in advance, save the last layer of raspberries and lemon zest for until serving. Wrap the top with plastic and store overnight in the refrigerator.

This icebox cake is best served within 3 days of assembly.

The first slice will be inevitably difficult to serve but equally delicious!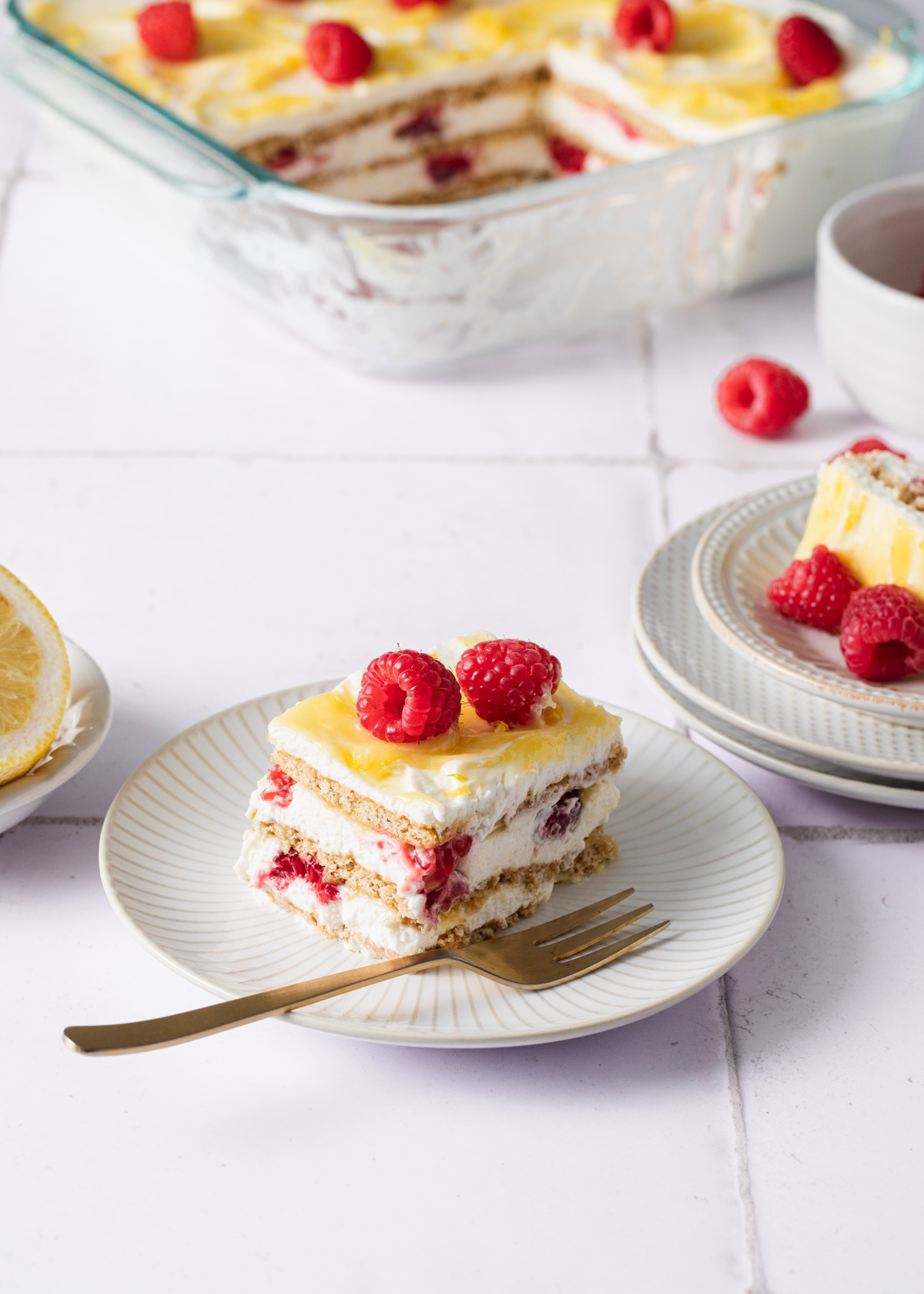 More No-Bake Recipes to Try
Recipe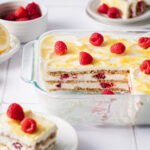 Print Recipe
Lemon Icebox Cake
This Lemon Icebox Cake is made up of fluffy whipped cream layered with graham crackers, tangy lemon curd, and fresh raspberries.
Ingredients
1 ¼

cups

prepared Lemon Curd

1 ¾

cups

heavy cream

⅓

cup

confectioners' sugar

1

teas

pure vanilla extract

12

full sheets graham crackers

½

pint

fresh raspberries

½

lemon, zested
Instructions
Place the heavy cream in a large mixing bowl. Using a hand mixer fitted with the whisk attachment (or with a stand mixer), whip the cream until it begins to thicken slighlty.

Add the confectioners' sugar and vanilla. Continue to whip the cream until it holds stiff peaks.

Add half of the lemon curd to the whipped cream and fold together with a spatula.

Spread a very thin layer of the whipped cream on the bottom of an 8 X 8-inch square baking pan.

Place graham crackers in a single layer across the bottom of the pan - fitting them in like puzzle pieces.

Divide the whipped cream mixing into thirds. Dollop ⅓ of the cream on top of the graham crackers and use an offset spatula to spread it out until smooth.

Dollop a few tablespoons of the lemon curd on top and use the back of a spoon to swirl it around.

Dot the top of the lemon curd with ⅓ of the raspberries. Tear larger berries in half.

Add the next layer of graham crackers and repeat with the remaining ingredients.

For the top layer, swirl on the lemon curd then refrigerate for at least 4 hours.

Before serving, add the remaining whole raspberries on top and sprinkle with lemon zest.