Jazz up the Thanksgiving classic with these 3 Festive Pumpkin Pie Decorations! Whether you are baking a full pie from scratch or want to decorate a pre-made pie, use these three fun ideas to make an awe-worthy dessert.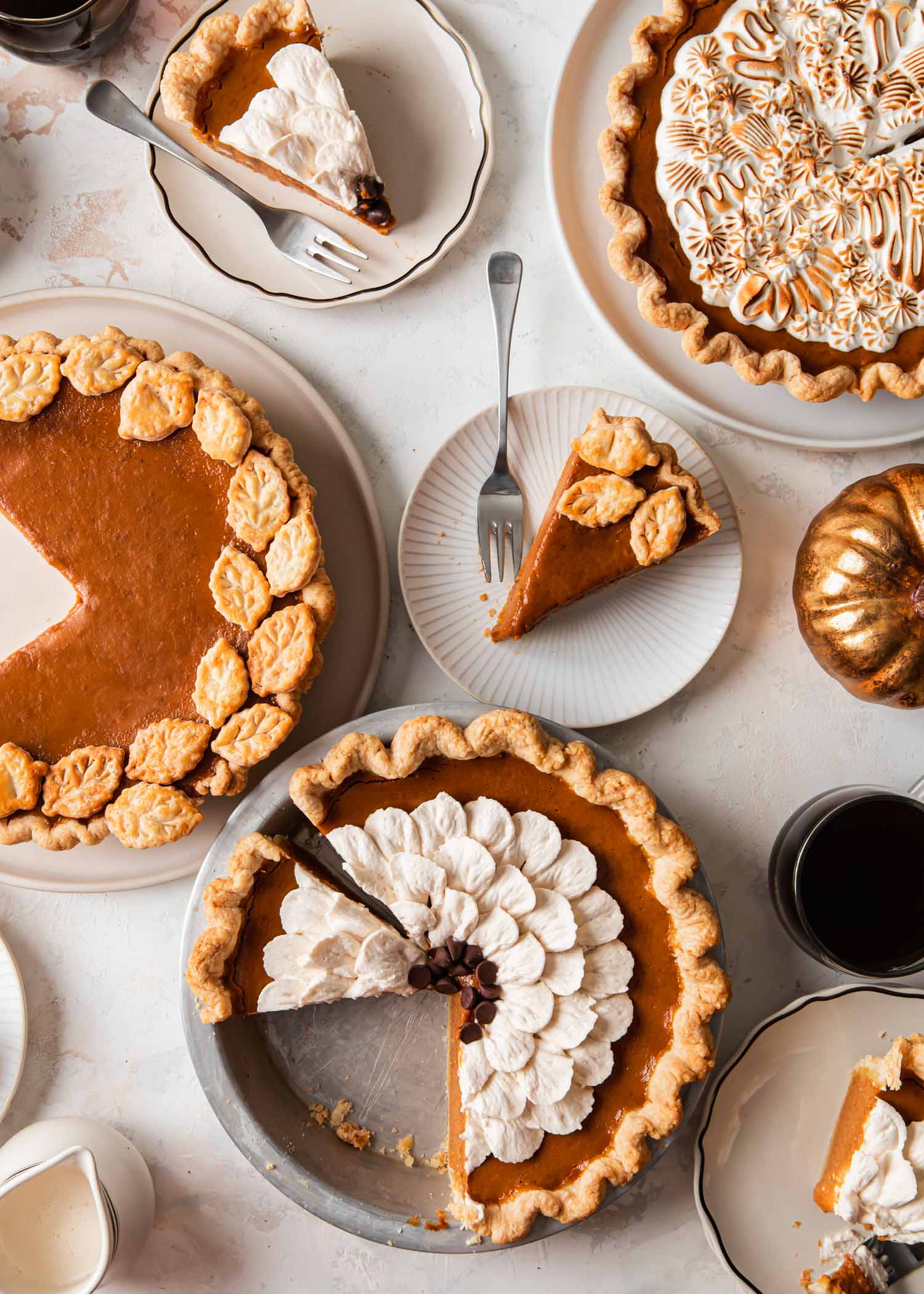 Jump to:
How to Decorate a Pumpkin Pie: 3 Ways
Store-bought or homemade, turn any pumpkin pie into a work of art!
Finish the baked pie with with a cinnamon whipped cream flower, toasted meringue, or cut-out pie crust leaves. Not only do they look amazing, but they taste delicious too!
Which one would you choose to display on your dessert table?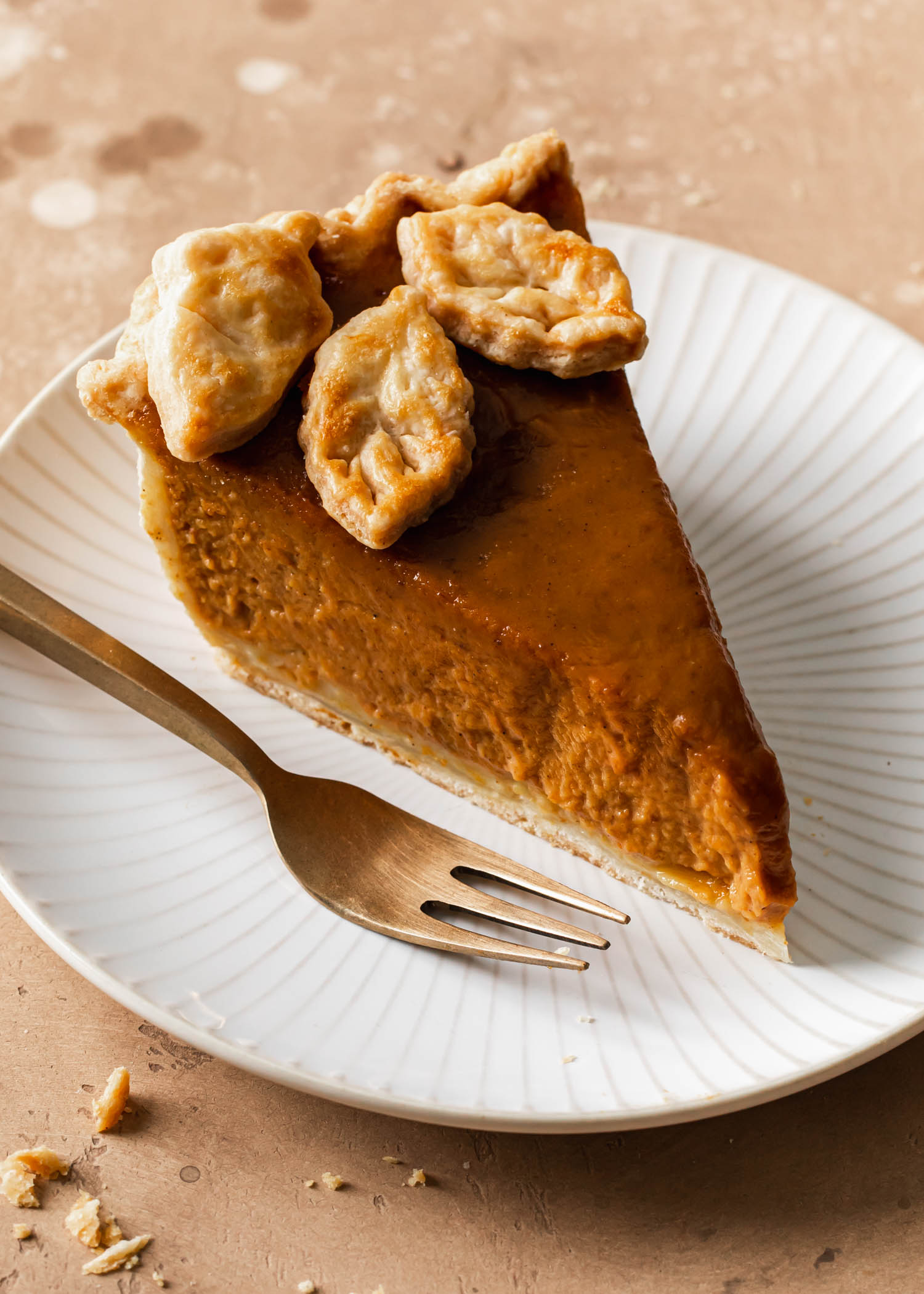 Not making your own pie this year? Well these decorations work for a pre-made pie too! Give store-bought pumpkin pie a total glow up with these tips:
How to Make a Whipped Cream Flower
This extra-large flower turns any custard pie into a show-stopper. The pattern is mesmerizing and much easier than you might think to create.
Stabilized whipped cream helps the petals keep their shape. Fill the center with anything for chocolate chips, butterscotch chips, or even roasted hazelnuts.
Use a petal piping tip to create the petals using the same technique as this Orange Salted Honey Cake. Remember to always keep the narrow end of the piping tip away from the center of the pie.
Pie Decorating Video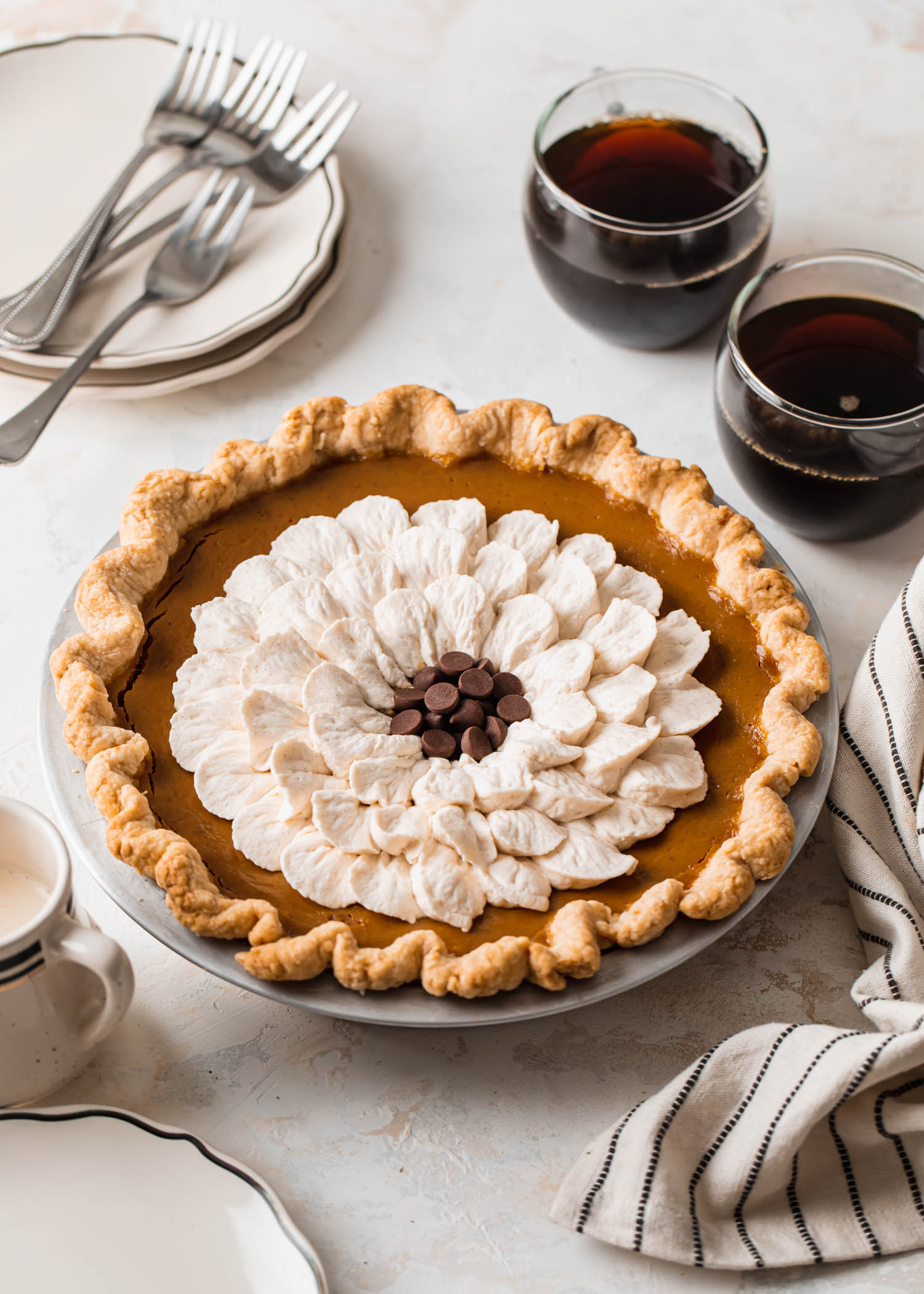 How to Make A Toasted Meringue Pumpkin Pie
They WOW-factor comes from all of the different textures of this toasted topping.
It's important to create different patterns, as the edges of the piped meringue are what will catch the flame of a culinary torch and turn brown.
Use a combination of star and petal piping tips to pie zig-zags, ruffles, bit, and bobs. Or get creative! Use whichever tips and designs you'd like!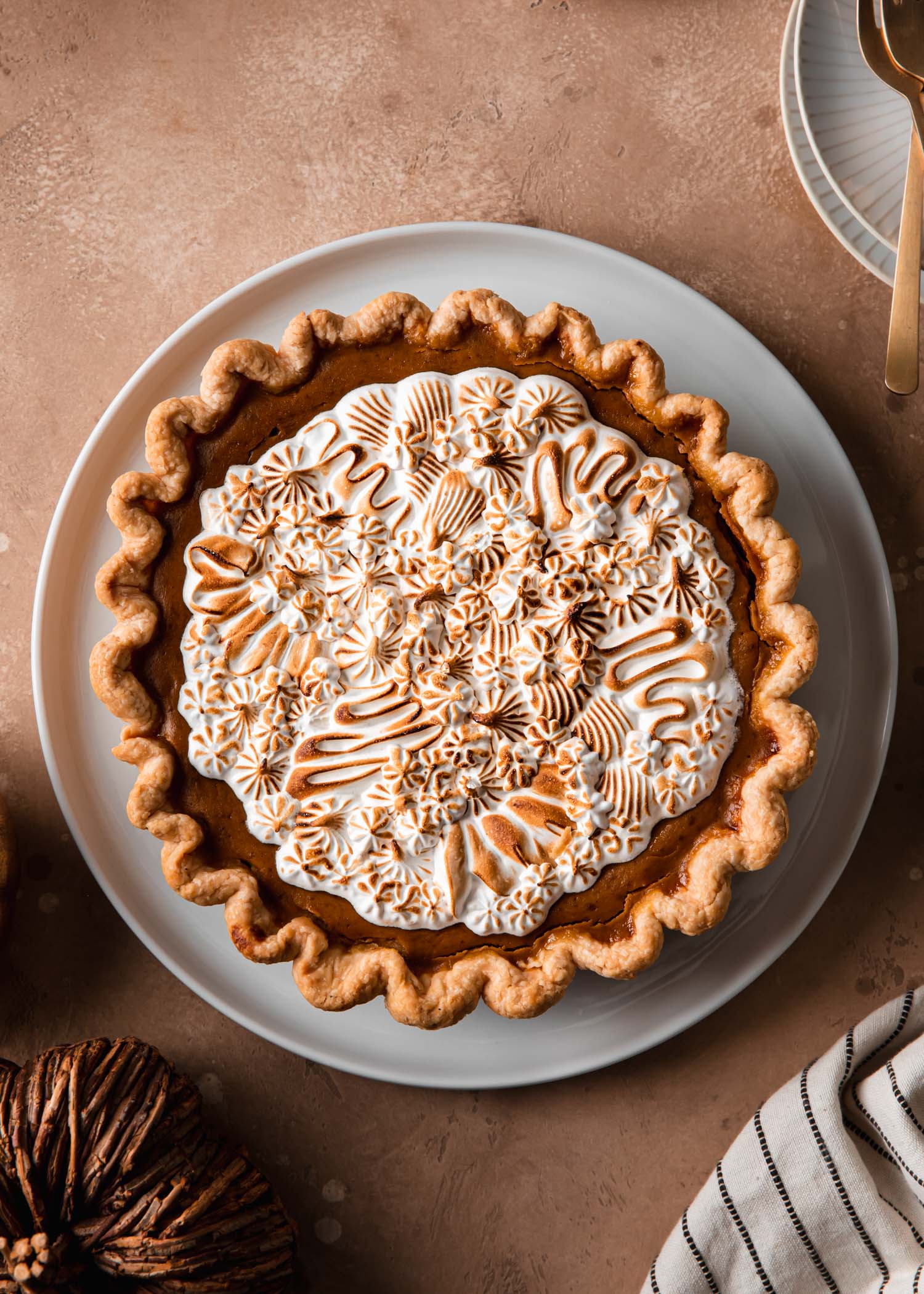 Easy Pie Dough Cut Outs
Using leftover pie dough to create edible accents is an easy way to dress up any pie. They key here is to bake the cut-outs separately from the pie.
Bake them separately so you have control over how much they brown and keeps them from sinking into the pie.
I favor plunger cookie cutters for pie crust. They add a bit more texture, like the veins on the leaves. Don't forget to add the egg wash so they bake up nice and golden brown!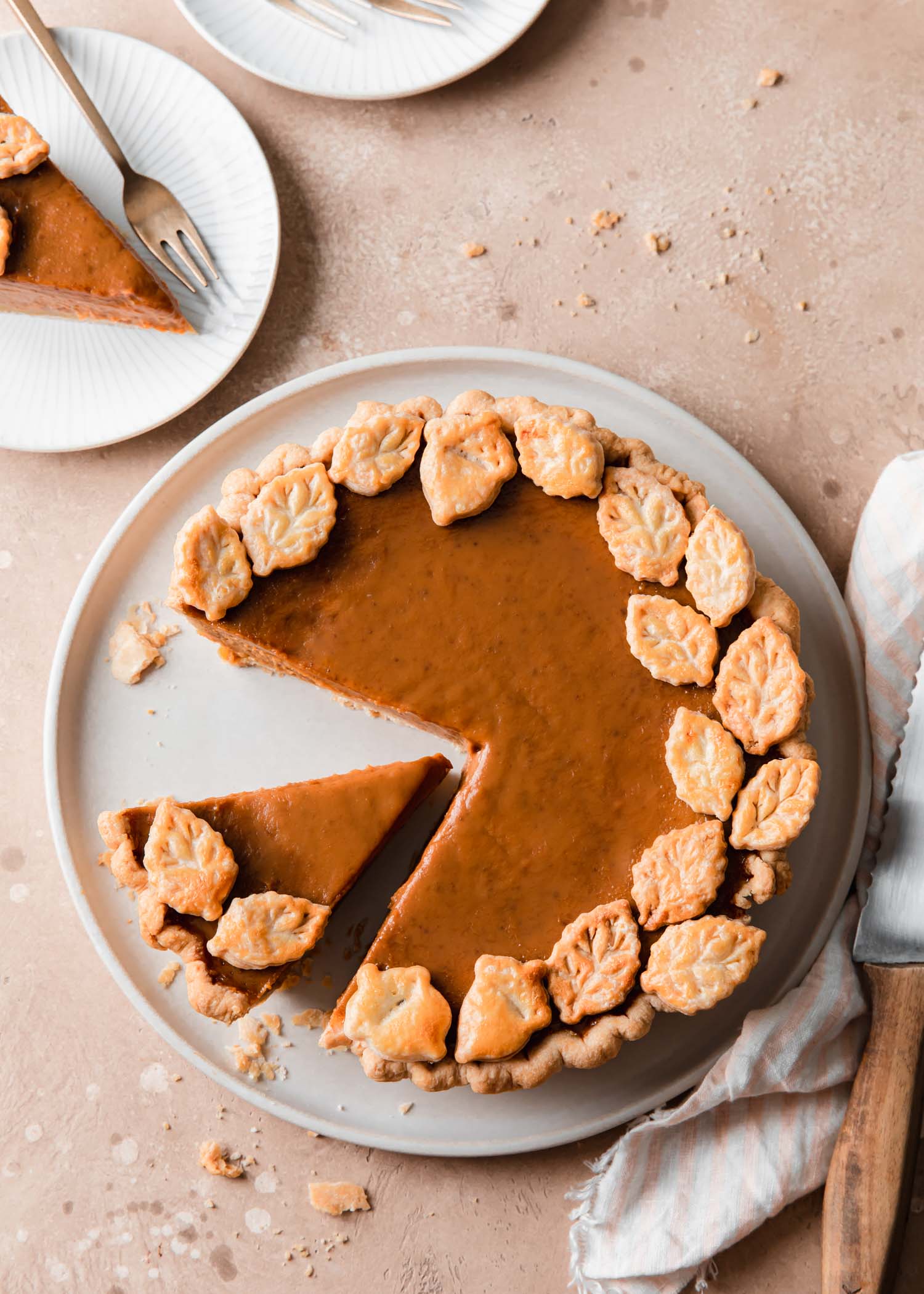 FAQ
Can I decorate a store-bought pie?
Yes, definitely! These pumpkin pie decorations are the perfect way to elevate a store-bought pie or one baked at a bakery.
Can I use store-bought pie dough?
If making the whole pie from scratch, then I definitely recommend making your own pie dough. For the pie dough cutouts, you can use store-bought dough.
Can I use store-bought whipped cream?
I don't recommend using store-bought whipped cream for the flower petal design.
Can I use egg whites from a carton?
For the best success with whipping meringue, use fresh egg whites that you separate from the whole egg. Some brands of carton egg whites work okay, but I never find the meringue to be as stable as from fresh whole eggs.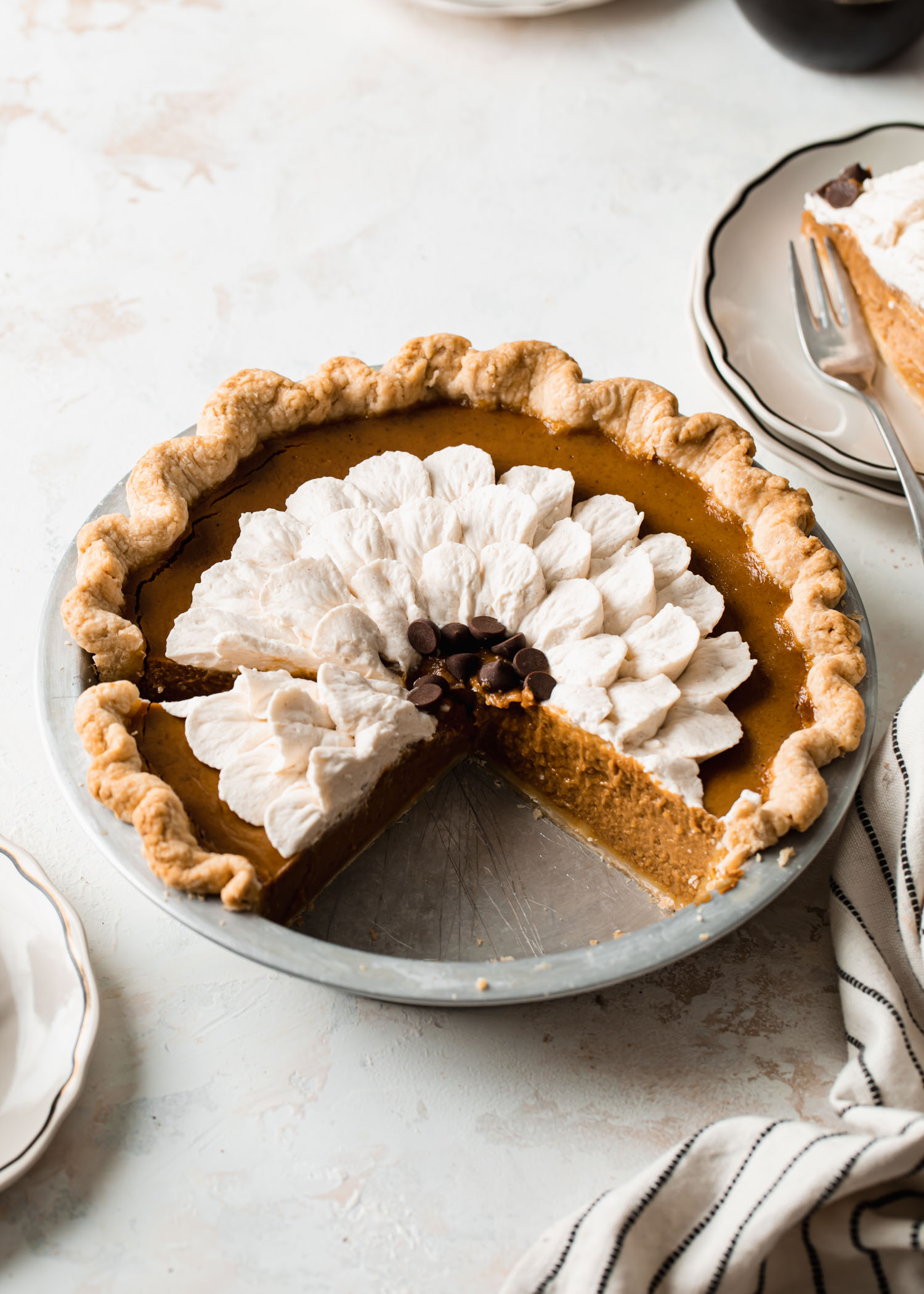 Serving and Storage
Allow baked pumpkin pie to completely cool before decorating and serving, at least 2 hours.
Homemade baked pumpkin pie should be stored in the refrigerator.
Pies topped with whipped cream or meringue (homemade or store-bought) should be stored in the refrigerator for up to 3 days.
Pumpkin pie may be served straight from the fridge. If you prefer to take the chill off, allow it to rest at room temperature for about 20 minutes (but not more than an hour or so).
Supporting Articles
Pumpkin Pie without Evaporated Milk
Use ½ of the all-butter pie dough to create a single bottom crust.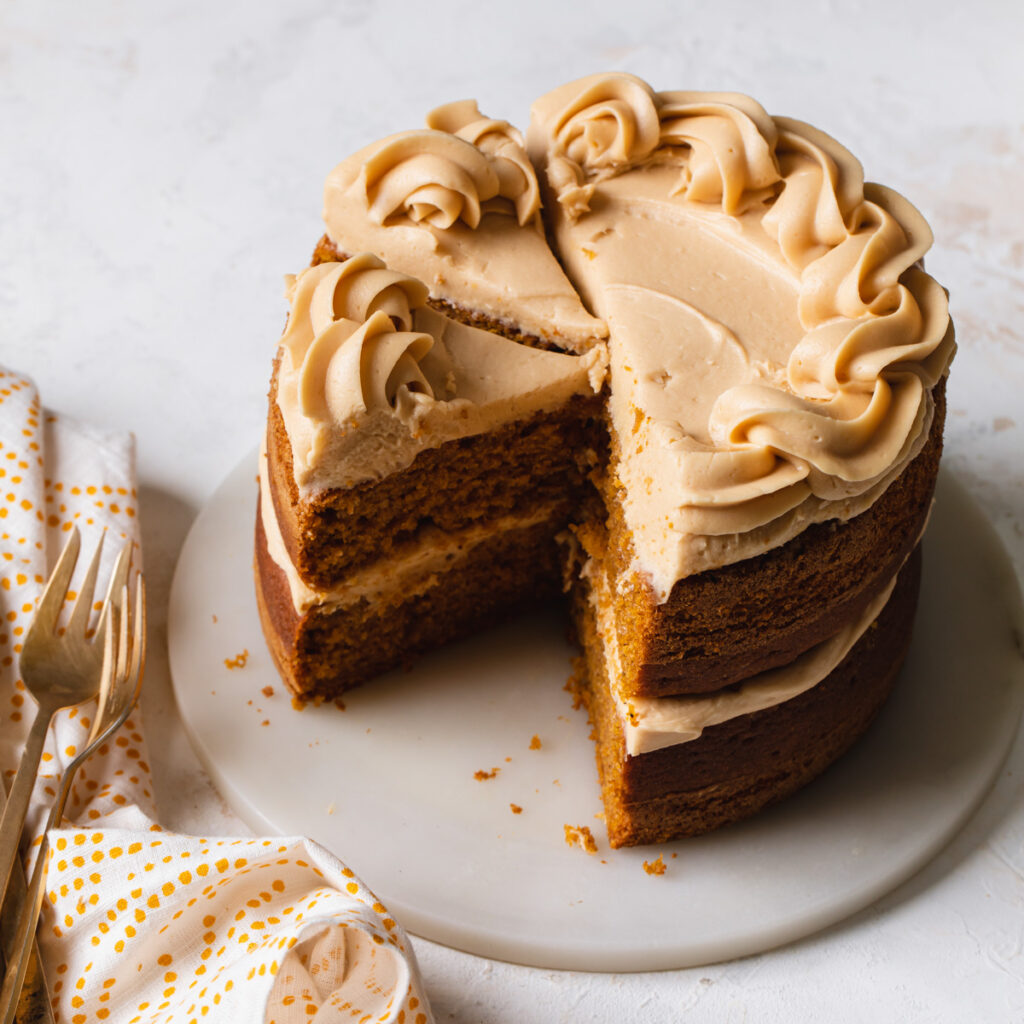 Join the Style Sweet Bake Club!
Get exclusive recipes and articles sent straight to your inbox. Become a subscriber today! Click to join.
This post was made in partnership with E.D. Smith.Thoughts and opinions are my own.
Recipe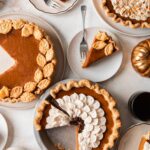 Print Recipe
Pumpkin Pie Toppings
Jazz up the Thanksgiving classic with these 3 Festive Pumpkin Pie Decorations and toppings!
Ingredients
For the Cinnamon Whipped Cream
1

cup

heavy cream

2

tablespoons

granulated sugar

2

tablespoons

cream cheese, softened

½

teaspoon

ground cinnamon

½

teaspoon

pure vanilla extract
For the Meringue Topping
2

large egg whites

⅔

cup

granulated sugar

½

teaspoon

pure vanilla extract
For the Cut-put Pie Leaves
Pie dough scraps or prepared recipes

1

egg

1

tablespoon

milk
Instructions
To Make the Cinnamon Whipped Cream
Whip cream and sugar together until soft peaks form.  Add the remaining ingredients and whip until thick and smooth.  Do not over-mix.

Fill a piping bag fitted with a large petal tip with the whipped cream.  Keeping the narrow end of the piping tip facing away from the center of a cooled pie, pipe petals around the edges of the pie.  Continue to pipe concentric circles, leaving the center open.  Fill the center of the flower with chocolate chips, butterscotch chips, sprinkles, and chopped nuts.
To Make the Meringue
Fill a saucepan with a couple inches of water and bring to a simmer.  Meanwhile, whisk together the egg whites and sugar in the bowl of an electric mixer.  Place the mixer bowl on top of the saucepan to create a double-boiler and lower the heat on the stove to maintain a simmer.  Whisking intermittently, heat the egg mixture until it reaches 160F on a candy thermometer (or until very hot to the touch).  

Carefully move the bowl back to the mixer fitted with the whisk attachment.  Whisk on high speed until the meringue returns to room temperature and holds stiff peaks, about 8 minutes.  Add the vanilla and mix until combined.

Fill two piping bags fitted with different piping tips (I used star and petal tips) with the meringue.  Pipe meringue stars, kisses, and zigzag patterns on top of the completely cooled pie. Gently toast with a culinary torch until the edges of the meringue is golden brown. 

Alternatively, pile on the meringue and swirl it around using the back of a spoon.  You want lots of texture here so the edges get all toasted and brown. Use a broiler to brown the meringue if you don't have a culinary torch.
For the Cut-Out Pie Leaves
Roll out pie dough scraps (or a second batch of pie dough) on a lightly floured surface.  Cut out leaves with cookie cutters or a paring knife.  Place the cut-outs on a lined baking sheet and chill in the refrigerator for about 15 minutes.

Meanwhile, preheat the oven to 400F.  Mix together the egg and milk to create a wash and brush over the chilled cut-outs.  Bake for about 15 minutes or until golden brown.  Place the leaves on top of a cooled pie.