Want to learn how to make macarons? We've all heard how finicky and stressful they are, so here are the best macaron tips for making perfect macarons at home.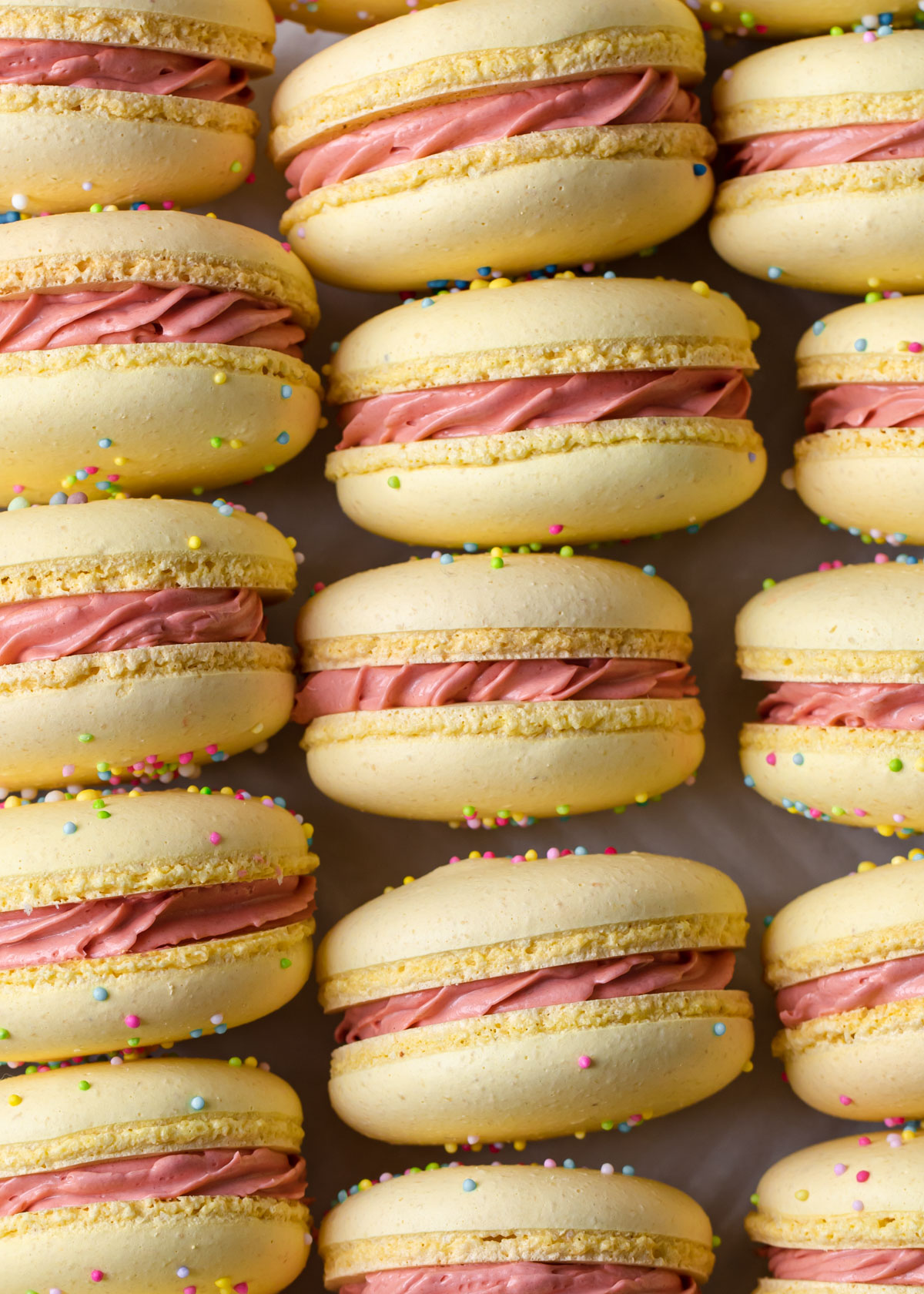 French macarons are so cute and dainty. With their little "feet" around the edges, colourful shells, and an assortment of fillings, they are easy to fall in love with. But what makes a macaron great?
A French macaron is composed of two parts: the shell and the filling. A well executed shell will be crisp on the outside and chewy in the middle. It is free from cracks and has developed feet.
They are round and uniform in shape, smooth on top, and won't be hollow inside. I know it's a lot to ask of such little cookies, but I promise you can get there with these macaron tips!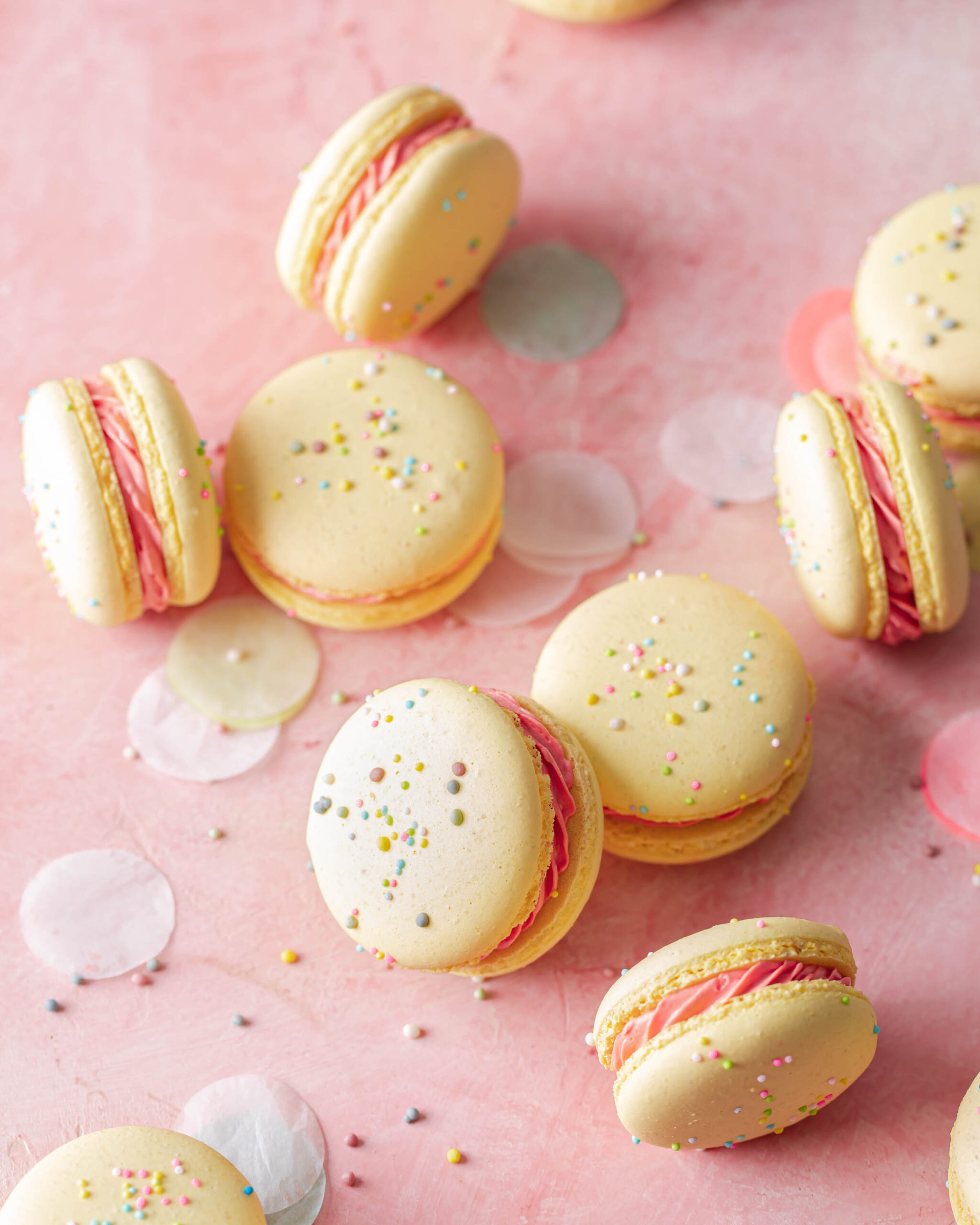 The filling is much more forgiving. Most any buttercream or frosting will do. If you'd like, pipe a ring of buttercream around the edges, then fill the centers with fruit jam, citrus curd, or chocolate ganache!
Pink Peppercorn Ganache Macarons
Macaron Tips to Master
Learn how to make a great meringue
Macaron shells are made up of almond flour and meringue (whipped egg whites and granulated sugar). No matter which type of meringue you prefer to use, make sure you have a good grasp on how to make a great meringue.
The stronger your meringue, the easier it will be to fold the ingredients together and for the macarons to keep their shape when baked.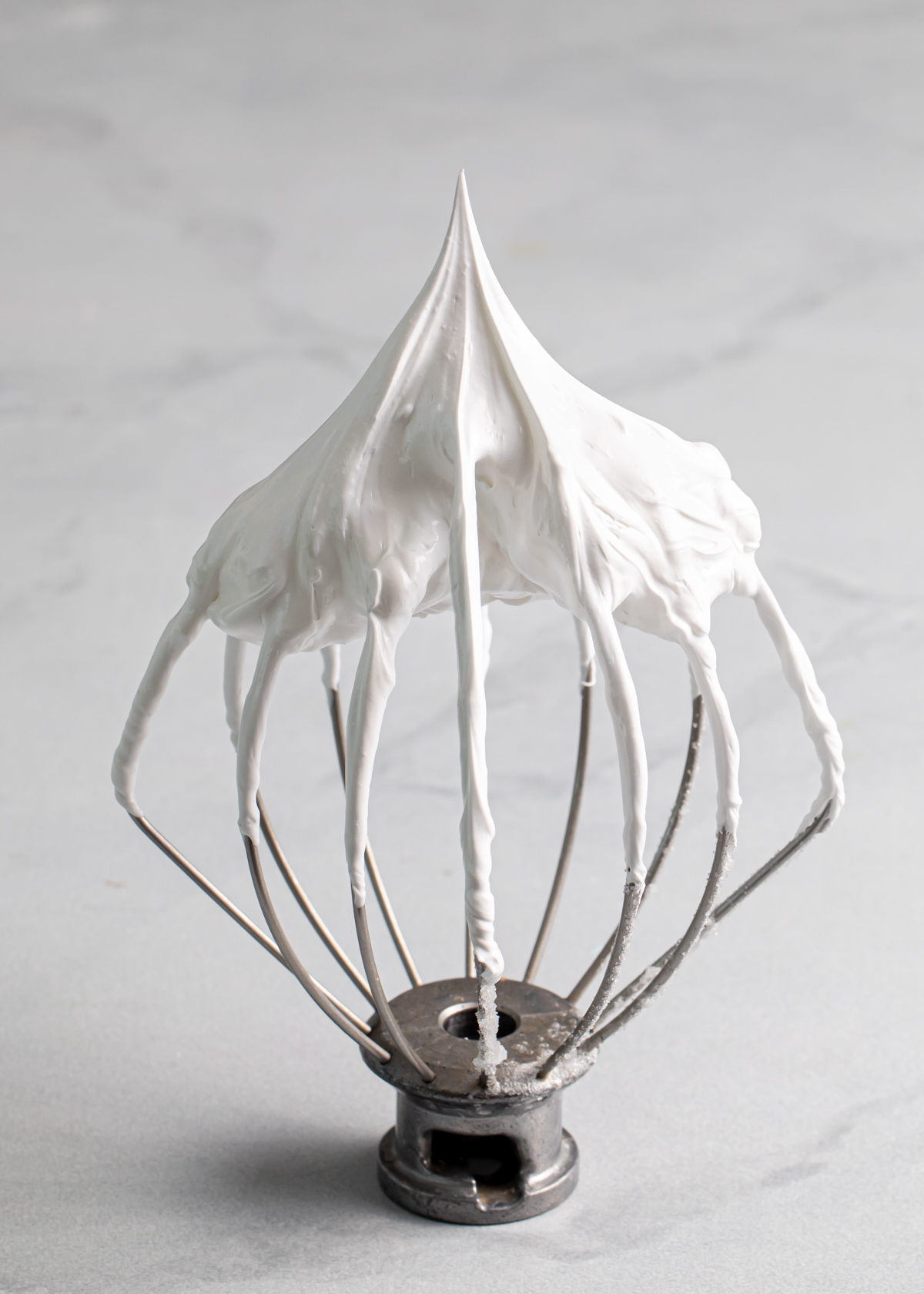 To make a great meringue, make sure your egg whites and all of your equipment are free from fat (egg yolks) and grease. Whip the whites until they are shiny and hold stiff peaks. For more tips on meringue, read here about Angel Food Cupcakes.
Italian meringue takes longer and requires your to boil water and sugar together first, but it is much more forgiving and stable than French meringue.
Weigh your macaron ingredients
We all know that weighing ingredients is far more accurate than using measuring cups. Confession: I don't always weigh my ingredients. But, when it comes to making macarons, I always use my kitchen scale.
Especially when working with things like eggs/egg whites where one might be large/smaller than the other, it is important to weigh ingredients. Trust me, if you are going to be putting in all the work to make a perfect macaron, you don't want to skip this simple step.
Mix with care and purpose
Slow and steady wins the race. Instead of short, quick strokes, go for big, intentional folds when combing the whipped meringue and almond flour mixture. This process is called macaronage.
One of the biggest mistakes you can make is over-mixing the batter. People tend to over-mix the batter due to inefficient macaronage. The goal is to use the least amount of folds to get the job done, so make sure each one counts! Faster is not better.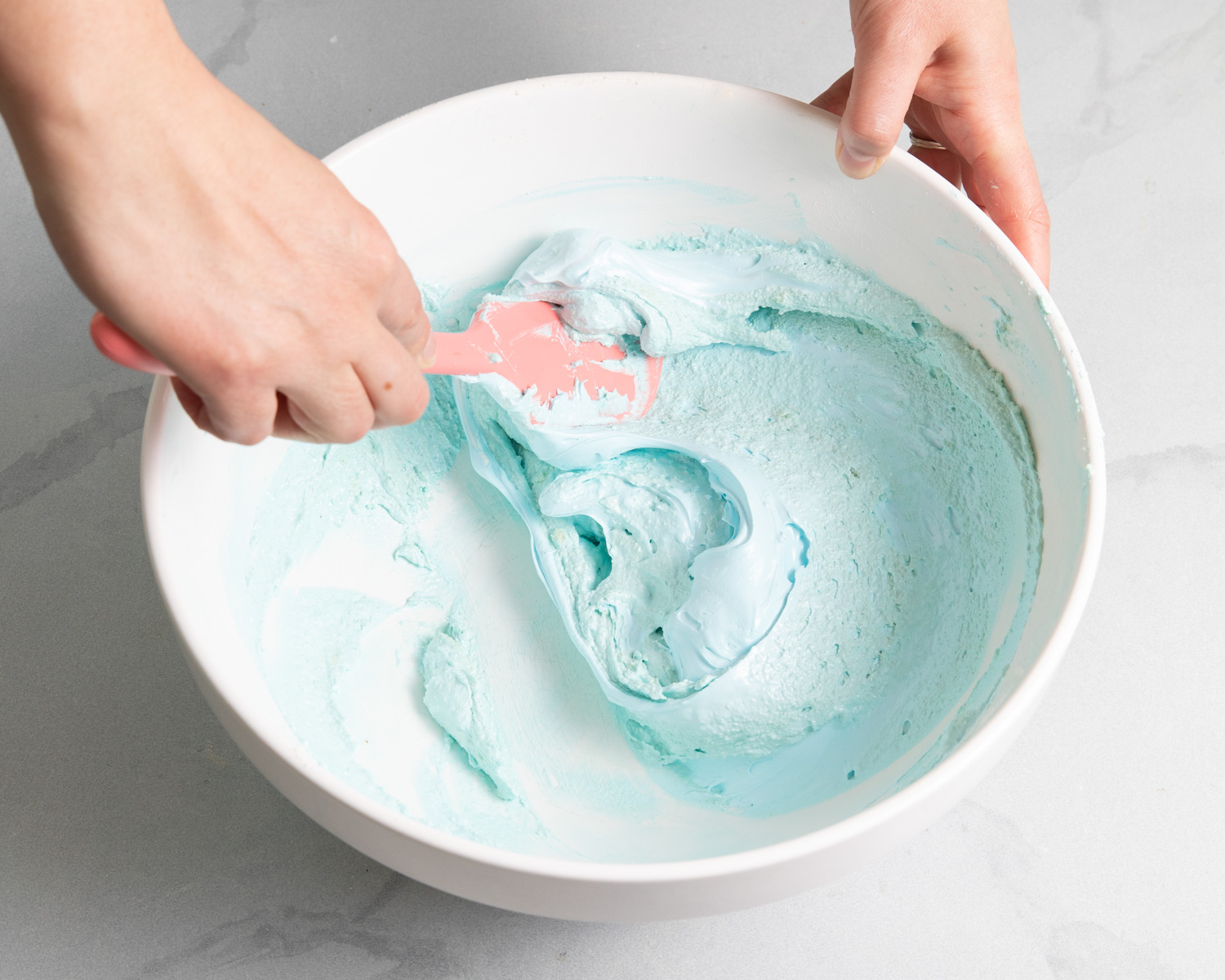 Learn when to stop mixing macarons
Piggy-backing on the last tip, it is important to know when to stop mixing. Since we are going slow and steady (see above), take care to evaluate the batter as it comes together.
When properly mixed, the batter should flow like lava - smooth and slow. If you pull you spatula through the center of the bowl, the batter should spilt then slowly come back to the center.
If it floods back in immediately, then batter is over-mixed. It's better to have a few remaining lumps in the batter than over-mixing the whole batch.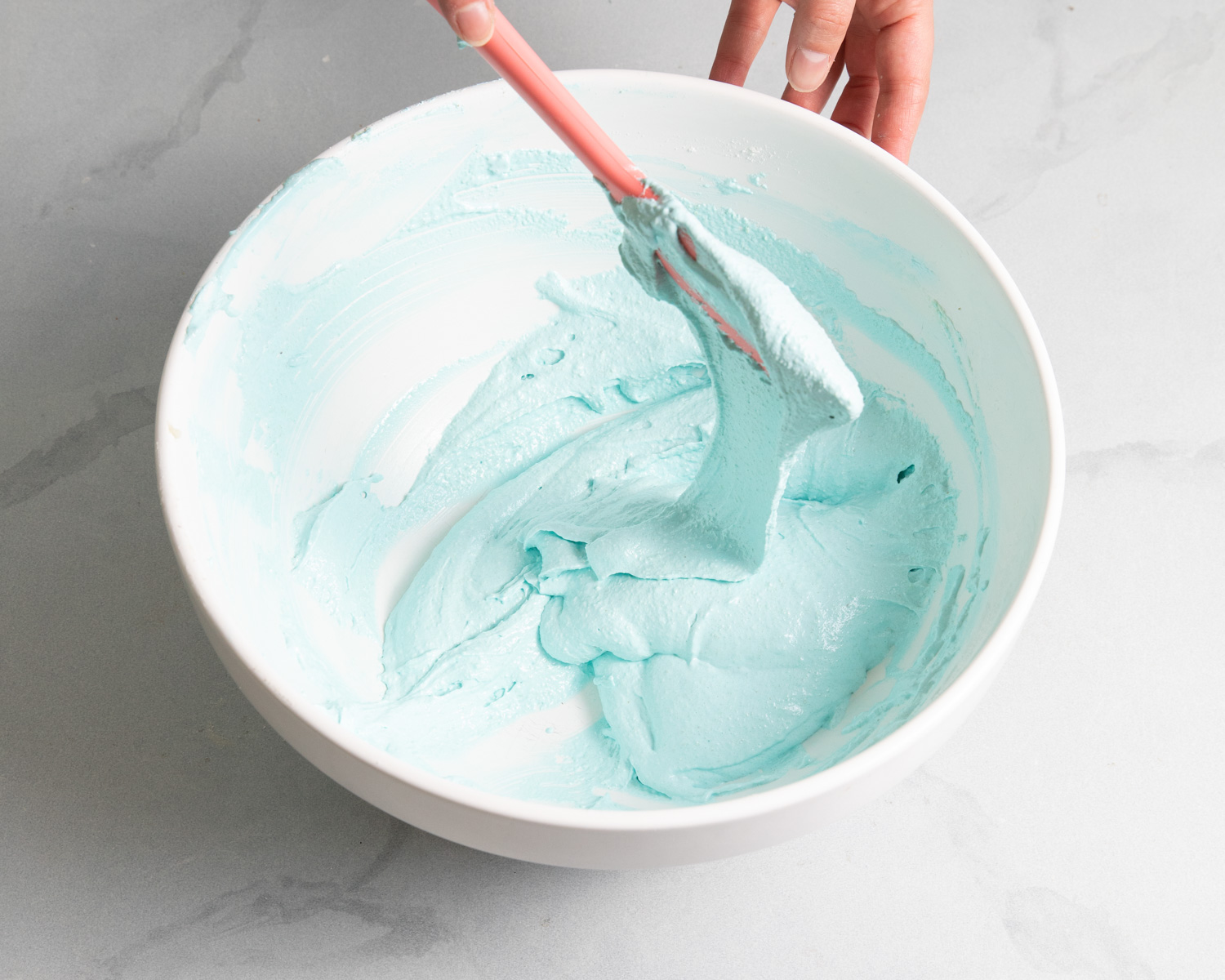 Another way to test the batter is to scoop some up with the spatula, then wave it back and forth into the bowl. The batter should fold over on itself like ribbon and not break.
Adding color to macaron batter
Like most recipes, I recommend coloring macaron batter with gel food coloring. Gel food color is much more concentrated that liquid food coloring. You will need far less gel coloring to get the shades you want. Also, this means we are not adding liquid to our batter and disrupting the ratios of ingredients. Alternatively, try powdered food coloring.
When possible, add the gel food coloring during the final minute of the whipped meringue. Adding it then helps keep from over-mixing it into the batter. Remember that you can always add more coloring when you are folding later on.
Keep in mind that the color of the tinted meringue will lighten up and take on a slightly yellow hue once combined with the almond flour mixture.
Use a template for piping macarons
In order to create round macarons that are uniform in size, try using a template. Especially if you are newer to piping, a template will help guide you.
Trace circle on a piece of parchment paper. The circles should be about 1.5 inches in diameter. The bottom of a large piping tip is usually a great size.
When piping, flip the parchment paper upside down. Use a pen/pencil that is dark enough to see through the other side. Alternatively, slip the parchment template under a silicone baking mat as you pipe, then remove it before baking. The macarons will likely increase slightly as they bake, so pipe the batter a little smaller than the size that you want your final shells to be.
Let them rest
After you've used all of your macaron batter and they are all piped and ready to go, allow the shells to rest. This rest period is important for creating smooth shells and forming feet on the bottom.
As the batter rests, a slightly skin will form on top of the shells. When they bake, the shells will rise straight up and feet will produce around the edges rather than the hot air bursting through the tops of the shells.
Rest time may very in different temperatures and level of humidity. Plan for a rest of about 30 to 45 minutes. To test, gently touch the top of a shell. When ready to bake, it will no longer be sticky.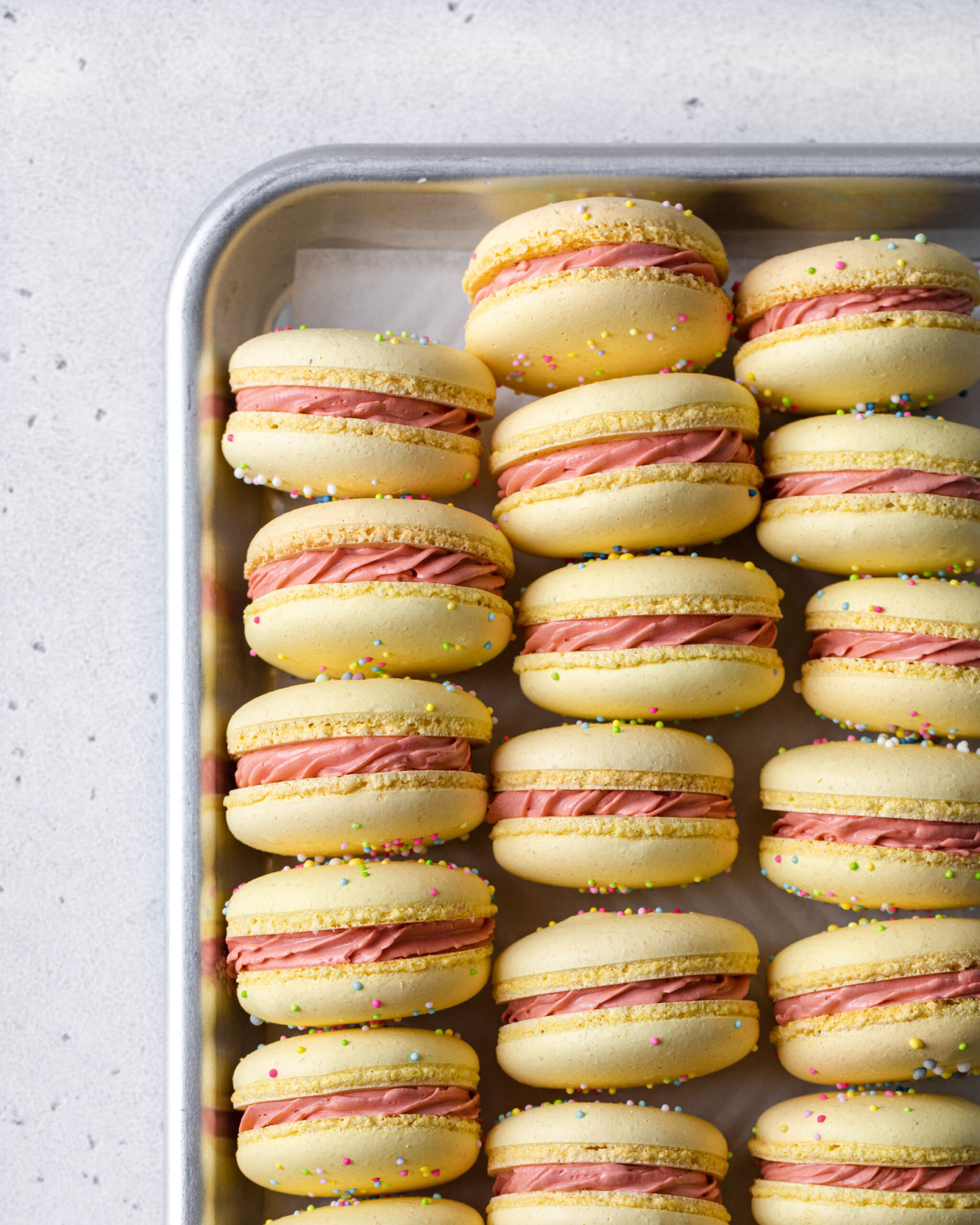 Be prepared
Making perfect macarons is all about precision and timing. Many of the steps move along rather quickly. Having all of your ingredients weighed out ahead of time and your equipment out and ready to go will certainly help.
My two final tips are to read the recipe all the way through before getting started (maybe even twice, if the recipe is new you), and try to have a little fun. Unless they are burnt to a crisp, they will likely still taste good even if they aren't as perfect as those found at a Parisian bakery.