This fluffy Olive Oil Yogurt Cake is topped with a cloud of sweetened whipped cream and a pile fresh raspberries. The olive oil and yogurt keep it exceptionally tender and perfect for snacking throughout these late days of summer.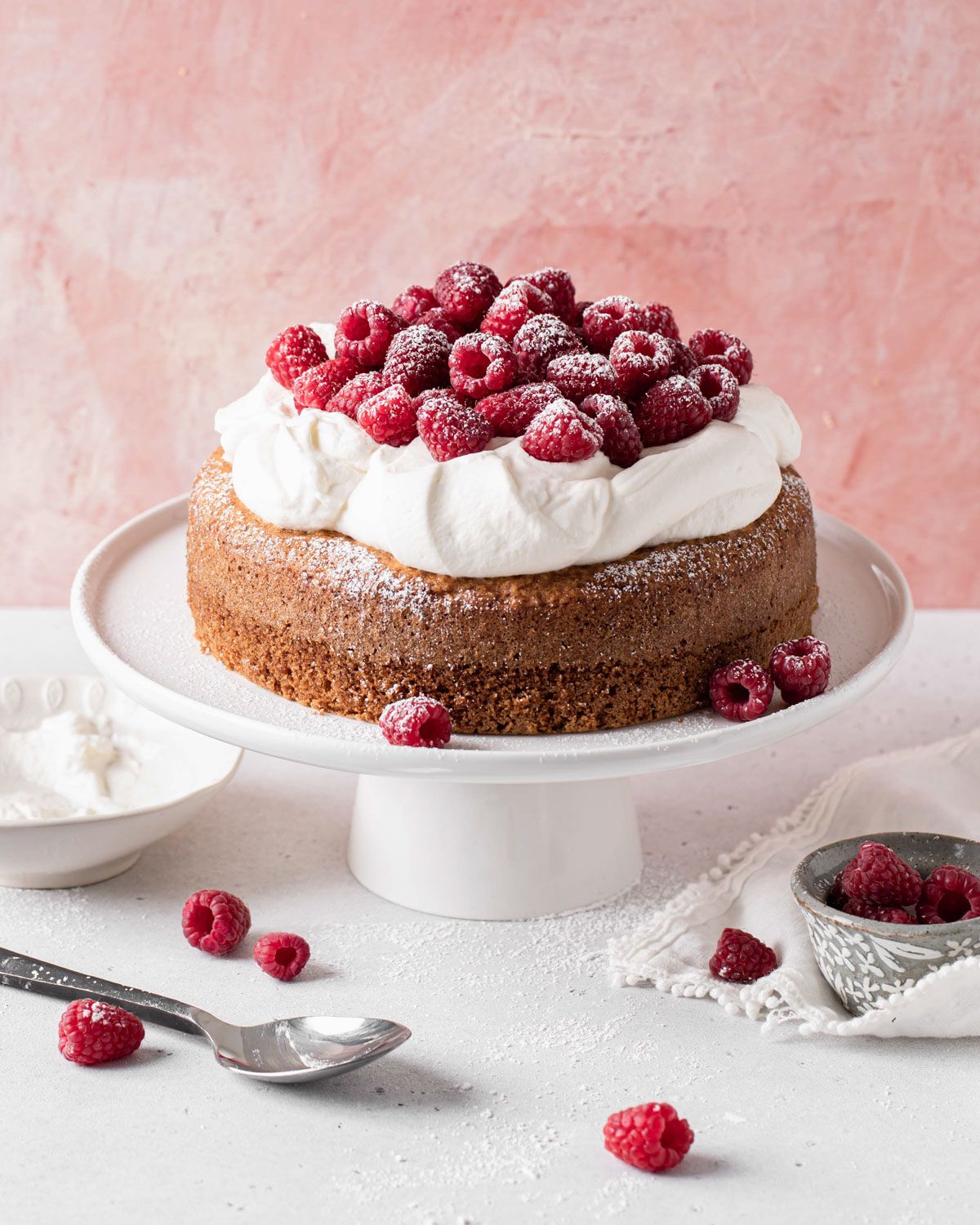 Single-layer snack cakes like this serves us so well when we want something sweet but don't need to feed a crowd. I've fallen in love with counter cakes and coffee cakes lately, and this one is especially light and perfect for warm, lazy summer days.
The base of this Olive Oil Yogurt Cake comes from my cookbook Layered. In the book, it is a two-layer cake and paired with lavender-infused whipped cream.
For this version, I cut the recipe to make a single-layer cake, swapped in some yogurt for lightness, and pilled it high with sweetened whipped cream and the last of the summer raspberries.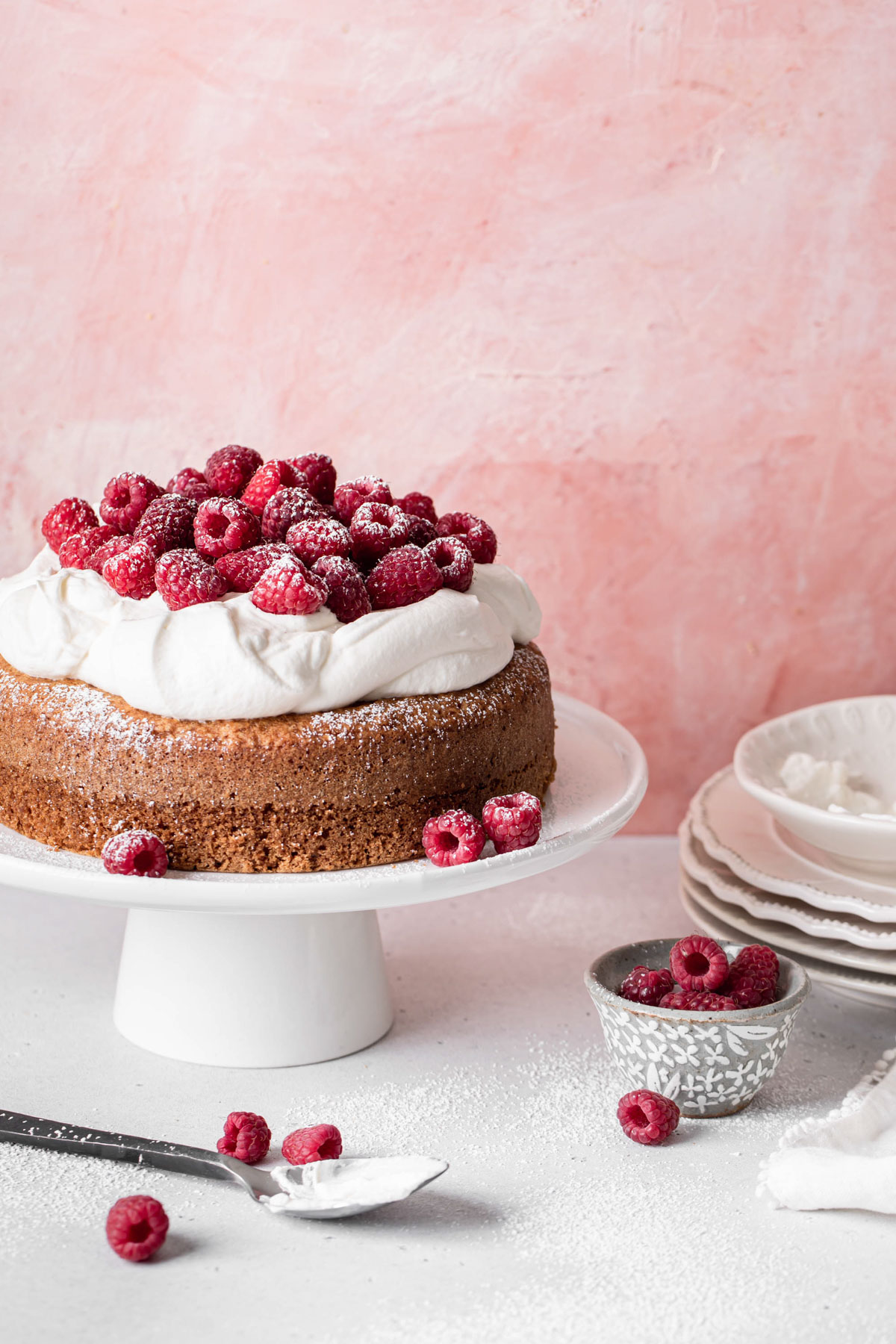 Whipping the cream until it holds just medium-soft peaks keeps it fluffy and cloud-like. Since we don't have to worry about layering the cakes, stability isn't as much of an issue.
Using olive oil in a cake that needs to refrigerated between servings (like one with cream), means that the cake will stay soft and moist even after being chilled.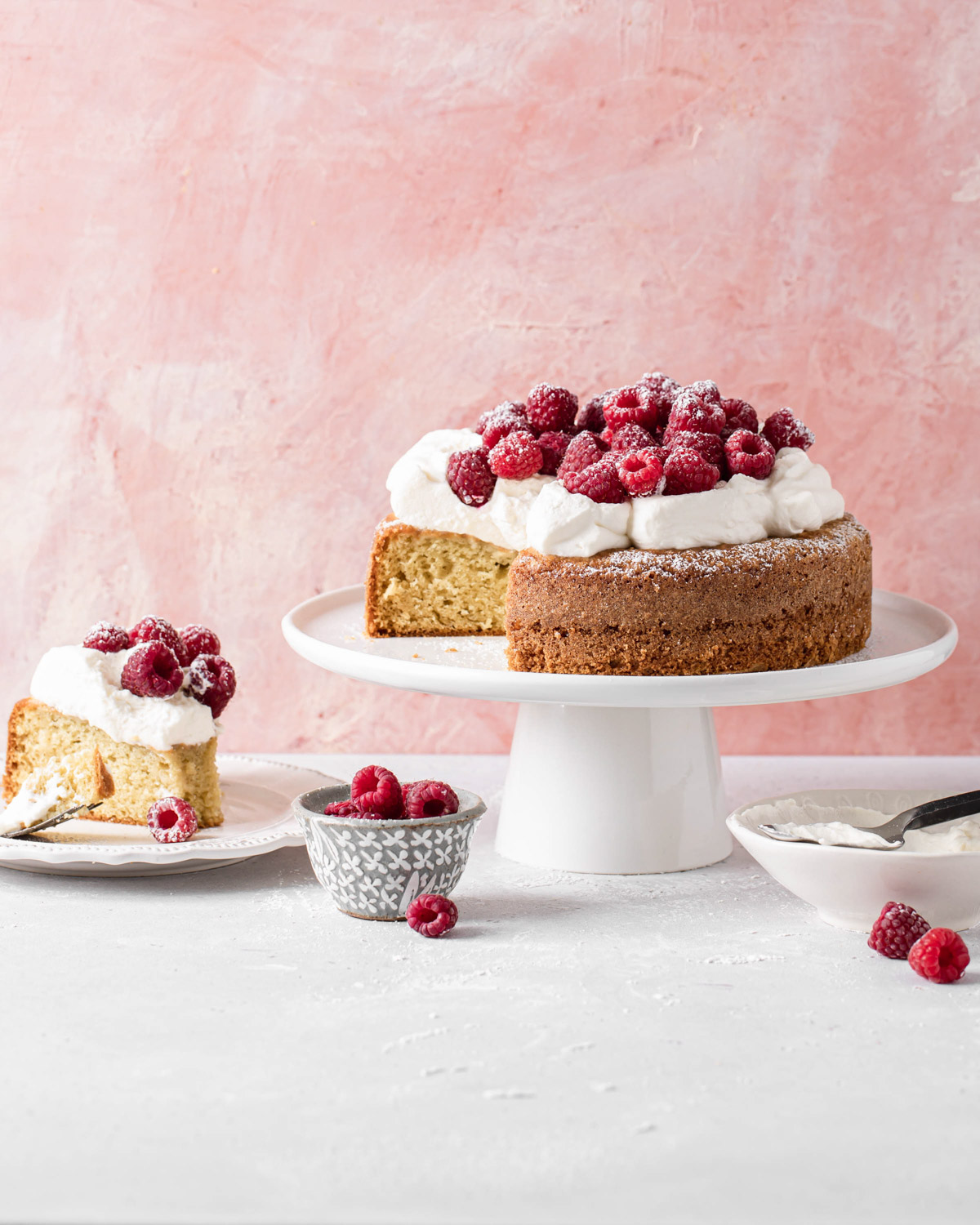 How to Bake with Olive Oil
Baking with olive oil creates some of the most beautiful and delicious tasting desserts. Using the right kind of olive oil adds depth to flavor while keeping things light and moist. It pairs perfectly with citrus desserts, savoury bakes (like pumpkin bread), and even chocolate!
You can substitute olive oil for regular canola or vegetable oil in almost any recipes. Melted butter on the ingredients list? You can replace that with olive oil too!
But because olive oil has more flavor than the other neutral oils, be sure to select the appropriate type of olive oil for your recipe.
Bonus? Baking with you olive oil has some extra health benefits (when compared to butter or shortening)!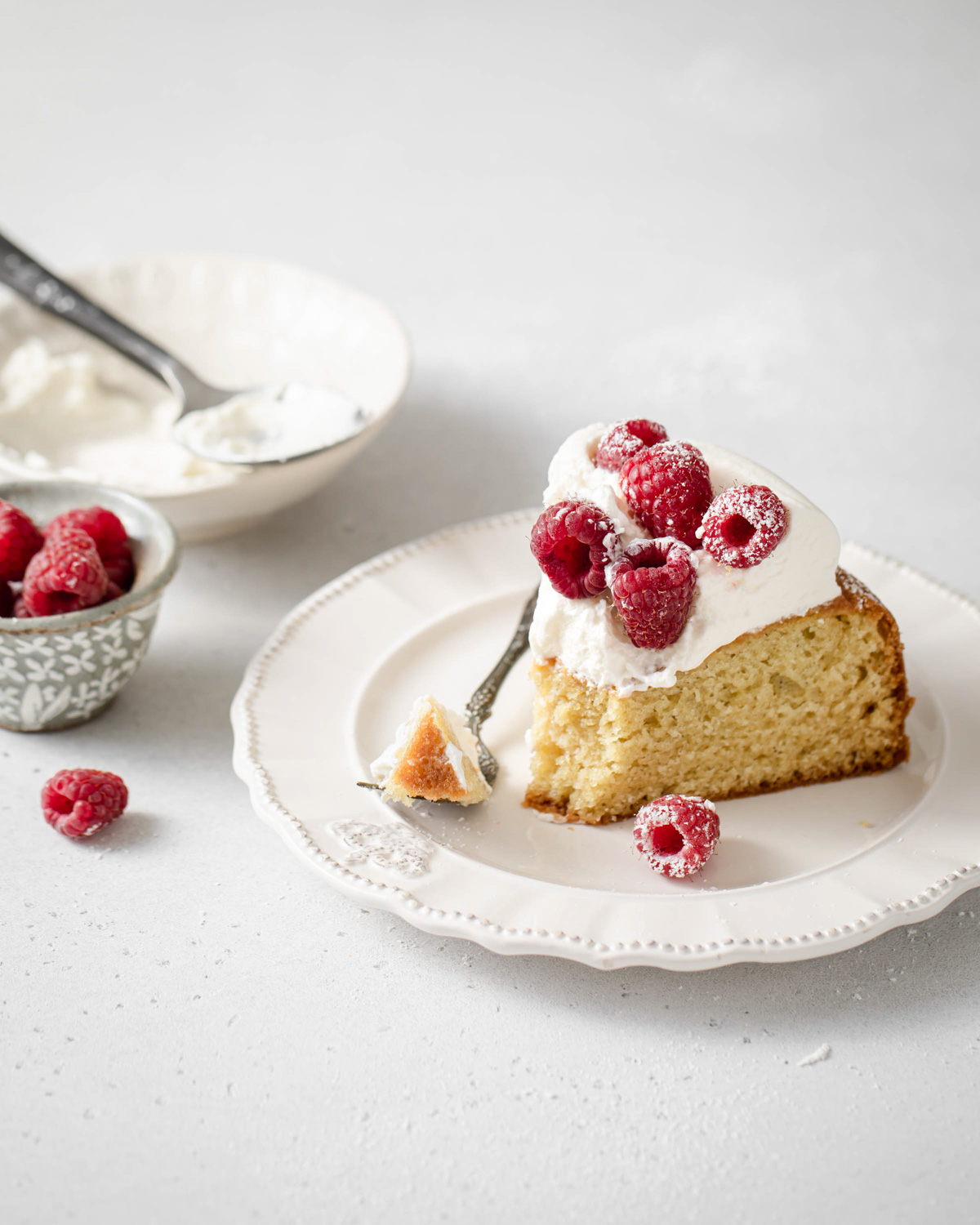 The Best Type of Olive Oil for Baking
Adding olive oil to your recipe will change the flavor - in a good way! Choose a delicate, mild-flavored extra virgin olive oil for light and fruity desserts - like this yogurt olive oil cake.
Feel free to get a little bolder when pairing with chocolate for a more robust flavor.
In all cases, select a high quality olive oil and be sure to taste it first. Olive oil can go rancid, and that's the last thing you want to be adding to your cookies and cakes.
Olive oil can be quite fragile, so be sure to store it properly in a cool, dark place.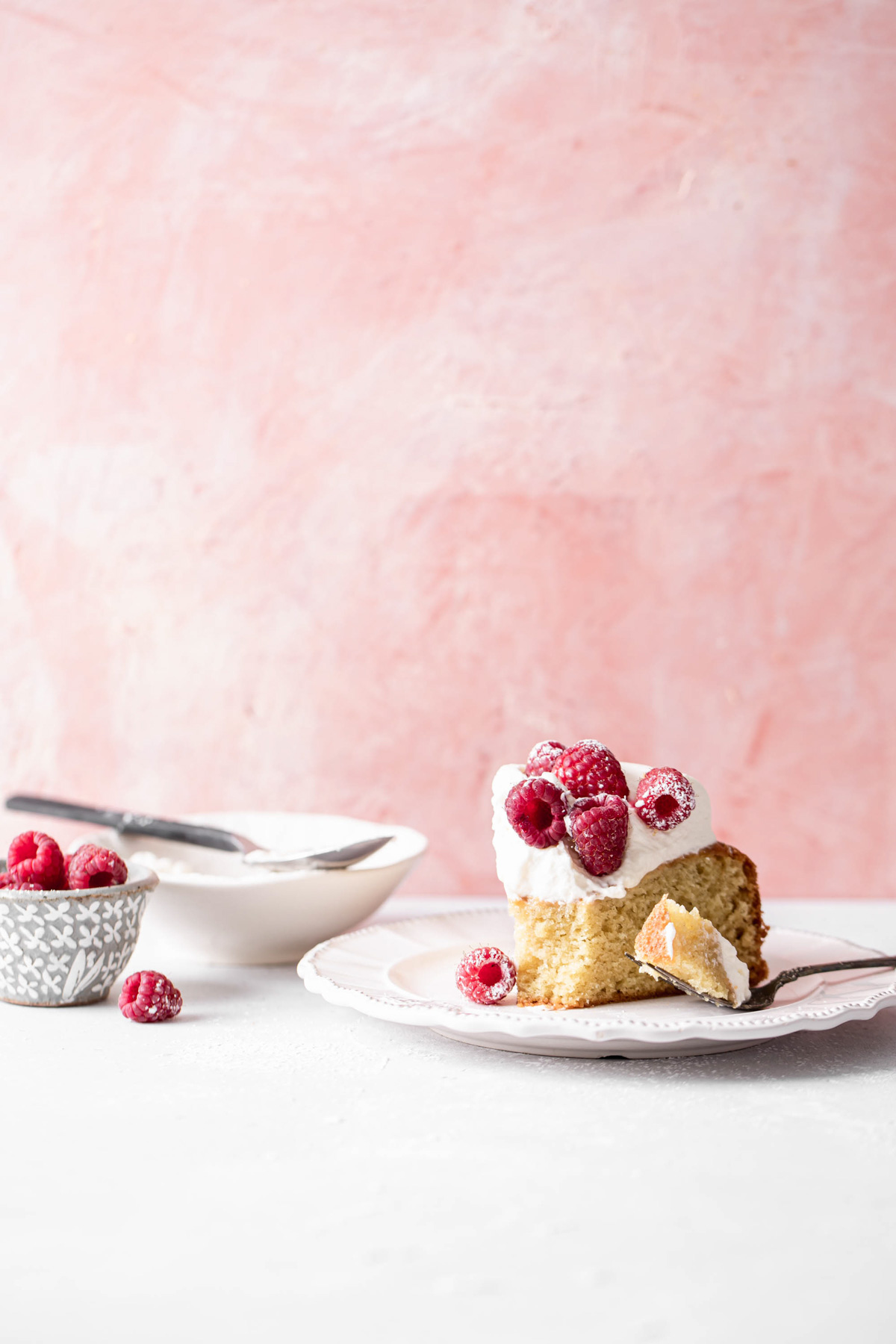 New to baking with olive oil? Try using half olive oil and half canola oil in your favourite recipe to see if you can taste the subtle difference!
How to Make a Olive Oil Yogurt Cake
Yogurt pairs so perfectly with the olive oil in the cake. Let me tell you why -
When developing cake recipes, there needs to be a balance of liquids, fats, and tenderizers. Yogurt acts as all of these things so well.
Many cake recipes will call for milk alone, while others really on the acidity of buttermilk to help tenderize and add flavor. Hello tangy, delicious yellow cake!
I often use sour cream for this same reason, but sour cream has the extra bonus of being high in fat - where fat = moistness.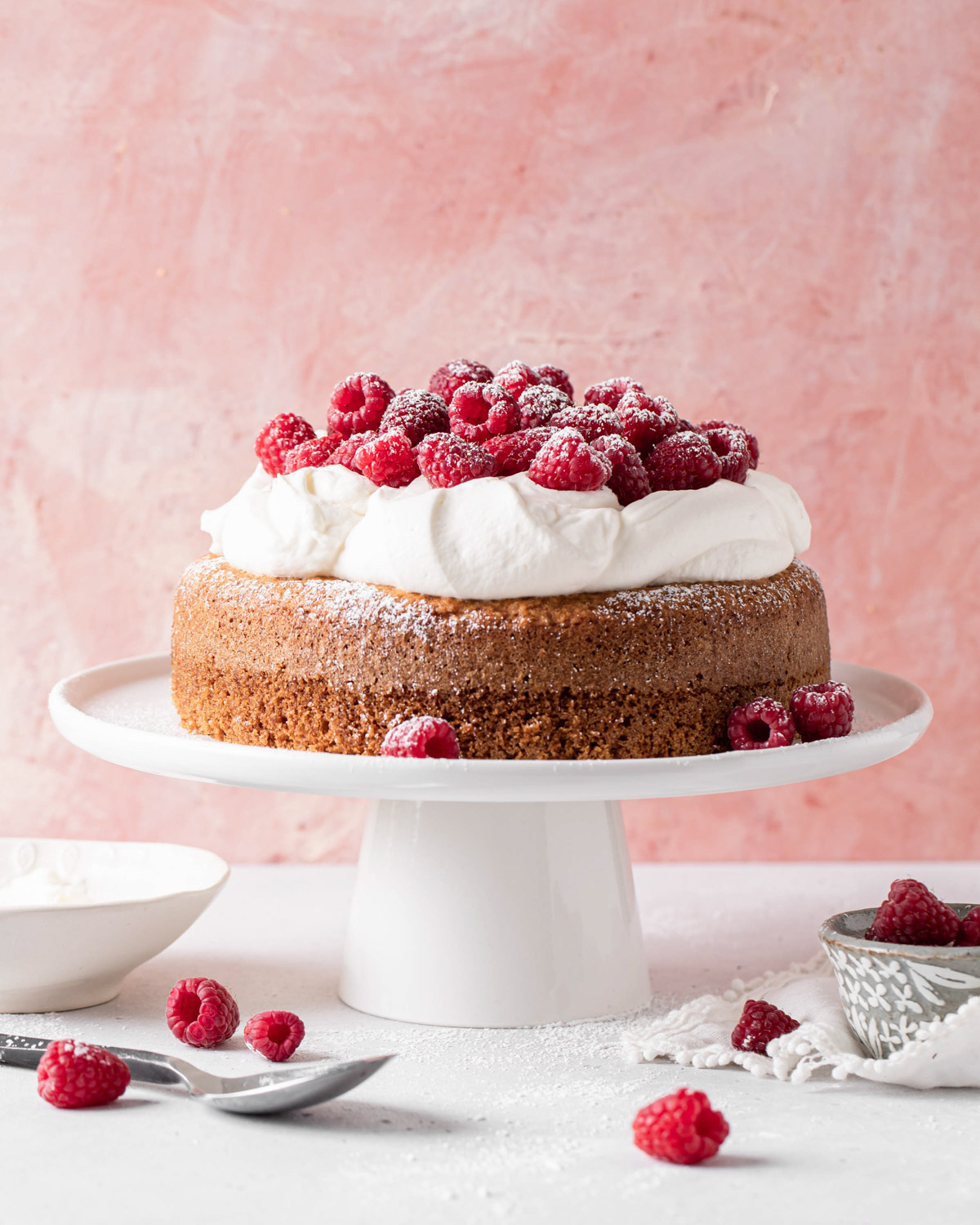 In this cake, olive oil adds plenty of moisture and flavor while the yogurt adds acidity but keeps things light enough to be paired with the fluffy whipped cream. Plain Greek yogurt works best - a little fat, a little flavor, and a little acidity.
Don't have Greek yogurt? You can substitute plain yogurt for sour cream, creme fraiche, and buttermilk - and vise versa, in almost any baking recipe. In some cases, yogurt will give cakes a more muffin-like texture, but still delicious and worth trying!
Baker's Notes
Do not over-whip the cream or it will become grainy. To prevent from over-whipping, whisk in the powdered sugar and vanilla by hand during the last step. If you over whip, then stir in a tablespoon or two of cream until just combined.

I love the light and fruitiness of

La Tourangelle Extra Virgin Olive Oil

I recommend selecting a Greek yogurt with about 5% milk fat like this

Liberte Greek Yogurt

Once the topping has been added, store the cake in the refrigerator. The oil-based cake will remain soft even after chilled.

If making in advanced, cover the cake in plastic wrap and store at room temperature overnight or in the refrigerator for up to 3 days. Add the whipped cream just before serving.

Be sure to wash and thoroughly dry the raspberries before adding to the cake. This is best done in advanced so that they are completely dry and don't sweat on the cream.
Recipe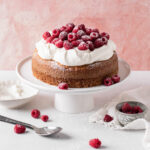 Print Recipe
Olive Oil Yogurt Cake
This fluffy Olive Oil Yogurt Cake is topped with a cloud of sweetened whipped cream and a pile fresh raspberries.
Ingredients
Olive Oil Yogurt Cake
1 ½

cups

all-purpose flour

¾

teaspoon

baking powder

½

teaspoon

baking soda

¼

teaspoon

salt

½

cup

good quality olive oil

¾ cup + 2 tablespoon

granulated sugar

zest of one lemon

2

large eggs

½

cup

plain Greek yogurt
Topping
1 ½

cups

heavy cream

½

cup

powdered sugar

½

teaspoon

vanilla bean paste

or extract

1

pint

fresh raspberries
Instructions
Olive Oil Yogurt Cake
Preheat the oven to 350°F. Grease and flour a 9-inch cake pan and set aside.

Sift together the flour, baking powder, baking soda, and salt. Set aside.

In the bowl of stand mixer fitted with the paddle attachment, mix together the eggs and sugar until combined. Stream in the olive oil and mix until combined. Add the lemon zest and stir to combine.

Add in half of the dry ingredients and mix to combine. Mix in the yogurt until incorporated. Add the remaining dry ingredients and mix until combined.

Pour the batter into the prepared pan and bake for 28 to 32 minutes, or until a toothpick inserted into the center of the cake comes out clean. Cool on a wire rack for 15 to 20 minutes before removing the cake from the pan. Allow the cake to continue to cool completely before frosting and serving.
Topping
Whip cold heavy cream until soft peaks form. Add the powdered sugar and vanilla. Continue to whisk until medium-soft peaks.

Dollop the cream all over the cooled cake and cover with fresh raspberries. Dust the top with more powdered sugar before serving.