No ice cream maker? No problem! This Dulce de Leche No churn Ice Cream is pure magic. With only two ingredients, yes I said TWO, it is delightfully creamy, has a rich caramel flavor, and is possibly one of the easiest desserts you will ever make.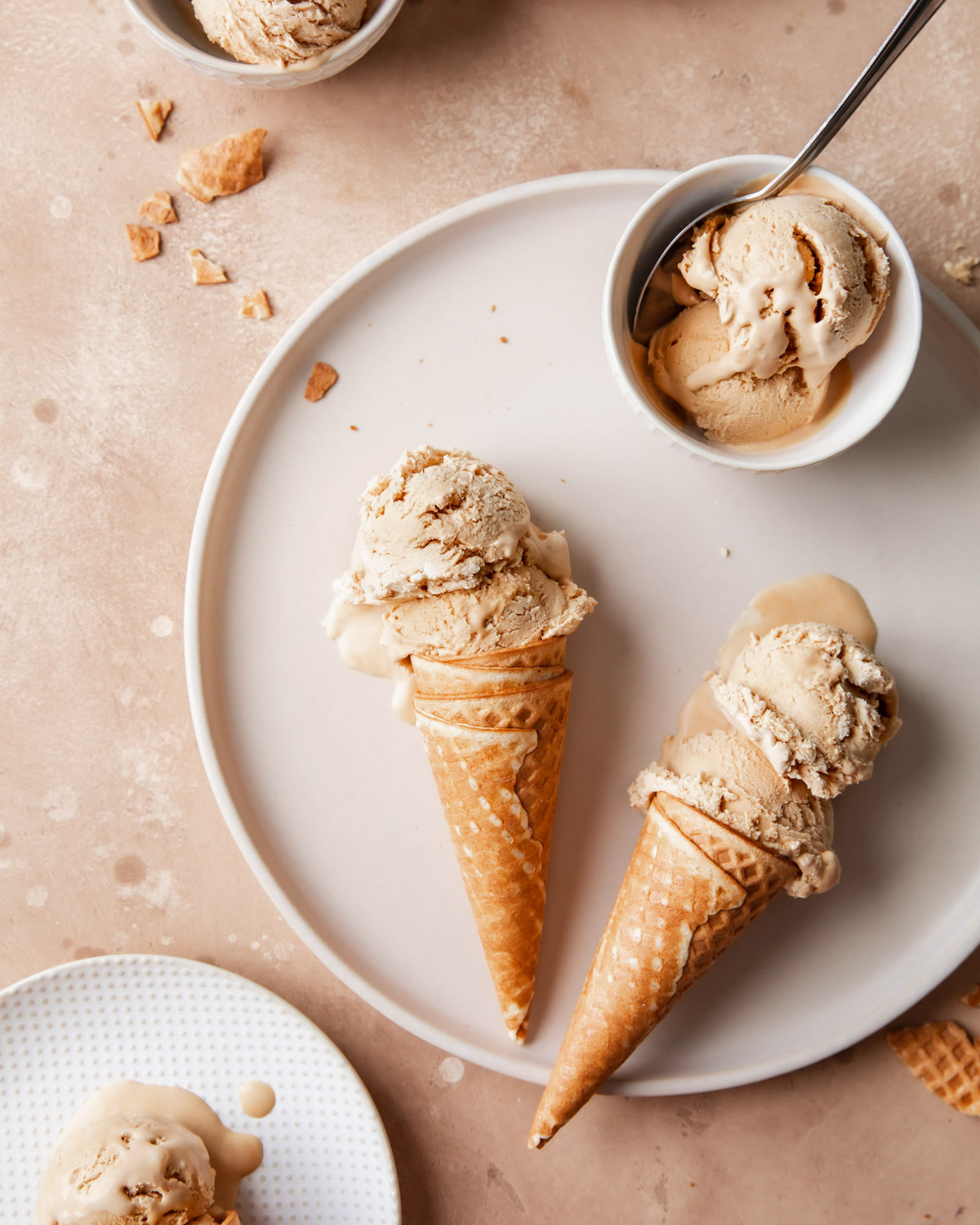 The Easiest Ice Cream Recipe Ever
No-churn ice cream requires little equipment and little effort. Once you've procured the ingredients, it is easier to make than going to the store itself. In fact, the hardest part is probably waiting for it to freeze.
With notes of brown sugar, vanilla, and butterscotch, dulce de leche pairs beautifully with a variety of other desserts. Keep it in the freezer to serve á la mode with any late summer fruit crisps, fall galettes, holiday pies, or enjoy straight up in a cone.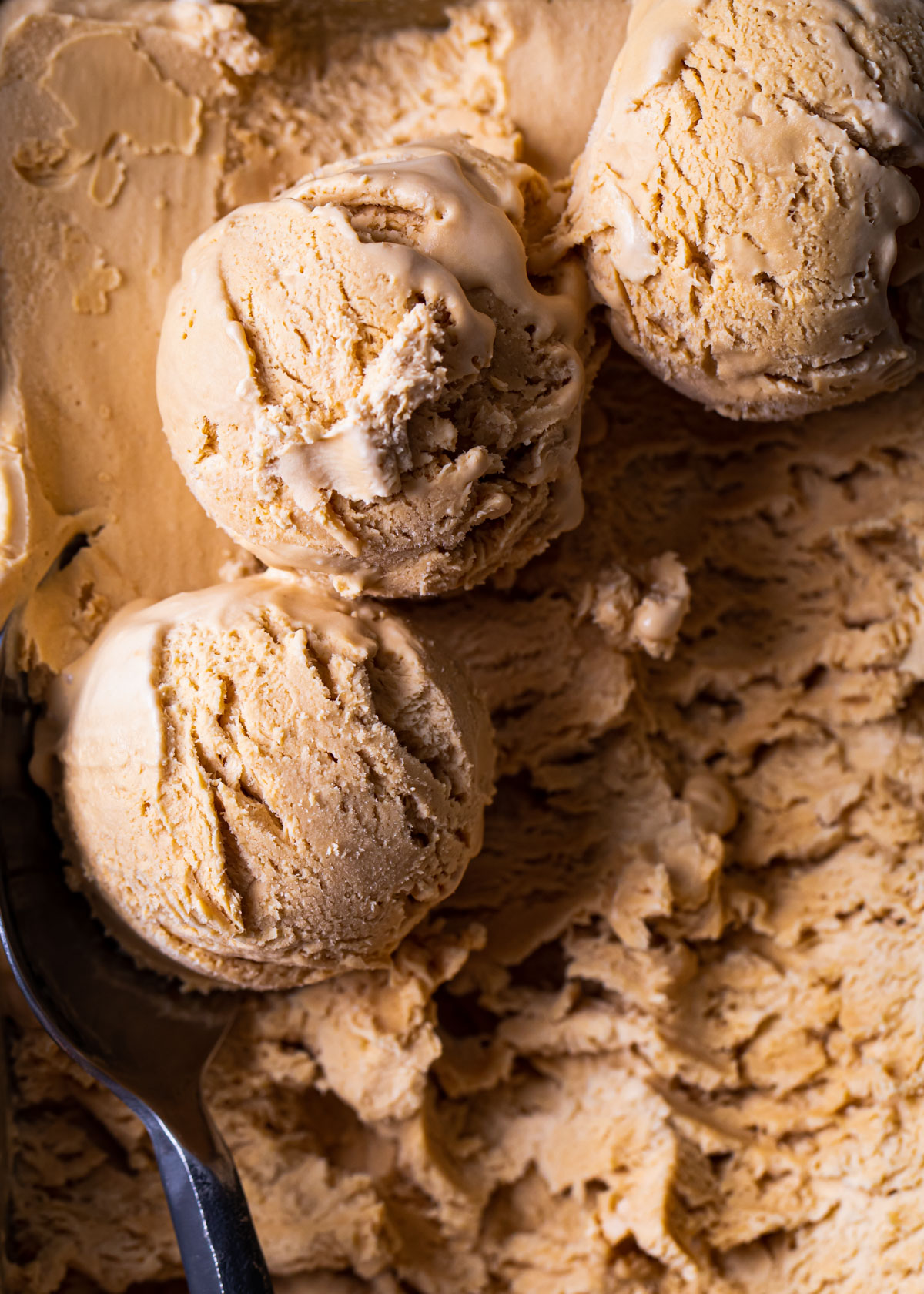 Why You Need to Make No Churn Ice Cream
This recipe isn't just for those that don't have an ice cream maker (or those that notoriously forget to freeze the ice cream bowl ahead of time). Imagine all of the richness of homemade ice cream with none of the stress. That's the beauty of no-churn ice cream.
Ice cream purists might disagree, but this fool-proof method skips the scrambled custards, filmy mouth-feel, and other common pitfalls of making ice cream at home.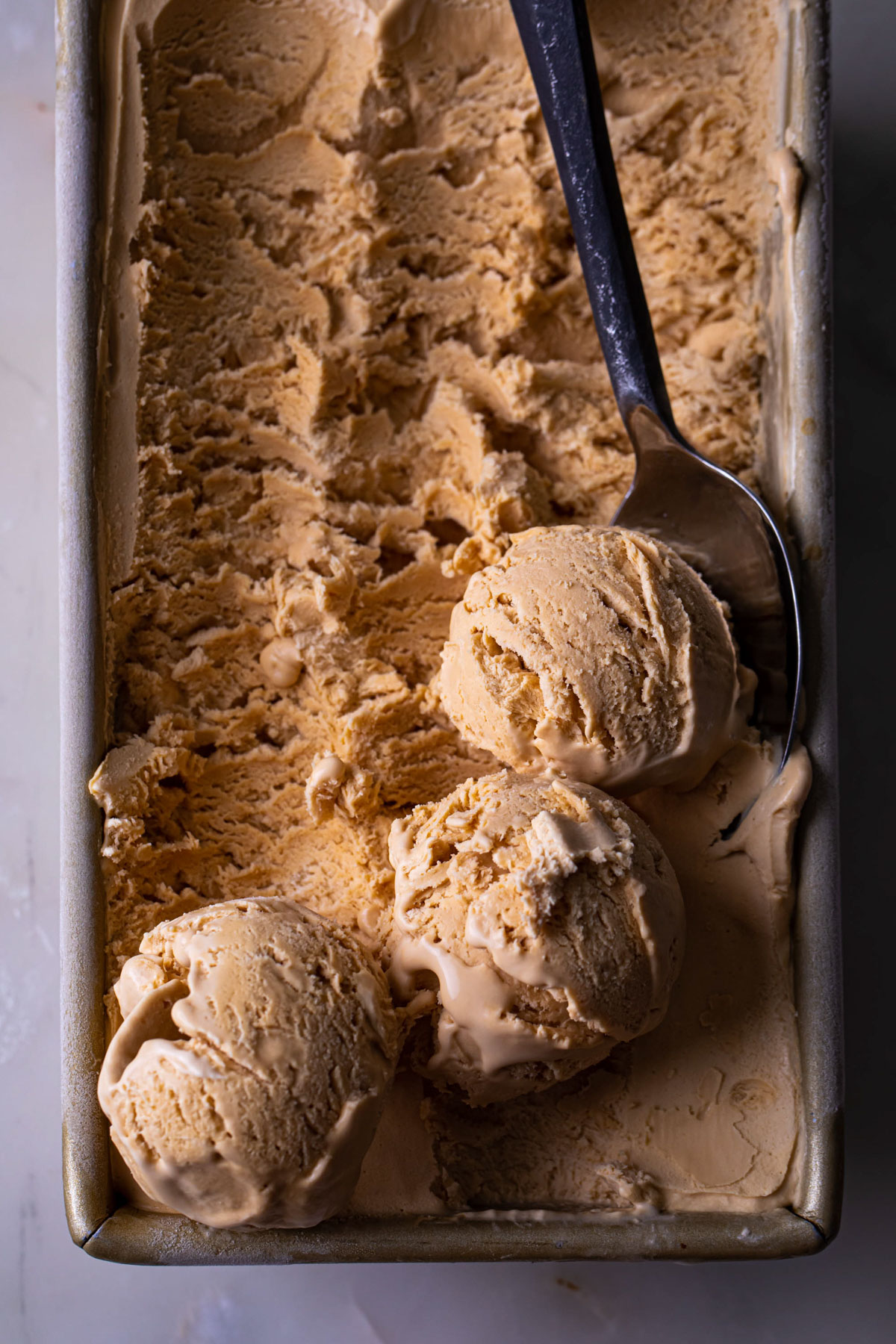 Due to a lack of stabilizers, many homemade ice creams have a tendency to turn icy rather quickly. From my own experience, no-churn ice cream remains smooth and creamy for up to a couple weeks (it hasn't lasted longer than that at my house).
Store no-churn ice cream in a metal loaf pan with a piece of parchment on top, for lick-able, spoonable scoops.
How To Make Dulce de Leche No Churn Ice Cream
So how do we make it? Homemade ice cream typically starts by making a custard on the stove that is then cooled and churned. Churning aerates the custard to make it light and creamy. Whipping cream performs a similar roll, but in a fraction of the time and energy.
With no-churn ice cream, air is beaten into heavy cream. Using an electric mixer, whip the cream until it holds stiff peaks. So simple, right?
Instead of creating a custard, crack open a can of sweetened condensed milk. Yup, I told you it was easy! No stove, no cooling, no hassle.
Fold sweetened condensed milk into whipped cream to add sweetness and flavor. At this point, you may add other flavorings or mix-ins like vanilla extract, swirls of fruit compote, cocoa powder, mini marshmallows - you name it! Freeze then enjoy.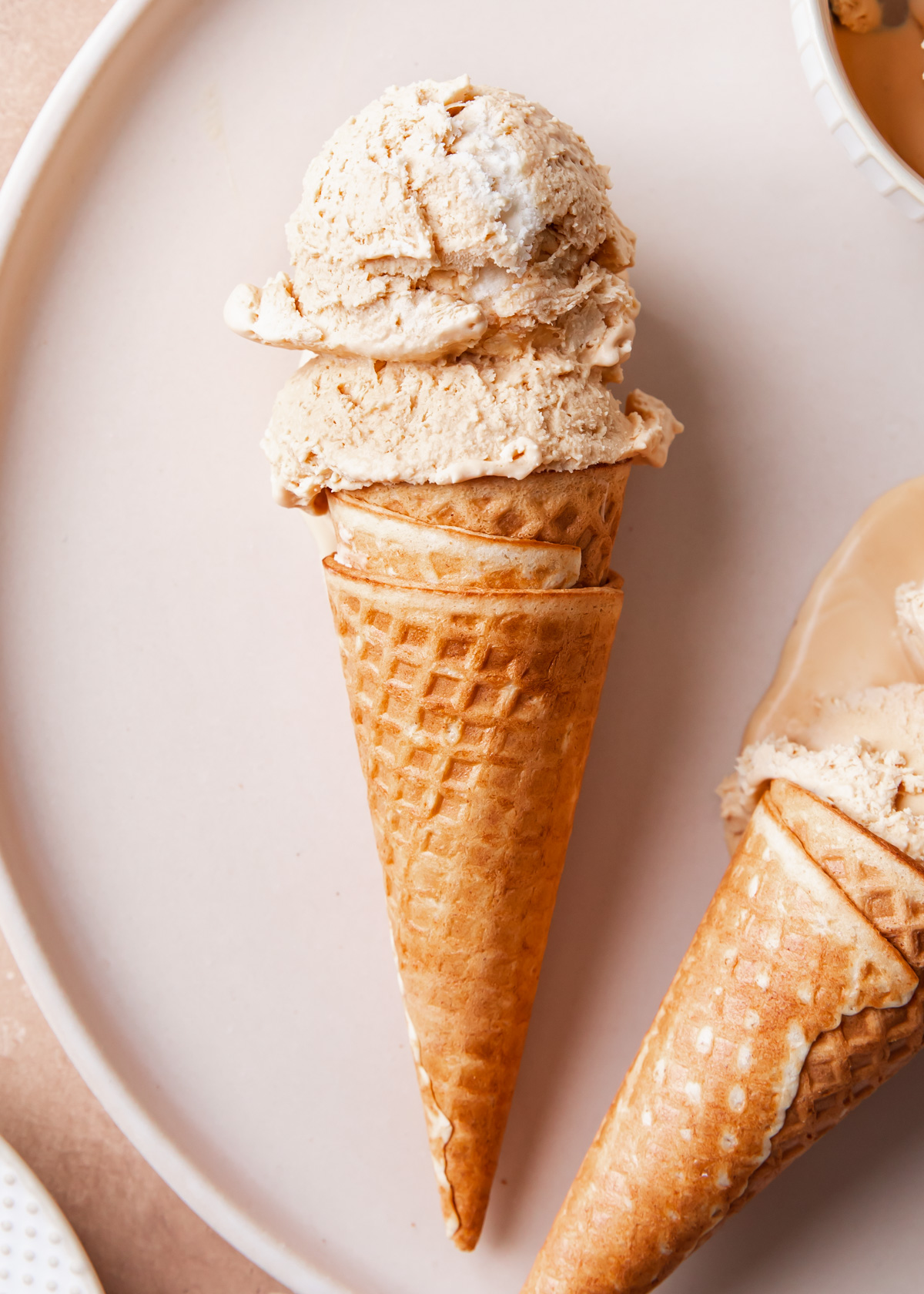 What is Dulce de Leche?
For this recipe, I swapped in a can of Dulce de Leche for the sweetened condensed milk. A confection from Latin America, dulce de leche is the result of sweetened milk that has been cooked down and caramelized until it is the consistency of butterscotch.
You can make dulce de leche from scratch by reducing milk and sugar on the stove top. However, this method can be time consuming.
Alternatively, turn a can of sweetened condensed milk into dulce de leche by simmering the whole can for a couple hours in a pot of boiling water. Make sure there is enough water that the can remains submerged during the entire process!
An even easier method? Buy ready-made dulce de leche. For this two-ingredient ice cream, I did just that. Reach 6-inches to the right and grab the can of Dulce de Leche next to the sweetened condensed milk and treat it the same way in your next batch of no-churn ice cream.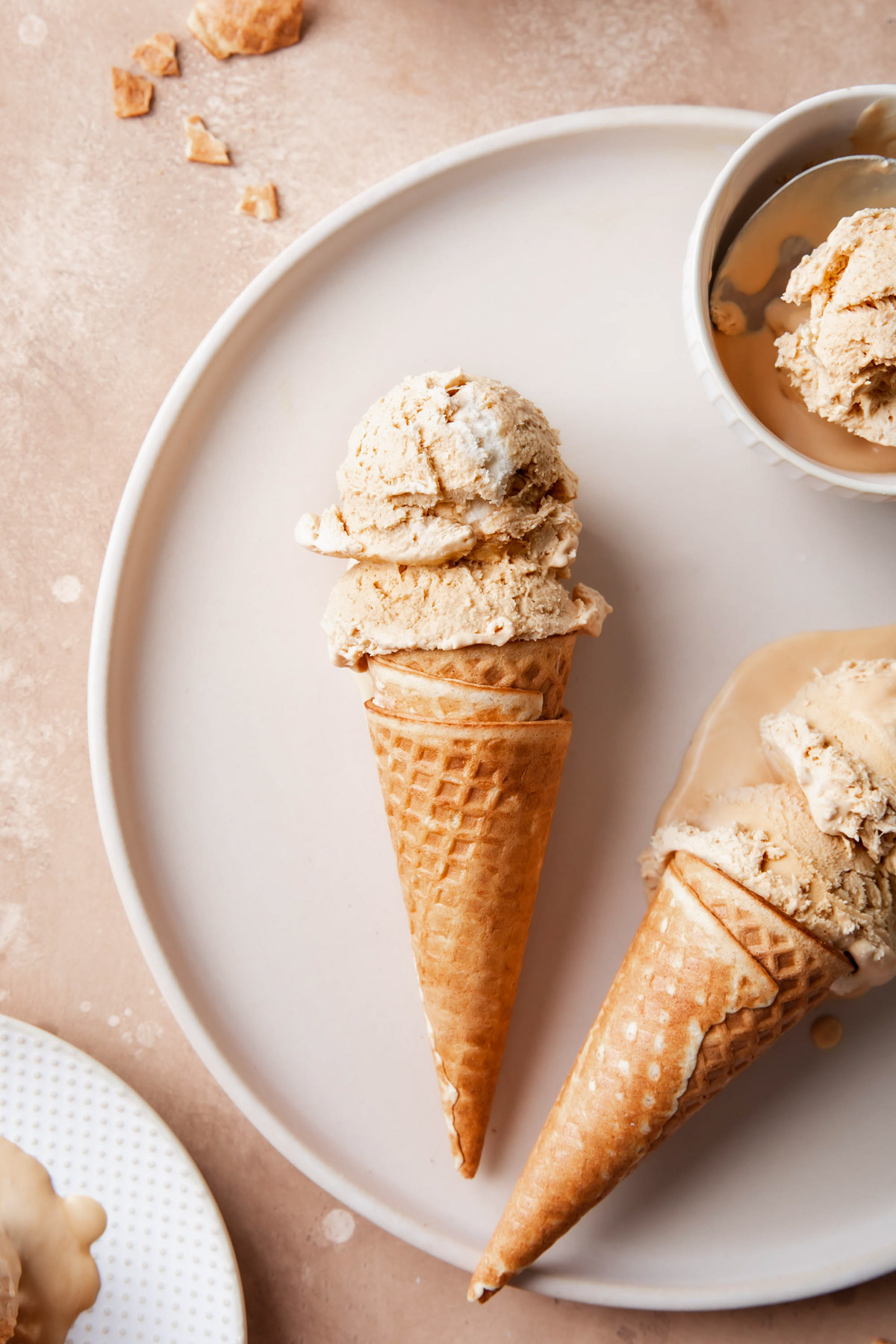 Baker's Notes
For best results, keep your mixing bowl, whisk, and cream cold before whipping.

Do no over-mix the cream. If it turns grainy, stir in a tablespoon or two of cream until smooth. You may want to reserve a couple tablespoons of cream just in case this happens.

This recipe is fairly sweet. Add a ¼ teaspoon of salt before folding or serve with a pinch of flaky sea salt on top.

To save on dishes, you may try folding the Dulce de Leche straight into the whipped cream. However, I recommend add a little bit of the cream to the Dulce de Leche first to lightened it up before combining everything together.

Want to keep this completely equipment free? Whisk the cream by hand! Although, you will still need a freezer.
Recipe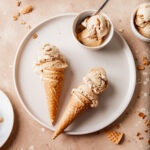 Print Recipe
Dulce de Leche No Churn Ice Cream
With notes of brown sugar, vanilla, and butterscotch, this two-ingredient Dulce de Leche No Churn Ice Cream is ridiculously easy and tasty!
Ingredients
2

cups

cold heavy whipped cream

1

can

(14 ounces) Dulce de Leche

pinch salt, to taste
Instructions
In the bowl of an electric stand mixer fitted with the whisk attachment (or large bowl with a hand mixer), pour in the cold cream. Whip on high speed until the cream hold stiff peaks. Do not over-mix.

Pour the Dulce de Leche into a separate bowl. Using a large rubber spatula, fold in about ⅓ of the whipped cream until combined. Add in the remaining whipped cream and ¼ teaspoon salt (if using) and fold until smooth.

Tip the mixture into a metal loaf pan and spread on top until smooth. Press a piece of parchment paper on top of the mixture and freeze until solid.

Scoop and serve! Add a pinch of flaky sea salt on top, if desired.