Slightly nutty and extremely fudgy, this Chocolate Ganache Cake is pure magic. Made with rye flour and without eggs, disappearing of the kitchen counter before your eyes isn't its only trick.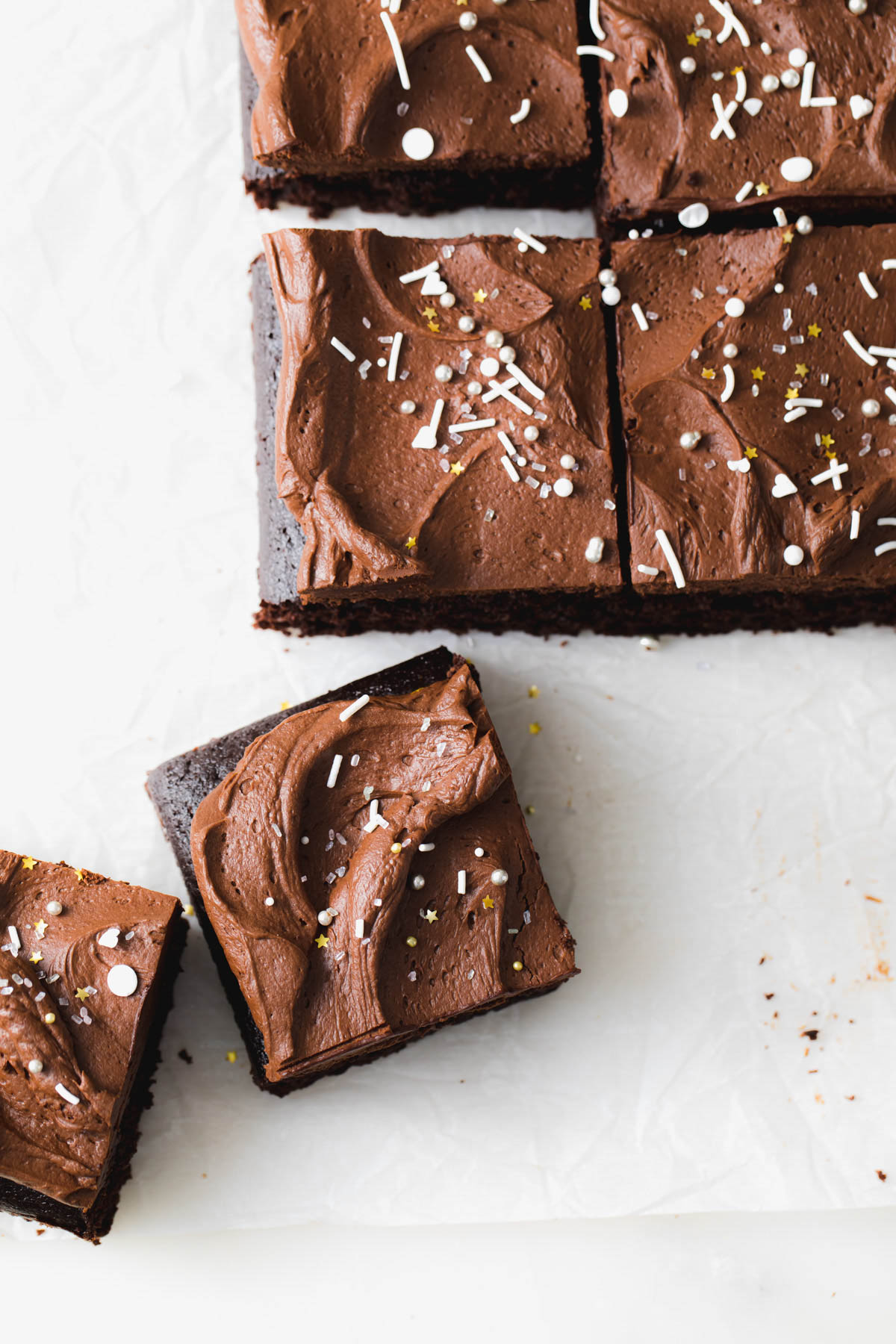 The crumb is incredibly moist and decadent and the mousse-like whipped chocolate ganache frosting makes me swoon even just looking at it. I won't be surprised if you like the bowl clean.
The texture is similar to the eggless chocolate cake from my book Layered. Both are super fudgy and decadent. They have a tendency to crumble when sliced, but don't let that confuse you into the thinking the cake is dry.
It definitely isn't! The moistness is proven in the crumb's ability to be pressed back together.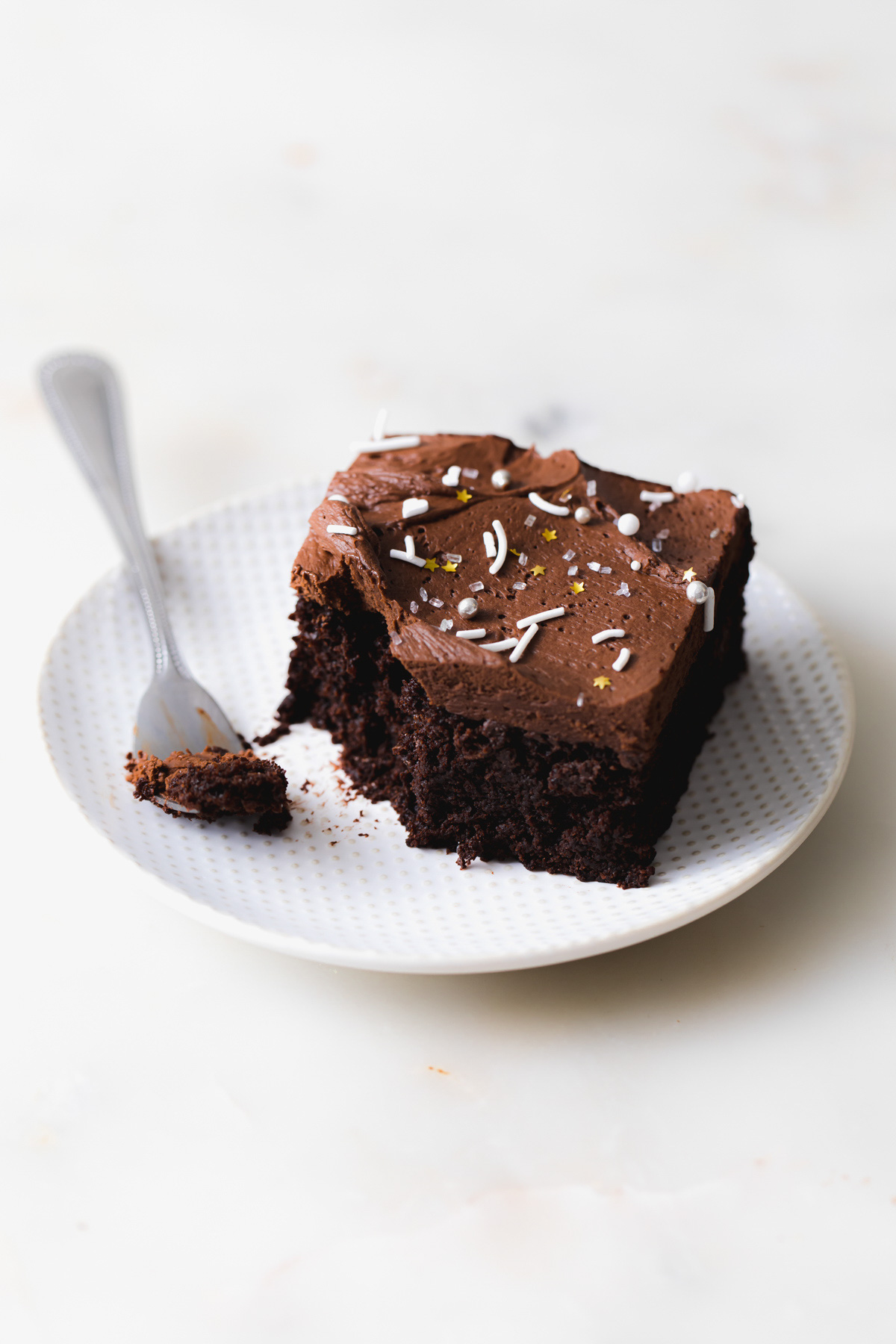 This rye chocolate cake was adapted from the book, The New Way to Cake, by Benjamina Ebuehi. Known for being on The Great British Bake Off, she will be remembered by her exquisite recipes. The book favors more simple, minimally decorated cakes that are balanced with stand-out flavors that let the ingredients shine.
Made in a baking pan, this sliceable albeit nearly sinful dessert is exactly what you need to cure afternoon chocolate cravings. I might have declared this cake "too rich" between mouthfuls. But as I scraped the crumbs with the edge of my fork to make sure I got every moist morsel proved to myself otherwise.
Baking with Rye Flour
Alternative flours are having a serious moment. There is gluten-free baking for those with certain diets, but there is a world of flavor and flour beyond all-purpose.
The earthiness of rye flour brings out more dimension and complexity to recipes and pairs particularly well with chocolate and stone fruit. In this cake, the rye flour brings out a more robust chocolate flavor with a slightly nutty taste.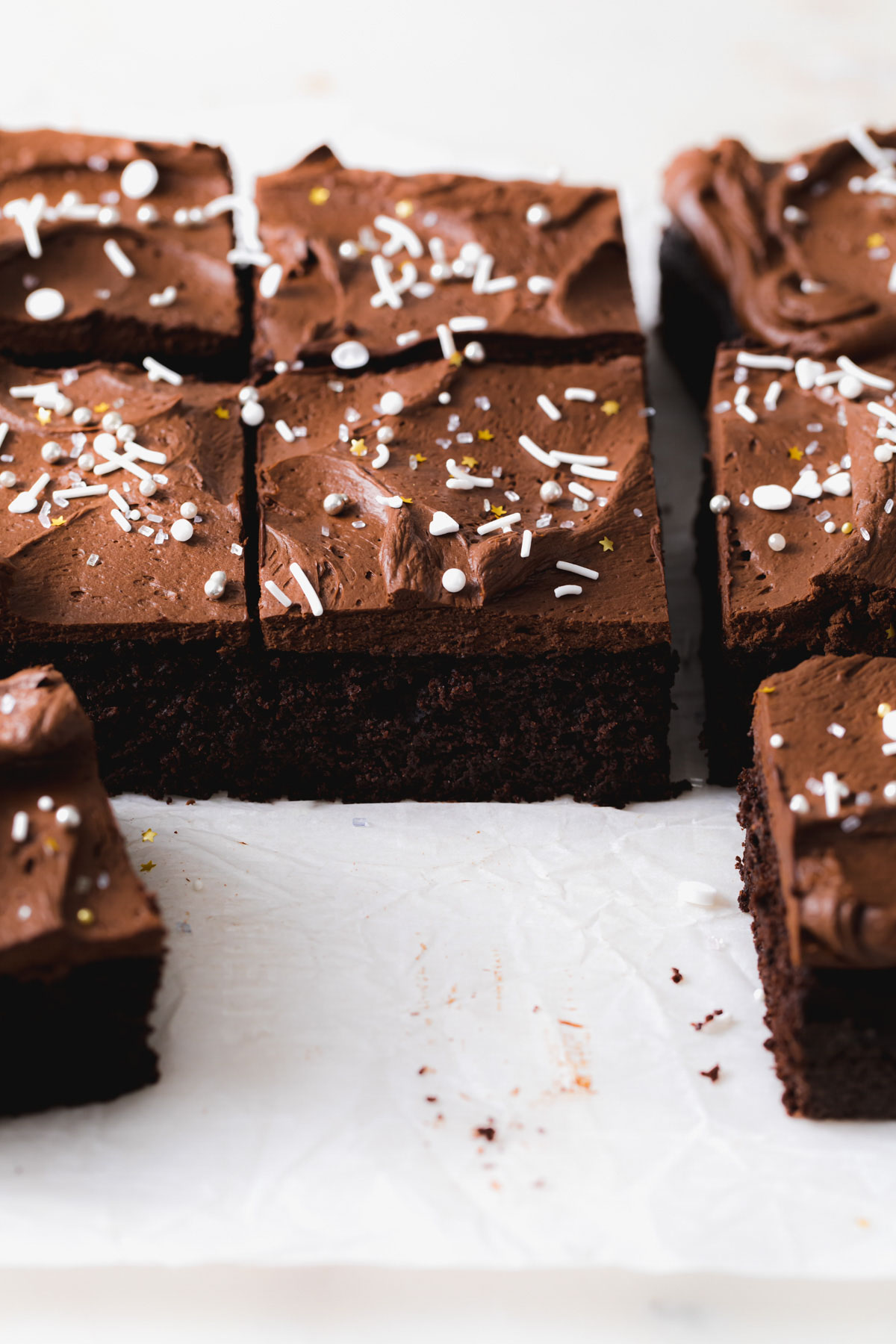 There is a slight learning curve for baking with alternative flours. Unless you are using a 1-for-1 gluten-free flour, it's difficult to swap in any alternative grain without trial and error. If you looking to experiment, and I definitely encourage this, trying swapping in only a portion of rye, spelt, and perhaps even whole wheat flour for some of the all-purpose flour.
Recipe
Chocolate Ganache Cake
Slightly nutty and extremely fudgy, this Chocolate Ganache Cake is moist and decadent with whipped ganache frosting.
Ingredients
Rye Chocolate Snacking Cake
95

grams

all-purpose flour

95

grams

rye flour

1

cup

granulated sugar

30

grams

unsweetened cocoa powder

1

teaspoon

baking powder

½

teaspoon

baking soda

½

teaspoon

salt

¼

teaspoon

ground cinnamon

optional

½

cup

canola oil

1 ½

teaspoon

pure vanilla extract

1

cup

hot coffee

or water

1

tablespoon

distilled white vineger
Whipped Chocolate Ganache
186 

grams

dark chocolate

60% to 65%, finely chopped

2

tablespoon

unsalted butter

diced

1

cup

heavy cream

1

pinch

salt
Instructions
Rye Chocolate Snacking Cake
Pre-heat the oven to 350°F. Line a 9 X 9-inch baking pan with parchment paper, letting it overhang the edges by an inch, and set aside.

In a large mixing bowl, whisk together the all-purpose flour, rye flour, sugar, cocoa powder, baking powder, baking soda, salt, and cinnamon until combined.

Create a well in the center of the dry ingredients and pour in the oil and vanilla. Stir until combined. Add the hot coffee and mix until the batter is completely smooth. Add the vinegar and mix until combined.

Pour the batter into the prepared cake pan. Bake for 22 to 24 minutes or until a toothpick inserted into the center of the cake comes out clean or with a few moist crumbs. Cool the cake on a wire rack before using the sides of the parchment paper to gently lift the cake out of the pan.
Whipped Chocolate Ganache
Place the chopped chocolate and butter in heat-safe bowl. Set aside.

In a small saucepan, bring the cream up to a gentle simmer. Pour the hot cream over the chocolate and butter. Let stand for 30 to 60 seconds then whisk until smooth. If any remaining lumps remain, heat the chocolate mixture over a double-boiler. Stir in the salt until combined.

Allow the ganache to cool at room temperature until it thickens and resembles chocolate pudding, about 2 hours. When ready, whisk the ganache until it thickens and lightens in color and texture.

Using an electric mixer, it should take no longer than 30 to 60 seconds until there is a noticeable change in texture. At this point, stop and switch to a ballon whisk. Stir by hand until the ganache is smooth and spreadable. Do not overmix. Use immediately.