A blueberry peach pie with an all-butter, flakey crust is the perfect flavor combination to round out summer. Better yet, you can adapt it to any stone fruit you have on hand!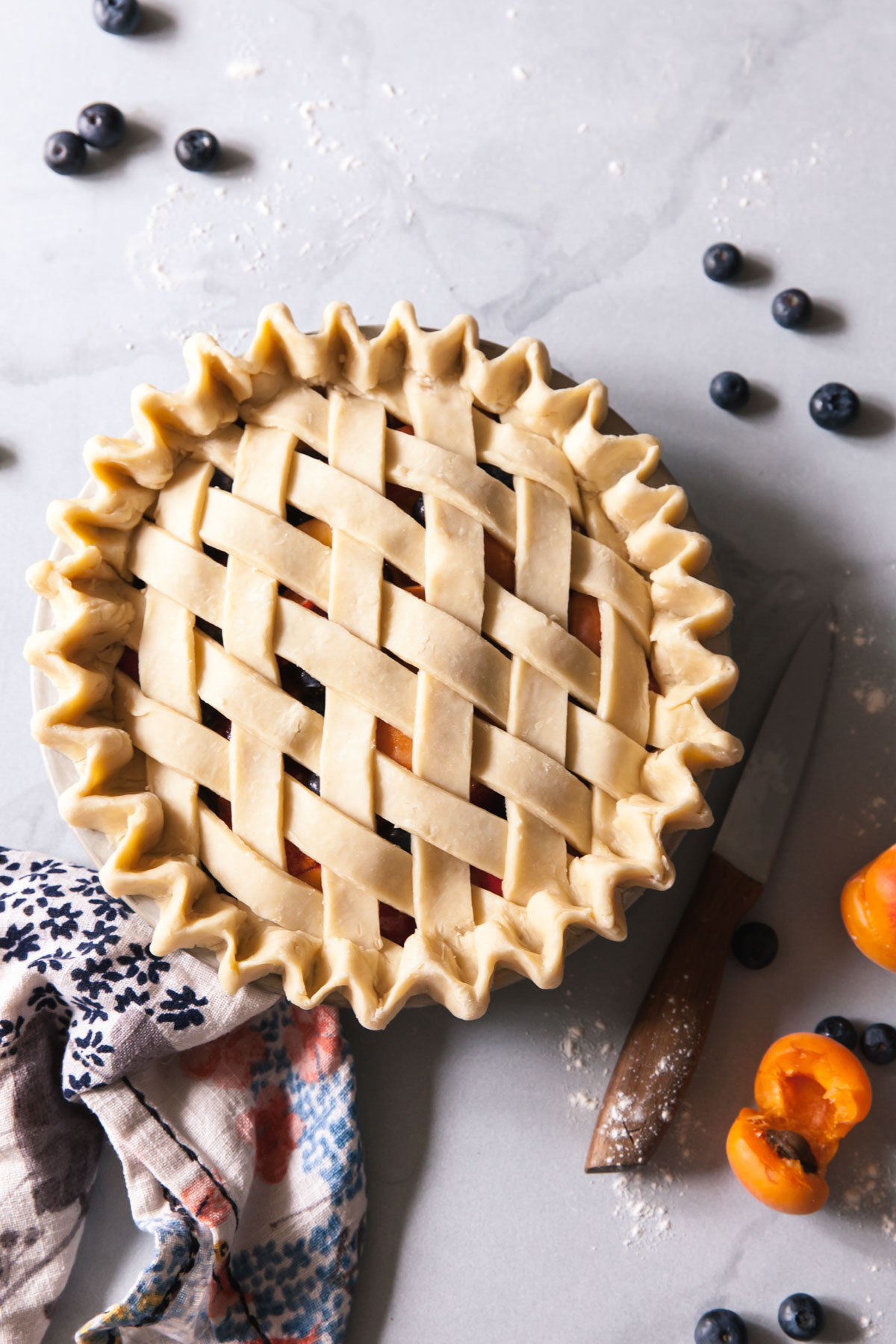 Jump to:
The key to working with stone fruit (and berries, too), is to allow them to macerate. By tossing the peach slices in some of the sugar and lemon juice first, the juices are drawn out of the fruit and discarded (instead of pooling at the bottom of your pie).
Take it from Kate, only use pie-worthly fruit in your bakes.  If it doesn't taste good plain, then don't waste your efforts trying to transform it into a tasty pie.
I'm talking about Kate McDermott, the pie queen and author of Art of the Pie.  If the peaches do not taste good, sub equal amounts of apricots, nectarines, or plums.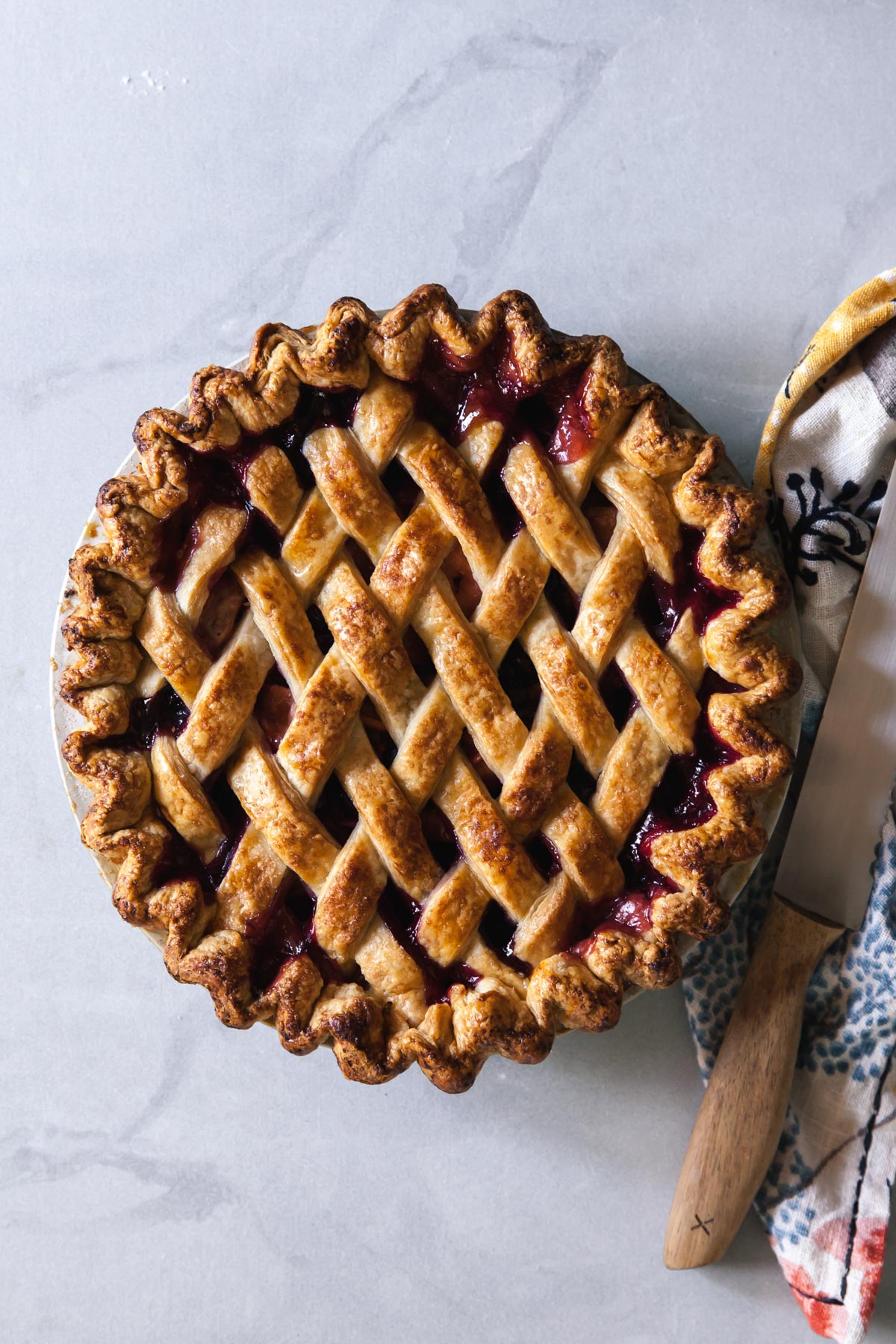 Ingredients
All-purpose flour
Granulated sguar
Slat
Unsalted butter
Egg
Peaches, apricots and/or necatrines
Lemon juice
Blueberries - fresh or frozen
Tapioca starch
With this pie, I prefer to use tapioca starch as my thickener. Cornstarch would work just as well, but it tends to make the juices cloudy.  
Just make sure the juices are really bubbling before taking the pie out of the oven to make sure the tapioca is "activated" and does its job.  
Tools and Equipment
Homemade pies come together with not much more than your own two hands. Here is a list of a few other kitchen tools needed to make this pie:
Large mixing bowl
Rolling pin
8 or 9-inch pie tin
Pastry wheel or paring knife
General kitchen tools (measuring spoons, spatula, etc)
Supporting Articles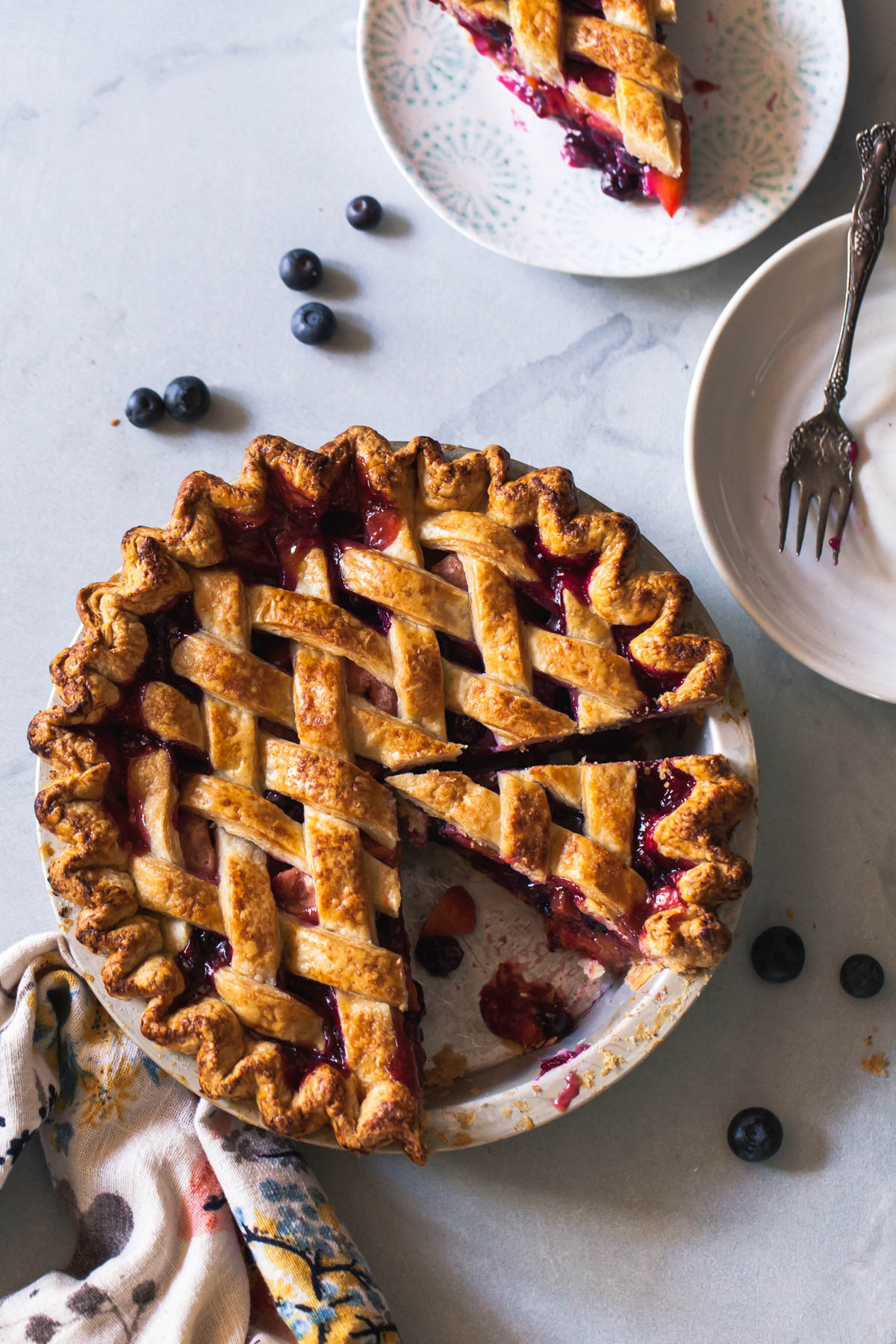 Substitutions
Peaches - use equal weight of apricots, nectarines, and mix of all stone fruit.
Tapioca Starch - for the filling, use 2 tablespoons each all-purpose flour and corn starch in place of the tapioca starch
Serving and Storage
The pie should cool completely before serving, at least 4 hours. If sliced when warm, the filling may spill out into a soupy mess.
Allowing the pie to cool completely makes sure that the filling has a chance to set. If you prefer to eat your pie warm, you may reheat each serving individually after it has been sliced.
The pie may be stored at room temperate overnight (covered). Beyond the first day, store leftovers in the refrigerator for up to 3 days.
More Pie Recipes to Try
Recipe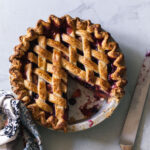 Print Recipe
Blueberry Peach Pie
Blueberry peach pie is the perfect dessert to round out summer. Sub other berries or stone fruit you have on hand!
Ingredients
All-Butter Pie Dough
½

cup

cold water

¼

cup

ice

2 ⅔

cup

all-purpose flour

1

tablespoon

granulated sugar

½

teaspoon

salt

1

cup

very cold butter

diced

1

egg

1

splash

milk

turbinado sugar

for sprinkling
Blueberry Peach Pie Filling
1 ½

lbs

stone fruit (peaches, apricots, and/or nectarines)

pitted and sliced about ½-inch thick

⅔ to ¾

cup

granulated sugar

2

tablespoon

fresh lemon juice

1 ½

cups

fresh or frozen blueberries

¼

cup

tapioca starch

1

tablespoon

all-purpose flour

1

pinch

salt
Instructions
All-Butter Pie Dough
In a large bowl, stir together the flour, salt, and sugar.  Place the ice in the water and set aside.

Cut in the cold butter with a pastry cutter or by hand, rubbing the pieces of butter between your thumb, index, and middle fingers.  Once the pieces are no longer lager than about a peanut, begin to flatten the pieces of butter in sheets between your palms.  Be careful not to over-work the butter or let it get too warm.

Working with only a couple tablespoons at a time, add in about 6 to 8 tablespoons of the water.  Stir together using a wooden spoon or even just a clean hand in the bowl.  The dough should appear fairly shaggy and not sticky.  Once you can squeeze a few pieces together and they hold, the dough is done being mixed.  Do not over-mix.

Divide the dough into half and shape each piece into a disk.  Wrap in plastic and refrigerate for at least a couple of hours, or overnight (preferably).

Once the dough is ready, start the filling (recipe to follow).

Meanwhile, bring one disc out of the refrigerator and allow to rest for about 10 minutes.  Lightly flour the work surface and begin to roll out the dough, working from the center out – rotating the dough after each roll.  Roll the dough until about ¼ inch thick and about 12 to 13 inches in diameter. 

Gently roll the dough around the rolling pin and transfer to a 8 or 9 inch pie tin.  Fit the dough into the bottom of the tin and up the sides, allowing for about an inch of overhang.  Trim with kitchen sheers and place back in the refrigerator.

For the lattice top, repeat step 5.  Using a ruler and a paring knife, cut 14 to 16 strips, about a ½-inch wide.  Place on a baking sheet or cutter board and place in the refrigerator, along with any leftover dough.

Continue on with the filling and add dump the fruit mixture into the chilled pie crust.  Remove the cut strips from the refrigerator and begin creating a the lattice pattern, carefully weaving over and under each strip of the opposite direction.  Allow for some excess dough on the end of each strip, then trim.

Return the pie back to refrigerator for at least 30 minutes.  Meanwhile, pre-heat oven to 400 degrees.

Just before heading into the over, create an egg wash by whisking together a whole egg and a splash of milk.  Brush the egg wash over the entire top of the crust and sprinkle with turbinado sugar.

Place pie on a baking sheet and bake for about 40 to 45 minutes, or until golden brown.  If the top begins to brown too quickly, cover with foil.

Allow the baked pie to completely cool before slicing and serving.
Blueberry Peach Pie Filling
Once the pie dough has chilled and you are ready to assemble the pie, put the peach slices (or other stone fruit) in a large bowl and toss with ⅓ cup of the sugar and the lemon juice. Let stand for 20 to 30 minutes.

After 20-30 minutes, drain the excess juices from the fruit and discard.

Add the remaining ingredients and gently toss to combine.  Add more sugar depending on the ripeness of your fruit.