With layers of lightly spiced zucchini cake slathered with tangy, sweet goat cheese frosting and dripping with lemon glaze, this light and zesty Lemony Zucchini Cake is a summer-time favorite.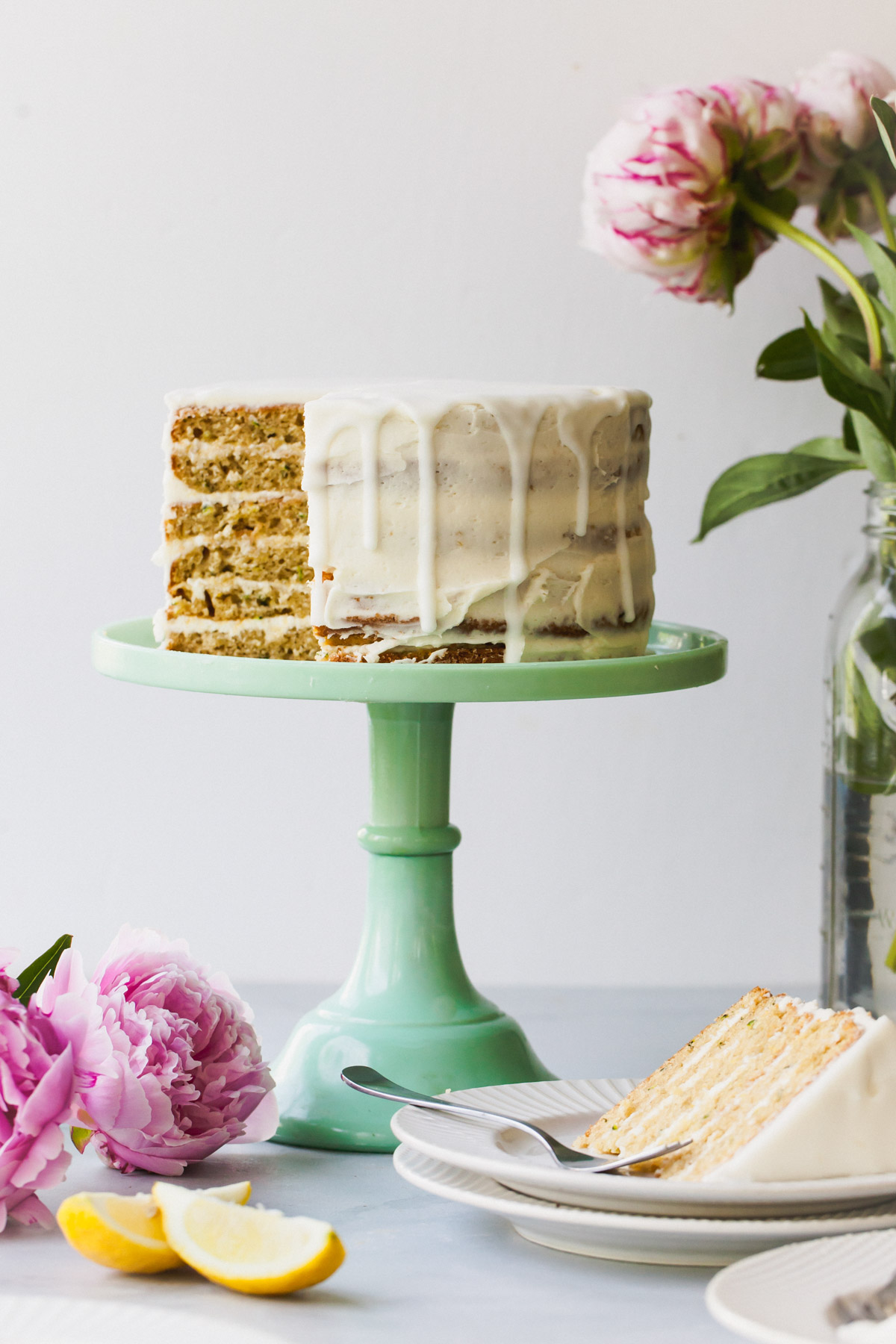 Love a good spice cake but can't wait until fall? In this lemon zucchini cake, aromatics like lemon zest and cardamom create a lighter spice blend that are more appropriate for the summer months.
What Does Lemon Zucchini Cake Taste Like?
Like other vegetable-forward cakes (carrot, pumpkin, etc), zucchini adds a ton of moisture to tender spice cakes without tasting of the actual vegetable. Zucchini has a hight water content that, when shredded, nearly melts into the cake batter as it bakes.
Paired with cinnamon, cardamom, and fresh nutmeg, zucchini cake tastes like a light and fluffy spice cake.
A good amount of creamy frosting and lemony glaze should be able to convince any remaining skeptics that zucchini cake is definitely a sweet idea.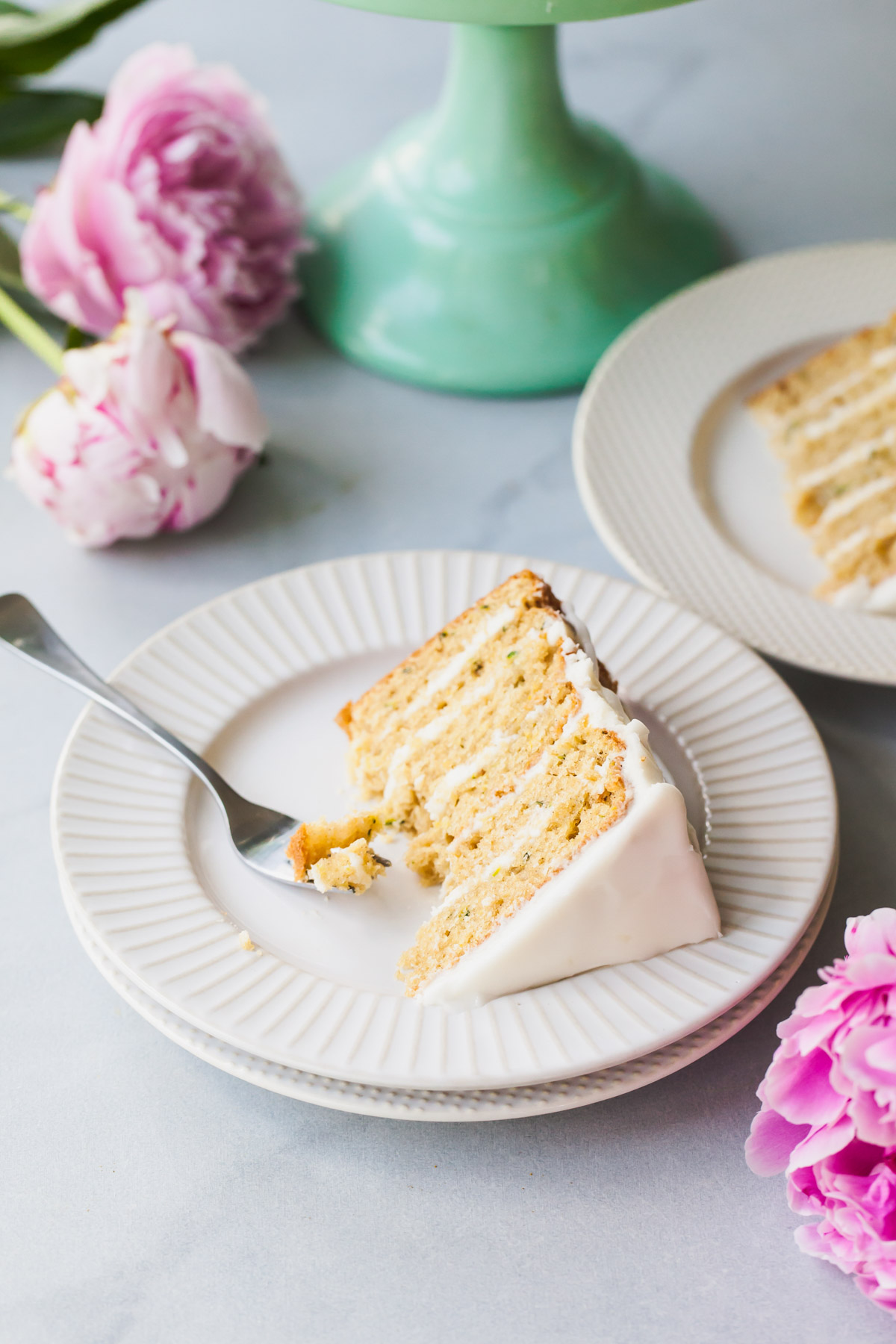 How to Make a Zucchini Cake
Shredded zucchini can sneak its way into baked goods like muffins, breads, cakes, and even brownies. But you can't just chuck a zucchini into a cake batter and cross your fingers.
However, I promise this is one of the easier cakes you will ever make. You won't need to bust out the food processor for this or get any other fancy tools besides a box grater and some paper towels.
To bake with zucchini, simply use the large holes of a box grater to shred the unpeeled vegetable. You don't need to be super precise here and the amount called for in the recipe is small enough that you can do this by hand.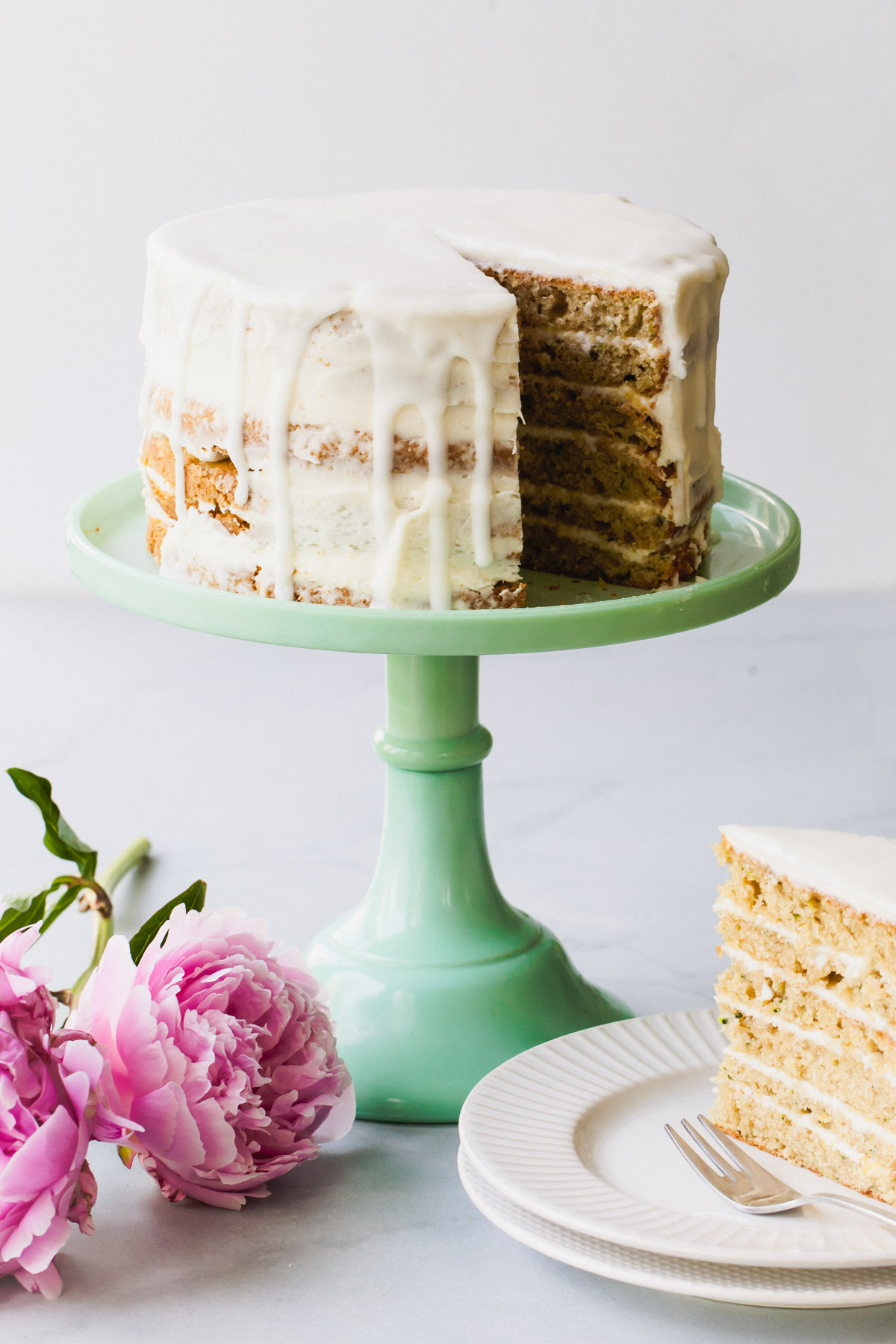 Moist Zucchini Cake
Zucchini has a high water content that contributes to the extra moistness of this cake. However, too much water can take away from its fluffy crumb.
To remedy this, we are going to simply squeeze the grated zucchini in a few paper towels. No waiting for it to drain or anything like that. Place the shredded zucchini in a few paper towels, wrap it up, and SQUEEZE over the sink.
You will be so surprised how much water with be released! Don't worry about squeezing out every last drop from the poor zucchini. As you will see, a good amount of liquid will easily release - just squeeze and move on.
Measure the 1 ½ cups of shredded zucchini called for in the recipe AFTER you've squeezed it out.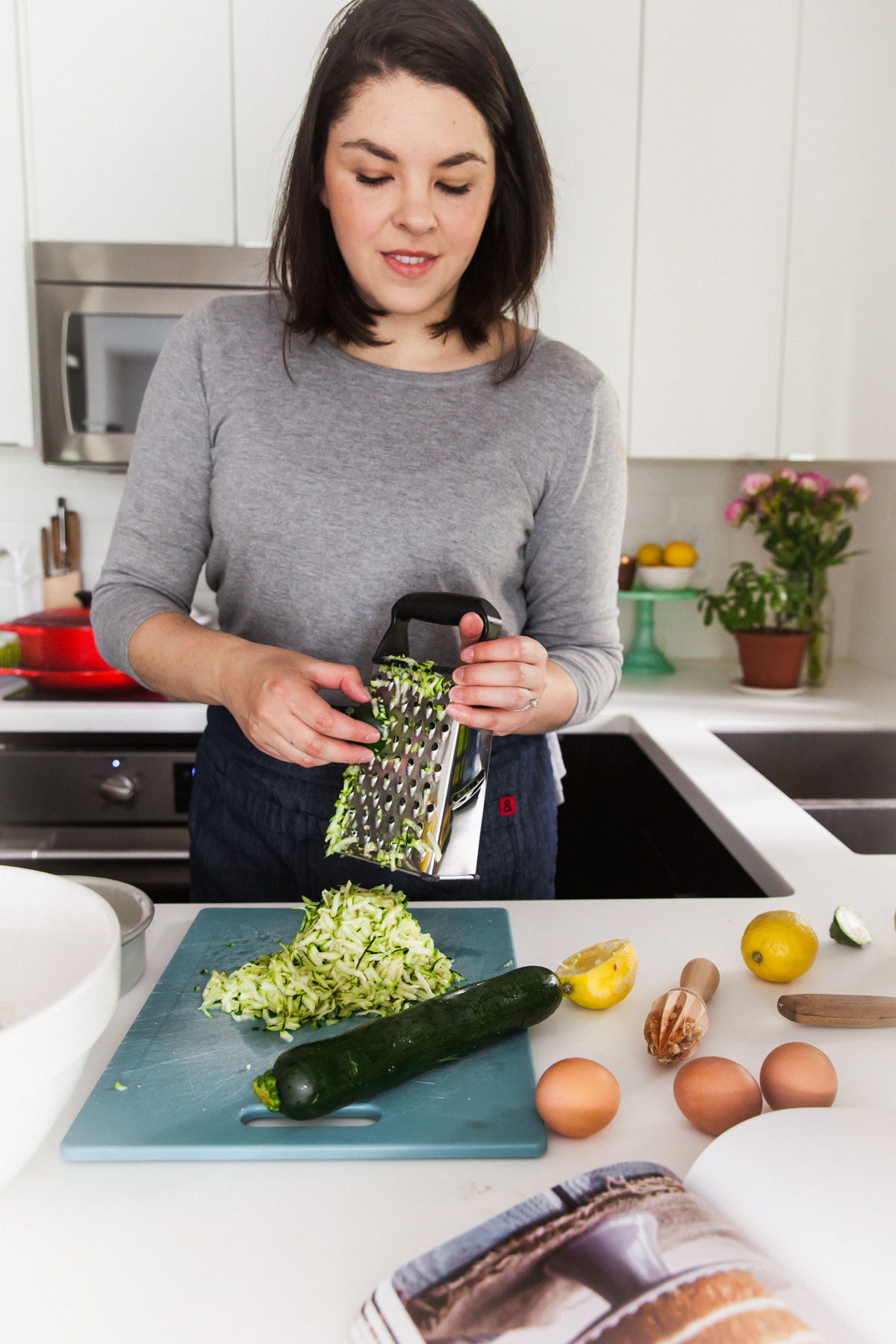 How to Use the Muffin Method for Mixing
Think about muffins, pancakes, and banana bread. Now do you ever recall lugging out the stand mixer when the craving strikes to make everyday recipes? Instead you reach for your largest mixing bowl, a whisk, and a liquid measuring cup (a Pyrex with all the numbers nearly faded off, if yours is anything like mine).
The Muffin Method comes together rather quickly (hence the name quick-breads, where it is typically used). It is also known as the quick-mix, two-bowl, dump, and all-ingredient method.
As opposed to the creaming, foaming, and reversing-creaming methods, this one requires only a few dishes and a touch of elbow grease to come together. It is used when working with liquid fats (oil or melted butter) where you don't need to beat in any extra air into the batter.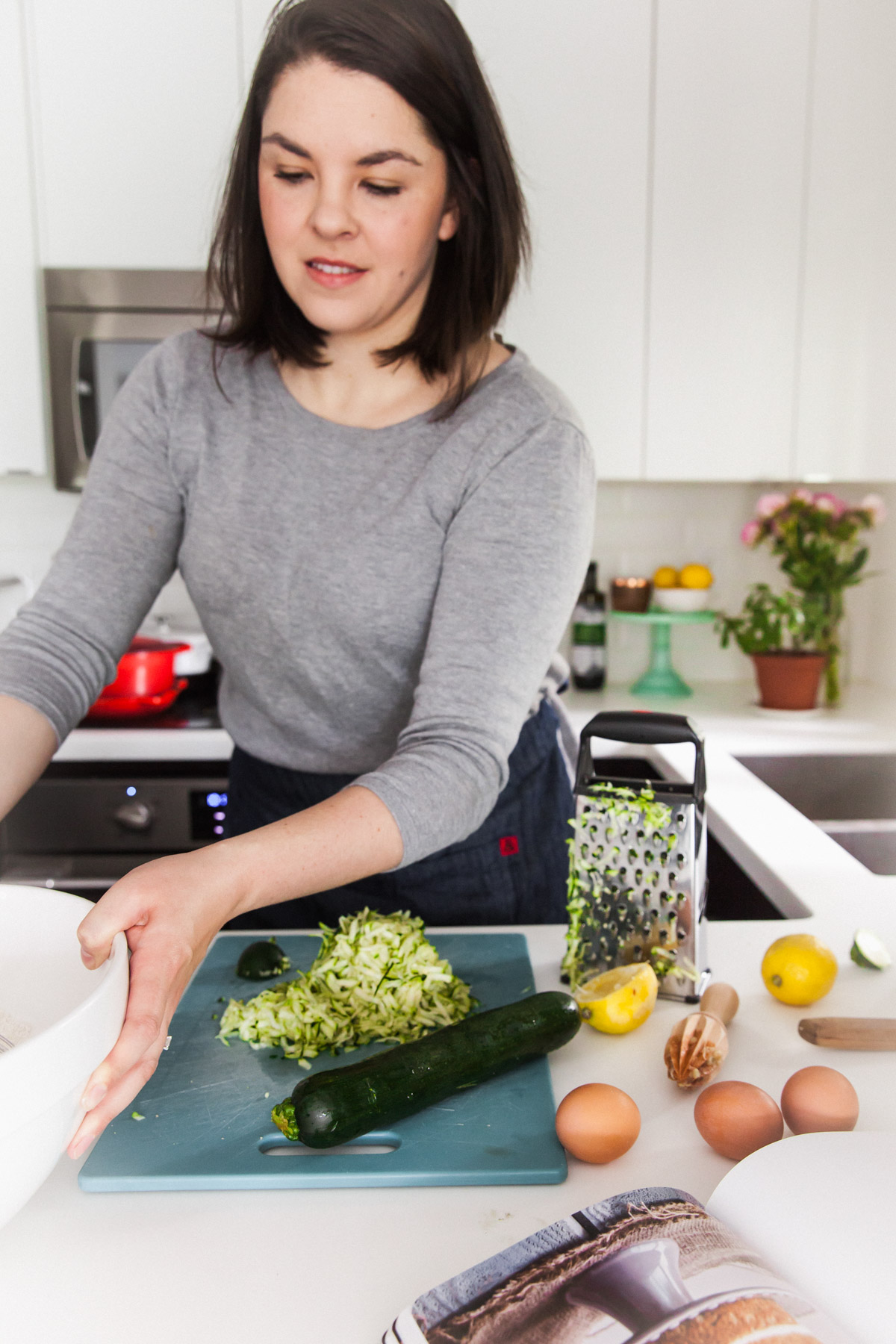 Basically, combine all of the dry ingredients (including sugar) in one large bowl and all of the wet ingredients (including eggs) in another bowl or liquid measuring cup, dump, and stir.
The mixing part comes down to personal preference, but I suggest creating a well in the center of the dry ingredients and pouring in the wet. As you pour, begin to whisk the batter in the very center, gradually pulling in more and more of the dry ingredients as you go.
As the batter comes together, swap the whisk for a rubber spatula and stir to combine. In this case, start folding in the zucchini before the last streaks of the dry ingredients disappear to prevent over-mixing.
Goat Cheese Frosting
Goat cheese on cake? Let's think about it for a minute - goat cheese is mild, creamy, and tangy. Sound like a type of ingredient you might slather all over carrot cake, right? Same idea!
Similar to cream cheese, when whipped with enough butter and confectioners' sugar, goat cheese becomes a luscious, creamy and slightly tangy frosting.
Where sometimes cream cheese icing can feel heavy and overly sweet, this whipped goat cheese frosting won't weigh down our moist zucchini cake.
Tips for Icing a Naked Cake
This lemon zucchini cake is what I would call "semi-naked." It is more conservative that a fully naked cake but still rustic and purposefully imperfect. This cake doesn't require a ton of icing, especially with that zippy lemon glaze, and I felt that the more organic look fit the flavor profile.
But because of the drips, I gave the cake a semi-naked finish as opposed to leaving the sides completely bare. This way, the glaze flows straight down the sides of the cake instead of rippling over knobby layers of cake and filling.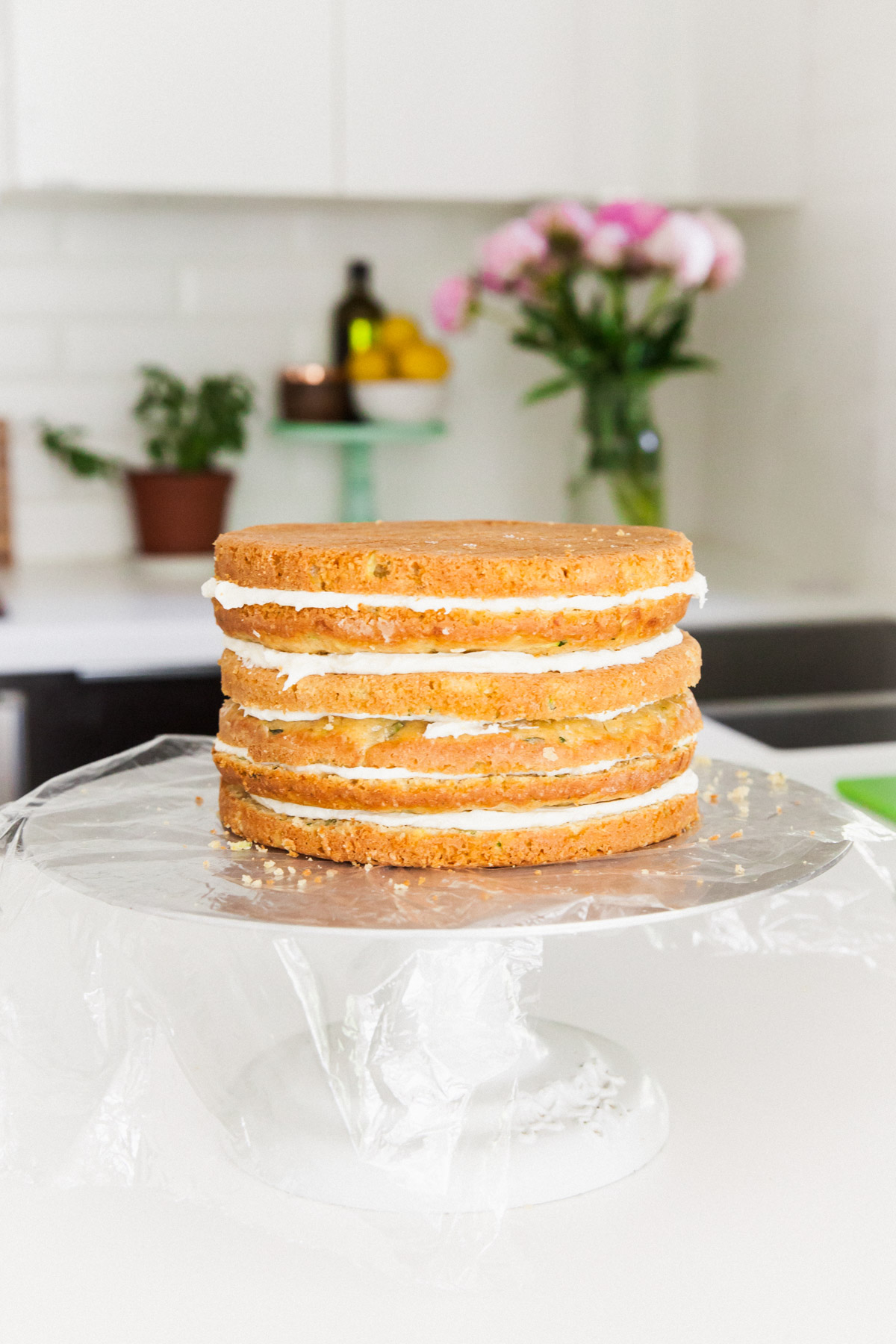 For more naked cake tips, read my post on how to make a naked cake.
My last piece of advice? Make sure to frost the top of the cake and still create those crisp top edges so your glaze has a nice place to start its drip!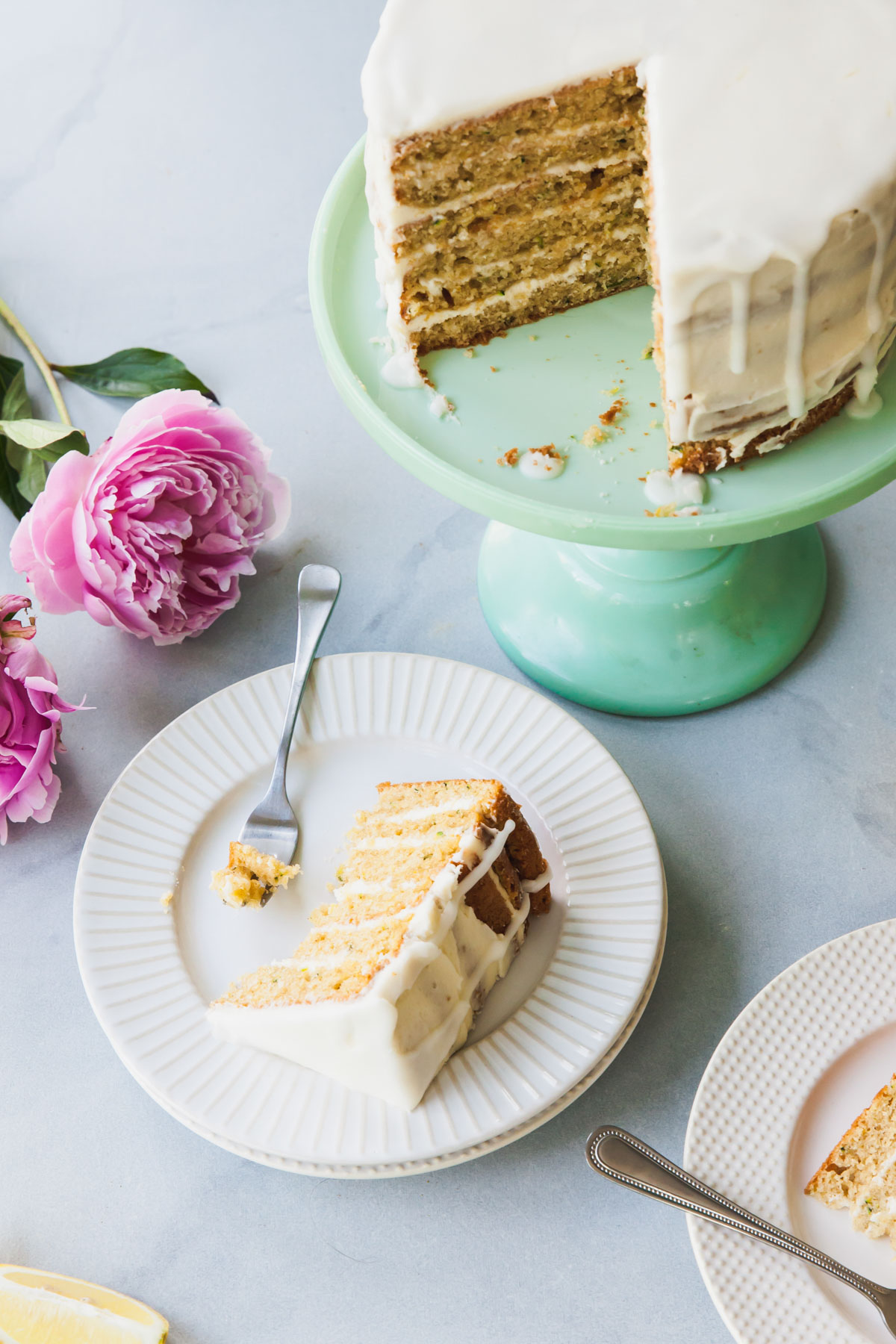 Recipe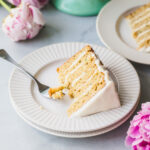 Print Recipe
Lemon Zucchini Cake
Layers of zucchini cake slathered with goat cheese frosting and dripping with lemon glaze make this Lemony Zucchini Cake a summer favorite.
Ingredients
For the Zucchini Cake
2 ½

cups

all-purpose flour

1

cup

granulated sugar

½

cup

brown sugar

2

tea

grated lemon zest

2

tea

baking powder

½

tea

baking soda

½

tea

salt

½

tea

ground cinnamon

½

tea

ground cardamom

⅔

cup

grapeseed or canola oil

3

eggs

¼

cup

buttermilk

1 ½

cup

packed grated zucchini, squeezed out
For the Goat Cheese Frosting
¾

cup

unsalted butter, softened

4

ounces

soft goat cheese, at room temperature

3 to 4

cups

confectioners' sugar

2 to 3

tablespoon

milk

½

tea

vanilla extract
For the Lemon Glaze
1

cup

confectioners' sugar

2 to 3

tbls

fresh lemon juice
Instructions
To Make the Zucchini Cake
Pre-heat the oven to 350 degrees. Grease and flour three 7-inch cake pans* See Notes for alternative size pans.

Whisk together the flour, both sugars, lemon zest, baking powder, baking soda, salt, cinnamon, and cardamom in a large bowl.

In a separate bowl or large liquid measuring cup, add in the oil, eggs, and buttermilk. Whisk to break the egg yolks and combine.

Make a well in the center of the dry ingredients. Stream in the wet ingredients into the center of the bowl and begin whisking the batter to combine As the batter comes together, switch to a rubber spatular to stir. Before the last streaks of the dry ingredients disappear, fold in the zucchini.

Evenly distribute the batter into the prepared pans and smooth out the tops. Bake in the preheated oven for 23 to 25 minutes, or until a toothpick inserted into the center of the cakes comes out clean. Cool cakes on a wire rack for 10 to 15 minutes before removing them from their pans. Continue to cool completely before cutting or filling.

*May also be baked in four, 6-inch cake pans for 24 to 26 minutes or two, 8 or 9-inch cake pans for 25 to 30 minutes.
To Make the Goat Cheese Frosting
In the bowl of a stand mixer fitted with the paddle attachment (or a large mixing bowl with a hand mixer), beat the butter and goat cheese together on medium speed until smooth. Gradually add in the remaining ingredients. Mix on medium-high speed for 2 to 3 minutes until fluffy. Add more/less sugar or milk until desired consistency is achieved (not too thick that it tears the crumb and not too runny that is squishes out between the layers).
To Make the Lemon Glaze
Stir to combine in a small bowl. The glaze should be the consistency of craft glue - thin enough to flow easily off a spoon but thick enough that it doesn't slip right off the cake (see tips on the How to Make a Drip Cake).
To Assemble
Once the cakes have completely cooled, trim the tops with a long serrated knife until flat and even. If desired, split each cake in half horizontally to create 6 layers of cake (3 layers is totally fine). Depending on how many layers of cake you have, spread a thin layer of frosting between each cake (about ⅓ cup for six 7-inch layers of cake). Regardless of how many layers you have, be sure to save about 1 to 1 ½ cups of frosting for the top and semi-naked finished.

Using an offset spatula, finish filling your layers then crumb coat the cake with the semi-naked look. Be sure to frost the top of the cake and keep clean, crisp top edges before adding the glaze. Chill for 15 minutes.

Test the consistency of your glaze by dripping it off the edge of the chilled cake with a spoon. If satisfied, continue adding drips around the sides of the cake. Re-check the consistency (it tends to thicken as it sits), and pouring the remaining glaze on the top of the cake (you may want to thin the glaze just slightly before adding to the top). Use the back of a spoon or offset spatula to spread out the glaze on top and connect to the drips. Gently tap the bottom of the cake on the counter to pop any air bubbles and to the smooth out the glaze before it sets.
Notes
Serving and Storage
Cake may be served immediately. Please enjoy at room temperature but refrigerate leftovers (or if making in advanced).
Because the sides aren't protected by a blanket of buttercream, naked cakes tend to dry out faster. Be sure to wrap the cake in plastic wrap and place in a cake box (if you have one) when storing in the refrigerator. Cake is best eaten within 2 to 3 days.
May also be baked in four, 6-inch cake pans for 24 to 26 minutes or two, 8 or 9-inch cake pans for 25 to 30 minutes.