Sweet peaches and juicy strawberries star in this peak summer Strawberry Peach Pie! Nestled in an all-butter crust, ripe peach, blushing apricot, and fresh strawberry slices are tossed with brown sugar and cinnamon for the perfect season dessert.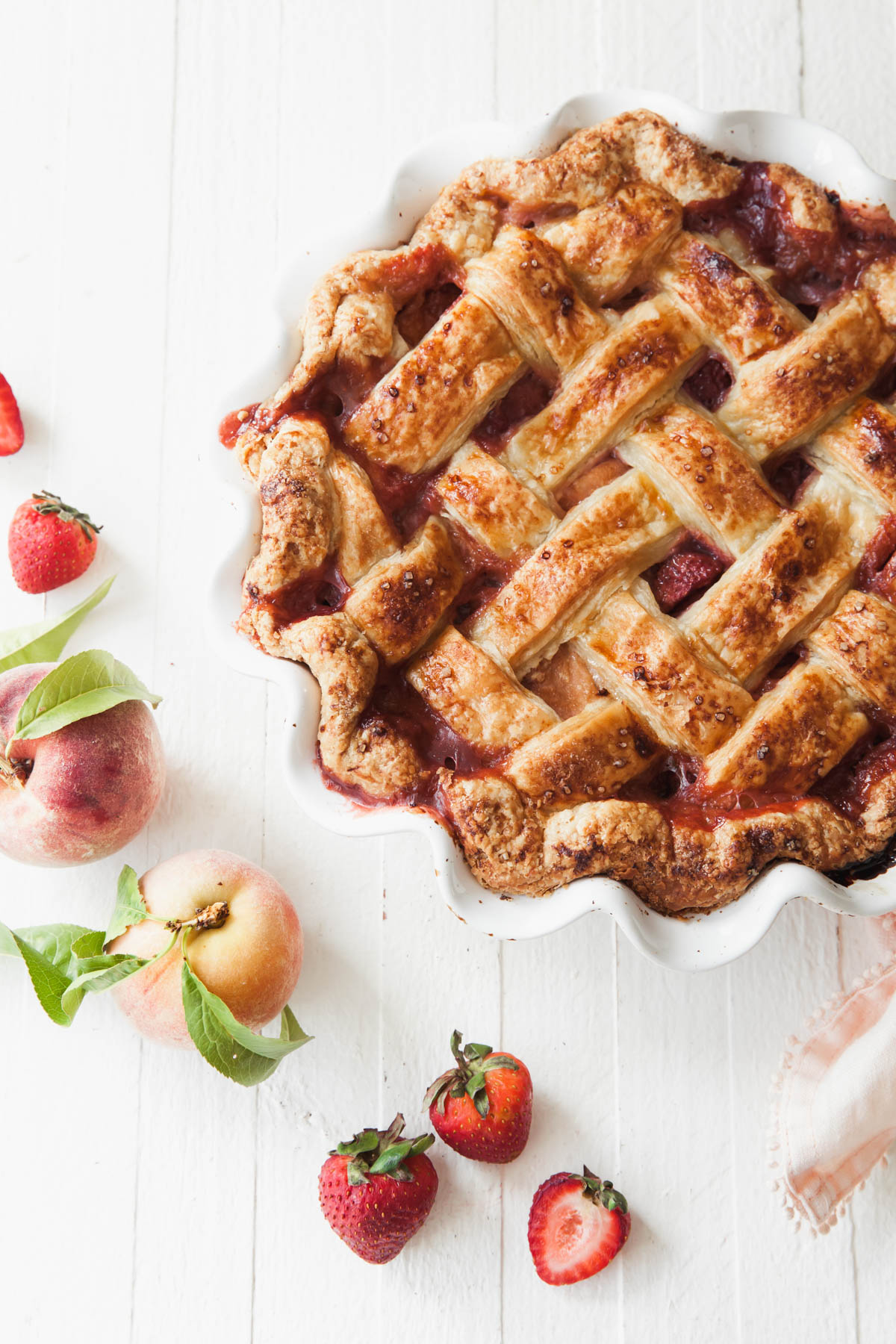 Strawberry Peach Pie for Summer
This strawberry peach pie was made with some local British Columbia treasures from the Farmer's Market. When you walk past the stalls and a wave of sweet peach smell hits you like a tidal wave, you know you've hit the jackpot.
The hardest part of peach season is deciding to either take them home to bake into a beautiful pie or eat them standing right there, peach juice and flesh dripping down your palms.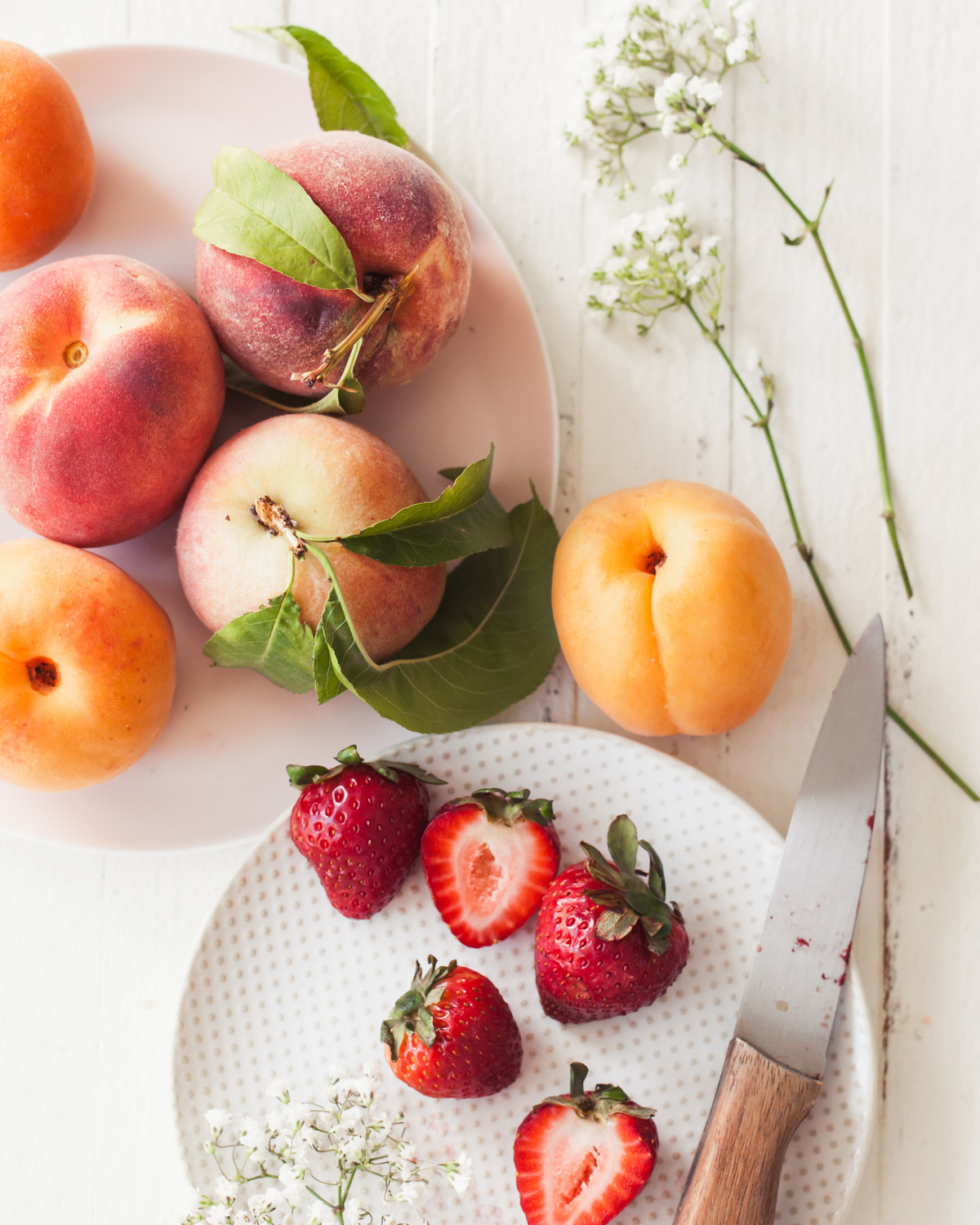 Since peach and strawberry season overlap for only a fleeting moment out of the year, do the wise thing and buy as many peaches as you can - some for eating and some for baking. You won't regret it.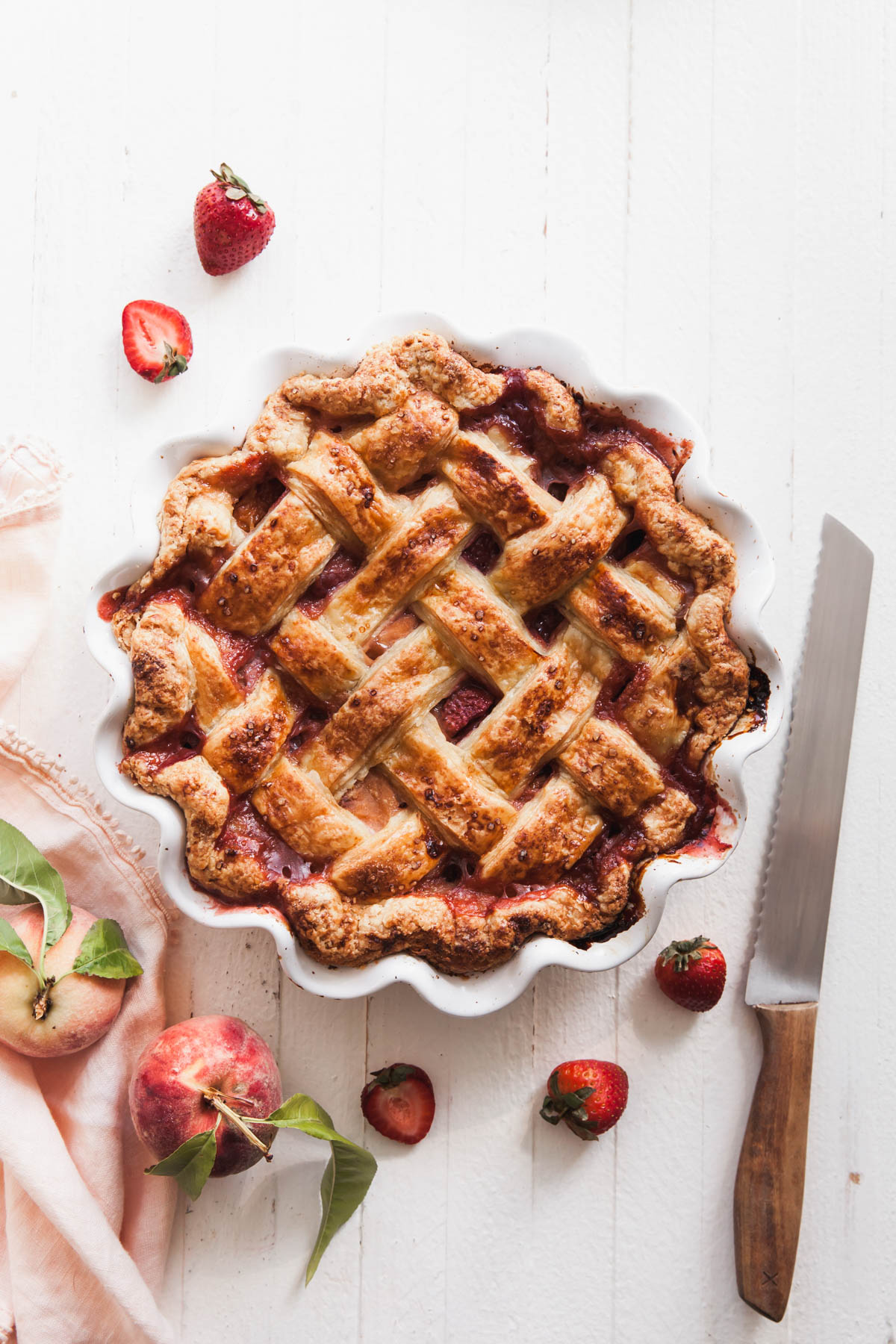 Additional Flavors in Strawberry Peach Pie
The filling for the strawberry peach pie needs nothing more than a little sweetness by way of brown sugar, a splash of vanilla, and pinch of cinnamon. The peach and strawberry pie mixture is cradled in my favorite no-nonsense, all-butter crust.
A classic lattice keeps it rustic and inviting for all of your summer celebrations and gatherings. Learn how to make pie dough by hand here.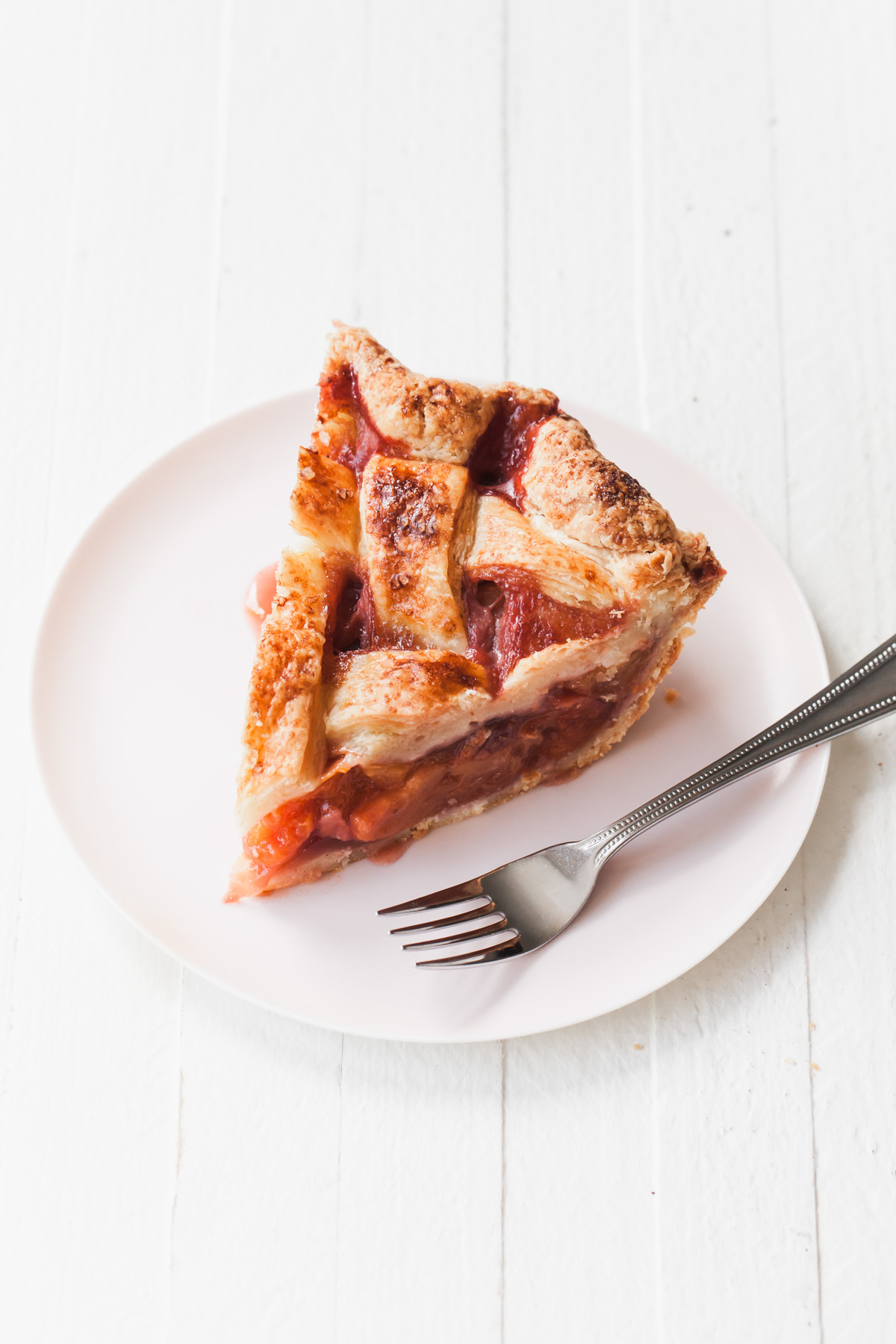 Strawberry Peach Pie Recipe
1 ¼ pounds combination peaches and apricots, pitted and sliced into ½-inch pieces
12 ounces strawberries, hulled and halved (or quartered if on the larger side)
¼ cup granulated sugar, divided
⅓ cup tapioca flour (or corn starch)
¼ cup brown sugar
1 teaspoon pure vanilla extract
¾ teaspoon ground cinnamon
¼ teaspoon salt
1 egg
sugar for sprinkling
All-Butter Pie Dough (recipe to follow)
Instructions
Place the sliced fruit in a large bowl and sprinkle with 2 tablespoons granulated sugar. Gently toss and allow to sit for 20 minutes. The stone fruit and berries will macerate, releasing some of their juices.
In the meantime, pull out the pie dough from the refrigerator. Allow to soften slightly, about 10 minutes, then roll half out into a large round, between ⅛ to ¼-inch thick and 11 to 12-inches in diameter. Fit the pie dough into the bottom of a pie tin. Trim the edges so that they have about a 1-inch overhand and place in the refrigerator.
Using as little flour as possible, roll out the second piece of pie dough until between ⅛ to ¼-inch thick. Using a sharp knife or pastry wheel, slice the dough into 8 to 10 strips to use for the lattice top. Place on a cutting board or baking sheet and chill in the refrigerator.
After the fruit has released some of their juices, gently drain and discard any liquids. Toss the fruit with the remaining granulated sugar, brown sugar, tapioca flour, vanilla, cinnamon and salt.
Fill the pie tin with the fruit, leaving any juices behind. Weave the cut strips into a classic lattice pattern. Fold the edges of the bottom crust up and over the lattice and press to seal. Crimp the edges as desired.
Place the pie back in the refrigerator for at least 15 minutes and preheat the oven to 425°F. Once ready, combine the egg and 1 tablespoon water to make an egg wash. Brush the egg mixture over the top of the pie and sprinkle with sugar. Bake the pie on a rimmed baking sheet for 25 minutes. At 25 minutes, reduce the heat to 375°F for an additional 35 to 45 minutes, or until the juices near the centre of the pie are bubbling. Completely cool the pie, at least 4 hours, before serving.
All-Butter Pie Dough
⅔ cup ice cold water*
2 ⅔ cup all-purpose flour
1 tablespoon granulated sugar
½ teaspoon salt
1 cup very cold butter, diced
Instructions
In a large bowl, stir together the flour, salt, and sugar.
Cut in the cold butter with a pastry cutter or by hand, rubbing the pieces of butter between your thumb, index, and middle fingers. Once the pieces are no longer lager than about a peanut, begin to flatten the pieces of butter in sheets between your palms. Be careful not to over-work the butter or let it get too warm.
Working with only a couple tablespoons at a time, add in about 6 to 8 tablespoons of the water. Stir together using a wooden spoon or even just a clean hand in the bowl. The dough should appear fairly shaggy and not sticky. Once you can squeeze a few pieces together and they hold, the dough is done being mixed and hydrated. Do not over-mix or add too much water*.
Divide the dough into half and shape each piece into a disk. Wrap in plastic and refrigerate for at least a couple of hours, or overnight (preferably).