This spiced gingerbread layer cake is filled with cookie butter buttercream are all wrapped up in this 'sweater weather' inspired cake. With woven buttercream details and festive colors, this cake is bound to win at any ugly sweater party this holiday season.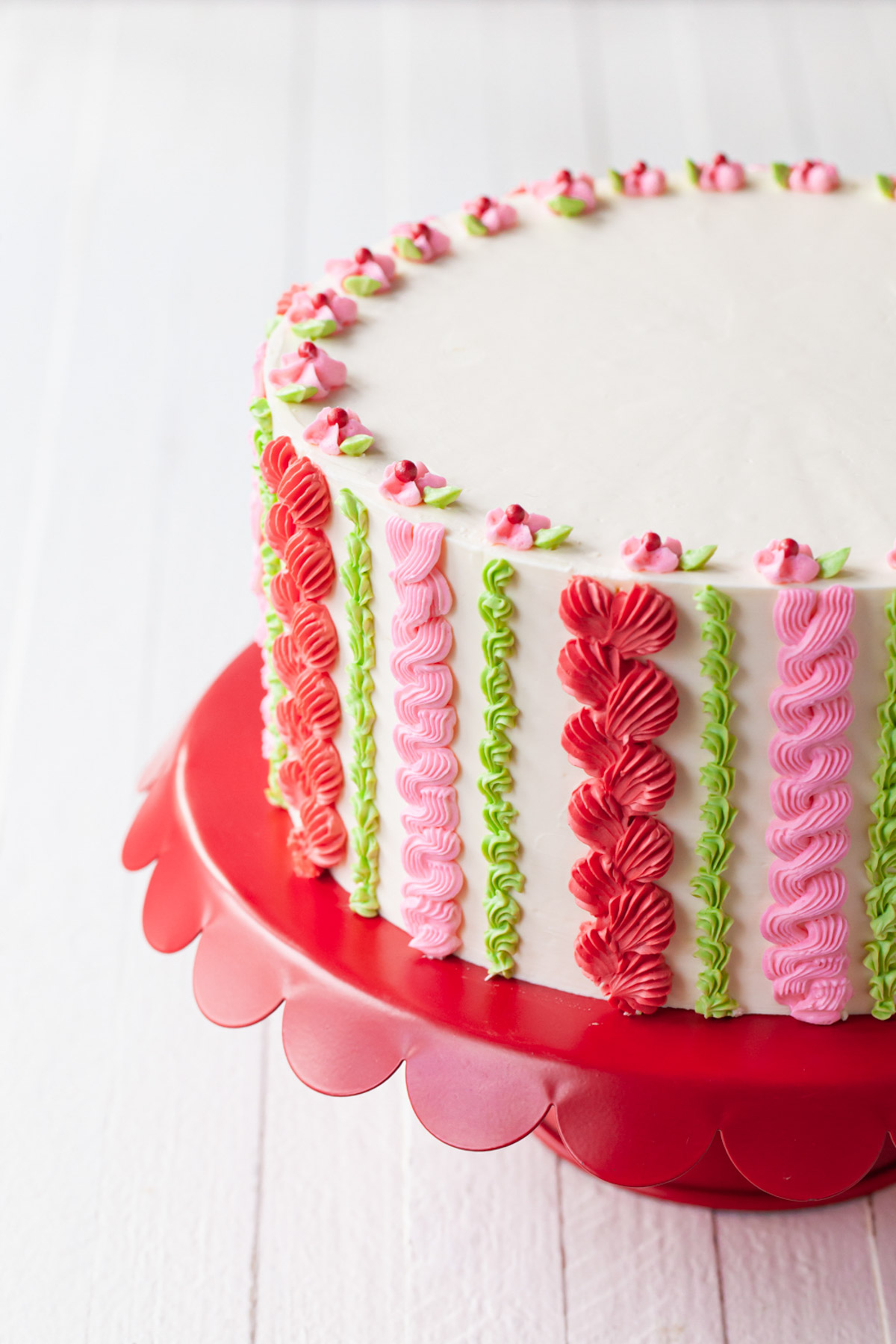 Why You'll Love This Holiday Cake
It's sweater weather! Like for real though; we are freezing up North! Time to curl up in our favorite cozies, layer on the cable knit, and tuck in with a sweet and spicy slice of cake.
While some cakes are light and fluffy (we're looking at you chiffon and Angel Food), this Gingerbread Layer Cake is decidedly not that. Inspired by gingerbread cookies themselves, the cake is extra moist but has a bite to it.
It's slightly chewy, just like Grandma's famous ginger crinkle cookies.
Tasting Notes
The cake is spiced with ginger, cinnamon, and clove.
Fancy molasses brings home those classic gingerbread flavors. It's not actually boujee nor does it require you to wear a dinner jacker to purchase, that's just what it is called at the regular supermarket.
The filling! Let's talk about this filling. Cookie Butter meets Buttercream. We know we aren't the only ones to eat spoonfuls of speculoos straight from the jar, but whip it into buttercream - now that's heaven!
Those brown sugary, biscoff flavors pair so perfectly with the spiced gingerbread cake. A whole lot of cookie wrapped up into one cake.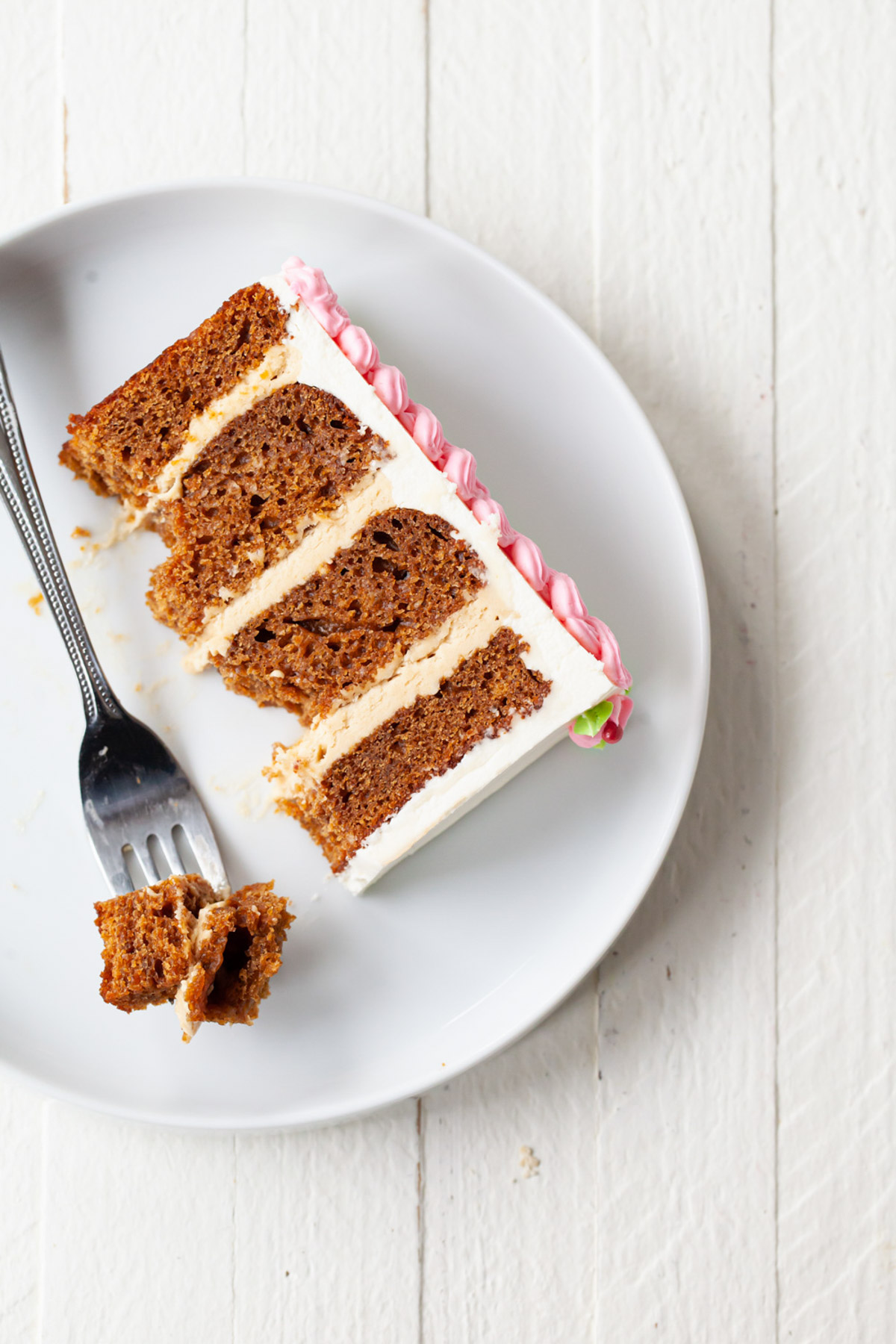 The delicate piping is more achievable with Swiss meringue buttercream than the whipped buttercream from the filling.
But if you prefer to skip the pullover piping and would rather only be troubled with making one buttercream, then simply increase the recipe for the filling to spread all over the cake.
How to Make a Buttercream Sweater Cake
Red Weave:
Piping tip #32 (star tip)
Score the cake with the edge of an icing smoother or metal spatula to create evenly-spaced vertical lines around the cake. Starting from the top of the cake, pipe interlocking shells down the side of the cake. Angle the start of each shell shape so that their tails form staggered, interlocking "V's"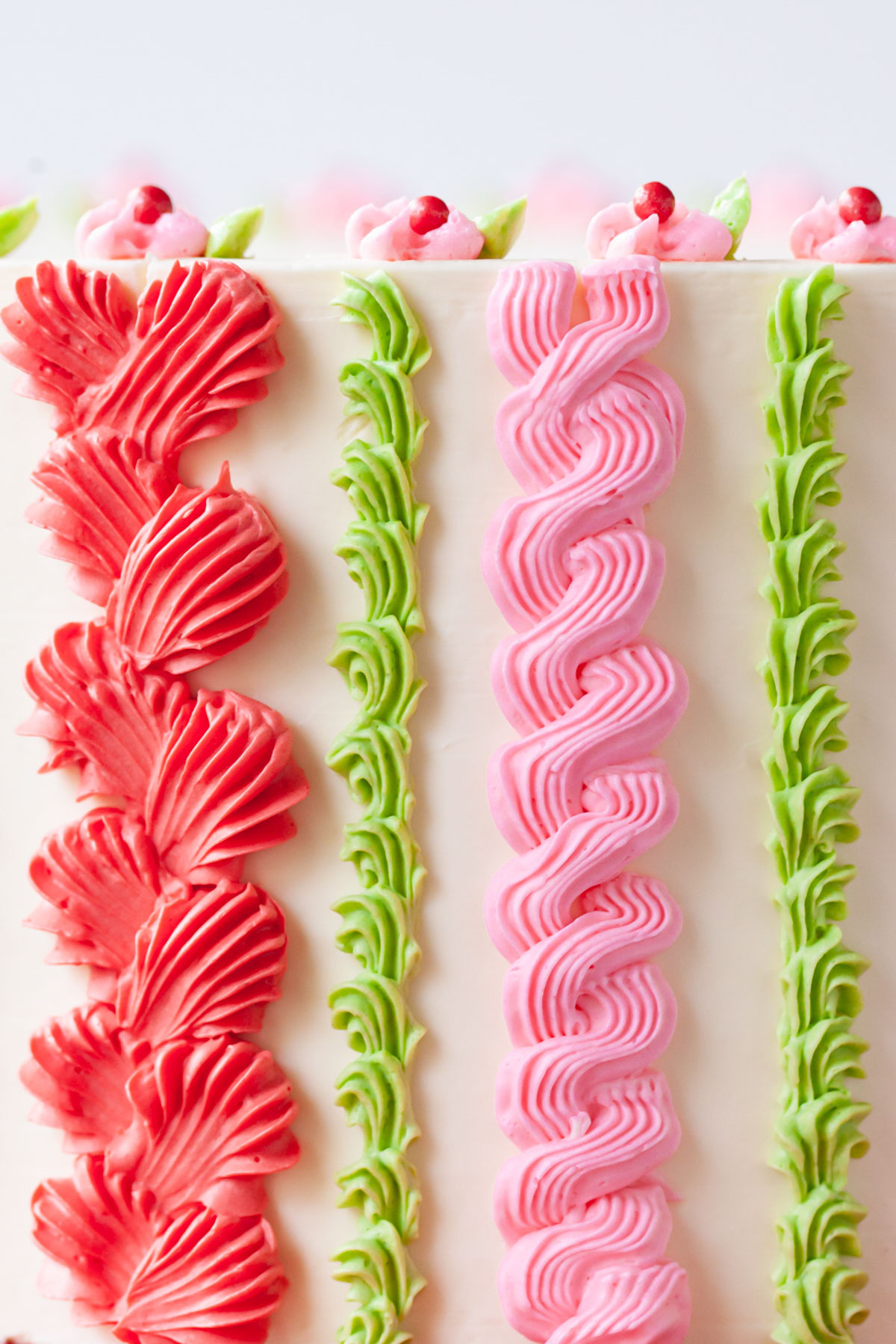 Pink Weave:
Piping tip #47
Position the ridged side so that it is facing away from the cake. Use the same braided "S" technique as you would to create a rope border, but keeping the plain side of the piping tip flat against the cake.
Green Spiral:
Piping tip #13 (small star tip)
Pipe continuous reverse shells down the sides of the cake (but without switching directions).
Recipe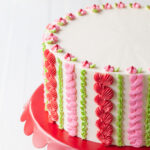 Print Recipe
Gingerbread Layer Cake with Cookie Butter Filling
Layers of spiced gingerbread cake and cookie butter buttercream are all wrapped up in this 'sweater weather' inspired cake.
Ingredients
Gingerbread Layer Cake
3

cups

all-purpose flour

2 ½

teaspoon

baking powder

¾

teaspoon

baking soda

½

teaspoon

salt

4

teaspoon

ground ginger

2

teaspoon

ground cinnamon

½

teaspoon

ground clover

1

cup

fancy molasses

1

cup

unsalted butter

cubed

½

cup

water

1 ⅔

cups

brown sugar

4

large eggs

⅔

cup

milk

⅓

cup

sour cream

2

teaspoon

vanilla extract
Cookie Butter Buttercream
½

cup

unsalted butter

softened

2 ½

cups

confectioners' sugar

1 to 2

tablespoon

milk

½

teaspoon

vanilla extract

½

cup

cookie butter or speculoos spread
Swiss Meringue Buttercream
4

large egg whites

1 ⅓

cups

granulated sugar

2

cups

unsalted butter

softened

2

teaspoon

vanilla extract
Instructions
Gingerbread Layer Cake
Pre-heat overnight to 350°F. Grease and flour two 8-inch cake pans and set aside.

Sift together the flour, baking powder, baking soda, salt, ginger, cinnamon, and cloves. Set aside.

In a large saucepan, add the molasses, butter, and water. Heat over medium until the butter melts. Stir in the brown sugar and remove from the heat.

In a medium bowl, whisk together the eggs, milk, sour cream, and vanilla. Add the egg mixture to the molasses mixture and stir until combined. Stir in the flour mixture until combined.

Evenly divide the batter among the prepared pans and bake for 26 to 30 minutes, or until a toothpick inserted in the center of the cakes comes out clean. Cool on a wire rack for about 10 minutes before removing the cakes from their pans. Once completely cool, carefully slice the cakes in half horizontally to create four even layers.

*cube the butter to ensure more even and efficient melting without the other liquids needing to be as hot.
Cookie Butter Buttercream
Beat butter at medium-low speed of electric mixer until smooth and creamy (1 to 3 minutes.) 

Gradually add the confectioners' sugar, 1 tablespoon milk, and vanilla extract with mixer at low speed, scraping bowl occasionally. Mix until blended.

Beat at medium-high speed 3 to 5 minutes, until buttercream is light and airy and nearly white.  Add in the cookie butter and mix until combined. If needed, add the milk until desired consistency is achieved.
Swiss Meringue Buttercream
Place the egg whites and sugar in the bowl of an electric mixer. Gently whisk until combined.

Place mixing bowl over a pan of simmering water to create a double-boiler.  Whisking intermittently, heat the egg mixture until it registers 160°F on a candy thermometer. Carefully transfer the bowl back to the stand mixer. 

Using the whisk attachment, whip the egg mixture on high for 8 to 10 minutes until stiff, glossy peaks and the outside of the mixing bowl returns to room temperature. Turn the mixer to medium-low and slowly add the butter (a couple tablespoons at a time).

Stop the mixer and switch to the paddle attachment. Add vanilla and mix on medium until silky smooth, about 3 to 5 minutes.