A show-stopping Baked Alaska Ice Cream Pie with strawberry ice cream, salted pretzel crust, and toasted meringue topping.  The perfect salty-sweet frozen treat for any summer celebration!
I am thrilled to get my hands on Better Homes and Gardens' latest magazine, Get Together. It's full of gorgeous, glossy images, party inspiration, and delicious recipes.  This is definitely this kind of evolution in the magazine world that I can get behind 100%.  Plus, there are so many great ideas for summer entertaining that I can't wait to try over the next few, sunny months.
One of my favourite features from the new magazine is their Party Like It's 1965 soirée. The spread boasts vintage details and #throwback recipes like cocktail meatballs, a modern fondue that's totally on point, and glamorous, classic cocktails – all with a chic, Mad Men feel.
To Celebrate the new magazine, a handful of bloggers (including myself), were asked to play along my sharing our own 1960's inspired dessert recipes. My research for this assignment included a lot of Jello holds, pineapple upside-down cake and other treats featuring Maraschino cherries (I'm looking at you, Ambrosia "salad"), tropicial-inspired treats, and mint - all bringing me back to my grandmother's kitchen and her old cookbooks. Another popular dessert of this decade was Baked Alaska: a simple cake topped with a mound of ice cream that's been slathered in meringue before being toasted up to golden perfection. The idea of fire and ice is always a show-stopper!!
For my retro dessert, I ultimately decided on this Baked Alaska Ice Cream Pie. Instead of a cake base, this dessert comes together in the form of a pie. SO easy, yet still super impressive with the toasted swirls of meringue! I opted for a pretzel-graham crust to pair with strawberry ice cream – the perfect salty/sweet balance that I always crave. The pie refreezes beautifully – the texture of the meringue actually gets better after a few hours in the freezer, but is still heavenly and delicious just after being torched, too.
If this were one of my grandmother's old school cookbooks, the method here would probably just read "prepare and bake the crust" and "make the meringue."  Luckily, in today's digital age, I am not worried about sticking to a word count and don't mind sharing a bit more towards creating Baked Alaska Ice Cream Pie bliss =) 
Recipe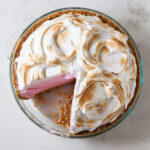 Print Recipe
Baked Alaska Ice Cream Pie
A show-stopping Baked Alaska Ice Cream Pie with strawberry ice cream, salted pretzel crust, and toasted meringue topping.  The perfect salty-sweet frozen treat for any summer celebration!
Ingredients
Baked Alaska Ice Cream Pie
¾

cup

crushed pretzel crumbs

lightly salted

¾

cup

crushed graham cracker crumbs

¼

cup

brown sugar

¼

cup

instant milk powder

10

tablespoon

unsalted butter

melted

1

pint

strawberry ice cream
Meringue Topping
4

large egg whites

1 ⅓

cup

granulated sugar

1

teaspoon

vanilla extract
Instructions
Baked Alaska Ice Cream Pie
Stir the pretzel crumbs, graham crumbs, sugar, and milk powder together in a large bowl.  Add the melted butter and stir until combined.

Empty the mixture into a 9-inch pie tin.  Press the mixture into an even layer on the bottom and up the sides of the tin.  Bake for about 9 to 10 minutes.  The crust should firm up a bit and will be very fragrant.  Let crust completely cool before filling.

Scoop the softened ice cream into the cooled crust.  Using an offset spatula, begin to shape the ice cream so that there is a mound in the center – leaving a bit of room near the top edge of the crust for the meringue topping.  Freeze until solid, or overnight.
Meringue Topping
In the bowl of an electric mixer, gently whisk together the egg whites and sugar by hand.  Fill a medium saucepan with a few inches of water and bring to a simmer.  Place the mixer bowl on top of the saucepan to create a double-boiler.  Whisking intermittently, heat the egg mixture until it reaches 150-160 degrees on a candy thermometer. Once hot, carefully move the mixer bowl back to the stand mixer.

Using the whisk attachment, beat the egg mixture on high until stiff peaks (about 8 minutes) and the outside of the mixing bowl returns to room temperature.  Add in the vanilla and mix for about 30 seconds.

Using an offset spatula, spread the meringue on top of the chilled ice cream.  Lightly toast with a kitchen torch or place under the broiler just until browned.  Serve immediately or place back in the freezer.
Pick up your copy of Get Together today and pick up some super-cute recipes cards here!