Butter, garlic, and sage roasted squash gets tucked into flaky pastry with goat cheese to make these Butternut Squash Hand Pies. This hand-held recipe is perfect for a pass-around appetizer or side dish at a fall feast.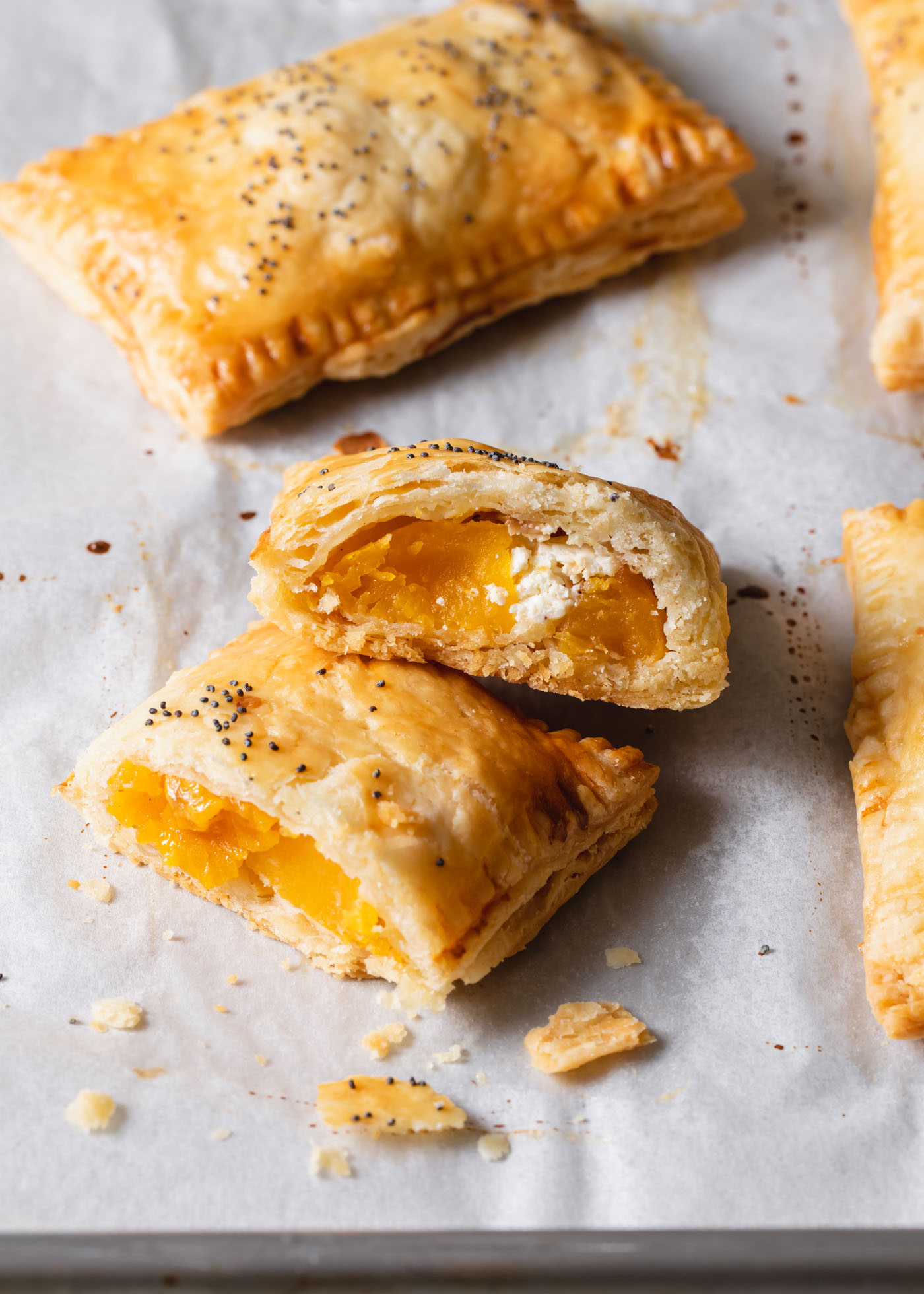 Jump to:
Make These Butternut Squash Hand Pies this Fall
Not all pastry needs to be sweet and sugary. Savory pastries are equally easy to enjoy for snacks, at meal time, and to celebrate with.
We all know that Thanksgiving is all about the pie (after the turkey, that is). This year, try your hand at making something a bit different than your standard pumpkin or pecan pie.
Instead of dessert, enjoy these savory pies with the main course. Or better yet, bake them off early for pre-dinner, hand-held snacks- perfect for watching the parade or football games.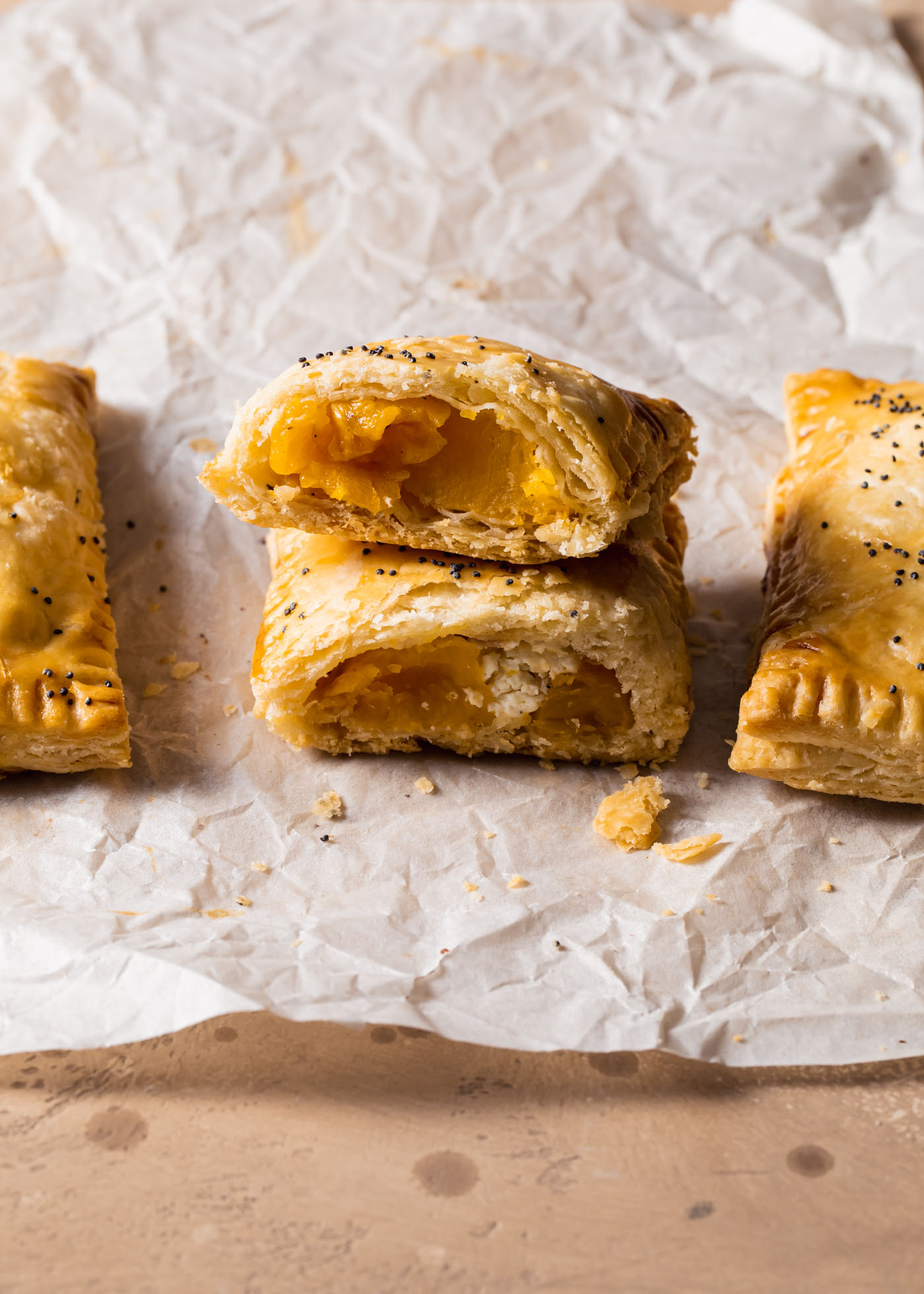 What Do Butternut Squash Pies Taste Like?
This recipe calls for some fairly basic ingredients, yet results in super flavorful treats. It uses the all-butter pie crust recipe as you would a standard pie, but cut much smaller for the individual portions.
Roasted and chopped butternut squash with garlic, butter, and sag for a flavorful filling. The goat cheese balances the squash perfectly.
Brush the crust with an egg wash for a beautiful golden color. Lastly, sprinkle with poppy and caraway seeds before baking.
Ingredients in Butternut Squash Hand Pies
With flakey, buttery crusts and rich, fall flavors, I promise you won't be missing your typical sweet, fruity pie fillings that you have become accustomed to in this traditional dish.
Here is a quick glance at some of the ingredients needed beyond basic pantry staples. Find a complete list with quantities in the full recipe to follow.
Butternut squash - pre-roasted squash is used for the filling
Egg - used for an egg wash to make a crisp, golden crust
Goat Cheese - crumble the soft, tangy cheese for the filling
Garlic - for flavoring the roasted squash
Sage - added to the roasted squash
Unsalted Butter
Poppy seeds, for topping
Tools and Equipment Needed
These are the primary tools you will need to bake these hand pies:
Rolling pin
Rimmed baking pan
Pastry brush
General kitchen tools (measuring spoons, cups, etc).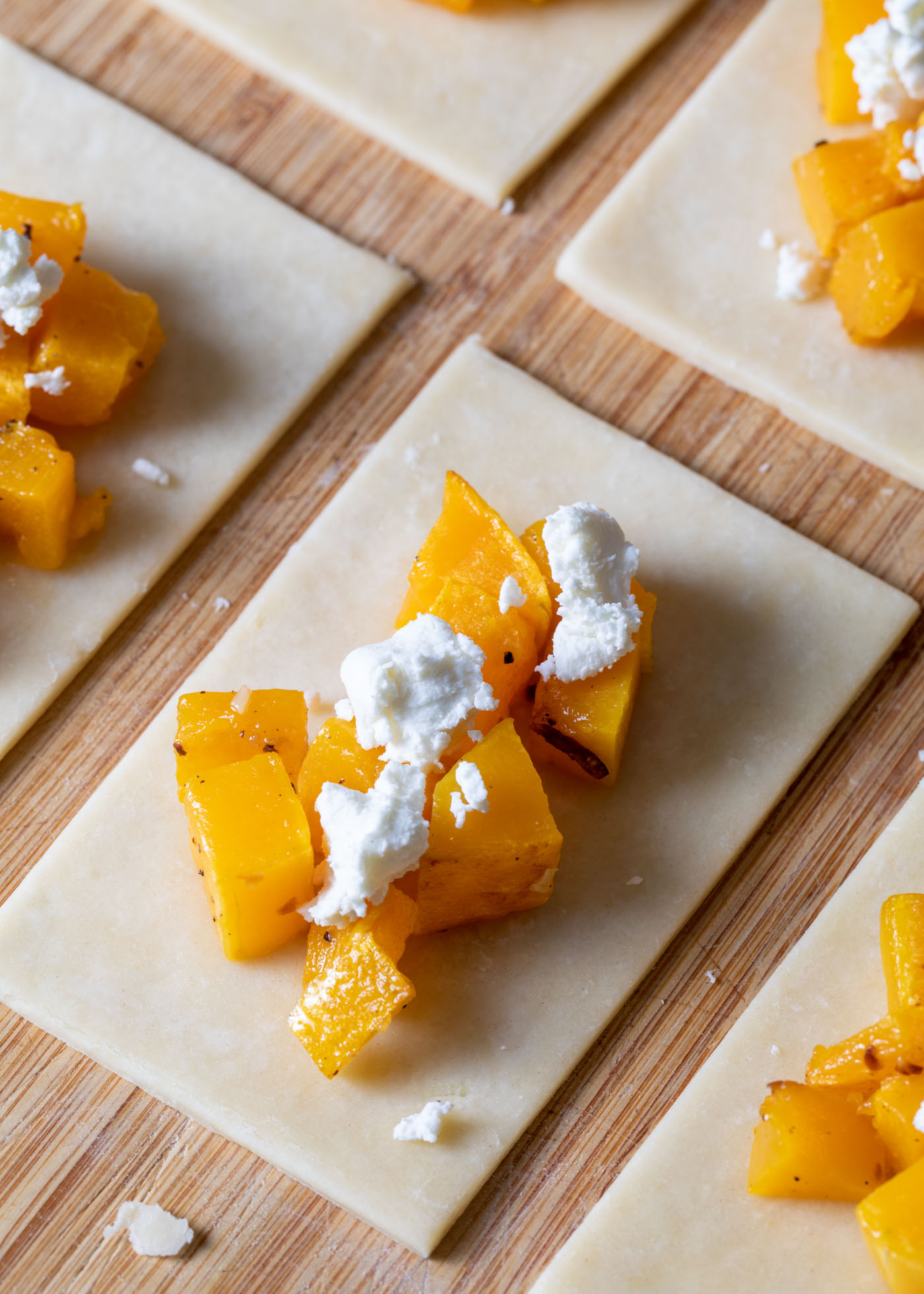 Steps for Making Butternut Squash Hand Pies
Make the all-butter pie dough - it will need to chill for at least an hour before rolling.
Roast the butternut squash - this goes fairly quickly and can be done in advance.
Roll out the dough - cut into rectangles
Assemble the hand-pies - filing with roasted and cooled squash and goat cheese
Brush the egg wash - then sprinkle with poppy seeds
Bake!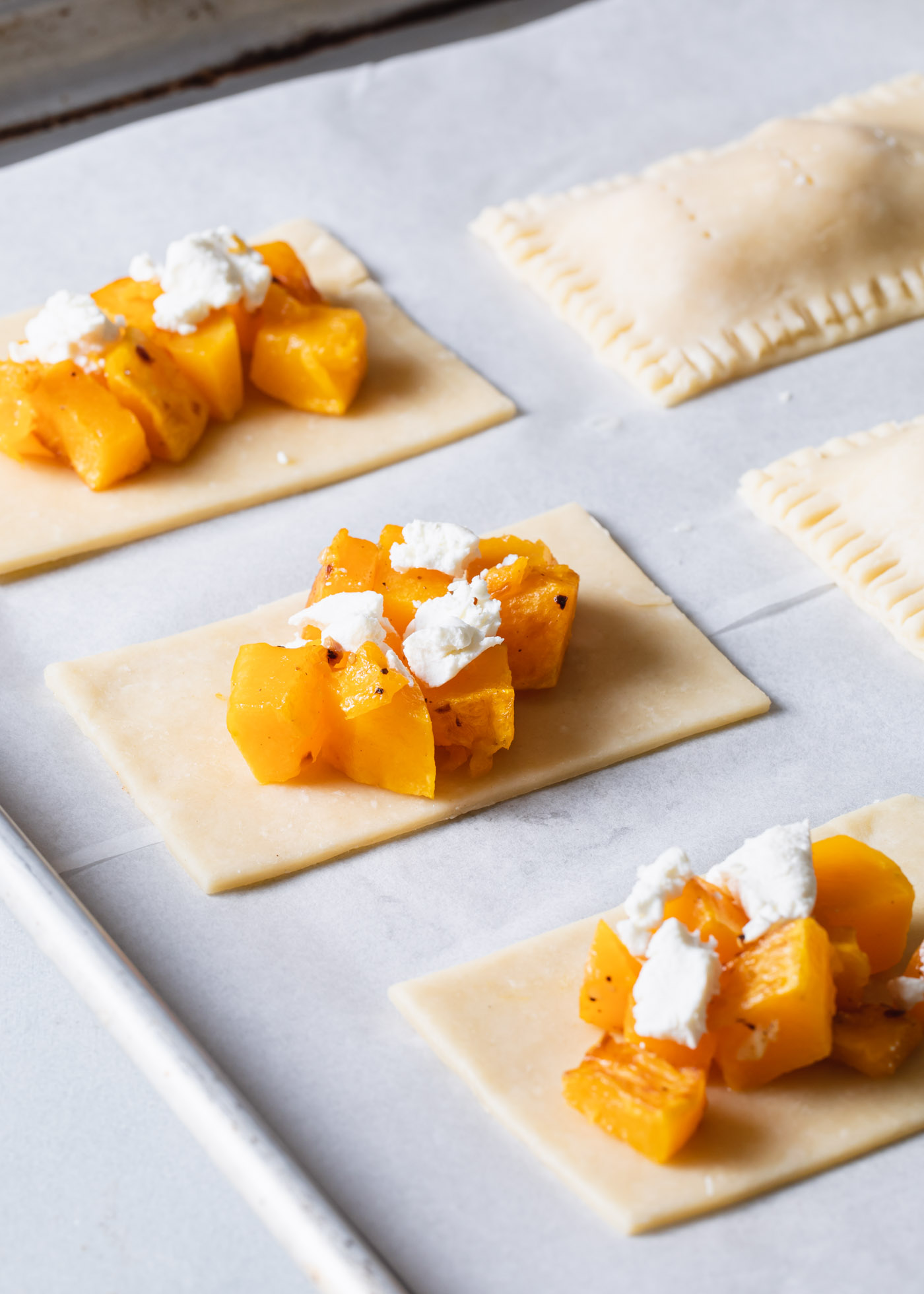 Serving and Storage
Eat the butternut squash hand pies warm from the oven. Allow to cool until safe enough to handle.
Pies may be stored in the refrigerator in an air-tight container for 4 to 5 days. Reheat by baking in a 325°F oven for 10 minutes.
The pie dough can be made in advance and stored in the fridge for up to 2 days or in the freezer for up to 2 months. To get ahead, the squash filling may be roasted and stored in the refrigerator the day before baking.
Substitutions
Egg - don't have an egg? Make a wash with just milk or cream.
Gluten Free - use your favorite gluten-free pie dough for the crust
Variations
Baked pastry is the perfect pocket for a variety of fillings - sweet and savoury. Try one of these other ideas:
Sweet potato - use parboiled sweet potato instead of the squash and sprinkle with feta
Mushroom - pair sautéed mushrooms with melty cheese, like cheddar
Spinach Pine Nut - I had this filling in a calzone and it's delicious! Wilt spinach on the stove and squeeze out the liquids. Pair with torn mozzarella.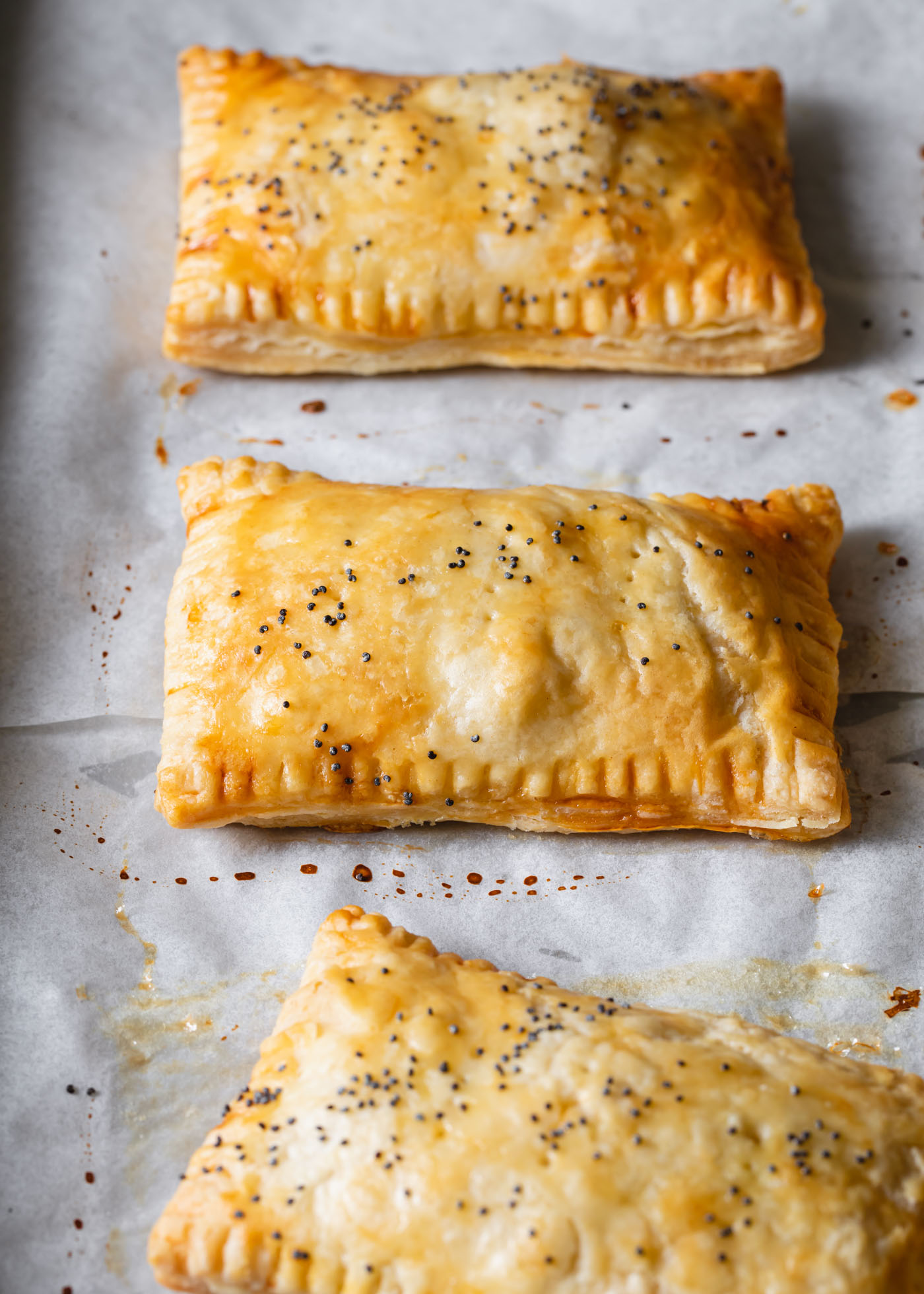 Baking Tips
Don't over-stuff the filling. Make sure to dampen and seal the edges of the hand pies to keep from leaking.
Treat the pie dough as your would a full-size pie. Don't over-work it and keep as cold as possible for maximum flakes
Cool the squash filling before assembling.
Hand Pie Recipe FAQs
Are hand pies the same as empanadas?
Empanadas are a type of hand pie with a savoury filling of meats, vegetables, and cheese in a flaky dough.
What's the different between hand pies and turnovers?
Hand pies are typically make with pie dough and turnovers are often made with puff pastry.
How do I stop my hand pies from leaking?
Do not over-fill or they will burst in the oven. Strengthen the seal with an egg wash and crimp the edges with a fork.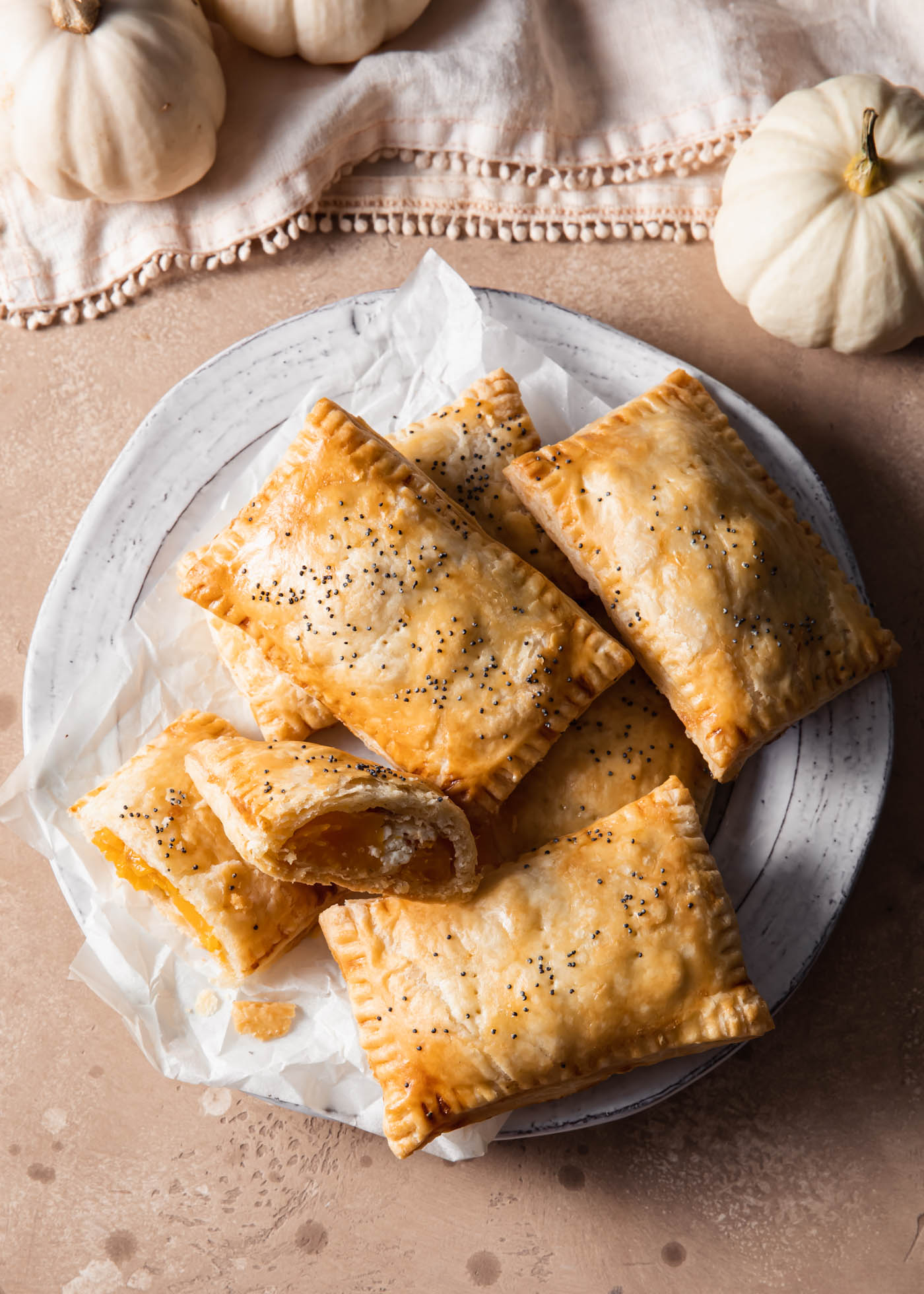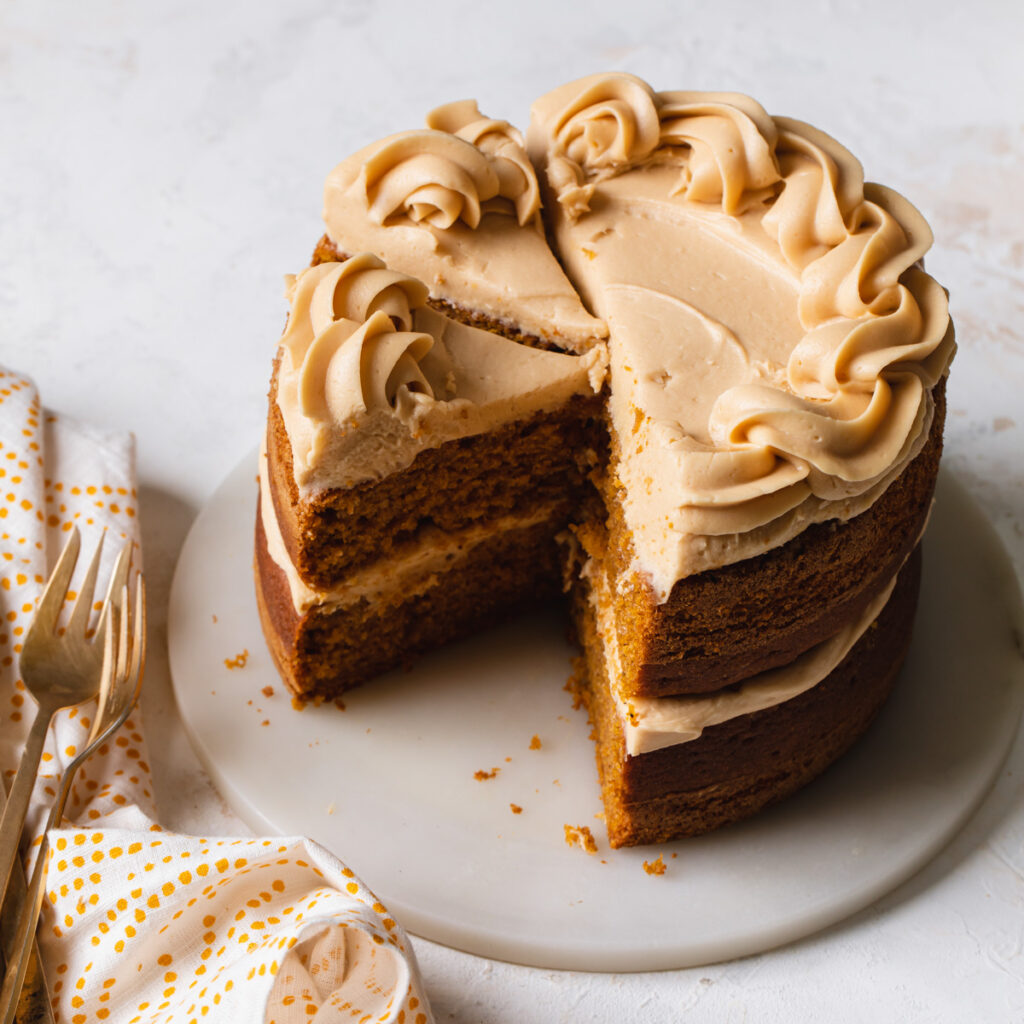 Join the Style Sweet Bake Club!
Get exclusive recipes and articles sent straight to your inbox. Become a subscriber today! Click to join.
Recipe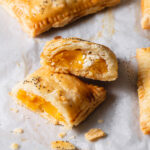 Print Recipe
Butternut Squash Hand Pies
Butter, garlic, and sage roasted squash gets tucked into flaky pastry with goat cheese to make these Butternut Squash Hand Pies.
Ingredients
1

single pie dough recipe

prepared

2

cups

butternut squash

cut into ½-inch cubes

2

tablespoon

extra virgin olive oil

1

clove garlic

minced

5

sage leaves

chiffonade

kosher salt

fresh ground pepper

4

ounces

goat cheese

crumbled

1

large egg

beaten

poppy seeds

for sprinkling

caraway seeds

for sprinkling
Instructions
Preheat the oven to 425°F. On a rimmed baking sheet, toss together the cubed squash, olive oil, garlic and sage. Season with salt and pepper.

Roast the vegetables for 20 to 25 minutes, stirring hallway, or until the vegetables soften and being to caramelize. Remove from the oven and set to cool completely on a wire rack.

Reduce the oven to 375°F. Line a baking sheet with parchment paper and set aside.

Cut the prepared dough in half and roll out into two 8 ½ by 9-inch rectangles on a lightly floured surface.

Cut each portion into six 2 ½ by 4 inch rectangles.

Place half of the pie dough rounds on the lined baking sheet. Spoon the cooled butternut squash filling onto the pie dough rounds, leaving a ½-inch border on all sides.

Sprinkle the tops with the goat cheese.

Use a pastry brush to brush the border lightly with the beaten egg wash. Place the remaining pie dough rounds on top and crimp with a fork to seal.

Brush the tops of the pies with egg wash. Prick the tops with the tines of a fork and sprinkle with poppy and caraway seeds. Chill the pies for 10 to 30 minutes.

Bake the pies for 25 to 30 minutes, or until golden brown. Serve warm.
Notes
These hand pies were originally made round, but cutting them into rectangles is much easier without wasting dough.