Welcome to #Popsicleweek!! Creamy, non-dairy kiwi lime popsicles with a graham "crust" and torched meringue topping.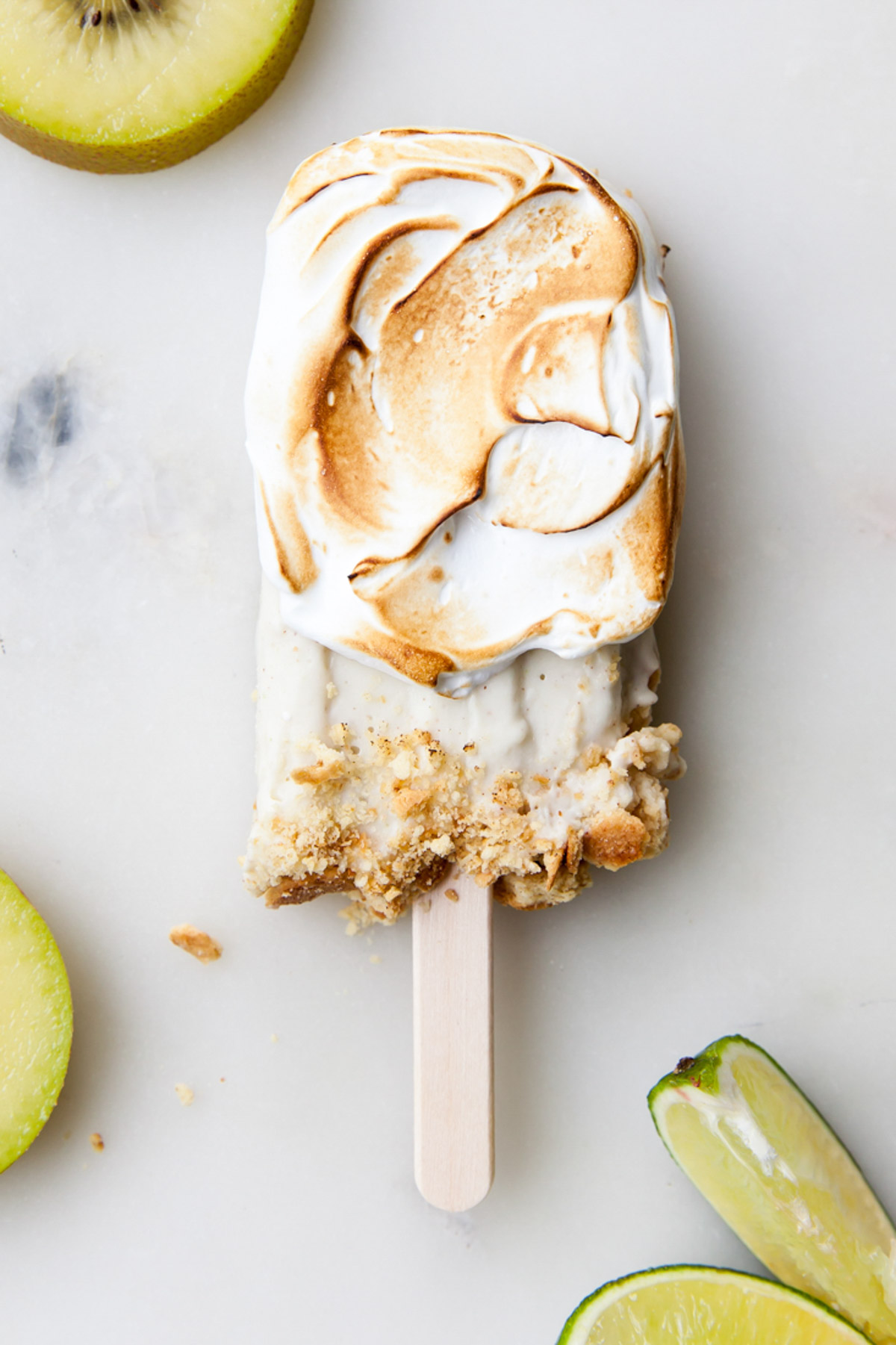 The problem I always have when making homemade popsicles, as well as muffins, is that I always try to make them too healthy. As a result, my pops are usually icy from not using enough sugar and my muffins are always dry and bland.
But not this time, folks! I decided to blend soaked cashews with coconut milk to make the pops extra creamy. Can you believe my non-dairy pops turned out creamier than any other milk or yogurt-based popsicles I've made in the past?
I was afraid the coconut flavor would overpower nearly any other ingredient, so I decided to add sweet yet tart kiwis and loads of fresh lime juice. After pouring the blend into the molds and chilling for a couple hours, I simply crushed up some cinnamon graham crackers and sprinkled them into the bottom of the pops as the "crust."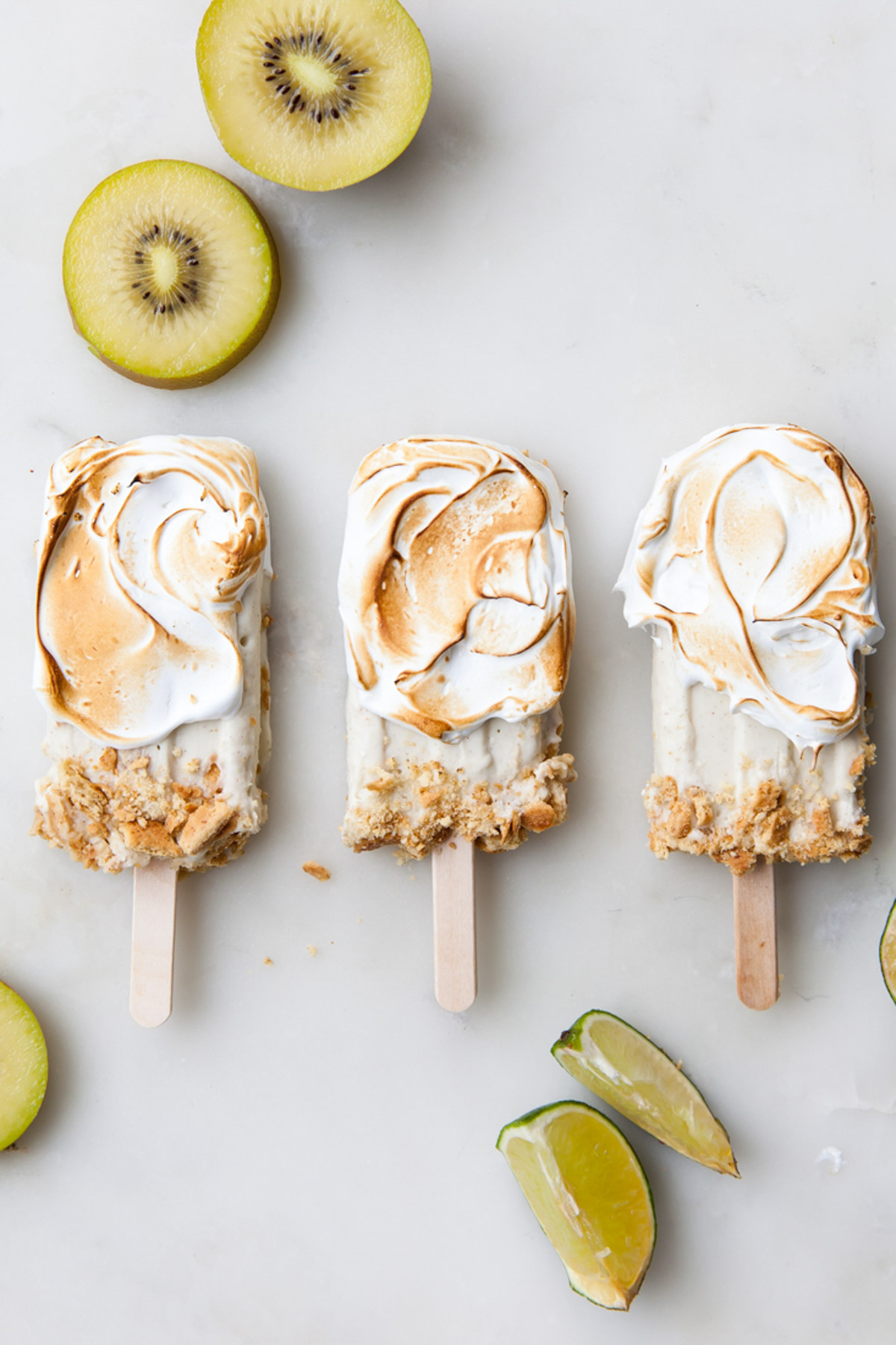 Be sure to head on over to Wit and Vinegar for the official POPSICLE WEEk round-up!  There should be like 120 participants this year.  
Recipe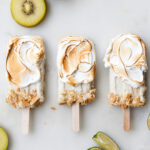 Print Recipe
Kiwi Lime Popsicles
These creamy, non-dairy kiwi lime popsicles have a graham "crust" and a stunning torched meringue topping out the outside.
Ingredients
Kiwi Lime Pie Popsicles
1

cup

raw cashews

soaked 4 to 6 hours

1

cup

full-fat coconut milk

juice from 3 large limes

about ⅓ cup

3

ripe golden kiwiws

skin removed or 4 regular kiwis

½

cup

honey or agave nectar

or to taste

1

cup

crushed graham crackers

2

large egg whites

⅔

cup

sugar
Instructions
Kiwi Lime Pie Popsicles
Place the soaked cashews, coconut milk, lime juice, kiwis, and honey in a high-powered blender. Blend on high until creamy and smooth*

Distribute evenly in the popsicle molds and freeze for about 1-2 hours,  Sprinkle in the graham cracker crumbs and press them gently into the "batter."  Insert the sticks and freeze until solid.

When ready (once the pops are frozen), place the egg whites and sugar in the bowl of an electric mixer.  Fill a saucepan with a few inches on water and bring to a simmer.  Lower the heat and place the mixer bowl on top to create a double-boiler.  Whisking intermittently, heat the egg white mixture until 160 degrees on a candy thermometer.

Carefully remove the mixer bowl and place it on a stand mixer fitted with the whisk attachment.  Whisk on high until stiff peaks and the mixture has returned to room temperature (about 8 minutes).  

Dip, dollop, and swirl the meringue on the frozen popsicles. Place on a sheet pan and refreeze for 20 to 30 minutes. Remove from the freezer and toast the meringue with a culinary torch! Enjoy immediately, or place back on a sheet pan, cover and freeze.

*The seeds from the kiwis may make the mixture seem slightly grainy.  I ended up blending just a bit longer than normal to compensate.  You can try straining them out, but it wasn't worth the trouble for me.  Once frozen, you can hardly notice.